How the Vegas grand prix carved its place on the F1 calendar
Glitz, glamour and ultrahigh rollers have headlined an F1 weekend that has been touted — and criticized — as a spectacle like no other.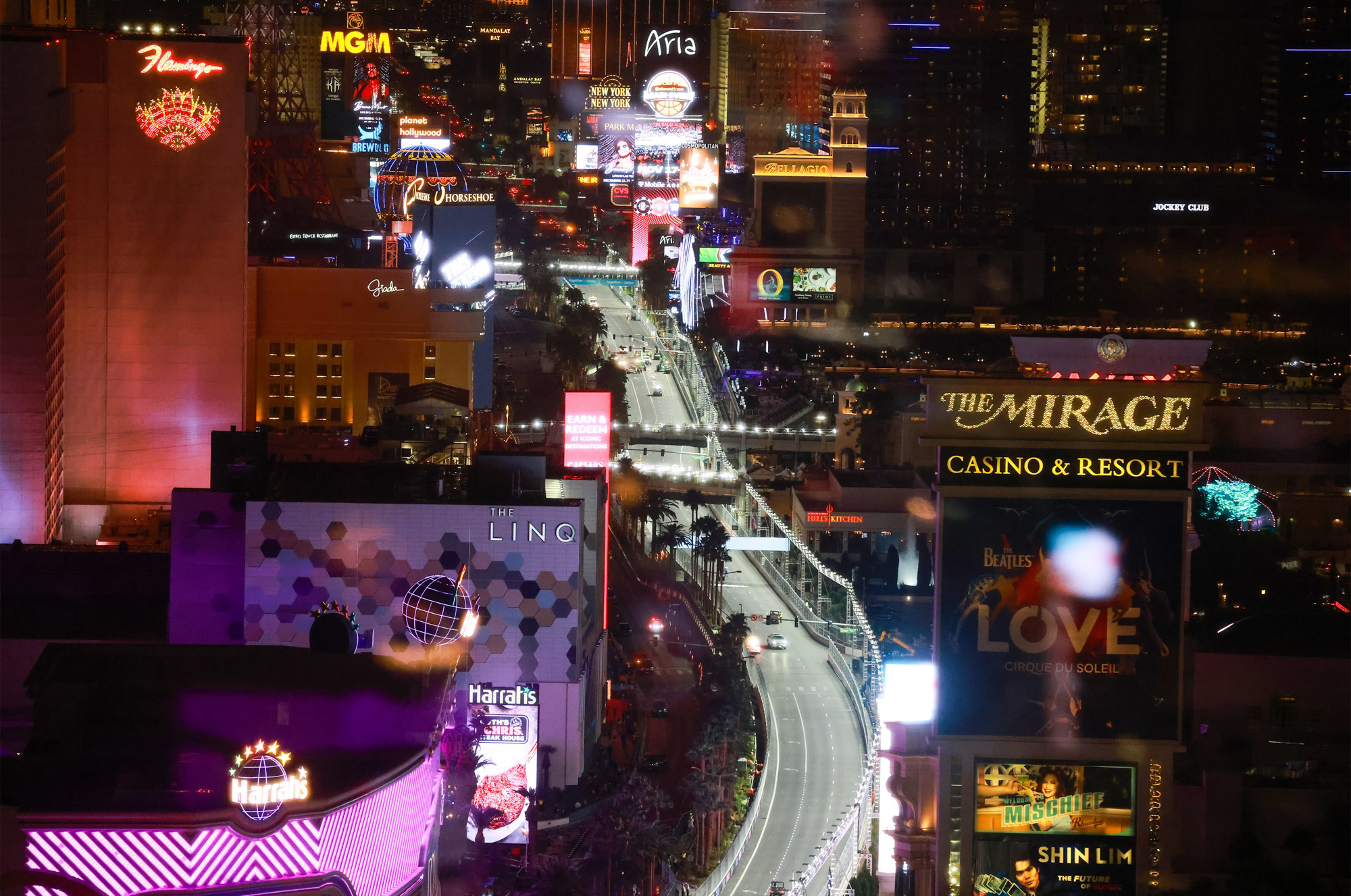 At Las Vegas Valley airports, hundreds of private plane parking spaces were full. On and off the vaunted Las Vegas Strip, casino floors, restaurants and theaters were — for a time — empty.
Instead, tens of thousands had taken a trip outdoors Saturday — to seats in the grandstands and luxury boxes and repeat rides on pedestrian bridge escalators alike — to catch a glimpse of Formula One.
It was the culmination of a rocky weekend of on-track action beset early on by teething problems. Thursday's first practice session — the first time any current-spec Formula One car would put rubber to Las Vegas' roads — lasted just nine minutes before a loose drain cover derailed the day. Track repairs stretched into the early morning. Fans were sent home early. Some were given vouchers. One class action lawsuit has already been filed over the debacle.
The spectacle promised for months by the organizers — a show unlike anything else on the F1 calendar — was now under the world's microscope.
Friday's qualifying, at least on track, proved a soothing balm to Thursday's delays. Even as low temperatures promised reduced grip and a heightened crash risk as drivers edged closer to the circuit's unforgiving walls, the session ended at 1 a.m., incident-free.
It all led to one of the year's more thrilling contests Saturday — complete with one of this season's biggest crashes, overtakes that sent carbon fiber flying and a battle at the top of the grid that forced top team Red Bull and world champion Max Verstappen to claw back a late-race victory.
After an abridged and at times disastrous opening, it was a vindication of what Formula One had sought by bringing the sport back to Las Vegas. A full race distance, an uninterrupted running of the world's fastest cars screaming down the Strip at more than 210 miles per hour — and with no additional jilted fans robbed of on-track action.
Meanwhile, nearly nine hours before Saturday's race began, organizers announced they would start accepting deposits for tickets for next year's race, a chunk of change guaranteeing a spot in line in 2024. Prices ranged from $250 for general admission and grandstands to $5,000 deposits for private suites.
At every corner, the Vegas pastiche was on display. Spades, clubs, hearts and diamonds on each of the customary red-and-white race curbs. A wedding chapel inside the paddock (former F1 champion Jacques Villeneuve tied the knot ahead of Thursday's free practice). Elvis impersonators greeted every driver in front of a miniature "Welcome to Fabulous Las Vegas" sign as they entered the pit lane.
Behind the towering grandstands, fan zones were constructed not unlike a music festival. Temporary stages were erected for bands and dance acts and even Cirque du Soleil, all simulcast to other fan areas sprinkled across the length of the 3.8-mile circuit.
But with a "billion dollar weekend" expected for the Strip, visitor volume fell, as did hotel room prices. Tickets that started at $2,000 for a three-day grandstand pass began tumbling on the secondary market, and eyebrows were raised. Where would all the money come from?
Enter the high rollers.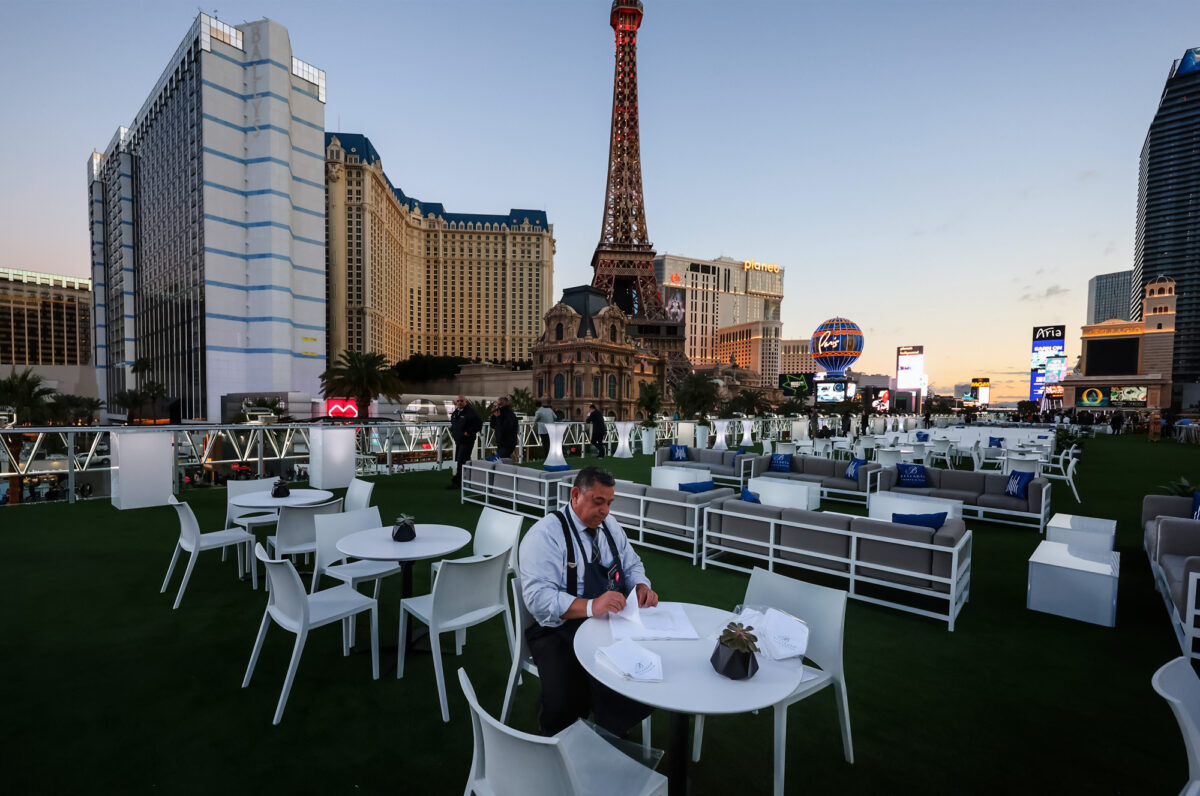 The view from the luxury box
Even a month before race day, gaming industry analysts largely downplayed the broad impact of reduced pricing heading into November. The reason, they said, was the confidence from top luxury resorts that the most expensive packages had long ago been sold to the highest bidders.
The ultraluxury trackside experience provided by MGM Resorts International was the Bellagio Fountain Club, which combined high-end dining, grandstand seating and a rooftop viewing space the length of three football fields.
The location along the longest straight-away stretch of the race sent the F1 cars flying by on the Strip at top speed.
"There's not a lot of open real estate on the Strip," said Andres Lanzino III, MGM's vice president of citywide events. "So when we were trying to figure out 'how are we going to entertain and capitalize on this event with our guests,' really, the only option was the front edge right here."
The club is the reason the company cut down a line of mature trees along the sidewalk in front of the resort in September — which MGM officials have promised to replace. If visitation to the club by race fans translates into spending inside MGM casinos, the company will have more than enough revenue to replace the trees.
"We spent a good part of 20 months just trying to understand how to make this happen, but also how to preserve as much as we can," Lanzino said.
Many of the club's guests were invited casino customers while others paid a reported $11,000 for a three-day ticket to watch the races and dine on meals prepared by MGM's star chefs at tables in space that could easily be mistaken for any of the company's high-end restaurants.
The rotating menus were prepared by such chefs as Mario Carbone, David Chang, Michael Mina, Masaharu Morimoto, Bryan and Michael Voltaggio, Jean-Georges Vongerichten and José Andrés.
"We knew that this was going to be six hours that somebody was going to be here, and they were going to be here over three days," Lanzino said ahead of the race. "What we didn't want to do is have them get bored. As we go throughout the night, the food kind of crescendos and changes."
Customers watched the race from grandstand seats or comfortable seating provided by the Rooftop Nightclub, which offered views of the racetrack to the east and the Bellagio Fountains to the west.
In between the twin three-level club structures was the Winner's Stage with performances by MGM's showroom entertainment, including Cirque du Soleil, Blue Man Group and Jabbawockeez.
The attraction of the Fountain Club by high-end casino customers is one reason MGM Resorts CEO Bill Hornbuckle has said business drawn by F1 will translate into a record revenue month in November for the Strip.
He said credit being extended to high-end customers is larger than credit offered during the 2015 Floyd Mayweather Jr. vs. Manny Pacquiao fight at the MGM Grand Garden.
Outside the casino-branded club spaces, celebrity sightings have increased dramatically, with broadcast cameras intercutting every few minutes between the cars on track and a new actor, athlete, musician or celebrity chef watching that night's session from inside the team garages — a group ranging from Gordon Ramsay to Shaquille O'Neal to Patrick Dempsey to Jerry Bruckheimer. Not to be outdone, a handful of Nevada politicians were spotted, too, including Gov. Joe Lombardo and Reps. Dina Titus (D-NV), Susie Lee (D-NV) and Steven Horsford (D-NV).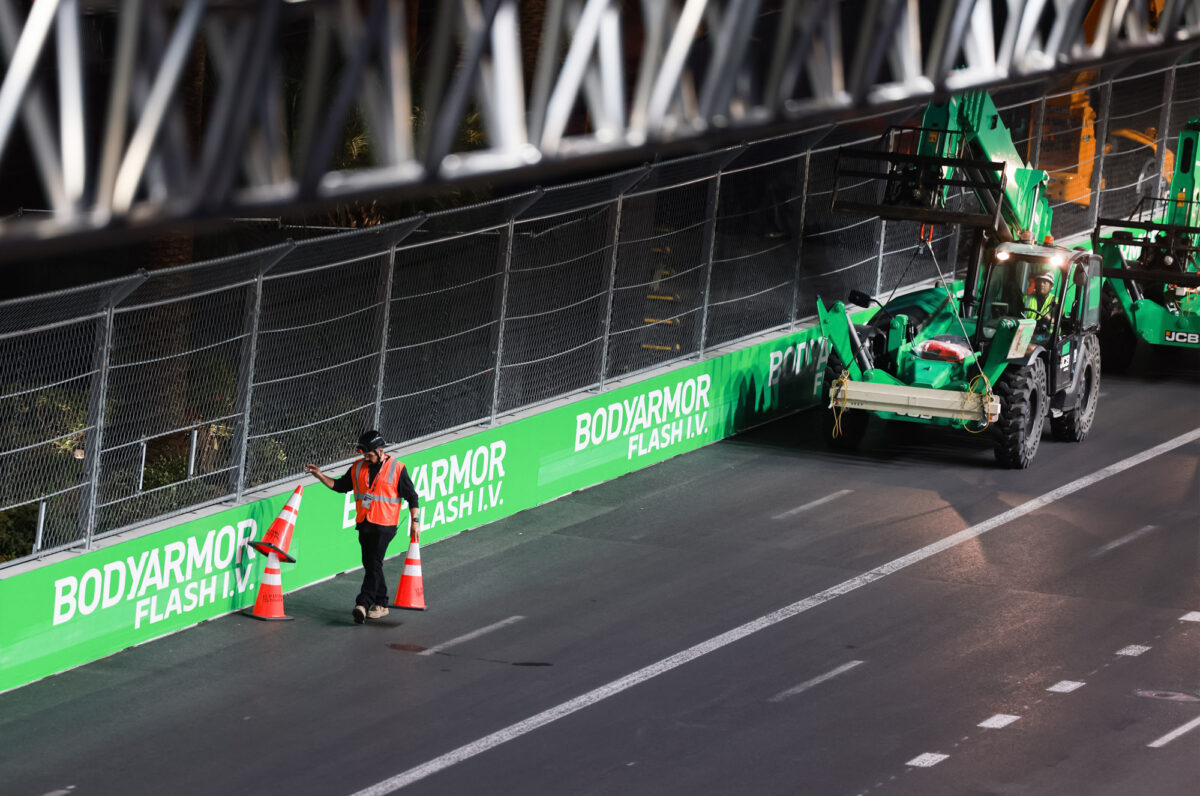 The locking horns of spectacle and sport
The first Las Vegas Grand Prix in 40 years does not exist in a vacuum.
It comes as the third U.S. grand prix on the calendar — more than any other country, and a record matched only recently by Italy during the scheduling chaos of the pandemic.
All the while, Liberty Media — the U.S.-based company that bought Formula One in 2016 — has tied itself to the fortunes of the Las Vegas Grand Prix. It spent $500 million in the lead up to the race, much of which went to constructing a permanent paddock facility on Koval Lane. Unlike every other race on the F1 calendar, the company has assumed direct responsibility as the race promoter, and it only comes after Liberty Media has spent years cultivating a new American fan base through Netflix deals and streaming packages.
On one end of the spectrum, that direct involvement has spelled the potential for long-term profit. Early outside projections estimated a $1.3 billion economic impact. Liberty CEO Greg Maffei raised that to $1.7 billion in local media interviews last week.
But this is not the first attempt to bring Formula One to Las Vegas. In 1981 and 1982, the sport raced on the then-parking lot of Caesars Palace, a race long since lampooned as a "car park" grand prix, and one that brought in far less money than initially expected. Even on a four-year deal with the sport, the event was canceled after just two years.
Randy Cannon, author of Caesars Palace Grand Prix: Las Vegas, Organized Crime, and the Pinnacle of Motorsport, told The Nevada Independent that the conditions that brought the race to Las Vegas in 2023 bear little resemblance to the early '80s.
Where the original races ran in a parking lot, this race ran down the Strip, he said in an emailed response to questions. Where the other casinos sought to lock out Caesars in the 1980s, every Strip property has sought to capitalize on this year's F1 bonanza. Where the state, local and federal government stymied the "car park" grand prix, those same governments have moved in lockstep with Liberty Media.
"In late 1981, Rossi Rallenkotter of the Las Vegas Convention and Visitors Authority indicated that the 1981 Caesars Palace Grand Prix had pumped $125 million into the local economy," Cannon wrote. "Projected forward with inflation, that $125 million would be less than $500 million today. $1.7 billion would thus be a big moving of the Las Vegas needle. [Though] let's see what the casino companies report."
Throughout the race weekend, the unvarnished spectacle of Las Vegas came under the withering scrutiny of some F1 fans and drivers, who have criticized the race for placing glitz and glamour above the racecraft itself. Most notably, that includes Verstappen, this year's F1 world champion and, by some metrics, the most popular racing driver in the world.
In a two-minute long answer delivered during a post-qualifying press conference in the predawn hours Saturday, the Dutch driver lamented the sport's increasing reliance on street circuits — tracks he said that don't "really come alive," that lack the emotion and passion invoked by historic purpose-built circuits such as Belgium's Circuit de Spa-Francorchamps or Italy's Monza.
Street circuits built around the "show" begged the question: Why are the fans even there?
"People come and they become fans of what?" Verstappen said. "They want to see maybe their favorite artists and have a few drinks with their mates and then go out and have a crazy night out. But they don't actually understand what we're doing or what we're putting on the line to perform."
He continued:
"I love Vegas, but not to drive in an F1 car," Verstappen said. "I love to go out, have a few drinks, throw everything on red … but like I said — emotion, passion, it's not there compared to some old school tracks."
The Nevada Independent is raising $200,000 by Dec. 31 to support coverage of the 2024 election.
Tax-deductible donations from readers like you fund this critical work.
If you give today,your donation will be matched dollar-for-dollar.
Give + Get Matched
Featured Videos