Indy Gaming: Behavioral research drives new UNLV gaming institute leader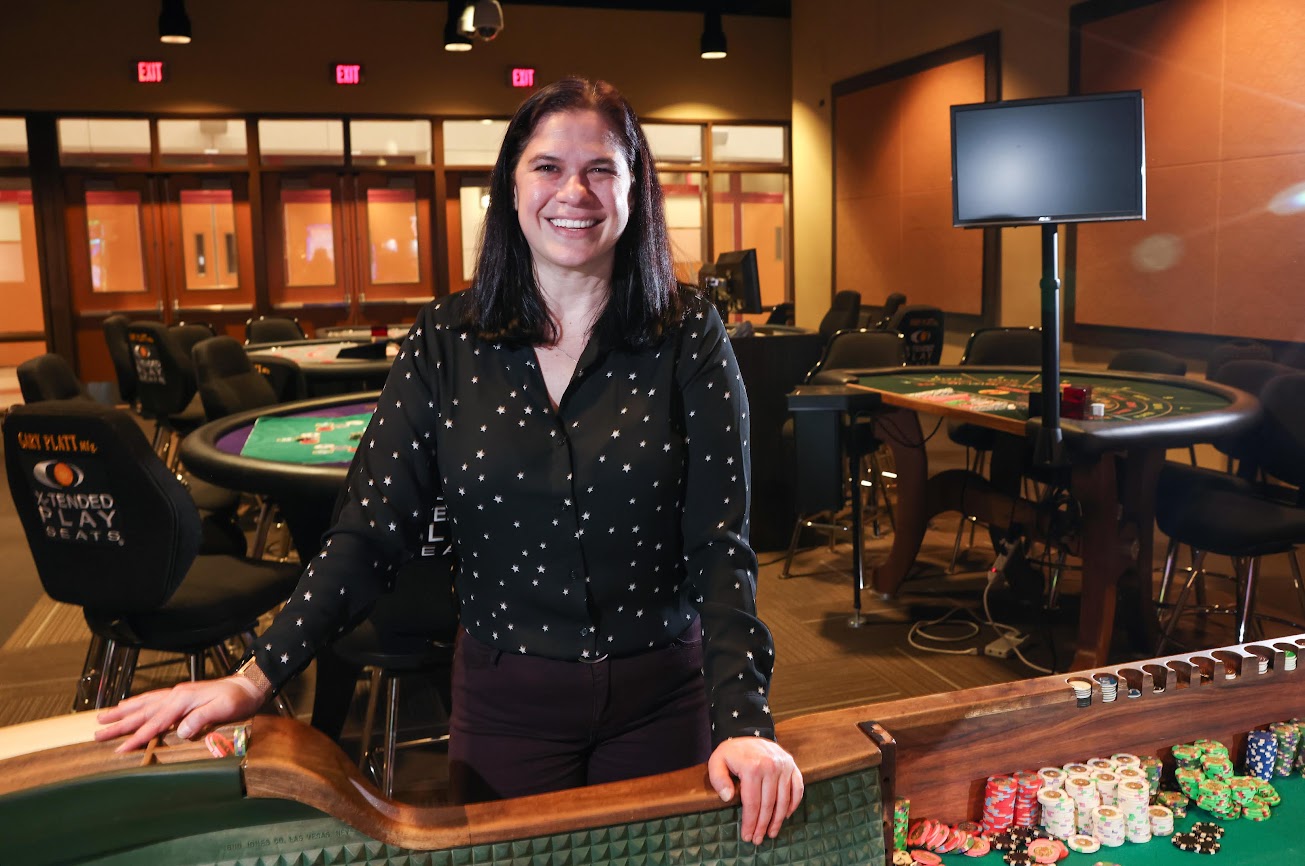 Good morning, and welcome to the Indy Gaming newsletter, a weekly look at gaming matters nationally and internationally and how the events tie back to Nevada.
If a colleague or associate emailed this newsletter to you, please click here to sign up and receive your own copy of Indy Gaming in your inbox. - Howard Stutz
---
Brett Abarbanel, the newly appointed executive director of the UNLV International Gaming Institute (IGI), could have easily turned the International Conference on Gambling and Risk Taking's keynote discussion into an episode of Entertainment Tonight.
The IGI's director of research at the time, Abarbanel focused on risk taking during the 90-minute talk with two well-known gamblers – poker standout Andy Bloch and sports gambler turned "Jeopardy!" champion James Holzhauer.
"We've always tried to always emphasize that second part of the event's name," Abarbanel said of the May 2019 discussion at Caesars Palace. The IGI organizes the conference.
Bloch was a member of the card-counting MIT blackjack team made famous in the book "Bringing Down the House," which was the basis for the film "21." Holzhauer achieved international fame during his record-setting run on the television game show, "Jeopardy!" in which he won more than $2.46 million.
"One of the things that really drove me in that discussion with James was about his risk-taking background and his professional work as a sports bettor," Abarbanel said. "How did that contribute toward his becoming this pop culture icon?"
She also focused on Bloch's gambling and risk-taking background, including his visits to Strip resorts in the 1990s and early 2000s "to try and find the worst kind of games that he could exploit as a gambler."
Those types of stories have steered Abarbanel's nearly two decades of research into gambling issues and behaviors.
UNLV Vice President for Research David Hatchett said in a statement Abarbanel will bring a unique perspective to the system. Her official appointment took effect Jan. 1.
"We have discussed her vision for the International Gaming Institute and I am confident in her leadership of this very important program," he said.
Abarbanel is the fourth person and second woman to serve as executive director of the IGI, which offers research and educational programs for the global gaming industry. She started working at the IGI as a graduate student in the mid-2000s when it had just a handful of full-time staff. IGI now has nearly two dozen employees touching all facets of gaming and research.
"I think we've done a very admirable job of poaching incredibly intelligent people as they've left previous jobs or retired," Abarbanel said of former Gaming Control Board Chairwoman Becky Harris and former casino company executives Alan Feldman and Jennifer Shatley, who are now part of the IGI.
"We've convinced them of the wonderful ways of the academic world," Abarbanel said. "So in essence, we've really been able to expand not just in terms of personnel, but also in terms of expertise."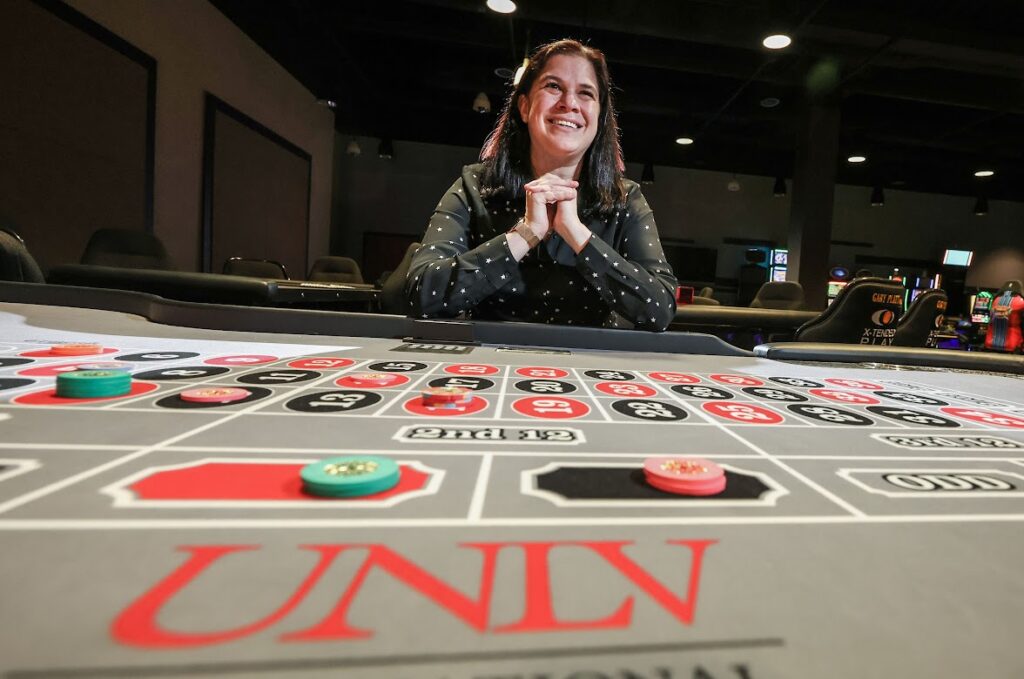 Abarbanel follows Bo Bernhard, who was the institute's research director for 15 years before being elevated to executive director in November 2011. Bernhard was named UNLV's vice president of economic development last year and will maintain his affiliation with IGI as a special adviser to the executive director. Bernhard also will continue to oversee the development of UNLV's Black Fire Innovation, a research institute.
"I've known Bo for 16 years and he and I have a lot in common," Abarbanel said. "We have a lot of really similar views. That's probably why we've worked so well together."
Abarbanel earned two bachelor's degrees from Brown University and completed her master's and Ph.D. at UNLV. After finishing her doctorate, she oversaw social and recreational gambling research at the UCLA Gambling Studies Program before returning to UNLV IGI in 2016 as director of research.
Abarbanel is also an associate professor at UNLV's William F. Harrah College of Hospitality.
Personally, her specific interest has focused on gaming's connection to video games and competitive eSports. In 2021, Abarbanel was one of seven industry experts named by the Gaming Control Board to an eSports advisory committee that is recommending guidelines for maintaining integrity in eSports when betting is involved.
"I remember talking about video games and eSports around 2014 and 2015 and there were a few people who called me a nerd," Abarbanel said. "I didn't mind that. Now, everybody's talking about the subject. Everyone wants to know more about it."
Abarbanel said eSports could be viewed as a way for casinos to attract new customers.
"At the same time, we have to be careful about age restrictions when it comes to gambling," she said. "We don't want to advertise to kids, for example."
Abarbanel said she is looking forward to focusing on all facets of gaming.
"Leading the entirety of the International Gaming Institute is an honor," she said. "Research is just one arm of what we do. We have a variety of different initiatives and programs all centered around different parts of the gambling world that we consider to be particularly important."
Research at IGI also covers education and gaming innovation. She said the institute had evolved along with the gaming industry and contributes to the discussions "that help the gambling world continue to grow."
---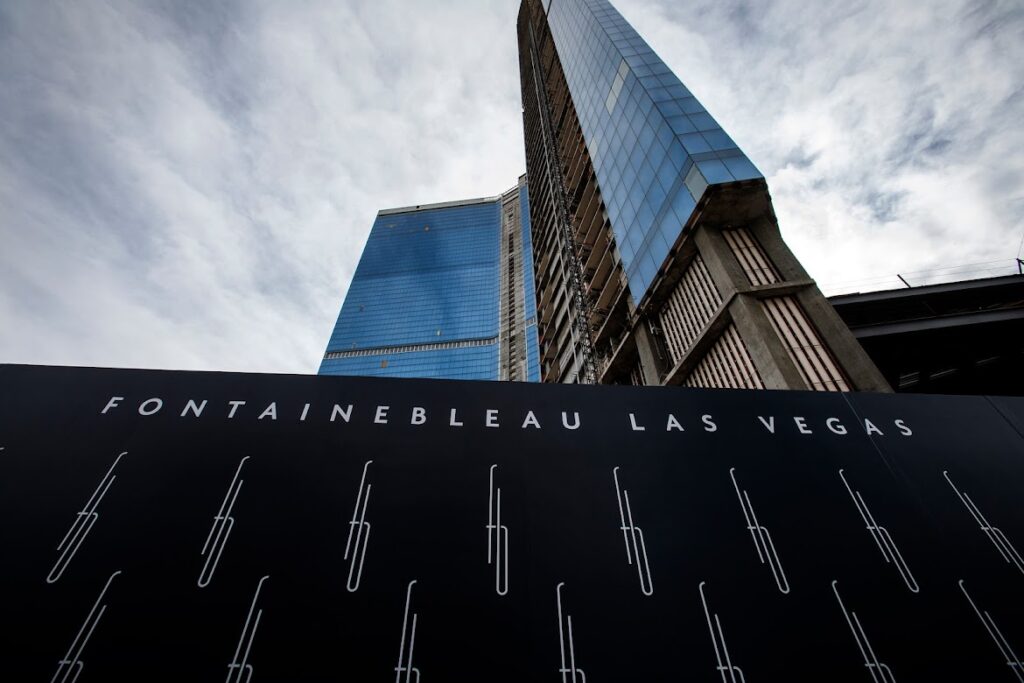 Fontainebleau replaces Las Vegas property's CEO with its corporate president
Brett Mufson, president of Miami-based Fontainebleau Development, is taking on the additional role as CEO of the company's under-construction Fontainebleau Las Vegas.
In a statement Monday, Fontainebleau Chairman Jeffrey Soffer credited Mufson with helping the company reacquire the north Strip development 12 years after the project was halted because of the recession.
"Brett and I have spent years together as partners and he is a brilliant leader whose expertise provides us an extraordinary amount of confidence to build our brand with unparalleled consistency and focus," Soffer said.
Mufson replaces Clifford Atkinson, a former executive with MGM Resorts International and former president of Luxor Las Vegas, who was hired as CEO a year ago.
"We would like to thank Cliff Atkinson for his contributions during his time at Fontainebleau Las Vegas," the company said in an emailed statement. "We wish him the best on his future endeavors."
The unfinished hotel-casino had two different owners before Soffer's company repurchased the property with the financial assistance of Koch Real Estate Investments, the Dallas-based subsidiary of Koch Industries. Neither Soffer nor Koch Real Estate revealed the cost to buy back the project.
Two days before Christmas, Fontainebleau Development and Koch Real Estate said they obtained $2.2 billion in financing to complete the development. The construction loan was secured through J.P. Morgan, SMBC, Blackstone Real Estate Debt Strategies, Goldman Sachs, Guggenheim and real estate investment trust VICI Properties. J.P. Morgan acted as the administrative agent.
Mufson will oversee the completion of the 3,700-room hotel-casino, which is expected to open later this year.
He said the Fontainebleau will take "our iconic masterpiece that is Fontainebleau Miami Beach … and evolve it into the Las Vegas market. As we near our 70th anniversary as a brand, this is a dream opportunity."
---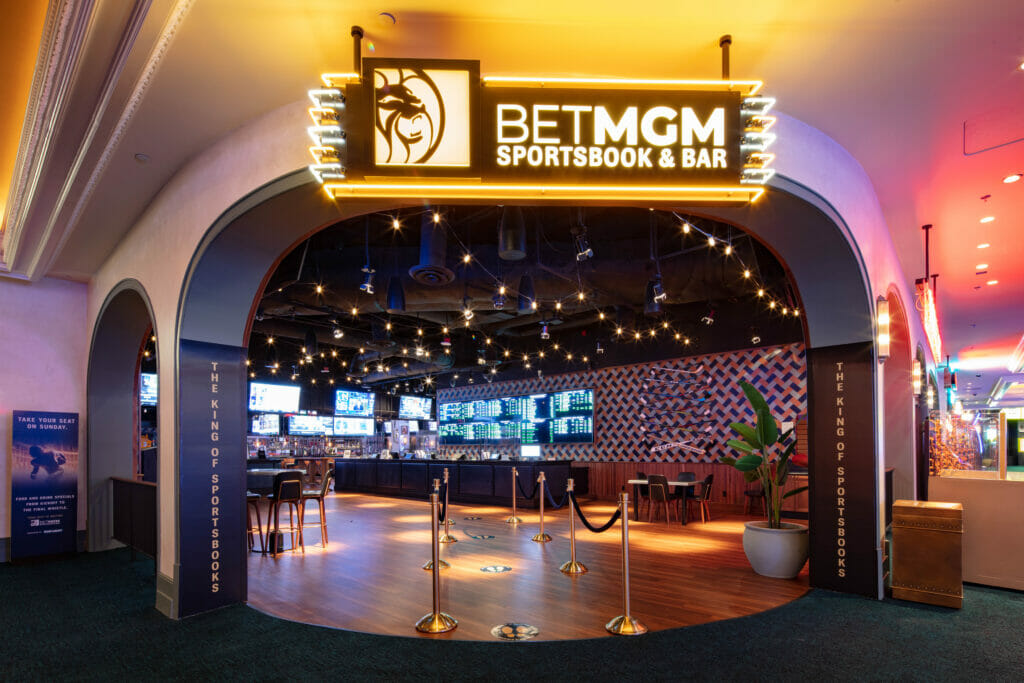 Legal sports betting and BetMGM cited as 'influential' NHL partners
The expansion of legal sports betting was recognized in the annual "Money & Power & Influence" issue of The Hockey News with executives and BetMGM earning high praise.
Among the magazine's "Top 100 People of Power & Influence," MGM Resorts CEO Bill Hornbuckle was ranked No. 45, three spots ahead of BetMGM CEO Adam Greenblatt, who was the subject of a Q&A feature in the magazine. MGM Resorts, and United Kingdom betting company Entain Plc., each own 50 percent of BetMGM, which is headquartered in New Jersey.
"We're seeing the NHL betting market continuing to grow, ranking fourth in the United States and second in Canada," Greenblatt said, noting BetMGM's marketing efforts to attract NHL fans by using hockey legend Wayne Gretzky and current superstar Connor McDavid of the Edmonton Oilers in its promotional efforts.
"There is a spirit of authenticity in hockey fans in Canada, and we wanted to meet that passion by working with two all-time greats," Greenblatt said.
McDavid earned a No. 8 listing in the Top 100 while Gretzky, who is also a studio analyst for the TNT network's hockey coverage, was No. 61 on the list.
As for Hornbuckle, the magazine's editors noted the company's efforts to grow legal wagering in Canada, which launched last April.
"As sports betting becomes increasingly ubiquitous, MGM headlines the NHL's punting partners," the magazine wrote, utilizing the British term for gambling. "Getting notable names like Wayne Gretzky and Connor McDavid adds extra clout."
BetMGM has sports betting partnerships with four NHL teams – Vegas Golden Knights, Detroit Red Wings, New York Rangers and Nashville Predators.
The company is not an outlier, however.
In a listing of teams' top sponsors for advertising and promotions, 12 of the 32 franchises included sports betting companies, such as DraftKings, FanDuel and Caesars Sportsbook. Two of the Golden Knights' top sponsors are Circa Sports and Caesars-owned William Hill.
Caesars, one of the top sponsors for the Washington Capitals, operates a Caesars-branded sportsbook as part of a tavern at the team's Capital One Arena in Washington, D.C.
Other sports betting executives reaching the Top 100 were FanDuel CEO Amy Howe at No. 54 and Sportradar CEO Carsten Koerl at No. 58. Sportradar has a 10-year partnership with the NHL to provide the league statistics and data, as well as real-time player and puck tracking information that can be used by sports betting operators.
---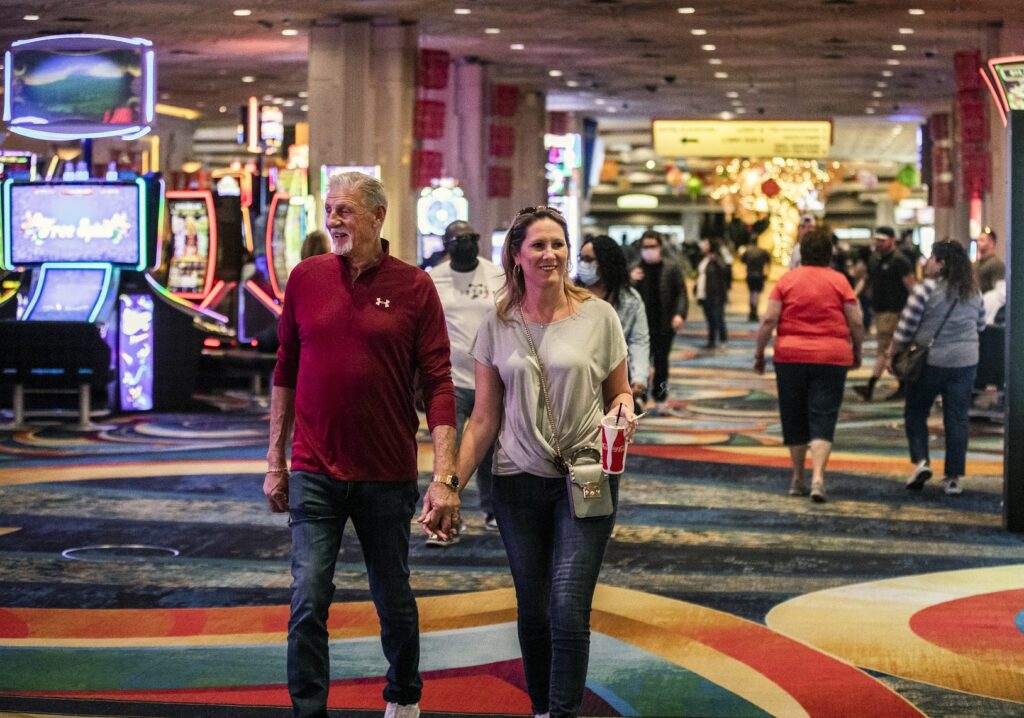 VICI completes MGM Grand, Mandalay Bay purchase; buys Canadian casinos
Real estate investment trust (REIT) VICI Properties had a busy day Monday.
The Strip's largest landowner completed its purchase of the remaining 49.9 percent of MGM Grand Las Vegas and Mandalay Bay from Blackstone Real Estate Income Trust. The transaction was originally announced in December.
VICI is paying Blackstone $1.27 billion and will assume the firm's $3 billion in debt on the properties. The rent MGM Resorts International will pay VICI to operate the two resorts is $310 million annually starting in March.
VICI, which owns the land and buildings associated with 10 Strip properties, acquired 50.1 percent of MGM Grand and Mandalay Bay when it closed its $17.2 billion purchase of rival REIT MGM Growth Properties last April.
VICI's Strip properties are managed by four companies – MGM Resorts, Caesars Entertainment, Apollo Global Management and Hard Rock Entertainment.
Meanwhile, VICI announced it was acquiring the real estate and buildings associated with four casinos in Alberta, Canada that are operated by PURE Canadian Gaming Corp., for $200.8 million. The transaction marks VICI's first deal in Canada.
"Today's announcement marks another momentous first for VICI as we expand our footprint internationally," VICI President John Payne said in a statement.
PURE is the largest gaming operator in Alberta, with two casinos in Edmonton and one each in Calgary and Lethbridge. The properties combine for more than 247,000 square feet of casino space that house almost 3,000 slot machines and video lottery terminals, 145 table games and 10 restaurants. PURE will pay VICI $16.1 million annually to lease the casino's operations.
At the end of December, VICI purchased two small casinos in Mississippi and leased the operations back to the former owner, Foundation Gaming.
"With yet another small deal in a matter of weeks, VICI further diversifies with an additional tenant, expands internationally for the first time into Canada and proves they'll continue to execute accretive (mergers and acquisitions) despite a challenging environment," Truist Securities gaming analyst Barry Jonas wrote in a research note following the PURE Canadian announcement.
Jonas said the Canadian gaming market generated $12 billion in gaming revenue across 114 casinos in pre-pandemic 2019.
---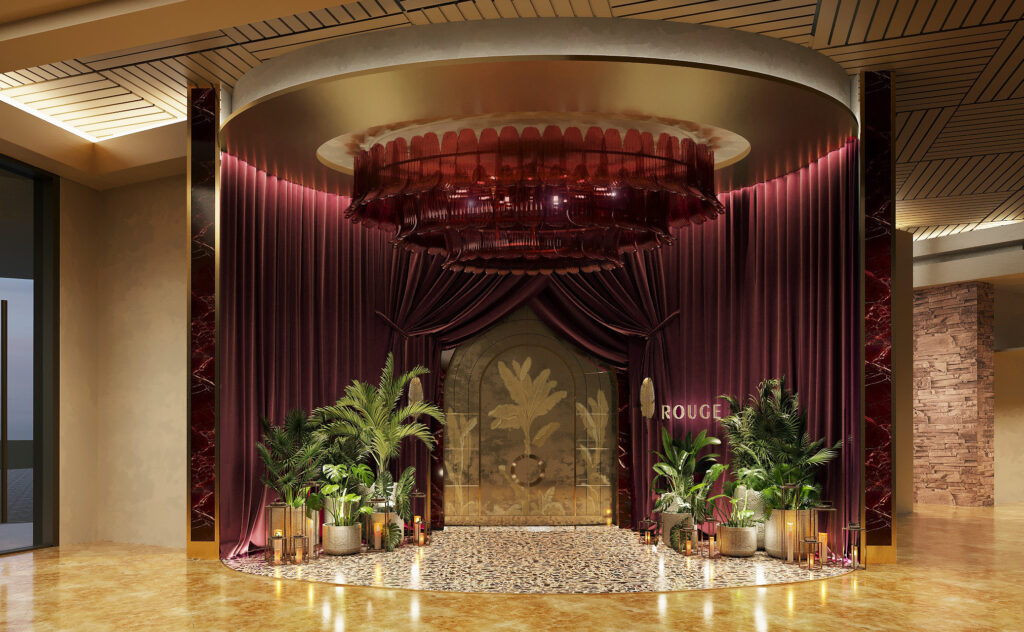 Quotable
Via press release from Red Rock Resorts
Red Rock Resort and Casino in Summerlin will add a European-inspired cocktail lounge this spring that will take over the 5,300-square-foot space that had been known as Crimson. Nick Mathers, creator of Kassi Beach House at Virgin Hotels Las Vegas and Southern California's Élephante in Santa Monica and Belle's Beach House in Venice, will develop the Red Rock location, which will be known as the Rouge Room.
"We're thrilled to introduce a unique concept to Red Rock Casino that we know will become the go-to spot not only for hotel guests but locals alike. A compelling addition to the vibrant local food and beverage scene, Rouge Room offers live entertainment and a bespoke cocktail experience unlike any other in Summerlin."
- Restauranteur Nick Mathers
Via press release from the Plaza Hotel & Casino
The downtown resort hired Sue Ascanio as the property's general manager. Ascanio has more than 30 years of experience with commercial and tribal casinos in Las Vegas, California and the Midwest. She spent 12 years with Station Casinos, including as the general manager of three properties. A graduate of UNLV, Ascanio also served as an executive with Pinnacle Entertainment and Penn National Gaming in Indiana.
"Sue is a proven leader who has experience with all aspects of managing a hotel/casino, including the design and construction of large-scale improvement projects and motivating a strong leadership team and staff."
- Jonathan Jossel, CEO of the Plaza Hotel & Casino
Via research note from CBRE
New York officials are seeking proposals that could lead to three casino licenses for the New York City area. MGM Resorts International, Resorts World, Caesars Entertainment, Wynn Resorts and others are expected to submit proposals that include a minimum investment of $500 million and a $500 million license fee. Analysts predict the actual costs to build the development at more than $1 billion. The gaming tax could be 25 percent on slot machines and 10 percent on table games.
"We estimate the downstate total available market could be $4.8 billion, depending on the final locations, scale, and tax rate of the casinos. We see New York City as an under-penetrated market even after expansion, with access to 19 million-plus people and favorable income metrics."
- John DeCree, gaming analyst, CBRE
(Updated on 1/12/2023 at 11:07 a.m. to correct the name of the CEO of Sportradar)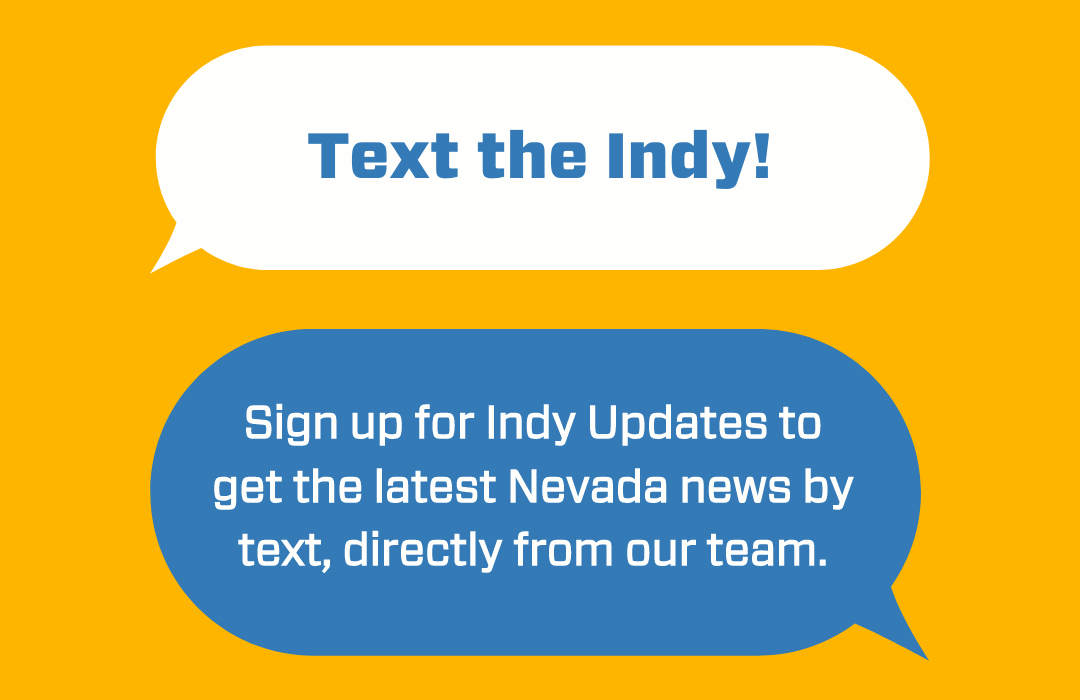 Featured Videos
Comment Policy (updated 4/20/2021): Please keep your comments civil. We reserve the right to delete comments or ban users who engage in personal attacks, use an excess of profanity, make verifiably false statements or are otherwise nasty. Comments that contain links must be approved by admin.