Original Fontainebleau developer gets chance to finish resort a decade later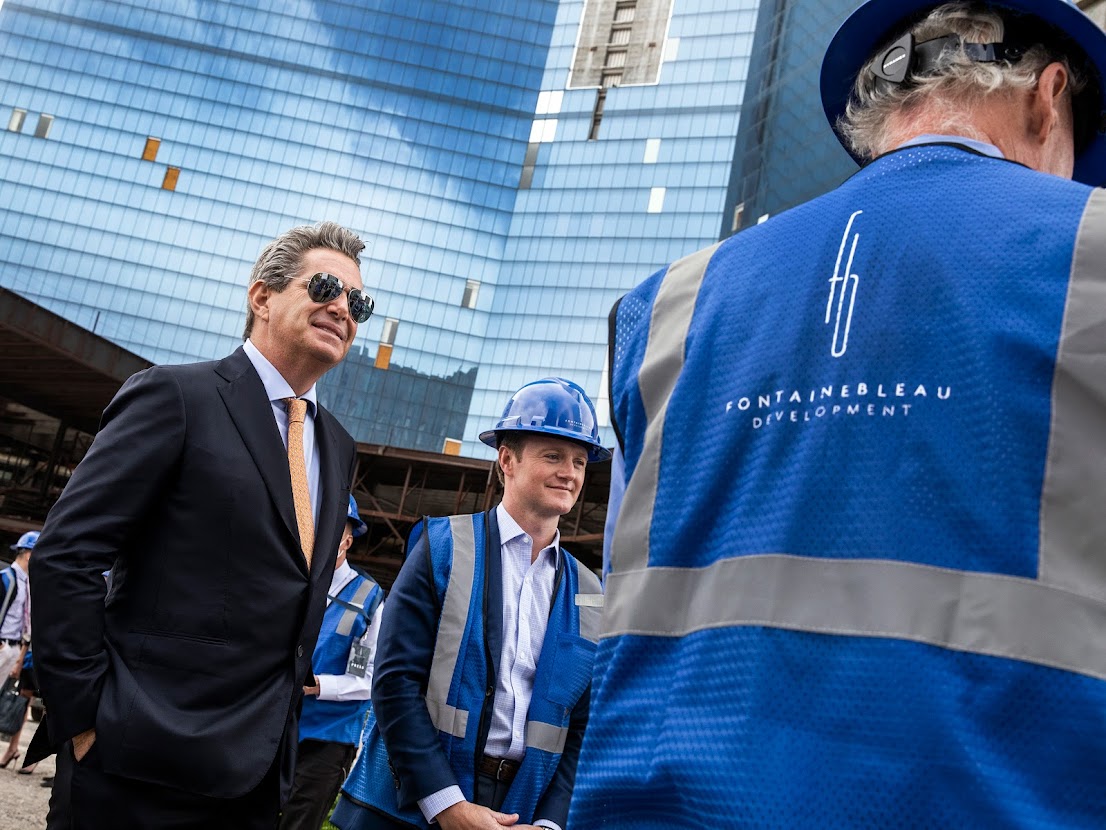 Jeffrey Soffer has visited Las Vegas often in the 12 years since halting the Fontainebleau project when it was 75 percent completed and four months from its scheduled opening.
The chairman and CEO of Florida-based Fontainebleau Development, who walked away from the planned $2 billion development when his financing disappeared, was perplexed. He couldn't understand why another builder didn't finish the planned nearly-3,800-room hotel-casino project at the north end of the Strip.
"I was surprised it sat here that long," Soffer told The Nevada Independent last week.
"I saw the articles over the years that it should be torn down, crazy stuff like that," Soffer said while sitting in a conference room built inside the parking garage attached to the 67-story blue-tinted glass tower. "The building itself was very well-built as a physical structure. It's in pristine shape."
An hour later, Soffer participated in a second groundbreaking and commencement ceremony with Gov. Steve Sisolak, Clark County officials, Las Vegas tourism leaders and his partners, 14 years and nine months after the initial groundbreaking event. Soffer announced plans to "finish what I started" and have the 25-acre Fontainebleau site open by the fourth quarter of 2023.
"It's a crazy story, but I could never understand why no one really had the vision to follow this through," Soffer said. "[Fontainebleau President Brett Mufson] came to me and said we had an opportunity to buy it back, and I said, 'yeah, let's do it.'"
Much has changed on the Strip's north end since the 9-million-square-foot development was halted.
The Sahara and Circus Circus have new owners, the $4.3 billion Resorts World Las Vegas opened in June and a $1 billion expansion to the Las Vegas Convention Center opened next door to the Fontainebleau on land that once housed the aging Riviera.
"My plan from day one was to have two properties, one in Miami and one in Las Vegas," Soffer said, referencing the company's flagship Fontainebleau resort on Miami Beach. "I always thought Las Vegas was a good fit for our brand."
He reacquired the Las Vegas project in February with a new financial partner: Koch Real Estate Investments, the Dallas-based subsidiary of Koch Industries. Neither Soffer nor Koch Real Estate Investments President Jake Francis revealed what they paid to buy back the project, nor did they provide details on the costs expected to complete the development.
Both companies said Soffer's Fontainebleau team will manage the resort. A deal with hotel chain Marriott International reached with a previous owner was scrapped; Soffer said Fontainebleau's worldwide customer database would fill the property.
"We generate a lot of traffic and a lot of revenue," Soffer said. "We have a brand that is known all around the world."
Soffer, who was married to supermodel Elle MacPherson from 2013 to 2017 and first made the Forbes billionaire rankings in 2015, is the son of Miami real estate developer Donald Soffer, who built a large mall, office building and condominium towers on a 785-acre parcel in Miami-Dade County.
Various parts of the Koch business empire have made investments in Las Vegas over the years, including multi-family housing developments and industrial projects, but the Fontainebleau marks the company's first gaming investment.
Francis said the Fontainebleau presented "an opportunity" for Koch Industries to enter the Las Vegas market "at a significant discount," rather than the start-up costs associated with building a property from the ground up.
He was quite familiar with the Las Vegas resort industry's revenue mix, where pre-pandemic, non-gaming spending by visitors accounted for roughly 65 percent of the Strip's revenue market.
"We're big believers in the continued movement of Las Vegas towards the north end of the Strip," Francis said. He views the Fontainebleau as the "third leg of the stool" that includes Resorts World and the convention center expansion.
"There is only more to come here," Francis added. "There's more sports teams, bigger conventions. So just with the growth of the market in general, [the Fontainebleau] is definitely a better location today than it was 14 years ago."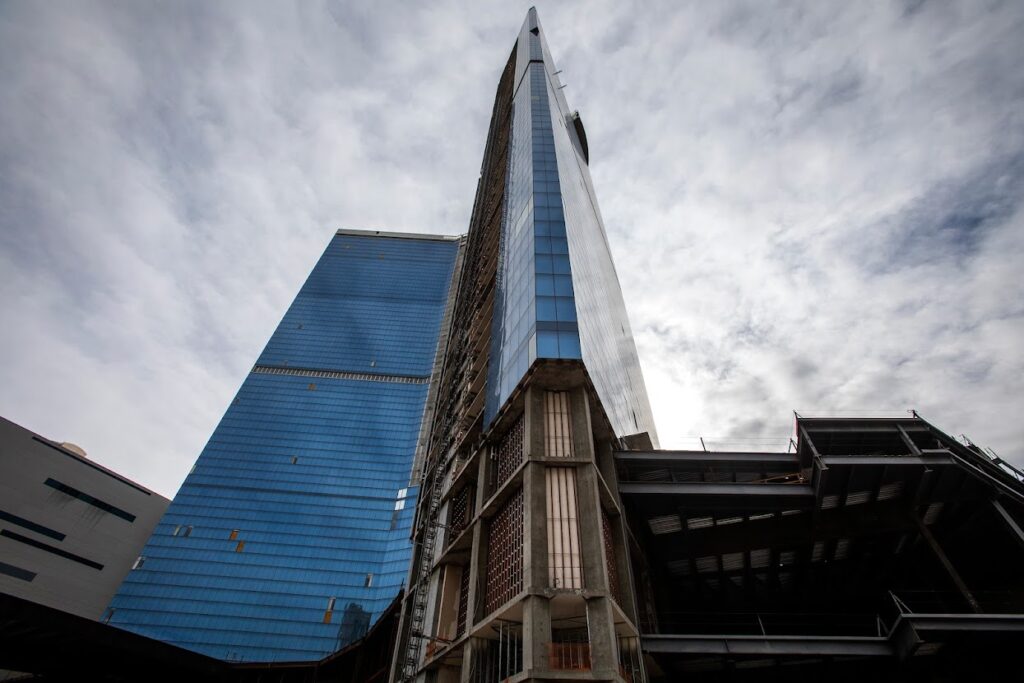 Is Vegas ready for another resort?
Gaming revenue has rebounded in 2021 after the pandemic closed the casino industry statewide for nearly three months in 2020, and handed the Strip its lowest gaming revenue total since 1996. But through September, Strip gaming revenue was less than 1 percent ahead of 2019's pre-pandemic figures.
Analysts said they would question the viability of the Fontainebleau if the project were opening next month. Mid-week convention business has been slow to return to pre-pandemic numbers, and international airline passenger travel into Las Vegas is still 85.6 percent below 2019. The day before the Fontainebleau's ribbon-cutting event, Las Vegas welcomed the arrival of its first transcontinental flight from the United Kingdom in 20 months.
The two-year wait could make a difference in Fontainebleau's success, analysts said.
Fitch Ratings Service gaming analyst Colin Mansfield reiterated his previous view that Las Vegas could return to the 2019 pre-pandemic levels by 2023. In an interview, he said time is probably on the side of the Fontainebleau.
"If you're talking about a two-year window, it's something that will create an incremental positive for the city," Mansfield said. "Resorts World added a little over 2 percent room inventory increase, and this project will add another 2 percent or so, which should be absorbed by the market given all the good things going on in Las Vegas."
Mansfield added that any new Las Vegas resort immediately "creates a buzz" that will drive visitors to the market.
Macquarie Securities gaming analyst Chad Beynon said the "fast recovery" of Las Vegas gaming revenue, and the anticipated return of non-gaming spending by customers, lead him to believe the market is ready for a new property by late 2023 or early 2024.
"The revenues that we've seen during the past few months, without any international travel and convention business, have clearly shown that Las Vegas' recovery is faster than anybody expected," Beynon said.
Brendan Bussmann, a partner in Las Vegas-based Global Market Advisors, agreed the arrival of the Fontainebleau could coincide with the Strip's return to pre-pandemic market conditions.
"If things remain on track, we should be at recovery sometime in the second half of 2023, which would bode well for an expansion," Bussmann said. "The challenge is the headwinds we are seeing right now between inflation, fuel costs and other economic concerns that are quickly reducing those lines of disposable income. That look[s] very recessionary. This will only elongate our recovery that may hamper a significant amount of room growth in the second half of 2023."
Truist Securities gaming analyst Barry Jonas said by the time Fontainebleau opens, the Las Vegas Strip could have several new operators.
Caesars Entertainment and MGM Resorts International both announced plans two weeks ago to sell Strip resorts early next year. Also, the gaming arm of Southern California's San Manuel Indian Tribe is expected to take control of the off-Strip Palms Casino Resort if approved by gaming regulators next month.
Jonas also suggested the off-Strip Rio Resort Casino could eventually be operated by its New York-based investment firm ownership after a management deal with Caesars expires.
"You're probably going to see new parties come to town, so Fontainebleau is not going to be the only new guy fighting for market share," Jonas said. "We will have to see how competitive the market gets because the fourth quarter of 2023 is going to be a lot different than the fourth quarter of 2021."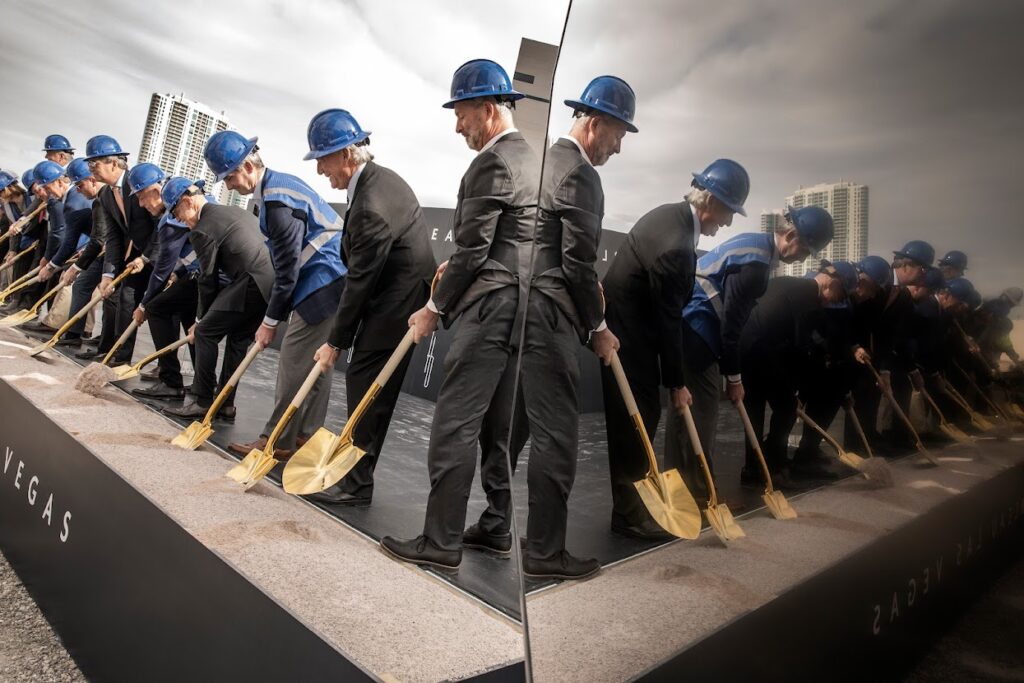 A few design changes
Soffer said the revived Fontainebleau will follow much of the original blueprint launched in 2007 – 3,780 hotel rooms and suites, 550,000 square feet of convention and meeting space, a casino, restaurants and other amenities. The plan is to hire roughly 6,000 full-time employees.
Condominium units are not part of the development, something that was part of the original design. Soffer said the residential component was to help finance the project.
"It's not the right fit and we don't have to do that now," he said. "The condo thing is sort of a thing of the past."
Another change is "greatly reducing" the once-planned 245,000 square feet of retail space. Soffer also said a 20,000-square-foot attraction on the Fontainebleau's roof will be revealed at a later date.
"We'll have announcements over the next two years," Soffer said.
More than 1,800 of the Fontainebleau's hotel rooms were ready for furniture when construction was halted. He said those rooms will need to be remodeled.
Soffer said the "bones" of the building – concrete, steel, plumbing and glass – remain strong after 14 years thanks to Southern Nevada's dry climate, although he noted some glass on the tower is missing and will be replaced. He added that the "finishes and the level of details" will take time to complete.
"We're making some changes, market-driven changes, for the direction of where we want to go with the property," he said.
Plus, growth on the north end of the Strip is likely to be a benefit. Having the West Hall of the Las Vegas Convention just a short distance from Fontainebleau's front door is a key marketing opportunity, Soffer said.
"You can stay here and walk across the street where CES or another big show is here," he said. "Companies can use us as a headquarters for a special event."
Las Vegas-based contractor W.A. Richardson Builders, the company that finished Resorts World after Boyd Gaming halted construction on what was then known as Echelon in 2008, is overseeing the Fontainebleau project. Bill Richardson, the firm's owner, was on hand for the groundbreaking ceremony, as were some 3,200 construction workers that have been on the job site since June.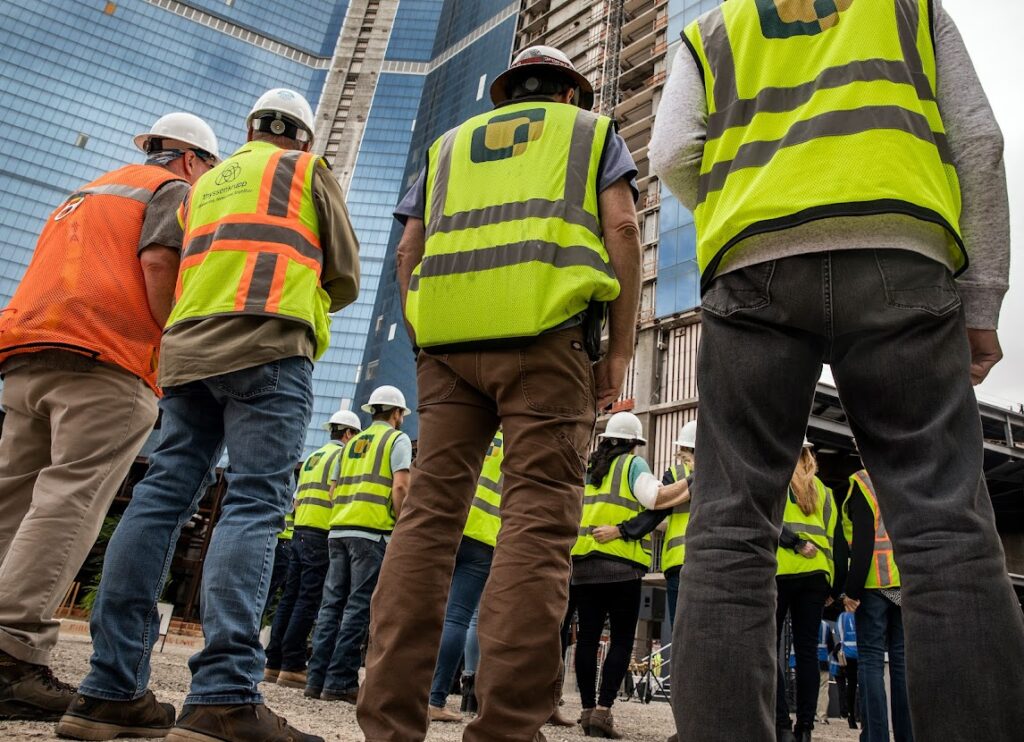 A long history
The Great Recession caused banks to pull financing from the Fontainebleau in June 2009. Soffer's company lost the project a year later in a bankruptcy court foreclosure sale to corporate raider Carl Icahn, who paid $150 million for the unfinished building.
Icahn's company stripped the Fontainebleau bare, selling furnishings, specially-made escalators, and a construction crane atop the tower. Elected leaders at the time thought the unfinished building was an eyesore, and Icahn was asked to beautify the site.
Instead, he sold the project in 2017 for $600 million to New York developer Steven Witkoff, whose plans included renaming the development Drew Las Vegas in honor of his son, Andrew, who died of a drug overdose in 2011.
Nevada gaming regulators found Witkoff suitable as an operator in January 2020, a designation he hoped would help secure $2 billion in financing to finish the building. Instead, the financing dried up, and Soffer got a second chance to complete Fontainebleau Las Vegas.
"I feel very privileged and honored to be in this situation," Soffer said.
The Nevada Independent is raising $200,000 by Dec. 31 to support coverage of the 2024 election.
Tax-deductible donations from readers like you fund this critical work.
If you give today,your donation will be matched dollar-for-dollar.
Give + Get Matched
Featured Videos