Indy Gaming: Jack Binion likes seeing 'Horseshoe' brand return to Vegas
Good morning, and welcome to the Indy Gaming newsletter, a weekly look at gaming matters nationally and internationally and how the events tie back to Nevada.
If a colleague or associate emailed this newsletter to you, please click here to sign up and receive your own copy of Indy Gaming in your inbox. - Howard Stutz
---
Later this summer, casino pioneer Jack Binion will wander down to the Strip and take a look inside Horseshoe Las Vegas, a rebranding of Bally's Las Vegas being undertaken by Caesars Entertainment.
Binion, who created the Horseshoe gaming brand starting at the historic downtown casino that still bears his family's name, always figured the label would return to Las Vegas, although he didn't think it would take almost 18 years.
He doesn't mind that the moniker will land on the Strip rather than return to Fremont Street.
"I think Horseshoe is a very meaningful brand for what it stands for, more so than a lot of (casino) brands," Binion told The Nevada Independent in a brief phone conversation Monday. "I think that's what they're doing now by playing off of it."
Caesars didn't disclose a cost for the renovation, which includes exterior and interior changes, such as adding the brand's gold horseshoe logo to carpeting and other signage.
Binion, who will turn 85 later this month, placed the Horseshoe brand on three riverboat casinos in Indiana, Mississippi and Louisiana starting in the late 1990s after selling his ownership stake in Binion's Horseshoe to his sister. He retained a 1 percent stake so he could lawfully keep his Nevada gaming license.
In 2004, Binion sold Horseshoe Gaming to Harrah's Entertainment – the predecessor to Caesars – for $1.45 billion. At the time, Binion said Horseshoe Gaming was considering renovating its northern Indiana casino that drew business from Chicago.
"It was a business deal," Binion recalled. "We were kind of at a crossroads and I had a lot of family members in the business. We were going to have to borrow a whole bunch of money again. I just decided it was best to sell."
Later that year, Harrah's acquired the downtown Binion's Horseshoe, along with the World Series of Poker, which gave the company the rights to use the Horseshoe brand in Nevada. The company has held onto the poker tournament, but sold Binion's to downtown casino operator Terry Caudill, who also owns the Four Queens.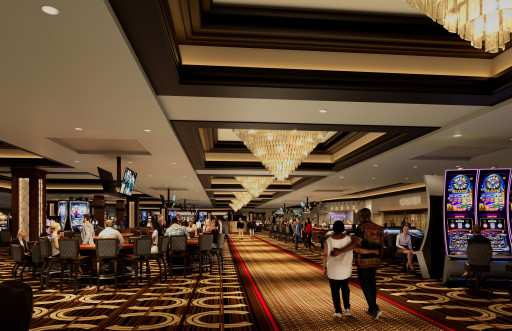 Caesars has six Horseshoe casinos in the U.S. – Binion's original three in Tunica, Mississippi; Hammond, Indiana; and Bossier City, Louisiana – in addition to Indianapolis, Baltimore, and Council Bluffs, Iowa. Caesars also attached the Horseshoe brand to casinos the company co-owned in Cleveland and Cincinnati in 2009 before selling its ownership stake.
Caesars timed the Las Vegas name change with previously announced plans to move the annual World Series of Poker to Bally's from the Rio, which Caesars no longer owns but operates under a management agreement.
Binion, along with his late father, Benny Binion, is credited with launching the World Series of Poker in 1970 at the downtown casino.
"Horseshoe is where it all began for WSOP," said Ty Stewart, the tournament's executive director. "It's always been a brand for gamblers and card players."
Binion keeps an eye on the Las Vegas gaming industry and has followed all the shifts and management moves, although "it's been a while" since he's visited the downtown casinos.
"I really should go down and look it over and see what was changed," he said.
Caesars has gone through several ownership groups in the nearly two decades since Binion sold Horseshoe Gaming, including the 2020 $17.3 billion buyout by Reno-based Eldorado Resorts and its controlling Carano family.
"I don't know the Caranos well, but I do know that they are very classy," Binion said.
The rebranding to Horseshoe doesn't mean the Bally's gaming brand will leave the Strip.
Caesars sold Bally's name, brand and intellectual property to Rhode Island-based Twin River Worldwide Holdings in 2020 for $25 million, but retained the rights to use the name in connection with the Bally's resort in Las Vegas. Caesars also sold the Bally's Atlantic City property to Twin River.
Twin River became Bally's Corp., and the regional casino company is rebranding most of its 14 properties in 10 states under the Bally's name, including the former MontBleu Resort in Lake Tahoe.
The new Bally's is acquiring the operations of Tropicana Las Vegas from Gaming and Leisure Properties. The deal is expected to close this summer and with the Bally's moniker coming off the future Horseshoe, it's expected to land a mile-and-a-half south and replace the Tropicana.
Bally's Chairman Soo Kim told the Las Vegas Review-Journal the company would look toward redeveloping the property, including "knocking it down and starting over."
---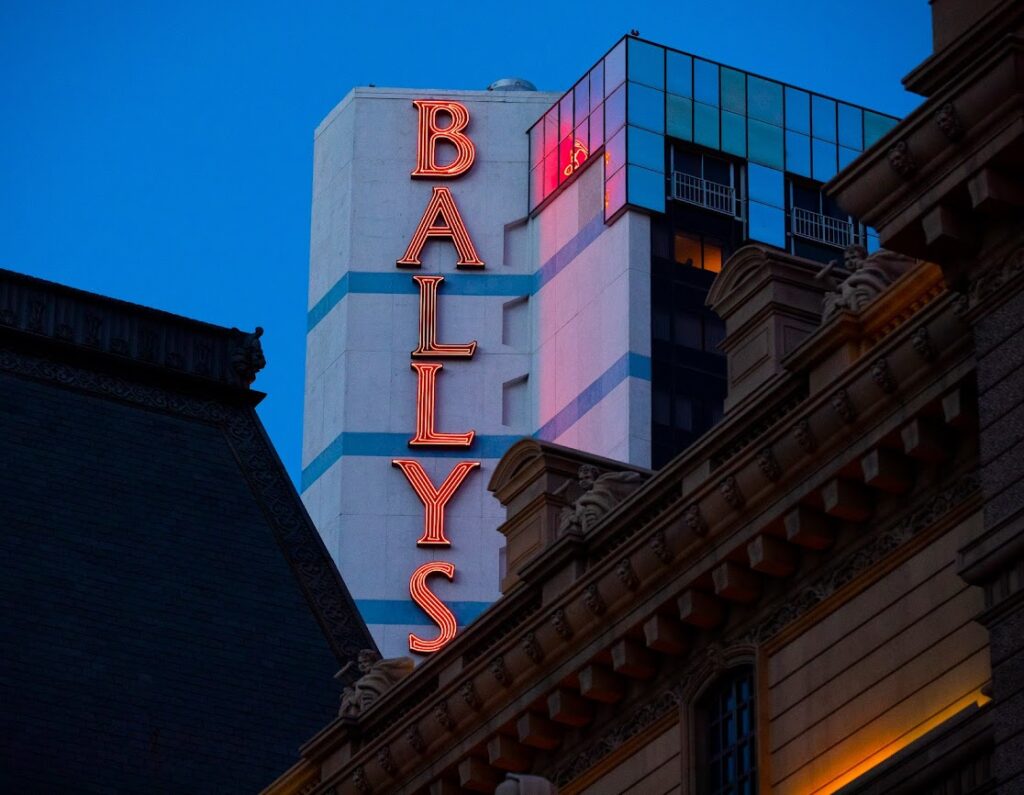 Chairman's offer to take Bally's private could leave shareholders 'under water'
Speaking of Soo Kim, the Bally's Corp. chairman wants to take the casino operator private through Standard General, a New York-based investment firm that he founded and serves as managing partner and chief investment officer.
Standard General owns 21 percent of Bally's and is the company's largest shareholder. In a letter to the board on Jan. 25, Kim said the investment firm would pay $38 a share for all outstanding shares, a 30 percent premium above the previous day's closing price on the New York Stock Exchange.
"Our proposed transaction would allow the company's stockholders to immediately realize an attractive value, in cash, for their investment and provides stockholders certainty of value for their shares," Kim wrote in the letter that was filed with the Securities and Exchange Commission.
Bally's shares shot up almost 23 percent on the day of the offer. The shares closed Tuesday at $36.28.
Several gaming analysts immediately saw issues with the proposal.
In October, Bally's paid more than $2.74 billion to acquire United Kingdom-based online gaming operator Gamesys. Former Gamesys CEO Lee Fenton is now Bally's CEO. Bally's former CEO, George Papanier, is president of Bally's casino division and oversees 14 properties in 10 states.
Truist Securities analyst Barry Jonas said the stock purchase offer, far below his $55 price per share target for the company, "would likely leave several minority shareholders underwater." Jonas noted that several Gamesys shareholders elected to take stock consideration from Bally's as part of the deal at $66 per share.
"While it's unclear to us if a deal gets done at $38, we see this as an opportunistic move by Standard General," Jonas wrote in a research note.
Macquarie Securities gaming analyst Jordan Bender told investors that Bally's stock should be worth as much as $58 per share.
"Questions around United Kingdom gambling regulations, Sinclair's Regional Sports Networks (which are branded as Bally's Sports) and competition in the online space have weighed on shares, which were off as much as 66 percent from 52-week highs," Bender wrote in a research note.
Bally's said last week its board would appoint a special committee of independent directors to consider the proposal. Standard General said it would only pursue the transaction further if the board approved and the company noted the letter was just an expression of interest. The company could still withdraw the offer or modify the proposal.
Both sides have been silent in the past week.
Kim has driven much of Bally's growth and transformation in the past two years. Standard General said if a deal did not materialize, the company would remain long-term shareholders.
---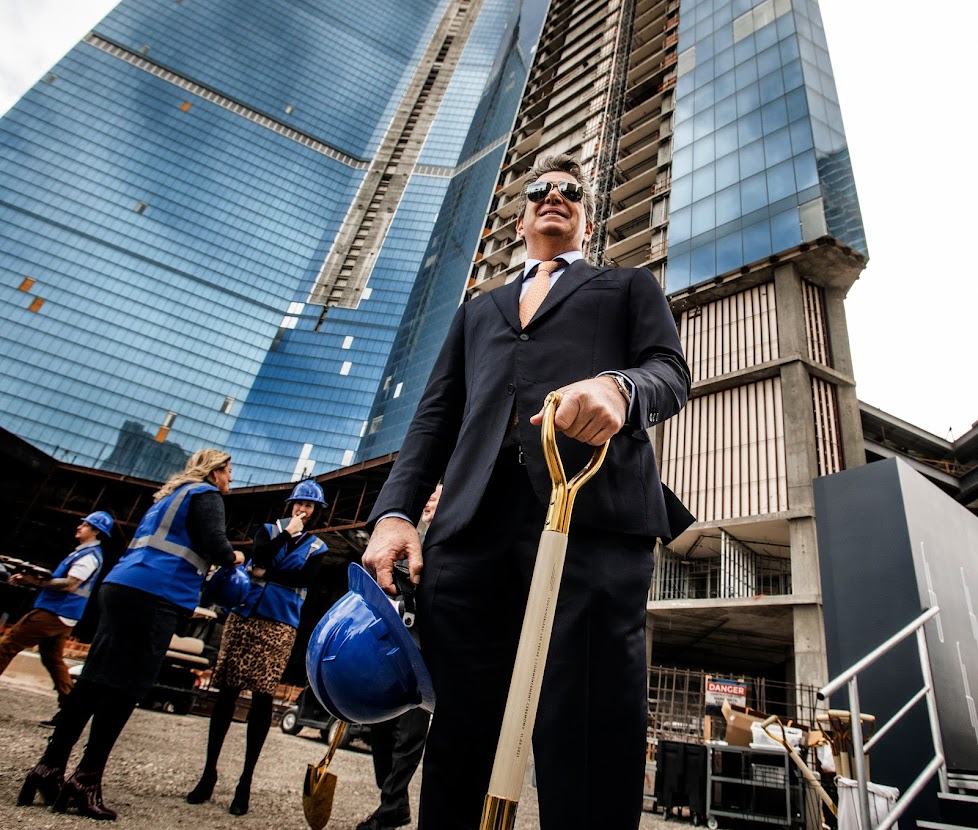 Two years ahead of opening, Fontainebleau Las Vegas has a president
The Fontainebleau Las Vegas has named its property president a little less than 24 months before the off-and-on Strip development's planned opening in late 2023.
Fontainebleau Development said Clifford Atkinson will head the in-house team for the long-planned 3,800-room resort on the Strip's north end. The property was given a new lease on life last year by Jeffrey Soffer, the project's original developer.
Atkinson, who most recently served as a hospitality industry consultant and CEO of WM Advisory Group, previously was president of Luxor and held executive-level positions with MGM Resorts International.
"When we set out to identify a visionary leader for our next-generation luxury resort, Cliff's knowledge and relevant hands-on approach and experience, coupled with the perspective gained from nearly 30 years in hospitality, made him the unequivocal choice," Soffer said in a statement.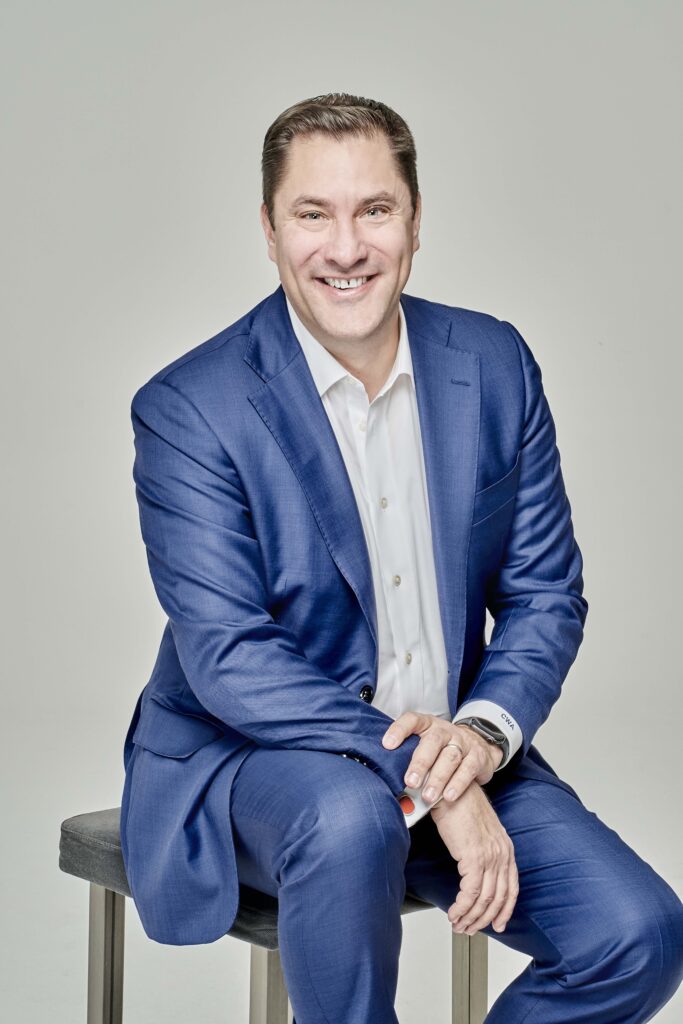 Atkinson was senior vice president of hotel strategy for MGM Resorts and was general manager for Mandarin Oriental Hotel Group in Las Vegas and San Francisco. He held a similar position with New York's Gramercy Park Hotel.
Soffer, CEO of Miami-based Fontainebleau Development, re-acquired the unfinished property in partnership with Koch Real Estate Investments, 12 years after he was forced to halt construction when the project lost its financing during the recession. The Fontainebleau has sat unfinished since 2009 and had two different owners, including corporate raider Carl Icahn. Soffer stepped back in and vowed during a second-ceremonial groundbreaking event in November to open the property by the last quarter of 2023.
"With Cliff guiding our team, we move forward with even greater confidence and trust in our vision," Soffer said of Atkinson, who will operate the 67-story blue-tinted glass tower that will include 550,000 square feet of convention and meeting space, a casino, restaurants and other amenities.
Soffer and Koch Real Estate, the Dallas-based subsidiary of Koch Industries, did not reveal a cost to buy back the project, nor did they provide details on the costs expected to complete the development.
Las Vegas-based contractor W.A. Richardson Builders, the company that finished Resorts World Las Vegas after Boyd Gaming halted construction on what was then known as Echelon in 2008, is overseeing the Fontainebleau project. Some 3,200 construction workers have been on the job site next to the $1 billion expansion of the Las Vegas Convention Center since last June.
"Fontainebleau Las Vegas is, without question, the beacon of change for the future of Las Vegas," Atkinson said in a statement. "I feel as if my entire career has prepared me for this role."
---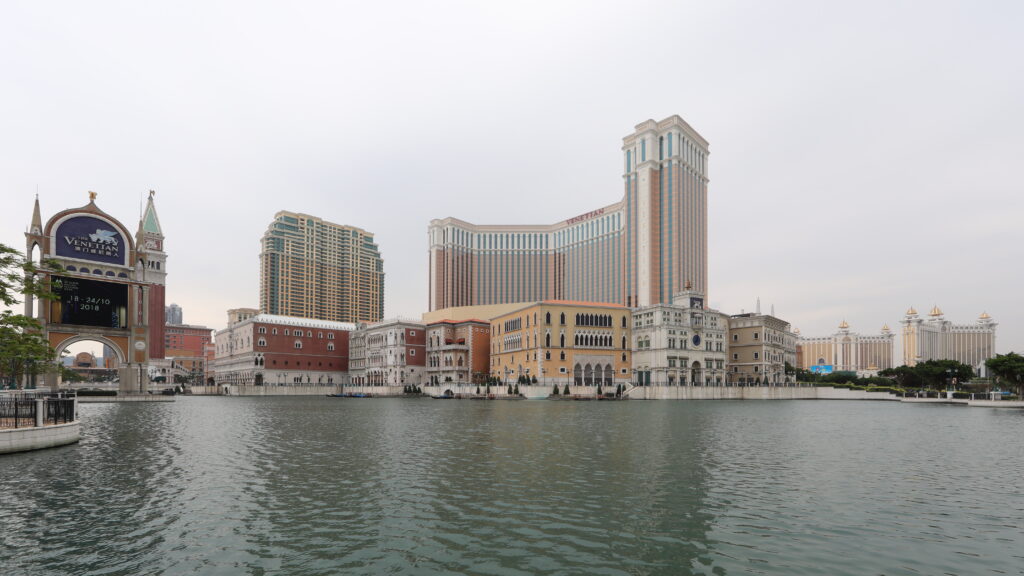 Macau gaming not expected to fully recover until 'middle of the year'
Macau casinos saw gaming revenues slip during January following a crackdown on junket operators and tighter border restrictions.
The Gaming Inspection and Coordination Bureau said Tuesday gaming revenues of $794 million for the first month of 2022 were 20.9 percent below January 2021 and a 74.6 percent decline compared to pre-pandemic January 2019.
COVID-19 began affecting Macau's casino industry at the end of January 2020.
The January 2022 figure was also 20.3 percent below December 2021 revenue figures.
Analysts predicted Macau will continue to report negative gaming revenue totals in February given the halt of any Chinese New Year celebrations and increased travel restrictions associated with the Winter Olympic Games in Beijing, which start this week.
"Investors have to understand the market probably won't go into recovery mode until the middle of the year, at the earliest," Stifel Financial gaming analyst Steven Wieczynski said in a Tuesday morning research note.
China has banned spectators, including locals, from attending the Winter Olympics.
Macquarie Securities gaming analyst Chad Beynon said the move was "a sign there is a zero-tolerance rule for COVID in the country. This signal points to a further delay in the revenue recovery in the Macau market."
MGM Resorts International, Wynn Resorts and Las Vegas Sands operate casinos in Macau.
Wieczynski said Macau "remains in disarray" after new COVID-19 variant cases have increased in mainland China. He said the January gaming revenue declines overshadowed "good news" in December surrounding clarity provided by the government over the upcoming gaming concession renewal process that favored the six current license holders.
"We believe uncertainty remains regarding the concession outcomes, as well as demand recovery post-COVID and the secular decline in (high-end) play, which shape our conservative stance," Jefferies gaming analyst David Katz wrote in a research note.
Macau's total gaming revenues in 2021 were $10.8 billion, an increase of 43.7 percent over 2020 but still more than 70 percent below 2019, when casinos in the region produced $36.6 billion. Macau's all-time gaming revenue record was $45 billion in 2013.
Meanwhile, the CEO of Macau's second-largest junket operator was arrested last weekend by legal authorities in the Special Administrative Region, as a law enforcement crackdown continued on the businesses tasked with bringing big-spending customers to casinos' high-end gaming rooms.
Levo Chan, head of the Tak Chun Group and CEO of Macau Legend Development, was arrested on suspicion of illegal gambling, running a crime syndicate, money laundering and under-the-table betting. Authorities also arrested Billy Choi, CEO of Ying Hai Group and a financial executive of the junket.
The actions follow the arrest last year of Suncity Group Holdings CEO Alvin Chau, who was accused of being in a criminal ring, running illegal gaming activities and money laundering.
According to Asia Gaming Brief, the recent arrests were tied to the Chau arrest in November.
The major casino operators in Macau, including the three Las Vegas companies, have backed away from junket representatives since the government crackdown began.
Wieczynski said Macau's high-end market "will probably never reach the levels it once was. The best case from here is that the VIP market might get back to 40 percent to 50 percent of all-time highs."
---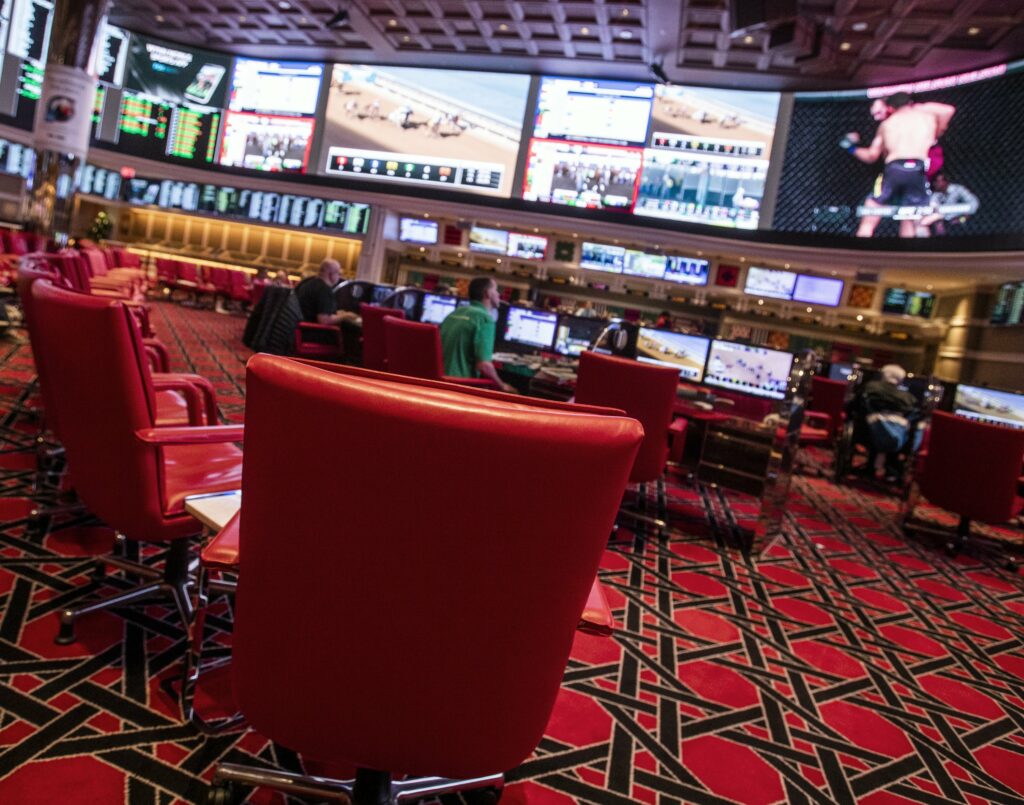 Report: WynnBet up for sale, but still bringing on ambassadors
Reports surfaced last month that Wynn Resorts was looking to sell WynnBet, its online interactive gaming and sports betting business. According to The New York Post, the company was seeking $500 million for the company which has online operations in eight states, but not Nevada.
During the Wynn Resorts' third-quarter conference call, former CEO Matt Maddox told analysts the spending by sports betting operators on marketing, promotions and other ways to acquire customers, nationwide "was not sustainable"
Maddox, who turned over the CEO duties to Craig Billings on Tuesday, added, "The economics are just not something that we're going to participate in (during) the short term."
Also in November, Wynn ended a $3.2 billion deal to spin WynnBet off into a public company through an agreement with a Special Purpose Acquisition Company headed by Vegas Golden Knights owner Bill Foley.
Billings, who was CEO of WynnBet parent company Wynn Interactive, said at the time the company wanted to pivot its "user acquisition efforts to a more targeted (return on investment)-focused strategy."
But WynnBet continues to bring in high-profile spokesmen and celebrity ambassadors. Shortly after the Post article, WynnBet said former New England Patriots wide receiver Julian Edelman had become a brand ambassador for the business. He joins basketball superstar Shaquille O'Neal and actor Ben Affleck as WynnBet spokesmen.
WynnBet said Edelman, who won three Super Bowls with the Patriots, would partner with the company on a podcast with details being announced later. Edelman will also create original social media content in collaboration with WynnBet
The agreement also includes appearances from the WynnBet Sports Bar at Encore Boston Harbor. Massachusetts, however, has not yet legalized sports betting.
---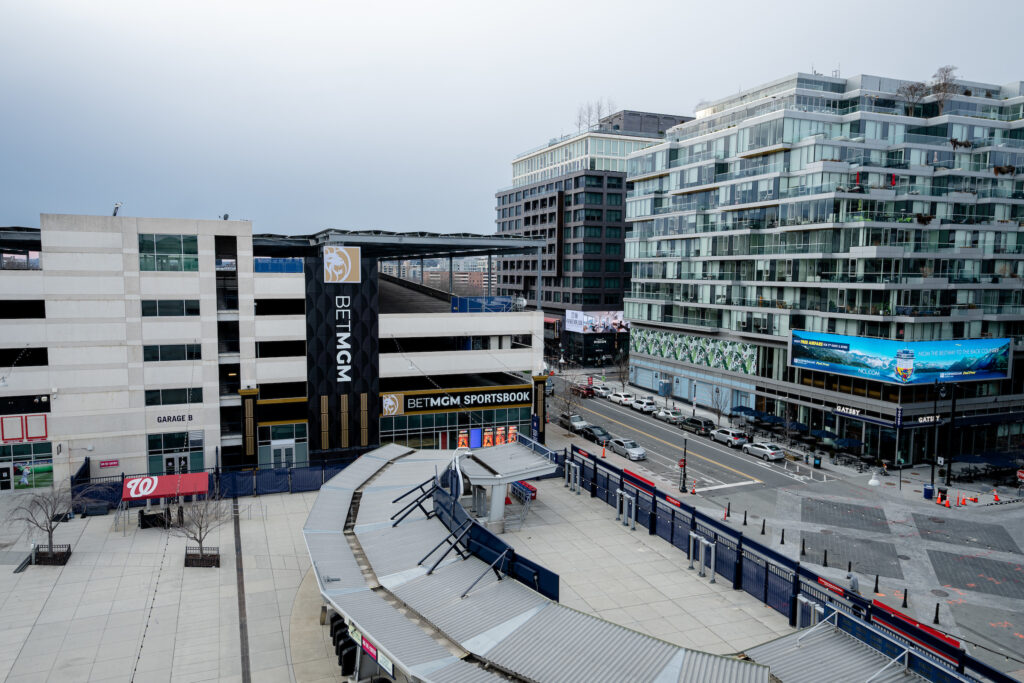 Other items of interest:
BetMGM and the Washington Nationals opened the first retail sportsbook attached to a Major League Baseball stadium this week. The location will be open year-round, not just when the team is in season.
BetMGM Sportsbook at Nationals Park is located near the centerfield gate entrance to the stadium, and the 4,000-square foot facility offers six betting windows staffed by employees as well as wagering kiosks. The sportsbook has a capacity for 187 guests and offers full-service beverage and dining options, as well as 40 large-screen televisions for viewing sporting events.
Washington D.C. became home last year to the first sportsbook attached to a sports arena when Caesars Sportsbook opened a location at the Capital One Arena, which is home to the NBA's Washington Wizards and NHL's Washington Capitals.
The retail sportsbook is part of BetMGM's multi-year partnership with the Nationals, which included the launch of the BetMGM mobile app last June where users can place mobile wagers within a two-block radius of Nationals Park.
BetMGM, a 50-50 partnership between MGM Resorts International and Entain plc, has focused efforts on the Washington D.C., Maryland and Virginia regions. The BetMGM mobile app can be used anywhere in Virginia and a retail sportsbook was opened at MGM National Harbor in Maryland.
Clark County Aviation Department officials said almost $1.5 million in private funds were raised between October and December to help finance costs for changing the Las Vegas airport's name to Harry Reid International Airport.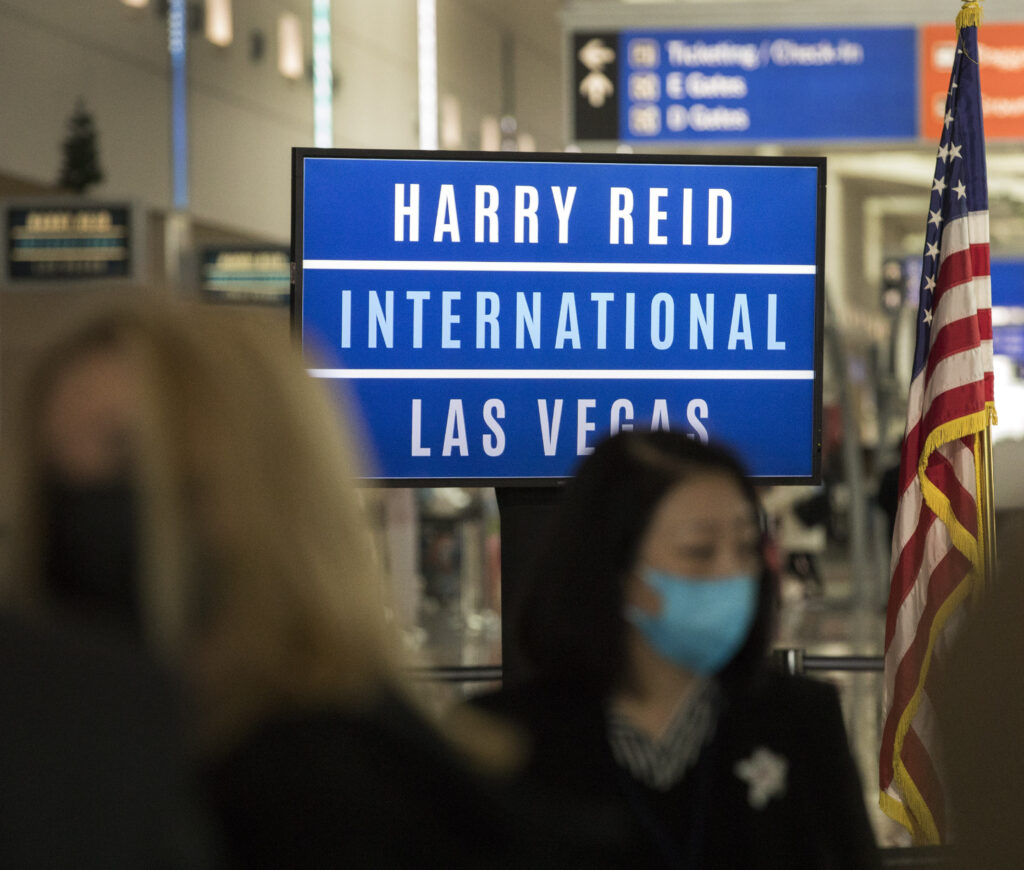 At the end of 2021, the department had raised more than $4.6 million of the estimated $7 million it will cost to change the airport's name from McCarran. In addition to signage in and around the airport, funds are being raised to cover name change designations throughout the facility and airport operations, such as uniforms and vehicle decals.
The effort started with a $1 million donation from businessman and Democratic donor Stephen Cloobeck, professional gambler Billy Walters and his wife Susan, and Boyd Gaming Executive Chairman Bill Boyd and his wife, Judy. The largest donation between October and December was $720,000 from Saltzman Mugan Dushoff, a Las Vegas law firm.
As expected, gaming equipment provider AGS announced plans to refinance its more than $600 million in debt, seeking to increase the due date for the bulk of the financing until 2029.
The Las Vegas-based company hinted at a debt refinancing last month when it pre-announced fourth-quarter and 2021 earnings. AGS said it would fully re-finance two different loan obligations – one for $512.2 million and a second for $93.6 million – that are both due in 2024.
AGS said it is seeking $575 million in debt that would be due in 2029 and would use an undisclosed portion of the cash on its balance sheet. AGS also plans to refinance and increase $30 million in undrawn credit due in 2023 to a $40 million revolving credit line that would be due in 2027.
Las Vegas-based Full House Resorts wants to raise $100 million in debt to help the company develop and open its temporary casino in Waukegan, Illinois this summer.
The temporary casino will operate until the $500 million American Place opens in 2024. Full House received approval from Illinois gaming regulators for the casino in December. Waukegan is 40 miles north of downtown Chicago.
Full House said last month that the 10-acre site for the temporary casino is next to the 29-acre permanent casino location. The company said the temporary casino will have "significant upfront gaming license payments" and slot machines that will be transferred to the future casino. American Place is expected to have 1,000 slot machines and 50 table games.
MGM Resorts International re-launched its customer loyalty program as MGM Rewards and changed the system by adding non-gaming spending that allows patrons to earn reward points for their activity outside the casino floor.
MGM Rewards has multiple tiers based on a customer's spending habits. The points earned by customers can be redeemed at restaurants, entertainment venues and hotel stays at MGM properties in eight states, including a dozen casino resorts and entertainment venues on the Strip.
"The enhancements we've introduced with MGM Rewards are rooted in feedback shared by our members and allow us to invest in providing members progressively more valuable benefits at each tier," MGM Resorts Vice President of Loyalty Marketing Anil Mansukhani said in a statement.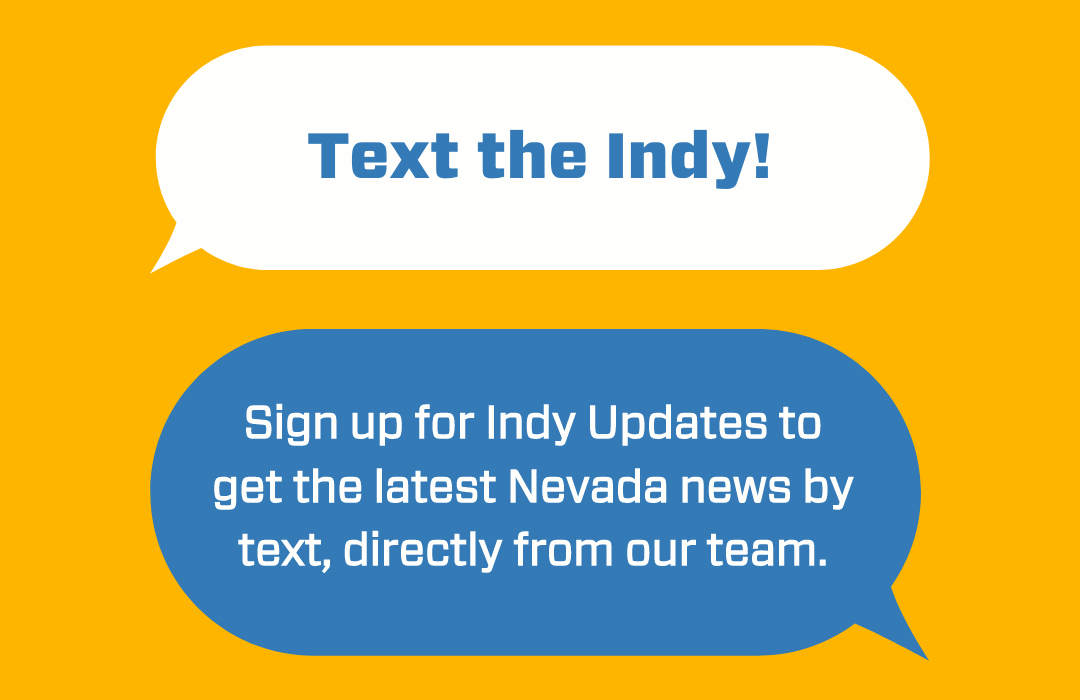 Featured Videos
Comment Policy (updated 4/20/2021): Please keep your comments civil. We reserve the right to delete comments or ban users who engage in personal attacks, use an excess of profanity, make verifiably false statements or are otherwise nasty. Comments that contain links must be approved by admin.