Indy Q&A: Sisolak on 2020, gun law changes and marijuana enforcement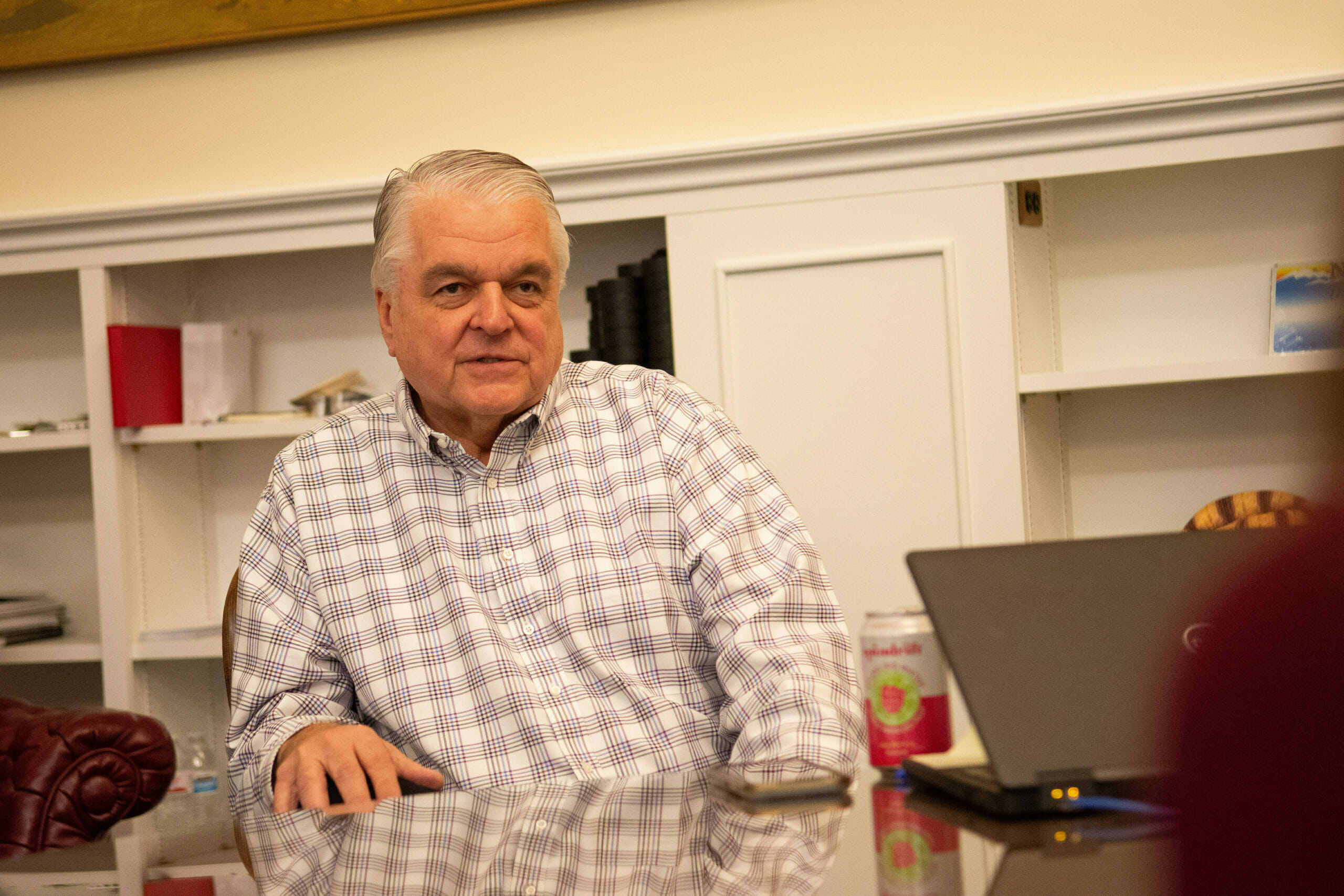 Gov. Steve Sisolak said he "underestimated" the passion of the public on firearms issues and is still studying how he might fulfill a campaign promise to ban assault rifles — an ill-defined category of weapons — as California lawmakers call for neighboring Nevada to ramp up its gun control.
In a wide-ranging interview with The Nevada Independent on Wednesday in Carson City, Sisolak also expressed skepticism about Medicare for all proposals championed by progressives because of their potential consequences to desirable union health plans. He also confirmed that he would not endorse a presidential candidate before the state's February caucus.
Sisolak, who defeated Republican Adam Laxalt in the 2018 election to become Nevada's first Democratic governor in two decades, was hesitant to say much about his recent attempts to "root out potential corruption" in the marijuana industry. He didn't say whether a task force he has convened has made any arrests, citing ongoing investigations, but says he wants as much information as possible to be public as soon as practicable.
He also discussed the Oakland (soon to be Las Vegas) Raiders, a proposed ballot measure to raise money for education and his new appointee to lead the state's prison system.
Highlights of the 20-minute interview are below.
Firearms
In light of a request from several California lawmakers for Nevada to beef up its gun laws in the wake of a mass shooting at the Gilroy Garlic Festival (the firearms were purchased in Nevada), Sisolak said he had a "lengthy discussion" with California Gov. Gavin Newsom on the issue but said he had underestimated how strongly people in the state's rural counties felt about firearms.
"Candidly, I think I underestimated the amount of emotion that was involved with some of the rural communities as it comes to firearms," he said. "We're dealing with the sheriff of Humboldt County, we're dealing with sheriffs that are just saying we're not going to enforce the (background checks) law. I mean, that's problematic. I didn't think it would be that emotionally charged or that it's a litmus test issue for folks that don't understand, or don't want to take the time to understand, when we're trying to explain to them."
Although he ran a memorable campaign ad in 2018 promising to "ban assault rifles, bump stocks, silencers" if elected governor, he again demurred on whether he would push for an assault weapon ban in the 2021 legislative session, saying that policies to ban a specific type or feature of a firearm had to be carefully construed in order to avoid loopholes and other workarounds.
"I don't have enough of an intimate knowledge about exactly what an assault rifle is," he said. "You know, I've met with folks, I'm trying to become more educated. It's not the look of a weapon that makes an assault rifle. Is it the velocity? Is it the expanded capacity to rapid-fire? I mean, those are the kinds of things. Once you ban one thing, you ban product A, they come up with product B. That's going to be the same thing that product A did. All you're doing is making more money for gun manufacturers."
2020 election & Medicare for all
Sisolak — who met with at least five Democratic presidential candidates during the 2019 legislative session — said he has continued to meet with contenders but has no plans to endorse a challenger to President Donald Trump prior to the state's February presidential caucus.
"I told them the important thing is really not my endorsement," he said. "It's the Culinary worker in the back of the house at the Mirage, or the guy working on the expansion of the convention center. Those are the endorsements that are going to really matter, the working men and women and you know, I don't think my endorsement is as important as theirs, quite frankly."
The governor also took a guarded position on the progressive goal of transitioning the country to a single-payer, "Medicare for all" health care system, a policy championed by presidential candidates including Vermont Sen. Bernie Sanders and Massachusetts Sen. Elizabeth Warren. Sisolak said he would have an easier time supporting a Medicare expansion or making it easier to qualify for the social program, but said a wholesale change to the health care system was rife with "logistical problems," including what would happen to insurance plans negotiated by labor unions.
"When you get into taking away the health care that you've negotiated over a period of time, that's problematic," he said. "I mean, people have their doctors, they have their plans, they don't want to change those. So I don't know the logistics of how that would work."
Marijuana
Sisolak said he inherited a marijuana regulatory system with problems and is now tasked with fixing it, but did not divulge details about what punishments — if any — have been meted out to licensees since he called for more scrutiny to the cannabis sector.
"There wasn't an adequate infrastructure put in place in the rush to get the tax revenue and now we're having to pick up the pieces," he said.
He pointed to recent troubles with marijuana testing labs that have provided inaccurate measurements of THC — the psychoactive ingredient in cannabis.
"You've seen us take some action when it comes down to the testing labs," he said, "and selling a product that's got a high mold or heavy metal content to somebody with a compromised immune system is really problematic for me."
But information about disciplinary action against marijuana licensees has been hard to come by. The state has declined to even confirm whether a Sparks marijuana testing lab has been suspended, even though a sign posted on the business's door says so.
The state has also declined to provide information about disciplinary action, including which cases are pending, even though marijuana businesses said at the time a marijuana transparency bill passed in May that it would shed light on disciplinary proceedings. Sisolak deferred to Tyler Klimas, leader of the forthcoming Cannabis Control Board, on how much would be revealed.
Licensees "have due process and I fully understand that and I want them to have their due process," he said. "At the same time, it's my job to protect the public in an industry that's in its infancy."
He also declined to say whether there have been any arrests or imminent arrests from an emergency task force he set up to "root out potential corruption" in the industry, saying he can't divulge information about ongoing investigations.
But he said his goal is transparency, pointing to the bill he signed this spring that unveiled names of marijuana applicants and owners that had previously been shrouded in secrecy.
"I want to do everything I can to make it public when we can make it public. The transparency is extremely important to me. I don't believe in government in the shadows and the anonymous source kind of stuff," he said.
Environment
Speculation is growing that in the face of Sisolak's recent executive order directing the state to reduce carbon emissions as part of an effort to combat climate change, Nevada may be next in line to adopt higher emissions standards for passenger vehicles.
The state has already intervened in a lawsuit brought by California over the state's right to set higher emission standards than the federal government, and the state agency heads tasked with implementing the executive order have identified emissions standards as one major policy step to reduce carbon emissions.
Sisolak, who in March signed Nevada onto a multi-state alliance following the tenets and carbon reduction goals of the Paris Climate Agreement, said "nothing's off the table" in terms of policies that would reduce carbon emissions — including emission standards.
"We need to take action and move forward," he said. "It's not happening in Washington D.C. … So it falls to the governors in individual states, and I think we need to send a strong, clear message it's a priority for us on every level. Carbon emissions (are) a big part of it. Clearly that's going to be most impactful in terms of moving the needle."
Impeachment
Sisolak deferred to Congress when asked whether he supports the ongoing effort to impeach President Donald Trump over accusations that he withheld foreign aid to Ukraine in an effort to extract political favors.
"I've got so many issues that are on my plate right now. I'm dealing with SNAP benefits and marijuana labs and that sort of thing," Sisolak said. "We've got people in Congress and in the Senate that are ultimately going to make that choice ... that's going to be their decision and I'll let you leave it up to them."
Taxes for education
Asked about a proposal from the Clark County Education Association to pass a tax in a 2022 statewide vote to raise $1 billion for education, Sisolak said he hasn't spoken with union leader John Vellardita about the plan and knows only what he's seen in the press.
"I don't know what they're proposing to raise, so I can't even comment on that," he said.
But he noted that the measure appears to be focused only on education and not the many other areas of the state budget.
"There are other areas that all factor into there that also needed to be addressed," he said. "And I'm not even hearing that being discussed."
He also had qualms about passing major policy through ballot measure, a process that doesn't allow for the tweaks that bills get through the legislative process and can lead to unintended consequences.
"I don't think that that's the best way to pass taxes ... That's just me," he said. "I can [tell] you what I do support is teachers."
Asked if he was prepared to promise, as he did last budget cycle, a budget that included no new taxes, Sisolak was noncommittal aside from saying the work his staff has been doing on the budget has been "incredible."
"Well, you're getting way ahead," he said. "We're still waiting to see how things work out."
Steve Wynn
Nevada gaming regulators are attempting to strip former casino mogul Steve Wynn of the "suitability findings" that would allow him to participate in the gambling sector, as well as fine him based on reports that he committed sexual misconduct against employees. Wynn is fighting back vigorously, arguing that he stepped down from his casino company and gaming regulators no longer have the jurisdiction to sanction him.
Sisolak said he'd let Gaming Control Board Chairwoman Sandra Douglass Morgan make that decision.
"I think that Sandra Douglass Morgan was one of the proudest appointments that I've made. She's absolutely incredible as a chair of the Gaming Control Board," Sisolak said. "She's a lawyer. I'm not. She knows the laws better than I do, and I will stand with whatever decision she decides to move forward with."
He said the regulators are not just out to punish Wynn personally, after Wynn Resorts was also fined for not doing enough to stop the misconduct.
"My opinion is Sandra Douglass Morgan doesn't have a mean-spirited bone in her body," he said. "She's doing what she feels is best for the state of Nevada and the interests of the gaming industry as we move forward. And if she feels it's in the best interest to hold an individual accountable, I'll support her on that."
He said the decision matters because gaming is one of the most important industries in the state.
"We need to protect the credibility of that industry and that's one of her main jobs and I'm going to support her on that one," he said.
Raiders training camp
In spite of interviews with Raiders owner Mark Davis, who stated that the football team will continue to hold its annual training camp in Napa after moving to Las Vegas, Sisolak said he was confident that the team would eventually move its facilities east to Nevada.
"They're not going to stay in Napa," he said. "I don't believe they'll stay in Napa. I've had numerous discussions with both (Mark Davis) and (Raiders executive) Mark Badain on this issue."
Sisolak was a major booster of efforts to lure the Raiders to Las Vegas — including $750 million in hotel room taxes directed to a stadium for the team — and joined team executives mid-campaign to view potential future training camp sites in Reno in 2018. He said the potential sites for the team, which included the University of Nevada, Reno and a local high school, were not "conducive" for an NFL team, and that the facilities needed for the team couldn't be conjured up overnight.
"You know, there were a lot of requirements that they needed in terms of hotel rooms, in terms of nutritional issues, kitchens and weight rooms and training rooms and breakout rooms," he said. "And it was quite a lengthy list of requirements that you had for a training camp, and to make all those work. I don't think you can do it in a couple months."
Still, Sisolak said he spoke with Badain about the issue as recently as two weeks ago, and said they would be "restarting those discussions" once the team completes the move to Las Vegas.
Corrections
Sisolak said he was "impressed" by Charles Daniels, a longtime corrections official who he recently appointed to head up the Nevada Department of Corrections. He also said the press "should be ecstatic about it because he's very big on transparency and on openness."
"He's a man of a character and there was the issue he had where he would not fudge statistics. I mean, he called it like he saw it. He wants the truth," Sisolak said "You're going to see him tell it like it is. There's going to be no hedging and no manipulating, if it were, of numbers. And I think it's something that's desperately needed to move our correctional facilities forward."
Sisolak said he probably interviewed more people for the prisons director than for any other position. One plus for Daniels was that has lived in Henderson, making for an easier transition from his current job with the Alabama Department of Corrections.
The governor said Daniels' ideology was a bit different than that of former director James Dzurenda, who earned praise for working to reduce the use of solitary confinement and eliminate the use of shotguns in prison.
"I think you're going to see some innovative, exciting things that we hadn't seen previously in corrections and I think the folks who work in there are going to like him," Sisolak said. "He wants people to know that the public has to buy in to this in order to make it work and he's going to not be hiding."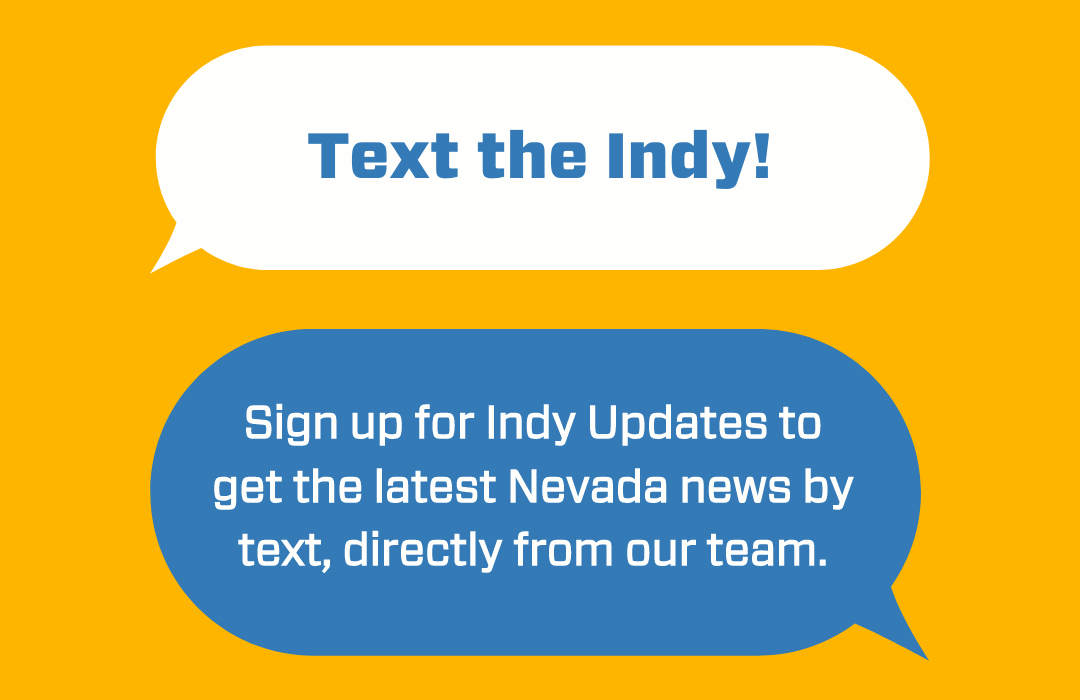 Featured Videos