Kihuen colleagues react with surprise, skepticism that he might seek re-election after all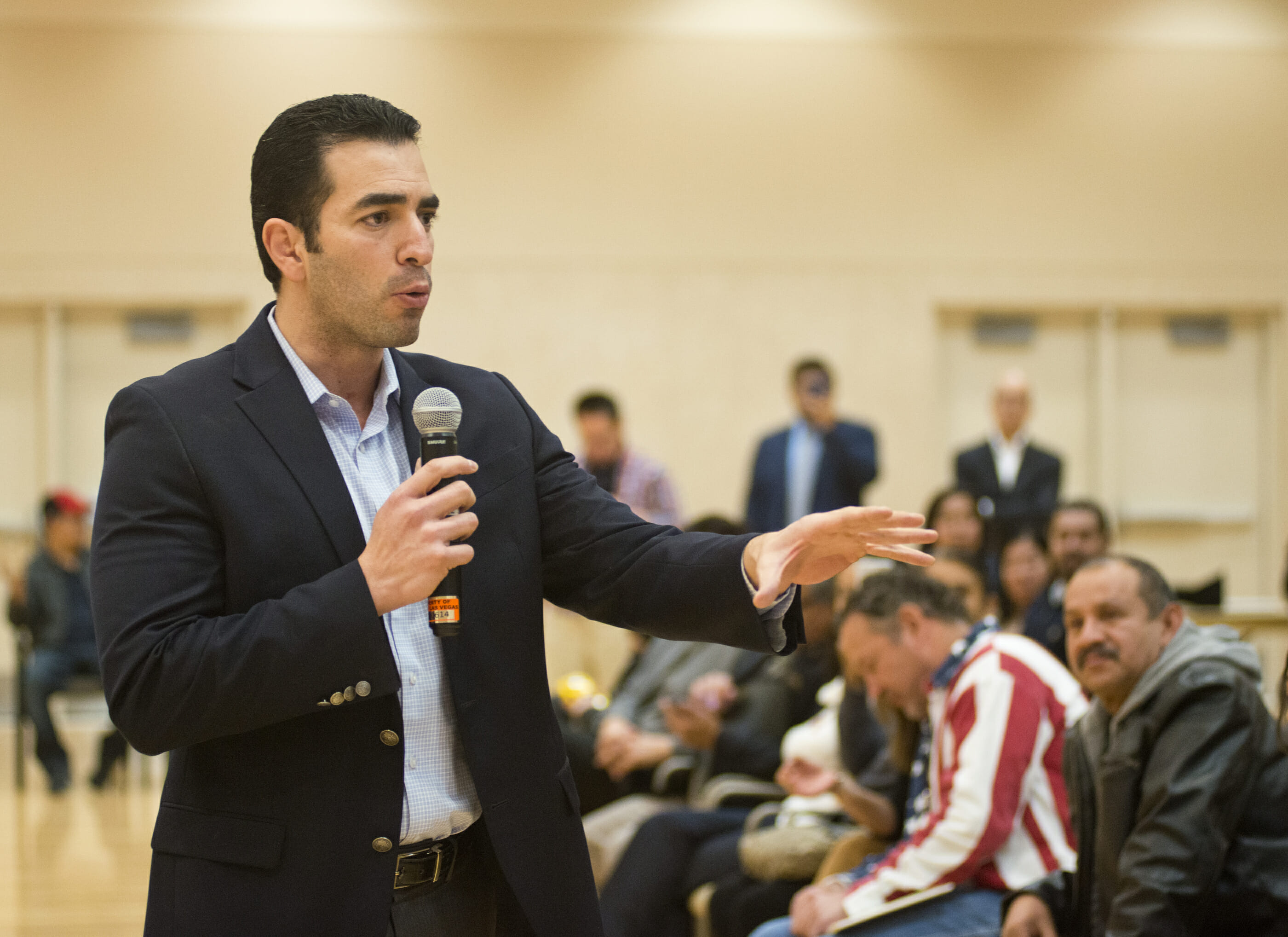 Rep. Ruben Kihuen's congressional colleagues reacted with surprise and skepticism that he is considering reversing his decision not to seek re-election after being accused of sexual harassment, with one lawmaker asking what has changed.
Rep. Michelle Lujan Grisham, who is currently the chair of the Congressional Hispanic Caucus, said that the burden would be on Kihuen to show that something has changed since she called for his resignation after the allegations first surfaced.
"He would have to really work hard at demonstrating to colleagues, including members of our Hispanic caucus, that these issues have shifted because information is different, that constituents want him to see what happens in [the House Ethics Committee] but be available to run because he's done other work that's productive," Lujan Grisham told The Nevada Independent Wednesday.
The House Ethics committee is investigating the allegations against Kihuen, which include sexually harassing a campaign staffer in 2016 and a lobbyist while a member of the state legislature, and making unwanted advances toward a woman who works at a Washington, D.C. firm that did business with his campaign. He denies any wrongdoing and welcomed the investigation as a way to clear his name.
New York Rep. Joe Crowley, who is a member of the House Democratic leadership as chairman of the House Democratic Caucus, said of Kihuen's waffling, "It's news to me," adding that he has talked with Steven Horsford as the former House member firms up his support among Democrats in Congress to replace Kihuen.
Kihuen has until March 16 to file paperwork to run for re-election. Kihuen declined to comment, but did not deny the possibility of doing so.
D. Taylor, who heads the Culinary's parent union, responded with disbelief despite the organization's 2016 backing for Kihuen.
"I can't imagine how he would even think about running again," Taylor said, adding Kihuen had approached union leaders about reconsidering his retirement.. "He's under an ethics investigation.....one of our top priorities in our contracts is sexual harassment. I find it unimaginable why this guy would think he could run."
The news drew a defiant response from one of his potential primary opponents, while three others — Steven Horsford, Pat Spearman and John Anzalone — didn't respond to requests for comment. 
"Last year we had the foresight to challenge our flawed incumbent with a bold, progressive agenda," Democratic candidate Amy Vilela, who jumped into the race for Kihuen's seat months before the allegations came to light, said in an emailed statement. "We welcome all 1-term congressman into the race & look forward to debating issues. As a survivor of sexual assault myself, this will certainly be one of the issues discussed."
Pro-abortion rights group NARAL Nevada, which called on Kihuen to resign shortly after the news came out, was blunt in their condemnation of the move.
"In case we weren't clear enough the first time, we will reiterate our message to Rep. Ruben Kihuen: no means NO," said Nevada State Director Caroline Mello Roberson.
Most congressional members asked about Kihuen's backtracking declined to immediately comment. One, a prominent Latino member who asked not to be identified in order to speak freely said "it seems to me that it would be tough because he made such a public … announcement. To go back on that seems like a tough hill to climb."
Arizona Democratic Rep. Raul Grijalva said that a campaign could take a toll on Kihuen's family.
"I think for him and for his family, it's going to be an ordeal and I know him and I hope he understands that," said Grijalva, a veteran member of CHC.
Grijalva noted that it was Kihuen's prerogative to seek re-election and that Democrats would have little, if any, recourse to stop him. He also noted that Kihuen has maintained his innocence.
"It's going to be a rough election for him if he runs, but he's entitled to that and he's entitled to continue the process … to have his name cleared and if he's confident enough to feel that both will happen, then there's really nothing that anybody can do about keeping him from running," the Arizona Democrat said. "At the end of the day, it's going to be those voters that make the final decision about Ruben Kihuen."
Grijalva echoed the thoughts of Democratic political observers who felt, before the allegations, that Kihuen — who came to the U.S. from Mexico, was undocumented for a time, and is now serving in his first time in Congress — was in the early stages of a political career that knew no bounds.
"I always felt that, in the scheme of things, he was one of those that was going to rise here," Grijalva said, adding that he supported Lucy Flores in the 2016 4th Congressional District Democratic primary.
"The best candidate won in that race," Grijalva said since he's gotten to know Kihuen while serving with him in the House. "But this is going to be a different race."
Kihuen announced in December that he would not seek re-election. His decision came despite calls from some of his colleagues to resign, including Minority Leader Nancy Pelosi and New Mexico Democrat Ben Ray Lujan, who is chairman of the Democratic Congressional Campaign Committee, the organization tasked with electing Democrats to the House.
Kihuen has said that, in the instance of the complaint of the campaign staffer, that it was brought to the attention of the DCCC, and that they continued to fund his campaign. The DCCC has denied that allegation. The DCCC did not immediately respond to a request for comment.
This story was updated at 5:20 PM on 3/7/18 with a quote from D. Taylor of UNITE HERE.
Michelle Rindels contributed to this report.
The Nevada Independent is raising $200,000 by Dec. 31 to support coverage of the 2024 election.
Tax-deductible donations from readers like you fund this critical work.
If you give today,your donation will be matched dollar-for-dollar.
Give + Get Matched
Featured Videos