Live blog: Clark County School District identifies 15 food pick-up locations open Monday; some immigration hearings postponed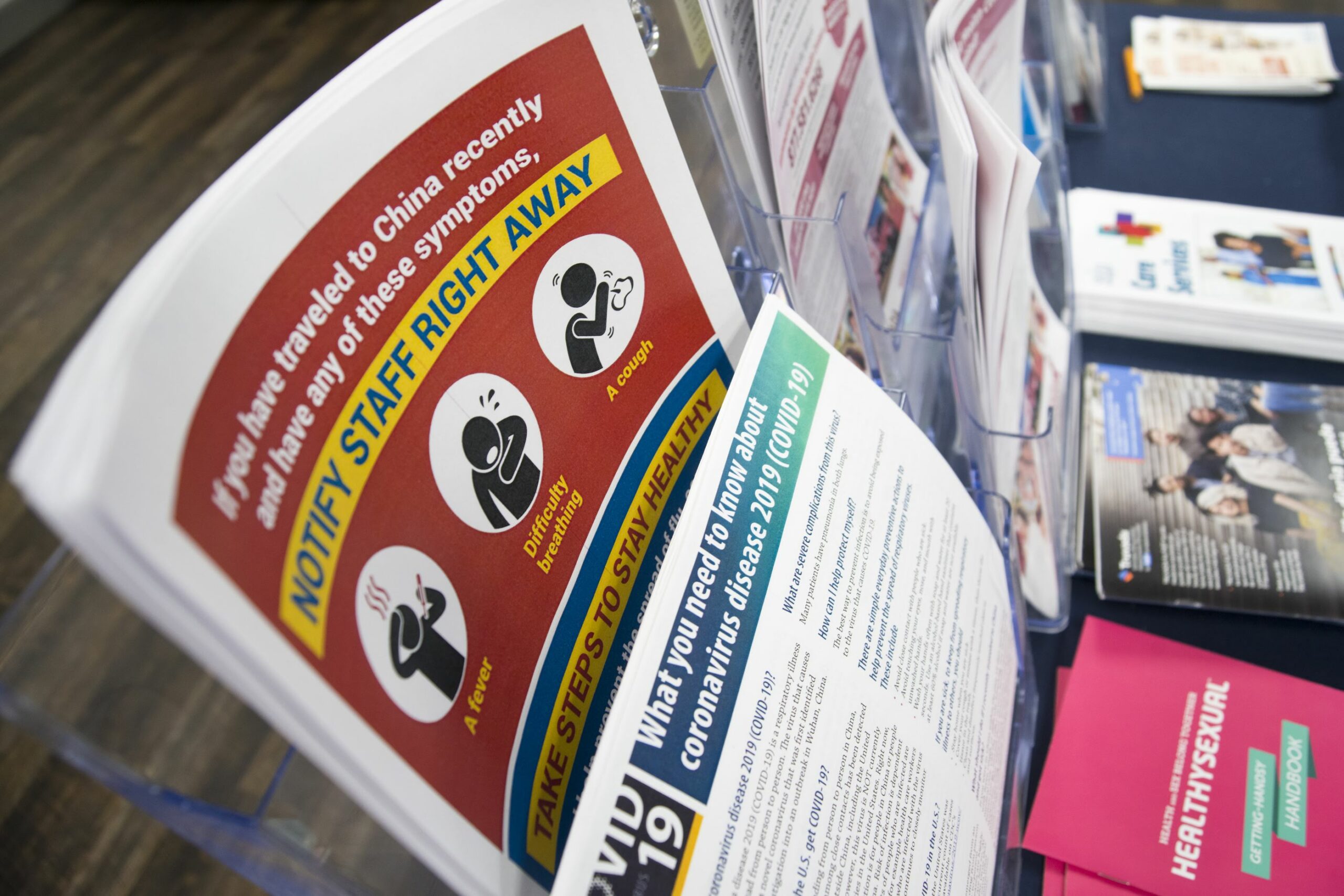 Last updated Sunday, March 15, 2020, at 9:47 p.m.
With the number of coronavirus cases in the Silver State on the rise, The Nevada Independent will be keeping you up to date on the latest here, both through regular live blog updates and updates to our infographic tracking cases around Nevada. The most recent updates will be posted at the top.
Resources:
Some immigration hearings postponed after immigrant defense lawyers, ICE employees issue joint complaint
Although they're usually on opposing sides, ICE employees and lawyers that defend clients against deportation have issued a joint open letter calling for closure of the nation's immigration courts for two to four weeks — a request that was partially honored late Sunday when the government announced the postponement of certain hearings.
The open letter, issued Sunday by ICE employee union the American Federation of Government Employees Local 511, the American Immigration Lawyers Association and the National Association of Immigration Judges, argued that the Department of Justice (DOJ) "is failing to meet its obligations to ensure a safe and healthy environment" by not closing the courts. The coalition cited the opinion of Harvard public health expert Dr. Ashish Jha.
"He estimates that in two to four weeks sufficient testing will have been completed so that epidemiological experts will be able to provide specific, data-based directions for organizations like our courts," the letter said. "He provided his unequivocal opinion that to continue to hold any hearings at any Immigration Court at this time presents a high public health risk."
Late Sunday, the DOJ tweeted that all non-detained immigrants' master calendar hearings starting Monday and continuing through April 10 were postponed, while other hearings would proceed on schedule.
Immigration courts are run by the DOJ and operate in 68 locations, including in Las Vegas.
The authors said they applauded the DOJ's decision Friday to close the Seattle immigration court and limit the size of hearings at 10 immigration courts in six cities, but said there's no rationale for why processes had not been modified in other locations. They said they would support "telework" and other workarounds to avoid in-person appearances.
— Michelle Rindels, Sunday, March 15, 9:30 p.m.

Clark County School District identifies 15 food pick-up locations that will be in operation Monday
The Clark County School District has announced 15 school locations where parents can pick up breakfast and lunch for their children starting Monday.
The food distribution pods will be open from 8 a.m. to 11 a.m. The school-age child must be present for food to be distributed, per federal regulations, district officials said. Parents also can pick up academic resources at the sites.
"Additionally, CCSD will be working with our government and community partners to set up food distribution options to ensure our students have access to additional food. Information on these options will be shared with parents as soon as it is available," district officials said in a statement.
The district also is working with rural communities to set up food distribution.
Here are the food distribution locations:

Basic High School: 400 Palo Verde Dr., Henderson, NV 89015
Canyon Springs High School: 350 E Alexander Rd., North Las Vegas, NV 89032
Centennial High School: 10200 Centennial Pkwy., Las Vegas, NV 89149
Chaparral High School: 3820 Annie Oakley Dr., Las Vegas, NV 89121
Cheyenne High School: 3200 W Alexander Rd., North Las Vegas, NV 89032
Cimarron-Memorial High School: 2301 N Tenaya Way, Las Vegas, NV 89128
Clark High School: 4291 W Pennwood Ave, Las Vegas, NV 89102
Desert Pines High School: 3800 E Harris Ave, Las Vegas, NV 89110
Las Vegas High School: 6500 E Sahara Ave, Las Vegas, NV 89142
Mojave High School: 5302 Goldfield St., North Las Vegas, NV 89031
Shadow Ridge High School: 5050 Brent Ln., Las Vegas, NV 89131
Sierra Vista HIgh School: 8100 W Robindale Rd., Las Vegas, NV 89113
Silverado High School: 1650 W Silver Hawk Ave, Las Vegas, NV 89123
Spring Valley High School: 3750 S Buffalo Dr., Las Vegas, NV 89147
Veterans Career and Technical Academy: 2531 Vegas Dr., Las Vegas, NV 89106
— Jackie Valley

Southern Nevada municipalities declare states of emergency; more city programming canceled

Leaders of Clark County and the major cities within its boundaries have declared states of emergency, which they say will help offer them the flexibility needed to address the impact of coronavirus.

The declarations were made Sunday by the county and the cities of Las Vegas, Henderson, North Las Vegas, Mesquite and Boulder City. Officials said it would help stabilize conditions related to the pandemic, as well as its effects on emergency rooms, government agencies, businesses, residents and visitors.

"The current situation involving the coronavirus requires some administrative leniency in the enforcement of ordinances, rules, regulations, purchasing and other government functions," officials said in a statement Sunday evening, adding that they "may need flexibility in staffing levels and assignments normally addressed in collective bargaining agreements and merit personnel systems."

The declaration comes after Gov. Steve Sisolak declared a statewide state of emergency on Thursday, and after Reno Mayor Hillary Schieve made a similar declaration on Friday.
The City of Sparks announced late Sunday that it was declaring a state of emergency because "this makes it easier to respond financially by accessing resources that wouldn't otherwise be available."

Aside from the declarations, more municipalities announced closures on Sunday.

The City of North Las Vegas announced it would suspend all recreational sports leagues and classes, and close its recreation centers and libraries effective Monday, March 16.

The City of Reno announced Sunday that it was closing all recreation facilities through April 5 and canceling all programming, classes and rentals within them, including Spring Break Vacation Station Camps.
The City of Sparks announced cancellations of spring break and before and after school programming, special events and tournaments through April 30, as well as closures of community centers.
Clark County announced that it would be canceling county commission meetings for the rest of the month.
— Michelle Rindels, Sunday, March 15, 8:48 p.m.
Source: Nevada passengers aboard Grand Princess are back in state, tested negative for COVID-19

Nevada passengers who were aboard the Grand Princess cruise ship that experienced an outbreak of the novel coronavirus have returned to Nevada and a 14-day isolation period, after all of them tested negative, according to a state official with knowledge of the situation.

The development comes a week after the state was notified about the positive tests aboard the ship, which had 50 Nevadans aboard and had been floating in the San Francisco Bay. Passengers have been subject to shifting plans that have at times called for quarantining them on out-of-state military bases.

On Tuesday, Nevada health officials outlined terms they had agreed to to repatriate the Nevadans, who have not been showing symptoms of COVID-19. Those conditions included flying the residents home without letting them pass through buildings of a commercial airport, and securing isolated transportation to their homes in vehicles that would then be sanitized.

Returning passengers will be required to isolate themselves for two weeks.

Two passengers on a previous cruise the boat took died in California after contracting coronavirus, and 21 people on the most recent cruise tested positive — including 19 crew members and two passengers.

— Michelle Rindels, Sunday, March 15, 8 p.m.

Washoe County announces five more COVID-19 cases, bringing statewide total to 26
Five more people in Washoe County have received positive tests for COVID-19, health officials announced Sunday afternoon. That brings the statewide count to 26.

Three of the new cases are close contacts of people previously diagnosed with the novel coronavirus in Washoe County, health authorities said. The two other cases involve people who recently traveled.

All five people are in stable condition and self-isolating at home, according to the Washoe County Health District. They are:

A woman in her 40s who traveled to Southern California
A woman in her 30s who traveled to the Bay Area
A man in his 20s who was a close contact of someone previously diagnosed in Washoe County
A man in his 30s who was a close contact of someone previously diagnosed in Washoe County
A woman in her 30s who was a close contact of someone previously diagnosed in Washoe County
The additional cases come a day after Washoe County health authorities announced the first case linked to community transmission.

The Washoe County Health District also reported that the Centers for Disease Control and Prevention has ceased confirming tests, meaning all presumptive positive cases are "officially confirmed," health authorities said. Washoe County has nine confirmed cases.

— Jackie Valley

Washoe County closes libraries to halt coronavirus spread
Washoe County is immediately closing all libraries in the county to reduce the spread of the novel coronavirus, library system director Jeff Scott announced on Twitter on Sunday.
The library system on Friday announced it would suspend "high-contact" programs and events until at least April. It's the first closure of any library system in the state in response to the spread of the coronavirus.
The Clark County library system is for the time being remaining open at normal hours, but has suspended all library events and programs through June 30 and increased frequency of cleaning and disinfecting.
— Riley Snyder, 3/15/20 at 1:10 p.m.
Clark County teachers union joins calls to shut Southern Nevada schools
The Clark County Education Association joined calls on Sunday to close Clark County public schools in light of the ongoing coronavirus pandemic.
In a statement released Sunday, the union called on Gov. Steve Sisolak to assist the Clark County School District in "carrying out the responsible measures to suspend school operations as soon as possible." The union called the ongoing coronavirus crisis "not simply a school district issue, but a nationwide issue."
"Governor Sisolak should work with Superintendent [Jesus] Jara to ensure that CCSD has the needed funds, and logistical structure it needs to shut down schools to assist in taking care of those students who need food, daycare, and other assistance the school system normally provides," the union said.
The union additionally called on Sisolak to provide the school district the needed funding to pay all employees while schools are closed, as well as funding to pay teachers for any future makeup days for lost instruction.
Union leaders also urged teachers to take charge of their own health and seek medical attention, self-quarantine and not report to work if they are showing any symptoms of the novel coronavirus, which include cough, fever and shortness of breath.
On Saturday, the National Education Association of Southern Nevada sent Jara a letter calling schools "literal living petri dishes." An online petition with tens of thousands of signatures has also been circulating asking the district to close schools.
— Megan Messerly, 3/15/20 at 12:24 p.m.
Culinary union extends health insurance benefits for laid off workers
The Culinary Workers Local 226 union says that it is temporarily extending health insurance for any members who are laid off or have their hours reduced due to the ongoing economic slowdown at many major Las Vegas hotels and casinos.
The union, which said in an announcement Saturday that it was still negotiating for a package of worker benefits including paid sick leave amid coronavirus outbreak fears, said it would extend health insurance coverage for laid off or reduced-hour union members for several months. A flyer published by the union said anyone who did not work enough hours in March and April would have benefits continued until at least July and August.
The union's health insurance plan will also cover any medically necessary testing for the novel coronavirus, though the Culinary Health Center does not currently have the ability to test for the virus.
"We are working with the employers to identify any job opportunities and make sure they are made available to laid-off workers, including available work in other classifications if needed and if (the) worker is qualified," it said in a release on Saturday.
— Riley Snyder, 3/14/20 at 6:59 p.m.
Clark County School District to remain open at least through Monday
The Clark County School District will remain open Monday, according to a message Superintendent Jesus Jara sent to parents Saturday afternoon.
"At this time, we are opening CCSD schools as normally scheduled this coming Monday, March 16," he wrote. "However, I have not ruled out a short-term closure and will continue working with the Board of School Trustees, and our state and local partners, especially our health experts, to evaluate next steps."
The superintendent also indicated in his message that he met with a "coalition of partners" Saturday morning to discuss the situation.
The school district — which is the fifth-largest in the nation — has been under fire in recent days for remaining open despite the spread of the novel coronavirus. Entire states and other large school districts, including the Los Angeles Unified School District, already have announced short-term school closures. (Education Week has been mapping closures across the country here.)
An online petition asking the Clark County School District to close has more than 43,300 signatures, and employee groups have joined the calls for closure.

The National Education Association of Southern Nevada sent Jara a letter Saturday calling schools "literal living petri dishes" with conditions such as crowded classrooms and buses that will make it impossible to stop a pandemic.
"Besides the potential spread among otherwise healthy individuals of COVID-19, you have hundreds (or possibly thousands) of immune compromised students and educators who will be at even higher risk by schools remaining open," the letter states. "This particular group will have to make hard choices as the risk becomes greater. We anticipate you will see much higher absence rates in both students and employees the longer we stay open."
Meanwhile, the Washoe County School District will be starting its planned two-week spring break on Monday. The Clark County School District's spring break is scheduled for the week of April 6-10.

— Jackie Valley
Washoe County health officials announce fourth presumptive positive case of novel coronavirus, bringing statewide total to 21
Washoe County health officials announced on Saturday a fourth presumptive positive case of the novel coronavirus that they are linking to community transmission.

The patient is a man in his 20s who had no travel history outside of Washoe County, according to a news release from the Washoe County Health District. He is stable and self-isolating at home.

Washoe County Health District Officer Kevin Dick said the community transmission of COVID-19 doesn't come as a surprise, but it does underscore the need for precautionary measures and social distancing during this time. He said it also means there are other cases within the community that haven't been identified yet.

"We've stepped over a threshold of where we are with what's happening with COVID-19," he said during a news briefing Saturday afternoon. "This is our signal that we really need to redouble our efforts and heighten our attention and awareness to the precautionary measures that we've been messaging to the community for weeks."

Health authorities have begun the investigation and process of identifying the patient's close-risk contacts to prevent further community spread, officials said.

This brings the statewide total of presumptive positive cases to 21. Clark County has reported 16 cases, and Carson City has reported one.

Testing is only being conducted for people determined to be the most at risk for COVID-19, said Dick, who believes Washoe County has enough testing kits for the time being. He noted that private companies are working to develop rapid testing systems — similar to what's available for influenza — that could be deployed across the health sector, but even then, he said widespread testing probably isn't necessary.

"If you aren't symptomatic and don't have a reason to believe that you're exposed to COVID-19, there's no sense in having that test," he said. "I don't think we should be promoting for everybody to be seeking an opportunity for the testing."

As for when the Grand Princess cruise passengers will make their return to Nevada, that remains up in the air.

"They won't be coming today," Dick said. "I hope they will return tomorrow, but as the governor has stated, this is the U.S. Health and Human Services that is in charge of these passengers and getting them back to Nevada. The governor is frustrated, and I know he is working diligently to get their return to the state."

Washoe County's top health official also urged community members to let common sense prevail when it comes to shopping. Dick has seen grocery carts overflowing with canned goods or other supplies, indicating consumer hoarding.

"We think it's important that everybody be able to have their provisions and not have everything wiped out," he said.

— Jackie Valley

Sisolak assembles medical advisory team to guide state response to coronavirus
Gov. Steve Sisolak has announced the creation of a medical advisory team that will provide guidance on how the state can mitigate and contain the novel coronavirus.

The team will be led by Dr. Ihsan Azzam, the state's chief medical officer. The following four medical experts will make up the rest of the team:

Dr. Trudy Larson, dean of the School of Community Health Sciences at UNR
Dr. Brian Labus, assistant professor in the School of Public Health at UNLV
Dr. Paul Sierzenski, chief medical officer in the Acute Care Division at the Renown Health System
Dr. Shadaba Asad, director of infectious disease at University Medical Center
"Dr. Azzam and this medical advisory team represent some of the brightest and most well-respected medical professionals in the State," Sisolak said in a statement. "In this rapidly developing situation, it is critical that we turn to those with expertise in infection control and public health to guide our decision-making, and I have full confidence that we've assembled the right team for the job."

The governor noted this move is part of issuing a declaration of emergency earlier this week and creating a state emergency operations center.

— Jackie Valley
Eight new presumptive positive cases of novel coronavirus in Clark County, one in Washoe County brings statewide total to 20
The Southern Nevada Health District on Friday reported eight new presumptive positive cases of COVID-19, bringing the total number in Clark County to 16 and the statewide total to 20.
Health officials also released details on three new cases that were previously announced Thursday.
One of the new cases, a man in his 60s, is hospitalized and in serious condition, while a woman in her 40s is hospitalized in a good condition and a woman in her 50s is hospitalized in stable condition. Four other new cases — a man in his 60s, a man in his 40s, a man in his 20s and a man in his 30s — are isolating at home.
There were no additional details immediately available on the remaining two cases, both men, one in his 50s and another in his 30s.
Of the previous five patients, two who were hospitalized — a man in his 50s and a woman in her 70s — remain in serious condition. The third hospitalized patient, a New York woman in her 40s, is in stable condition. The two others are still isolating at home.
"Well we have seen of course a limited community spread, person to person spread, so hence, a lot of the recommendations we're making about large gatherings and social distancing," Michael Johnson, director of the Southern Nevada Health District's Community Health Division, told reporters Friday afternoon.
The health district has done 223 tests so far and has the resources to do about 1,000 more. While authorities said they are not backed up, they are "at capacity" — able to perform about 60 tests a day — and seeking more resources.
"The more testing we do the more cases we pick up, so as testing has increased, there may be a little bit of that," Johnson said.
Johnson said that two commercial labs, Quest and LabCorp, have begun testing but was unable to immediately provide the number of tests those two labs have carried out. Commercial labs are required to report results to local health authorities.
The health district also put out new guidance for "high-risk populations," advising them to limit their interactions, and to workplaces and businesses to consider limiting travel and decreasing exposures. Authorities are advising postponement for large community gatherings and "non-essential events."
Authorities say they are also considering making a hotline that is currently open during business hours open 24 hours a day.
Health officials noted they have made certain recommendations to schools including cutting salad bars and extracurricular activities, but said recommending school closures could be a possibility down the road.
"As these cases continue to increase and should we see ones in the schools, it's very likely that that may be a recommendation that we make."
Additionally on Friday, the Washoe County Health District announced it had received a third presumptive positive case of the virus. The new case involves a female in her 20s who recently traveled to Germany and France, and was described as "stable" and is self-isolating at home.
MGM Resorts International sent a letter to employees Friday alerting them that "several of our employees have tested presumptive positive for the coronavirus," although it does not say where those employees live or work.
The letter went on to announce that about 150 food and beverage outlets will close with more to come on a "rolling basis." Spa and salon operations also will be suspended starting Monday.
"Some areas of our business operations have already begun layoffs in areas most immediately impacted by the slowdown in demand," the letter says. "These decisions are never made lightly, and we deeply regret the hardship it will place on these individuals and their families."
— Shannon Miller, Michelle Rindels, Megan Messerly, Jackie Valley
Reno declares state of emergency over COVID-19
Mayor Hillary Schieve announced a state of emergency for the city of Reno on Friday afternoon in preparation for the spread of COVID-19.
"The city of Reno [declared the state of emergency] so that we have every single tool available to us," Schieve said, explaining that the decision is proactive rather than reactive, and follows in the footsteps of other cities such as New York City and Miami.
The decision arrived the same day President Donald Trump declared a national state of emergency, and one day after Gov. Steve Sisolak proclaimed a state of emergency for Nevada.
As part of the declaration, the city will now have the ability to establish a curfew, enact a ban on large gatherings, redirect funds for emergency use and commit to mutual aid agreements, among other actions.
City leaders are still determining what measures they will take as part of the declaration. However, in addition to the suspensions of special events permits for events scheduled on public property through the end of April, the city is postponing city advisory boards and non-essential meetings and recommending people follow CDC guidelines on social distancing.
Schieve said the city has not yet enacted a ban on large gatherings, but might do so in the coming weeks. She added the city is relying on businesses, organizations, and individuals to make judgment calls.
One point of concern for Schieve was the coronavirus' effect on Reno's local economy, which relies heavily on the tourism and gaming industries.
"I hope we don't see any layoffs, but I wouldn't be surprised," the mayor said, noting that local businesses often operate on narrow margins and losing customers and foot traffic as a result of the virus could be devasting.
She said she and other city officials plan to develop strategies to aid businesses and residents who are threatened by the virus and are also depending on federal and state legislation to address the effects of the pandemic.
Officials also said they are working to keep Reno's homeless populations informed on developments and providing them with sanitary products.
Councilman Devon Reese said he plans to create an initiative for collecting food and other essentials for populations most at risk from the virus, including the elderly and homeless.
"I want to make sure that the key takeaway is that our city is engaged, we're active, we will be, under the terms of the emergency declaration, able to access greater tools than prior," he said.
City officials will be submitting the declaration to the state, and it will remain in effect until the emergency is declared over.
— Tabitha Mueller
Gas, water, internet utilities suspend disconnections due to non-payment
Southwest Gas, internet companies and the water authorities serving Las Vegas and Reno announced Friday that they would not disconnect utility service due to non-payment in the wake of the coronavirus outbreak.
The utilities, necessary for residents to work from home or self-isolate, emphasized that they intend to work with customers affected financially by the coronavirus outbreak. Earlier on Friday, NV Energy announced that it would not cut-off power to its customers.
Southwest Gas, the Southern Nevada Water Authority and the Truckee Meadows Water Authority are instituting similar policies. In statements Friday afternoon, all three utilities said that they would temporarily pause disconnections of natural gas or water for customers for non-payment. They also offer payment plans for customers taking a financial hit.
"With the uncertainty surrounding the current Coronavirus pandemic, we at Truckee Meadows Water Authority want to ensure that all of our customers are able follow the recommended hygienic protocols set forth by the medical experts," Michele Sullivan, the chief financial officer of the Truckee Meadows Water Authority, said in a statement.
Federal Communications Chairman Ajit Pai has asked internet service providers to pledge that they would not terminate service to residents or small businesses within the next 60 days. The pledge also asks companies to waive late fees and open their Wi-Fi hotspots to the general public. As of Friday afternoon, most companies, including AT&T, CenturyLink, Charter and Cox Communications, had signed onto the pledge.
— Daniel Rothberg
Nonprofit's domestic-violence shelter and services 'fully operational' in Las Vegas
SafeNest, a nonprofit that provides services and shelter to victims of domestic violence, announced Friday that it remains open to assist people but is putting some emergency protocols into place.
"SafeNest is committed to providing vital crisis services to our clients, shelter residents and anyone who may be experiencing abuse during this time of uncertainty," officials said in a statement. "Our shelter and 24/7 crisis hotline will remain fully operational as our community struggles with increased financial, emotional and economic instability."
Social distancing, sanitation and quarantine procedures are among the emergency protocols the nonprofit is implementing at all SafeNest facilities, officials said, as it strives to keep residents, clients and staff safe.
Further updates and information will be posted on SafeNest's website and social media pages. Anyone who needs help should call or text 702-646-4981.
— Jackie Valley
NV Energy temporarily waives fees, suspends disconnections for affected customers
NV Energy will temporarily suspend disconnections for non-payment and waive fees for customers affected financially by the novel coronavirus, the utility said in a statement Friday.
"We are seeing the effects the coronavirus is having on our community and our customers, and we want to provide our customers with some peace of mind during this challenging time," said Doug Cannon, NV Energy president and CEO said in the statement. "As more of our customers choose to self-isolate or work from home, reliable, uninterrupted power is essential to their health, well-being and comfort."
The state's largest utility said it is coordinating with Gov. Steve Sisolak's office. On Thursday, Sisolak declared a state of emergency over the coronavirus outbreak.
Several utilities across the country have looked at temporarily suspending disconnections during a public health emergency that has forced shutdowns and employees to work from home.
According to the statement, NV Energy also plans to waive late-payment fees and offer payment plans for customers who are hit financially by the coronavirus.
"We are here to support our customers, and we will continue to deliver reliable electric service during this period of uncertainty – every customer can be certain of that," Cannon said. "The safety of our customers and our employees is our highest priority."
— Daniel Rothberg
Washoe County health authorities stress risk reduction, say cruise passengers likely headed home today
Several dozen Nevadans who sailed on the Grand Princess cruise ship are expected to return to Nevada on Friday, Washoe County Health District officials said.
The 49 Nevadans, who are currently staying at an inn at the Marine Corps Air Station in Miramar, California, are expected to be flown home and transported securely back to their residences to complete a 14-day quarantine period. Though all remain asymptomatic, the group will be tested for COVID-19 prior to returning to the state.
"The latest word that we have heard is that is expected to occur later today," Washoe County District Health Officer Kevin Dick said at a news conference on Friday. "We will be monitoring them over that 14-day period to take appropriate action if they do develop any symptoms."
Washoe County health officials generally stressed risk reduction during the news conference, noting that, as of Friday morning, the region still only has two coronavirus cases — one presumptive positive and another confirmed by the Centers for Disease Control and Prevention. Both of those patients are self-isolating at home and not in need of hospitalization at this time, Washoe County Health Officer Kevin Dick said.
Non-essential public meetings have been suspended in Washoe County, and officials are strongly encouraging the cancellation of any large gatherings.
"This is all in an effort to promote social distancing so that we have people that are not gathering together in conditions that would facilitate the spread of the disease," Dick said.
The Washoe County School District begins its planned two-week spring break on Monday, which health authorities described as fortunate timing despite no official recommendation to shut down schools. Dick said he's in daily contact with school district officials.
"We will be talking with them about what is the appropriate course of action moving forward," he said. "I'm thankful we have the break coming up right now. That will give us a little bit more time of talking this through and figuring out what the best course of action will be."
When asked at what point the health district would consider closing casinos, given that they draw travelers from other areas, Dick said "I don't have a bright line that we've drawn." He said the health district would continue evaluating the situation, and noted that the agency's governing board had "broad authorities" to take action.
"The District Board of Health has broad authorities for public health in Washoe County that could include closing the casinos. But we are not near any point in making that decision right now," he said.
Health authorities also called on the public's help minimizing unnecessary 911 calls, noting they have seen a recent increase in emergency calls.
"Calling 911 at this time should only be for life-threatening emergencies — I repeat — only for life-threatening emergencies," Washoe County Commission Chair Bob Lucey said. "Despite the fears, common sense must prevail at this time."
Meanwhile, older residents — defined as anyone age 60 or older — should take extra precautions given their increased risk, Dick said. He suggested they visit stores during non-peak hours and consider stocking up on several weeks' worth of groceries to avoid public exposure.
But if cabin fever is setting in, the health officer gave this piece of advice: "If they're out for a walk and they're not in close contact with other people, that should be a safe thing for them to be doing."
— Megan Messerly, Jackie Valley, Daniel Rothberg, Tabitha Mueller
Southern Nevada Water Authority says it has "robust emergency response" plans
In a newsletter Thursday from Southern Nevada Water Authority General Manager John Entsminger, the agency said it was coordinating with state and local officials to prepare for the novel coronavirus.
"As part of our agency's readiness plans, provisions are in place to ensure appropriate water treatment supplies and resources are available to sustain water delivery for an extended period of time, even if supply chains are temporarily disrupted," the newsletter said.
The water authority also posted a fact-sheet on its website addressing frequently asked questions. It assures residents that the water authority can continue delivering water.
"Our community's drinking water supplies meet or surpass federal Safe Drinking Water Act standards," the fact sheet says. "Even under extreme circumstances, provisions are in place to make water available from groundwater wells and/or through other operational strategies."
The fact sheet also noted that the water authority already "maintains robust emergency response and readiness plans" to adjust to disruptive events, such as natural disasters.
The water authority also reiterated what public health officials have said about the coronavirus – that "there is no indication that transmission can occur via drinking water supplies."
— Daniel Rothberg
UNLV prepares for remote instruction after spring break
UNLV announced Thursday evening that the university will "out of an abundance of caution" because of the novel coronavirus transition to remote instruction beginning the week of March 23, after the school's scheduled spring break.
The university made the announcement on Twitter, saying that all "normal university operations" will continue and students currently living in residence halls will be allowed to remain there.
"The transition to remote instruction can result in unexpected impacts and complications for every member of our university community, and we need to be patient, flexible, and support each other during this challenging time," the university wrote on Twitter.
The University of Nevada, Reno announced on Thursday that it would also begin online-only instruction starting March 23, after spring break, and extending indefinitely. Students, faculty and staff will have access to Zoom Pro, a videoconferencing platform.
The school also announced any public or special events with a planned attendance of 150 or more would be canceled or postponed starting March 13 and continuing until further notice. Students were directed not to return to campus after spring break and those who live in dorms and can't stay home after break were directed to immediately contact university housing staff.
— Riley Snyder & Michelle Rindels
First coronavirus case outside of Las Vegas, Reno confirmed in Carson City, bringing statewide total to 11
A Carson City woman in her 70s is the first patient to test presumptively positive for the novel coronavirus outside of Reno and Las Vegas, Carson City health officials announced Thursday afternoon.
Nikki Aaker, director of the Carson City Health and Human Services department, said the woman contracted the virus while traveling via airline from San Jose to Reno — a trip from which she returned on March 2. The patient was not among the 49 Nevada residents who were quarantined aboard the Grand Princess cruise ship earlier this week.
The patient contacted her health care provider after feeling flu-like symptoms and is isolated at home, as is her husband. Aaker said the woman is "feeling better" today and did everything right in terms of isolating at home and reaching out to authorities after feeling ill.
"She has been very diligent in doing her preventive measures, so yes, she has done everything right," Aaker said.
Additional details on the airline the patient traveled aboard were unavailable; health officials said they were still actively investigating the case. They did say she did not have symptoms while flying.
Carson City officials said that there remains a "considerably low" risk to the community and that there are no current plans to close schools in the area or limit the size of events. Aaker recommended that anyone feeling flu-like symptoms of what could be the novel coronavirus call a health agency hotline (775-283-4789).
Asked whether private labs are ready to perform coronavirus testing, health authorities said that they have not been able to do so yet, but will in the future. Health officials also said they have policies in place to contact with patients who are self-isolating and will address any needs that arise among them, such as food or medicine deliveries.
Carson City Health and Human Services is the public health authority for Carson City, Douglas, Lyon and Storey counties.
— Michelle Rindels and Riley Snyder
Clark County School District suspends athletics, extracurricular activities
The Clark County School District has suspended all extracurricular activities and athletics until further notice, marking the latest move to curb the spread of the coronavirus.
The decision covers "all school, district and non-district sponsored athletics, extra-curricular activities, assemblies, practices, and events," according to a district memo sent out Thursday afternoon. Other normally scheduled activities such as graduation ceremonies will be evaluated as the situation unfolds, officials noted.

The suspension, however, does not include programs providing after-school care such as Safekey, After-School All-Stars, Communities in Schools.

The district also announced it's removing salad bars, banning out-of-district consultants from providing in-person services and increasing cleaning of all surfaces. In addition, the district has asked employees to "avoid unnecessary travel to other schools and district buildings" during this time, according to the memo.

Officials said they're continuing to work with the governor, local governments, the health district and other agencies to provide a "cohesive community response" that protects students and staff.

"It is important to remember that, at this time, most Nevada residents are at low risk of contracting coronavirus," he memo states.

Clark County Superintendent Jesus Jara already had canceled all out-of-state travel for students and restricted such travel for employees. Those restrictions remain.

The Clark County School Board of Trustees meeting will continue as planned Thursday evening, although only essential personnel will attend.

— Jackie Valley
Regional Justice Center reports one mistrial after exposure concern, asks jurors older than 70 to request excusal
A spokesperson for the Regional Justice Court in Las Vegas said that it is rescheduling jury service for residents who are ill and asking prospective jurors older than 70 who are called for service to use their option to recuse themselves. In an email responding to questions from The Nevada Independent, Mary Ann Price said that the court has "not had a significant number of jurors expressing concerns yet." She added that the court is evaluating whether it needs to "temporarily suspend jury trials."
Price said the court has not experienced "significant delays" tied to the novel coronavirus, but noted a mistrial in one case after a Las Vegas Review-Journal reporter, later self-quarantined for the virus at home, attended a trial. The reporter attended the trial before learning that an attendee at a conference she had traveled to in New Orleans later tested positive for the coronavirus.
"Before the reporter was aware that she may have been exposed, she briefly attended a trial at the RJC," Price said. "One week after potential exposure, the reporter still has no symptoms and is self-quarantined at home. Jurors who were part of that trial were notified and excused. In an abundance of caution, District Court and Clark County Real Property Management worked to provide extra disinfecting of our security bins, elevators and all hard surfaces in the courtroom in question."
The court is also coordinating with the Clark County Detention Center, which "will not transport anyone who is ill or meets other criteria for isolation," Price said. The detention center has not identified any coronavirus cases, and inmates are still making in-person appearances at trials.
In general, the court expects an increase in requests for continuances or video appearances.
— Daniel Rothberg
Nevada Supreme Court to allow video conferencing during oral arguments
Citing concerns about exposure to the novel coronavirus, the Nevada Supreme Court announced it will allow lawyers appearing before the court to do so by videoconferencing.
The court made the announcement on Thursday, and said it would permit attorneys speaking in oral arguments before the court through videoconferencing, so long as they make a written request at least three days in advance of oral arguments and have "internet capabilities compatible with those of the court."
The court's next oral arguments are scheduled for next Friday, in a case involving the state's tax department and a legal marijuana retailer.
The move follows steps taken in other courts federally and locally to limit exposure to the novel coronavirus, also known as COVID-19. The Eighth Judicial District Court in Las Vegas is advising citizens summoned to appear for jury duty to call or notify the court if they're suffering from flu-like symptoms, and District Court Chief Judge Linda Bell said in a blog post last week that the court is prepared "to address different scenarios should the coronavirus become an issue for our community."
On the federal level, the U.S. Supreme Court announced Thursday that it is closed to public visitors over concerns with the virus, and courts in Washington and Maryland have suspended proceedings or banned some people from entering court buildings.
— Riley Snyder
Three additional presumptive positive coronavirus cases in Clark County brings statewide total to 10
Three more people in Clark County have tested presumptively positive for the novel coronavirus, bringing the total cases in Southern Nevada to eight and the statewide total to 10, Southern Nevada Health District officials announced Thursday morning.
Health district officials did not immediately provide additional information about the three new cases, including the status of the patients, whether they are hospitalized or at home in isolation or how they may have acquired the virus. They added that investigations into the three cases are in the "preliminary" phase and that they will provide additional information as it becomes available.
The health district has said it will provide an update to the media Thursday afternoon and schedule a media availability if new information can be released.
— Megan Messerly
President cancels trip to Nevada as precaution amid coronavirus outbreak
President Donald Trump has cancelled plans to travel to Nevada and Colorado on Thursday "out of an abundance of caution from the Coronavirus outbreak," according to a pool report citing White House spokeswoman Stephanie Grisham.
Trump was expected to arrive in Las Vegas on Thursday and appear at what the Las Vegas Review-Journal reported was a sold-out campaign fundraiser at the home of casino magnate Sheldon Adelson. He had plans for a Colorado fundraiser with Republican Sen. Cory Gardner on Friday.
The president had planned to headline the Republican Jewish Coalition's Annual Leadership Meeting at The Venetian casino on the Las Vegas Strip, with a speech scheduled on Saturday. Shortly after Trump's announcement, organizers of the conference said they "regretfully decided to postpone" the event until "the current health crisis allows."
— Michelle Rindels
In preparation for influx of coronavirus patients, Sunrise Hospital sets up outdoor tents
Sunrise Hospital and its affiliated children's hospital have set up outdoor tents in anticipation of a possible influx of patients who present with symptoms of the novel coronavirus, hospital officials said Wednesday.
The tents, which have been set up outside the adult emergency department and in the ambulance bay for the children's emergency department, will allow hospital staff to screen and triage patients in a well-ventilated space that reduces the risk of spreading any illnesses, whether COVID-19 or the seasonal flu, Sunrise Chief Medical Officer Dr. Jeffrey Murawsky said in a statement. The tents will also provide extra space that will allow staff to keep patients about six feet apart, the distance that scientists think the coronavirus can travel between people.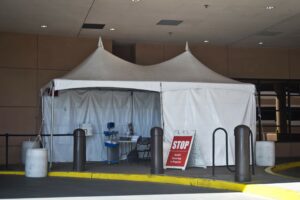 "As we think about both the coronavirus and, this particular year, a very busy flu season, Sunrise Hospital and Sunrise Children's Hospital need to be prepared for a surge of patients which is where we see a lot of people with similar symptoms," Murawsky said.
The tents are not currently in use, Murawsky said.
He added that the preparations are in accordance with CDC guidelines, which recommend making specific preparations for a surge of cases and setting up spaces to triage patients near emergency departments, and are similar to those undertaken during the H1N1 flu outbreak.
"There's more flu in the community right now than COVID and if a surge of flu-like illness happens, this allows us to appropriately evaluate patients," Murawsky said.
He urged people to wash their hands and stay home when they have a fever.
Renown Regional Medical Center in Reno also announced on Wednesday that it was unveiling a tent in the parking lot outside of its emergency room to screen patients with respiratory symptoms. The hospital noted "there are no confirmed COVID-19 cases at Renown at this time. This deployable medical structure is simply a precautionary measure."
— Megan Messerly & Michelle Rindels
Three new coronavirus cases in Clark County brings regional total to five, statewide to seven
Three more people in Clark County have tested presumptively positive for the novel coronavirus, bringing the total number of positive Southern Nevada tests to five and the statewide total to seven, Southern Nevada Health District officials announced Wednesday afternoon.
One of them is a New York woman in her 40s who arrived in Las Vegas to attend the Women of Power Summit at the Mirage resort in Las Vegas on Thursday, before falling ill and being hospitalized on Sunday. Health district officials said the woman remains isolated and in stable condition and noted that they are working with the casino and conference organizers to inform attendees and identify the woman's close contacts.
Close contacts are defined as people who were within six feet of a person confirmed to have COVID-19 for a prolonged period of time. Those people were contacted by the health authority and directed to self-quarantine, while all of the 1,000 or so registered attendees were notified in a general email about the possible exposure but not directed to quarantine themselves, according to Alfred Edmond Jr., senior vice president and editor at large of Black Enterprise, which organized the event.
The two other new cases — a man in his 60s and a woman in her 70s — share a household with the woman in her 70s who was identified as the second confirmed case of coronavirus in Southern Nevada. They remain self-isolated at home, while the woman who was the second confirmed case remains hospitalized and in serious condition.
Health district officials said that the woman only reported traveling to Reno prior to falling ill but didn't go so far as to say that the case is proof that coronavirus is spreading within the state's borders.
"It points out to the likelihood of actually being locally acquired, and that's something that we are also looking into," said Dr. Fermin Leguen, the district's health officer.
The first Clark County patient, a man in his 50s who recently traveled to Washington state, a hotspot for the virus in the U.S., also remains hospitalized and in serious condition. The Centers for Disease Control and Prevention have officially confirmed his presumptive positive result.
Officials at MGM Resorts, which owns the Mirage, said that professional cleaners with specialized training are deep cleaning and sanitizing the room where the New York woman stayed during the summit and has continued to restrict access to the room. The company said it is coordinating with health officials to notify guests and employees who may have had prolonged contact with the guest.
Health authorities stopped short of making any broad recommendation about cancelling large public gatherings, including conferences, saying they are still exploring their options with partners in the community. The Republican Jewish Coalition is still planning to host its national leadership meeting at the Venetian this weekend, with President Donald Trump slated to attend.
"We are continually evaluating that … we are looking at what is happening in communities surrounding our area. And based on that, we will reach to the decision that we consider that is more efficient and protective to our community," Leguen said. "I'm not saying we continue business as usual. We're cancelling conferences today … We haven't made any decision or recommendation about event cancellation, because again this is part of the process that we go with our partners and what is best for the community at large."
The Women of Power Summit, which kicked off the same day that Nevada reported its first positive COVID-19 test, featured big-name speakers including ballerina Misty Copeland, former Democratic National Committee Chairwoman Donna Brazile and "The Cosby Show" actress Phylicia Rashad. But Edmond said he couldn't offer blanket advice on whether other event organizers should cancel their conventions based on his company's current experience with coronavirus.
"It's a moving target. Obviously we didn't cancel our event. What we knew two weeks ago was a lot different than what we know now," Edmond said in an interview. "Things changed dramatically in the last week … there's no way to counsel others and you have to be vigilant."
Leguen emphasized that the risk of transmission of the disease in Clark County remains low.
"We don't see a reason for our community to panic about this today, based on what is happening today," he said. "Again, we are talking about five patients in a population of more than 2 million people. And those patients have been isolated, they have been receiving treatment from the medical providers, and our medical facilities are fully equipped to provide care for this particular condition."
He said the authority has 800 tests right now and, with help from the governor's office, expects to receive about 20,000 tests in the near future from the CDC.
— Shannon Miller, Megan Messerly and Michelle Rindels

CDC announcing $6.5 million in funding for Nevada coronavirus response
The Centers for Disease Control and Prevention plans to provide Nevada with more than $6.5 million in funding to support state and local health departments in their coronavirus responses.
The grant, announced on Wednesday, comes after Congress passed an $8.3 billion spending package last week geared at COVID-19 response.
"State and local health departments are on the frontlines of responding to the COVID-19 outbreak, and we are deeply grateful for their work," said HHS Secretary Alex Azar. "CDC is distributing this new funding extremely rapidly, as called for by Congress. President Trump, and his entire administration will continue working to ensure state and local jurisdictions have the resources they need to keep Americans safe and healthy."
A long list of other states and territories are also receiving money as part of $605 million disbursement. The largest portions are going to California ($42 million) and Texas ($37 million).
— Michelle Rindels
State reports four 'presumptively positive' and one CDC-confirmed case of COVID-19
New data from state officials show there are four presumptive COVID-19 cases in Nevada and one that has been positively confirmed to be the illness by the federal Centers for Disease Control and Prevention.
The Nevada Department of Health and Human Services also said that as of 1 p.m. on Tuesday, 168 people who were tested were found not to have coronavirus. State officials did not immediately provide details on what appears to be a fifth presumptive positive test; up until the Wednesday statement, four cases had been reported by health authorities.
The numbers released Wednesday represent a major ramp-up in testing from a week ago, when the state reported 14 negative tests and no positive tests.
"We recognize that this is a quickly evolving situation and appreciate our partners and their work to provide this information to share with Nevada communities," Richard Whitley, director of the Department of Health and Human Services, said in a statement.
On Tuesday, the Washoe County Health District indicated a patient whose local test turned up positive last week had been confirmed by the CDC to be positive.
The state says that 164 people are under public health monitoring as of Tuesday afternoon, while another 341 had completed the process of supervision — a two-week period during which health authorities monitor people at risk for symptoms.
Those under monitoring include "travelers from an affected region referred to local health districts for monitoring or individuals who may have had close contact with a traveler."
— Michelle Rindels & Megan Messerly
CDC officially confirms Washoe County man's 'presumptive positive' COVID-19 test; health district has no new positives to report
The Centers for Disease Control and Prevention has determined that a Washoe County man who tested "presumptively positive" for COVID-19 last week indeed has the illness.
Confirmation of the local test, which was reported Tuesday in a news conference by Washoe County Health Officer Kevin Dick, came in about four days. Confirmation of a second presumptively positive test in Washoe County is still pending, but there have been no additional presumptive positive cases in Washoe County to date and the statewide number of reported positive cases remains at four as of Tuesday.
"We took the initial positive — our presumptive positive — and took all actions with the presumption that that was going to be confirmed by the CDC," Dick said. "So nothing changes with the way that we're dealing with that person and they remain isolated at home and I wish them a speedy recovery."
Dick also offered updates on a group of 49 asymptomatic Nevadans who were on a Grand Princess cruise and will be brought home to Nevada where they will be self-quarantined at home. He declined to say how many were coming to Northern Nevada, or to specific counties, and said he didn't know when or where they would arrive.
But he said health authorities will be transporting passengers home securely, while wearing protective equipment and sanitizing the vehicles. He said the health authorities are working to ensure the isolated former cruise ship passengers have the food and medicine deliveries they need while they are kept away from the general public.
Those who disobey the rules of their quarantine could face criminal penalties, Dick said, but the health district has other ideas on how to ensure the isolation period is enforced. They will be provided with thermometers to help them monitor their symptoms during the home quarantine period and will remain under supervision of their local health authority.
Dick was unable to provide the exact number of coronavirus tests available to Nevadans, but said that the state has "adequate capacity." While the state testing laboratory has "identified a path forward" for resupplying test kits if they run low, Dick said he hasn't heard that the lab has received a fresh shipment of testing supplies from the CDC.
"There has been messaging that everybody can be tested if they want to be tested. And that's not the reality of the situation that we're in," he said. "We're still providing assessments for who are the appropriate people to use that testing capacity for."
He said people who think they have symptoms of COVID-19 should call the health district at 775-328-2427, where staff can evaluate their situation. Symptoms of mild cases can be as minor as a sniffle, Dick said, while more severe cases can involve fever, respiratory problems, coughing and nausea.
He emphasized that "the risk remains extremely low of COVID-19 in our community," but added that the coronavirus situation in the U.S. is not at the same phase as it is in China, where the outbreak is showing signs of slowing.
"I think it's premature to look at China and say that situation is over and we don't need to worry about things here. It's certainly encouraging to see the news out of China. I think we need to remain vigilant in our efforts to try to prevent" the spread of COVID-19.
— Tabitha Mueller & Michelle Rindels
Government outlines plan for secure return home for Nevada residents on Grand Princess cruise after ship reported coronavirus cases
Nevadans aboard a cruise ship in the San Francisco Bay identified as a locus for an outbreak of the novel coronavirus will be allowed to return home to quarantine, Gov. Steve Sisolak wrote in a letter to passengers Tuesday afternoon.
In the brief letter, Sisolak told passengers to expect a call from their local health authorities to evaluate their home living situations and ensure that they are prepared for the required isolation period. The timing and specifics of their flights home to Nevada will be determined by federal authorities, he said.
The move to bring the 49 Nevadans onboard the boat home means they will not be sent to a military base in Texas or Georgia for a 14-day quarantine period as initially anticipated.
"My office has been working around the clock with federal agencies and state and local health authorities to coordinate your return home in the most efficient and safe manner," Sisolak wrote.
The Governor's Office and Nevada Department of Health and Human Services have been forming the "safest and most secure plan" to bring these Nevadans home since Sunday evening, officials said, noting the health of the cruise passengers and other state residents needed to be safeguarded in the process.
Sisolak had initially asked federal health and defense authorities if any military facilities in Nevada could be used to isolate and monitor returning passengers, but said they indicated it was not feasible.
Nevada has agreed to certain conditions on bringing home the 49 Nevadans who have not shown symptoms of COVID-19. After being tested for the illness, they will fly back on "secure air transportation provided by the federal government and will not enter any buildings of any commercial airport in the state."
Local health officials are arranging secure and isolated transportation from the airports to the cruise passengers' homes, where the passengers will be required to sign a "Declaration of Self Quarantine" affirming they will stay apart from other people for 14 days.
"They will be securely returned to their homes for the mandatory 14-day isolation and monitoring period, under supervision of their local health districts," officials said in a statement.
State officials said they won't be releasing any other information that could lead to the identification of the passengers being brought back to Nevada.
The Grand Princess has been floating off the coast of California since Thursday while federal officials tested some symptomatic passengers and crew members after a passenger on the previous cruise on the boat died after contracting the virus. In total, 21 people on the boat — 19 crew members and two passengers — have tested positive for the virus, though health officials have said all the Nevadans on board are currently asymptomatic.
Sisolak said in the letter that state and local health authorities are "prepared to support and safeguard" Grand Princess passengers and their families, friends and community in the most efficient manner possible to protect everyone involved from the potential spread of COVID-19."
He also acknowledged that the "lack of information and misinformation" about what would happen to the Grand Princess passengers has "resulted in considerable anxiety and frustration."
"Your congressional delegation, state and local health authorities, and I strongly share your frustration." Sisolak said. "I can assure you that my frustration will be loudly and clearly expressed to leaders in Washington D.C."
— Jackie Valley, Michelle Rindels & Megan Messerly
Second Clark County case is a woman in her 70s with only in-state reported travel
A woman in her 70s who traveled in state prior to developing her symptoms is the second patient in Clark County to test presumptively positive for the novel coronavirus, Southern Nevada Health District officials announced Monday afternoon.
A health district spokeswoman, asked whether the patient's lack of out-of-state travel history is an indication to health district officials that the virus is spreading within the state's borders, only said in an email that their investigation is "ongoing at this time." The three other cases in the state all reported out-of-state travel to affected areas prior to developing symptoms.
Health district officials said that the woman is currently hospitalized and in isolation, but did not elaborate on her condition or whether she has any underlying conditions. They added that two adults have been identified as close contacts of the woman and have been asked to self-quarantine for 14 days.
A man in his 50s who was the first in the state to test presumptively positive for the virus through the Southern Nevada VA Healthcare System remains hospitalized and in serious condition, health district officials said.
— Megan Messerly
Washoe health officials identify, test close contacts of positive cases
All symptomatic close contacts of the two Northern Nevada men who tested presumptively positive for the novel coronavirus have tested negative for the virus, Washoe County Health District officials announced Monday morning.
Kevin Dick, the health officer for the district, said the close contacts will continue to remain in self-isolation at home for 14 days to see if they develop any symptoms, but that the results suggest that there has not been any identified "local transmission" of the virus at this point.
The health district is additionally working with federal and state officials to monitor the status of 49 Nevada residents currently aboard a Grand Princess cruise to Hawaii set to disembark in Oakland today after 21 people, two passengers and 19 crew members, tested positive.
Steve Waclo, a Carson City resident currently aboard the Grand Princess, said in an email Monday morning that he and his wife Zita have been confined to their cabin but are "fortunate to have a balcony for fresh air and watching Coast Guard boats coming and going." He expected that the disembarkation process would extend into Tuesday or Wednesday, and that Nevada passengers will be sent to military bases in Texas and Georgia for a 14-day quarantine, whether or not they test positive.
"Although we are in the critical age group, both of us are in otherwise excellent health," Waclo added.
The 14-day quarantine period for previous passengers of the cruise ship, which included 40 Nevadans, has now ended, Dick said. Those passengers had sailed on the Grand Princess to Mexico and disembarked on Feb. 21.
Health officials also added that the state is working to establish COVID-19 as a reportable, communicable disease, which will require private lab companies Quest and LabCorp to report results to local health authorities as they begin commercial testing for coronavirus in the near future.
— Megan Messerly and Daniel Rothberg
Read our previous coverage of coronavirus in the Silver State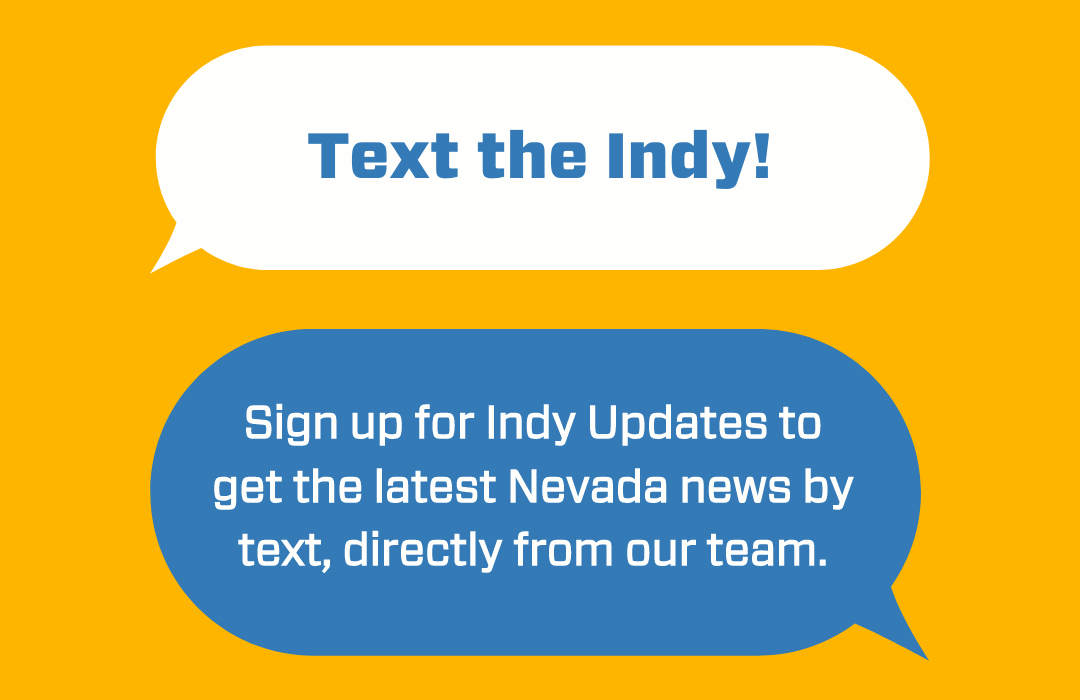 Featured Videos