Lombardo campaign pivots legal defense fund to ethics case
The fund initially helped pay for a legal defense of Lombardo's primary victory in 2022.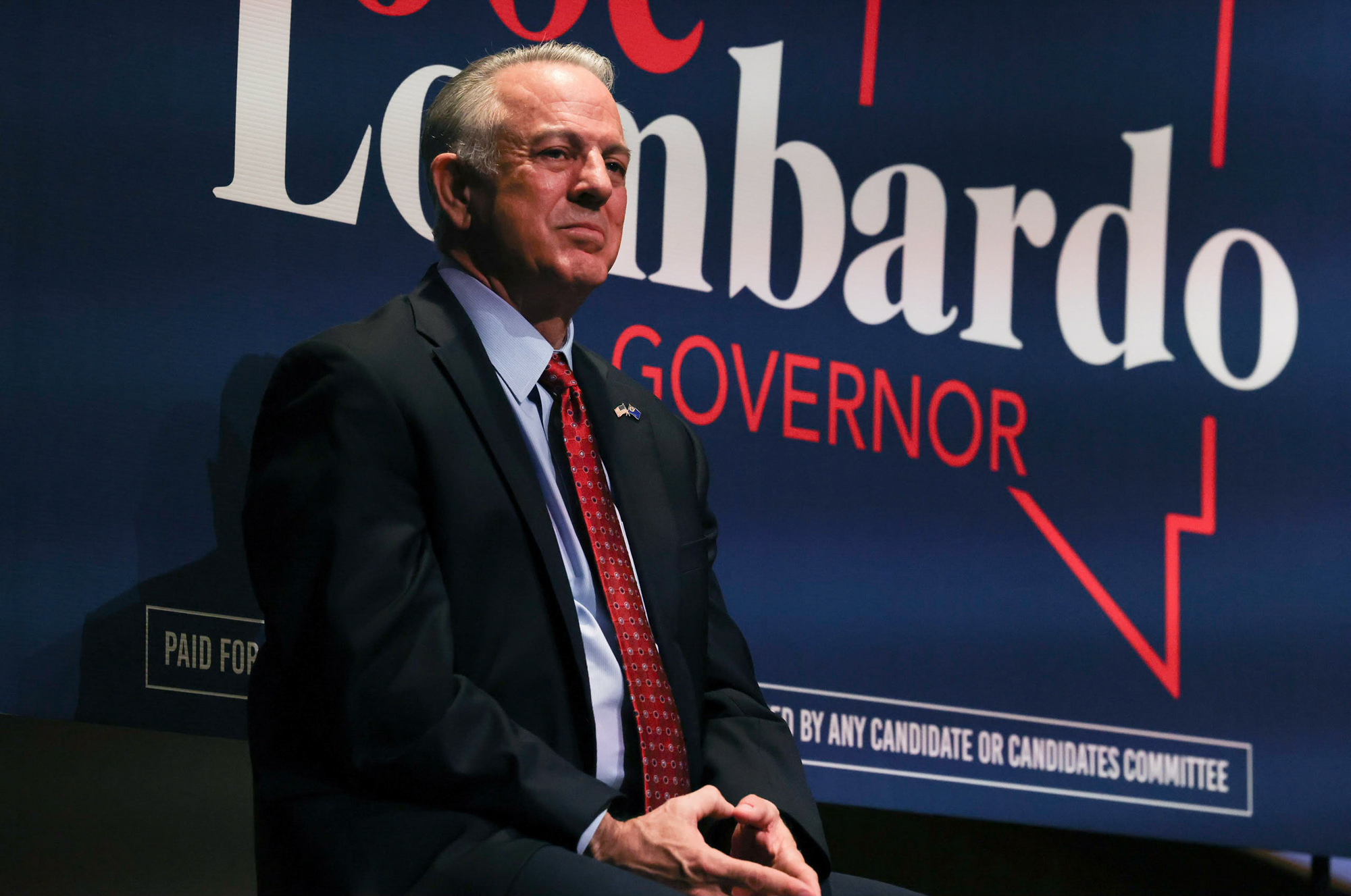 A year after creating a legal defense fund to pay legal fees related to a challenge to his primary victory by another candidate, Gov. Joe Lombardo's campaign is using the fund to ward off a case from the Nevada Ethics Commission, which earlier this year levied a censure and $20,000 fine for Lombardo for using his sheriff's badge and uniform in his campaign for governor.
The change comes as Lombardo's campaign filed new campaign finance documents Sept. 1, outlining exactly how much money the legal defense fund raised — $85,000 — and who funded it.
That fundraising information was bundled in Lombardo's other campaign finance reports last year, and only recently separated after being flagged by the secretary of state's office earlier this year.
Legal defense funds operate under a Nevada law that allows political campaigns to raise donations explicitly for the use of mounting a legal defense "arising from a campaign, the electoral process or the performance of official duties." These defense funds are subject to the same contribution limits ($10,000) as candidates for state office.
In Lombardo's case, the legal defense fund was established in late July last year to pay for the defense of a legal challenge to Lombardo's primary victory filed by fellow Republican gubernatorial hopeful Joey Gilbert.
After finishing second to Lombardo by roughly 26,000 votes, Gilbert alleged in a court filing that "algorithms" used by electronic voting machines had switched votes, creating inflated vote tallies for Lombardo and denying Gilbert victory. Gilbert's suit also proposed an equally sweeping remedy — applying a "mathematical" correction to the vote tallies and awarding the primary win to Gilbert, instead.
A state district court judge tossed the case, and later ordered Gilbert to pay $161,000 of Lombardo's attorneys fees as part of the state's "frivolous lawsuit" statute. That penalty was upheld last month by the state Supreme Court, after Gilbert's lawyer challenged the payment.
At the time — and according to the documents filed earlier this month — the legal fund raised $85,000, of which more than $82,500 was paid out to the law firm of Campbell & Williams, which represented Lombardo in the case.
Editor's note: Campbell & Williams has provided The Nevada Independent with pro bono legal services and advice.
More recent fundraising totals are not available, as the last reporting period included was the final three months of 2022. Legal defense funds are tied to the same reporting requirements as other state campaign finance reports, which won't be required again until after the first quarter of 2024.
All of that money came from just nine donors, of which eight gave the maximum $10,000 — including the state Republican Party, as well as two PACs linked to the campaign: Better Nevada and Stronger Nevada.
The rest came from individual donors. That includes David Chesnoff (a Las Vegas-based criminal defense attorney and one-time law partner to Oscar Goodman), Nickolas Mamula (the owner of a Las Vegas-area tiling business), Marnell Gaming and R&S Leasing (a company linked to Snap Towing CEO Robert Ellis and that frequently gives to Democrats and Republicans).
Finally, a $5,000 contribution came from LAJG Inc., a company whose only officer is Donna Lombardo, the state's first lady.
A source close to Lombardo's campaign confirmed that the defense fund has now pivoted to funding the governor's legal fight with the Nevada Ethics Commission.
The commission's ruling found that the governor improperly used the "accoutrements of office" in campaign materials, including using his uniform and badge, and fined the now-governor $20,000 and issued a censure.
That fine came well below an initial recommendation of $1.6 million, which sought to fine each individual violation of the ethics law in question. 
In August, attorneys for Lombardo (who also represented the governor during the Gilbert suit) vowed to fight the censure in court.
Editor's Note: This story appears in Indy Elections, The Nevada Independent's newsletter dedicated to comprehensive coverage of the 2024 elections. Sign up for the newsletter here.
The Nevada Independent is raising $200,000 by Dec. 31 to support coverage of the 2024 election.
Tax-deductible donations from readers like you fund this critical work.
If you give today,your donation will be matched dollar-for-dollar.
Give + Get Matched
Featured Videos