National Republicans recruiting Sam Brown to challenge Rosen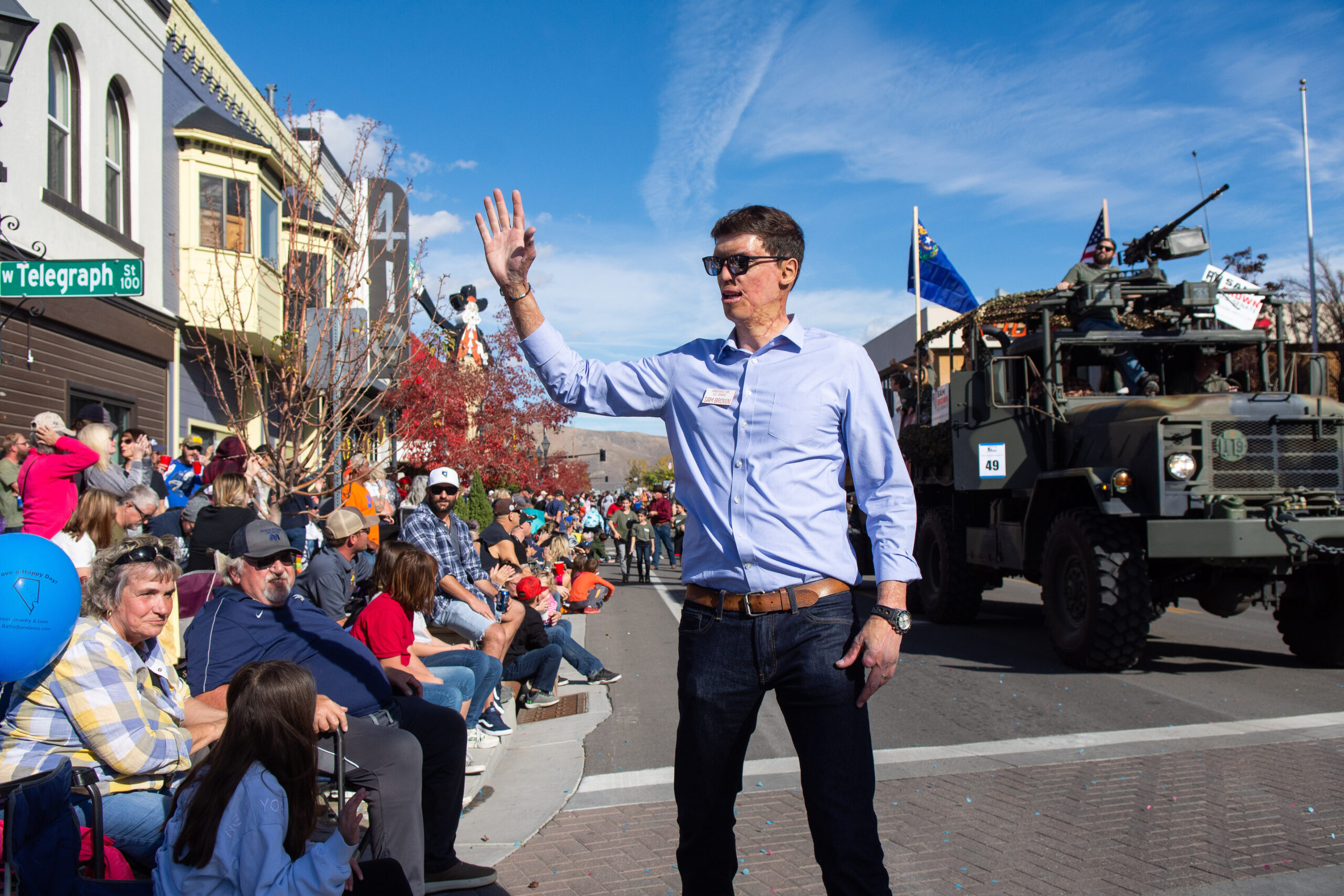 Sen. Steve Daines (R-MT), the chair of the National Republican Senatorial Committee, is recruiting retired U.S. Army Captain Sam Brown to run for Nevada's U.S. Senate seat in 2024, according to a national Republican strategist.
Brown, who suffered severe burns in combat during a deployment in Afghanistan, previously ran for a U.S. Senate seat in the state's 2022 Republican primary, running a spirited but ultimately unsuccessful primary campaign against former Attorney General Adam Laxalt.
Brown is now "seriously exploring" a run, according to a GOP consultant close to him who was granted anonymity to speak freely about Brown's plans. Though he has not yet made a formal decision, Brown is "far along" in his process of deliberating with consultants, members of the state-level GOP apparatus, prior donors and supporters, the consultant said.
After a string of high-profile Senate losses in 2022, including Laxalt's, top Senate Republicans hoped to recruit candidates who have enough conservative bona fides to win a primary while still appealing to independents to win a general election.
Daines believes Brown has enough broad appeal to thread the needle, and was particularly excited by his prowess with small-dollar donors, who powered him to successive quarters of raising over $1 million in 2022, coming within $300,000 of Laxalt in Brown's strongest quarter. Daines also believes Brown's story, as a Purple Heart recipient and former small business owner, makes him a strong candidate, said the strategist, who was granted anonymity to speak frankly about the NRSC's plans.
Former state assemblyman and prominent election denier Jim Marchant, who launched his campaign at the beginning of May, is the only other major Republican candidate who has announced intentions to run for the seat. Having lost the 2022 secretary of state race, Marchant, who leaned heavily into conspiracy theories in his last race, could create headaches for the NRSC if he is the Republican nominee — an outcome Democrats are enthused about, per a Politico report.
The consultant close to Brown said Daines' recruitment of him began before Marchant entered the race.
The eventual Republican nominee will take on Sen. Jacky Rosen (D-NV), who is running for re-election.
Johanna Warshaw, the Nevada state Democratic Party spokesperson, said Brown and Marchant have fundamental similarities.
"Sam Brown and Jim Marchant are two anti-choice, MAGA peas in a pod," Warshaw said in a statement. "This is shaping up to be a brutal primary and a messy race to the right that will expose these deeply flawed Republicans as out of touch with hardworking Nevadans."
Brown, a native of Arkansas and West Point graduate, moved to Nevada in 2018 from Texas, where he unsuccessfully ran for a seat in the Legislature in 2014.
His political positions are in line with most of the GOP — in 2022, he said he would oppose any law infringing on the Second Amendment, he is anti-abortion, and he blamed runaway government spending for inflation, calling on the Federal Reserve to sharply raise interest rates despite fears of triggering a recession. He supported implementing voter ID laws, and decried the teaching of so-called "critical race theory" in schools, a common conservative belief that schools' teaching of diversity and inclusion has become divisive.
He also called for the elimination of multiple federal agencies, including the departments of energy, education, and transportation, to cut government spending. Brown expressed openness to reforming the legal immigration process to cut down on wait times, but opposed amnesty programs for undocumented immigrants. And he frequently speaks out on Section 230, the law that governs social media platforms, saying it allows for the censorship of conservative speech.
The PAC Brown founded in 2022, Duty First PAC, has not reported any contributions this far this year. The PAC owed more than $270,000 in debts and obligations at the end of 2022.
This story was updated at 12:30 p.m. to include comment from the Nevada state Democratic Party.
The Nevada Independent is raising $200,000 by Dec. 31 to support coverage of the 2024 election.
Tax-deductible donations from readers like you fund this critical work.
If you give today,your donation will be matched dollar-for-dollar.
Give + Get Matched
Featured Videos