On the Record: Republican Congressional District 1 candidate Mark Robertson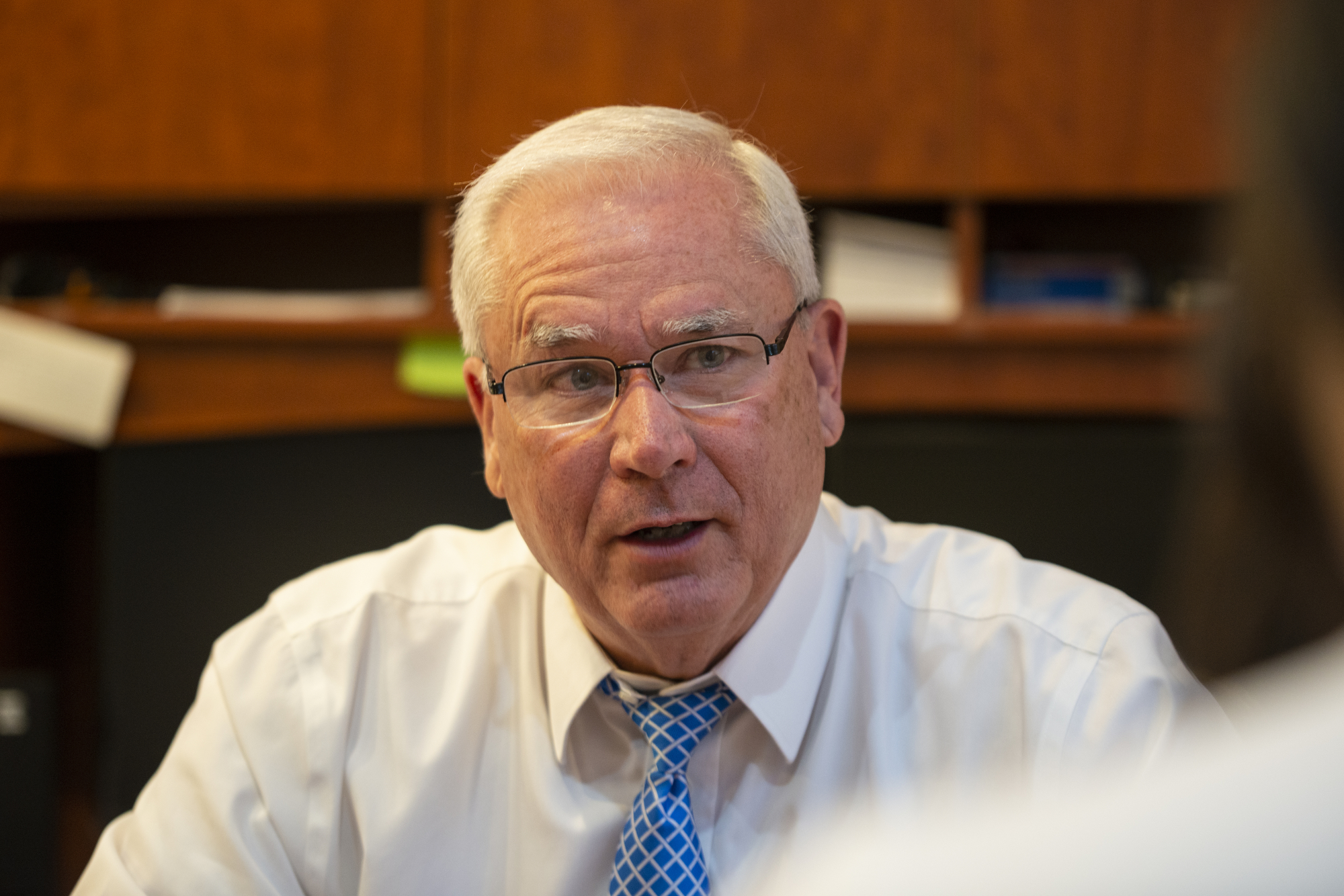 Editor's Note: This is one in a series of "On the Record" pieces highlighting the policy stances of candidates running for major offices in the 2022 Nevada election. Click here for additional election coverage. Check back in the coming days for more information on the policy positions of Robertson's opponent, Rep. Dina Titus.
Although seniority may come with influence, each member of Congress is given just one vote, and Republican candidate Mark Robertson believes that residents of Nevada's Congressional District 1 may want a change from longtime Democratic Rep. Dina Titus.
"The people of Nevada will have the same amount of representation in Washington, D.C., as they would with either candidate," Robertson told The Nevada Independent. "They may feel that it's time for a change — that what we've been doing in the past isn't working, we're going in the wrong direction."
Members in the House of Representatives serve two-year terms and have no term limits. District 1 became more competitive after being redrawn last year during the redistricting process, which shifted the district to include more of East Las Vegas and Henderson, all the way to Boulder City. The changes added more Republican residents into the district.
As of September, District 1 has 155,315 active registered Democrats and 112,245 Republicans. In the June primary, Robertson received 30 percent of the vote.
Below is a summary of Robertson's interview with The Nevada Independent.
Economy
Robertson said it's "simple math" and the "overwhelming consensus" that the inflation rate being at a 40-year high resulted from the federal COVID-19 relief bills that aimed to stabilize the economy during the pandemic.
He added that the combination of the supply chain being disrupted and federal spending created "artificially high demand" for goods that were limited.
"What causes inflation is excess government spending. So we have got to stop borrowing, printing money and spending money we don't have," Robertson said. "We've got to get people back to work. We are still paying people not to work. It makes no sense when employers throughout the country are having a hard time finding workers, yet the government continues to pay people not to work."
COVID-related enhanced federal funding for unemployment dried up in April, and as of August, the unemployment rate was 4.4 percent in Nevada.
One way to handle inflation, Robertson said, is to "end the policies that discourage people from getting jobs, encourage people to go out and work."
Since March, the Federal Reserve has increased interest rates in an attempt to tame inflation, but that move has created fears that if it raises rates too aggressively, it could dampen economic growth and trigger a recession.
"Whether a recession is coming or not, the current environment and the current economics are hurting Nevada families," Robertson said. "Nevada families weren't prepared for what's going on right now. If it gets worse because of a recession, I really do fear for Nevada families and what could happen to them."
Along with inflation, housing prices hit record highs in the Silver State in May and just recently started falling. According to a report from Brookings Mountain West Bureau and the Lincy Institute at UNLV, many Nevadans struggled with meeting rental costs and mortgage payments.
But Robertson said he does not believe Congress should directly intervene. Instead, housing affordability should be handled by local governments, he said. If elected, Robertson said he would support shrinking the federal government "so that it takes less money out of our local economy" to create more resources for Nevadans.
"I think the Congress should do very little. I think that should not be a federal issue," he said. "We ought to keep that [tax] money locally and it's the local officials closest to the people who ought to be coming up with those solutions."
Similarly, he said the minimum wage should be determined by the state, not the federal government, as every state is different. The federal minimum wage is $7.25 an hour, while the state's minimum wage has increased by 75 cents every year since 2019. Nevadans' pay starts at $10.50 an hour for workers who are not offered qualifying health insurance, and to $9.50 an hour for those who are offered health benefits.
The minimum wage in Nevada will continue gradually increasing through 2024, when it will reach $12 an hour for those not offered health insurance, and $11 for those who are. In November, Nevadans will vote on a ballot question that, if passed, would set the minimum wage at a flat rate of $12 per hour — starting July 1, 2024 — regardless of health insurance.
Abortion
When asked about abortion and reproductive health, Robertson said he believes the issue should be returned to the states and their voters.
"I believe that a woman should have a choice whether or not she engages in activities that lead to pregnancy. And when a woman doesn't have the choice, like in the case of rape or incest … abortion should be an option," he said, adding that it should also be an option in case the life or health of a pregnant person is at risk.
Last year, on social media, he commended Texas' six-week abortion ban with no exceptions for rape and incest, and noted that he hoped other states would "follow suit."
"I believe that life begins at conception … A human, no matter how small, has a right to not have their life taken away from them," he said in the post published Sept. 5, 2021. "One of the most vital roles of government is to protect the vulnerable. The level of morality of a society can be measured by how they treat their most helpless. Our unborn babies deserve dignity and we must defend their right to life."
Nevada voters approved a 1990 ballot measure codifying state law allowing for abortions within 24 weeks of pregnancy. Robertson told The Nevada Independent that he believes adoption should be considered as an option and that he supports birth control and contraceptives to prevent unwanted pregnancies.
Immigration
Robertson supports the completion of the wall along the southern border of the United States, an immigration initiative spearheaded by former President Donald Trump.
"I think that America ought to be protecting its borders," he said. "I spent 30 years in the military protecting the borders of other countries — I know the importance of national security."
He said it is not just the flow of people coming across the borders unauthorized, but also the illicit drugs and weapons that are smuggled in. On Twitter, Robertson has called it a "broken border system," joining other Republicans in blaming the Biden administration. He also said on Twitter that "securing" the southern border is "the humane response to drugs, guns, and gangs coming across."
According to the federal Drug Enforcement Administration, the vast majority of fentanyl and other illegal drugs are smuggled through official ports of entry by cartels, not by people migrating.
The immigration system needs to be reformed, he said, to allow for a "steady flow of immigrants that come into [the] country."
"But we ought to decide who comes into our country. It shouldn't just be whoever is able to sneak across our border," Robertson said. "And they ought to have the ability to support themselves. We are broke as a country … We don't have the money to support millions of people coming into our country."
He said the people allowed to stay in the country should "have the skills" to contribute to the local economy.
Robertson also said that recipients of the Obama-era Deferred Action of Childhood Arrivals, who were brought undocumented oftentimes as young children, should have "special arrangements" because they did not intentionally break the law.
"When somebody intentionally breaks our laws, there should be consequences. And those consequences should ultimately mean they need to return to their country," he said. "But for the DACA children, they did not break our laws intentionally … They've grown up in the United States … They're part of our society."
He recounted serving in the Army with some soldiers who were Dreamers, the name given to DACA recipients. Robertson added that there should be a pathway to citizenship for DACA recipients, but they should also show that they are self-sufficient and law-abiding.
Climate change
Robertson said climate change is happening, but that it's nothing new and the planet has experienced extreme climate changes throughout its millions of years.
"I think as humans, as residents on this planet, we should do all that we can to take care of the planet," Robertson said. "We ought to try to avoid polluting our planet and so we ought to have wise and prudent policies."
He called the proposed Green New Deal "extreme" and that it has more to do with "controlling people than it is about controlling the climate." Any solution to help climate change, he said, should be carried out internationally, not just in the United States.
The Green New Deal calls on the federal government to wean the United States from fossil fuels and curb planet-warming greenhouse gas emissions across the economy to avoid the irreversible consequences of climate change. The bill says the United States must take a "leading role" to achieve worldwide net-zero emissions by 2050 — meaning as much carbon would have to be absorbed as released into the atmosphere.
Robertson considers water shortages and the shrinking Lake Mead a federal issue, as it affects more than just Southern Nevada. The Colorado River supplies water to almost 40 million people in seven states, and Nevada has less than 2 percent of legal water rights to the river. Even so, 90 percent of Nevada's drinking water comes from the river. Beginning in 2023, 8 percent of Nevada's water allotment will be cut.
"It cannot be solved by one state … And so the federal government needs to be involved in a solution. And that solution needs to include conservation, and also finding new sources of water," he said.
He suggested desalinating water from the Pacific Ocean to use for agriculture in California and cloud seeding to generate rain in the areas where it's needed. If elected, he said he would try to work with some of California's 56 House representatives to find a solution to the water crisis.
Updated on Oct. 14, 2022 at 1:40 p.m. to add link to copy of social media post mentioned that had been deleted.
Featured Videos
Comment Policy (updated 4/20/2021): Please keep your comments civil. We reserve the right to delete comments or ban users who engage in personal attacks, use an excess of profanity, make verifiably false statements or are otherwise nasty. Comments that contain links must be approved by admin.