Poll: Lombardo maintains GOP governor primary lead; LG and SOS races remain close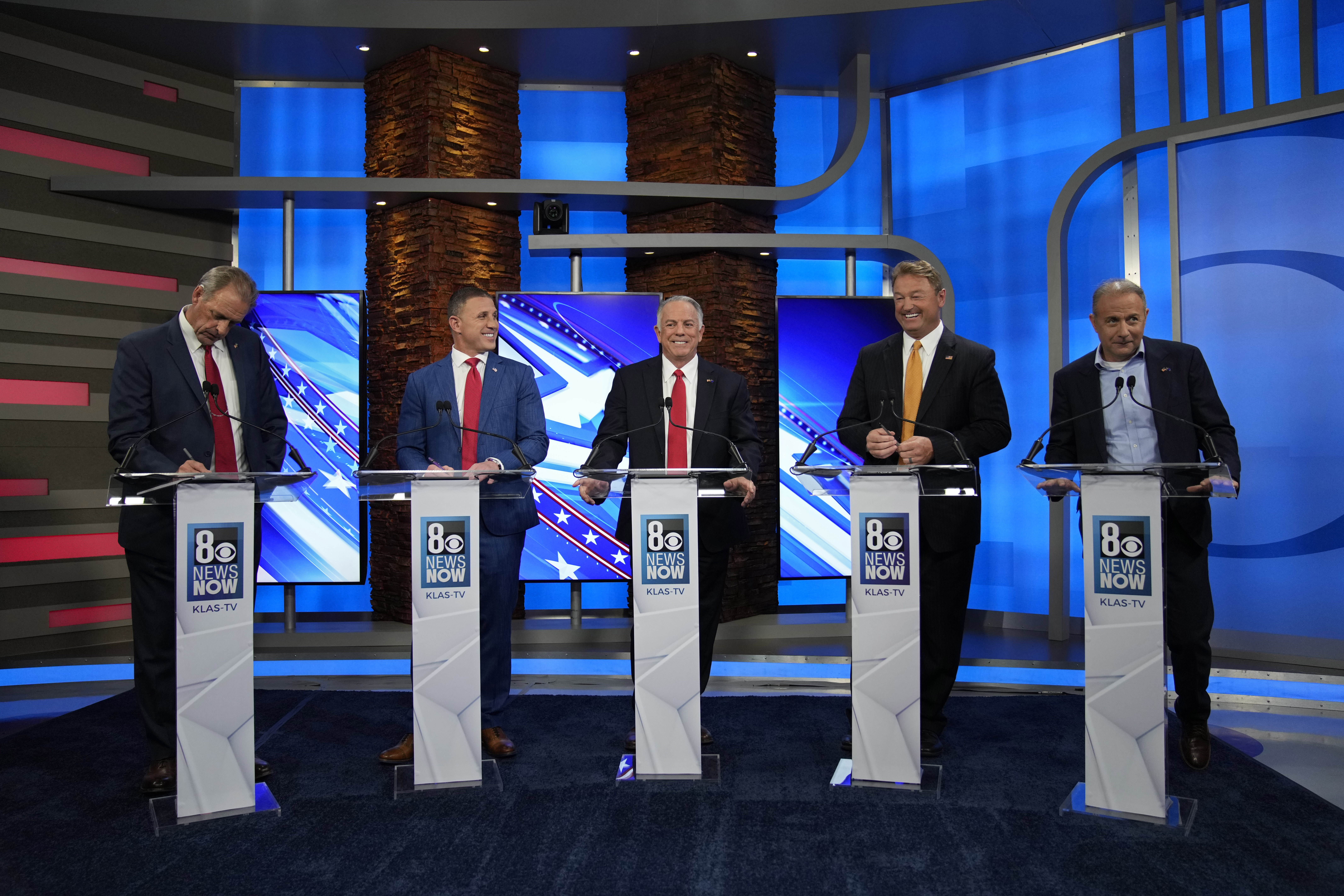 Clark County Sheriff Joe Lombardo remains the front-runner in the Republican primary for governor with Reno attorney Joey Gilbert sitting firmly in second place as the early voting period draws to a close, according to the new Nevada Independent/OH Predictive Insights poll.
The poll found Lombardo's 13-point lead over Gilbert (34 percent to 21 percent) narrowed from a similar poll conducted in mid-May that saw Lombardo leading his closest primary rival by 20 points. But support for two candidates rounding out the top four — former U.S. Sen. Dean Heller and North Las Vegas Mayor John Lee — was significantly lower at 10 percent each.
Still, Lombardo — who declared in a debate late last month that "for all practical purposes, this primary is over" — appears well on track to win the primary election next week and proceed to the general election against Gov. Steve Sisolak.
"It would be a surprise if Joey Gilbert was able to get close enough to make it competitive or come out the winner," Noble said.
The poll, which surveyed 525 likely Republican primary voters via live phone calls and peer-to-peer texts from June 6-7, also found that a plurality of respondents are still undecided in primary races for lieutenant governor and secretary of state. The poll had a margin of error of 4.4 percent.
"These races, they don't have a lot of money, and they're competing against the very interesting races of governor and Senate that typically have a lot more money, a lot more attention," Noble said.
Still, Las Vegas City Councilman Stavros Anthony leads the pack of seven candidates in the lieutenant governor's race, while support for Reno-area developer Jesse Haw and former Assemblyman Jim Marchant was split evenly in the GOP primary for secretary of state.
Lombardo maintains lead for governor nomination
Though Gilbert has continued to gain ground on polling and fundraising front-runner Lombardo in recent weeks, Noble noted that there is little room for Gilbert to overtake Lombardo with so many candidates in the race.
"The disadvantage for Gilbert is that there's so many other folks in the race that are pulling votes, like John Lee," Noble said. "You have such a cluttered field … It's a steep hill to climb for Joey Gilbert."
Lombardo is also benefiting from his endorsement from former President Donald Trump, which appears to have boosted his popularity in rural areas.
Among the 42 percent of respondents who identified more closely as supporters of Trump than the Republican Party, Lombardo saw his lead over Gilbert jump to 16 points (40 percent to 24 percent), while support for most other candidates dropped. Respondents in rural areas indicated even greater support for Lombardo over Gilbert (43 percent to 19 percent).
"The only difference is that one has the blessing of Trump, and one doesn't, and that's clearly making an impact," Noble said.
But Noble cautioned that the Trump endorsement still has the potential to hurt Lombardo in the general election.
"A concern with a lot of these Trump-endorsed candidates is that it really gives, not only the left, but those very swingy, important moderate folks in the middle that will decide the general election — it really gives them some ammunition to go on the offensive," he said.
Anthony leads "unsure" race for lieutenant governor
In the race to boot Democratic Lt. Gov. Lisa Cano Burkhead, who was appointed by Sisolak last year, seven Republican candidates are running in the primary, including Anthony, former state Treasurer Dan Schwartz and John Miller, founder of a Las Vegas-based bank.
In the crowded race, Anthony has a slight edge with 19 percent, followed by Schwartz and Miller at 9 percent each, but a plurality of respondents (42 percent) remained unsure, especially in Washoe County and rural Nevada — where more than 50 percent said they were undecided.
In Clark County, 27 percent of respondents expressed support for Anthony, and Schwartz came in second with 12 percent. Fifteen percent of rural Nevada respondents preferred Miller, the highest of any candidate.
"But really, it's going to come down to where those 42 percent that are undecided. Where they fall will ultimately determine the winner," Noble said. "Their get-out-the-vote operation is going to be incredibly important … because there's a lot of folks that haven't made up their minds yet, but will ultimately decide that contest."
Marchant, Haw lead in secretary of state's race
Though a plurality of respondents (36 percent) said they were undecided in the Republican primary for secretary of state, Noble said the race was clearer than the lieutenant governor's race, as two candidates have emerged as front-runners.
Marchant and Haw, who are running to replace termed-out Republican Secretary of State Barbara Cegavske, each received support from 21 percent of respondents, and they were followed distantly by ​​former District Court Judge Richard Scotti (8 percent). The winner of the primary will face Democrat Cisco Aguilar, former chairman of the Nevada Athletic Commission, in the general election.
Both Marchant and Haw saw a bump in support from a similar poll conducted in mid-May that saw Marchant at 16 percent and Haw at 7 percent.
Since that time, Haw — who is a developer and one of the top fundraisers in the race — has continued to push out television ads, boosting his profile across the state and in his home region in particular. Among likely Republican voters in Washoe County, Haw leads Marchant by 21 points (30 percent to 9 percent).
But Marchant, who is based in Southern Nevada and has promoted false conspiracy theories about the security of Nevada elections, holds a firm lead among supporters who more closely align with Trump than the Republican Party (28 percent to 12 percent).
"It looks like it's really a battle between Haw and Marchant. And, again, it's gonna come down to their get-out-the-vote operation," Noble said.
Find the full poll results and crosstabs here.
Editor's Note: This story appears in Indy 2022, The Nevada Independent's newsletter dedicated to comprehensive coverage of the 2022 election. Sign up for the newsletter here.