Former educator seeks to keep lieutenant governor job amid stiff competition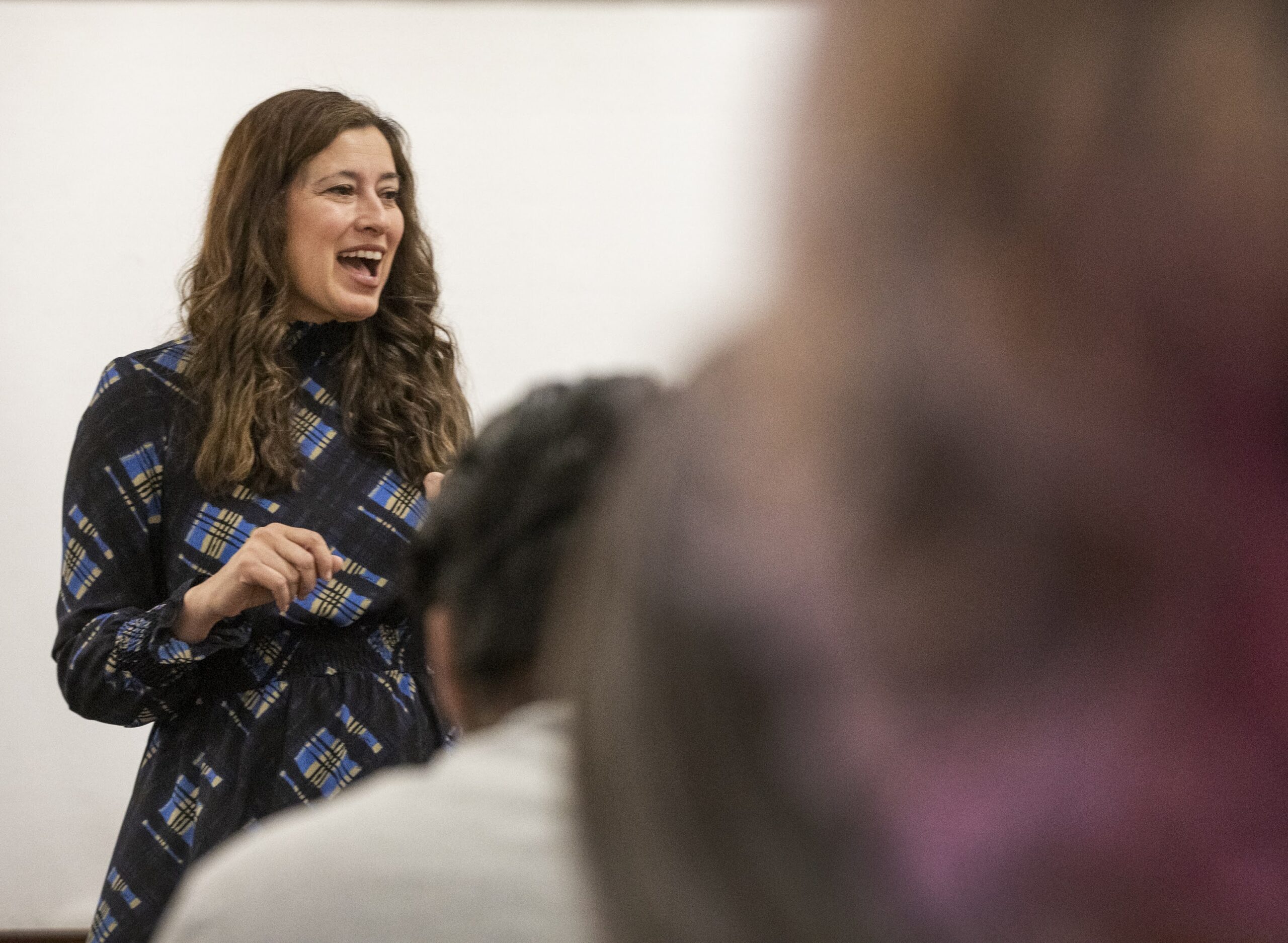 When Lt. Gov. Lisa Cano Burkhead visited Desert Oasis High School in mid-March, the Las Vegas campus was nearly vacant, with many students and parents still uneasy after several incidents of violence on campus prompted a two-day lockdown.
Students and teachers alike asked Cano Burkhead — a former principal who is second in line to become governor — what she would do as an elected official to make a difference.
"I think that having the opportunity to have a seat at the table and to use my voice as an educator and as a former principal, as someone who really understands what happens in the trenches, is a very unique opportunity as a lieutenant governor," she said in an interview.
Last December, Gov. Steve Sisolak appointed Cano Burkhead as lieutenant governor, following former Lt. Gov. Kate Marshall's resignation in August to join the Biden administration. The political newcomer is now trying to maintain the post through a campaign that has put her educational leadership front and center, but she faces stiff competition as many candidates — including several with more direct experience in politics — have jumped into the race.
In Nevada, the lieutenant governor is a part-time position that encompasses the largely symbolic role of president of the state Senate and chair of the Nevada Commission on Tourism, among other board roles. The position yields little institutional power and often does not translate to other offices afterward — the last lieutenant governor to successfully move to a higher office was Bob Miller, who became governor in 1989.
Nevada is one of just 17 states where the governor does not pick a lieutenant governor candidate to run together as a ticket. The relationship has been regarded in the past as a forced marriage of convenience.
The Democratic primary includes Cano Burkhead, Henderson Mayor Debra March (who has significantly more campaign funds than Cano Burkhead) and rural Democratic Party activist Kimi Cole, who, if elected, would be the first openly transgender politician in the country elected to a statewide office.
Republicans are facing their own crowded primary, with a field that includes Stavros Anthony, a Las Vegas city councilman; Dan Schwartz, a former state treasurer; and John Miller, founder and CEO of a Las Vegas-based bank. The primary is scheduled for June 14, 2022.
Here's a look at the major candidates running for lieutenant governor.
Lisa Cano Burkhead (incumbent; Democrat)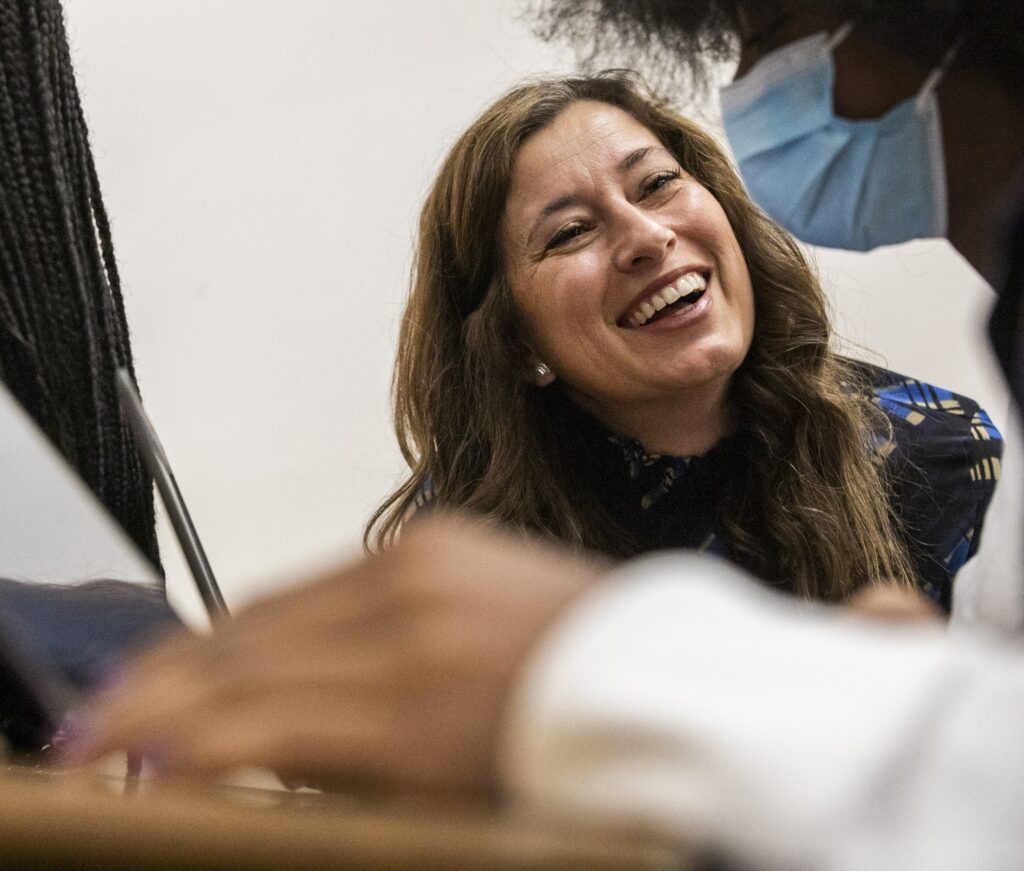 Cano Burkhead was born and raised in Las Vegas by parents who immigrated from Argentina and Paraguay. Her father was a blackjack dealer and her mother was a seamstress for Strip shows including Elvis Presley and soul legend Gladys Knight.
"It doesn't get more Las Vegas than that," Cano Burkhead said at the Desert Oasis High School.
She was an educator, principal and administrator in the Clark County School District for 25 years before entering politics, although she previously ran unsuccessfully for the Nevada Assembly in the 2002 election cycle.
"When we are talking about economic development, tourism and all the different areas that a lieutenant governor oversees, I bring that perspective and I am confident that I will continue to do so in this role," she said.
Asked how she feels about running against more widely known Democratic candidates, Cano Burkhead said she plans to let her work speak for itself.
Since taking office in mid-December, Cano Burkhead said she has focused on helping small businesses recover from the pandemic. She has led the new Office of Small Business Advocacy — which the Legislature created in 2021 and housed in the lieutenant governor's office — to serve as a hub for small businesses to access resources and government representation.
She also launched Battle Born Education Heroes, a program for acknowledging educators throughout the state. And she partnered with State Superintendent Jhone Ebert to host a series of listening sessions to discuss students' safety, mental and behavioral health needs this spring.
"I feel that I'm the right person at the right time," she said in an interview with The Nevada Independent. "I know that having a full term is going to allow me to get more work done and I am really excited about that."
Even though she is the incumbent, Cano Burkhead raised less than $140,000 in the first quarter, which is a little more than half that of her Democratic primary opponent Debra March. Cano Burkhead has roughly $160,000 in cash on hand.
Debra March (Democrat)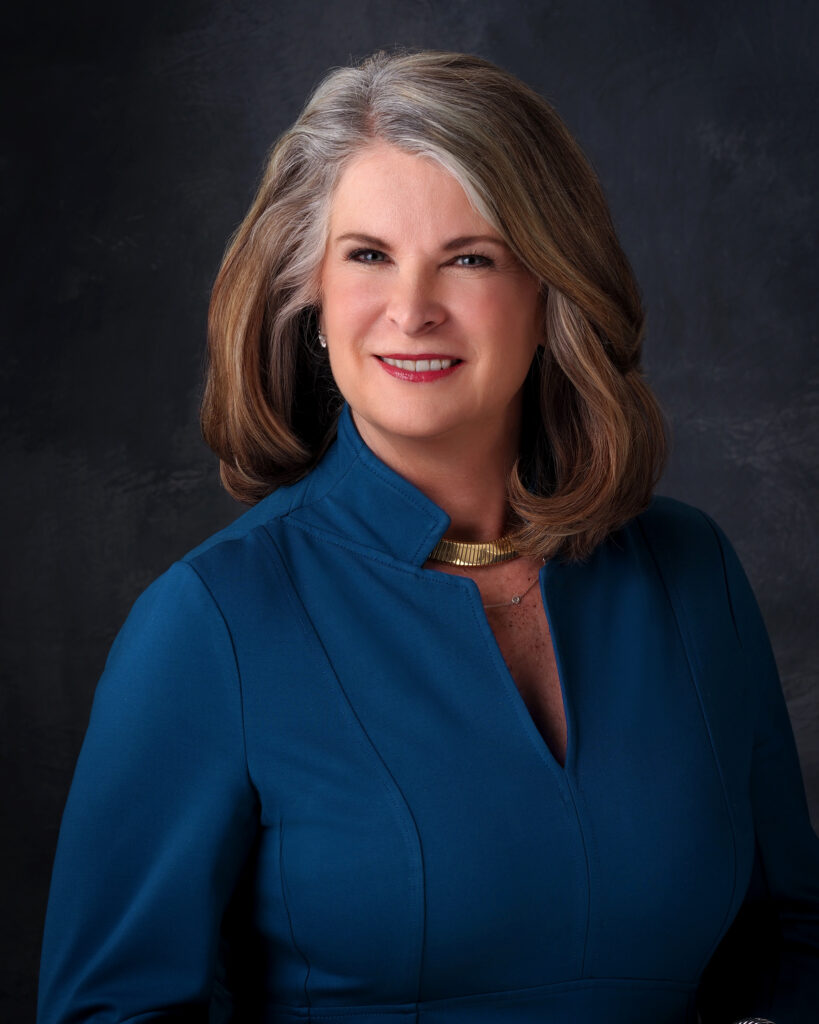 March's campaign video declares her "the only qualified candidate to be our next lieutenant governor." In an interview with The Nevada Independent, March said leadership and experience do matter and the role of lieutenant governor aligns with the primary duties she executes as the mayor of a city with 300,000 residents.
"In Southern Nevada, I play a key role in transportation, economic development, tourism and homeland security," March said. "I believe I can make a difference for the people of the state of Nevada."
After graduating from UNLV, March worked as a park ranger and a social worker before moving to Southern Nevada to become deputy administrator with the Nevada Real Estate Division. From 1996 to 2009, she was the director of UNLV's Lied Institute for Real Estate Studies.
She was on the City of Henderson Planning Commission from 2004 to 2009, and now serves as the chairwoman of the Regional Transportation Commission and the Regional Flood Control District.
If elected lieutenant governor, March said she would review the state budget and its return of investment. She said it's important to ensure everyone's working together across the state and not duplicating efforts to support a higher level of performance.
She said under her leadership, Henderson has recruited HAAS Automation, Google, Amazon and other businesses that provide high-paying jobs while diversifying the economy. She pointed out that there are also multiple sports teams contributing to bringing different revenue streams to the city.
"As lieutenant governor, it would be my top priority to bring these best practices in economic development to the state level and serve all Nevadans with the passion and enthusiasm that I have as mayor of Henderson," March said.
She was endorsed by State Democratic Party Chair Judith Whitmer last year when she announced her plans to run for lieutenant governor. Though the state Democratic Party later said it would not endorse candidates ahead of the 2022 primary, the endorsement fed into the long-simmering issues between progressive activists who took control of the party last year and the party establishment who set up a separate organization to bypass the state party apparatus.
March reported raising a little over $257,000 in the first three months of the year, and is leading the primary in campaign donations. She spent $192,000 last quarter and had $550,000 cash on hand heading into the second quarter.
Kimi Cole (Democrat)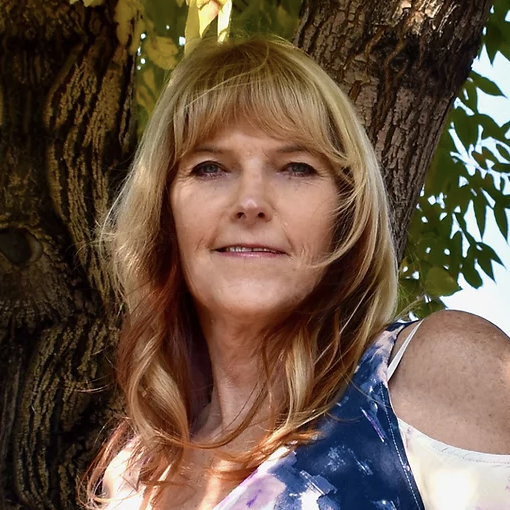 Cole said she wasn't inclined toward politics until undergoing a gender transition about 12 years ago.
"I was not welcomed the way I was," Cole said in an interview. "I didn't like that feeling and all of a sudden it dawned on me that this is what the world must look like for anybody who is perceived as different or not part of the status quo."
According to her website, Cole and her family moved to Nevada in 1956 and she has lived in various parts of the state throughout her life. Before dipping her toes in politics, Cole worked in the construction industry as a project manager.
She was an active advocate for the Obama 2012 campaign and, in 2013, she became the chair of the Douglas County Democratic Party, serving four terms and remaining chair emeritus. In 2017, she was elected as the Rural Democratic Caucus chair and is currently serving a second term.
Cole pointed out that while she and March have political experience, Cano Burkhead does not.
"She's a very nice lady and her background is in education, which I think is absolutely wonderful," Cole said. "But [she has] no political experience, and my particular ability that I think sets me apart is that I have such a diverse background of dealing with people from all aspects of Nevada life."
If elected, Cole said she would diversify Nevada's economy by focusing on the state's natural resources and tourism industry. She said she would highlight the "hidden gems" around the state and hopes to branch out Nevada's economy beyond gaming and mining.
Cole says there isn't a one-size-fits-all strategy when it comes to economic diversification. She said she wants to see more acceptance of the idea that going to college for many years and incurring great debt isn't for everyone, and that students can make a good living in the trades.
"An increasing number of people feel like they are not being fully represented," Cole said. "I would look at bringing people together and having an open-door policy so we can keep our fingers on the pulse of what's going on around Nevada."
Cole is a distant third in the primary in terms of campaign finance. During the first quarter of 2022, she reported raising $42,000, spending $52,000 and ending the period with about $8,000 cash on hand.
John Miller (Republican)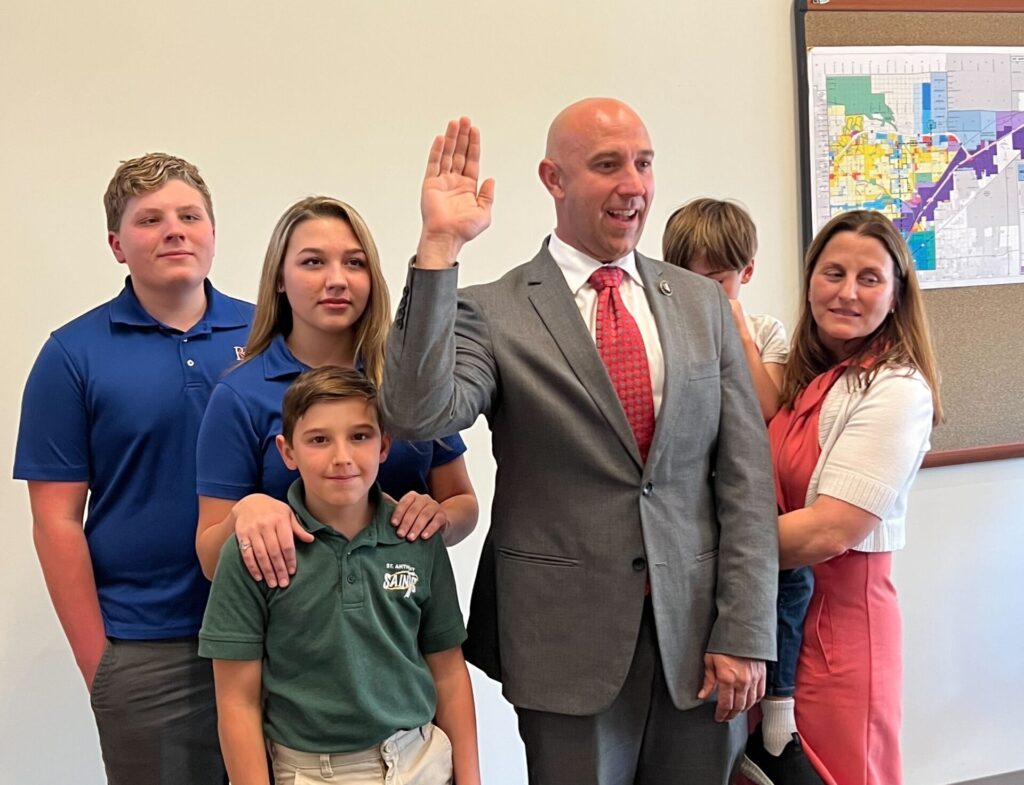 Miller said he decided to run for lieutenant governor after his daughter, a high school junior, said she doesn't want to stay in Nevada after graduation because of its lack of career opportunities in her planned field of chemical engineering.
"I came to realize that she was right to a certain degree," Miller said in an interview. "We are definitely still an economy that's based on tourism."
Miller is the founder and board member of Las Vegas-based Lexicon Bank, and serves as vice president of finance for the Las Vegas Area Council of the Boy Scouts of America. He is also co-owner of Cast Wines, a winery in California, which he operates with his wife.
Miller announced his campaign in November 2021.
In the first quarter alone, Miller loaned himself $350,000 and spent more than a quarter million dollars, largely on advertising and consulting. He has over a half a million dollars cash on hand.
Miller said his experiences of running a bank — including facilitating more than 1,000 Paycheck Protection Program loans and more than $850 million in credit to businesses during the pandemic — would help if he ever needs to step into the role of governor.
"I know how to deal with a large number of employees, large balance sheets and stepping in and dealing with problems," he said.
If elected, Miller said he would focus on tourism by ensuring that the Las Vegas Convention Center is able to gain back some of the large conventions canceled during the pandemic. He also wants to advertise the state's many parks.
"We are definitely the world's arena, but we can be the world's playground as well," Miller said.
Miller wants to move the Governor's Office of Economic Development — which oversees broad economic development efforts and extends tax incentives to new or expanding businesses — back into the lieutenant governor's office. The office was transferred away from the lieutenant governor's office in 2011 to a Cabinet-level position, reporting to the governor.
He said the key to economic diversification is focusing on students who aren't headed to college by giving them opportunities to be successful, such as through the trades.
"I think the problem is that politicians often focus on the lowest-hanging fruit," Miller said. "And that means they focus on big names that get your attention — so-called 'Amazons of the world.' But they don't necessarily drive careers. They drive jobs. We haven't worked on some key components to going the next level up and driving careers."
He said whether his daughter will return to the state after college depends on how the next lieutenant governor helps bring the right kinds of businesses into Nevada.
"That's why I'm running — because I believe I can bring those kinds of growth and diversification to our economy," Miller said.
Dan Schwartz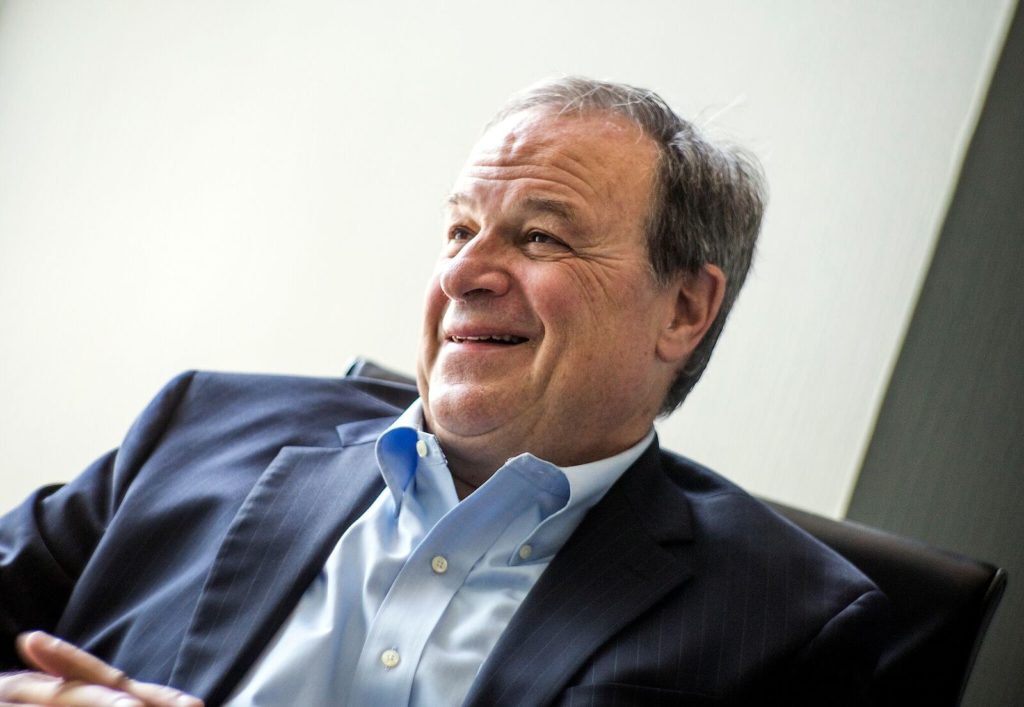 When serving as state treasurer from 2015 to 2019, Dan Schwartz was known to step outside his lane — proposing an alternative to the 2015 extensive budget the governor is tasked with drafting, deriding a special tax deal and a special session for electric car manufacturer Faraday Future and championing the contentious voucher-style Education Savings Account program.
"When I was state treasurer, everyone thought I would just sit there and count the money," said Schwartz, who announced his candidacy last August.
He said he is running for lieutenant governor so he can prove them wrong one more time.
Schwartz enlisted in the U.S. Army during the Cold War and was stationed on a Pershing missile nuclear base in Germany. According to his campaign website, he has more than 40 years of experience in the financial and publishing industries.
"My private sector experience in finance and as a successful entrepreneur provides a background that will enable me to meet the many challenges which Nevada faces," Schwartz said in an email.
As state treasurer, he said he stopped what he described as a "$300 million scam" in the form of incentives for electric carmaker Faraday Future, increased Nevada families' college saving options and fought against the largest tax increase in Nevada's history — a 2015 tax package that created the Commerce Tax on large businesses, among other things.
State lawmakers approved the Faraday Future tax incentive deal in a 2015 special session, but the company in 2017 halted plans to build the planned massive electric vehicle factory amid cash troubles. And despite opposition from Schwartz and other legislative Republicans, lawmakers did pass the Commerce Tax and a suite of other tax extensions and rate raises in 2015 as part of Gov. Brian Sandoval's plan to significantly boost K-12 education funding.
"No other candidate has a record of real results," Schwartz said.
If elected into office, Schwartz said he hopes to improve the state's K-12 education system, continue to diversify the state's economy by bringing in technology companies from California by leveraging his Silicon Valley connections, promote tourism by encouraging Las Vegas visitors to venture out into rural counties and work with GOP legislators as they try to pass a voter ID requirement and revert to more in-person voting.
"The biggest driver of our failed efforts has been the lack of infrastructure, primarily in education," Schwartz said. "Name a management team who wants to move to a state with the No. 48th ranked school system in the country."
Schwartz gave himself almost all of the nearly $174,000 he raised in the first quarter and he spent more than $90,000 on consultant firm McShane LLC. He has $106,000 cash on hand.
Stavros Anthony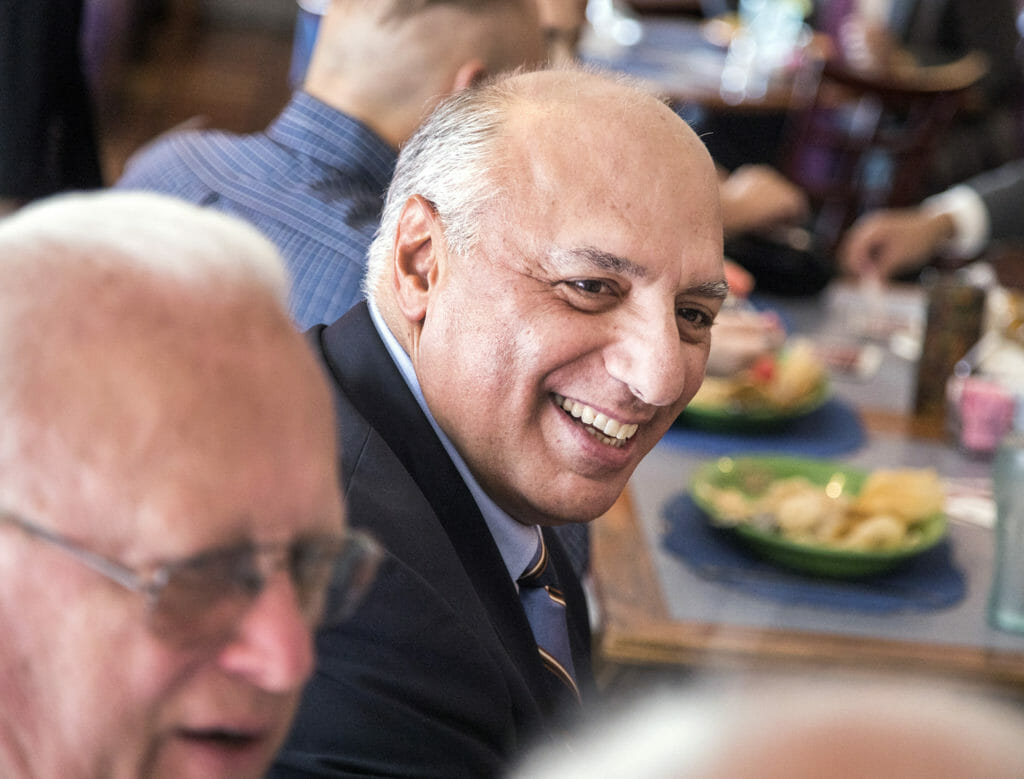 Stavros Anthony, a member of the Las Vegas City Council, is running for lieutenant governor after losing a race for Clark County Commission in 2020 by a razor-thin margin.
Anthony received his Ph.D. in sociology from UNLV and also attended the FBI National Academy. He retired as a captain from the Las Vegas Metropolitan Police Department in 2009 after serving for almost 30 years.
Prior to his re-election to the city council in 2017, Anthony was a 2015 candidate for mayor of Las Vegas. He was also a 2018 Republican candidate in Nevada's 4th Congressional District before dropping out of the race.
Anthony was an adjunct faculty member at the College of Southern Nevada and also served as chair of the board of regents of the Nevada System of Higher Education.
He announced his intention to run last November following Marshall's departure, saying he hopes to "stop the continuation of the catastrophic policies" of the Sisolak administration. Anthony declined to participate in an interview.
Anthony rolled over $200,000 from his council campaign account, leaving him with $350,000 in earnings for the quarter and $309,000 cash on hand.
Other candidates
In a crowded race, others who have filed to run for lieutenant governor have little to no political experience. Many of them filed blank campaign finance reports.
Tony Grady Jr., a Republican, served as a pilot in the Air Force for 20 years, commanding the B-2 stealth bomber squadron. After leaving the Air Force, he flew for FedEx for 20 years and retired as an MD-11 captain. He also served for two years as the director of flight operations for the National Championship Air Races in Reno.
Grady Jr. reported raising almost $57,000, spending a little over $30,000 and having $75,000 cash on hand.
A veteran of the U.S. Armed Forces, Republican candidate M. Kameron Hawkins moved from Arizona to Nevada and hosted gun shows, golf classics and farmers' markets around the state. He is also the founder and chairman of Hawkins for Nevada Foundation, a nonprofit organization that supports local business and historical preservation.
A business broker and a producer, Republican Peter Pavone produced Vegas Gone Country and the Rat Pack Live from Las Vegas. He also worked as a Frank Sinatra impersonator for 11 years. He raised a little over $4,000 and has $1,700 cash on hand.
John "Trey" Delap, a nonpartisan candidate, was a deputy executive director for the Nevada State Board of Osteopathic Medicine. He pleaded guilty to felony theft for misappropriating the medical board's money in 2008. Since then, he became the director of a consultancy called Group Six Partners.
Delap raised almost $1,400, spent close to $900 and has $500 cash on hand.
Bill Hoge, running as a member of the Independent American Party, ran for Nevada state treasurer in 2018 and lost in the general election. He filed a blank campaign finance report.
Mack Miller, a Republican candidate, is the founder of the Clark County Bar Association's Trial by Peers Program, which teaches youth about law and the juvenile justice system. Miller made unsuccessful bids for Las Vegas mayor and the Nevada Assembly in the past. The Las Vegas Review-Journal reported in 2018 that Miller had been sentenced to 18 months of confinement for deserting his fellow Army soldiers on the frontline during the Iraq War.
While Miller reported raising a little over $85,000, the entirety of it comes from a loan to himself. In the past quarter, he spent almost $9,000 and has the remaining $76,000 cash on hand.
Both Democrat Eva Chase and Libertarian Javi Tachiquin do not have public profiles and they filed blank campaign finance reports. 
The article has been updated to reflect that John "Trey" Delap is running as a nonpartisan and to correct that the crime he pleaded guilty to was theft.
Featured Videos
Comment Policy (updated 4/20/2021): Please keep your comments civil. We reserve the right to delete comments or ban users who engage in personal attacks, use an excess of profanity, make verifiably false statements or are otherwise nasty. Comments that contain links must be approved by admin.