Republican Dan Schwartz, Nevada's maverick treasurer, jumps into governor's race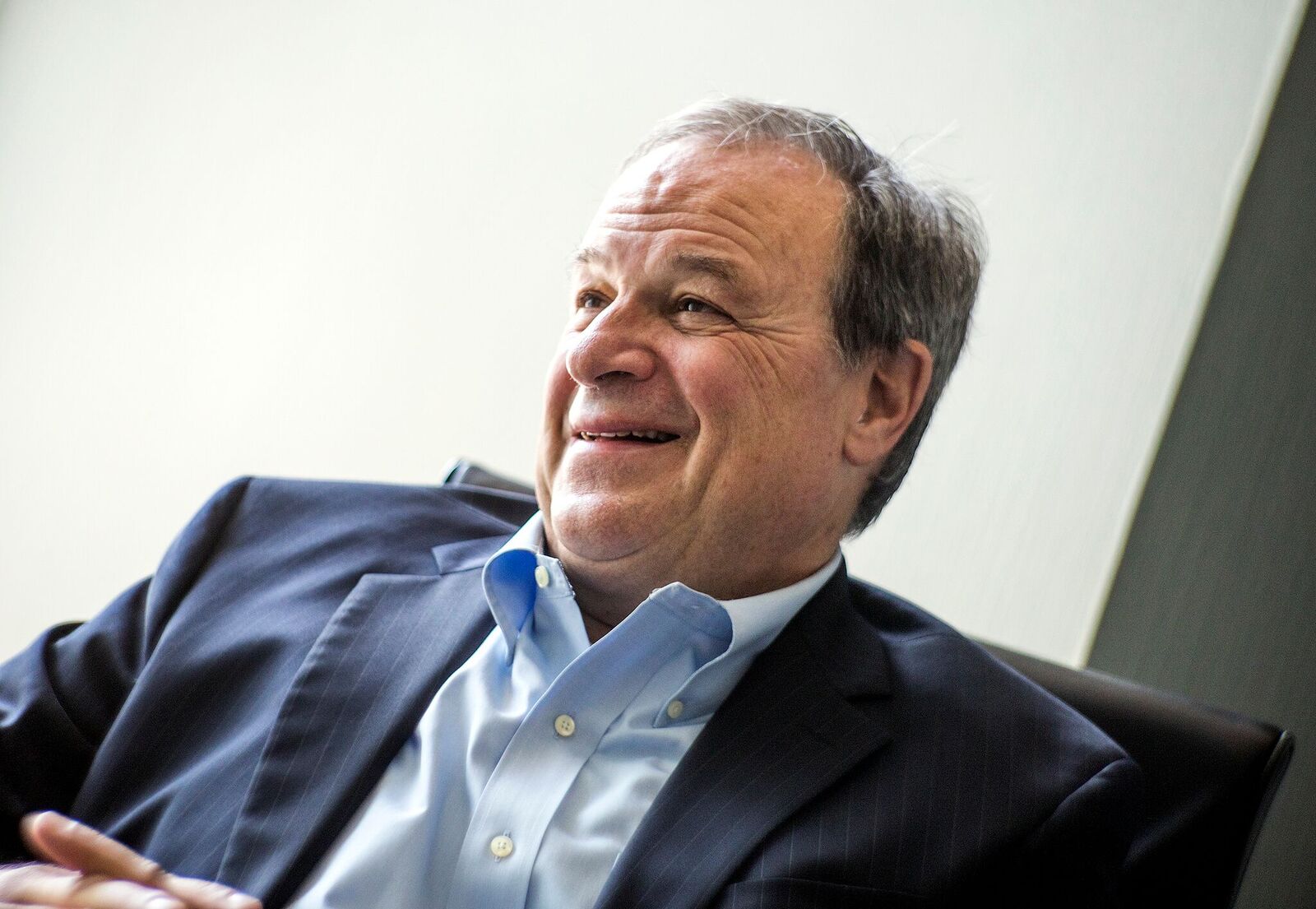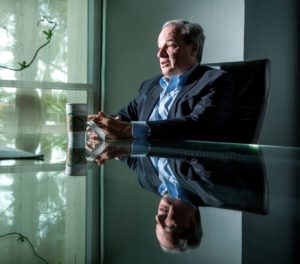 Dan Schwartz, the maverick state treasurer who has made friends and enemies on both sides of the political spectrum through his zeal for an embattled school choice program and outspoken disdain for incentivizing a football stadium and an electric car startup, is running for governor.
The Republican, who's been publicly teetering on the edge of jumping in the race for months, is making his bid official on Tuesday at the Nevada Republican Men's Club luncheon in Las Vegas. He will enter as the underdog to as-yet unannounced candidate Adam Laxalt, the staunchly conservative, young attorney general whose purist positions have cleared the field of more experienced candidates.
Except the irrepressible Schwartz.
"Why am I running? I want to see [Education Savings Accounts] happen, I want to improve the schools," Schwartz said in an exclusive interview with The Nevada Independent. "We continue with the stadium here, we continue to promote basic, low-paying jobs at the expense of paying for a tech-savvy economy. Why is that?"
Meanwhile, he painted Laxalt as overly concerned about national conservative causes and silent on more state policy issues.
"This is the difference between Adam and I. I used to listen to Adam give speeches about who he thought the Supreme Court nominee would be, you know, the big rah-rah for Trump. But meanwhile, he didn't say anything about Nevada," Schwartz said. "He didn't say anything about taxes, he didn't say anything about ESAs, he didn't say anything about jobs, he didn't say anything about Tesla, he didn't say anything about Faraday Future, he hasn't said anything about health care. He hasn't discussed at all about the state. And my focus is on Nevada."
Schwartz, heartened by a June poll he commissioned that showed him four points behind Laxalt in a Republican primary, has lined up Harris Media to manage his campaign and produce ads. He plans to invest half a million dollars of his own money in his campaign and raise another half million for the primary; that compares with about $1.5 million cash on hand for Laxalt at the end of 2016 and $3.77 million on hand for Democratic gubernatorial candidate Steve Sisolak.
He's also on the lookout for a running mate — he wants it to be a woman. While Nevada governor and lieutenant governor candidates don't run on formal tickets, Republican lieutenant governor candidate and state Sen. Michael Roberson is supporting Laxalt and has publicly clashed with Schwartz.
"I'm not into identity politics but I think we've got a lot of capable women in this state and one of them should be lieutenant governor," said Schwartz, who's married and has two adult daughters, ages 28 and 31.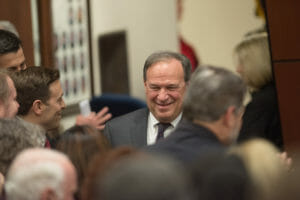 Schwartz grew up in the Chicago area and attended Princeton as an undergraduate. He earned a law degree from Boston University and an MBA from Columbia, and also served two years stationed in Germany in the mid-1970s with the U.S. Army.
A banker and entrepreneur, he spent about 15 years living in Hong Kong, where he helmed the parent company of the Asian Venture Capital Journal. He also founded Qiosk.com, which delivers digital magazines on the internet.
His campaign is bullish that his business background and outsider style will play well with supporters of President Donald Trump, even though Schwartz himself is critical of the president in some regards.
"I'm glad I went [to law school] and I certainly am a lawyer and I have a book that reflects that, but I'm a businessman," he said. "I have been for 40 years, I was in the financial sector, I've started and run good businesses, I've created jobs, I've helped contribute to the community."
Schwartz's first attempt at elected office came in 2012, when he ran in the 4th Congressional District and lost a primary to Danny Tarkanian, who then lost to Democrat Steven Horsford. In the conservative "red wave" of 2014, Schwartz beat Democratic then-Controller Kim Wallin for the treasurer post by a 10 percentage-point margin.
Schwartz rattles off a list of accomplishments from his tenure as treasurer: He has slashed the wait time for processing unclaimed property claims, thousands more people are taking advantage of the College Kickstart savings program and state investment yields are on the upswing after he revamped the portfolio management model.
But with a contrarian streak, he's known to step on toes of opponents and potential allies alike. Republicans were perturbed that he unveiled a three-page "alternative budget" in 2015 as a foil to Republican Gov. Brian Sandoval's meticulously drafted spending plan and tax proposals. In a theatrical legislative hearing, lawmakers lampooned his ideas of a 25-cent per-receipt food and drink levy, a tax on airport arrivals and a higher gaming tax; the proposal flamed out and never moved forward.
He's been criticized for acting without prior legislative approval to hire an office spokesperson and add incentives to a college savings program, and Democratic lawmakers ever since have turned hearings on mundane expenditures into inquisitions. He fashioned himself a canary in a coal mine over an incentive deal to bring Chinese-backed electric car startup Faraday Future to Nevada, balking at the deal in the media to the chagrin of policymakers who crafted the agreement and the company itself (he had an "I told you so" moment when the company halted its planned construction in Nevada).
And he's been zealous in setting up infrastructure to administer ESAs — a Republican-backed program that allow parents to claim public funds for private school tuition or other qualified expenses — even as they faced legal challenges. Schwartz says a lack of political will to jeopardize a Raiders stadium deal in a quest to pass ESAs was what solidified his desire to run for governor.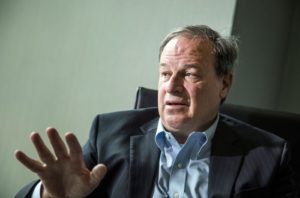 "I think at that point I had expected we could get some funding for the ESAs and what happened was the governor refused to do it, Republican legislators refused to do it and in the end we got $750 million for a football stadium and zippo for ESAs," said Schwartz, who was also critical of the 2015 tax package that passed a Republican-backed Legislature shortly after another tax proposal failed a statewide vote. "When I got to Carson, the people of the state never had a chance. And it's just one example after another ... There's a question of fiscal sanity. There's also a question of being responsive to the people of this state — none of which came into play."
He's vowed to play hardball on the ESA issue if he's elected. He pledged not to sign any other bills unless a reasonable ESA measure is on his desk — something that puts at least $80 million toward the program.
Even though he's dug in his heels on issues in the past, he takes moderate policy positions. He's not going to sign a no-new-taxes pledge because he said there might be situations where a tax increase could benefit Nevadans, and he's not opposed to more taxes on the gaming industry or even a modest increase in the minimum wage. He's open to discussing storing nuclear waste at Yucca Mountain but wants Nevadans to be the ones to decide; he doesn't support repealing Obamacare if there's not a replacement.
He's described Laxalt as "alt-right" and criticized him for a scheduled appearance this month at a Las Vegas conference featuring former Arizona Sheriff Joe Arpaio, who's fresh off a presidential pardon in a contempt of court conviction related to detaining immigrants.
"I think it just shows where Adam stands," Schwartz said. "I think the president deserves a chance, and we should give it to him. I don't agree with everything he's done, whereas I think Adam has really shown himself to be very far to the right."
The treasurer seems most at home musing about potential solutions to tricky problems, from health insurance pricing to water shortages. He wants to see a high-speed railroad between Reno and Las Vegas, he'd like Nevada to become a leader in indoor agriculture and he's gung-ho about transitioning to more renewable energy.
But can he get elected if he's ruffled the feathers of many of the state's power players, and can he be an effective governor if he's got an at-times combative relationship with the Legislature?
"Well, if the conflict comes from doing the right thing, then yeah," he said. "Why should I get along with people that to me are not doing the right thing? I don't think [Republican Assembly Leader Paul] Anderson and [Senate Republican Leader Michael] Roberson did the right thing. I don't think the [Democrats] this time did the right thing. And I think they're powered by the money that their donors give them."
Schwartz's announcement didn't seem to surprise many Republicans gathered for the luncheon Tuesday morning. But some attendees, like Evelyn Cannestra, refrained from commenting too much on Schwartz's entry into the race.
"I think it's too early to evaluate the candidates and the political stature of each because we don't know yet everyone that will run," she said. "We should concentrate on the positive talents of each and not waste time with negative-smear propaganda. Then we could make the right decision."
U.S. Senate candidate Danny Tarkanian — who beat Schwartz in the 2012 primary election for the 4th Congressional District —  was more forthright about the budding gubernatorial race.
"I like Dan as a person," Tarkanian said. "I respect Dan and wish him the best, but I think Adam (Laxalt) is a tremendous candidate."
Reporter Jackie Valley contributed to this story.
The Nevada Independent is raising $200,000 by Dec. 31 to support coverage of the 2024 election.
Tax-deductible donations from readers like you fund this critical work.
If you give today,your donation will be matched dollar-for-dollar.
Give + Get Matched
Featured Videos