Republicans look to unseat three incumbents after 14-year Democratic hold on Clark County Commission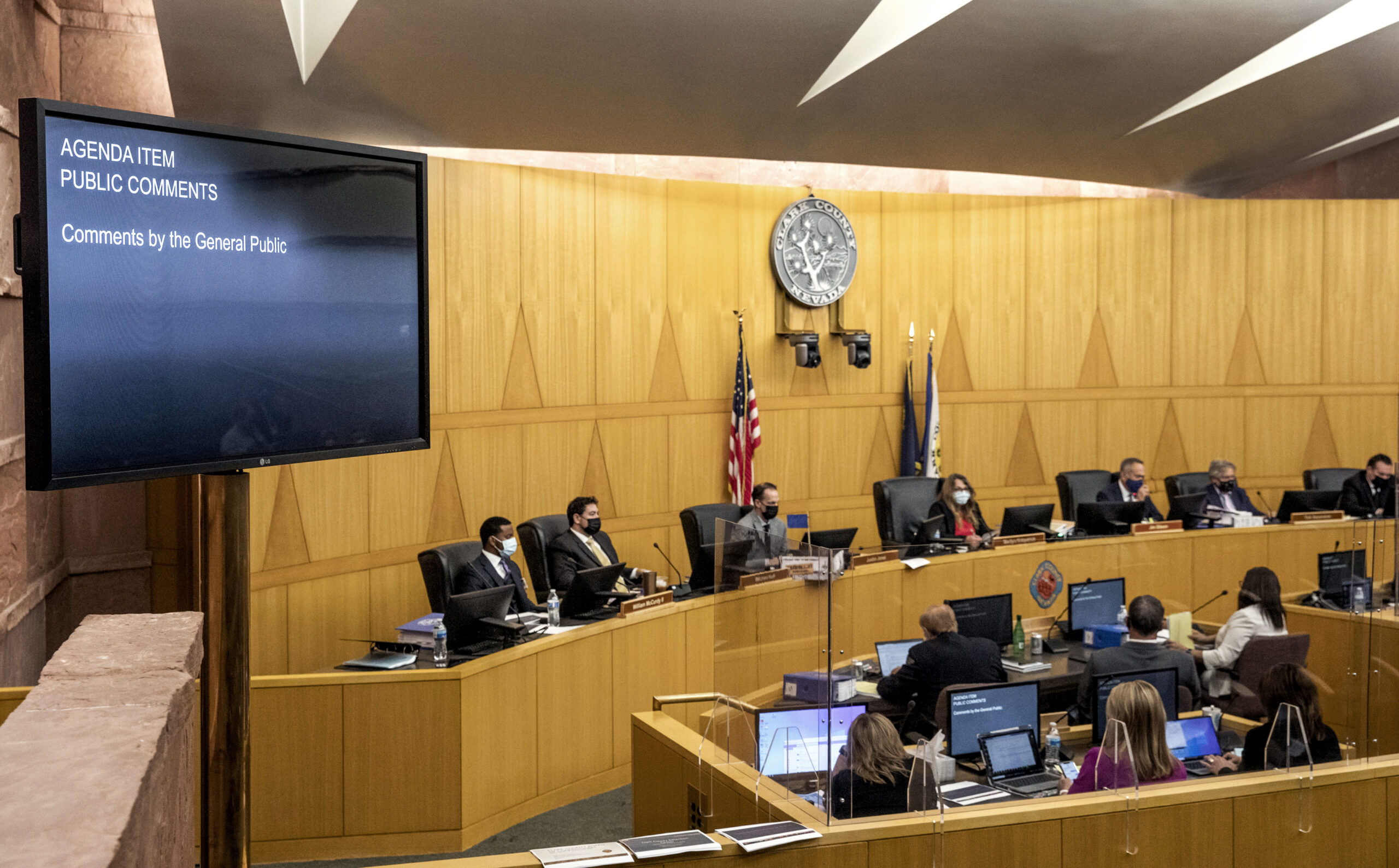 Republican newcomers are hoping economic frustration and a red wave will propel them above well-funded incumbents on the state's most powerful board — the Clark County Commission — which hasn't seen a GOP member since 2008.
Three of the seven members of the Clark County Commission are fighting for another four-year term. In District G, Chairman Jim Gibson, a former mayor of Henderson, is facing Billy Mitchell, a navy veteran and electrical engineer who helped build the Bellagio fountains. Vice Chairman Justin Jones, an attorney and former state senator, will try to retain his District F seat against Drew Johnson, a conservative columnist and owner of a communications consulting business.
District E Commissioner Richard "Tick" Segerblom will rematch union organizer Marco Hernandez, who lost to the longtime state representative by less than 200 votes in the 2018 Democratic primary. Hernandez is running as an independent this cycle. Republican Jon Rider, a consultant for various night clubs, is also vying for the seat.
The commission acts much like a city council — approving taxes, development plans and business permits, for example — in areas outside of a city's boundaries. Critically, the commission oversees the Las Vegas Strip, the heart of Southern Nevada's economy. Commissioners work with the city councils and various boards to tackle issues that span throughout the valley, such as water conservation, housing and public safety. Commissioners also decide how to divvy up the county's $10.3 billion budget.
Almost three-quarters of Nevadans live in Clark County. Most of the 2.3 million residents live in the Las Vegas metropolitan area, which includes Henderson and North Las Vegas, but rural enclaves exist in Mesquite, Sandy Valley and Searchlight. UNLV researchers expect the county will add another million residents by 2060, even as water levels in Lake Mead continue to drop.
Clark County is the most racially diverse county in the state, with people of color accounting for 60 percent of the population. The commission only has one Black member, William McCurdy, who represents District D, and one woman, Marilyn Kirkpatrick, who represents District B. The remaining five commissioners are white men.
Redistricting in 2021 made two districts — District D and District E — majority Latino, the second-largest ethnic background in the county. None of the commissioners are Latino.
Republicans hoping to replace the incumbents argue that the all-Democrat commission needs more political diversity and that their presence — even if a minority — would provide accountability and a needed check on Democratic initiatives. They have criticized the board's handling of the pandemic, primarily with the economy, and the commission's decision to rename the airport after Sen. Harry Reid, a Democrat, instead of Las Vegas International.
But Democrats, who have significantly more cash on hand than their opponents, said most of the commission's duties are irrelevant to party ideology. They have praised how the commission navigated the pandemic and said the economy, while not fully recovered, continues to improve. They also stood by the airport renaming, which was approved unanimously, citing Reid's contributions to the state. Reid, who served more than three decades in Congress, died in late December.
Scroll down or click on the link below to jump to a particular race:
---
District F
Vice Chair Jones said the election is critical in keeping the county on the right track while recovering from pandemic-related challenges.
"I think we have a unique opportunity to address some of the long-term issues that the county has had for decades, like economic diversification and affordable housing," Jones said.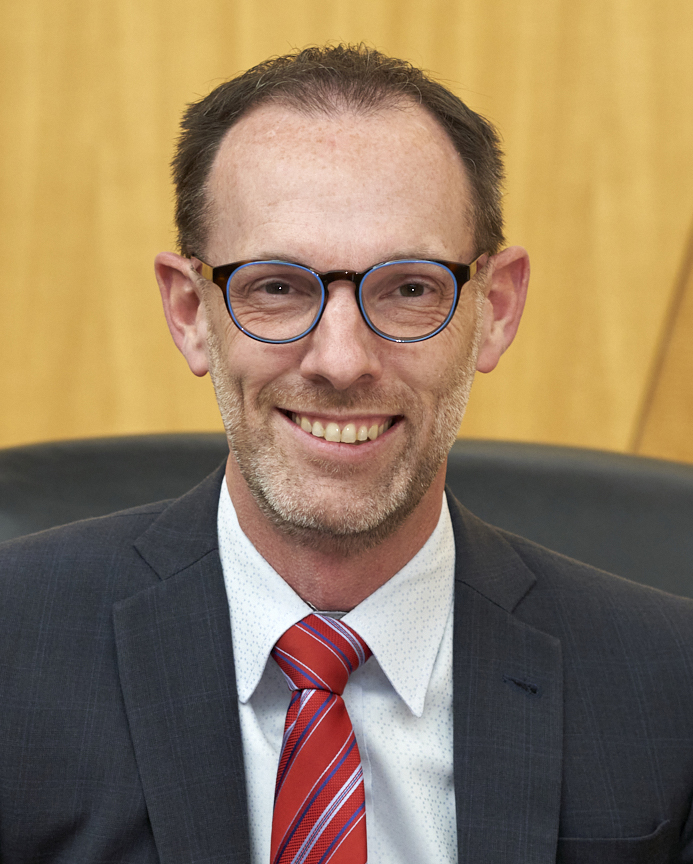 For affordable housing, Jones said the county is working on using funds from its $500 million affordable housing program to increase availability in the county, which officials estimate is short 85,000 affordable units. He said District F is home to a pilot project under the county's affordable housing program that allows people to purchase homes at a lower cost to support single-family residences and affordable homeownership.
District F covers the most southwestern part of the county, stretching from Chinatown to Southern Highlands and west of Interstate 15 to the California border, including Red Rock Canyon.
Republican Johnson, a freelance columnist and the founder of a Tennessee think tank, said the lack of political diversity on the board creates opportunities for corruption and wasteful spending and inspired him to run for the seat.
"With my background as a government watchdog, taxpayer advocate, I thought this is a really great opportunity to win a race that can make a big difference by holding government accountable and making sure that there are more voices on the county commission," Johnson said.
Johnson said Jones' role in a dispute between a developer and the county over homes near Red Rock is one example of corruption he has seen.
Developer Jim Rhodes is suing the county for $1 billion to 2 billion, claiming that his plans for high-density housing near the conservation area were halted by an "illicit deal" in 2018 between Jones, then a lawyer for an environmental group, and Gov. Steve Sisolak, who chaired the commission at the time. Rhodes also alleges that Jones misled the state ethics board and deleted public records.
Jones denied allegations of corruption, saying that Sisolak previously stated support for protecting Red Rock before Jones started discussions on behalf of the environmental group. When the development came before Jones as commissioner in 2019, Jones said he wasn't required to seek an opinion from the ethics board, but wanted to be proactive and didn't misrepresent his prior involvement. The board determined that he should disclose his previous work on the issue — but should still vote.
Jones declined to comment on allegations that he deleted public records because the issue is pending in court.
Johnson said the ideal outcome for the land, which is zoned for low-density housing, would look similar to Bonnie Springs, where visitors could access trail heads and amenities that presently only exist in Summerlin.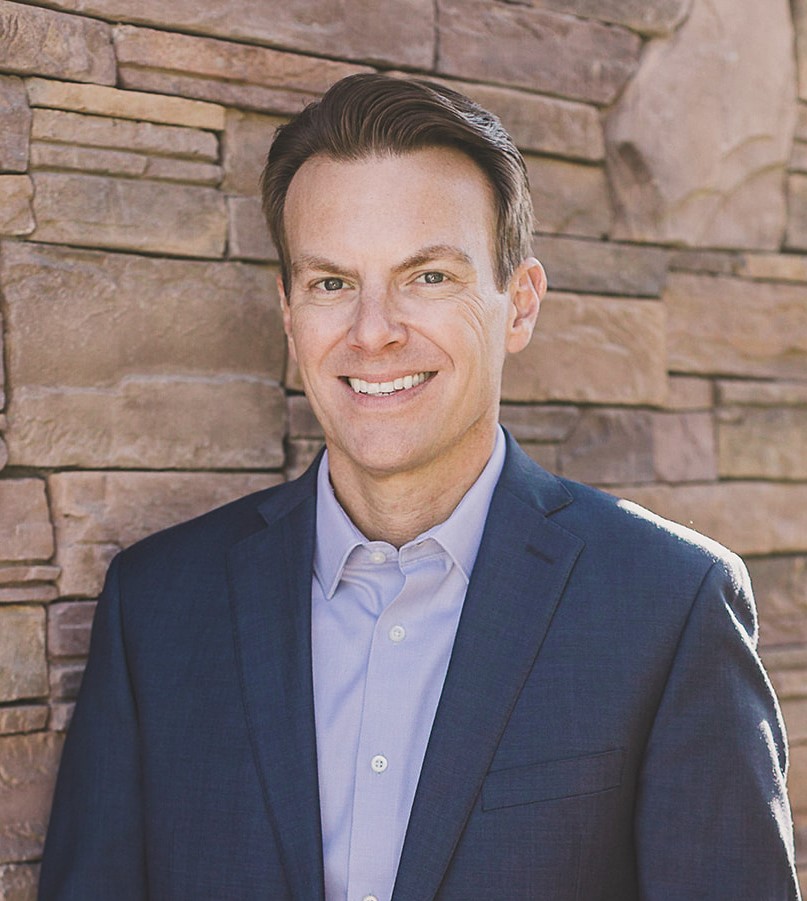 "My ultimate goal would be to be respectful of the environment and not harm anyone's enjoyment of Red Rock, but put ourselves in the position where the government isn't doing anything illegal, and we're not having to pay somebody $2 billion because the government basically took their land," Johnson said.
Jones still opposes dense development near the canyon, but said Rhodes is permitted to build the low-density housing allowed by zoning for the land.
As for other projects, Jones said he would like to complete the Red Rock Legacy Trail if re-elected. The project has been delayed by the pandemic and Bureau of Land Management concerns, Jones said, but would create an interconnected trail, bike lane and park system in the southwest.
"I think in the next four years, you're really gonna see what will be a signature trail network in the southwest that rivals or betters the River Mountains Trail loop trail over by Lake Mead," Jones said.
If elected, Johnson said his top priority would be the economy and cost of living.
Although inflation is happening everywhere, Johnson said the county's taxes are too high and the commission has added to the burden of rising costs.
He said the costs of opening a business — including fees and missed earnings waiting for county approval on paperwork — get pushed on to customers. Johnson gave the example of trying to open a hot dog stand, which he said would require 23 different steps and three different fees.
"Addressing some of those regulatory hurdles and reducing some of those fees [and] occupational licensing costs would really help to lower prices for everybody," Johnson said.
He also pointed to a small sales tax that the commission decided to keep even though it was set to expire last year. Johnson said the commission keeping the tax, which adds an additional 1 cent for every $8 spent, was "unacceptable" and amounted to the government saying it needed the money more than residents did while many were struggling to make ends meet.
Jones said keeping the tax was the right decision. He said sales tax is a burden, particularly on tourists, and it was "the right trade off" to fund critical community services for homelessness, affordable housing and the county's truancy prevention program.
Although the county is limited in combating inflation, Jones said, speeding developers through the zoning, permitting and construction process can help prevent rising costs while waiting for county approval.
Jones, who led the effort to create the county's economic development board, said the county is prioritizing low-water consuming businesses, such as tech companies that also pay high wages. As a member on the economic authority board, Jones said he is trying to attract out-of-state businesses, particularly from California, to move to Southern Nevada.
If elected, Johnson said he will fight for government accountability and transparency.
"We've got a guy in this position who is the antithesis of that, somebody who seems to completely disregard the needs of his constituents, who prefers things to be done in backrooms, and is not accountable," Johnson said
Jones disagreed, pointing to his weekly, or sometimes daily, presence in the community. For instance, his campaign website lists that he answered 68,000 calls and emails from constituents, completed 56,000 resident requests and held 6,500 meetings with community members in 2021.
Jones said Johnson would politicize the county and has said "ridiculous things," such as Johnson's 2013 column called "The benefits of Internet Porn."
Johnson defends the column on his website as "scientifically accurate, reasonable and measured, and highlights the legitimate concerns associated with pornography" and adds that he is not "some sort of wild and crazy advocate of pornography."
District E
According to labor leader Marco Hernandez, District E neighborhoods have gone downhill since Commissioner Tick Segerblom took office in 2019. The district runs from Winchester to East Las Vegas to Lake Las Vegas, including parts of Sunrise Manor and Paradise.
"People that I know living within the district kind of feel upset that nobody really cares about them," Hernandez said. "It's pretty much the same over and over."
Hernandez pointed to issues with public safety. For example, he said some parents traveling to Flamingo and Boulder Highway for their child's boxing program stayed outside to make sure no one stole parts from their cars.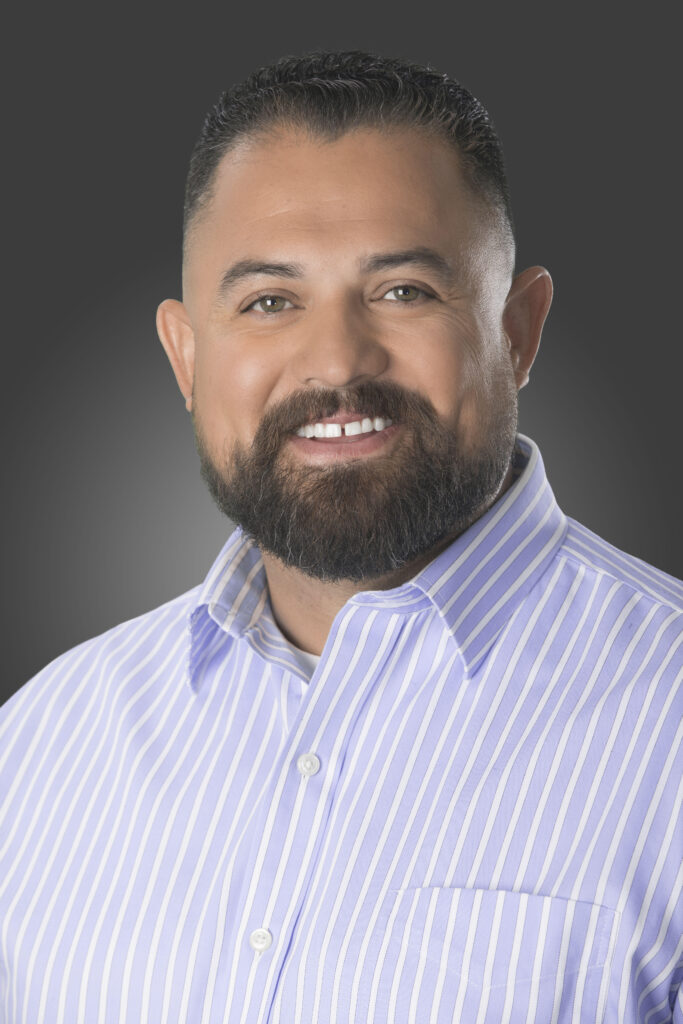 On top of this, Hernandez said the county doesn't respond to simple requests. A recent monsoon covered parts of Sunrise Mountain with mud. Hernandez said the mud remained after the storm even though the county could have quickly cleaned it up by sending a truck.
But Segerblom, who has been on the commission since 2019, rejected the idea that he wasn't responsive to the district's needs. He said every complaint is answered and his staff spends most of the day responding to constituent concerns. Most recently, Segerblom said he directly handled complaints about residents living illegally in RVs in front yards and helped people whose homes were flooded from the rain.
Segerblom and Hernandez agreed, however, that parts of the district were neglected — particularly East Las Vegas, the heart of the valley's Latino community — and saw redevelopment as a tool to improve the district.
For example, Hernandez proposed having more local restaurants and bars near Maryland Parkway and Flamingo Road to attract tourists off of the Strip. He also suggested encouraging more restaurants to open along Nellis Boulevard and more small hotels throughout the district to host people attending large events at the nearby Las Vegas Motor Speedway.
Resident input, Hernandez said, is key to ensuring projects end up in the right communities.
Segerblom, who revived the county's redevelopment agency, said he is focused on revitalizing the rectangular area bounded by Maryland Parkway, Karen Avenue, Sahara Avenue and the Strip. The commissioner, who chairs the agency, said he wants to bring the area "a combination of everything," including affordable, high-density housing, mixed-use properties and luxury housing.
"It's just prime property, so close to the Strip with good transportation that people can live without cars," Segerblom said.
Segerblom said he wants to make it as easy as possible for developers to work in that area or others by potentially providing waivers and incentives.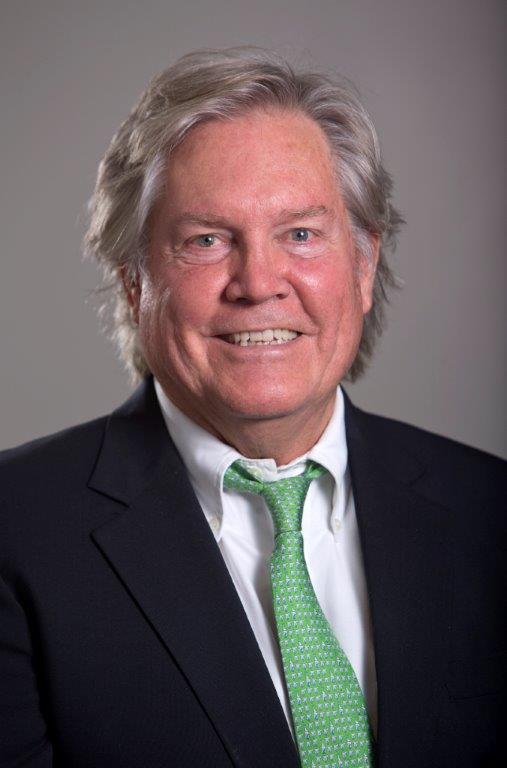 Jon Rider, a Republican who works for nightclubs, said he thinks residents' economic woes will spur voters to support Republicans down ballot. He said the commission's handling of the pandemic hurt his and his colleagues' livelihood and doesn't want to see shutdowns happen again, such as with the growing concern over monkeypox.
Rider, who describes himself as a small "l" Libertarian, said he wants the government to stay out of people's lives as much as possible.
Both Segerblom and Hernandez think the commission managed the pandemic well and that it's in a good place economically. Segerblom said the county has enough jobs, pointing to many vacancies in the county and airport, but acknowledged that some industries may need to increase wages to fill positions.
Rider said the county's low convention attendance is hurting workers' pockets.
"I'm not saying people are in a panic mode about it, but they're not, 'Oh, Vegas is on fire,' doing cartwheels either," Rider said, referencing a comment Segerblom made during an interview with the Las Vegas Review-Journal.
If elected, Rider said he would work with casinos to see how the county can lower costs.
Segerblom and Hernandez have different priorities for addressing crime.
Segerblom wants to focus on criminal justice reform. Working on the Criminal Justice Coordinating Council, Segerblom said he supports initiatives that protect people who are not serious criminals from the lifelong effects of the justice system — for example, giving people speedier trials.
"We can avoid crimes, but we can also avoid destroying people and destroying their lives," Segerblom said. "If publisment is required, let's punish them. But let's not overly punish them or inadvertently punish people in the middle of the process."
Hernandez said he wants to make sure Metro has the proper resources to patrol areas with higher crime and keep neighborhoods secure. He added that homelessness is a big issue in the district, and he will seek to personalize services if elected.
"If they're not willing to go get the services from the county that are provided, well, maybe bring them a trailer and we'll work with them," Hernandez said. "Sometimes you got to go out of your way to bring those services directly to them."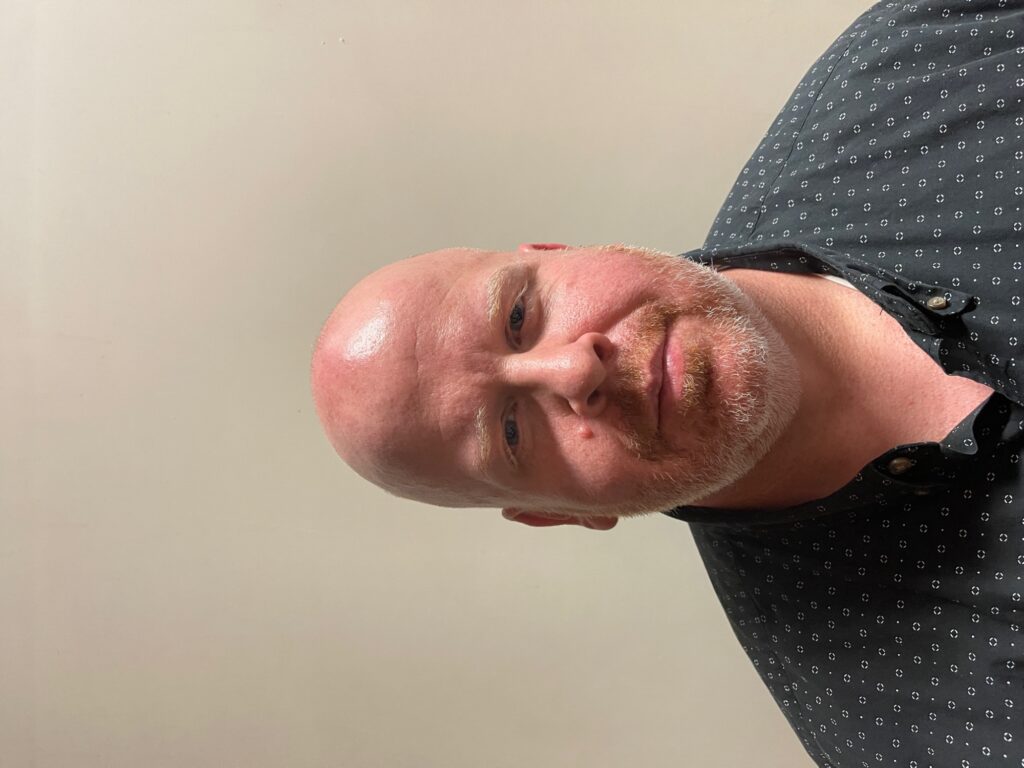 Segerblom also said he wants to complete one of his goals from his first term — getting marijuana lounges up and running — if he is re-elected. County Commissioners are still hammering out regulations for the lounges, but Segerblom, who spearheaded legalizing marijuana in the state senate, said he wants to keep regulations as simple as possible so business owners can profit from the lounges.
Rider said the marijuana industry is overtaxed, and he worries the high taxes will start pushing people away from legally selling cannabis. If elected, he would like to lower dispensaries' taxes and look into where the money from marijuana is going.
While noting that some states have gone overboard with their taxes, Segerblom said Nevada is fair and the county uses some of its tax money to encourage buying marijuana legally. He said the county is the cheapest local jurisdiction in the state with taxes and fees on the industry.
Randy Rose, who is running under the Independent American Party, will also be on the ballot.
District G
Addressing the valley's water issues is a top priority for both candidates running to represent District G, which covers Boulder City, most of Henderson and most of Paradise.
Both Chairman Jim Gibson and his Republican opponent, Billy Mitchell, said they want to see other Colorado River states take more accountability for water conservation during the drought. In August, the federal government announced new cuts to the Arizona and Nevada's water allotment, but not for California's share.
Gibson, who sits on the board of directors for the Southern Nevada Water Authority and the Las Vegas Valley Water District, said other Colorado River water-dependent states need to make aggressive conservation efforts. He noted that the valley uses 26 percent less water than it did in 2002, even as the population has grown by more than 750,000 because of the county's conservation efforts.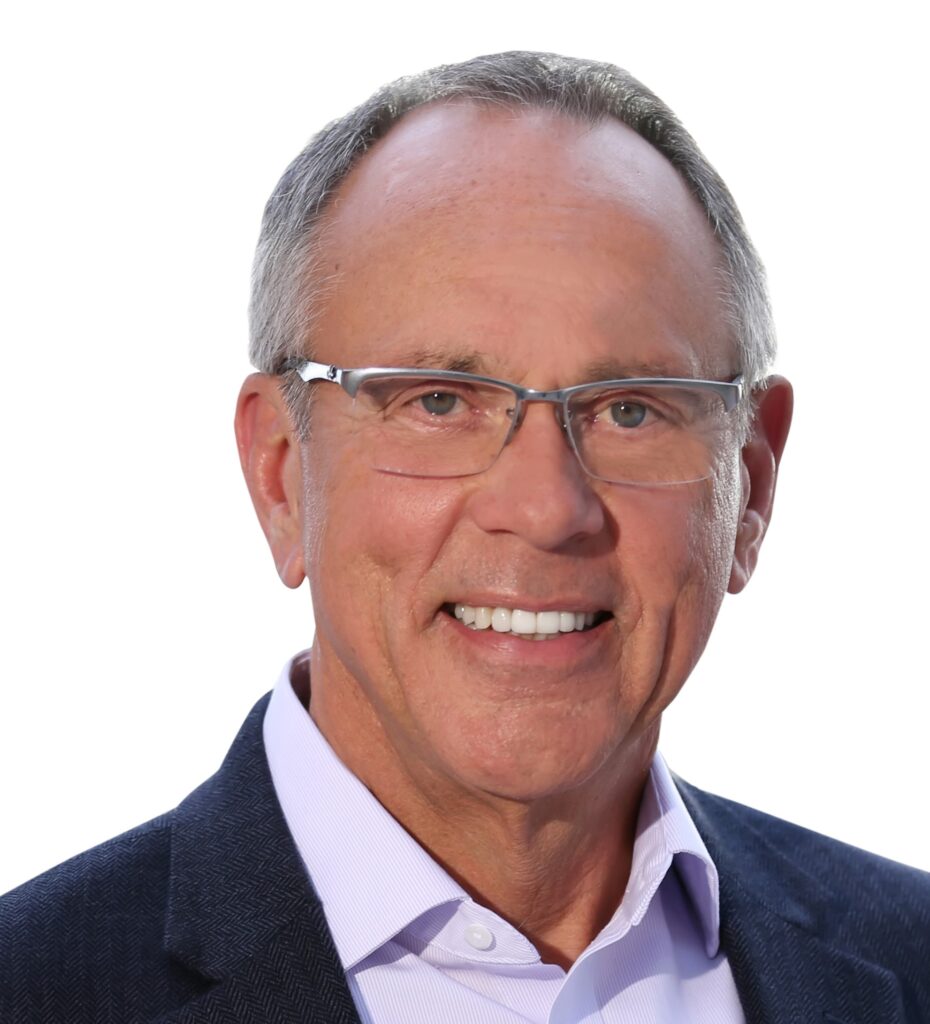 Gibson said taking a case to the U.S. Supreme Court over how water is alloted is an extreme option, but officials have to be prepared for anything.
Mitchell said commissioners need to be more vocal about making California and Arizona make sacrifices of their water usage and that recent conservation efforts, such as limiting pool sizes, don't address the real problem.
"They need to start pushing back on the governor and the federal representatives and start holding them accountable," Mitchell said. "But what's happening right now is they all obviously belong to the same party, so they're all covering up for each other just kicking the can down the road. You can't get any accountability."
Mitchell acknowledged that even if elected, he won't have authority to force Arizona or California to make voluntary cuts, but he said he would put more pressure on other states and the federal government and raise public awareness about how the other states are mismanaging their water.
Gibson said the county is continuing efforts to conserve water. For example, Gibson said officials will meet with the golf industry in February about eliminating unnecessary grass and getting creative with the necessary grass, potentially switching to turf that requires less water.
"We don't know where it ends. And because we don't know where it ends, we have to be very very careful," Gibson said. "If it means that we have to change the way we grow, we have to do that."
Mitchell said local businesses and the middle class are struggling because of how commissioners managed the pandemic. He said the county overreacted with COVID mandates and pointed to a controversial John Hopkins working paper by three economists who concluded that lockdowns did not reduce COVID-related deaths.
Mitchell said commissioners could have pushed back against Sisolak's COVID mandates, as some of the rural counties did.
"The Clark County Commissioners could have stood up … and said, 'Okay, we're not going to do all this. We're not going to allow this. We're not going to let the governor dictate to our county because that's how the checks and balances is supposed to be set up,'" Mitchell said. "They didn't do that. They went right along with it."
Gibson said Sisolak listened to commissioners' worries during the pandemic and considered them when lifting emergency orders.
Gibson recognized ongoing economic issues and noted that almost everything "except the hotdog at Costco" has increased in price. As president of Western Elite, a county waste services provider, Gibson said he sees issues small businesses have with increasing costs and trouble retaining employees.
But Gibson said some aspects of the economy are not in the commission's control. He praised how fast the county dispersed COVID relief funds to those struggling.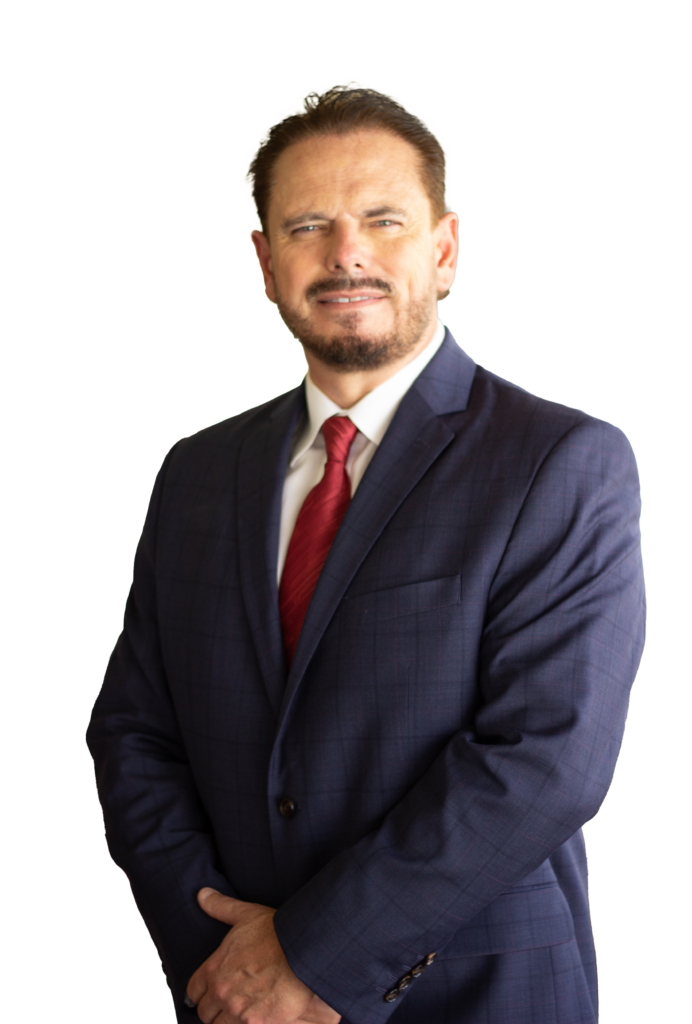 Mitchell said the county's COVID funds have only focused on minorities or people who "don't have money" because it fits the Democratic political narrative. He said the county is not helping all residents, specifically those who have lost or are losing their business, and that the county should give small businesses tax relief.
Mitchell has repeatedly tweeted a screenshot from the Facebook Page "RACERS for TRUMP," that says "Never forget Jan 6, 2021" with a photo of gas costing $1.59 a gallon.
When asked about the image, Mitchell said the post was to make a point about how cheap gas prices were under Trump and how well the economy was doing compared to now.
He originally thought Jan. 6, 2021, was the day President Joe Biden took office and began reversing Trump's policies, but Biden didn't take office until Jan. 20. After learning the date referenced the insurrection, Mitchell said the insurrection was a political stunt and that he doesn't believe participants intended to take over the Capitol.
If re-elected, Gibson said he wants to make the Strip safer by giving law enforcement more opportunities to address issues, such as a recent county ordinance that prohibits people who commit crimes in the area from returning for up to a year. Gibson also wants to work on improving road safety, especially when the largest trade shows bring heavy traffic. He pointed to Elon Musk's tunnel project as a way to put more traffic underground.
If elected, Mitchell said he would order an audit of the school district. Mitchell, who has been a substitute teacher at the Clark County School District, questioned how the school district could afford to provide free lunches and breakfast to all students but can't afford to pay teachers during the teacher shortage. The district's free meals come from federal funds.
He also would support a ballot initiative to put the school board under county authority.
Jesse James Welsh is also running as a Libertarian.
Featured Videos
Comment Policy (updated 4/20/2021): Please keep your comments civil. We reserve the right to delete comments or ban users who engage in personal attacks, use an excess of profanity, make verifiably false statements or are otherwise nasty. Comments that contain links must be approved by admin.