Sandoval says Laxalt hasn't consulted with him on gubernatorial run; gov wants Heller to support bipartisan deal on payments to health insurers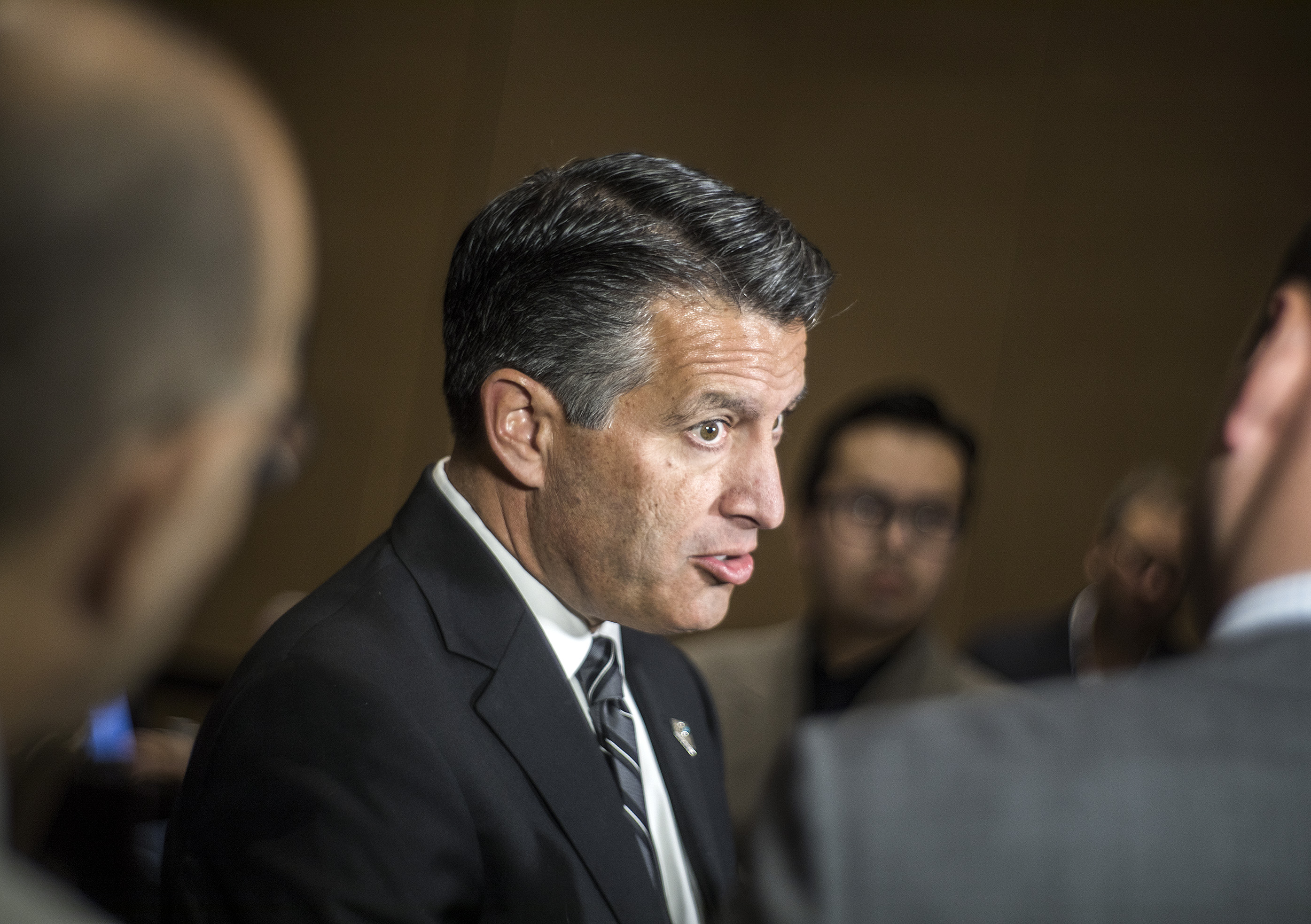 Gov. Brian Sandoval says he still hasn't spoken or consulted with fellow Republican and incipient gubernatorial candidate Adam Laxalt about the office, despite the conservative attorney general's pending "special announcement" this week.
The governor, who is constitutionally prohibited from running for a third term, said on Monday he had no plans to attend any of Laxalt's 19 planned events throughout the first week of November and hasn't spoken with the attorney general outside of commissions that they both serve on, such as the Board of Examiners.
"He hasn't talked to me, he hasn't asked to meet with me," Sandoval said in an interview with The Nevada Independent outside a ribbon-cutting event at General Design & Construction. "If he, again it's no big secret if he's announcing to run for governor, he hasn't consulted with me in any way."
Sandoval said Laxalt hasn't asked for his endorsement, but said he'd be happy to discuss the job with anyone interested in running for the job. He said he would meet with Democratic candidate and Clark County commissioner Chris Giunchigliani to discuss the duties of the job.
"She had asked to sit down with me and ask me about the job, and I'm willing to do that with any of them, with any of the candidates," he said.
Sandoval also expressed some disappointment that Laxalt's office declined to weigh in on the contentious topic of recreational marijuana consumption lounges last week.
State tax officials had asked Laxalt's office for guidance on the somewhat grey area of whether or not state marijuana law — which prohibits public consumption of the drug — allows for "consumption lounges" if local governments approve them. Attorneys with the state's Legislative Counsel Bureau concluded in a September opinion that nothing in state law prohibits local governments from allowing establishment of a lounge or special event where marijuana is used in the open.
Sandoval, who said he was opposed to the concept of marijuana lounges and was happy a bill allowing them died during the 2017 legislative session, said he was concerned the lack of a guidance would create an uneven enforcement of public marijuana consumption across different jurisdictions.
"The problem is, now you're going to have a piecemeal approach to it, so Reno may do it one way, Henderson may do it another way, Las Vegas may do it another way, and you need to have consistency if you're going to have it at all," he said. "I had hoped for a more in-depth discussion and we didn't get it, and so, that's why we ask for opinions, to get one. It wasn't helpful."
Sandoval also said he hasn't personally talked to Republican Sen. Dean Heller about his support for a proposed bipartisan solution from Tennessee Sen. Lamar Alexander and Washington Sen. Patty Murray to continue payments made to insurance companies to help provide coverage to low-income people.
Heller has not publicly said whether or not he'd support the measure, which has been co-sponsored by 12 Republicans and 12 Democrats in the Senate but is opposed by President Trump. Sandoval was sharply critical of the decision to end the so called cost-sharing reduction payments earlier this month, calling it "devastating" for the state.
Asked if he'd recommend Heller support the Alexander-Murray bill, Sandoval was clear.
"Of course I would," he said. "That's really important, but that's his decision and he's got to make a decision based on how he sees it."
The Republican governor also said that the state had enough money to get through December after Congress failed to reauthorize funding for a federal health insurance program for low-income children that covers more than 27,000 Nevada kids. Though the state would face a $63 million budget shortfall this fiscal year if federal funding isn't renewed, Sandoval said it was too early to consider a special legislative session to fill that funding gap.
The Nevada Independent is raising $200,000 by Dec. 31 to support coverage of the 2024 election.
Tax-deductible donations from readers like you fund this critical work.
If you give today,your donation will be matched dollar-for-dollar.
Give + Get Matched
Featured Videos