Senate Update: Cortez Masto marches at Pride, Laxalt turns focus to Latino voters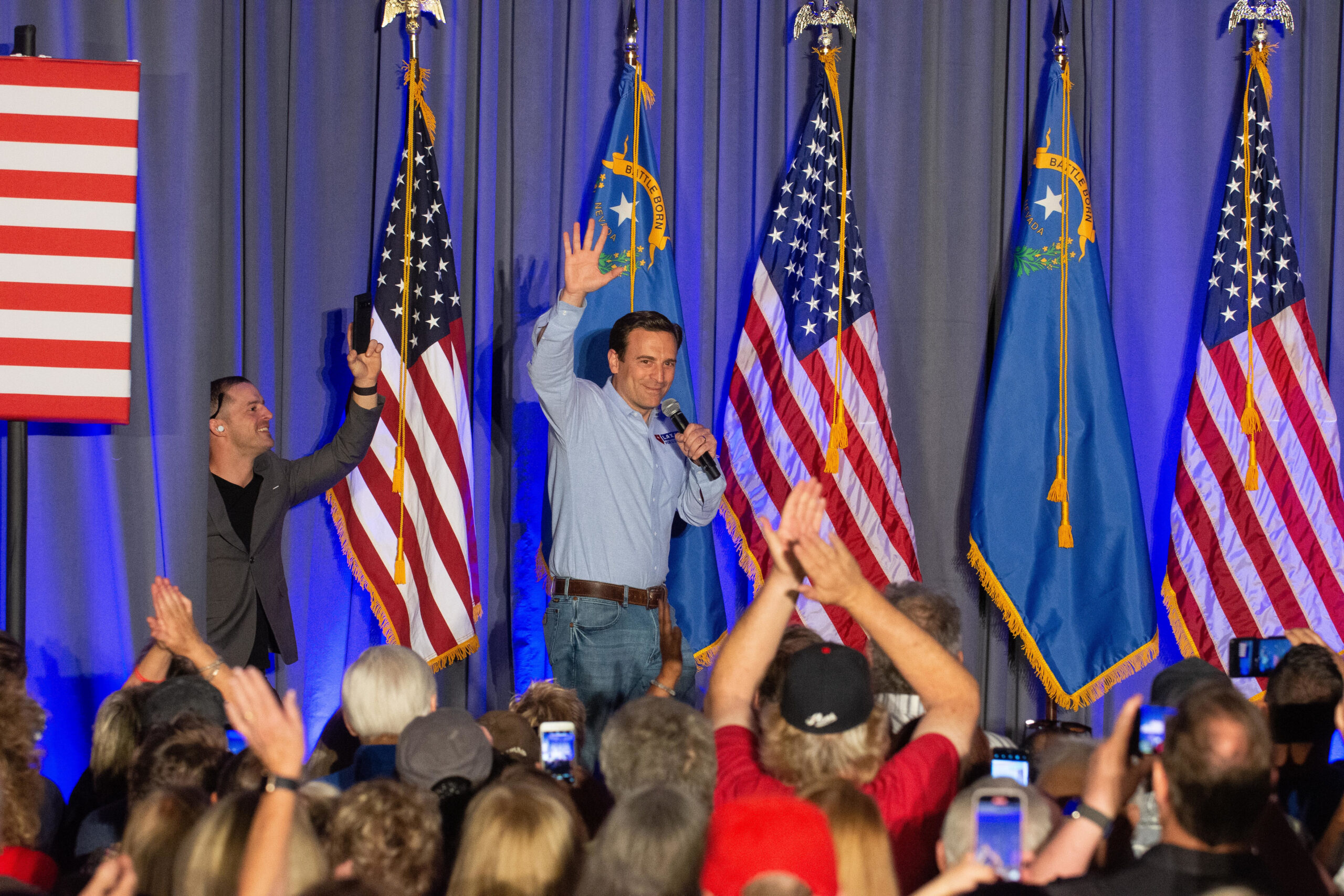 As economic news has ranged from poor to bad to muddled-at-best for incumbent Democrats, the last two weeks have seen Democratic Sen. Catherine Cortez Masto hit the campaign trail to energize the base. 
That meant marching at a Pride parade in Reno a day after hosting a "Battle Born Brews" event at a local Reno brewery.
She's also continued to hammer at the party's bread-and-butter issues, including hitting at her Republican opponent Adam Laxalt on the issue of abortion access, casting Laxalt as "an automatic vote in the Senate for a national abortion ban." 
Though he has been endorsed by anti-abortion groups, signed on to efforts to limit abortion during his time as attorney general and called Roe v. Wade "a joke" during a breakfast with faith leaders earlier this year, Laxalt has not given his specific position on a possible national abortion ban passed by Congress, should Republicans regain control. A spokesperson for Laxalt did not respond to a request for comment.
Laxalt, meanwhile, has repeatedly touted campaign outreach among Latino voters, looking to capitalize on what could be a continued trend of such voters peeling away from their historic associations with the Democratic Party.
After launching "Latinos for Laxalt" during the primary, this week his campaign launched its first Spanish-language ad — "Left Behind" — on the radio, and sought to boost its Spanish-language web presence through a dedicated website and Twitter account — all efforts Laxalt has described as "unprecedented." 
"No other Republican Senate campaign has made unprecedented outreach efforts like this in our state's history," he tweeted on Tuesday.
For a recent comparison, in 2018, then-incumbent Republican Sen. Dean Heller centered his outreach efforts on religious and conservative Latinos, in addition to late-election overtures from President Donald Trump, who asked a cheering crowd in Las Vegas at the time: "Hispanic. Any Hispanic here? I think so."
Latinos have long been among the most critical voting blocs in Nevada (they were fully one-fifth of the Nevada electorate in 2020), and post-election analysis in 2018 often directly credits the win of Sen. Jacky Rosen (and by extension, Heller's ultimate loss) to her support from Latinos.
Likewise, mobilization campaigns among Latinos — like that of Las Vegas' powerful Culinary Union — and outside groups targeting Latino voters — such as the well-funded Somos PAC — have already sought to cement or expand Cortez Masto's support among that critical Hispanic base.
Still, though Nevada Latinos did not pivot to Republicans in 2020 to the extent seen in Texas and Florida, research on the shift right among Latinos showed an increasing concern over economic issues and socialism.
To wit, Laxalt's campaign has publicly pinned its effort to secure more Hispanic voters directly to those economic issues, raising the specter of increased costs and high gas prices (in addition to immigration and crime issues) in a statement Tuesday that criticized "leftist policies championed by Senator Cortez Masto."
In his statement, it was not clear which specific policies Laxalt believed were leftist.
Top Laxalt spokesperson draws fire over Jan. 6 participation
In the midst of the congressional Jan. 6 committee's investigation — and subsequent television revelations about the action and inaction of the Trump White House on the day of the insurrection — CNN's Andrew Kaczynski reported last week that Courtney Holland, new spokesperson for Laxalt as of early July, marched in Washington, D.C. on Jan. 6, 2021. 
That included marching near two members of the far-right group known as the Oath Keepers, including several who were later charged with various crimes related to the violence that occurred later that day.
In a statement sent to The Nevada Independent, Holland reiterated that she did not enter the Capitol, and joined the initial event "with expectations of a peaceful gathering."
"Event organizers asked me and many others to speak at a permitted area behind the Capitol and provided us with what we were told was event security, who we did not know, to reach the area," Holland said. "Upon reaching the permitted area, I became aware that the situation was deteriorating and decided to leave the Capitol complex to return to my hotel."
Holland went on to say she has "never been subpoenaed, questioned or accused of any wrongdoing that day" and called Jan. 6 more broadly an "unfortunate day in our country's history."
Still, Democrats have seized on the story as a campaign issue, and have sought to tie it to Laxalt's own work in casting doubt on the results of the 2020 election as the Trump campaign co-chair in Nevada. An investigation by the secretary of state's office later found no evidentiary support for claims of widespread fraud, and lawsuits challenging the election results in Nevada fizzled in court.
In addition to Cortez Masto herself, the Democratic Senatorial Campaign Committee (DSCC) and Nevada Democratic Victory, a PAC linked to state Democrats and the former "Reid machine," have referred to Holland as an "insurrectionist." 
Editor's Note: This story appears in Indy 2022, The Nevada Independent's newsletter dedicated to comprehensive coverage of the 2022 election. Sign up for the newsletter here.
Featured Videos
Comment Policy (updated 4/20/2021): Please keep your comments civil. We reserve the right to delete comments or ban users who engage in personal attacks, use an excess of profanity, make verifiably false statements or are otherwise nasty. Comments that contain links must be approved by admin.