Sisolak asks state medical task force to consider COVID vaccine mandates for college students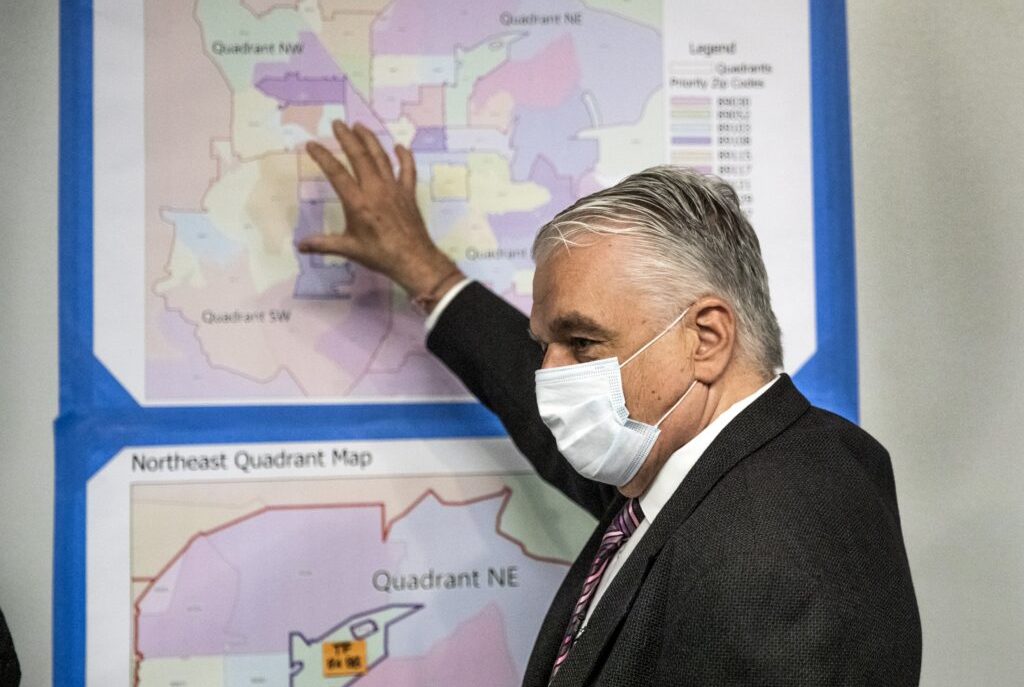 Gov. Steve Sisolak announced Thursday that he has directed his medical task force to assess the possibility of requiring the COVID-19 vaccine for students to enroll in Nevada's public colleges and universities.
The move, announced during a press conference in Las Vegas, is the latest public push by the governor to mandate vaccinations under certain conditions, and comes as COVID cases and hospitalizations have surged amid the rapid spread of the delta variant across Nevada. It also follows a policy change his office made in July to require either proof of vaccination or weekly COVID testing for state employees, a massive group that includes thousands of NSHE employees.
The governor stopped short of ordering more onerous COVID restrictions, such as capacity limits or requests for major industries, including gaming, to require vaccines, instead saying he would ask a medical advisory team for additional recommendations on how to make large gatherings safer. Still, the governor said that requiring vaccinations for college and university students was a key step in slowing spread of the virus.
"I believe this is necessary for Nevada's highest education institutions to join the hundreds of colleges and universities across the country requiring COVID-19 vaccinations," Sisolak said.
In a statement issued hours after Sisolak's announcement, NSHE Chancellor Melody Rose and Board of Regents Chair Cathy McAdoo — who both declined to answer questions from The Nevada Independent on a possible student vaccine mandate last week —  thanked the governor for his leadership on the issue and said the system would be prepared "for whatever guidance the State Board of Health offers." 
"It is appropriate to have Nevada's medical and science experts on the State Board of Health review and issue guidance on whether to require a COVID-19 vaccine for Nevada's public higher education student population," the statement read.
The two also urged the system's students, faculty and staff to get vaccinated, saying in part that "The COVID-19 vaccines have been shown to be the surest, safest, and most effective way to end the pandemic, and to keep Nevadans working and learning."
Sisolak's directive to his medical team also comes just one day after an internal NSHE task force made a separate decision to unanimously recommend both a mandate and that "outreach occur" to the State Board of Health in order to begin such a process.
If the governor's medical advisory team recommends a mandate, it will ultimately kick the process to the state Board of Health, a six-member board of doctors with authority over the state's non-administrative health matters.
And according to a legal opinion from NSHE issued just this week, it is the Board of Health — not the Board of Regents — that maintains the sole legal authority to implement a mandate through a state law that allows schools to require other vaccines for enrollment, such as the MMR or tetanus shots.
The timeline on when a mandate would take effect remains unclear, though any implementation would likely not be immediate. The Board of Health does not have any mandate in either of two future meeting agendas in August and September, and in his remarks, Sisolak stressed that any new mandate would not affect plans for in-person learning during the fall semester.
"I want to ensure those returning to campus in coming weeks that this will have no impact on your return to classes this semester," Sisolak said.
When asked why state leaders did not act on a possible mandate in May or June — when NSHE first raised the possibility of a mandate — Sisolak did not answer directly, instead casting the move as better late than never.
"Would it have been better to do it 15 months ago? Yes," Sisolak said. "But the next best day to do this is today, same as the vaccine. Would it have been better for somebody to do it six months ago? Absolutely. But the next best day is today."
Sisolak stopped short of seeking a mandate for K-12 public school staff and students old enough to receive the vaccine. Instead, his office released "strong recommendations" and requirements yesterday that require mask-wearing and include testing and other mitigation efforts for school districts in Clark and Washoe counties.
"When adults get vaccinated, they protect those who can't get vaccinated," Sisolak said. "And because children under 12 are unlikely to become eligible for a few more months, we have an obligation to protect them and help ensure that they have a smooth and successful school year."
But, in addition to a possible college student mandate, the governor said he also directed his medical task force to consider vaccine recommendations for health care workers and individuals who work with vulnerable people, such as the homeless.
Amid mounting concerns that large indoor venues, including sports, concerts and other large events, have proven difficult environments to enforce new mask mandates, Sisolak also said that he directed his medical team to re-examine "how we can make large gatherings safer."
"We have a mask mandate in place, and I implore all Nevadans attending a large gathering to take it seriously and to keep their masks on," Sisolak said.
Sisolak also said the gaming industry could also be part of the discussion concerning vaccination requirements, but stopped short of saying he wanted the Gaming Control Board to mandate that all casino employees be vaccinated — a move that could bring about legal challenges.
A Nevada gaming license is considered a privileged license, which gives regulators enhanced authority over the industry.
"I encourage any policy and advice that is going to protect Nevada workers and Nevada families," Sisolak said. "We need to get as many people vaccinated and as quickly as we can."
Mandates on mask wearing requirements inside casinos for both employees and customers regardless of vaccination status were put into place by the Control Board on July 27 at properties in Clark, Washoe and 10 other counties because of rising COVID-19 infections and hospitalizations.
"We're in constant communication with the gaming industry," Sisolak said. "It's a property-by-property decision. Some properties have done more than others and I'm hopeful that they will all do everything to protect and get employees and their customers vaccinated."
As for a vaccine mandate, Sisolak said he was "hopeful the casinos will do on their own what needs to be done."
On July 28, MGM Resorts International CEO Bill Hornbuckle encouraged the company's employees to get the COVID-19 vaccine.
"Our region's low vaccination rate is putting us back on the path to overrun hospitals, unnecessary deaths, fewer tourists, and possible furloughs and layoffs," Hornbuckle wrote in a letter to MGM employees. "None of us want that. After the pain endured by so many these past 16 months – and the tremendous progress made in 2021 – I can think of no more damaging scenario for us as a community."
On Wednesday during the company's quarterly conference call, Hornbuckle reiterated the company's ongoing educational campaigns and vaccination efforts, including pop-up vaccination clinics at all properties. MGM Resorts has also implemented a mandatory COVID-19 testing program for all Las Vegas employees who have not provided proof of a vaccination.
According to the MGM Resorts vaccine policy, employees who are not fully vaccinated and test positive for COVID-19 or have had close contact with someone who tests positive will have to quarantine and will not be paid for their time off during quarantine.
"We've taken the virus very seriously, and as always, the health and safety of our guests and employees is our top priority," Hornbuckle said.
Wynn Resorts Chief Communications Officer Michael Weaver said the company opened the first vaccination clinic on the Strip in January. He said Wynn Las Vegas and Encore recorded an 87 percent vaccination rate among its employees, "the highest of any resort in Las Vegas."
Weaver said Wynn "likely" had one of the highest vaccination rates of any hospitality company nationally.
"We have continued a surveillance random testing program of employees that we established when we reopened last year," he said.
Other companies have been less forthcoming.
Caesars Entertainment CEO Tom Reeg discussed the mask mandate on his company quarterly conference call Tuesday but said nothing about vaccinations. Caesars operates nine casinos on or near the Strip, as well as properties in Reno and two casinos each in Laughlin and Lake Tahoe.
"What's going on now with the mask mandate is far less onerous in terms of restrictions that we have dealt with in the last quarter," Reeg said. "I don't know what impact that will have ultimately on groups coming back."
Requests for comment about Caesars employee vaccination rates went unanswered.
Updated, 8/5/2021 at 4:10 p.m. - This story was updated to include additional details on Sisolak's remarks on possible restrictions or vaccine mandates for the gaming industry.
Updated, 8/5/2021 at 5:55 p.m. - This story was updated to include additional details on a letter sent to Sisolak from the internal NSHE COVID Task Force, as well as a joint statement from NSHE Chancellor Melody Rose and Regents Chair Cathy McAdoo.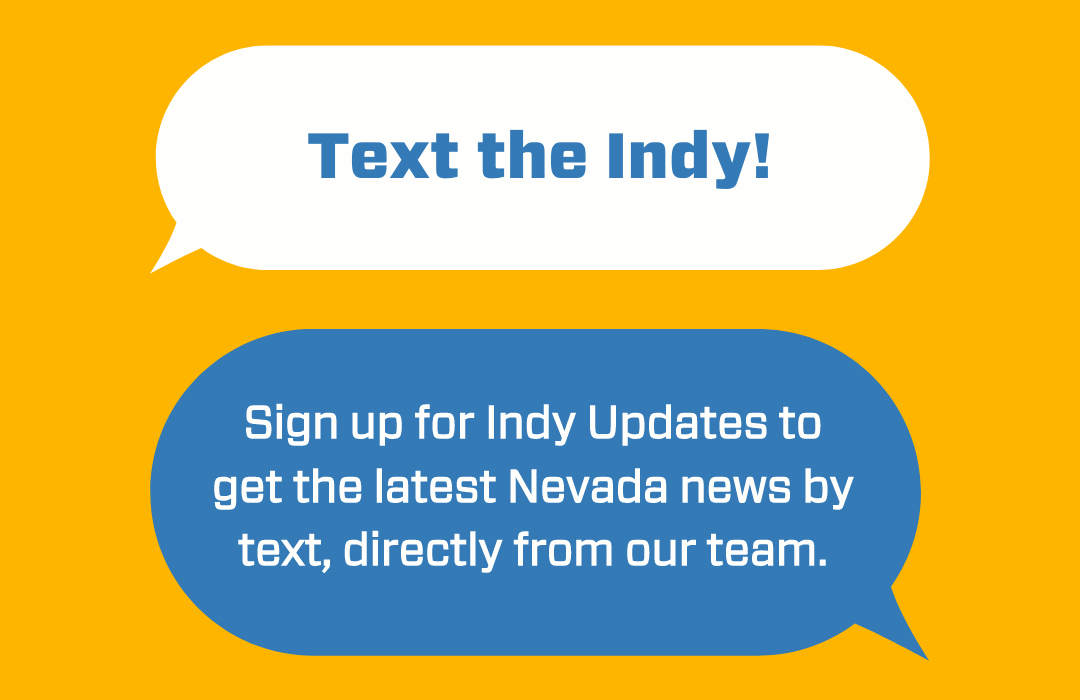 Featured Videos
Comment Policy (updated 4/20/2021): Please keep your comments civil. We reserve the right to delete comments or ban users who engage in personal attacks, use an excess of profanity, make verifiably false statements or are otherwise nasty. Comments that contain links must be approved by admin.