Top Nevada Republicans reverse course, urge party to vote early or by mail in 2024
After years of attacking vote by mail and early voting, Republicans are now encouraging their voters to take advantage of those methods in an effort to compete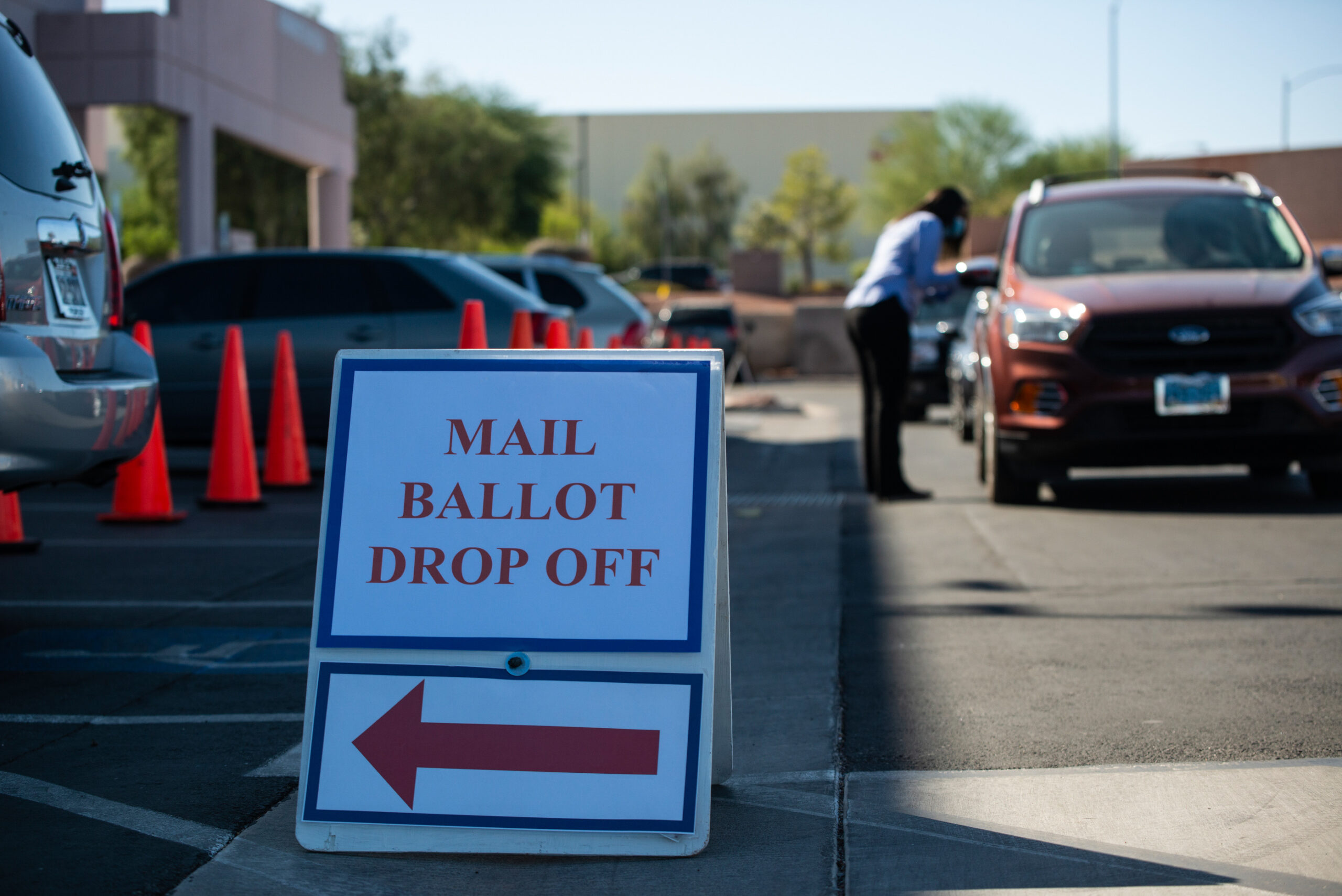 National and Nevada GOP leaders are launching a campaign for Republicans to vote early and by mail in the 2024 election, reversing course on a voting method former President Donald Trump lambasted as corrupt in 2020.
In a Wednesday call with reporters, Republican National Committee (RNC) Chair Ronna McDaniel, Gov. Joe Lombardo, Rep. Mark Amodei (R-NV) and state party Chair Michael McDonald urged Republican voters to either vote early or vote by mail. 
McDaniel described the campaign as a tactical one — using a football metaphor, she said it will ensure the party doesn't wait until the fourth quarter to start scoring. And she added that in ensuring that high-propensity voters get their ballots in early, the RNC can expend resources on going after independents rather than ensuring their party members have voted.
Amid Trump's attacks on vote by mail in the 2020 election, the state party and the Trump campaign filed an ultimately unsuccessful lawsuit to stop the counting of mail ballots in Clark County. Democrats won mail ballots in that election by a factor of about 2-to-1.
This time around, Lombardo said Republicans need to compete on the same turf. He said Republican enthusiasm is building in the state, but he and other leaders have to convince their voters to change their mindsets about waiting to vote until Election Day or suffer the electoral consequences.
"We're out of excuses," said Lombardo, who narrowly won his statewide race in 2022 even as a Democrat, Sen. Catherine Cortez Masto, won in the other marquee, statewide race. "The key is to ensure that everybody has the perception that every vote has been counted … and ensure that we fight fire with fire."
The campaign — which the RNC is running nationally under the banner of "Bank Your Vote" — will involve a state-specific voter resource page for Nevada asking voters to pledge to either vote early or by mail. Voters who make the pledge will get text updates from the RNC ensuring they are educated on how to vote using those methods.
In 2022, 39 percent of registered Republicans voted by mail, nearly 26 percent voted on Election Day and 35 percent voted early in person. Meanwhile, 61 percent of Democrats voted by mail, about 14 percent voted on Election Day and about 24 percent voted early in person.
Officials on the call said achieving their banked vote goals will require changing the current Republican voting culture. Amodei, a habitual early voter himself, said poor fall weather in both the North and South can depress voter turnout — 2022's Election Day saw Northern Nevada deal with several inches of snow.
"As a guy who has early voted since it was legal, I can tell you that it hasn't resulted in any health problem, or anything else," Amodei said. "I'm a believer in it."
Bank Your Vote's success will hinge on Republican leaders convincing Nevada Republican voters to use a voting method that they have constantly attacked since the state began sending mail ballots to all active registered voters in 2020. Part of the campaign is getting all Republicans "singing from the same songbook," McDaniel said, including those who attacked vote-by-mail in prior cycles. Trump and other prominent Republicans have made videos supporting the Bank Your Vote campaign.
But state Republicans have continued to maintain that the state's electoral system is faulty. That's reflected in the state GOP's decision to hold a presidential caucus in February, in which mail ballots are not allowed and voting is done in one day, instead of the state-run primary.
McDonald said early vote efforts will only work if the election system is run with integrity. He said the state party plans to continue filing election-related litigation against issues that come up at the polls as they happen and will continue to deploy poll watchers and poll workers.
"On Bank to Vote, let me be very clear," McDonald said. "It only works if we protect your vote."
The secretary of state's office has found no evidence of mass electoral fraud in Nevada.
When asked if the caucus' rules, which require in-person, day-of voting, were in conflict with the Bank Your Vote theme, McDonald said the caucus was necessary to ensure the election was secure and in compliance with Lombardo's proposed elections bill, which would have rolled back vote-by-mail and instituted voter identification requirements. The bill was not taken up by the Democrat-controlled Legislature.
Lombardo declined to comment on whether he had a preference for a caucus or a primary.
McDaniel said while she did not agree with Nevada's election laws, the only way Republicans can change them is by winning elections, which includes using all the voting methods available to them.
"This is crazy that Democrats are consistently trying to degrade the safety and the security of our elections," McDaniel said. "We will continue to fight that. But when it comes to the rules that are on the playing field, we have to use them the way the Democrats do, even if we don't like them."
This story was updated at 6:30 p.m. Wednesday to include the proper spelling of the Nevada Bank Your Vote site. It was updated again at 2:00 p.m. Thursday to correct RNC Chair Ronna McDaniel's name.