Battleground Nevada holds its purple hue, as Republican 'red wave' fails to gain traction in midterm elections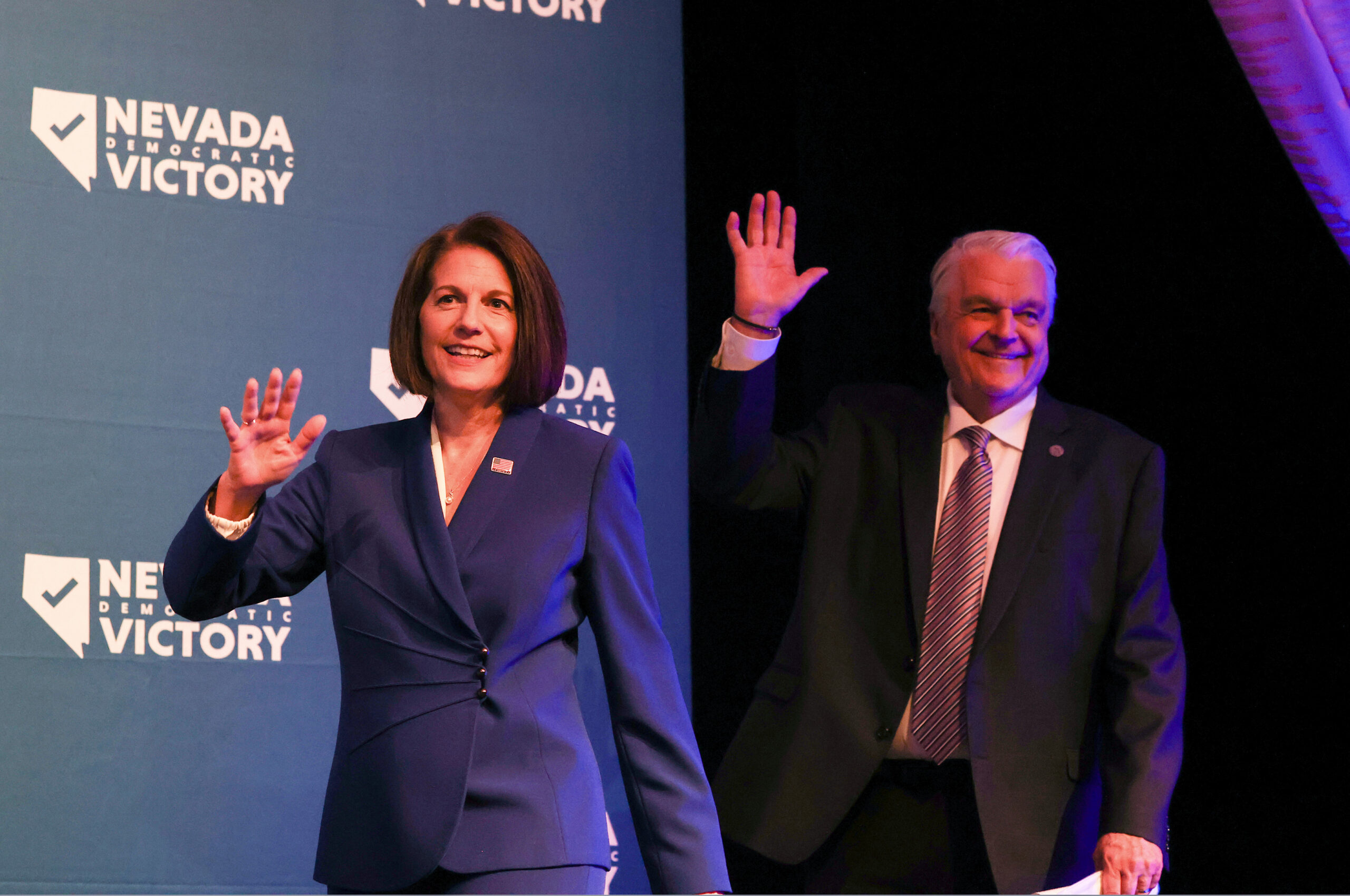 In the weeks before Election Day, Republicans across the country and in Nevada appeared poised for significant victories, buoyed by polls indicating GOP wins up and down the ticket.
But as election returns slowly rolled in across the Silver State, the much-hyped red wave never materialized.
Democratic incumbents in the Silver State emerged victorious in the U.S. Senate, three competitive congressional races and multiple statewide offices. Democrats also maintained and grew their control of the Legislature, gaining a supermajority in the Assembly and acquiring one additional seat in the state Senate.
Out of all of the top-of-the-ticket races, Republicans only won one — with Clark County Sheriff Joe Lombardo's victory in the governor's race (Republicans also won in the Lieutenant Governor and Controller races).
The election results, however, didn't reflect the 2018 blue wave when Democrats won decisively in races that were supposed to be close. Nevada's large segment of moderate and nonpartisan voters proved to be far from monolithic.
Out of more than 1 million ballots cast in Nevada, thousands of voters made choices that defied party lines in the top-ticket races. These split-ticket voters propelled a Democrat to victory in the Senate race while replacing the state's first Democrat-elected governor in more than two decades with a Republican.
One of those split-ticket ballots came from 18-year-old Garrett Nose, a Republican who flew home from where he is studying at the University of Toronto to participate in Nevada's early voting process. He supported Democratic Sen. Catherine Cortez Masto in the Senate election, and Lombardo in the gubernatorial election.
Nose said division and inflammatory rhetoric at the national level and a desire to protect the rights he and his friends grew up with led him to vote for Cortez Masto, whom he described as moderate and capable.
"I personally am deeply pro-life, but I am not okay with people's rights being taken away," Nose said. "And I felt like that was a genuine, huge, huge threat at the federal level. So I actually voted all Democrat federally."
Nose said he also cast a ballot with an eye to protecting democracy.
"When I voted, another huge thing for me was 'Is democracy going to live?'" Nose said. "I voted at the federal level at least for the party that believes in democracy more."
Despite issues with the economy and high inflation rates looming over the election, results and interviews with voters, political analysts and organizers indicate that many voters were motivated to protect abortion rights at the federal level. But with abortion access already codified in state law, the issue had lower stakes in down-ballot races such as the governor's race.
For Nose, who was also critical of Gov. Steve Sisolak's handling of COVID, said he did not feel the urgency around abortion rights as much at the state level, in part because of protections in state law guaranteeing access to an abortion for up to 24 weeks.
"I just felt like the threat was a lot less, especially now that the Democrats have won supermajority in the Assembly. And they're one way in the state Senate, and the attorney general's a Democrat," Nose said. "So I was much more comfortable voting Republican, only because I knew that we had guardrails in place."
Nose was not the only Nevadan to select candidates with the small "d" democracy in mind. Voters across the political spectrum overwhelmingly rejected candidates who ran on pro-Trump messaging, pushed election denialism rhetoric or were perceived as right-wing candidates.
The results this year also saw the influence of young voters and Latinos, whom organizers attribute in part to keeping the margins slim between Sisolak and Lombardo, and helping support Cortez Masto — the nation's first and only Latina senator — on her way to victory.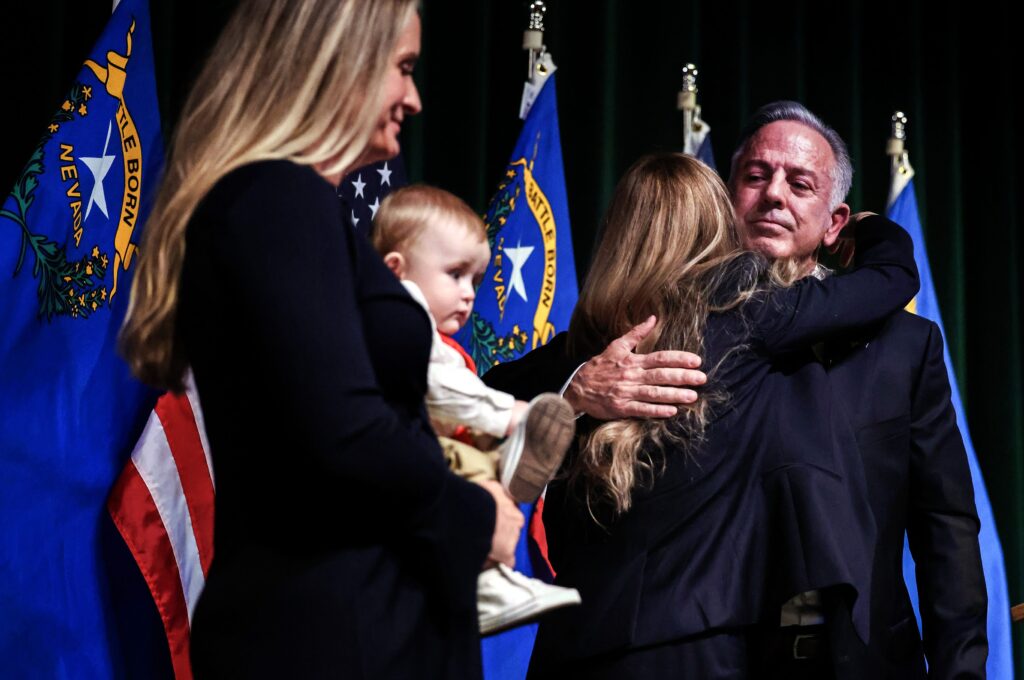 A Democrat in the Senate, a Republican in the governor's mansion
Though it took three days to call the race for governor and four to call the race for Senate, the results remained clear: a hair's breadth separating the winners at the top of the statewide ticket.
Cortez Masto defeated her Republican opponent, Adam Laxalt, by nearly 8,000 votes, and Lombardo bested Sisolak by more than 15,000 votes. Less than 0.7 percentage points separated the Senate race, with a 1.5 point margin in the gubernatorial race. The governor's race also saw a higher share of voters who selected a third-party candidate or the "none of these candidates" option than in the Senate race.
So how did a Democrat win one race, while the Republican candidate won the other?
By the raw vote counts, Cortez Masto far outperformed Sisolak in Clark County — urban Las Vegas, a reliable Democratic stronghold and home to more than two-thirds of Nevada voters that has delivered the party its most significant wins with the vaunted "Clark firewall."
Shorthand for a winning margin of roughly 10 percent, the firewall has traditionally served as the necessary margin needed to offset the Republican spread through the rest of Nevada's 16 counties, of which all but Washoe tilt reliably red.
Such was the case in 2018, when Sisolak won the county by more than 86,000 votes in a race against Laxalt, then the state attorney general. But the firewall crumbled for Sisolak this year, when he received just 39,000 more votes than Lombardo — a known entity after two elected terms in charge of one of the country's most high-profile police departments — in Clark.
Cortez Masto, by contrast, beat Laxalt in Clark this year by roughly 53,000 votes — a margin of less than 8 percent. Though she received roughly 14,000 more raw votes than Sisolak, it was an underperformance relative to Joe Biden, who beat Trump in Clark by 9.4 points in 2020. Here, too, the Democrats' firewall began to show cracks.
In its place: a blue Washoe County. Northern Nevada's most populous county backed Cortez Masto by a 4.43 percent margin, a difference of roughly 8,615 votes, and a tally nearly equal to the Democratic incumbent's winning margin.
And like in Clark, thousands of Washoe voters rejected the governor where they had backed the senator. Sisolak won Washoe by just 1.44 points, or 2,784 votes.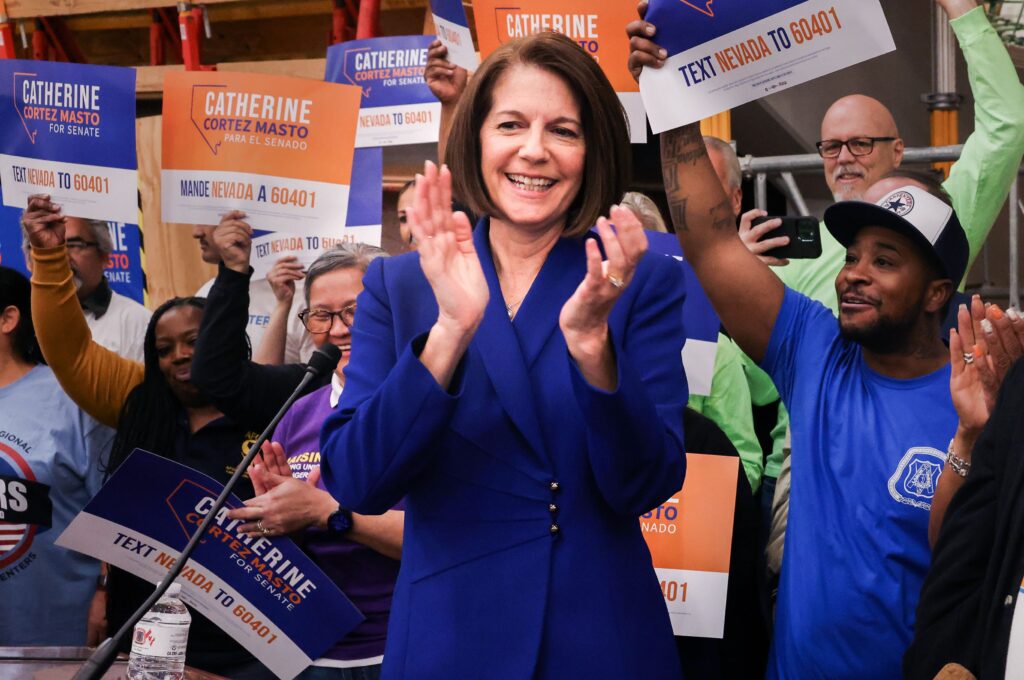 How the Senate was held
The loss of the Senate race, in particular, came as a surprise to a GOP that had oriented itself around flipping control of the U.S. Senate with a win in Nevada.
Their chosen candidate, Laxalt, had entered the race as a foregone conclusion in the summer of 2021, after which he quickly earned the backing of former President Donald Trump and the financial support of the Republican establishment.
For nearly all of the 2022 cycle, Laxalt and the Republican campaign apparatus more broadly sought to pressure Cortez Masto for her proximity to an increasingly unpopular Biden White House.
"Nevada feels the economic factors more than any other state in the country," Jeremy Hughes, a longtime Republican strategist in Nevada, told The Nevada Independent just days before the election. "And voters blame Joe Biden for those [factors] and believe Republicans will do a better job on the economy than Democrats."
Throughout the year, President Joe Biden's approval rating hovered in the low 40s or high 30s. Meanwhile, Laxalt and Republican super PACs called Cortez Masto a "rubber stamp" for the Biden agenda, and cast her as the "deciding vote" on major legislative tent poles such as the Inflation Reduction Act and American Rescue Plan.
On the periphery, Laxalt and Republicans also attacked Cortez Masto on crime and on immigration, often seeking to undermine the incumbent with her support for the Black Lives Matter movement in 2020 or criticisms of "open borders."
Cortez Masto and her allies, by contrast, sought to make the election about all but the economy. They hammered Laxalt, flooding airwaves, mailboxes and the internet with ad after ad on abortion access — especially following the overturning of Roe v. Wade. Her campaign also targeted Laxalt's relationship to the oil industry and his links to Trump-backed election denialism and, by proxy, the Jan. 6 insurrection.
These moves were backed by a historically large amount of money for Nevada politics.
Cortez Masto, alone, set fundraising records quarter after quarter, cumulatively banking more than $54.5 million through mid-October, according to the most recent campaign finance filings with the Federal Election Commission. Laxalt, by contrast, raised just under $15.8 million.
Cortez Masto was then boosted by tens of millions in super PAC spending, including $42.3 million from Senate Majority PAC, the Democrats' chief super PAC.
That funding difference was made manifest in the earliest days of the general election, as Cortez Masto began running negative ads on Laxalt just one day after the primary election in June.
Laxalt, by contrast, saw a late-campaign boost from his own group of supportive super PACs. Though the most significant spending came via $28 million from the Senate Leadership Fund, the GOP's top super PAC tied to Minority Leader Mitch McConnell, he also saw a boost from $12 million from the Club for Growth, a billionaire-backed super PAC long aligned with the Republican Party's economic conservative wing.
But as the airwaves grew thick with attack ads, the Democratic ground machine accelerated its operation with a focus on blunting the damage increasingly poor economic conditions might do to what was expected to be already-low turnout for a midterm.
That includes, notably, the Culinary Workers Union, long one of the most powerful political forces in Nevada and a driver of Democratic turnout in Las Vegas. Mobilizing a small army of canvassers in both Clark and Washoe counties, the union touted knocking on more than 1 million doors in 2022 — an increase from its previous high, 650,000, in 2020 — with a focus on housing affordability issues. 
But as Election Day drew closer, Democrats also began intensifying attacks related to election denialism and the 2020 presidential election. Cortez Masto's campaign, for instance, began running ads about lawsuits Laxalt backed.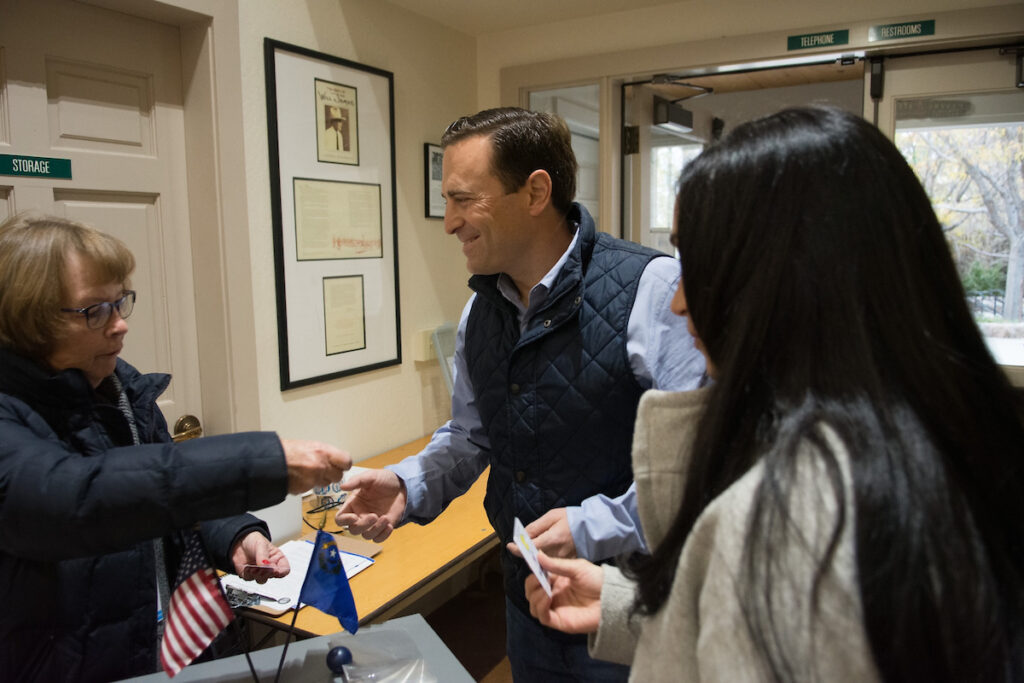 Laxalt — who was a central figure in Trump's challenge of the legitimacy of Nevada's 2020 election results — had softened his own stance on challenging the 2022 election results. He later told the Las Vegas Review-Journal in October that Biden was legitimately elected, and the Reno Gazette-Journal that he would accept the results of the election.
It was a marked shift from Laxalt's early campaign, which centered criticisms of Nevada's switch to all-mail voting as designed "in the middle of the night" to give Biden a "leg up," and which touted efforts to sue over election results early, in part because 2020 election lawsuits came "too late."
When Laxalt eventually conceded the race — nearly three days after media outlets called it for Cortez Masto — he did not appear to embrace a narrative of fraud, saying "we need to better adjust to our new election laws or we need to work to fix them."
Hughes, responding to additional questions over email, said he still believed the GOP message on the economy was effective, as was "our focus on crime and corruption." He also said he did not think any top candidate — Democrat or Republican — "made Trump the centerpiece of their campaign."
But Warren Hardy, a Republican former state Senator-turned political consultant, said he saw the 2022 midterms as a repudiation by independent voters of some candidates' — including Laxalt's — "approximation to Trump."
"This, nationally, was a repudiation of Trump, in my estimation," Hardy said.
How the governor's mansion was flipped
In the governor's race, the Democratic incumbent similarly had a major financial advantage, with Sisolak spending $13.5 million over the course of 2022, compared with $4.8 million for Lombardo. But spending from outside groups, including the Republican Governors Association (RGA), helped even the playing field. In late September, general election spending in the governor's race totaling $54 million was nearly evenly split between the two sides, according to data from political ad tracking firm AdImpact.
RGA spokeswoman Maddie Anderson told The Nevada Independent in a statement that the group's "independent expenditure effort in the Nevada governor's race was the largest in RGA history." She added that Lombardo "stayed focused on the economic issues" throughout his campaign.
Lombardo's campaign also received a significant boost from Robert Bigelow, a Republican mega donor and the owner of the Budget Suites of America hotel chain. Bigelow gave $12.3 million to the RGA, as well as more than $13 million to a pair of Nevada PACs supporting Lombardo and several down-ballot Republican candidates.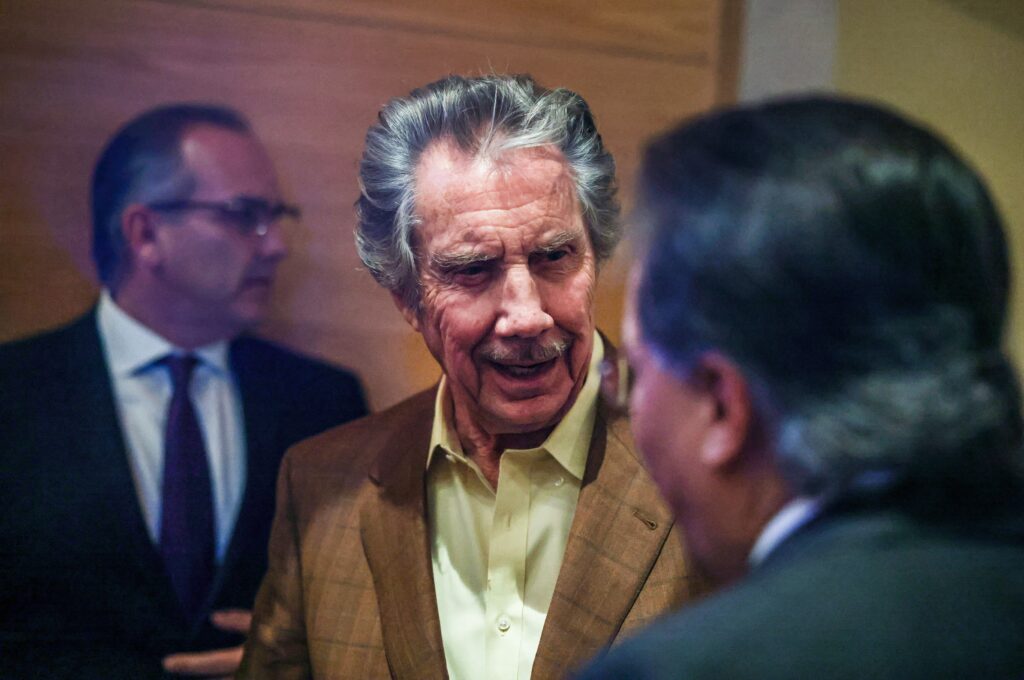 Several split-ticket voters interviewed for this story also pointed to the COVID-19 pandemic, which encompassed more than half of Sisolak's term as governor, as playing a decisive role in separating him from Cortez Masto.
Democrat David Dudar, 58, voted for Cortez Masto in the Senate race, but selected "none of these candidates" in the governor's race. Despite sharing ideological similarities with Sisolak, Dudar said he couldn't bring himself to pull the lever for the governor, mainly because of troubles with the Department of Employment, Training and Rehabilitation (DETR) that took place during the pandemic.
Dudar, who works as a photographer and a ride-share driver, said it was Sisolak's handling of DETR and problems with the state system for unemployment insurance that caused him mountains of paperwork, fraud charges and uncertainty that led him to mark "none of the above" on that portion of his ballot.
"I would start using Tabasco as a contact lens solution before I voted for Sisolak," Dudar said. "There were hundreds of thousands of Nevadans who did nothing other than slam into a pandemic. And then they got called 'potential fraud.' You were guilty until you were proven innocent in terms of getting your claims."
He added that his frustrations about the bureaucracy around the DETR claims process did not stem from Sisolak's decisions to shut down the casinos during the pandemic or implement other COVID prevention measures.
Though Cortez Masto backed major federal spending bills and legislation aimed at addressing the economic and public health effects of the pandemic, Sisolak became the public face of Nevada's response to the pandemic, making decisions regarding the closures of businesses and capacity limits for public activities.
Throughout his campaign, Sisolak defended his decision-making early in the pandemic when little was known about the spread of the virus. During an October debate against Lombardo, he tied his decision to shut down the Strip and "non-essential" business to expectations that the pandemic could lead to a high death toll.
"At the time, it was predicted we could lose upwards of 40,000 Nevadans. We still lost, at the last count, 11,501," he said. "I'm sorry about every one of those lives lost. Yes, our businesses suffered, but we have come back stronger than anybody anticipated."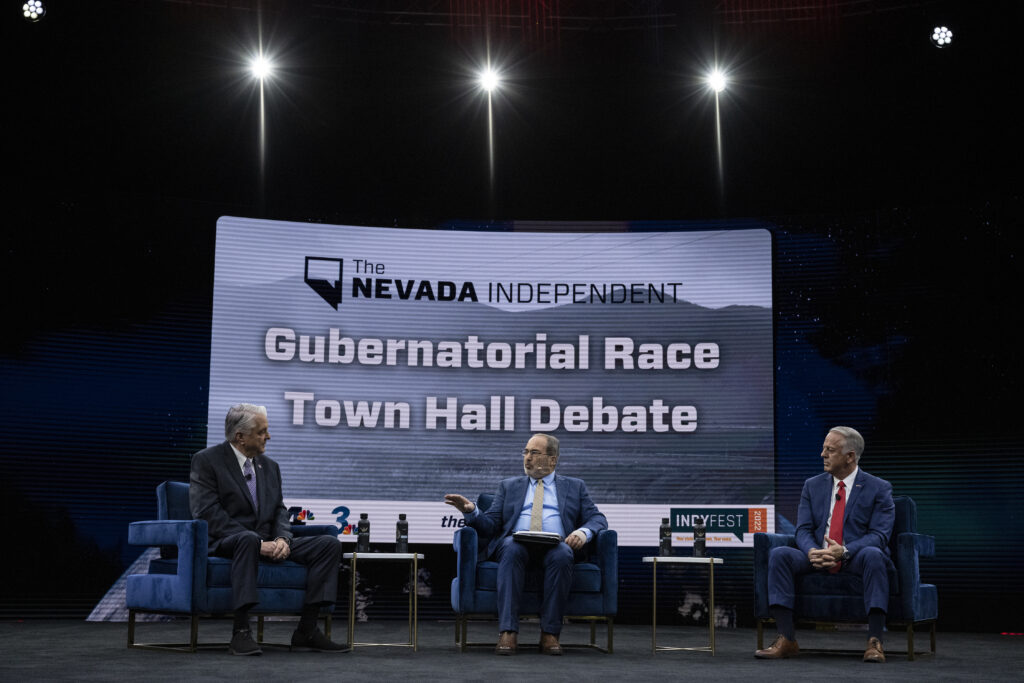 But with Nevada's economy devastated by the pandemic — in April 2020, the state's unemployment rate shot to a record high of nearly 30 percent, higher than in any other state — voters expressed dissatisfaction over Sisolak's handling of the pandemic.
Scott Sawamura, a 29-year-old travel nurse from Reno and a registered Republican, said he voted for both Cortez Masto and Lombardo, pointing to the negative effects of pandemic-era shutdowns on the economy and the state's education system behind his choice in the governor's race.
That dovetailed with an assessment of the race from Chris Sloan, senior campaign advisor for the Democratic Governors Association. Sloan, in a statement to The Nevada Independent, pointed to a combination of three factors that proved to be too much to overcome for Sisolak, including "the fallout from the pandemic," Lombardo's name recognition in Clark County, where he won multiple county wide elections for sheriff, and massive amount of money poured into the race in support of Lombardo by a single donor (Bigelow).
'Democracy is at stake'
While Republicans tried to focus the election on the economy and Biden's low approval ratings — going so far as to place campaign signs of Biden next to Sisolak — Democrats focused a significant chunk of their messaging around threats to democracy and abortion rights.
"Democracy is at stake," former President Barack Obama told a packed gymnasium at a Las Vegas high school in the final days before the midterm election.
"Democrats, let me tell you, are not perfect," Obama said before referencing Republican attacks on elections. "But right now, with a few notable exceptions who deserve credit, most Republican politicians, they're not even pretending that the rules apply to them. They seem to be willing to just make stuff up."
Cortez Masto and her allies attacked Laxalt with ad after ad on abortion access, at points highlighting his words that Roe v. Wade was a "joke" and belief that it is "sad" Nevada is not more anti-abortion, while seizing on Republican proposals for a national abortion ban .
"We had an overwhelming response here in Nevada, even though we consider it a safe in Nevada for abortion," Jeri Burton, executive director of the Nevada chapter of the National Organization for Women, said in an interview. "First of all, we saw the [Senate] could possibly put a federal ban and then that takes away Nevadans' rights."
An analysis from the Kaiser Family Foundation revealed that the Supreme Court's decision to overturn Roe v. Wade motivated Democrats, younger voters and women under the age of 50 across the country and in states with competitive Senate elections, including Georgia, Nevada and Wisconsin.
But the legacy of 2020 election denialism from Trump-backed Republicans began to emerge down ballot, in particular drawing attention to the race for secretary of state. There, Republican candidate Jim Marchant crafted a public image defined by his embrace of election conspiracies, including a push to eliminate the use of electronic voting machines in favor of hand-counted paper ballots.
His Democratic opponent, Cisco Aguilar, seized on the issue as a primary focus, running a $1 million ad campaign that attacked Marchant as "too dangerous" to be secretary of state, in large part because of his embrace of voter fraud narratives.
Those attacks, according to Republican political consultant Warren Hardy, ultimately proved to be a significant driver of Democratic success.
"At some point, [Democrats] switched to this democracy question, which I looked at at the time and thought, 'Man, they're really desperate," Hardy said. "Well, I think that message, based on the exit polling I've seen, resonated significantly. That was a deciding factor for a lot of people."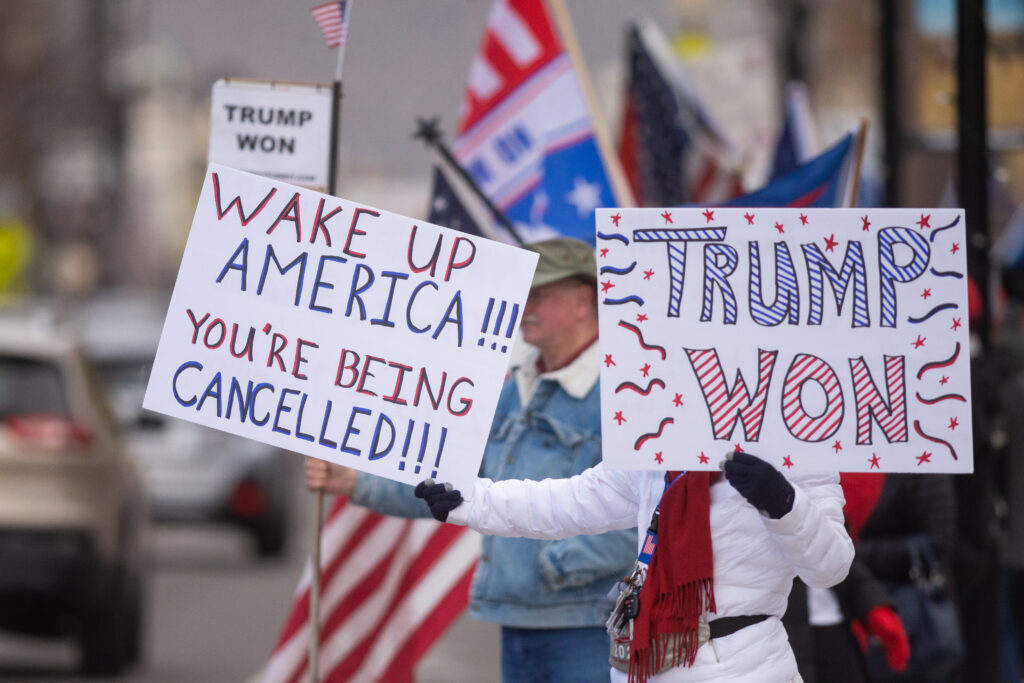 Further down ballot, the push to make the election about democracy itself appeared to pay dividends.
In the statewide races for secretary of state, attorney general and treasurer, fiery rhetoric and election denialism from Republican challengers spurred prominent Republicans, such as former Nevada GOP Chairwoman Amy Tarkanian, to publicly support some Democrats running for statewide office.
In an interview, Tarkanian said she thought the controversies in the down-ticket statewide races affected the Senate race and pushed Republican voters to cast a ballot for Democrats in statewide races where Republicans were mired in controversy.
"You have candidates like Sigal Chattah, who makes statements that she wants to hang Aaron Ford by an (expletive) crane. That doesn't help," Tarkanian said. "And then you've got the state party chair who's pushing another candidate [Michele Fiore] who is under FBI investigation for misappropriating campaign funds. I mean, how does that help you? It doesn't."
She added that in the Senate race, Laxalt faced headwinds for his push to contest the legitimacy of Nevada's presidential election without evidence that out-of-state voters and problems with signature verification allowed individuals to vote twice, both by mail and in person.
Tarkanian said that Laxalt's role in a press conference shortly after the 2020 election about the alleged voter fraud — and subsequent inability to produce evidence after filing a lawsuit that was later dismissed — did not do the Republican Senate candidate any favors.
"When you had President Trump first run for office it was a blessing, because you thought, 'Okay, great, he's now teaching Republicans how to speak up, how to have a backbone,'" Tarkanian said. "Then it became a curse, because now you have a bunch of candidates trying to emulate his misbehavior. And it backfired terribly."
How turnout played a role
Though Democrats in Nevada have traditionally won massive margins of support from Hispanic voters, the voting bloc notably drifted rightward in the 2020 election, as a larger share of Latino voters supported Trump in 2020 than in 2016. Across the state, Latino voters make up about 20 percent of the electorate.
Keith Schipper, a regional communications director for the Republican National Committee, said in an interview that the GOP was focused on making further inroads with that community ahead of this year's election, along with Asian American and Pacific Islander voters and Black voters.
"That was a big priority for us was really building inroads and building on the gains that we saw within those communities in 2020," he said.
Schipper said the RNC made more than 3 million voter contacts in Nevada this year. Those efforts, particularly within the Hispanic community, were compounded by the work of the Nevada Republican Party and the National Republican Senatorial Committee. The groups announced last month that their "Operación ¡Vamos!" field program "surpassed the combined total for GOP Hispanic voter contact efforts in the Silver State across the last six years."
On the other end, Democrats and organizations such as the Culinary Union and Somos Votantes, a Latino voter mobilization organization, touted increasing door-knocking targets in 2022, with the Culinary in particular knocking on over 1 million doors.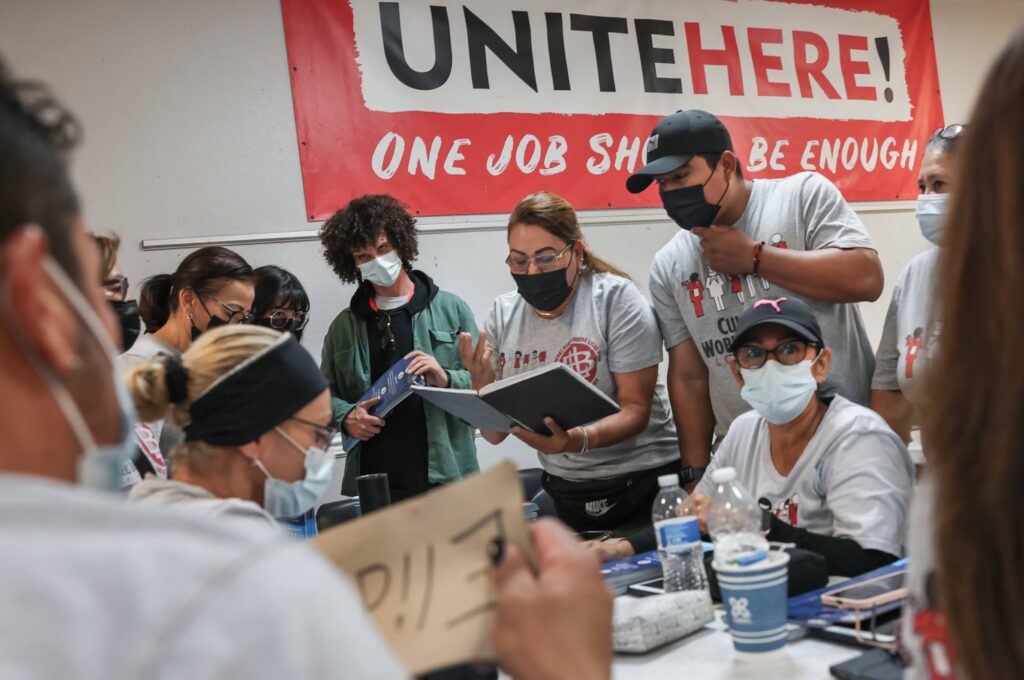 In the wake of the election, labor unions, in particular, have touted their role in sending Cortez Masto back to Washington. During her victory speech last week, the heads of a dozen different unions — among them the Culinary Workers Union — flanked the senator inside the airy training ground of the Las Vegas carpenters union.
"The reality is that this is an election that, historically, would have went against the party in power," said Ted Pappageorge, the secretary-treasurer of the Culinary Union, in an interview. "We had the best performance in an election and a midterm with the party in power in the last 25 years. And I think that extra effort and hard work that labor put in, and in particular the Culinary Workers Union, helped a lot of folks across the finish line."
Somos Votantes' Nevada Executive Director Cecia Alvarado said that although it's still too early to tell how voters ultimately leaned in the election, conversations organizers had with Latino voters across the political spectrum indicated positive responses from the community for Cortez Masto and Sisolak.
"I'm confident that we delivered on our goals to turn out Latino voters and they turned out to re-elect Senator Cortes Masto just how they turned out and elected her for the first time in 2016," Alvarado said.
She added that the organization is expecting to see a higher turnout among Nevada Latino voters this year than in past elections — turnout that she surmised helped shape the outcome of the election. She and the communications director for Somos Votantes, Emmanuelle Leal-Santillan, said that they believe one of the reasons the governor's race remained as close as it did was because of Latino voters.
"It was a very tough election year for Governor Sisolak," Leal-Santillan said. "The fact that he had so much going against him, the difference was 13,000 votes, that speaks volumes of the power of Latinos, and the great efforts of a governor suspects campaign."
Early exit poll data from this year show that both Lombardo and Laxalt fared similarly with Hispanic voters to Trump's performance among the group in 2020, though Lombardo (37 percent) notched a few more points of support from the group than Laxalt (33 percent), according to exit poll data from NBC News.
Democrats cash out on a redistricting gamble
Similar to the higher-profile races for governor and Senate, Nevada's contentious House races played home to the same partisan, issue-centric battles waged across the country — with Republicans attacking Democrats over high inflation, and Democrats raising the alarm about the end of Roe and the possibility of Republicans rolling back abortion access.
But for the state's three Democratic House incumbents, a factor largely out of the control of voters played a key role in their re-elections: redistricting.
In a special session following the 2020 U.S. census, state lawmakers — a majority of whom are Democrats in both chambers of the Legislature — completed the decennial process of redistricting, which involved the redrawing of congressional and legislative district lines to balance populations across them.
Under the new congressional maps, the state's lone Republican-held seat retained its overwhelming GOP voter registration advantage, helping District 2 Rep. Mark Amodei easily win a seventh term. The new maps also saw thousands of Democratic voters pulled from reliably deep-blue District 1, where a Republican last won in 1996, into recently more competitive Districts 3 and 4. Though the move provided Democrats with an opportunity to more effectively retain their hold on three-fourths of the state's House seats, the new lines also put all three districts in jeopardy of flipping red.
District 1 Rep. Dina Titus, facing her most competitive election challenge since she first ran for the seat in 2012, panned the new maps publicly, saying at an AFL-CIO town hall in December that she "totally got fucked by the Legislature," the Nevada Current reported.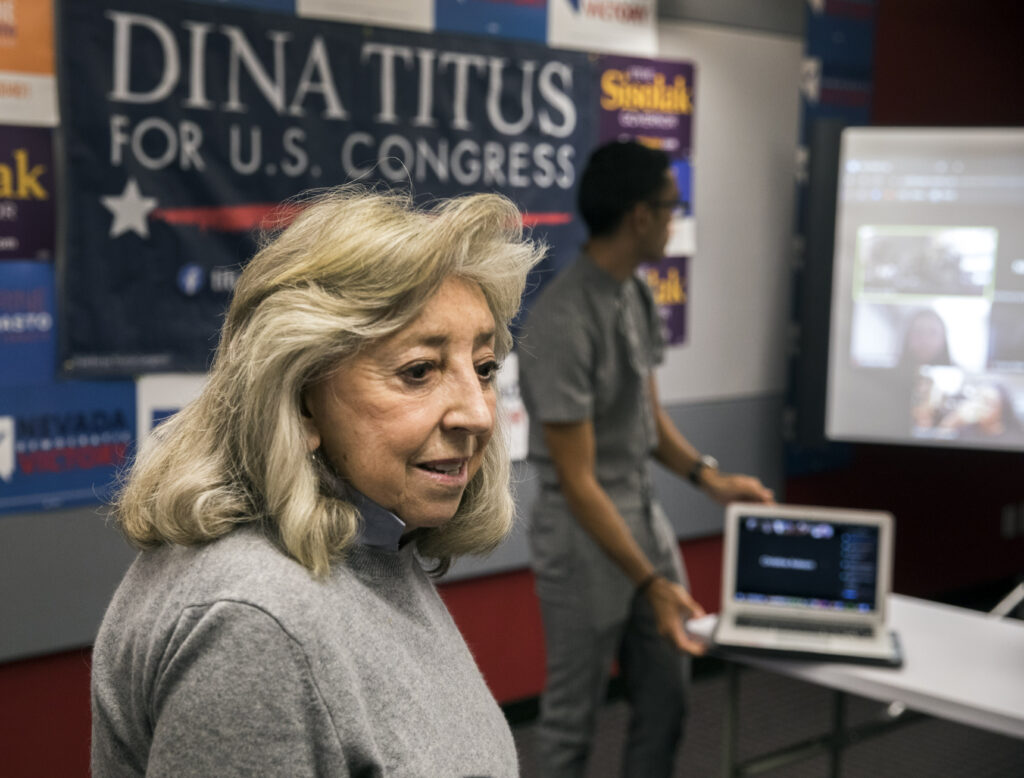 For months of the midterm election cycle, the nonpartisan Cook Political Report rated all three races as "toss-ups," and national Republicans sought to capitalize on the vulnerabilities of Democratic representatives of those districts.
The Congressional Leadership Fund, a conservative super PAC dedicated to electing Republicans to the House, spent more money in the Nevada Districts 1 and 3 races than in any other races across the country. That included $10.8 million for ads attacking District 3 Rep. Susie Lee, and $8.6 million on ads attacking Titus. The group did not spend money in the District 4 race, lending to a rating shift from "toss-up" to "lean Democrat" in the final leg of the race.
But the barrage of television, digital and mail attacks were not enough. Under the redrawn district lines, Democrats held significant voter registration advantages over Republicans in all three competitive districts, including a 9.9-point advantage in District 1, 5.9-point advantage in District 3 and 9.6-point advantage in District 4.
Across the board, Republican challengers overperformed based on those registration dynamics, but could not overcome the difference.
As for the state's legislative races, Democratic consultant Riley Sutton said he was struck by the races that were decided by narrow margins, sometimes just hundreds of votes.
"It was clearly a year where voters were in a mood to not vote a party line or to pick the candidates they thought were the best ones from either side of the aisle," said Sutton, noting that close margins in many of the legislative races were the result of competitive district-drawing that forced candidates in the statehouse races to door-knock and talk with voters.
Sutton also said right-wing messaging from hard-right candidates failed to resonate with voters.
"[Republican candidates such as Lombardo] campaigned as much more moderate than your Jim Marchants, Sigal Chattahs, Michele Fiores. And those right-wing far, far-right Trumpist Republicans lost," Sutton said. "And the same thing [took place] largely at the legislative level where those candidates were doing the same thing and they're gonna lose by small to small-medium margins."
During redistricting, Democrats redrew legislative districts so that they leaned slightly blue rather than choosing to shore up advantages in seats they held. The decision created a greater potential for Democrats to get closer to significant majorities in each chamber, a strategy that paid off.
Still, not all observers believe the number of seats across the board that Democrats secured through redistricting may be safe in every election cycle.
"At the time, I thought it was a gamble. I still think it was a gamble," Hardy, the Republican political consultant, said. "It worked in their favor this time, but that dynamic could change dramatically going forward. Everything depends on the election cycle."
Correction: 11/21/22 at 10:55 a.m. - A previous version of this article referred to both the Culinary Workers Union and Somos Votantes canvassing operations as having knocked on 1 million doors each. However, the Somos door-knocking figure includes efforts across multiple swing states, not Nevada alone.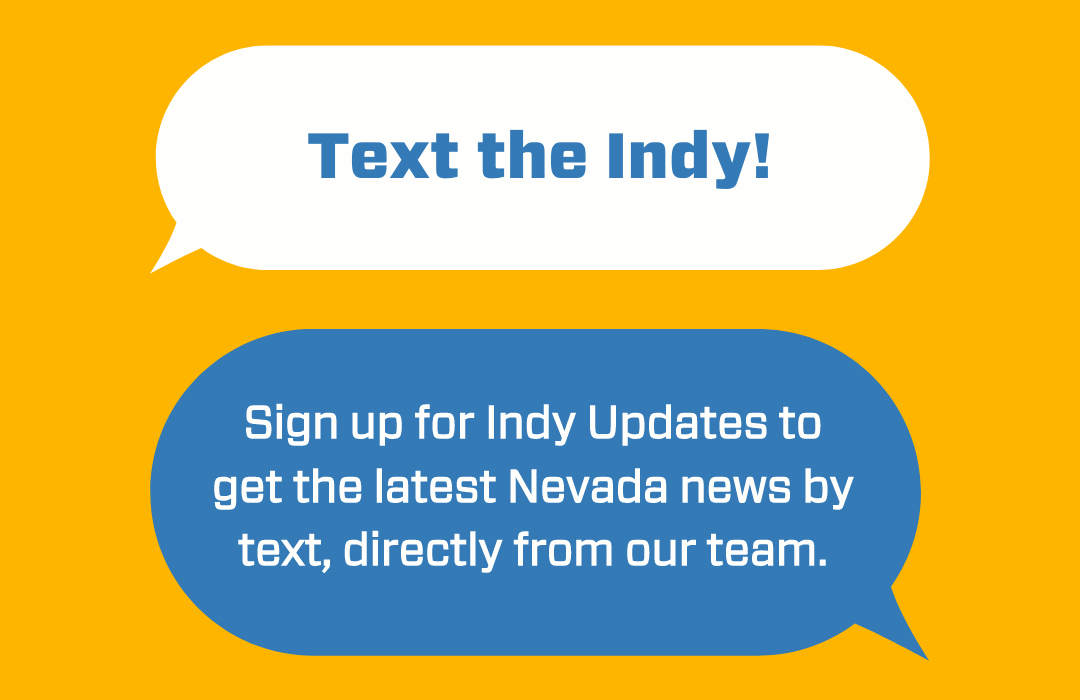 Featured Videos
Comment Policy (updated 4/20/2021): Please keep your comments civil. We reserve the right to delete comments or ban users who engage in personal attacks, use an excess of profanity, make verifiably false statements or are otherwise nasty. Comments that contain links must be approved by admin.