Booker calls for death penalty repeal, opposes Justice Department opinion on online gaming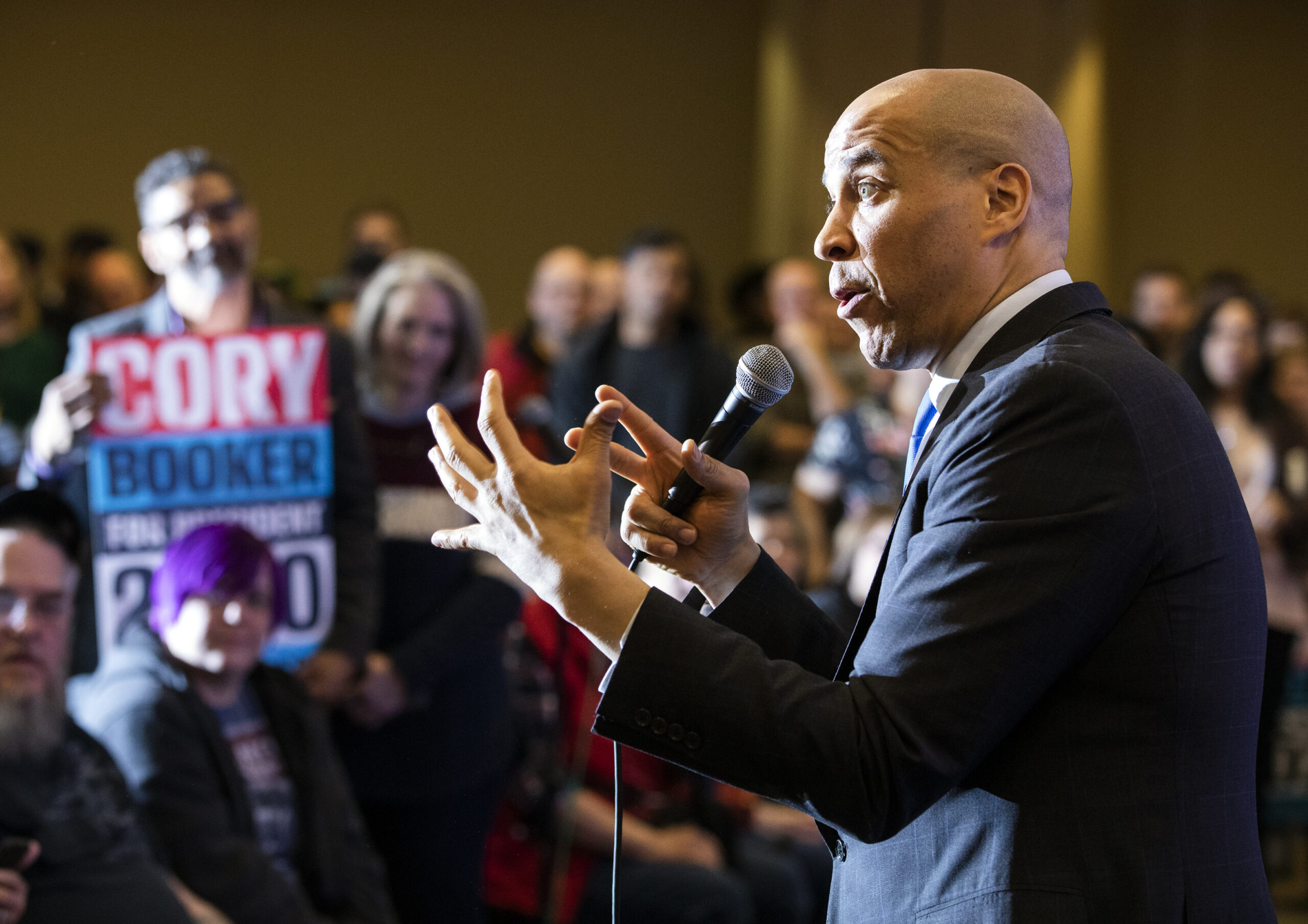 Sen. Cory Booker, after recently applauding California Gov. Gavin Newsom's decision to halt executions, is calling for both states and the federal government to abolish the death penalty.
Booker, in a brief phone interview with The Nevada Independent on Friday ahead of a trip to the state next week as part of his 2020 presidential campaign, called capital punishment a "final solution that is imperfect in its nature," noting that a number of death row inmates have been exonerated in recent years by DNA evidence establishing their innocence and that such inmates are disproportionately low income and people of color.
"On a federal level, on a state level, we should abolish the death penalty in America," Booker said. "We're the only industrialized nation that still has the death penalty."
The New Jersey senator's comments come the same day as Nevada's Democrat-controlled Legislature sent a bill proposing to abolish capital punishment in the state to its grave. Death penalty opponents here have expressed disappointment that Democrats, who control both the Legislature and the governor's mansion for the first time in 20 years, aren't throwing their political capital behind the issue this session.
(Gov. Steve Sisolak has said he believes the death penalty is appropriate in only "very extreme" circumstances and had not indicated whether he would sign a death penalty repeal into law.)
Booker said that injustice in the criminal justice system is being fueled by nonviolent drug crimes and the war on drugs, which he described as actually "a war on people and, disproportionately, low-income and minority folks." In line with those concerns, he highlighted his proposal to decriminalize marijuana nationwide.
"The federal government should be consistent with the laws of states and, right now, it's not," Booker said. "Our federal government should allow states to do what they want ... and that would allow states to operate and design the systems that work for them and not run afoul of federal federal law."
To support Nevada and other states that have already legalized marijuana, Booker wants to increase marijuana businesses' access to banks, allow veterans to access medical marijuana through the VA system and expunge pot convictions for people who live in states where marijuana is now legal, something Nevada lawmakers are attempting to do this session.
"People who now live in states where it's legal ...  having to check a box on job applications that you were arrested for doing things that two of the last three presidents admitted to doing is outrageous and unacceptable," Booker said.
Booker, who hails from the state home to Atlantic City, said that he doesn't agree with a Department of Justice opinion released in January that has jeopardized the future of online gaming and accused the federal government of taking action to undermine an industry important to both Nevada and New Jersey.
"I support online gambling," Booker said, "and I'm a little frustrated that the federal government is doing things to inhibit the ability for gaming towns like Las Vegas and Atlantic City — and Reno — to conduct gambling in a safe and legal way."
If elected president, Booker promised to not fund a high-level nuclear waste repository at Yucca Mountain and said that he would defer to Nevada's elected officials. He added that the issue is "very personal" for him since his mom lives in Nevada.
"All those people who want to shove nuclear waste into Nevada — thousands of miles away from where they live — to me, are wrong," Booker said. "It's, to me, outrageous because I know in other states folks wouldn't let those things happen in their communities, and this guy, whose mother lives there, I want to make sure that she has a voice, as do the people of the state as a whole in what happens with Yucca Mountain."
Booker also touted the Opportunity Zones proposal he co-sponsored, which was folded into the 2017 federal tax bill and incentivizes investors to develop in economically distressed areas. He said it would "bring perhaps billions of dollars off of the sidelines." Last month, developers and investors in Reno gathered to talk about how to take advantage of the zones' tax breaks.
"Atlantic City, for example, right now has a very big Opportunity Zone that we're using to help to rebuild Atlantic City around the gaming industry and bring a lot of jobs," Booker said. "I know Nevada is trying to strategically use the legislation that I wrote to do the same."
On prescription drugs, Booker promised to negotiate down drug prices through Medicare and pass a law that would attempt to foster competition by taking away drug companies' patents if they raise drug prices higher than those in other developed nations.
"There's a lot of things that federal government can do to take this stress away from American families and stop passing the buck to states to deal with things that the federal government can more reasonably do," Booker said.
Booker is expected to return to Nevada on Thursday for a three-day swing as part of his recently announced "Justice for All" tour, with stops planned in Las Vegas, Carson City, Minden and Reno. The visit will include a roundtable with SEIU Local 1107 and meet-and-greets with UNLV Young Democrats, Washoe County Democrats and Douglas County Democrats, among other community events in Las Vegas.
Booker hosted a rally in North Las Vegas during his first visit to the state of his 2020 presidential campaign in February.
The Nevada Independent is raising $200,000 by Dec. 31 to support coverage of the 2024 election.
Tax-deductible donations from readers like you fund this critical work.
If you give today,your donation will be matched dollar-for-dollar.
Give + Get Matched
Featured Videos