Democratic Governors Association-backed ad likens Laxalt to Koch brothers' worker bee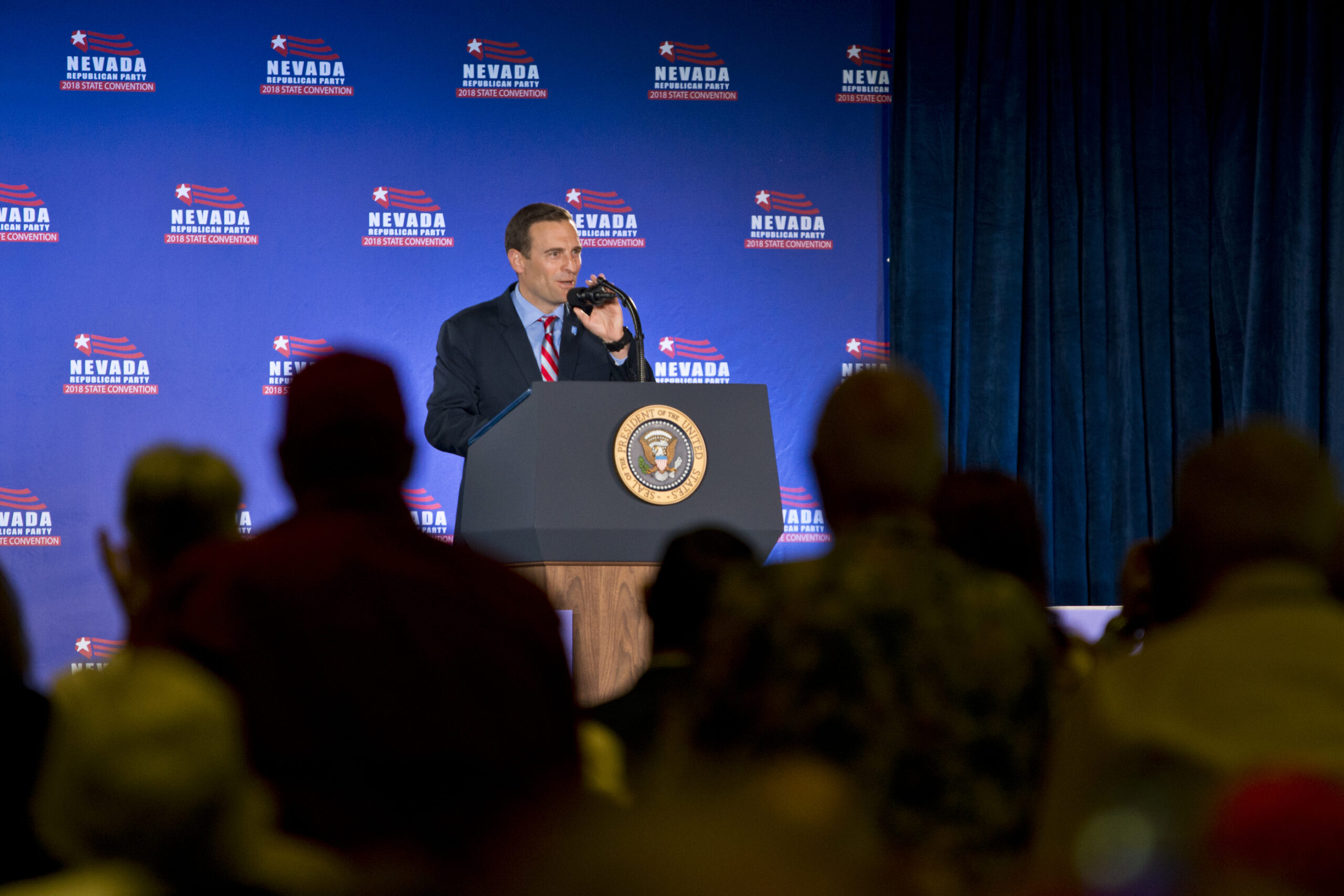 A group affiliated with the Democratic Governors Association has launched a new television ad that calls Republican gubernatorial candidate Adam Laxalt a "busy bee" who's using his office to do the bidding of billionaires.
The commercial, which is titled "Buzzed" and launched Wednesday, is paid for by a group called Nevada Families First. It opens with a shot of swarming bees.
"Adam Laxalt has been a very busy bee. But who's he working for?" a male narrator says.
The ad goes on to describe Laxalt's trip to a California retreat hosted by the billionaire industrialists Charles and David Koch.  
"He got $2.5 million in support from their network. No wonder Laxalt opposed new efforts to stop polluters, even as Nevada's air quality gets a failing grade."
It closes by saying Laxalt sided with the Kochs and against Republican Gov. Brian Sandoval "to deny affordable health insurance to 200,000 Nevadans."
"Adam Laxalt. Busy working for billionaires. Not us," it concludes.
Laxalt's campaign didn't respond to a request for comment about the commercials.
It comes as the ad war in the governor's race heats up — Laxalt's campaign this week launched a dramatic pair of TV ads that blame his Democratic opponent, Clark County Commission Chairman Steve Sisolak, for standing by and doing nothing as a backlog of thousands of untested sexual assault evidence kits built up.
Nevada Families First didn't respond to two emails seeking information on how much money they're spending on the ad, where it will be aired and how long the campaign will last. On at least one Las Vegas TV station, the group has reserved airtime from Sept. 5 to the election, according to Federal Communications Commission records.
Environmental claims
Laxalt has received a boost of at least $2.5 million this cycle from the Koch brothers, who run a network of conservative groups that includes Americans for Prosperity and The Libre Initiative.
The Nevada attorney general attended their three-day annual retreat in January at a resort outside of Palm Springs, California, where hundreds of conservative donors gathered. Laxalt was one of nine elected officials scheduled to attend.
Koch-affiliated Freedom Partners Action Fund ran positive biographical ads early in the race, promoting Laxalt as someone who's "doing what's right for Nevada," and then announced another buy after he won his primary, for a total so far of $2.5 million. He's also used their database of voter information, even as the Republican National Committee has advised candidates to use the party's system.
The Democrats' commercial seeks to link those connections to Laxalt's decisions on environmental policy. It points to Laxalt's opposition to President Barack Obama's Clean Power Plan, which aimed to curtail greenhouse gas emissions but has been opposed by Koch-affiliated groups.
In 2016, Laxalt endorsed a multi-state legal fight against President Barack Obama's Clean Power Plan. The brief, which argued that states have a right to decide emissions standards for themselves, was not requested by Sandoval.
"We are repeatedly seeing more federal regulation that is less tied to the actual text of the laws that federal agencies claim is the basis for their rules," Laxalt said in a statement.
Experts said Nevada, which relies on coal for just 3 percent of its energy and has far fewer coal-fired power plants than other states, was actually well-positioned to meet the goals of the Clean Power Plan. Laxalt defended the brief in a op-ed piece in the Las Vegas Sun, saying his intervention didn't seek to slow the growth of Nevada's clean energy future, but sought to keep power over that future in the hands of Nevada rather than the Environmental Protection Agency (EPA).
The Democratic group also cites Laxalt's opposition fight over the Waters of the United States (WOTUS) rule (read The Nevada Independent's explainer of the issue here). His office fought back after the Obama administration in 2015 announced the Clean Water Rule, which interpreted the Clean Water Act to include small seasonal streams and wetlands.
The Obama administration argued that giving the federal government authority over these small waterways — some of which are used as drinking water sources — would help control pollution there and maintain the health of larger bodies of water. The move was immediately opposed by groups including the U.S. Chamber of Commerce and the American Farm Bureau, and Laxalt led a coalition of 12 states in suing the EPA over it.
"This is the latest power grab by this presidential administration to expand federal oversight into areas that are better managed by state and local governments," Laxalt said in a press release.
The rule is on hold, but the legal fight over the WOTUS rule continues in federal court.
Amid Laxalt's challenges to environmental regulations, the commercial says, Clark and Washoe counties received an F grade from the American Lung Association for the number of high ozone days. Often called smog, ozone can pose health risks, including increasing the risk of premature death and more immediate effects such as shortness of breath and asthma attacks, according to the association.
Ozone develops from gases that come out of tailpipes and smokestacks, and becomes ozone after reacting with sunlight. The lung association has fought for higher vehicle emissions standards and has defended the Clean Power Plan, which it says would have prevented up to 90,000 childhood asthma attacks and 4,500 premature deaths each year at full implementation.
The Trump administration announced this week that it was replacing the Clean Power Plan with a rule that allows states more control over emissions. Critics say the Trump plan gives states the option of doing nothing to curb greenhouse gases.
Health care
The Democrats' ad accuses Laxalt of going against the governor and siding with the Koch brothers to take away health care from more than 200,000 Nevadans. It's referring to Sandoval's decision, under Obamacare, to expand Medicaid coverage to a larger group that includes childless adults with incomes up to 138 percent of the poverty level.
Since the decision, another 210,000 Nevadans have enrolled in Medicaid coverage that is predominantly financed by federal dollars, and the uninsured rate is half what it was before.
Laxalt was explicit about opposing Obamacare in his 2014 run for attorney general, criticizing the law for "rising costs, changes to their health plans, employers who can no longer afford to offer coverage, risks to our personal data and confusion surrounding the implementation."
"I believe that the citizens of Nevada should be making their own healthcare decisions without the interference of Washington bureaucrats," his 2014 campaign "Issues" page said on the topic. "That's why I oppose Obamacare. While the Obamacare roll-out has been a disaster, the long-term effects of this law will be even worse on our citizens."
The "Issues" page for his 2018 campaign for governor makes no mention of health care.
At the launch of his governor campaign in November, Laxalt avoided directly answering whether he would support keeping the expanded Medicaid coverage in place if the federal government rescinds funding for it.
"It's a complex issue. We're going to see what happens in Washington and then we're going to see what happens next," he said.
More recently, he told the Reno Gazette-Journal in January that while he didn't support the expansion, he wouldn't necessarily roll it back.
The Kochs' network has pushed for undoing Obamacare and not allowing any more people to enroll in Medicaid under the new expansion qualifications. During debate last summer in Congress over legislation that would repeal the law, a Koch affiliate said he wanted the bills to go further than they did.
"We have been disappointed that movement has not been more dramatic toward a full repeal," said Tim Phillips, president of Americans for Prosperity, which was founded by David Koch.
Disclosure: Steve Sisolak

 has donated to The Nevada Independent. You can see a full list of donors here.
IndyFest is proudly sponsored by:
Comment Policy (updated 4/20/2021): Please keep your comments civil. We reserve the right to delete comments or ban users who engage in personal attacks, use an excess of profanity, make verifiably false statements or are otherwise nasty. Comments that contain links must be approved by admin.