Follow the Money: Donors pony up $7 million in gubernatorial race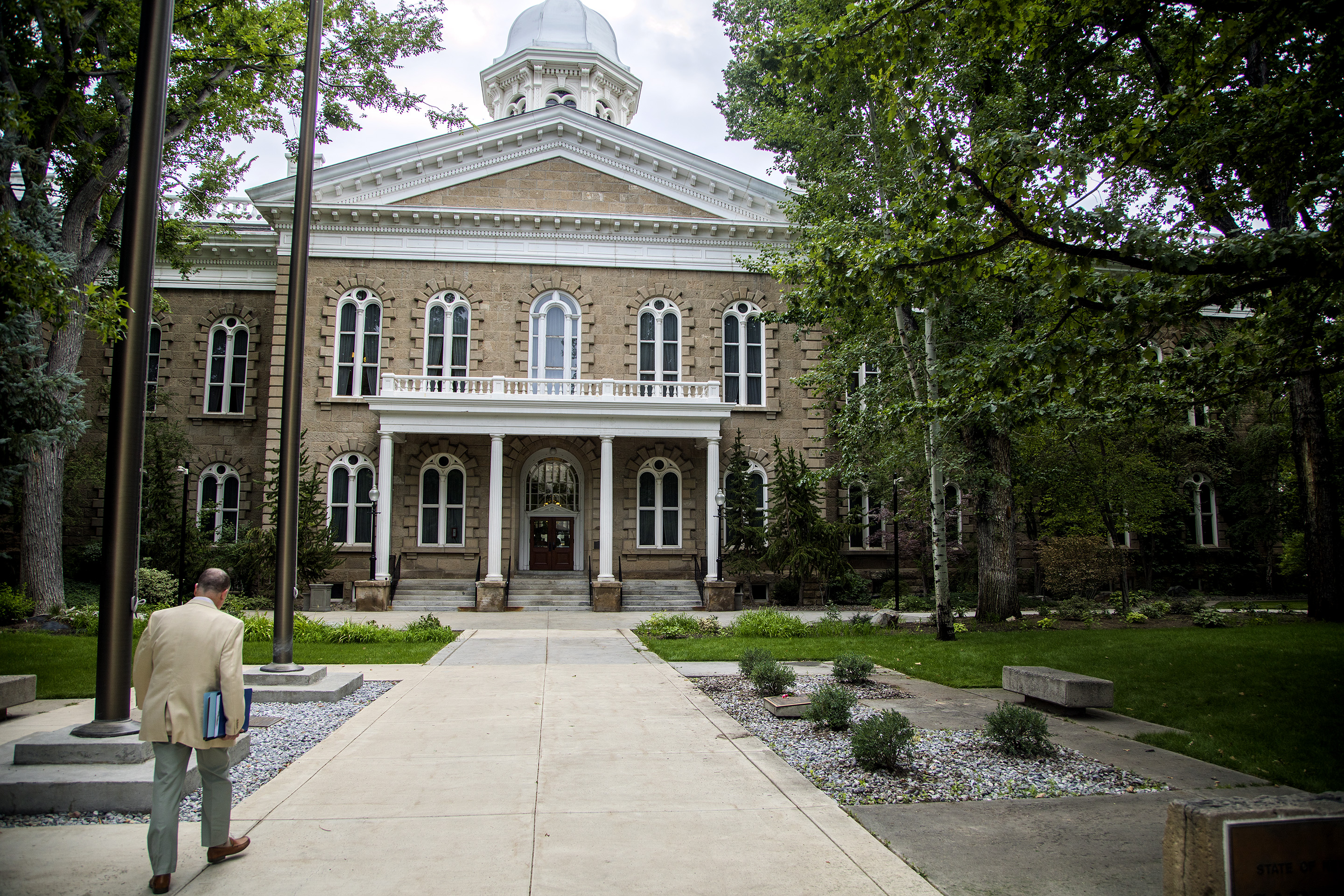 For the first time in eight years, Nevada is gearing up for a competitive race for governor, and the money pouring into the contest underscores the major implications of the election for the future of this swing state.
Donors — and in some cases, the candidates themselves — poured a total of about $7 million into the coffers of five gubernatorial candidates over 2017. Among those donations, there were pockets of overlap between three top contenders: Republican Attorney General Adam Laxalt, Democratic Clark County Commission Chair Steve Sisolak and Democratic Clark County Commissioner Chris Giunchigliani.
Many major casino companies, for instance, hedged their bets on the outcome of the race. The tavern chain Dotty's gave to all three candidates, though it favored Laxalt with its donations, while Caesars Entertainment wrote checks to the three, but favored Sisolak.
Casino companies weren't the only ones to hedge their bets, either. Cox Communications and Daniel Brasov, president of America's BankCard Alliance, which offers credit and debit payment processing, gave to the three but gave Sisolak and Laxalt bigger sums than they did Giunchigliani. First Leasing Inc., run by longtime Republican donor Jim Marsh, and spirit and beer distributor Breakthru Beverage also gave to the three, but favored Laxalt, giving Sisolak and Giunchigliani lesser sums.
Other donors chose to place their bets on only two candidates, sometimes choosing one Democrat and one Republican. Sisolak and Laxalt both received donations from Konami Gaming, Boyd Gaming, Station Casinos, Born and Raised, Golden Entertainment and the Dollar Loan Center, among others. Giunchigliani and Laxalt received overlapping donations from the South Point Hotel & Casino and F&M Advertising, both owned by Michael Gaughan.
Sisolak and Giunchigliani also took in a significant number of contributions from the same donors, including marijuana dispensary Euphoria Wellness, Las Vegas Paving Corporation, limo and shuttle company Bell Trans, Lee's Discount Liquors and a handful of Las Vegas doctors. The County Commission, which Sisolak and Giunchigliani sit on, is responsible for signing off on major developments on the Strip and across the valley.
Republican underdogs Dan Schwartz and Jared Fisher loaned themselves most of their campaign cash. Though Schwartz didn't have the same donors as any other candidate, Fisher received $500 from Brady Industries CEO Travis Brady, who also gave to $2,000 to Sisolak and $10,000 to Laxalt, and $1,000 from Sunbelt Development & Realty, which also gave $1,000 to Sisolak.
Giunchigliani, seen as the most progressive in the mix, counted her biggest donations from family members and individuals, though she also received donations from the gaming industry and local businesses. Meanwhile, the nascent marijuana industry circled almost entirely around Clark County Commissioner Steve Sisolak, tying MGM Resorts as his biggest donor.
Here's a look at the biggest contributors to the candidates, and which of their donors overlap. Though several reporters combed through the donations, it's always possible we missed something. Feel free to reach out to [email protected] if you spot something you think should be included.
To better see the donors that overlapped between the candidates, try adjusting the number of nodes down to 25 or 50 or, to see everything, bump it up to all 3,401 nodes. Click and drag on a circle with your cursor to move the nodes around, and use the plus and minus buttons to zoom deeper into or further out of the graphic. (Click here to see a larger version.)
Adam Laxalt
Republican Attorney General Adam Laxalt's $2.6 million haul in 2017 was on par with that of Democratic County Commissioner Steve Sisolak, a fundraising titan. Almost all of his top donors hailed from the casino industry.
Station Casinos, a favorite target of the Culinary Union, has only recently seen some of its locals casinos unionize. The company, members of the Fertitta family that owns it, and Landry's — a high-end restaurant started by Tilman Fertitta — poured $100,000 into Laxalt's campaign to claim the top spot in his donor list.
Other major donors included gaming chain Golden Entertainment, tavern chain Dotty's and the owner of the SLS casino in Las Vegas. Monte Miller, head of the conservative political action organization Keystone Corporation, and other entities associated with him contributed $40,000 last year.
Las Vegas Sands casino owner Sheldon Adelson, his family and his company gave more than $1.5 million to Laxalt's successful 2014 attorney general campaign and a Republican attorney general group that bankrolled negative ads against his opponent. Last year, Sheldon and Miriam Adelson gave $20,000 to Laxalt's gubernatorial campaign.
Top 10 donors:
$100,000 from Station Casinos, seven members of the Fertitta family and Landry's, started by Tilman Fertitta

$50,000 from Golden Entertainment and its various properties, including the Aquarius, Stratosphere, Arizona Charlie's Decatur and Arizona Charlie's Boulder

$50,000 from Dotty's, Northern Nevada Restaurant Services, CEO Craig Estey, his wife Patricia Estey, his daughter Allyson Estey.

$40,000 from businessman Alex Meruelo and three businesses he owns, including the SLS, Grand Sierra Resort and KDAY Radio

$40,000 from fiscal conservative Monte Miller and the nonprofits and businesses he is associated with including the Keystone corporation, KeyState Portfolio and KeyState Captive

$30,000 from Treasure Island, its owner Phil Ruffin and his wife Oleksandra Ruffin

$30,000 from affiliated timeshare companies BQ Resorts and Starpoint Resort Partners Inc.

$30,000 from Eldorado Resorts, including $10,000 from Circus Circus Reno, $10,000 from Eldorado Resorts and $10,000 from Silver Legacy Reno

$20,000 from

the Alderwood Group

, which specializes in timeshare resort management, resort association management and vacation exchanges.

$20,000 from Dr. Christopher Milford, a neurologist, and his company 2585 Montessouri Street LLC

$20,000 from the Dollar Loan Center through two $10,000 checks from DLC Empire Inc. and DLC South Dakota Inc.

$20,000 from the Adelson family, including $10,000 each from Sheldon and Miriam Adelson
Steve Sisolak
The Clark County Commission chairman entered 2018 having raised more than $2.5 million and with more than $5.75 million in available cash over the past year.
Sisolak received 138 donations (out of 620 total donations) of $10,000, the maximum amount one individual or entity can contribute to a candidate though an election cycle. He took in $3,867 from donations under $100, and reported spending nearly $461,000 from the campaign account over the year.
Sisolak's top donors were dominated by the state's top gaming companies, including $100,000 aggregated from 10 different MGM properties, $40,000 from Golden Entertainment and $30,000 from Caesars Entertainment, as well as $100,000 from multiple marijuana dispensaries.
Top 10 donors:
$100,000 from various MGM Resorts properties, including the Bellagio, MGM Grand Hotel LLC, MGM Resorts International Operations, Inc., Circus Circus Las Vegas, Excalibur Hotel & Casino, Luxor, the Mirage, Monte Carlo, New York-New York and The Signature Condominiums

$50,000 from companies associated with William "Billy" Richardson, including $10,000 each from Coast to Coast Entertainment,  Richardson Gastropub LLC dba Public House, Block 16 LLC, Fairplay LLC and Laurie Drive LLC dba Flour and Barley

$40,000 from Golden Entertainment, including individual $10,000 checks from Arizona Charlies Boulder Casino Hotel, Arizona Charlies Decatur Casino Hotel and the Stratosphere

$30,000 from three companies affiliated with BPS Partners, including BPS Nevada LLC, BPS Harmon LLC and BPS Management Services LLC. BPS Partners

developed the enclosed shopping mall

at the northeast corner of Las Vegas Boulevard and Harmon Avenue

$30,000 from Caesars Entertainment properties, including $10,000 from Caesars Enterprise Service LLC and $5,000 each from Caesars Palace, Paris Las Vegas Operating Company LLC Cage Account, Harrah's Las Vegas Inc. Patron Winnings Account and Flamingo Las Vegas Operating CO LLC Cage Account

$30,000 from companies affiliated with Martin Egbert and Kenneth Woolley, who are in the real-estate management business. The donations include $10,000 each from LV Jeffreys LLC, LV Silverado West LLC and  LV St. Rose LLC

$30,000 from the Canarelli family. The donations include $10,000 from Larry Canarelli, $10,000 from his wife, Heidi Canarelli and $10,000 from American West Development Inc. Larry Canarelli is a longtime Las Vegas homebuilder who founded American West Homes

$20,000 from three Station Casinos properties, including $10,000 from Red Rock Casino Resort and $5,000 checks from Palace Station Hotel & Casino and Santa Fe Station Hotel & Casino

$20,000 from the Genting Group, including $10,000 each from Genting New York LLC and Resorts World Las Vegas. The Genting Group develops and operates casinos.

$20,000 from marijuana-related donors who are affiliated, including $10,000 from Doctors Holdings Inc., $5,000 from The Apothecary Shoppe and $5,000 from Nick Spirtos. Doctors Holdings Inc. is the applicant listed for The Apothecary Shoppe, according to information provided to the Nevada Secretary of State's Office. Spirtos is an officer for Doctors Holdings Inc.
Chris Giunchigliani
Clark County Commissioner and progressive favorite Chris Giunchigliani may have announced her gubernatorial aspirations months later in 2017 than several other major candidates, but the former assemblywoman didn't waste time in raising more than $832,000 through 2017.
Despite giving out more than $330,000 through the 2016 campaign cycle to various legislative candidates and nonprofit groups and initially brushing away suggestions of running for higher office, Giunchigliani hit the fundraising circuit hard after announcing her bid for governor, raising more than $303,000 alone in the month of December.
Her top donors were family members, receiving $45,000 from others with the hard-to-spell last name. She also received major donations from state senator Tick Segerblom, Sapphire strip club and Dotty's. She also brought in more than $34,000 from donors giving less than $100.
She also brought in more than two dozen $10,000 checks from various businesses and individuals, two of which are highlighted in the top 10 list below.
Top 10 donors:
$45,000 from the Giunchigliani Family, including Jeanne Giunchigliani, JM Giunchigliani, Larry Giunchigliani, Myrna Giunchigliani and Ellen Giunchigliani

$25,000 from

Thomas Ada

, majority leader of the Guam Legislature, his wife

Josephine Ada

, his daughter

Aurora Ada-Vibar

, Josephine's brother

Richard Jose

and Barbara Jose (listed at the same address.)

$20,000 from Tick Segerblom via his Buckskin Mountain PAC and his campaign account

$20,000 from Buck and Aurora Wong

$20,000 from Sapphire, including $10,000 each from the strip club and day club

$15,000 from Dotty's and its CEO Craig Estey

$12,000 from Boulder City Disposal, Boulder Dispotal, OB1 LLC, Waste Logistics Nevada and Waste Logistics, all located at the same address.

$10,060 from Braly Joy Remedy and Sarah Joy, involved with the marijuana industry and listed at the same address.

$10,000 from Caesars Entertainment

$10,000 from South Point Hotel & Casino and F&M Advertising, both owned by businessman Michael Gaughan
Dan Schwartz
Buttressed by $357,500 in loans to his campaign, state Treasurer Dan Schwartz brought in slightly more than $431,348 to his long-shot gubernatorial campaign throughout 2017.
Schwartz, who reported spending more than $183,000 on the campaign through the year and has campaigned on taking down the "for-sale" sign in Carson City, didn't receive any $10,000 max contributions or any donations from the state's major gaming companies.
The bulk of his other top donations came from a cadre of out-of-state business people, including Alexander Stuart (a member of the family that founded Quaker Oats) and two members of the Pritzker family, the Chicago-based family best known for owning the Hyatt hotel chain.
Top 10 donors:
$357,500 in loans from himself and a $2,500 contribution from his wife, Yanan Schwartz

$10,000 from Albert and Audrey Ratner; Albert is

co-chairman emeritus of Forest City Enterprises

$5,000 from Alexander Stuart, a

former Illinois Republican Party finance chairman

who helps manage his family's Quaker Oats fortune

$5,000 from Anthony Pritzker, a

member of the Pritzker family

and heir to the Hyatt Hotel fortune

$5,000 from Craig Duchossois,

chairman and CEO of the Duchossois Group

$5,000 from Dewey Weaver,

owner of InterMountain Management

$5,000 from Karen Pritzker, a

member of the Pritzker family

and heir to the Hyatt Hotel fortune

$5,000 from Ronald Gidwitz, a

prominent Trump fundraiser

and businessman

$5,000 from Stephen Schwartz, his brother

$2,500 from David Bellet,

a fund advisor with CenterPoint Ventures

and the retired founder and chairman of Crown Advisors International

$2,500 from Philip Bilden,

a Florida businessman who was once under consideration as Trump's Navy secretary
Jared Fisher
Bike-shop owner and long-shot Republican candidate Jared Fisher reported raising more than $586,000 over 2017, but that was primarily driven by his loans of more than $568,000 to the campaign.
The remaining $18,000 came primarily from small-dollar donations, including $2,000 contributions from SDIP SC LLC (registered to developer Bill Lenhart), Henderson-based TWC Construction, Inc. and electrician Oren Poliak.
Updated 1-24-17 at noon to correct the fact that Democratic gubernatorial candidate Chris Giunchigliani did not receive any money from Station Casinos. Only Democrat Steve Sisolak and Republican Adam Laxalt did.
Disclosure: Some of the donors above are also donors to The Nevada Independent. You can see a full list of our donors here.
Featured Videos
Comment Policy (updated 4/20/2021): Please keep your comments civil. We reserve the right to delete comments or ban users who engage in personal attacks, use an excess of profanity, make verifiably false statements or are otherwise nasty. Comments that contain links must be approved by admin.