Indy 2020: 19 Democratic presidential candidates swing through Las Vegas for labor forum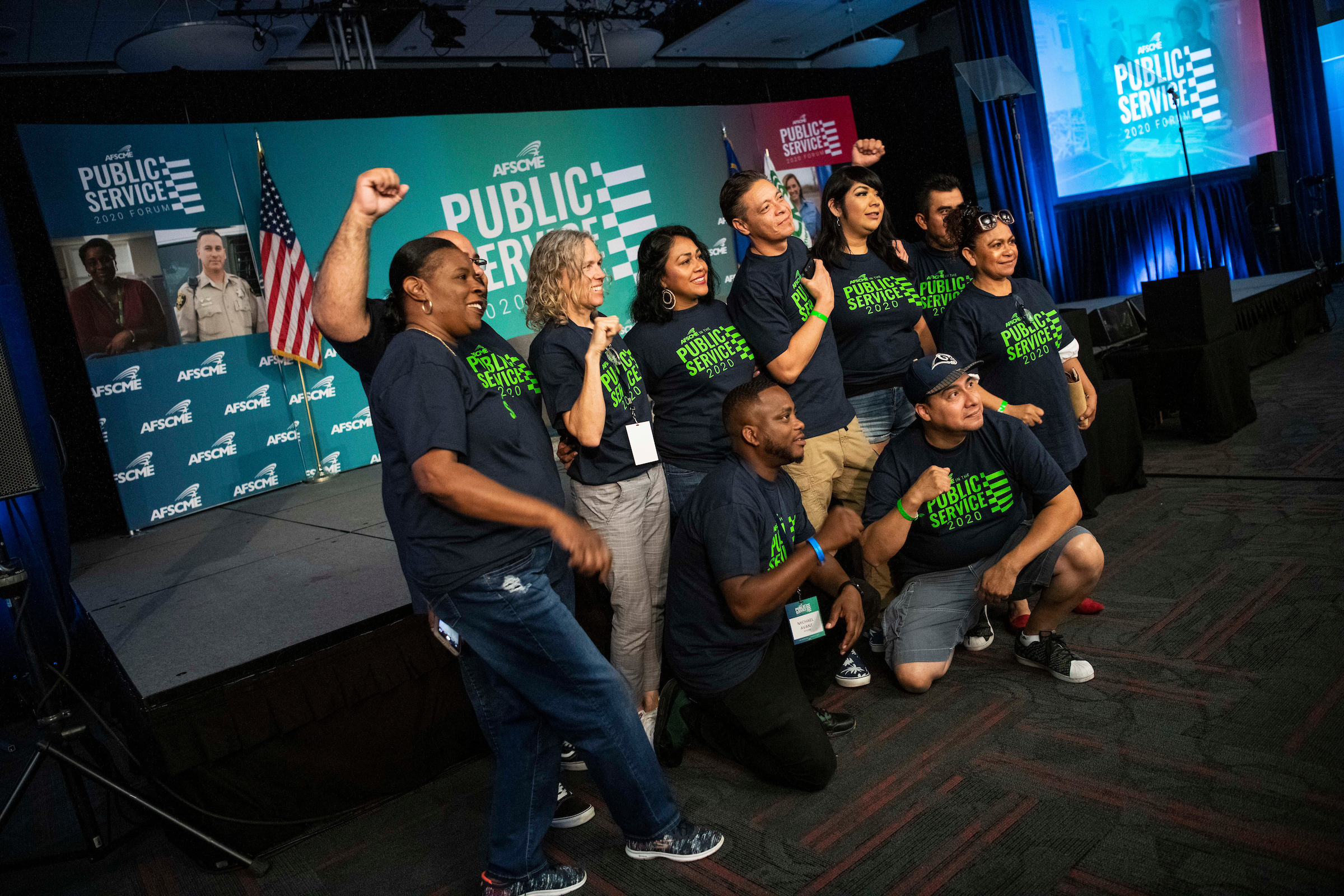 Your Nevada 2020 election newsletter. Please read, forward and subscribe.
Good morning, and welcome to the first iteration of Indy 2020, a biweekly newsletter focused on the  2020 presidential election in Nevada. We'll also occasionally touch on other election news, including what's going on in Nevada's competitive House races and the battle for control of the Legislature. Tell your friends. Subscribe here. It'll be peachy.
With the number of presidential candidates in town this weekend, it feels like the caucuses must be nigh. They're not, unfortunately. There are exactly 200 days until Nevada's Feb. 22, 2020 Democratic caucuses. On the bright side, that means there are many, many more iterations of this newsletter in your future. Always look on the bright side of life, dear readers.
Please reach out to me with any tips, story ideas, comments, suggestions, or dog gifs (no cats, please) at [email protected].
Without further ado, a download of the recent 2020 happenings in Nevada.
ON THE INDY
19 presidential candidates were in Las Vegas this weekend: They were here for a labor forum hosted by AFSCME and HuffPost (and co-moderated by the Boss), but many of them attended additional campaign events while they were in town too. 
Former Texas Rep. Beto O'Rourke vacuumed dog hair off of a carpet while shadowing a home-care worker in northwest Las Vegas. New Jersey Sen. Cory Booker and California Sen. Kamala Harris courted black voters at Victory Missionary Baptist Church on the Historic Westside. Massachusetts Sen. Elizabeth Warren drew a crowd of 750, the largest of the weekend, to Green Valley High School in Henderson.
But the mood at the campaign events turned somber on Saturday and Sunday after mass shootings in El Paso and Dayton left 31 dead. Candidates called for universal background checks, red flag laws, and bans on the sale of high-capacity magazines and assault weapons, among other policy priorities. It wasn't lost on the candidates that they were hearing the news in the town that experienced the deadliest mass shooting in modern U.S. history.
Assault weapons are "military weapons,"  Vermont Sen. Bernie Sanders said at a town hall in North Las Vegas, "and I don't have to explain that to the people of Las Vegas."
Four of my colleagues and I fanned out across Southern Nevada to follow the candidates around this weekend. Here's what you need to know about what they said.
Health care took center stage at the AFSCME forum: The most interesting point candidates were pressed on is how union health plans — hard fought for by workers in contract negotiations — would be affected by candidates' individual health-care proposals. Sanders said he could guarantee that plans under Medicare-for-all would "absolutely" be at least as good if not better than union insurance. Some of his more moderate opponents continued with the refrain that Medicare-for-all would kick people off of insurance plans they like.
"I just think if you allow words like Medicare-for-all to escape your lips you've got a responsibility to explain how you get from point A to point B," South Bend Mayor Pete Buttigieg said. "The best way I can think of to do it that doesn't involve kicking millions of Americans off of health-care plans they like" is to offer Medicare as a public option for people to voluntarily buy into.
Wounds of 2016 Democratic caucuses still not healed: There's a lot in here (4,253 words, sorry, I promise it's worth it) in this story I wrote looking at the intra-party tensions that remain in the wake of the Democratic caucuses three and a half years ago. Some Sanders supporters are worried that changes the party is making to the caucus process will make it even more complicated and less transparent than the confusing process from before. For others, their feelings about the party — and former Senate Majority Leader Harry Reid — have started to color their perception of Sanders, who has brought on some members of Team Reid in 2020. It's a lot. I won't reiterate it all here. But if you're interested, give it a read.
No Republican 2020 caucuses: My colleague Riley Snyder reported this week that Nevada Republicans are proposing a rule change that will allow the GOP to establish an "Alternative Presidential Preference Poll." The poll would allow the party's central committee members to dole out delegates — and allow for a smoother nomination of President Donald Trump — without a presidential preference caucus.
An interview with Mayor Pete: I sat down with the South Bend mayor over the weekend to talk Yucca Mountain, online gaming, sex work and climate change. I also asked him if Nevada is a priority, given the fact that he just announced his state director and he's only been to the state three times since announcing his presidential bid. Check it out.
CAMPAIGN NUGGETS
Staffing changes
Mayor Pete Buttigieg

has brought on

Paul Selberg

, former executive director of the Nevada Assembly Democratic Caucus, on as state director.

Mohamad Shatara

is joining Team Pete as Nevada organizing director.

Former Housing and Urban Development Secretary Julian Castro

announced changes to his Nevada team.

Kristian Carranza,

previously Castro's Nevada organizing director, has been promoted to state director.

Michael Cullen

, formerly a practicing attorney, is Nevada political director.

Colorado Sen. Michael Bennet has brought on Gene Benavides as Nevada state director. Benavides previously worked for Hillary for America, as deputy political/constituency director for For Our Future PAC, and as political director for the Nevada State Democratic Party.
Early endorsements
Before you continue reading, a disclaimer: It is Aug. 6. Like I noted up top, there are 200 days until the caucuses. It is early. None of these endorsements are going to tip Nevada in any candidate's favor. The big-ticket endorsers have yet to endorse. In fact, Gov. Steve Sisolak, in a press gaggle before the AFSCME forum on Saturday, said he's not sure if he's going to endorse before the caucus.
"I'm certainly not going to endorse yet. Like I've said, my endorsement, my opinion, is not as important as the men and women that are working in the state of Nevada," he said. "I get one vote, they get one vote."
You have been warned.
Vice President Joe Biden

received endorsements from two former members of Congress,

Shelley Berkley

and

Jim Bilbray,

and three sitting members of the Assembly —

Susie Martinez, Shannon Bilbray-Axelrod

and

Ozzie Fumo

. Other new endorsers include

former Assembly Speaker Richard Perkins, former Assemblyman Elliot Anderson

and

former Las Vegas City Councilman Bob Coffin

.

Castro

picked up two endorsements on Friday from

DNC Committeewoman Allison Stephens

and

Assemblyman Edgar Flores

. Castro attended a house party at Flores's house on Friday evening. (It also happened to be Flores's birthday, and Indytern Taylor Avery tells me the event kicked off with a rousing chorus of "Happy Birthday.")

Harris 

was endorsed by two female lawmakers —

Assemblywoman Sandra Jauregui 

and

Sen. Joyce Woodhouse

. She also has support from

Las Vegas City Councilman Brian Knudsen

.

New Jersey Sen. Cory Booker

received 16 "community leader" endorsements, including several community, labor, education and immigration activists. No big names though.
Upcoming visits
Vice President Joe Biden

is slated to return to Nevada on Sept. 27. It's part of a monthlong cross-country swing. Other stops in the West include Los Angeles (Sept. 25-26), Park City, Utah (Sept. 28), and Denver (Sept. 28). For specific details of the stops he'll be making, keep your eye on our

2020 Candidate Tracker

.
DOWN BALLOT NEWS
A new candidate in swingy CD3: The latest candidate to announce is Tiger Helgelien, Las Vegas real estate agent, small business owner and husband of Elizabeth Helgelien, formerly Halseth, the former state senator. Helgelien will face former state Treasurer Dan Schwartz and real estate agent Zach WalkerLieb in the Republican primary. My colleague Jacob Solis has the details.
Republican primary in CD4 gets crowded: Businesswoman Randi Reed became the latest Republican to announce for the seat last week. The increasingly crowded Republican primary field includes former Assemblyman Jim Marchant, Nye County Commissioner Leo Blundo, former Hope for Prisoners re-entry manager Charles Navarro, former Miss Nevada and business owner Lisa Song Sutton, veteran and business owner Sam Peters and small business owner Rebecca Wood. More from Jacob.
OTHER REQUIRED READING
Lucy Flores on Joe Biden's rise (Washington Post)
Union workers weigh in on AFSCME forum (Las Vegas Sun)
Not all AFSCME attendees like Medicare-for-all (Bloomberg Businessweek)
Wrap on Democratic presidential candidates' outrage over mass shootings (AP)
Update 8-6-19 at 8:29 a.m.: A previous version of this newsletter stated that California Sen. Kamala Harris had been endorsed by Assemblywoman Selena Torres. Though they appeared together at an event over the weekend, Torres has not yet endorsed in the race.
Comment Policy (updated 4/20/2021): Please keep your comments civil. We reserve the right to delete comments or ban users who engage in personal attacks, use an excess of profanity, make verifiably false statements or are otherwise nasty. Comments that contain links must be approved by admin.