Masks offer 'bridge to vaccination' as Delta variant-fueled case surge fills hospitals with the unvaccinated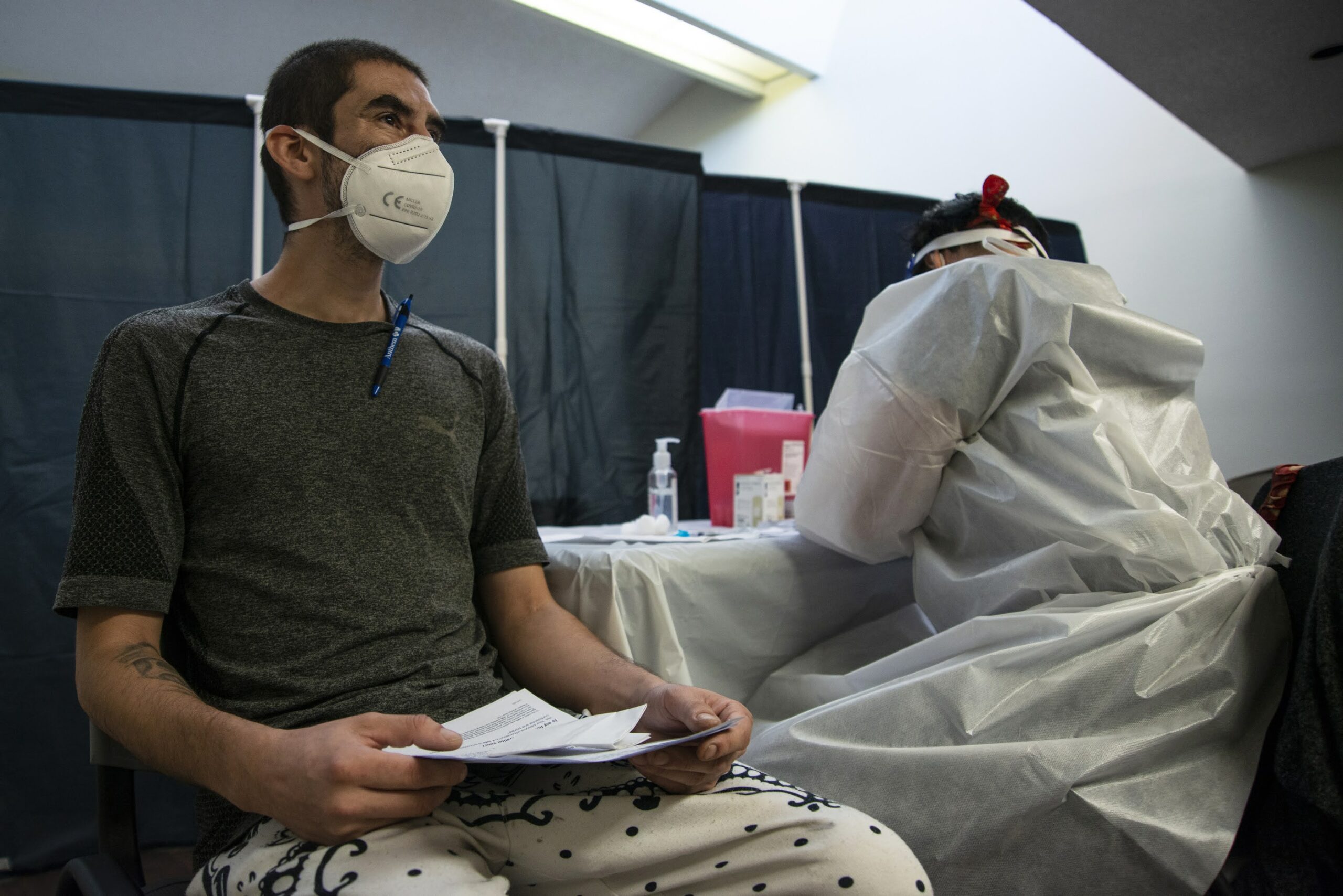 Just before noon on a hot summer day, Anthony Dejesus was getting the mail when he noticed a vaccine clinic had set up shop at his East Las Vegas apartment complex.
Dejesus, 52, had wanted to get the COVID-19 shot for a while but hadn't been able to get to a vaccine site. Engine trouble had left him without a car for some time. But when the vaccine was suddenly mere steps from his front door at Hullum Homes, a public housing complex, he seized the opportunity.
"I feel untouchable," he joked, shortly after getting his first shot of the Pfizer vaccine on Tuesday. "No, I feel good. I just want to find out how this is going to be. Am I going to have any side effects?"
His girlfriend hasn't yet gotten the shot, nor have any of his other friends or family. He called himself a "guinea pig," indicating that, if all went well with his vaccination, maybe they would be convinced to get the jab, too. He's also worried about his 4-year-old daughter starting pre-K next year with the virus still around.
"I'm still debating, should I let her go, or should I wait?" Dejesus said. "It's her first year."
Sitting in the waiting area after getting his shot, 47-year-old Garland Washington explained his wariness about getting vaccinated. He had heard rumblings of rare, but serious, side effects, including blood clots and death, but decided to get the shot after hearing on the news that unvaccinated people are at serious risk of contracting the Delta variant.
Washington, who also lives at Hullum Homes, said some of his friends and family already got the vaccine and were okay.
"I hope so," he said, asked whether he thought he'd be okay too.
For Felipe Carrillo, 35, it was a mixture of hesitation and inconvenience that stopped him from getting vaccinated sooner. He happened to be visiting someone who lives at the apartment complex when a volunteer came by with a bullhorn announcing the vaccine clinic. Carrillo ultimately decided to get the shot to protect his nieces and nephews, who are too young to get vaccinated.
"They weren't really concerns," he said, describing his hesitancy. "I don't know. I just never found the time."
In the three months since health officials started to turn away from assembly line-style mass vaccination sites in favor of smaller, community-based clinics, the strategy has not changed. These pop-up clinics — hosted at public housing complexes, fire stations, school open houses and the like — continue to be the frontlines in the fight against COVID-19.
This kind of micro-targeted vaccination effort, however, takes time, which means victory against the virus comes at a snail's pace. More than 180,000 shots have gone into Nevadans' arms in July, about a quarter of the 700,000 shots administered at the peak of the vaccination effort in Nevada in April. In other words, the kind of work that used to take a week now takes a month.
And what Nevada — and the rest of the country — are running out of is time. Both the number of new cases of the virus reported on average each day and the total number of daily hospitalizations across the state have more than doubled since the beginning of July, with the highly transmissible Delta variant now responsible for 8 in 10 COVID-19 cases in Nevada.
Health officials across all levels of government have, for the last month, been urging Nevadans to get the shot in light of the rising case numbers, which are among the highest in the nation, and stagnating vaccination rates, which are among the lowest. As of Friday, Nevada ranked eighth for most cases per capita in the last seven days and 34th for percentage of its residents fully vaccinated.
To address the rapidly worsening situation, Nevada called on the federal government in early July to send surge staff to help with the vaccination effort, and local, state and federal officials are now working together to boost the pace at which the state is putting shots in arms.
But there was also an acknowledgement this week from all levels of government that the vaccination effort alone may no longer be enough to stem the rising tide of cases. The Centers for Disease Control and Prevention issued a recommendation this week that both vaccinated and unvaccinated individuals wear masks indoors in places experiencing high or substantial transmission of COVID-19, guidance that became binding on Friday in a dozen Nevada counties, including Clark and Washoe.
The mask mandate can't replace the vaccination effort, public health experts say, but may help buy vaccinators time against the quickly spreading and highly transmissible Delta variant.
"Ultimately, we need to get people vaccinated," said Brian Labus, an assistant professor of public health at UNLV. "The purpose of masks is always that bridge to vaccination and if people aren't getting vaccinated, masks are just going to slow down the spread and not really stop people from getting sick ultimately."
Health care workers, meanwhile, have found themselves back at the frontlines of a pandemic they have been battling for more than a year.
It's not just the virus they're up against this time around, though. It's also vaccine hesitancy.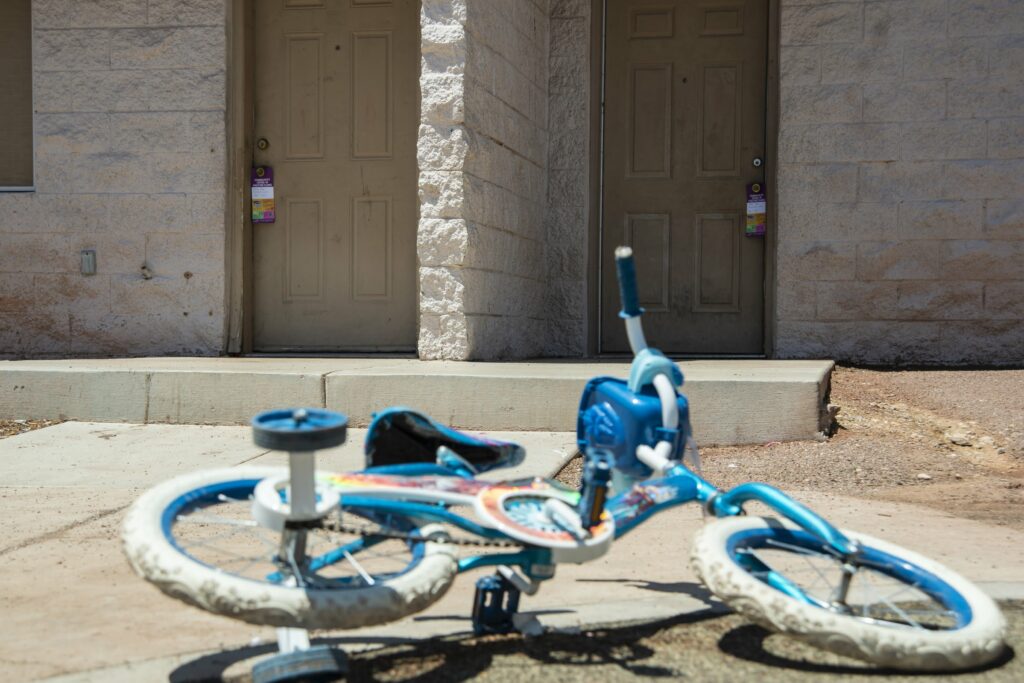 Second summer surge
When the vaccine arrived in mid-December, health care workers — many of whom were overwhelmed, anxious and tired for the greater part of a year — described feeling as if the clouds had finally started to part. By March, case numbers and hospitalizations in Nevada had plateaued. For three months, they barely budged, only seeing the slightest of fluctuations.
Then came June and, with it, the rise of the Delta variant. Now, hospitalizations are back where they were a year ago during the last summer surge. As of Thursday, 1,133 people were hospitalized with confirmed or suspected cases of COVID-19 in Nevada, just shy of last summer's record.
In interviews, several doctors in hard-hit Southern Nevada said the feeling of helplessness from the prior surges is gone this time. They have the material resources they need to treat patients, including personal protective equipment, ventilators and medications. They have a better idea about how to treat COVID-19 today than they did a year ago, though they're still learning more about the virus each day. But they also feel like — despite the arrival of the vaccines — they're right back where they were last summer, which marked the first surge of COVID-19 cases into hospitals in Nevada.
It's all the more frustrating, they say, because the surge this time could have been prevented had more people gotten vaccinated. In Nevada, only 44 percent of people are fully vaccinated against the virus, compared to about 50 percent nationally.
"In taking the pulse of my providers, frustration is a great word to use because this is an avoidable situation," said Dr. Scott Scherr, regional medical director for TeamHealth, which manages five emergency departments in Las Vegas and one in Elko. "I've had discussions with multiple unvaccinated people that I've admitted to the hospital, and I've asked them, 'When you recover, are you willing to get the vaccine?' and a lot of them are still saying no."
Dr. Steven Merta, chief medical officer at Sunrise Hospital, described the feeling as not one of frustration but heartbreak.
"Everyone can make their own decisions. We're a free country," Merta said. "But when I see those people up on the intensive care unit, I'm just heartbroken, upset that they made choices that may have altered the ultimate outcome."
The situation remains stable in the northern and rural parts of the state, where COVID-19 patients are taking up 2 to 4 percent of staffed hospital beds, but quickly worsening in Southern Nevada, where COVID-19 patients take up 21 percent of staffed beds, according to a report this week from the Nevada Hospital Association. Those numbers follow case numbers, which have steeply climbed in Clark County in the last month while more gradually increasing in the rest of the state.
Complicating things, hospitals are fuller than they were during the last two surges with other non-COVID patients.
"As the city has opened up, people are back doing their normal things and that does result in increased hospitalizations," Chris Lake, executive director of community resilience for the Nevada Hospital Association, said on a press call this week. "At this time, we are working with the state to identify steps that we can take from a state perspective to help ease that burden, if you will, on the hospitals."
This week, at least seven hospitals surged above their licensed bed counts and five reported staffing shortages, the hospital association noted in its report. Some have once again started postponing elective surgeries, a broad category that can include pressing but delayable procedures from hip and knee replacements to low-risk cancer surgeries, though it is up to each individual hospital to decide what to postpone.
UMC, Clark County's public safety-net hospital, is making decisions about elective surgeries on a day-to-day basis, according to a spokesman. The six hospitals in the Valley Health System, meanwhile, are "closely monitoring" surgeries that require inpatient beds for overnight or multi-night stays and "some surgeries have been, and may continue to be, postponed," spokeswoman Gretchen Papez said in an email.
The hospital association has said it reasonably anticipates reaching 1,400 hospitalized COVID-19 patients by the second week of August, at which point "clinical and nursing staffing shortages are an anticipated concern."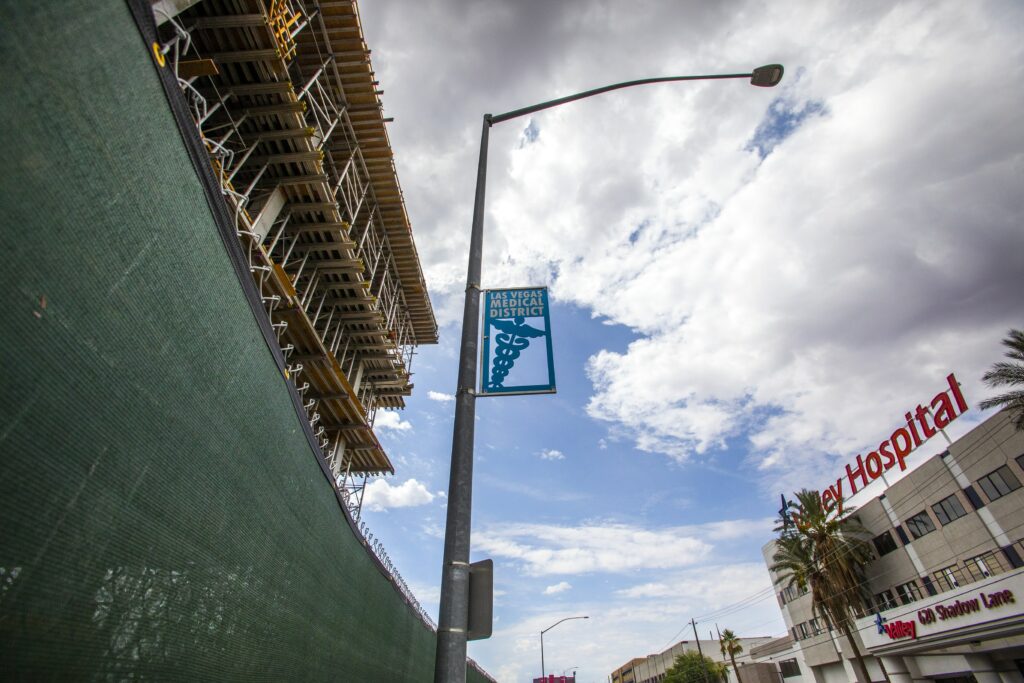 'Pandemic of the unvaccinated'
This recent surge is, however, hitting the vaccinated and unvaccinated unequally.
Although recent data show that vaccinated individuals may be less protected against the Delta variant than previous variants of the virus, it is still unvaccinated individuals who are making up the vast majority of hospitalizations — or, in other words, experiencing the most serious cases of COVID-19.
Data provided by the Southern Nevada Health District this week show that 89 percent of hospitalizations are among the unvaccinated, who are at even greater risk today for contracting the virus than they were a year ago because of the high transmissibility of the Delta variant. CDC Director Rochelle Walensky recently warned it was becoming a "pandemic of the unvaccinated."
What has been particularly distressing for some health care providers this time around is how much younger their patient population is, a likely byproduct of the fact that a little more than half of adults aged 30 to 59 are vaccinated compared to more than three-quarters of those aged 60 and up. Last week, the hospital association noted in its weekly report that adults in that younger group made up 51 percent of recent COVID-19 hospital admissions, while older adults made up only 33 percent, a marked change from previous surges.
"The other thing that I hear, this is a common misconception when it comes to people who are hesitant to receive the vaccine, is that they are young, they're healthy, they have no underlying conditions that predispose them to severe illness," said Dr. Shadaba Asad, medical director of infectious disease at University Medical Center. "This is a very dangerous assumption to make, that just because I'm young and healthy, I'm not going to have a rough course with COVID."
In Washoe County, two of the four confirmed deaths associated with the Delta variant were a man in his 30s and a woman in her 40s, both of whom were unvaccinated and had no underlying health conditions.
And the death toll in the state from COVID-19 is, once again, on the rise. In July, 231 people died from COVID-19 statewide, up from just 95 in June and 122 in May.
The most serious breakthrough cases that have resulted in hospitalization or death, meanwhile, have tended to be in those who are older and have underlying health conditions. Of the 178 serious breakthrough cases to date in Clark County, 71 percent have been in those 65 and older and 82 percent have had underlying conditions.
Since the beginning of the vaccination effort in mid-December, there have been 40 breakthrough deaths in Clark County, out of the more than 2,700 people who have died from COVID-19 in the county since then.
Asad said that UMC tends to be "very conservative" in its treatment of certain immunocompromised individuals, including transplant recipients, for COVID-19, sometimes hospitalizing them out of an abundance of caution in case their situation rapidly worsens.
"A lot of them are transplant patients. Sometimes they're not very sick. It's just that with transplant patients we are very very cautious so the moment they start experiencing any symptoms whatsoever we want to take care of them and make sure that they do well," Asad said. "The other group that we see are cancer patients who are receiving chemotherapy. Those patients, despite vaccination, do not really mount a very robust immune response, so typically if they contract breakthrough COVID infection, it can require hospitalization."
The good news, though, is that most vaccinated people who come into the emergency room with COVID-19 are able to be sent home, some after receiving monoclonal antibody treatments. Scherr, the emergency medicine physician, said most of his patients with breakthrough cases of COVID-19 have had mild symptoms resembling no more than a cold.
"Even though you're vaccinated and you have a chance to get COVID, your chances of being admitted to the hospital or having severe COVID is highly unlikely," Scherr said. "They're not likely to be admitted unless they have those comorbid conditions."
But the only way to stop COVID-19 for good, doctors say, is through vaccination.
"The way I see it, the only way the pandemic is going to end is if we can convince more and more people to actually go ahead and get vaccinated," Asad said. "I think listening to them carefully, acknowledging their concerns without wagging your finger at them and trying to sincerely address their questions is the way to go."
Asad says it's a difficult conversation to have with unvaccinated people who are already hospitalized, though. Most of her patients, she says, express regret at not having gotten the vaccine.
"It's something that you want to address delicately because you know that they're in a tough spot already," Asad said. "They are sick. We don't know how this is going to end for them."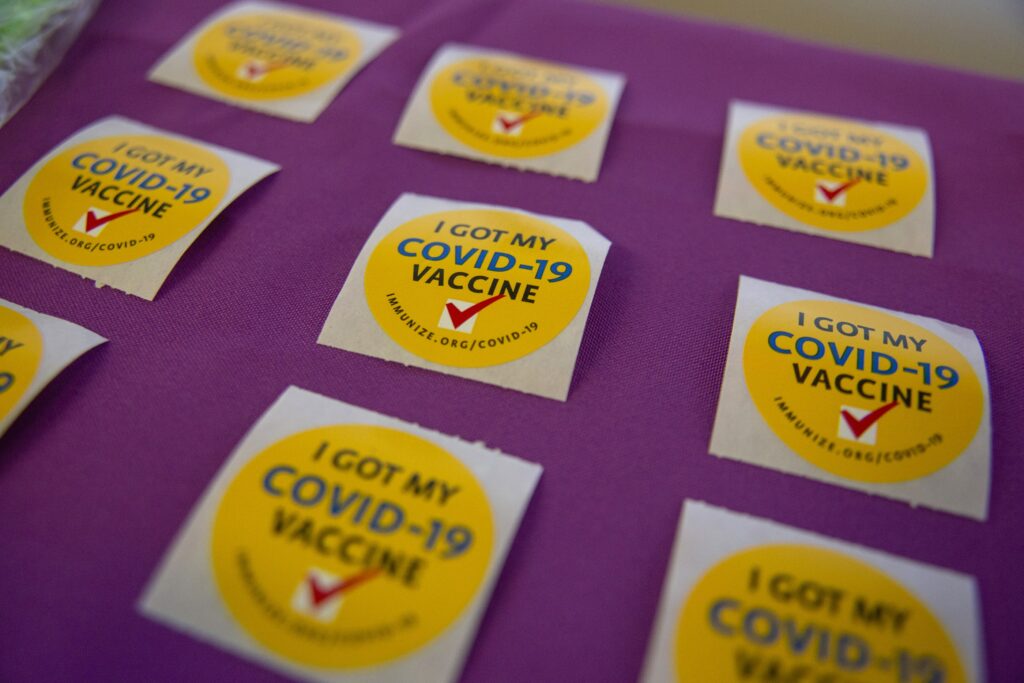 Boosting shots
While public health and government officials at the local, state and federal levels have pleaded with people to get the jab over the last six months, surveys have shown that personal health care providers are one of the most trusted sources on the vaccine. A Kaiser Family Foundation survey from December, for instance, found that 85 percent of people trust their doctor for reliable vaccine information.
That hasn't, however, always played out in reality.
"I had two patients this morning who just didn't feel like they needed to be vaccinated. I'm looking for answers. It's difficult. You want to have conversations with people. You want to get them the best data," said Dr. Andy Pasternak, a family medicine doctor in Reno. "We're trying to answer questions, we're trying to give people the information we think is the best information, but it's tough when people trust other sources."
Pasternak said most of his patients aren't against vaccinations in general — one who didn't want the COVID-19 vaccine was adamant about getting a shingles shot — but specifically the COVID-19 vaccine. Some, he said, are worried that the shot is still under emergency use authorization and will likely get the jab as soon as the FDA gives it full approval, which is expected in the coming weeks or months, while others have already had COVID. Others, still, just don't want it at all.
But Pasternak hopes that his conversations with his patients is at least planting a seed, even if he isn't able to change their mind in a day.
"I get why you have your belief system, but what is it going to take for you to believe in this vaccination? I've been asking that question ... and they can't give you a good reason," Pasternak said. "People have this personal belief system and it's frankly hard to crack through."
It's not for lack of trying, though. In early July, the state requested help from the federal government to boost its vaccination efforts in Clark County in light of the rising tide of COVID-19 cases, and FEMA, the Federal Emergency Management Agency, now has 200 boots on the ground with a goal to ramp up to 250. They have already distributed roughly 25,000 door hangers and are working with more than 30 community organizations to put on micro-targeted vaccine events, such as the one at Hullum Homes this week.
"Our responsibility is to ensure every Nevadan is aware of the opportunity to be vaccinated if they need to be," said Mark Hughes, external affairs officer for FEMA. "That's what really drives us, not a timeframe."
It's a collaborative effort, those involved in the vaccination effort say. Immunize Nevada, the nonprofit organization working with the state on the vaccination effort, does the research to identify areas where vaccinations are needed, including in areas with high rates of social vulnerability or where residents haven't been able to access vaccination either because of transportation or other barriers. Meanwhile, some employees from the state Department of Health and Human Services serve as "branch directors" overseeing outreach within specific geographic regions of the Las Vegas Valley.
And it appears to be working, too. The data show that after weeks of declining vaccination rates, the number of average daily shots administered was up to 7,000 on Friday after hitting a low of 5,200 in mid-July. It's still a far cry from the 30,000 shots a day the state was administering back in April, but it is some progress.
Heidi Parker, Immunize Nevada's executive director, called FEMA an "incredible resource."
"Being able to get those materials on the ground, the door hangers and other information, is really key to helping people understand that there is a clinic coming up in their neighborhood," Parker said. "We've had people receive that door hanger with that clinic information. They know where it's at, it's nearby, and they know when, and they have shown up. It is having a positive impact."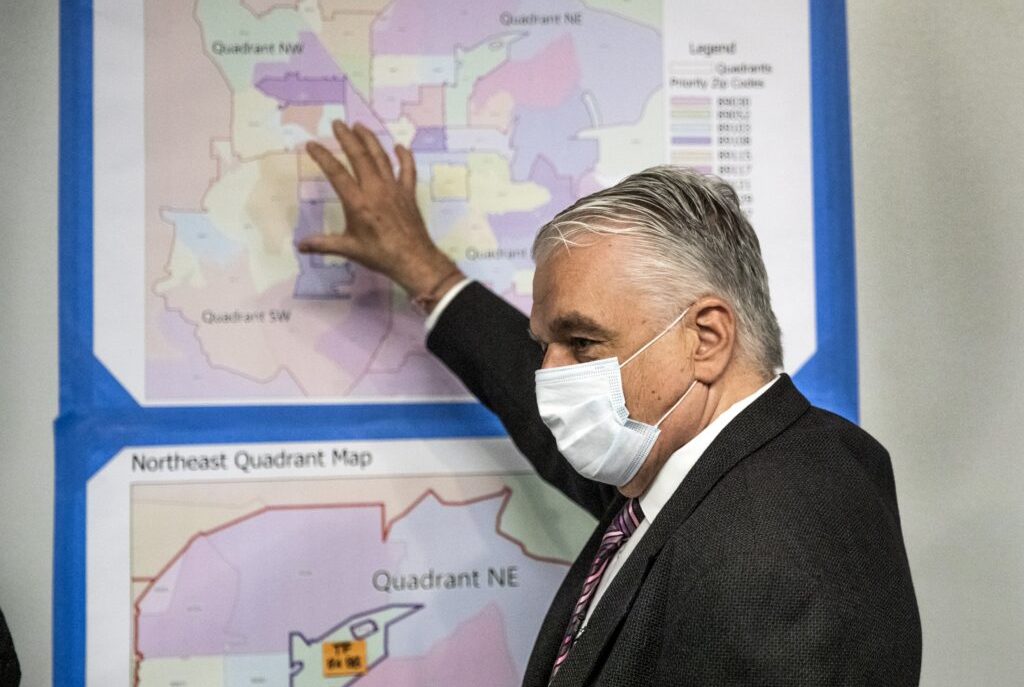 A return to masks
There is broad agreement among public health officials in Nevada that vaccination is the best way to prevent the spread of COVID-19. But there has also been growing acknowledgement among both elected leaders and health care officials in the last two weeks that vaccination alone is no longer enough to deal with the current surge.
Just three weeks ago, Gov. Steve Sisolak told The Nevada Independent that no new mask mandate was on the horizon, even as some public health experts had already started advocating for the federal government or states to bring back masks.
"I'm confident that we can get the word out. We can get enough people vaccinated," an unmasked Sisolak said in an interview after the state's first vaccination awards event, known as Vax Nevada Days. "I don't want to take steps backwards."
Then, last week, the Clark County Commission enacted a partial indoor mask mandate just for employees of businesses in the county.
Fast forward to Thursday, where a masked Sisolak explained to the audience at the fourth Vax Nevada Days event why Nevada was bringing back its indoor mask mandate for both vaccinated and unvaccinated individuals in a dozen of its counties.
"As many Nevadans are already aware, this week, due to the increase in the highly transmittable Delta variant, the Centers for Disease Control recommended that everyone, including fully vaccinated individuals, wear a mask in public indoor settings in counties with substantial or high transmission rates," Sisolak told the crowd. "We can beat this, Nevada, but getting vaccinated against COVID-19 is the best tool that we have to slow COVID-19, to bring our case counts down and to protect our communities and protect our economy."
To many — including some who were previously receptive toward mask-wearing — the new mask mandate, which took effect Friday, has been a bitter pill to swallow.
When the Centers for Disease Control and Prevention announced in May it was no longer recommending vaccinated people wear masks, the state immediately followed suit as it had aligned its mask requirements with federal guidance in an emergency directive earlier that month.
The doffing of the masks represented a collective catharsis: For the mask lovers, it represented a symbolic end to a pandemic they had worked so diligently to fight; for the mask haters, it was freedom. Part of the problem from a public health perspective, though, was that the vaccinated and unvaccinated alike dropped their masks just before a new, even more transmissible variant started spreading around town.
But the decision to tie state mask policy to federal guidance also meant that when the federal government recommended Tuesday that both vaccinated and unvaccinated individuals alike wear masks indoors in public settings in areas with high or substantial disease transmission, that policy immediately became binding under the May emergency directive. (A subsequent directive issued by Sisolak gave the state a three-day grace period to bring back masks in the dozen flagged counties.)
While some perceived the mask mandate as a clawback by the state of its pandemic emergency powers, mask policy was one mitigation measure the state retained control over when it handed over the pandemic policymaking reins to local governments this spring.
"When we went to local control, that remained with the governor's office … That was before CDC changed their recommendation that eased restrictions for people that were vaccinated, that they no longer needed to wear masks. So the governor, and through his directive, went along with that change because it was made by a group of scientists that were looking at the body of science and assessing that and making that decision," said Washoe County District Health Officer Kevin Dick during a press call this week. "Again, today, we are in that same situation."
Clark County Commissioner Justin Jones, who at the commission's emergency meeting last week suggested the employee-only mask policy might not go far enough, said in an interview it was just a matter of time before the county had a broad indoor mask mandate.
"I think we knew it was going to have to happen. Either the state did it this week or we were going to have to do it next week. We were fine with the state stepping forward," Jones said. "Everything was on the table. Our county plan incorporated CDC guidelines, so it was more than likely that we would have simply done the same thing."
Jones said no one wants to be masking up, nor do elected officials want to have to compel people to do so.
"But the reality is with the Delta variant, it's scary," Jones said. "I think you've seen business come around, people come around to the fact that this is where we need to be right now in order to protect each other, to protect our families, protect our friends and coworkers."
The mandate also follows a recommendation from the Southern Nevada Health District two weeks ago that vaccinated and unvaccinated people should mask up in indoor crowded settings.
"We're asking everybody to do it because, to be frank, the honor system really hasn't worked," said Dr. Michael Johnson, director of community health for the Southern Nevada Health District. "When June came and a lot of these restrictions were lifted, you'd see these huge events here and elsewhere where nobody's wearing a mask or anything."
But those involved in the vaccination effort have been stressing that masking up is not a substitute for vaccination. Parker, the executive director of Immunize Nevada, described the new mask mandate as part of an effort to "break this cycle" of the current wave of COVID-19 cases and buy vaccinators time to get more shots in arms.
"Masking just adds that extra layer of protection and prevention," she said.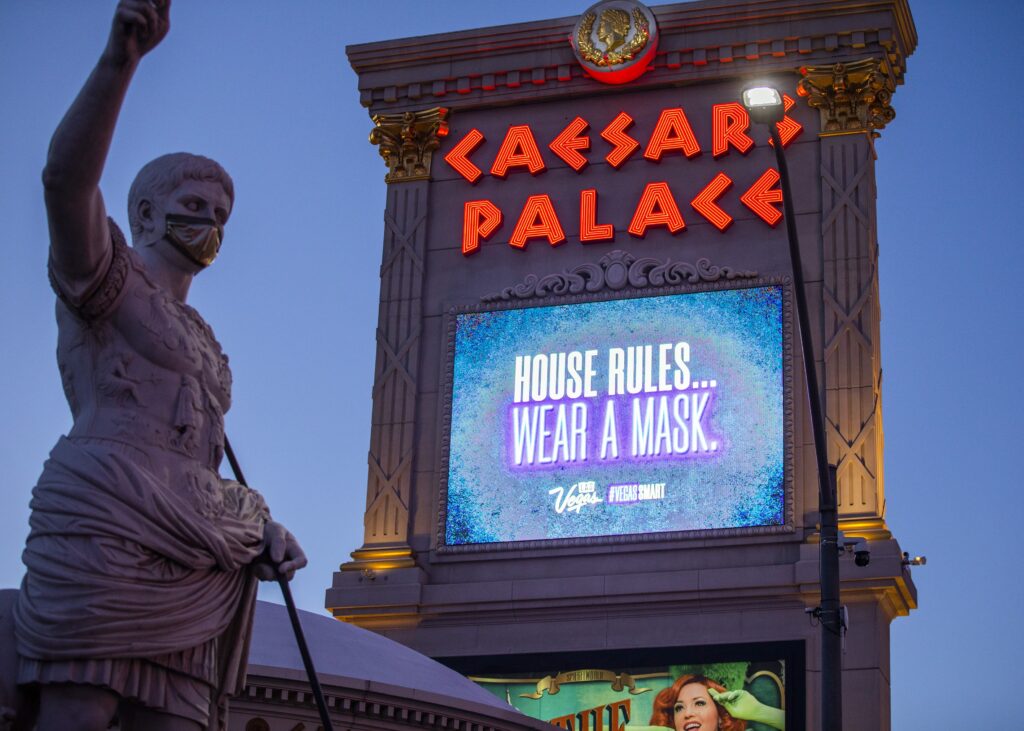 Looking forward
There is some hope among vaccinators that there will be an uptick in interest in vaccinations once the FDA issues full approval of the COVID-19 vaccines. In addition to a boost in individual interest in the shot, full approval may also give businesses and education systems the cover they need to implement vaccine mandates, which, while controversial, will likely offer a significant boost to the effort to get shots in arms, vaccinators say.
Some, however, aren't waiting. The state of Nevada announced last week that state employees must show proof of vaccination or undergo weekly COVID tests, and MGM Resorts announced this week that all unvaccinated employees will have to pay a $15 copay for regular testing if they opt not to get the shot. Those involved in the vaccination effort say those policies could lay the groundwork for others to follow suit.
"Organizations like the NFL, MGM and others, by instituting some of the measures they recently have, are really sending a message on how important this is and to really get people's attention," Johnson said. "I could see potentially other organizations following their lead and doing similar or identical things. I think the combined effort of all of that is probably what's going to get us out of the woods."
In the meantime, what goes up must eventually come down. Last summer's surge took about two months to peak, while the winter surge took about three.
"At some point, the surge is going to end because you run out of new people to infect. We've seen that with every wave," Labus, the UNLV professor, said. "It kind of burns itself out."
The concern is, without more vaccinations, COVID-19 waves will become a regular occurrence or, worse, the virus will mutate to evade the vaccines even more, become more transmissible and potentially make people even sicker. That's why Pasternak says he and other primary care doctors he knows are spending an extra 30 to 45 minutes a day talking to patients about the vaccine.
"Sometimes it's just going to take time," Pasternak said. "Unfortunately, when you're in the middle of a pandemic, we don't have a lot of time."
The Nevada Independent is raising $200,000 by Dec. 31 to support coverage of the 2024 election.
Tax-deductible donations from readers like you fund this critical work.
If you give today,your donation will be matched dollar-for-dollar.
Give + Get Matched
Featured Videos