Candles spell out Deferred Action for Childhood Arrivals program (DACA) during a vigil in front of Lloyd George Federal Courthouse on Wednesday, Dec. 6,2017. (Jeff Scheid/The Nevada Independent)
Nevada DREAMers move forward two years after the cancellation of DACA
September 8th, 2019 - 2:00am
This story has been translated and edited from its original Spanish version.
It's been two years since the Trump administration canceled a program that for years provided protection against deportation and work permits to thousands of young people.
Delays in the receipt of key documents they need to keep their jobs or to apply for scholarships, and a lack of resources to process the renewal of their immigration protection status, are just some of the obstacles the beneficiaries of the Deferred Action for Childhood Arrivals (DACA) program have encountered since the cancellation in 2017.
The program has gone through many changes and has been the center of debates in court without, so far, being settled permanently through congressional action. 
"I've felt very stressed out because of how this whole process is playing out," said "Jorge," an 18-year-old DREAMer from Las Vegas who spoke with The Nevada Independent on condition that he be identified with a pseudonym because he is in the middle of the process to renew a DACA permit that expires Sept. 9.
Race against time
Jorge said that when the government announced the end of DACA, not only had he just become a beneficiary of the program, but his family was recovering from financial woes that for a time forced them to live in their car.
Jorge arrived in Las Vegas at age 5, when his mother brought him from his native Mexico to reunite with his father, who was already in the United States.
Time passed, and while living in a temporary home provided by members of the church they currently attend, the family settled in. His mother sold corn as a street vendor, his father learned the tax processing business, and Jorge helped out painting houses, providing the family enough money to afford an apartment.
Although Jorge said he processed the renewal of his DACA permit in a timely manner, the family was in the middle of a move, which he thinks may be why he didn't receive all the necessary paperwork confirming the process was complete.
"I had DACA, but without a Social Security [number]. We had no professional help or resources to know what steps I should take," he said in Spanish. "And because of that I couldn't fill out certain documents to get scholarships and other resources I needed at the time."
Jorge said that thanks to the help of the Mexican Migrant Coalition in Las Vegas, he found legal advice and, along with nine other local DREAMers, received a $500 dollar grant to pay for his DACA renewal processing fees. 
Although his lawyers recently submitted another renewal packet and he already has an appointment to get fingerprinted, it's set for after Sept. 9, when his DACA expires.
"I was approved, but we don't know if the situation can change," he said. "That's what makes us more afraid. I don't know what I would do if I lost DACA. We don't want [immigration authorities] to think that we didn't follow through on the process."
Jorge said he remains hopeful that his situation will be settled so he can pursue his dream of studying psychology and also start an internship that comes with a stipend.
"You live with an inner fear," he said. "You start to think that you can't live in peace, because they can eliminate DACA, and then we will be in danger."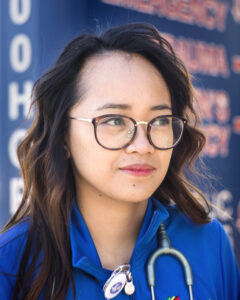 That uncertainty is very familiar to Anna Ledesma, a beneficiary of DACA and a registered nurse who was out of work for almost two weeks because when the government announced the cancellation of the program in 2017, her old work permit had expired and the renewal process for the new one hadn't been approved.
"It's just crazy to me how a piece of paper, like something that says just a few important words, will just ultimately tell you what you can and can't do," she said. "It really didn't matter how much I was doing, or how much I was fighting for it, because it really all comes down to what I have and what I don't have."
At a community forum, she met Astrid Silva, a Nevada DREAMer and the CEO of  Dream Big Nevada, and learned of resources available to help her. Ledesma then contacted the office of Democratic Sen. Catherine Cortez Masto, where she got help to speed up the renewal process so that she could return to work. 
Ledesma, who now has renewed her DACA permit for the third time, said she remains optimistic and enjoys her job, but she feels stressed because political obstacles stand in the way of a permanent resolution for her and about 800,000 DREAMers who were brought to the United States illegally as children.
Although the House passed the American Dream and Promise Act of 2019, a bill that provides a path to citizenship for DREAMers and beneficiaries of the Temporary Protected Status program or TPS, there is little chance that the measure will become law because it lacks the support of the president and Republican leadership in the Senate. 
The Supreme Court will hear arguments on DACA's constitutionality later this year or early in 2020 and is expected to decide the fate of the program by next June.
"Until I see something legitimate and on paper then I'm going to have my reservations," Ledesma said. "I'm glad that a lot of different states and their courts have ruled against the actual ending of DACA. I remain hopeful, but at this point I've become pretty numb to what they've been doing."
Stories
Candidate Trackers
Endorsements, Ads, Policies, Visits
& More
visit now
Comment Policy (updated 10/4/19): Please keep your comments civil. We reserve the right to delete comments or ban users who engage in personal attacks, use an excess of profanity, make verifiably false statements or are otherwise nasty.