Pence paints Biden as 'Trojan horse for the radical left' in Boulder City day after vice presidential debate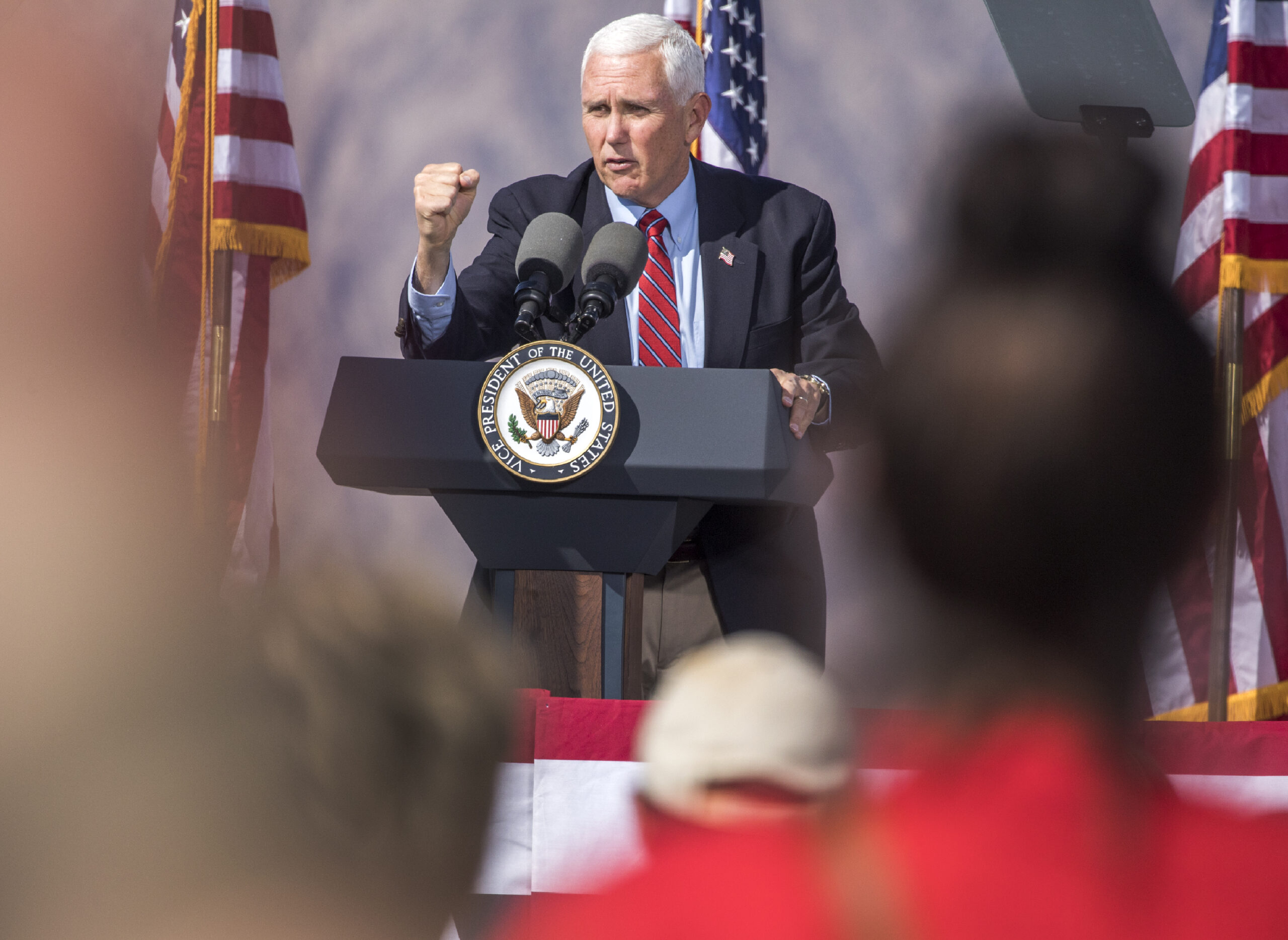 Vice President Mike Pence, the morning after the only vice presidential debate in Salt Lake City on Wednesday night, reflected on the event as not only a debate between two candidates but between two visions for the future of America.
Speaking at a rally in Boulder City, Pence painted the future of the country under former Vice President Joe Biden as one of higher taxes, open borders, socialized medicine, taxpayer-funded abortions up until the moment of birth and a defunded police, stoking many of the fears of conservatives about what the county will look like under a Democratic president. President Donald Trump, he pitched, has rebuilt the country's military, cut taxes, rolled back regulations, "unleashed" American energy, secured the border and "stood with law enforcement for life and liberty for every American."
The 30-minute speech summed up the key message that Republicans have been driving home in the final weeks before the November election: That Biden is a pawn of far more liberal Democrats.
"You know, when you look at their agenda it's clear," Pence said. "I said this at Fort McHenry — Joe Biden would be nothing more than a Trojan horse for the radical left."
Pence said there were two choices for America.
"It's whether we're going to chart a course based on our highest ideals of faith and family and freedom and patriotism and the American flag and the Constitution of the United States or whether we're going to abandon that path and allow the radical left and Joe Biden and the Democratic Party to take our nation somewhere it's never been before," Pence said.
However, as liberal as Republicans have painted him, Biden has said he does not support defunding the police and wants to increase funding for local police forces and deploy more psychologists and social workers, supports the creation of a public option health care plan over a single-payer Medicare-for-all system and has not explicitly expressed support for late-term abortions.
In addition to criticizing Biden, Pence spent most of his speech touting the accomplishments of the Trump administration over the last four years, including, for instance, the VA Mission Act, which replaced the controversial Veterans Choice Program approved in 2014.
"As you know here in this state that was Battle Born, home to more than 200,000 veterans, under President Trump's leadership we signed the most sweeping reforms of the VA in history," Pence said.
He devoted a significant amount of time to praising Trump's accomplishments on the economy, citing the creation of more than seven million jobs, including 115,000 in Nevada and rising wages before the coronavirus pandemic hit. And with the federal coronavirus relief efforts to mitigate the economic efforts of the pandemic, Pence said the country has already added 11.6 million jobs back, including 150,000 people in Nevada.
"The American comeback is on," Pence said. "We're opening up America."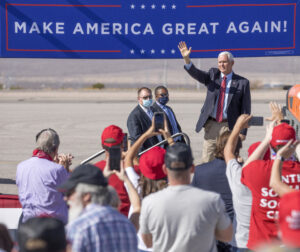 In a notable departure from Trump's rallies in Nevada last month that were attended by thousands of people, almost all of them maskless, and with one of the events held indoors, Pence's event in Boulder City appeared to generally adhere to the state's coronavirus health and safety regulations. Though a little more than half of the crowd appeared to not be wearing masks, the event was held outside, attendees were given chairs to sit in that were spaced out and attendance was capped to follow the state's new guidelines on large gatherings.
An official with the Boulder City Fire Department said there were 250 attendees inside the event — the maximum allowed under the state's new rules on gatherings — with several hundred more outside.
All the same, Pence lauded the president's response on the coronavirus pandemic, which has killed more than 210,000 Americans, saying that if the president hadn't acted quickly to suspend travel from China the death toll would've been even higher. He also said that the medical treatment that Trump has received since being diagnosed with COVID-19 last week — including the experimental treatment Regeneron and the antiviral Remdesivir — "are all part of the national response that we made available to people all across this country."
Americans hospitalized with serious cases of COVID-19 do typically receive Remdesivir, though Regeneron has only been tried on about 2,000 people as part of a drug trial — and typically the process of treatment takes much longer. In the wake of his hospitalization, Trump has pledged "hundreds of thousands" of free doses of Regeneron, though its manufacturer has said it will only have enough doses for about 50,000 patients initially.
Pence continued to portray Trump's America as one of law and order, saying he and the president "will always respect the constitutional rights of Americans to peaceful protests" but that "rioting and looting is not peaceful protest, burning businesses is not free speech, violence against innocent civilians and law enforcement will not be tolerated and those who do these things will be prosecuted to the fullest extent of the law." He then suggested that Americans would be unsafe in Biden's America — though the former vice president has similarly condemned riots.
Toward the end of his speech, Pence also made a personal pitch for a president, framing him in a gentler light than he is typically seen in public.
"You know I've served around this president every day for the last three and a half years and we've gotten to be very close friends," Pence said. I've seen him when the cameras are off, and I'll tell you what Nevada, there's never been a day gone by that President Donald Trump hasn't gotten up and fought to keep the promises that he made to the people of Nevada."
Pence's visit comes the day before Biden returns to Nevada for his first trip since becoming the Democratic presidential nominee. Trump has visited Nevada once this fall, holding two rallies, and Biden's running mate Kamala Harris has been in Las Vegas twice in the last several weeks, attending a small, socially distant roundtable and a drive-in rally.
Savanna Strott contributed to this report.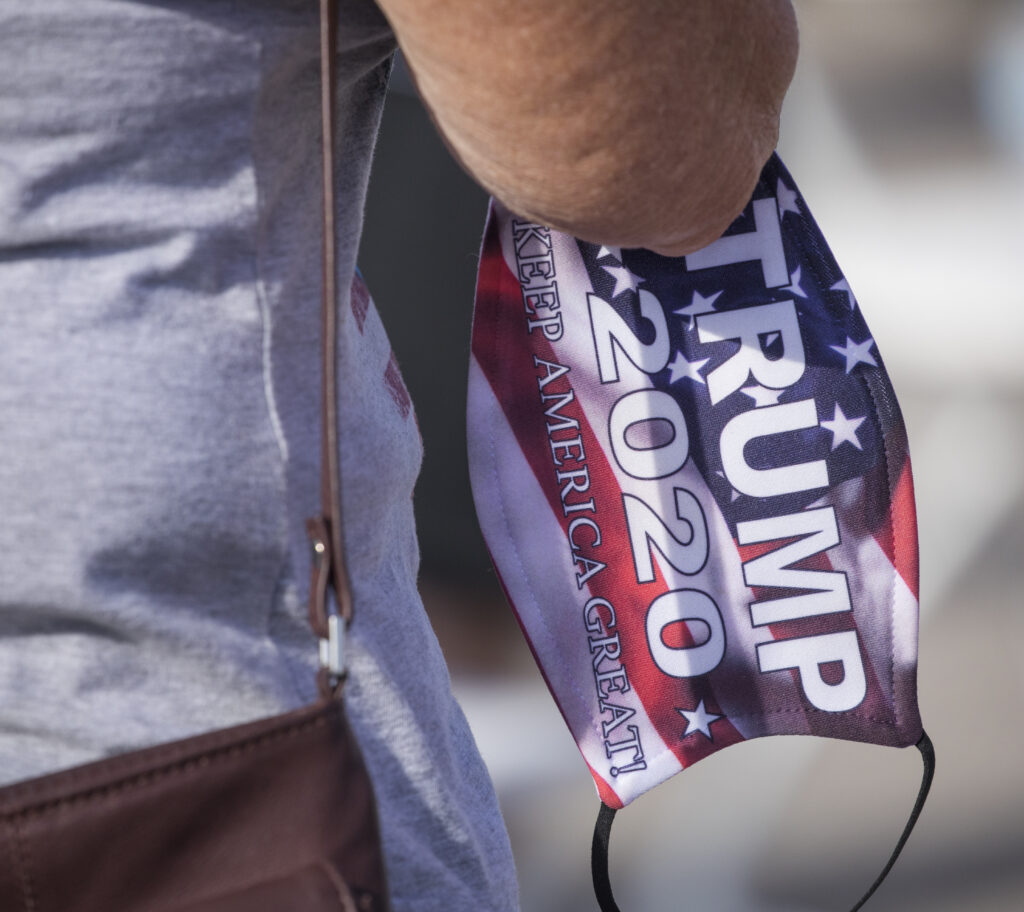 The Nevada Independent is raising $200,000 by Dec. 31 to support coverage of the 2024 election.
Tax-deductible donations from readers like you fund this critical work.
If you give today,your donation will be matched dollar-for-dollar.
Give + Get Matched
Featured Videos