Poll: Nevadans favor ranked-choice voting, equal rights ballot questions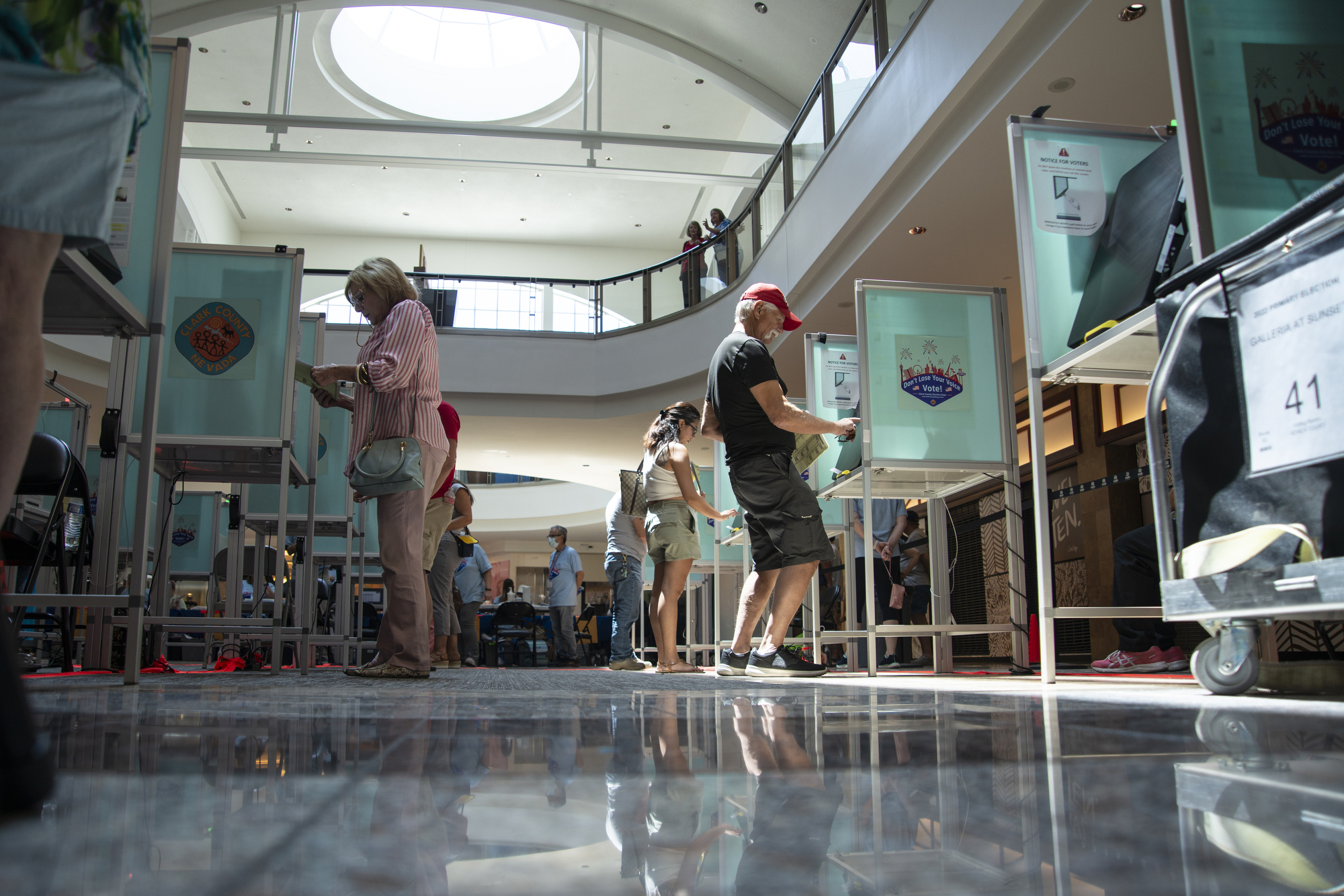 A new poll released Wednesday from The Nevada Independent and OH Predictive Insights (OHPI) shows Nevada voters support a proposed ballot measure implementing open primaries and ranked choice voting by a 15-point margin — though nearly a third of voters say they neither support nor oppose the idea. 
The ranked-choice ballot question comes after a protracted campaign and legal battle to qualify for the November ballot. Though favored by rank-and-file voters (42 percent support to 27 percent opposed), especially as the number of registered nonpartisans unable to vote in Nevada's closed primaries has surged over the last few years, top Democrats have openly opposed the measure as potentially "confusing" and "exclusionary."  
In contrast, a vast majority of voters — roughly 72 percent combined — said they would support a question on the November ballot that would add gender equality language to the state constitution.
That question comes as the end result of a 2019 measure (which passed the Legislature again in 2021) that would codify the Equal Rights Amendment into Nevada's state constitution, guaranteeing rights regardless of race, color, creed, sex, sexual orientation, gender identity, age, disability, ancestry or national origin.
The measure also follows a separate bid by state Democrats to ratify the federal Equal Rights Amendment in 2017, amid a nationwide push to revive the amendment after it failed to qualify by a 1982 deadline. Those efforts stalled in 2020, amid an ongoing legal battle over whether too much time has passed since initial ratification efforts.
The survey of 924 registered Nevada voters was conducted between July 8 and July 19 through an online, opt-in panel survey, with a 3.22 percent margin of error.
'Going from algebra to calculus'
Mike Noble, chief research and managing partner of the Arizona-based OHPI, said that a major stumbling block for the ranked-choice campaign — and one of the principal reasons behind the large percentage of "neither" respondents — is a general lack of awareness or understanding of what actually constitutes ranked-choice voting.
"Even when Nevada switched from primaries to caucuses, that was a bit of an adjustment," Noble said. "Primaries are pretty straightforward compared to ranked-choice voting. It's like going from algebra to calculus."
Overall, 19 percent of respondents "strongly" supported ranked choice, with another 23 "somewhat" supporting it, for 42 percent support combined. Another 13 percent were somewhat opposed and 14 percent strongly opposed, for 27 percent opposition overall.
The broad uncertainty over the question — 32 percent said they neither supported nor opposed it — was driven in large part by women, with 40 percent of female respondents answering "neither," compared to 23 percent of male respondents.
Along partisan lines, nearly half of Republicans (48 percent) opposed the ballot question, with just 30 percent in support and 23 percent responding to "neither." By contrast, a slight majority of Democrats (51 percent) and a plurality of independents (44 percent) supported the measure, though 35 percent of both groups remained in the "neither support nor oppose" camp.
The ranked-choice measure has been spearheaded by Las Vegas attorney Todd Bice and his PAC, Nevada Voters First. It's also been backed financially by the Institute for Political Innovation, a nonprofit founded by philanthropist Katherine Gehl. The state Supreme Court ruled in late June that the question could advance to the ballot after Democrats argued that the wording violated the state's "single subject" provision.
As a constitutional initiative, the measure would still need to pass another popular vote in 2024 even if approved by voters this fall.
Widespread support for equal rights amendment
With phrasing that includes the protections of civil rights for virtually all groups, Noble said that "it's kind of really hard not to be in support of it, the way the question was proposed."
Most notably, racial and ethnic minority groups showed broad support for the equal rights question, including 79 percent support among Black voters, 76 percent support among Hispanics, and 84 percent among Asians. A super-majority of non-Hispanic white voters, 68 percent, also supported the measure.
Opposition to the measure was broadly low, even among the most disapproving group: registered Republicans. Roughly 26 percent of GOP voters opposed the equal rights measure, compared to just 5 percent of Democrats and 10 percent of independents.
In the late 70s and early 80s, the original Equal Rights Amendment withered under pressure from a conservative campaign that cast the measure as pro-abortion and "anti-family."
A majority of Republicans, 58 percent, still said they supported the measure, with 24 percent "strongly" in support. 
Find the full poll results and crosstabs here.