Rosen, congressional Democrats maintain fundraising advantages as 2024 cycle kicks off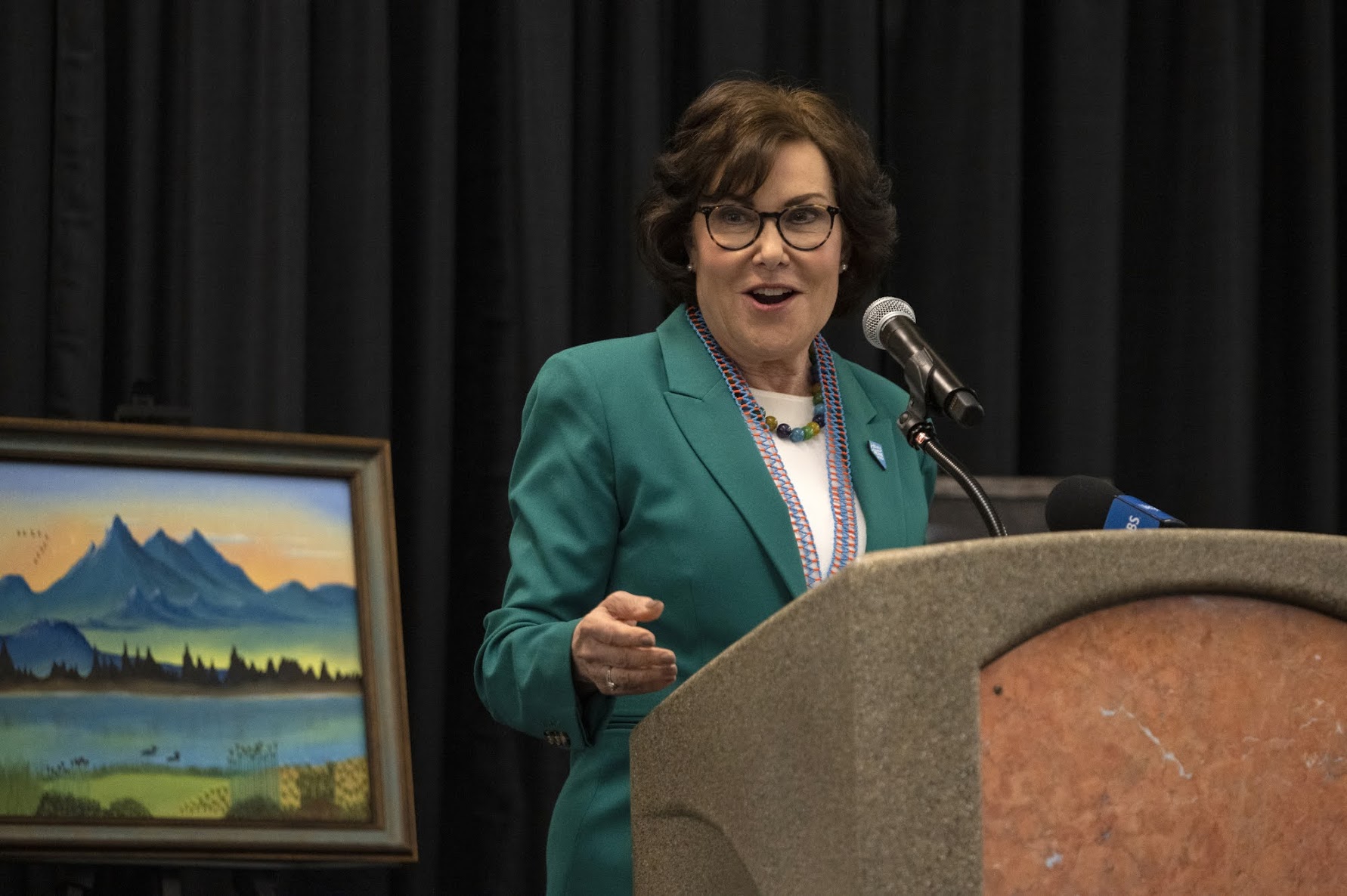 Sen. Jacky Rosen (D-NV) and the state's Democratic U.S. House members raised significantly more campaign cash than their opponents from April through June this year, continuing a trend of Democratic fundraising dominance from the 2022 midterm election cycle.
Rosen headlined that group, as her campaign raised more than $2.7 million during the second quarter and recorded nearly $7.5 million in cash on hand — a record for a Nevada Senate race at this point in the cycle. The fundraising total is more than 24 times higher than her closest Republican opponent.
Across the state's four congressional districts, Reps. Susie Lee (D-NV) and Steven Horsford (D-NV) led the way in fundraising, bringing in nearly $583,000 and $668,000, respectively. With few prominent Republican challengers, those Democratic incumbents have built up significant cash advantages.
Rep. Dina Titus (D-NV) similarly outraised her Republican challengers, but reported significantly less cash on hand than Republican candidate Flemming Larsen, who has poured $650,000 of his own money into his campaign.
Those totals come from campaign finance data for the second quarter reported through the Federal Election Commission. Continue reading for additional details on fundraising in each of the state's 2024 congressional races.
Even with fundraising advantages, Nevada's congressional Democrats' ability to spend will likely be dwarfed by outside groups and political action committees (PACs) as the 2024 general election, less than 16 months away, draws closer. Those groups are not subject to the same limits on contributions as individual candidates and often raise significantly more money.
During the midterm elections, major national super PACs outspent general election candidates by about $75 million in Nevada, according to an analysis of data from OpenSecrets, an independent nonprofit that tracks money in politics. Those groups included the Democratic House Majority PAC and Republican Congressional Leadership Fund, which targeted their resources at "toss-up" races for Nevada's three Democrat-held congressional districts.
After Nevada's congressional Democrats had a strong showing in last year's general election — holding onto a Senate seat and three House seats with help from newly drawn district maps that pulled more Democratic voters into competitive districts — those races are now considered less competitive.
A pair of national election handicappers, Cook Political Report and Sabato's Crystal Ball, rate the 2024 Nevada Senate race as "lean D" and those three House races as "likely D" or "lean D" — leftward shifts from the 2022 ratings of the same races.
Despite that shift, national Democrats are still playing defense in those blue-leaning territories. The Democratic Congressional Campaign Committee lists Lee and Horsford among its "frontline" members, who are considered critical to the group's efforts to take the House majority. The National Republican Congressional Committee, meanwhile, is targeting 37 seats in 2024, including those held by Lee, Horsford and Titus, Politico reported in March.
After competitive 2022 races, those three Democratic incumbents each reported having less cash on hand at the end of June than they did at the same point in the 2022 cycle.
With a record $7.5 million in the bank at this point in the cycle, Rosen's campaign was boosted last quarter by a combination of high-dollar contributions of more than $200 each (totaling nearly $1.4 million), small-dollar donations ($499,000), PAC contributions ($352,000) and support from other authorized fundraising committees ($468,000), which include groups such as the "Jacky Rosen Victory Fund" that raise funds outside the standard campaign committee.
Her campaign spent nearly $1.3 million during the second quarter — a step up from the nearly $900,000 Sen. Catherine Cortez Masto's (D-NV) campaign spent during the same period last cycle. That spending largely came from travel and staff payroll, as Rosen has not kicked off campaign advertising in earnest at this point in the cycle.
Among the Republican challengers to Rosen, former Assemblyman Jim Marchant led the field, with more than $111,000 raised and $43,000 in cash on hand. Marchant, a prominent election denier who lost a race for Congressional District 4 in 2020 and a race for secretary of state last year, announced the launch of his campaign in May, partway through the fundraising period.
Marchant, who has closely aligned himself with former President Donald Trump and suggested in a debate last year that Nevadans' votes have not "counted for decades," received maximum contributions of $3,300 from Robert Beadles, a prominent GOP donor from Washoe County, as well as Beadles' wife, Nicole, and former Overstock CEO Patrick Byrne.
Sam Brown, a former U.S. Army captain who entered the race this month with backing from institutional Republicans, did not launch his campaign until after the second quarter fundraising period closed.
Two other Republican candidates in the race, real estate agent Stephanie Phillips and attorney Ronda Kennedy, reported significantly smaller fundraising hauls of $28,000 and $0, respectively.
Lee outpaced her two Republican challengers during the second quarter by hundreds of thousands of dollars raised. As of the end of June, she had nearly $811,000 in cash on hand and has raised more than $1.1 million this election cycle. In July of 2021, she had nearly $955,000 in cash on hand.
During the 2022 cycle, the District 3 race was one of the most expensive in the country, garnering about $25 million in outside spending, according to OpenSecrets. That spending drove millions of dollars in television advertising during the final weeks leading up to Election Day.
So far this cycle, Lee's closest Republican challenger has raised about one-ninth as much money as Lee.
Drew Johnson, a conservative columnist and former think tank founder who lost a close race for a seat on the Clark County Commission last year, raised nearly $121,000 from April to June, but most of that came from a $100,000 loan he made to his campaign. He now has more than $114,000 in cash on hand.
Elizabeth Helgelien, another Republican challenger who served in the Nevada Senate from 2010 to 2012, raised more than $78,000 from April to June and spent more than $51,000, bringing her total cash on hand to more than $43,000. Helgelien's fundraising included a $2,000 contribution from another Republican congressional challenger, David Flippo, who is running for District 4.
Horsford similarly leads his race by a wide margin, with $757,000 in cash on hand after he raised nearly $668,000 in the second quarter. At this time in 2021, he had more than $1.2 million in cash on hand.
He only has one declared challenger so far: Flippo, a retired U.S. Air Force lieutenant colonel who now works as a financial adviser in Las Vegas. Flippo has more than $88,000 in cash on hand. Flippo, who finished third in a Republican primary last year for a Nevada Assembly seat, raised more than $63,000 this reporting period and spent nearly $138,000.
It's a decrease from what he raised earlier this year. During the first quarter, Flippo raised nearly $221,000, more than $87,000 of which came from his own coffers.
Titus outraised her challengers, bringing in more than $183,000 from April to June.
But with $367,000 in cash on hand, which is almost $100,000 less than the amount she had at the end of June 2021, Titus significantly trailed Flemming Larsen, a Republican challenger whose campaign has largely been supported with his own money.
Larsen, a restaurateur who lost a bid for a Nevada Assembly district last year, made a $150,000 loan to his campaign in the second quarter, adding to a $500,000 loan he issued earlier this year. He raised more than $181,000 this reporting period, which includes the loan, and he has nearly $723,000 in cash on hand. He has raised nearly $117,000 in contributions from individuals this election cycle.
Mark Robertson, a retired U.S. Army colonel who lost his bid to unseat Titus in 2022 by more than 5 percentage points, raised more than $25,000 during the second quarter and has nearly $116,000 cash on hand.
Ronald Quince, another Republican challenger who has previously lost in two Republican primaries for state legislative races, did not report any fundraising activity in the second quarter.
Rep. Mark Amodei (R-NV), the state's lone congressional Republican, raised more than $87,000 from April to June. He now has more than $306,000 in cash on hand after spending more than $42,000 during the second quarter.
Amodei is so far running unopposed for re-election in Nevada's second congressional district, a reliably Republican area.
The Nevada Independent is raising $200,000 by Dec. 31 to support coverage of the 2024 election.
Tax-deductible donations from readers like you fund this critical work.
If you give today,your donation will be matched dollar-for-dollar.
Give + Get Matched
Featured Videos