School board races, more politicized than ever, see incumbents fending off many challengers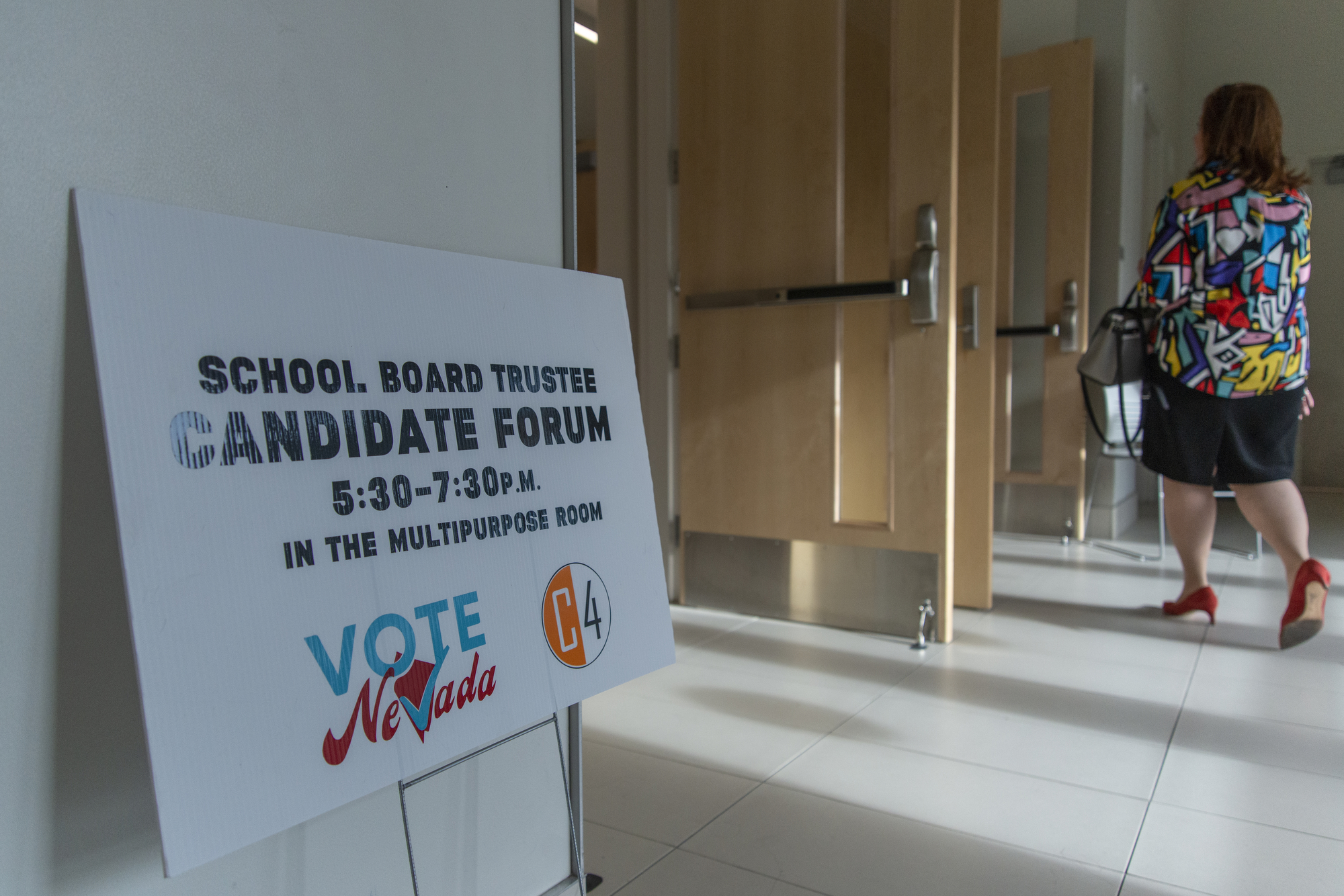 In recent years, school board meetings have become a hotbed for angry protesters who come to clash with trustees and amongst themselves over politically-charged issues such as COVID mitigation strategies and critical race theory.
These tensions have made the job of a school board member difficult. Last August, five members of the Elko County school board resigned. Last November, in Clark County, a group of angry protestors gathered outside of the home of one of the district's trustees.
In Nevada, school boards are made up of trustees who are elected by voters to serve four-year terms. The number of trustees that make up each board depends on the size of the school district — Clark and Washoe have seven trustees, while other districts in the state have five. School board races are nonpartisan, meaning they are elected offices for which a political party may not nominate a candidate. Trustee candidates don't appear with a party affiliation on the ballot.
But the increased politicalization of school board meetings means those races have quickly become political.
Recent events have inspired a wave of conservatives to become more engaged in school board races, or even run for a trustee seat themselves. In Washoe County, this has meant the formation of a new right-leaning group backing candidates critical of the district's handling of COVID-19 policies and pledged to reverse or chart a different course on policies related to race, gender identity and social and emotional learning.
With the primary election just around the corner, three Clark County trustee seats and four Washoe County trustee seats are up for grabs. The seven incumbents in those seats are all seeking re-election, and all face multiple challengers in their bids to retain their seats.
Here's a look at what you need to know about the low-ballot races that will affect everyone in the education ecosystem, from students all the way up to superintendents: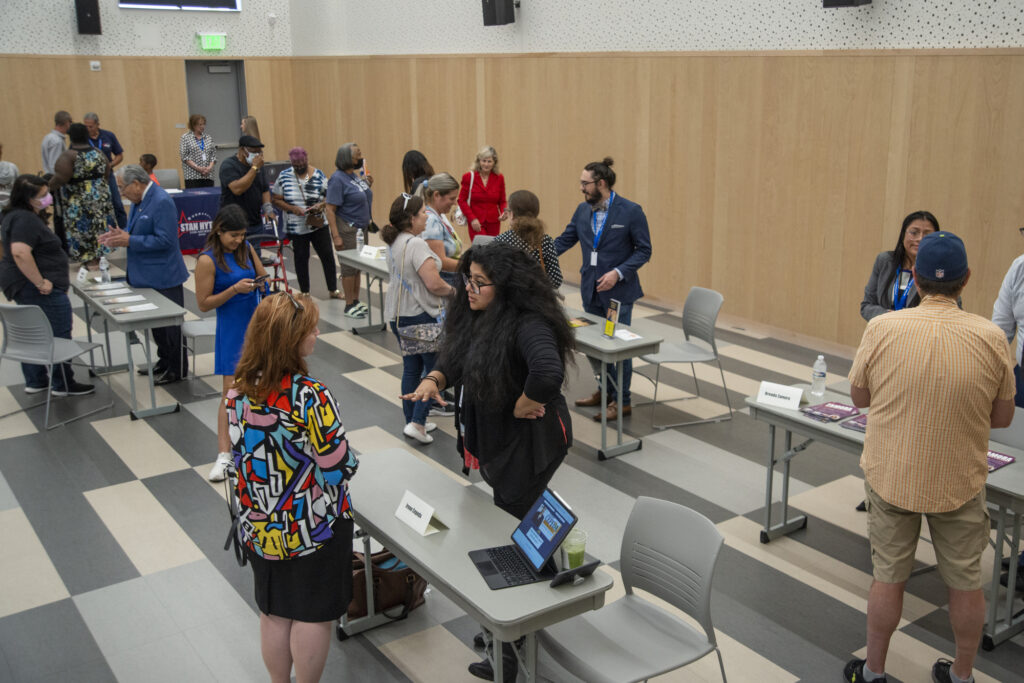 Who are trustees, and what do they do?
Not much is needed in Nevada to run for school board — the law only requires candidates to be a qualified elector and to have a qualifying residence within the county school district whose board they would serve on.
Once elected, a primary responsibility of a school board is to hire and oversee the superintendent. The Washoe County Board of Trustees recently went through this process after its current superintendent, Kristen McNeill, announced she was retiring. The board selected Susan Enfield, a Seattle-area superintendent, to be her replacement, and finalized Enfield's contract on May 10.
In addition to hiring superintendents, school boards' responsibilities include developing written governing policies, voting on capital programs and collective bargaining agreements and reviewing and approving significant spending decisions.
But they don't make state laws about K-12 education, said Sondra Cosgrove, executive director of the nonprofit Vote Nevada. That's a common misconception she hears from community members, whereas in reality, school boards are required to follow laws approved by the Legislature.
"They make policies for implementation of state law," Cosgrove said.
She cited a controversial 2019 law that restricts suspensions, removals or expulsions of certain students as an example of policy implementation that the Clark County school board trustees have recently borne the brunt of.
"I wish people would treat them with a little more grace and understanding because they don't have more options," Cosgrove said.
Though the stakes are high — children's education — the pay is low: Clark and Washoe trustees receive salaries of $750 per month, or $9,000 per year.
The two candidates in each district who receive the most votes in the June 14 primary election will advance to the general election in November, unless one of the candidates receives more than 50 percent of the vote. If that happens, that candidate will be considered the winner of the race, and there will be no general election for that office.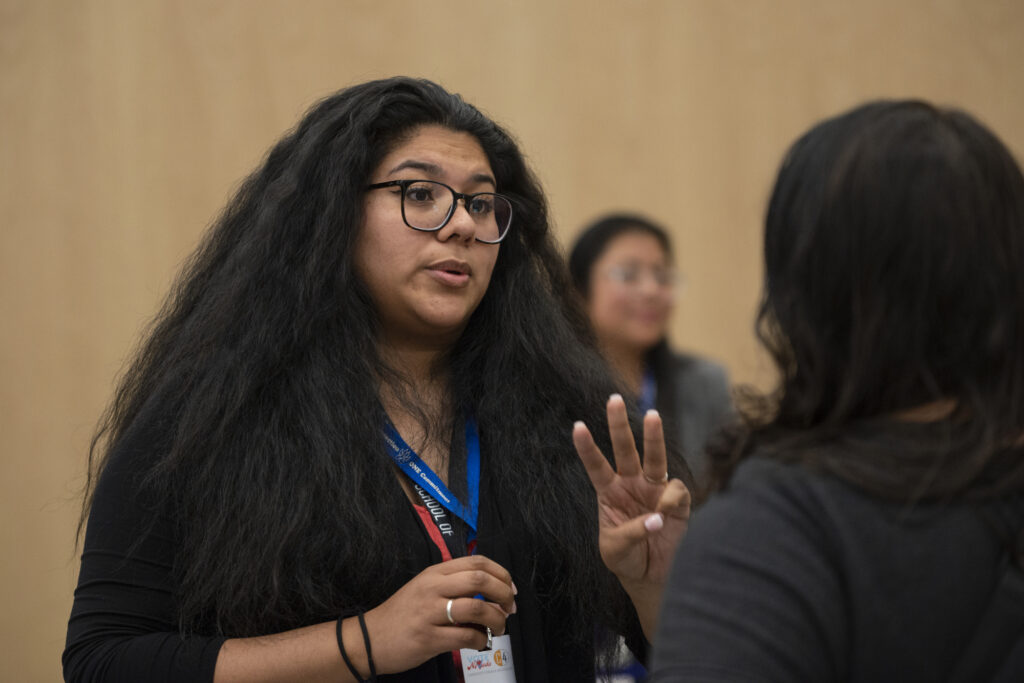 Clark County School Board
Three Clark County School Board trustees — Linda Cavazos, Irene Cepeda and Danielle Ford — have filed for re-election, hoping to extend their time overseeing the Las Vegas-area school district of more than 320,000 students.
They have all faced criticism as a board for their COVID mitigation decisions during the pandemic, including holding virtual classes for most of last school year, and requiring face coverings this school year up until Feb. 10 when Gov. Steve Sisolak repealed the statewide mask order.
At a May 5 candidate forum, Cepeda said she received death threats during her time as trustee, and had considered not running for re-election. Cavazos, meanwhile, was the target of a protest staged outside her home in the fall.
The outcome of the elections could change the dynamics of the Clark County School Board, which has been fractured over several issues, including whether Clark County Superintendent Jesus Jara should remain the district's leader. An effort to oust him in October created a deeper rift among board members, and many view the trustee races as somewhat of a referendum on Jara's leadership.
The most crowded race is in District F, which covers the southwest valley. Ford, a first-term trustee who was among the trio of trustees who sought to terminate Jara in the fall, filed for re-election with just minutes to spare before the filing deadline. She faces nine challengers, who include:
Kali Fox Miller, a financial tech company director, attorney and president-elect of the Nevada PTA, whom Ford defeated in the 2018 election
Irene Bustamante Adams, a former casino executive, former Nevada assemblywoman, and Workforce Connections' current deputy director and chief strategy officer
Jay "Coach" Calhoun, an Army veteran who has worked as a computer technician for the district as well as a high school football and soccer coach
David Coram, a former Clark County school educator with experience in law enforcement and gaming among other professions
Liam MacCaul, practice manager at a Henderson health company, according to his LinkedIn
Erica "Mama Neely" Neely, a small business owner, tutor and mother
Tim Vicario, a Clark County educator, according to his LinkedIn
Jamil Bey, who did not provide any biographical information when filing for candidacy
Tami Musemici, who ran unsuccessfully in 2018. Musemici did not provide any biographical information when filing for candidacy.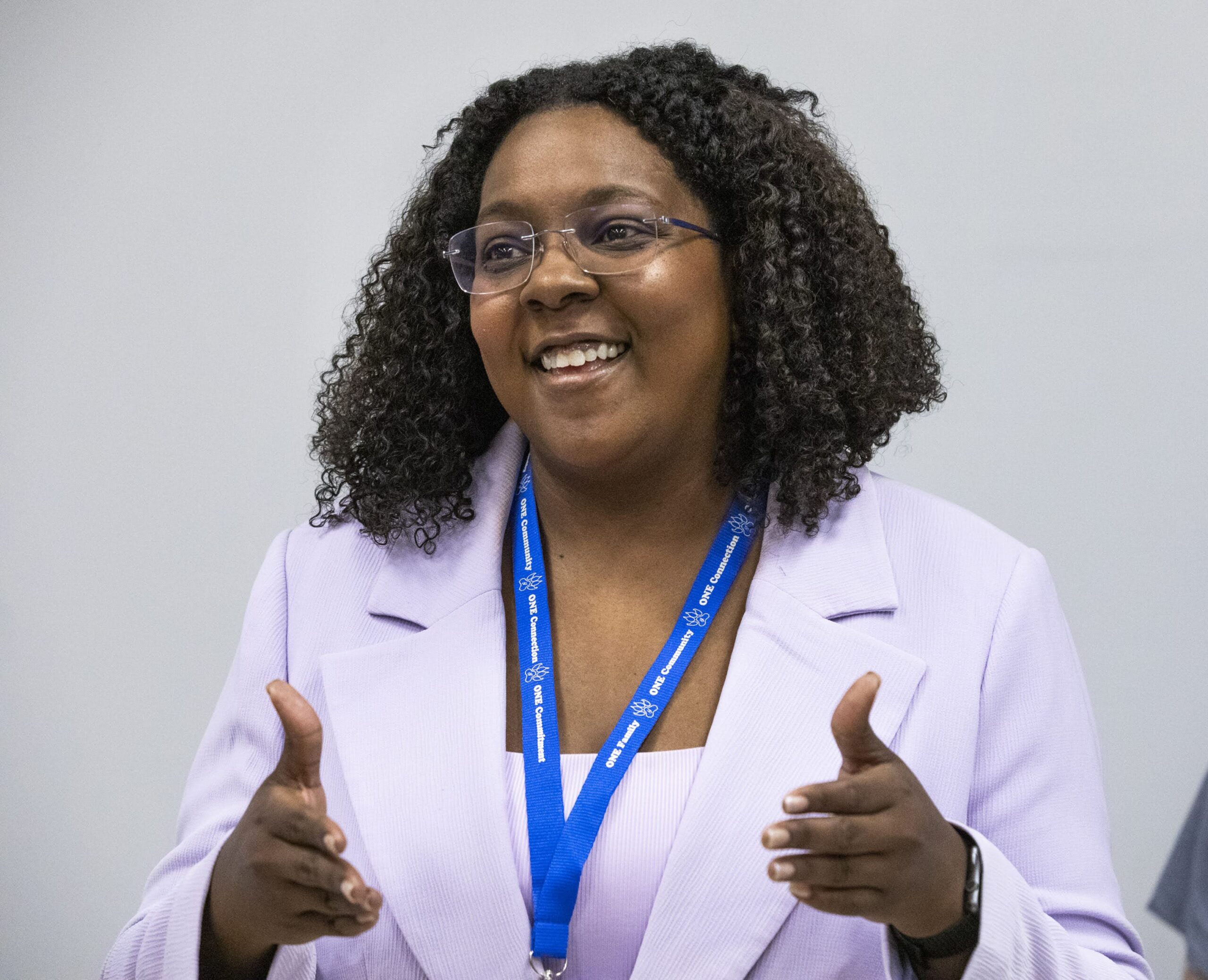 Shortly after filing her candidacy, Ford told The Nevada Independent she intends to continue advocating for a leadership change. (Jara's employment contract runs through Jan. 15, 2023.)
"I hope to get better leadership in the district and specifically a new superintendent in January 2023," she said after filing.
At a recent candidate forum, Ford said her other goals include addressing school violence and the district's ongoing teacher shortage, but she feels none of this will be handled without "proper leadership."
One of Ford's top challengers is Bustamante Adams, who said she was motivated to run because of her 2-year-old grandson and her passion for public service. If elected, Bustamante Adams said two of her focuses would be increasing transparency and bringing more community input to the table.
And unlike Ford, Bustamante Adams said she supports keeping Jara in his leadership position.
"My personal experience with Superintendent Jara has been on workforce development efforts with CCSD over the last 2.5 years," she said. "It has been positive and moving the needle forward with the partnership."
The candidate fields for the two other open school board seats aren't quite as crowded, but still feature many contenders.
Cavazos was appointed in 2017 after a former trustee resigned, and was then elected to a full term in 2018. She's also a former district teacher, and currently works part-time as a therapist. Cavazos will be running against six other candidates to continue representing District G, which includes parts of Henderson and the eastern valley. Her challengers are:
Kenneth "KC" Freels, a father of a "neurodiverse first grader," according to his website. He identifies himself as a lifelong conservative and Christian.
Adam LaRosa, a veteran and Las Vegas High school graduate
Greg Wieman, a former teacher, coach, advisor, athletic director, assistant principal and principal. He was also superintendent of the Eureka County School District from June 2014 to June 2016, who left after the board did not renew his contract.
Charles R. "Chuck" Summers, an Air Force veteran, father of three Clark County school graduates, husband to a former teacher within the district and a former district employee himself
Dominick Giovanni, who did not provide any biographical information when filing for candidacy
John "JC" Carlo, who did not provide any biographical information when filing for candidacy. Carlo recieved backlash amid a viral Twitter video where he stated "Homosexuals can't procreate. This goes against our Constitution." He said in a statement to The Nevada Independent that he will "will take my stand with the scriptures and the laws of nature to guide my life."
If re-elected, Cavazos said her priorities for her next term would include addressing school violence and safety — a growing problem that has mobilized both teachers and students.
On Wieman's campaign website, he lists what he sees as the district's most pressing issues. They include creating a safe learning environment, improving academic achievement and attracting and retaining quality teachers.
"The Board of Trustees must protect the safety and well-being of students, teachers, staff and administrators," he said. "This should be the foremost concern of the district at this time. Effective policies and practices must be in place in the fall of 2022."
In District D, Cepeda, also a first-term trustee, is going up against four challengers to continue representing parts of downtown Las Vegas and the northeast valley. Her competitors include: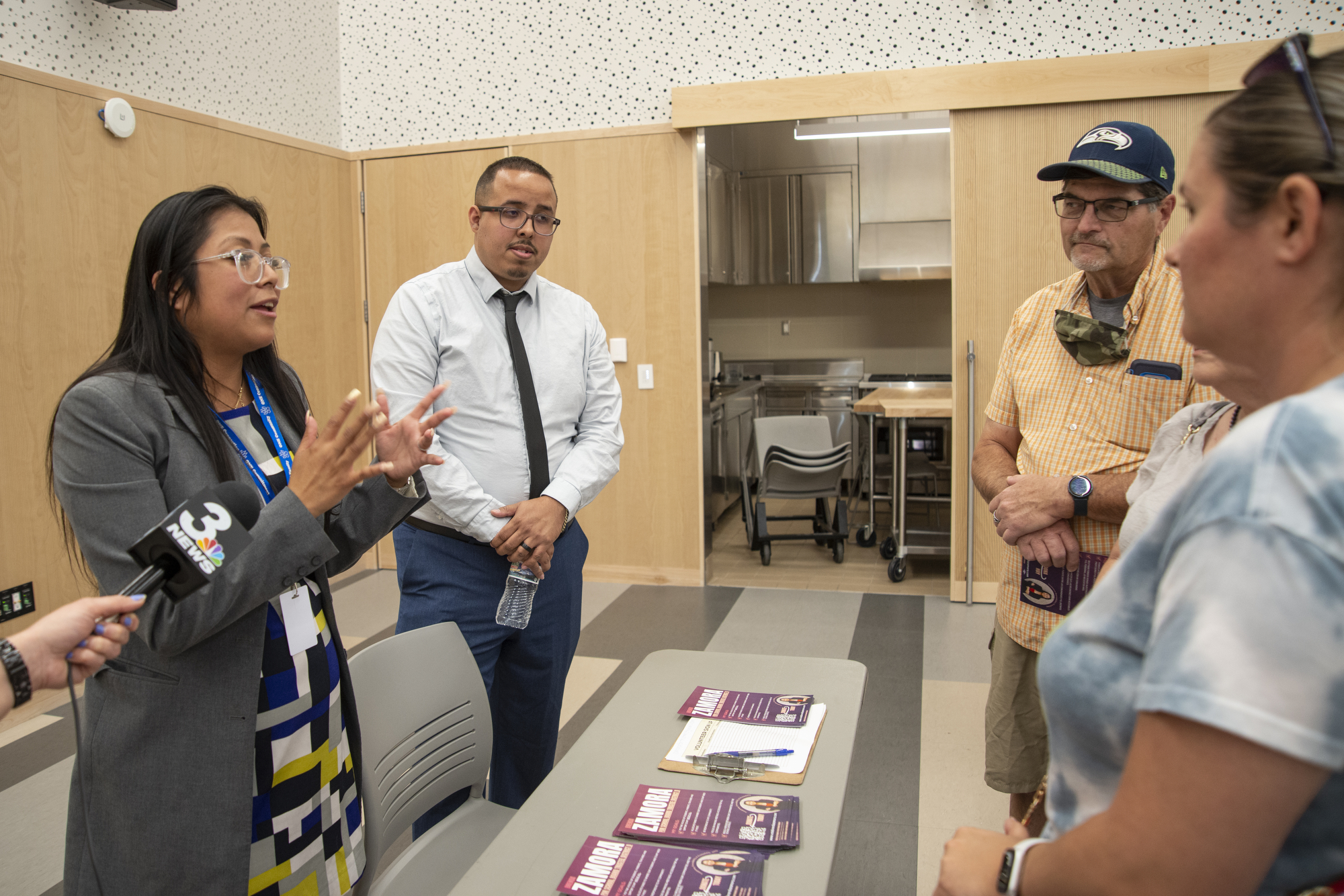 Cepeda, now board president, was the swing vote in the decision last fall about Jara's fate leading the district. She first voted to terminate Jara's contract, but later requested an agenda item to reverse that decision.
At a May 5 election event, Cepeda said this was in part because of a lack of contingency plan for a new superintendent after Jara.
However, some of the candidates running against the incumbents are concerned about the fractured relationship between current district leadership, including board members, and the community.
Romero, meanwhile, wants to see the district better comply with a 2017 law, AB469, that reorganized the school district and transferred power from the district's central administrative staff to individual school sites.
Money and endorsements in the Clark County races
Of the three incumbents, only Cepeda was endorsed by the Clark County Education Association, the bargaining unit representing the district's licensed educators. CCEA is endorsing Bustamante Adams in the District F race, and remains undecided on its preference for the District G seat.
The A Better Choice (ABC) political action committee also threw support behind Cepeda and Bustamante Adams, and is endorsing Wieman for the District G seat. The PAC was formed in 2020 and is made up of former Clark County school board members, former Clark County Commissioners and other education advocates.
The Nevada Republican Club also endorsed Wieman, along with District D candidate Elliot and District F candidate Neely.
Though fundraising totals are small, all incumbents are behind their challengers in terms of money raised during the first quarter of the year. Ford has raised about $1,400 while Neely has raised close to $4,000. Some incumbents do surpass their challengers in terms of cash on hand — in the District D race, Cepeda has nearly $3,000, followed by Romero with $850 cash on hand.
Washoe County School Board races
Four seats are up for grabs on the Washoe County School Board and, similar to trustee races in Clark County, all four incumbents are making a re-election bid.
Trustee Ellen Minetto has two challengers — Cathy Reyes, a former federal law enforcement officer, and Colleen Westlake, who works for an orthodontist — in the race to keep representing District B, which includes portions of Sparks and Sun Valley. 
In District C, which covers the entire northern section of Washoe County, Kurt Baker, who has experience working with nonprofits and in church leadership, and Melanie Sutton, a mother and owner of a traveling pet zoo, are hoping to unseat incumbent Joe Rodriguez.
Five candidates, including incumbent Beth Smith, who was appointed to the position last year, filed to run for the seat in District D, which includes the old southwest, downtown and midtown parts of Reno. But two candidates withdrew from the race, leaving Smith, Jeff Baclet, a business professional and investor, and Edgard Hitti, a national asphalt manager at Granite Construction, as the only candidates vying for the position.
The at-large seat representing District F, covering a chunk of the eastern Reno valley and northern part of the county, has attracted the most candidates. Six people, including incumbent Adam Mayberry, filed to run for the at-large seat. His competitors are:
Another candidate, Robbie Maus, dropped out of the race.
Money and endorsements in the Washoe County races
Eight of those candidates — Reyes, Westlake, Sutton, Baker, Hitti, Baclet, Bertucci and Reid — are affiliated with a new group called Save WCSD, which describes itself as "a non-partisan group of concerned parents and community members."
Bev Stenehjem, the group's leader, said Save WCSD isn't supporting any of the incumbents because none have signed the group's pledge to make quality education, which she defines as making "educating our students in core subjects such as math, English, science, civics and technology" a priority.
"The candidates we are supporting are not career politicians," she said. "They are community members with jobs and families who care deeply about a proper education for all children."
Stenehjem was also part of a push to recall school board president Angie Taylor, who is running for a state Assembly seat.
Meanwhile, the Washoe Education Association, the bargaining unit for teachers in the district, is endorsing all four incumbents — Rodriguez, Smith, Minetto and Mayberry.
"They've done a good job, and they've shown that they can do a good job for public education, and educators," said Phil Kaiser, WEA's president.
The Nevada State Education Association hasn't weighed in on the Clark County trustee races, but the statewide organization did throw its support behind all four incumbents in Washoe County.
So far, Smith and Mayberry have raised the most money of the four school races, $30,418 and $10,718 respectively through the first three months of 2022. In the District C race, Sutton is out-fundraising Rodriguez by $3,085. In the District B race, Minetto and Reyes have not reported any contributions or expenses, while Westlake reported raising nearly $3,000. 
Correction (June 1, 2022 at 10:30 a.m.): A previous version of this article misidentified Colleen Westlake's occupation. She works for an orthodontist. 
Featured Videos
Comment Policy (updated 4/20/2021): Please keep your comments civil. We reserve the right to delete comments or ban users who engage in personal attacks, use an excess of profanity, make verifiably false statements or are otherwise nasty. Comments that contain links must be approved by admin.