An employee prepares cannabis for planting in the propagation room at Reef Dispensaries, 3400 Western Ave., on Wednesday, Feb. 15, 2017. Photo by Jeff Scheid.
About Last Week: Sheriff Lombardo and Sessions avoid pot discussion, housing prices inch up
Seven days. Never enough hours.
Stacks of paperwork at the office and piles of laundry at home. It's a never-ending cycle, which makes it difficult to stay on top of the endless news nuggets flowing from the White House, state capital, local government, and business community. We get it — and we're in the news business.
Enter "About Last Week." This is our way of bringing news-hungry but time-strapped readers up to speed on happenings that may have flown under the radar. Our promise: We'll keep it brief. Our hope: You'll read (or skim) and keep checking back every Monday.
So, without further ado, here are some things that happened in Nevada last week.
Dan Schwartz, bomb-thrower
Republican treasurer Dan Schwartz may not have officially declared his candidacy for governor just yet, but he sure sounded like a man running for higher office during a town hall event on Wednesday in Las Vegas.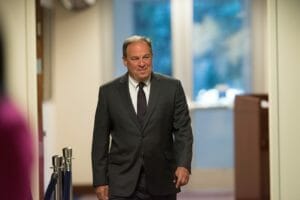 Schwartz confirmed that he has no interest in a primary battle against Sen. Dean Heller, and spent part of the event touting his ultimately successful prediction that electric car manufacturer Faraday Future would ultimately bail from constructing a massive factory in North Las Vegas.
But the pugnacious Schwartz couldn't resist taking shots at a number of fellow Republicans, including Gov. Brian Sandoval, economic development czar Steve Hill and Republican state Sen. Michael Roberson.
On @RobersonForNV - "You've heard about a man without a country, he's a man without principles."

— Riley Snyder (@RileySnyder) July 13, 2017
— Riley Snyder
Lombardo, Sessions don't talk pot
Las Vegas Metropolitan Police Department Sheriff Joe Lombardo and Attorney General Jeff Sessions talked about a lot of things during Session's visit to Las Vegas this week — sanctuary cities, combating opioid abuse and targeting violent street gangs.
But one touchy topic was notably not brought up by either man — Nevada's decision to begin selling marijuana for recreational use earlier this month, despite the drug remaining illegal on a federal level.
"I didn't bring it up, he didn't bring it up," Lombardo told the Las Vegas Sun.
Recreational marijuana fans have nervously watched Sessions' attitude toward marijuana ever since the fervently anti-drug former senator was appointed in February. No crackdown on states with legal recreational or medical sales has come yet, but Sessions did request the a Department of Justice task force review Obama-era policies in several areas, including marijuana, by the end of July.
— Riley Snyder
Nevada's housing crunch
Rising home prices across Nevada, which are pricing out first-time buyers and those on the lower end of the cost spectrum, continued last month amid a tight supply.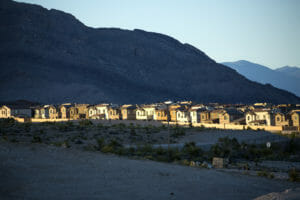 The Reno/Sparks Association of Realtors reported that the June median sales price for existing homes in Washoe County hit $340,000 — up 2 percent from May and 9 percent from the prior year. In the Reno area only, the median sales price of an existing home was $359,450 in June.
In Southern Nevada, the median sales price of existing homes increased to $257,373, according to the Greater Las Vegas Association of Realtors. That represents a 2.9 percent jump from May and a 9.5 percent increase from June 2016.
The Reno housing market has roughly a 1.4 months supply of inventory, which refers to to the time it would take to exhaust the amount of homes on the market at the current rate of sales. Southern Nevada has less than a two-month supply of inventory.
— Jackie Valley
A victory for the teachers' union
The state entity that resolves disputes among local governments ruled in favor of the Clark County teachers' union on Thursday, making it easier for educators to attain pay raises tied to professional development.
The Clark County School District had made changes to a reference guide for the Professional Growth System, which dictates what learning activities, such as college coursework or professional training, accrue credits that count toward pay increases. The changes would have made it more difficult for teachers and other licensed professionals to achieve a bump in salary.
In April, the Clark County Education Association filed an unfair labor charge against the district with the Employee Management Relations Board. The board ultimately determined that the reference guide is a bargained document and, therefore, cannot be changed by the school district outside of contract negotiations, said Michelle Kim, the union's director of strategic initiatives.
— Jackie Valley
Regent announces City Council bid
A termed-out member of the state's Board of Regents for the Nevada System of Higher Education is throwing his hat in the ring for City Council.
Cedric Crear, president of local marketing group Crear Creative Group, announced his intentions to run for Las Vegas City Council Ward 5 seat, which will be on the ballot during the 2019 municipal elections.
The seat is currently held by Councilman Ricki Barlow, who will be termed out of office in 2019.
— Riley Snyder
Note: This item has been updated to correct the incumbent in the council seat.
Indy Rewind
Nevada Independent reporters were busy last week, covering a wide variety of topics ranging from electric car manufacturer Faraday Future leaving town to news that Vice President Mike Pence will visit Nevada in August on behalf of Attorney General Adam Laxalt.
Here's a sampling of our headlines from last week:
Stories
Candidate Trackers
Endorsements, Ads, Policies, Visits
& More
visit now
Comment Policy (updated 10/4/19): Please keep your comments civil. We reserve the right to delete comments or ban users who engage in personal attacks, use an excess of profanity, make verifiably false statements or are otherwise nasty.