Democratic gubernatorial candidates Steve Sisolak, left, and Chris Giunchigliani live debate at KTNV on Thursday, May 24, 2018. (Jeff Scheid/The Nevada Independent)
After months of campaigning — and mudslinging — voters will decide which gubernatorial candidates move forward
It's hard to watch TV these days without seeing a barrage of ads in Nevada's governor race, starting with accusations that Clark County Commissioner Chris Giunchigliani raised her pay three times in the Legislature, paid her late husband large amounts of campaign cash or laughed as an audience member in a serious public meeting.
And then from the other side are accusations that Clark County Commissioner Steve Sisolak voted for development at Red Rock after taking campaign donations from a developer, that he gave the Raiders a payout but blocked education funding and that he's taken less-than-progressive policy positions over the years.
While Attorney General Adam Laxalt appears to have pulled irrevocably ahead in the polls in the Republican primary and has largely disregarded his opponents, including Treasurer Dan Schwartz and bike shop owner Jared Fisher, the clash between two Clark County commissioners seeking the Democratic nomination has only intensified as Election Day neared.
It's the marquee race to watch on Tuesday.
Sisolak has a commanding fundraising lead and a wide advantage in a mid-April poll, in addition to support from Democratic kingmaker and ex-Sen. Harry Reid. But Giunchigliani nabbed millions of dollars from outside groups to stay competitive, and got a late endorsement from Hillary Clinton.
When the battle royale is finally over, the Democratic winner is expected to be bruised and financially depleted as the nominee heads into the general election against Laxalt, who's built up a hefty war chest and counts among his allies casino magnate Sheldon Adelson, one of the richest men in the world and a ready donor to Republican causes.
Both parties are desperate to claim the governor's mansion in the November election. For Republicans including Laxalt, it's about staving off the "Californication" of Nevada and being a conservative backstop against what's almost certain to be a Democratic-controlled Legislature. For Democrats, it's about clearing the way for progressive policies that have been at bay under 20 years of Republican governors.
Among other things at stake in what's arguably the most important race on the Nevada ballot in 2018: the Legislature will be drawing new voting districts in 2021 and the balance of power will help decide whether Democrats or Republicans have better chances of winning congressional and legislative seats.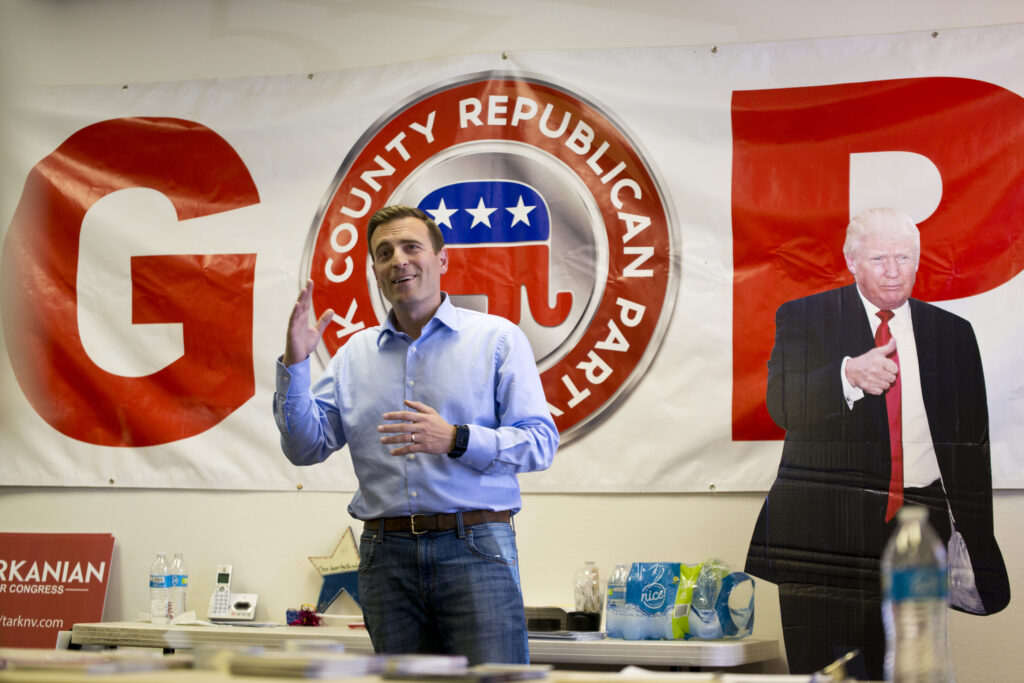 Policy contrasts
Swingy Nevada has long selected moderates to its highest office, although Democrats trying to win over their base are fighting right now about who's the true progressive.
Sisolak has called himself a conservative or moderate Democrat in the past, although some of his recent ads seek to label him a progressive. Still, he has been careful to avoid saying he'd raise taxes, particularly when it comes to funding education.
"No, I don't think we need to raise taxes to pay teachers more money," Sisolak said at a debate last month.
In an interview with The Nevada Independent on Monday, Sisolak reiterated his plan to redirect two existing streams of revenue — Initiative Petition 1 room taxes, which wound up filling budget holes after the recession battered Nevada's economy, and marijuana taxes — toward education as originally intended. Then he wants to revamp the education funding formula in a way that lets extra money flow to the Clark and Washoe county school districts while not cutting revenue for the others.
But fully implementing the so-called weighted funding formula, which would pump more money to students with extra needs, likely would cost more than $1 billion, according to previous estimates. Asked if he could adequately fund education with no new taxes beyond the marijuana and hotel room taxes, he said it would take time.
"I don't think you can make up a billion dollars, clearly, in one session," Sisolak said Monday. "But I don't think you can eat an elephant in one session either. You've got to do it a bite at a time. You've got to make progress. We've got to get going down the right road. These problems didn't occur overnight, and they're not going to be resolved overnight."
If Nevada residents see progress in the school realm — for instance, better teacher pay and smaller class sizes — Sisolak said he thinks "they'll be willing to invest more in education."
His opponent also hasn't committed to raising taxes to pay for education fixes, although Giunchigliani has appeared more open to the possibility.
"Until I see the budget, see the crafting, and work with anybody I can't make a commitment to that one way or another," she said at a recent debate. "You have to do your job."
The former special-education teacher said the base funding for K-12 education, determined by a formula created in the 1960s, hasn't been adequate for years. She equated it to building a house: If the foundation isn't formed properly, the rest of the house will suffer.
"My goal is to go in and fix that funding formula so that it's fair regardless of what ZIP code you live in," she said.
Giunchigliani also responded to concerns raised by Laxalt that a Democrat like her would kill the "Nevada Dream" and block his stated goal of ensuring Nevada is the most economically competitive state in the American West.
"I don't want to harm working families and small businesses but what we should be focusing our economic development on not only on jobs but on diversification," she said. "Small mom and pops. Hispanic. Black. Asian and Pacific Islander. Veterans, disabled and women-owned ought to be where we're focusing our energies and our money and our commitment and you'll see that under my direction."
Laxalt has been using the prospect that Nevada would become a sanctuary state as a rallying point for his Republican base. So has lieutenant governor candidate Michael Roberson, honorary chair of a committee seeking a ballot measure to ban sanctuary cities. But so far, the quest has been more talk than action — the committee spent virtually nothing on what would normally be a very expensive, painstaking process of gathering more than 100,000 voter signatures to land the initiative on the ballot.
The discussion is clouded by the fact that there's no legal definition for a sanctuary city.
Las Vegas Review-Journal columnist Victor Joecks reported in February that Sisolak said he opposes sanctuary cities, but then Sisolak issued a statement later clarifying his position and indicating that he didn't support the actual ballot measure.
"My position is clear: Anyone who commits a violent felony crime in Nevada should go to jail – no matter who they are, where they are from, or how they got here," he said. "But, like Governor Sandoval, I stand firmly against the partisan ballot initiative that is intended only to fear-monger and score political points."
Last year, he said he was concerned about how any "sanctuary" label might affect Metro.
"I know that we do get federal funds that potentially, to my understanding, could be at risk. And obviously that is of major concern if a dollar was at risk," he said. "The budget is based on that, we've got hiring in place, and that could be catastrophic to hiring at Metro."
Giunchigliani said Monday that she'd "absolutely" push for Metro to rethink its 287(g) agreement, in which some of its officers within the Clark County Detention Center are deputized by ICE to decide which inmates should be referred for deportation. She noted that she's a member of an immigrant coalition and had called a meeting about a year ago with questions about the collaboration.
She also said she'd support a bill backed by state Sen. Yvanna Cancela that never came up for a hearing but that would have limited Metro's cooperation with ICE — an agency she characterized as becoming increasingly aggressive.
"We have such a shortfall of police in this state, we should not be doing the federal government's work for them through the ICE and [the sheriff] had committed at that time that he would only look at those three severe criminal elements that were there but unfortunately, that's not happening anymore," she said.
Guns have also taken center stage in the primary, especially after Las Vegas experienced the worst mass shooting in U.S. history in October and as the state's failure to implement a gun background check expansion has turned into an attack on Attorney General Adam Laxalt. Giunchigliani has accused Sisolak of being slow to support gun control.
Sisolak previously received an A- grade from the National Rifle Association in his 2012 run for county commissioner, but more recently received an F — the same grade Giunchigliani has this cycle. He's responded with ads accusing her of being untruthful.
Post-primary realities
Whoever emerges as the Democratic victor Tuesday faces an uphill fundraising battle. Sisolak and Giunchigliani spent aggressively this spring trying to defeat each other, leaving little behind in their bank accounts to take on the Republican nominee in the general election.
The winner likely will go up against Laxalt, who raised more than $2.2 million since the beginning of the year. He spent $1.3 million during that same time period, which gives him a greater cushion compared to his Democratic opponents.
Sisolak, on the other hand, raised $1.7 million this year but spent $6.3 million — most of which has gone toward advertising. Campaign finance reports indicate Sisolak started the year with roughly $5.9 million stashed away.
Giunchigliani, who has run a more grassroots-style campaign as the perceived underdog in the Democratic race, started the year with roughly $841,000 in the bank. Since then, she has raised nearly $975,000 and spent $1.5 million in the run-up to the primary.
The looming question: Will the lopsided spending wind up hurting the Democratic nominee?
For his part, Sisolak doesn't appear too worried. The commissioner struck an optimistic tone, saying he's "very confident" his team can rake in enough money to wage a good fight.
"My supporters have been very generous, and they've committed that they will continue to be generous as we move into the general election," he said May 24 after a televised debate with Giunchigliani.
But he also didn't downplay the capital needed moving forward.
"This is going to be a very expensive race to run against Adam Laxalt," he said. "I'm confident we've assembled a great team of people, and people and TV ads cost a lot of money, and I understand that. I'm confident we'll be able to do enough and raise enough money to get our message out."
Laxalt, for his part, has been saying on the campaign trail that $50 million is pledged against him and urging his supporters to step up their fight on his behalf.
Money isn't the only form of support, though.
Giunchigliani and Sisolak, who've engaged in near-constant mudslinging the last few months, have vowed to put those disagreements aside and campaign for each other if they lose the primary election.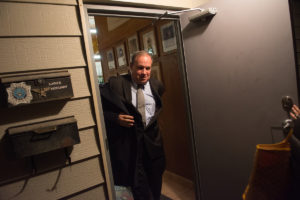 Schwartz said on Monday that he would be willing to do the same even though he's been sharply critical of Laxalt.
"I'm a Republican. I'm a member of the Republican Party," he said. "I will certainly support our candidate."
Schwartz's verbal commitment of support, however, came after he delivered a snide remark about his primary competitor. Laxalt's campaign did not respond to invitations to appear on a radio show Monday morning featuring the four other leading gubernatorial candidates.
The attorney general's absence earned this quip from Schwartz: "I gather Mr. Laxalt has gone into hibernation again."
Disclosure: Steve Sisolak

 and 

Chris Giunchigliani

 have donated to The Nevada Independent. You can see a full list of donors here.
Comment Policy (updated 3/21/19): We welcome reader comments on our stories. However, in keeping with our general policy of transparency, accuracy and accountability, we do not accept comments from anonymous accounts. Anonymous accounts are those without a valid first and last name. Any such comments will be deleted, and anonymous users will be blocked from commenting further. We also will block commenters who use offensive language, engage in personal attacks or state things that are verifiably false.
get our morning newsletter,
The Daily Indy
IndySwag Item of the Week
Unisex stretch t-shirt (with "#WeMatter" on back)
INDYMATTERS PODCAST
CAFECITO CON LUZ Y MICHELLE
@TheNVIndy ON TWITTER