Indy Explains: Clark County begins five-day recount process in race determined by 10 votes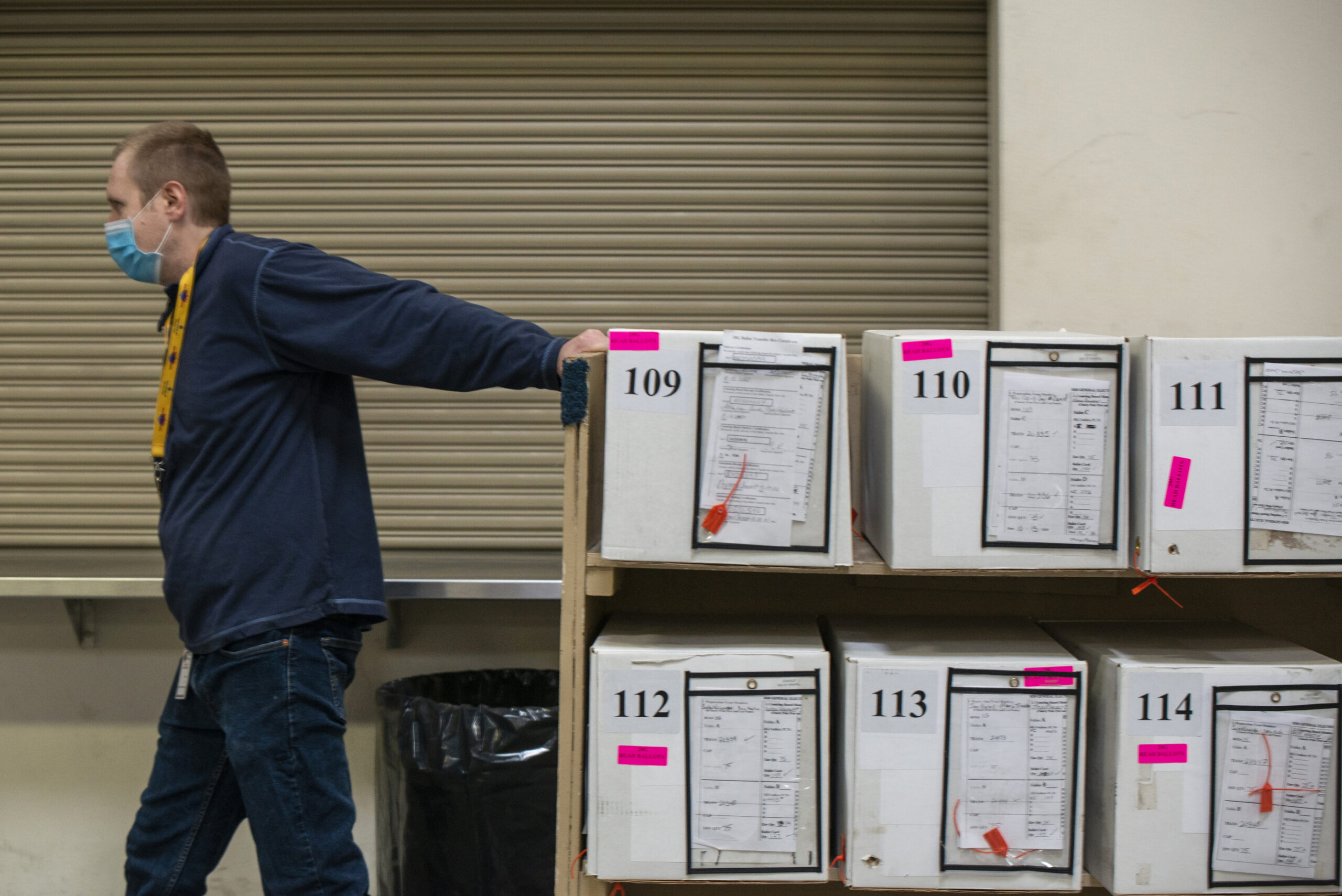 Clark County Election Department staff were on site bright and early at 5 a.m. on Monday to start a recount for the District C seat on the county commission — a process that election staff expect to take five days and that cost losing candidate Stavros Anthony nearly $80,000.
Anthony, a Republican, requested the recount on Friday, three days after the Clark County Commission voted to certify Democrat Ross Miller's 10-vote victory in the race. The commission had originally chosen not to certify the results because of 139 ballot discrepancies in the district, which outnumbered Miller's margin of victory.
After a suit from Miller, an intervention by Anthony, and a statement from a judge that the discrepancies did not mean an election was prevented and, therefore, did not constitute "cause" for a new election to be called, the commission reconsidered its decision and voted to canvass and certify initial results on Tuesday.
What has resulted from the contentious process is a recount in a massive district where more than 153,000 ballots will need to be reviewed.
Here are some details on how it's happening.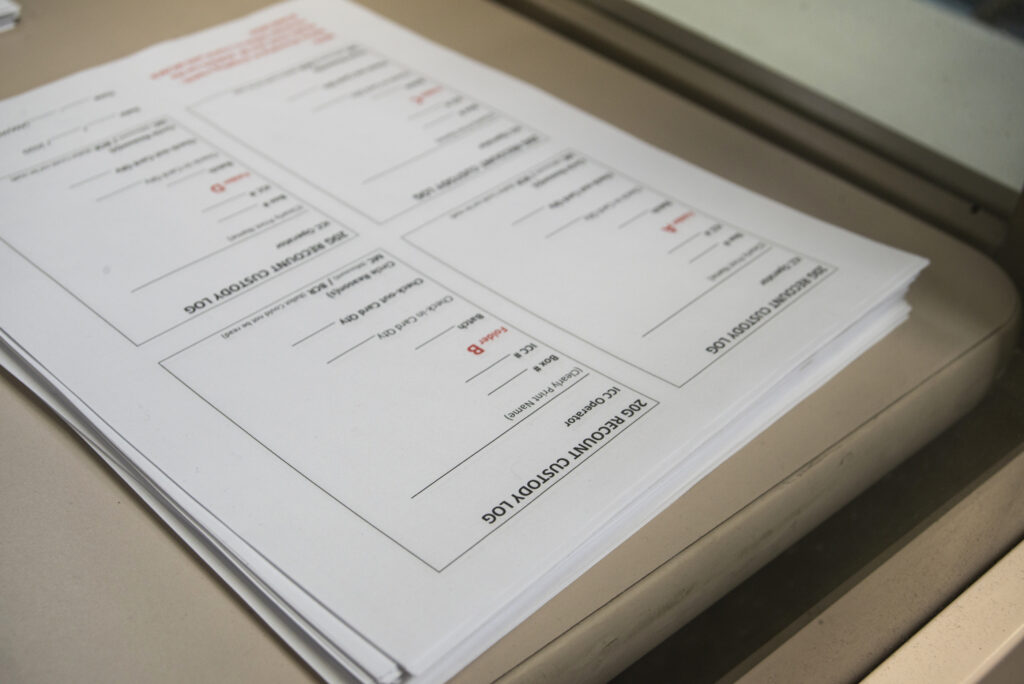 How is a recount called?
There is no automatic recount process in the state of Nevada. Some states require recounts for ties and close races with victory percentages less than or equal to .5 percent.
Instead, recounts must be requested by any losing candidate, no matter the margin of the race, who then deposits the estimated cost of the recount with the election's officer in the region. Nevada is one of 39 states where a candidate can call for a recount. In some states, recounts can only happen automatically.
Additionally, Nevada is one of eight states where a voter could call for a recount on a ballot question. These requests must be made within three working days of the canvass and certification of the votes by the appropriate city or county board.
What about the money?
As the party who called for the recount, Anthony is responsible for depositing the cost in advance. In this case, it's more than $79,000.
Anthony called that price "outrageous" in a tweet on Friday in which he also requested donations from supporters to help cover the cost. According to Anthony's campaign manager, Lisa Mayo-DeRiso, Anthony spent most of Monday phonebanking to draw financial support and to encourage volunteers to observe the counting in the coming days.
If a recount ends with a change to the results in an election, the party who called for the recount is refunded the advance deposit, and the state or county that conducted the recount is responsible for the cost. In this case, if Anthony is declared the winner, Clark County will bear the cost of the recount.
If the recount determines that Miller retained his victory and the recount's cost is less than the estimated amount provided to Anthony, Anthony will be refunded the difference.
According to Registrar of Voters Joe Gloria, the cost of these recounts is mostly a result of staffing costs. Gloria also said the cost includes having a representative of Dominion Voting Systems, the vendor which supplies voting machines in the county, on site in case of any issues.
Nevada statutes say that recount costs are allowed to include building utilities, salaries for employees, services from agencies that administer telecommunications or provide computer system support, per diem and mileage allowances for county clerks, extra materials such as tally books, and any required support from equipment vendors. The cost cannot include utilities, rent, or payments that would be paid by the county even without the recount.
How does the recount work?
For a recount of this size, the election department is utilizing two shifts of staff every day over the course of five days. Counting will last from 5:00 a.m. to 10:30 p.m. each day.
Gloria says he's "pretty confident" the recount will take the full five days.
"There's a considerable number of ballots to be counted," he told The Nevada Independent on Monday. "We'll definitely go well into Friday."
He also indicated that starting on Tuesday, the county will give reports on the number of ballot boxes left to count.
During the recount, counting staff are only looking at the selections made by voters in the District C race and are not recounting votes for any other race or question included on those ballots.
The staff tasked with counting the ballots are a combination of permanent election department staff and temporary workers contracted to perform the service. Employees perform a variety of tasks including processing early voting and mail-in ballots and adjudicating ballots in question.
Ballot adjudication occurs when a correction or error on a ballot prevents it from being read by a machine. In order to correct a mistaken vote on a ballot, voters must cross out the name of the incorrectly selected party and then select the preferred candidate. Because machines read these corrections as a voter selecting multiple candidates, ballot counters are tasked with determining a voter's intent.
In order to do this, the ballot being adjudicated is projected on two large screens while ballot counters look at the selections made to determine whether one name was clearly marked either as a preference or a mistake.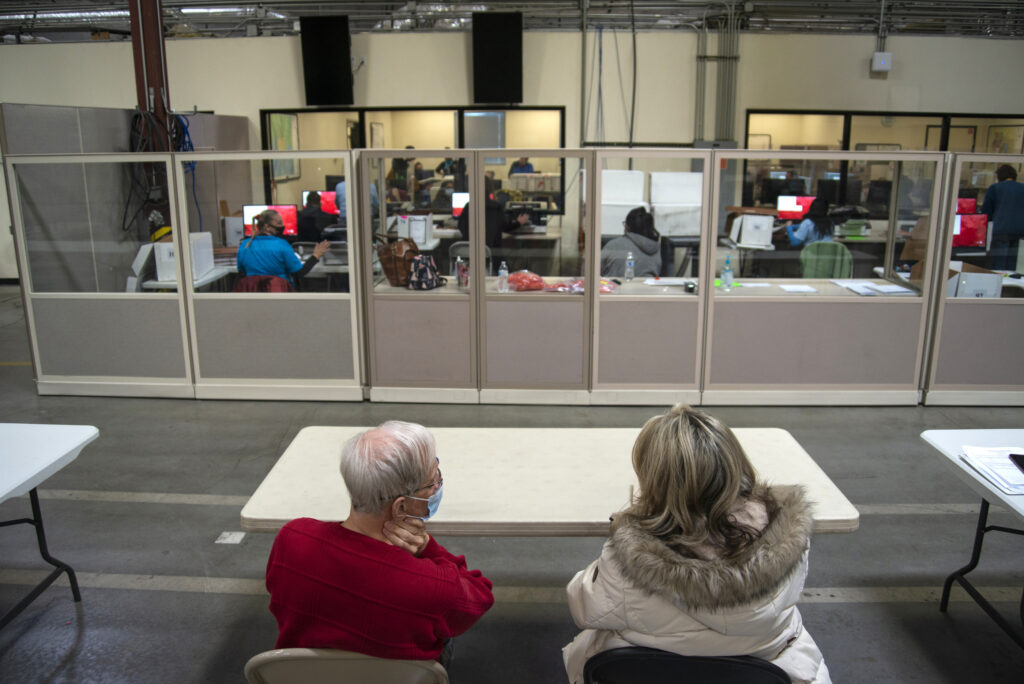 Observers can see the projected ballot while it is being analyzed from where they are placed beyond the plexiglass barrier that divides ballot counters from the general public.
There were multiple observers in attendance in the election department warehouse in North Las Vegas on Monday, including Miller, Anthony campaign manager Mayo-DeRiso, and volunteers observing on behalf of Anthony's campaign.
Past recounts
Nevada's most recent major recount was for the Senate District 20 seat in the 2018 general election. Democratic candidate Julie Pazina called for the recount after results showed her trailing Republican opponent Keith Pickard by 28 votes out of 55,368 cast.
The 2018 recount did not change the outcome of that election, although it did slightly narrow Pickard's margin of victory. Final results gave him a win by 24 votes.
Recounts also took place in 2016 for Assembly District 31 in Washoe County and in the presidential election. In the Assembly district, more than 30,000 votes were recounted in one day in the race between Republican Jill Dickman and Democrat Skip Daly. That recount also did not change the final outcome of the race but did narrow the lead of winner Daly from 38 to 36.
In the presidential election, a partial recount took place in Nevada in five counties, including four rural counties and several precincts in Clark County. The recount reviewed 93,840 ballots between these counties and resulted in both Hillary Clinton and Donald Trump losing "erroneous votes." Clinton lost nine, and Trump lost six.
The partial recount in the 2016 election was requested by independent presidential candidate Roque De La Fuente, who received .23 percent of the vote in the general election. The recount cost De La Fuente $6,500.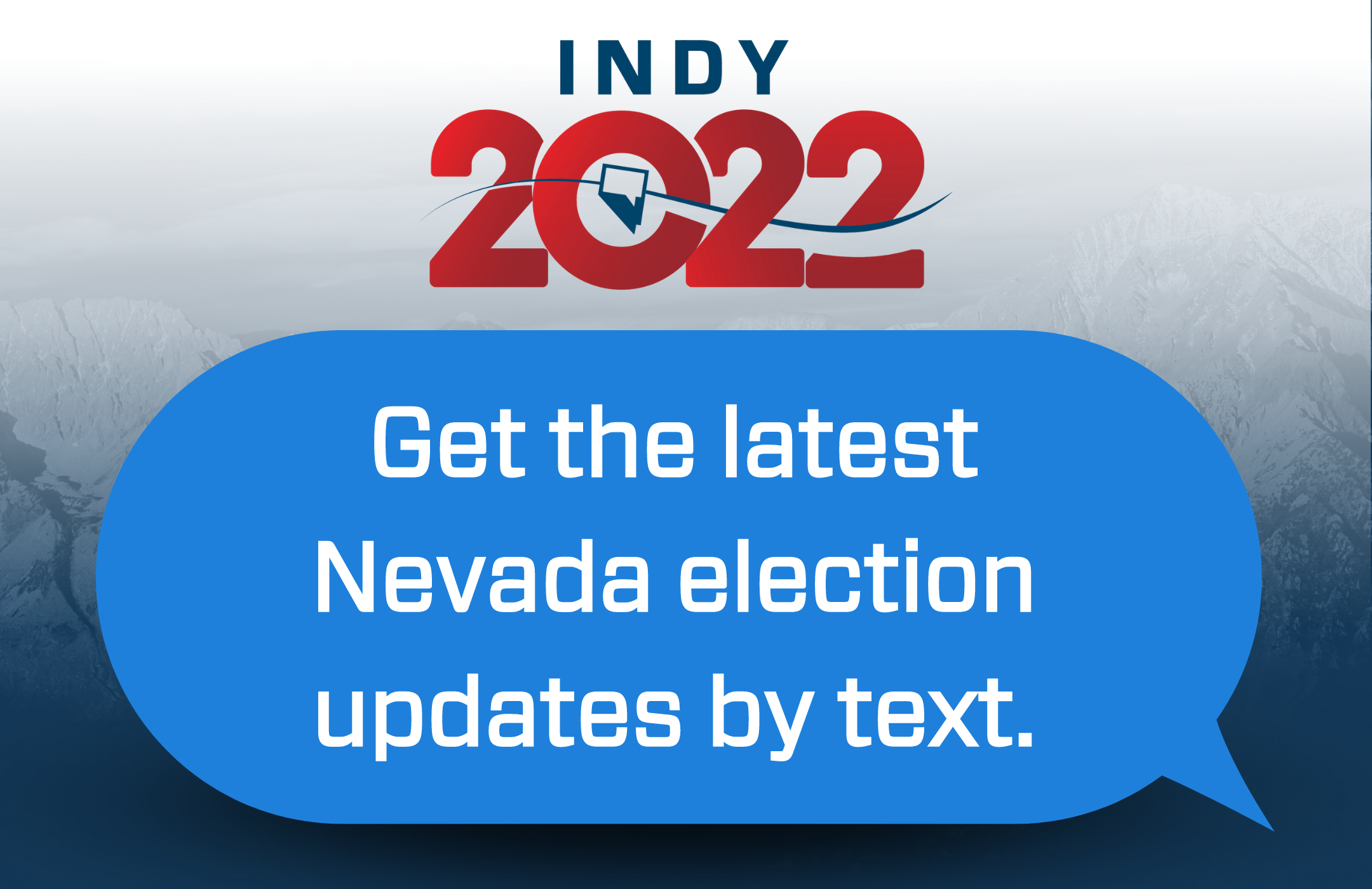 Featured Videos
Comment Policy (updated 4/20/2021): Please keep your comments civil. We reserve the right to delete comments or ban users who engage in personal attacks, use an excess of profanity, make verifiably false statements or are otherwise nasty. Comments that contain links must be approved by admin.