GOP debate fact check: Sanctuary cities, abortion funding and border crossings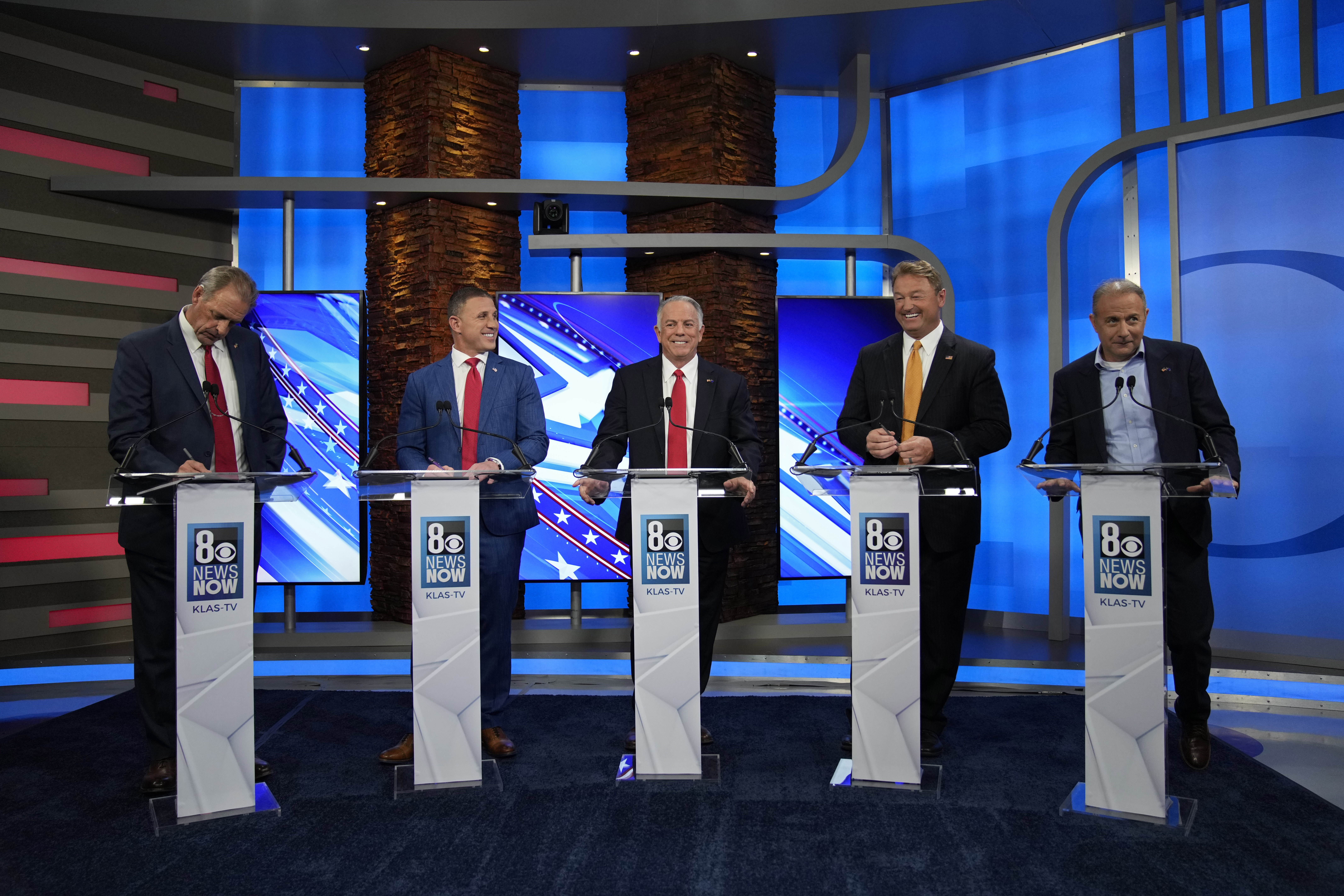 Wednesday night's debate between the top five GOP governor contenders saw plenty of attacks against Joe Lombardo, the presumed and self-proclaimed frontrunner.
It also featured many confidently delivered claims on topics such as immigration, the economy, voting records and crime as candidates sought to position themselves as the best person to take on Gov. Steve Sisolak this fall.
But which statements were true, and which claims fell short of the truth? Below, the staff of The Nevada Independent dug through the debate transcript and fact checked some of the more notable claims and statements made during the debate.
Is Las Vegas a sanctuary city?
"What happened was, [Joe Lombardo] made Southern Nevada a sanctuary city. if you want to live in a dangerous neighborhood, live in a sanctuary city." — Dean Heller.
There is no official legal definition for the term "sanctuary city." In general, it refers to any city or municipality that refuses requests from federal immigration authorities to detain undocumented immigrants apprehended for low-level offenses while turning over those who have committed serious crimes.
To date, the state of Nevada, Clark County and the City of Las Vegas have not enacted any law restricting the Las Vegas Metro Police Department from communicating with Immigration, Customs and Enforcement (ICE) officials about any arrested person's citizenship status.
Lombardo nodded to the lack of clarity around the term sanctuary city during the debate and noted that the "Legislature has not identified or labeled any jurisdiction the the state of Nevada as 'sanctuary.'"
His words echo a letter Clark County District Attorney Steve Wolfson wrote to the U.S. Department of Justice in May 2017, noting that the Metro's law enforcement and detention activities comply with federal law and rebuking the notion that the county is acting as a sanctuary jurisdiction.
Metro was listed as an "uncooperative" agency by the Trump administration in 2017, largely based on a 2014 policy put in place by then-Sheriff Doug Gillespie to not hold individuals solely based on a federal immigration detainer. Metro and Clark County sharply pushed back on the insinuation that the county was acting as a sanctuary jurisdiction.
Metro announced in 2019 that it was suspending a so-called 287(g) program that involved specially trained Metro officers doing some of the tasks of immigration agents within the jails. Still, the agency indicated it would "continue to work with ICE," and Lombardo's statements and public records show the agency is using an alternative process to continue helping ICE.
Planned Parenthood funding
"My record is very, very clear: 100 percent having voted against any funding for Planned Parenthood. My record will continue when I am governor of the state to be pro life." — Dean Heller
Debate moderators asked Heller about his sometimes conflicting public statements about abortion, most notably his comments at a 2017 town hall when the then-U.S. senator said he had "no problems with federal funding for Planned Parenthood."
During the debate, Heller said he had "misspoke" at that 2017 event and was referring to preserving funding for services such as mammograms and other women's health needs.
As for his congressional voting record, Heller cast at least 10 votes aimed at blocking federal funds from reaching Planned Parenthood — which does not use federal funding for abortion services under the Hyde Amendment, but does recieve federal Medicaid reimbursements for non-abortion related health care services.
Crime up 500 percent since 2014
"Since 2014, things have just been out of control with regards to sanctuary city [in Clark County], it's exploded the crime rate by 500 percent." — Joey Gilbert
In 2021, Clark County recorded about 9,900 violent crimes — a metric that includes murders, rapes, robberies and aggravated assualts. That marked a 36 percent decrease from the more than 15,300 violent crimes recorded in the county in 2014, according to crime statistics from the Nevada Department of Public Safety.
During that same period, the county saw the number of property crimes decline by 6 percent, falling from about 58,000 offenses in 2014 to 54,000 in 2021.
Though the number of murders did increase during that time, climbing by 42 percent to nearly 200 in 2021, none of those figures support Gilbert's claim that the crime rate has risen by 500 percent. That increase would amount to the number of crimes multiplying by more than five since 2014, given increases in population during that time.
The Indy has reached out to Gilbert for further clarification.
Teachers union has less than 50 percent membership of teachers
"We need to go to the teacher's union. There's less than 50 percent of teachers in the union now. Tell them, they better start backing the teachers or we decertify the unions." — Joey Gilbert
While responding to a question about how to improve Clark County schools, Gilbert suggested decertifying unions "if they don't start backing the teachers."
But his answer also included an assertion that "there's less than 50 percent of teachers in the union."
That's not exactly accurate. Clark County School District officials said Thursday that 11,059 out of 18,381 licensed employees have payroll deductions for Clark County Education Association membership fees. That amounts to 60 percent of licensed employees. Teachers make up the bulk of that employee group, though it also includes positions such as speech pathologists and school counselors.
The Clark County Education Association serves as the collective bargaining agent for licensed employees in the school district, meaning it negotiates pay, benefits and other employment conditions. Teachers can also join another union called the Nevada Education Association of Southern Nevada, which is affiliated with the Nevada State Education Association and the National Education Association.
School police defunded by $30 million?
"Governor Sisolak and the Democrats defunded school police by $30 million in 2019." — Joey Gilbert
In his opening remarks, Gilbert responded to a question about the recent mass shooting at a Texas elementary school by casting blame on Democrats for not fully funding public safety in 2019 — a claim that requires more context to what lawmakers were up to three years ago.
After former Gov. Brian Sandoval convened a school safety task force in the wake of the mass shooting in Parkland, Florida, the Republican governor included $53.8 million in new school safety resources (funded by marijuana tax money) in his proposed budget that was handed off to Sisolak shortly after the 2018 election. That included only $10 million for school police over the two-year budget cycle, with the rest largely dedicated to safety-focused infrastructure improvements ($25 million) and hiring more social workers ($13 million).
Typically, the Legislature isn't directly involved in the funding of school police forces — the money and salary that goes to those positions is not a separate budget item, but comes out of the general operating K-12 budget account that helps fund the state's school districts. In this case, the budget called for a series of one-shot appropriations to help boost school safety funding.
Near the end of the 2019 legislative session, budget committees approved slashing around $30 million out of that enhanced school safety budget item, as part of a move to redirect legal marijuana tax money toward school funding and help fulfill Sisolak's promise of teacher raises. Democrats said at the time that they still had allocated more than $23 million in school safety funding above baseline funding levels, though Republicans and others involved in the task force criticized the move.
However, the "cuts" ended up being largely theoretical. After the budgets were closed (Nevada's Constitution requires lawmakers to pass the K-12 funding budget before any other spending decisions are made), lawmakers added back almost all of that $30 million in school safety cuts through direct appropriations in two bills (SB528 and SB551) funded by the state's general fund, not the marijuana tax money.
With the dust settled, lawmakers approved $53 million of the $53.8 million in school safety upgrades called for in the budget.
About $2 million of that funding was cut during the 2020 special session to balance the state's budget amid the COVID-19 pandemic.
Border crossing numbers
Statement: "Every 15 days, 275,000 people are coming across the border into our country. That's as big as North Las Vegas … We don't have the services and we don't have the schools. We don't have the health care to take care of all these people." — John Lee
In April, U.S. Customs and Border Protection reported 260,450 nationwide encounters — the highest monthly number in the past two and a half fiscal years. That figure includes people without legal authorization to be in the country who are immediately removed from the country and those who are detained within the U.S. for a time before being expelled.
The overwhelming majority of encounters take place at the southern border, but the statistic also includes people arriving at the northern border or by air or sea.
Aside from those expulsions, nearly half a million people every day passed through a border or port of entry legally for travel or trade. Neither of those figures matches up with Lee's assertion at the debate. The Indy has reached out to Lee for further context and clarification on his statement.