Indy Gaming: Bally's, GLPI leaders hint at A's baseball stadium next to Tropicana Las Vegas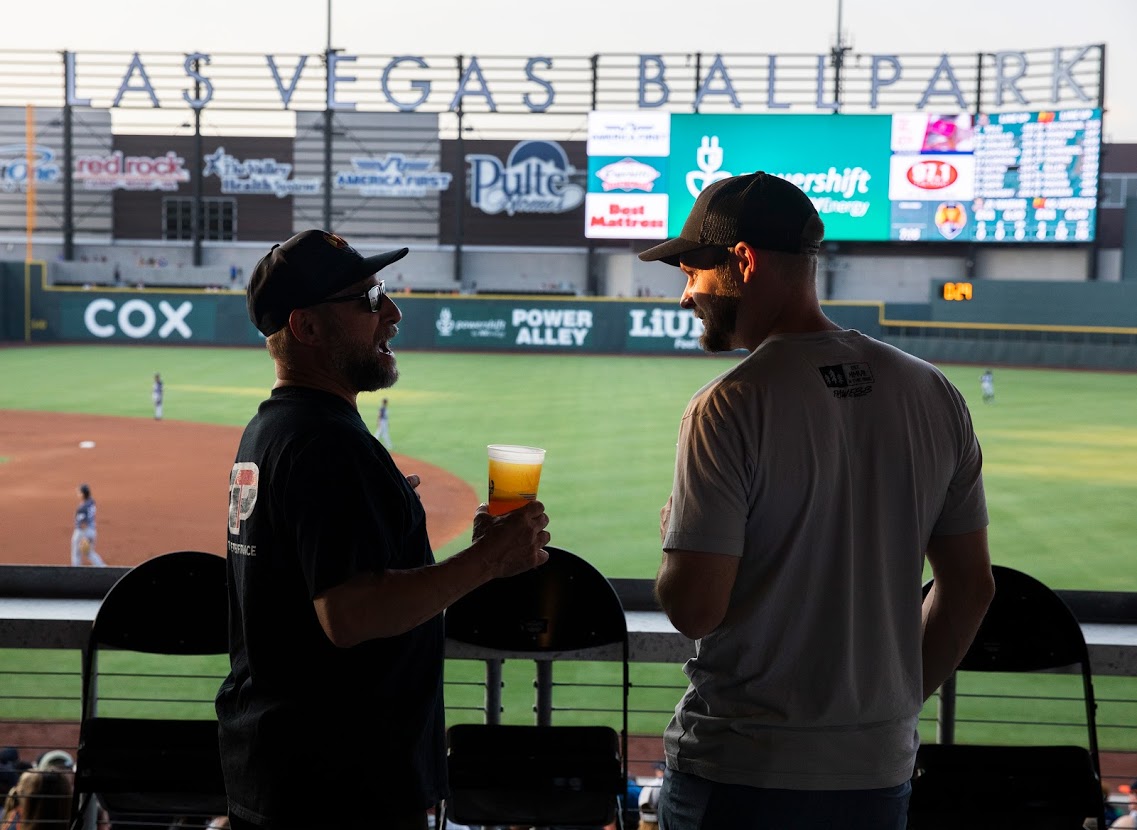 Good morning, and welcome to the Indy Gaming newsletter, a weekly look at gaming matters nationally and internationally and how the events tie back to Nevada.
If a colleague or associate emailed this newsletter to you, please click here to sign up and receive your own copy of Indy Gaming in your inbox. - Howard Stutz
---
The chief executives of Bally's Corp. and Gaming and Leisure Properties didn't reject the idea of the Oakland A's building a Major League Baseball stadium on the same site as the Tropicana Las Vegas during quarterly conference calls last week.
But they never mentioned the team nor the facility while saying the 34-acre location at the corner of the Strip and Tropicana Boulevard could be improved with additional amenities, such as a baseball stadium, beyond the aging 1,500-room Rat Pack-era casino-hotel.
Officials from the A's have explored the Las Vegas Valley since last year as a potential relocation site for the American League team, after MLB Commissioner Rob Manfred approved the team's efforts to leave the crumbling 56-year-old Oakland Coliseum.
But even after the Oakland City Council voted last month to certify an environmental impact report for a proposed stadium that would be part of a $12 billion development at the Howard Terminal near Jack London Square, A's President David Kaval told the Las Vegas Review-Journal the team was still exploring its options in the Las Vegas.
The A's stadium deal for the Howard Terminal site in Oakland still requires additional approvals. Kaval told The Nevada Independent in an email Tuesday the A's had offers out on four sites in Southern Nevada, but he didn't disclose the locations.
"While we continue the process in Oakland, we are continuing our work in Las Vegas," Kavel said. "Our focus in Southern Nevada is finalizing a site and then determining a public-private partnership with local officials."
In December CNBC reported the Tropicana site was one of several locations in the Las Vegas area where the A's were looking to build a $1 billion retractable-roof stadium with 35,000 seats.
Kaval said the A's focus in Southern Nevada was "on a location that can attract both visitors and residents; something that is a unique and exciting attraction for Las Vegas."
While the Tropicana property would fit that criteria, complicating matters further is that ownership of the property will soon change hands. Rhode Island-based Bally's has a deal to buy the operations of the Tropicana from real estate investment trust GLPI in a deal valued at $308 million: $150 million for the own and operate the hotel-casino and $10.5 million annually over the next 50 years to lease the site.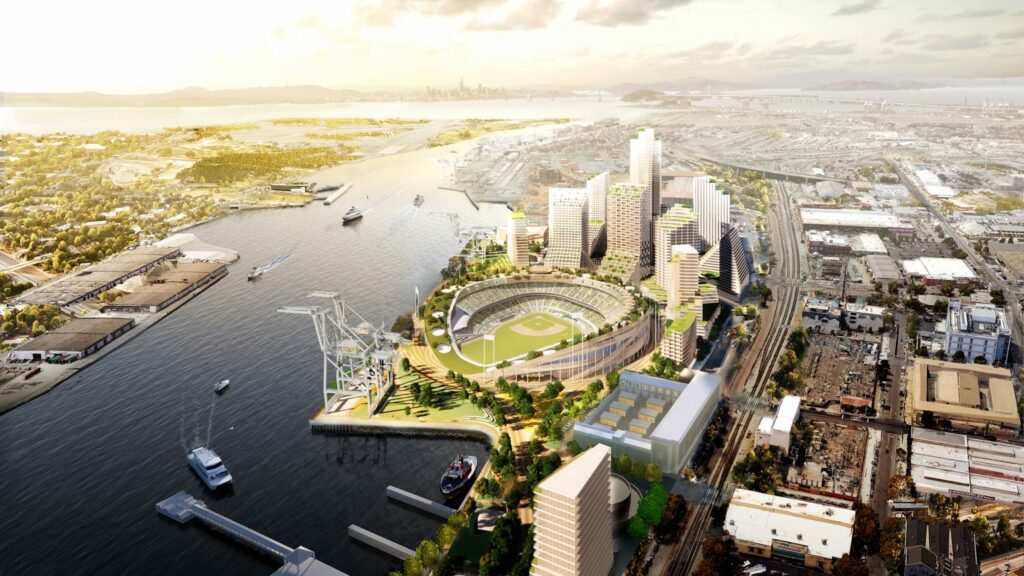 Last week, Bally's CEO Lee Fenton said the company hopes to finalize the transaction by the fall once Nevada regulatory approval is reached.
During its fourth-quarter earnings conference call, Fenton said Bally's is having "advanced discussions with potential development partners. We expect to be in the position to communicate our chosen partners and plans by the (second) half of the year."
He didn't disclose the partners.
A day after Bally's earnings call, GLPI Chairman and CEO Peter Carlino mentioned the possible stadium project on the Tropicana site. Carlino added that he wasn't sure what Bally officials have in mind for the location.
"We have an announced transaction with them," Carlino said. "But if we can enhance that transaction with deploying some capital in a broader way to a project that we feel comfortable with, we'd be open to that possibility."
GLPI has negotiated a ground lease for the Tropicana based on just the hotel-casino. But if Bally's were to negotiate "a favorable deal," GLPI wouldn't object.
"We would work with them should the opportunity arise," Carlino said. "But again, it has to cross all the other hurdles that we would normally consider. So, nothing is locked in there beyond the deal we have."
In an interview with The Nevada Independent in December, Kaval said the A's were looking at combining a resort with a ballpark, but didn't specifically name the Tropicana as one of the locations.
"Our designers have looked at a variety of sites and it's typically somewhere between 14 and 15 acres (for the actual baseball stadium)," Kaval said. "That (site) might also include mixed-use development around it, such as bars and restaurants, and maybe a hotel."
---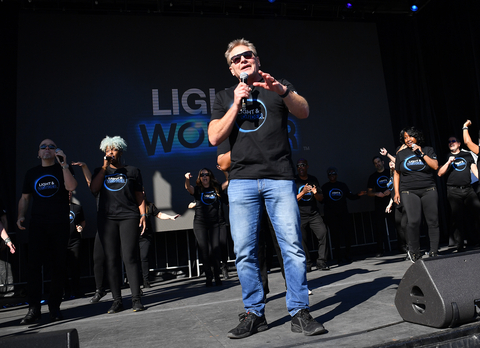 Scientific Games is now Light & Wonder following a year-long strategic review
In the span of fewer than 30 days last fall, Scientific Games announced the sale of its sports betting division and global lottery business for a combined $7.25 billion.
Changing the Las Vegas-based company's corporate name will take a little longer.
On Tuesday morning, the gaming equipment supplier unveiled its new name – Light & Wonder Inc. The announcement was made to its employees during a block party-like atmosphere celebration in the parking lot of the company's Las Vegas headquarters.
Afterward, CEO Barry Cottle told The Nevada Independent that the name change was part of a strategic review process the company undertook beginning last March.
"We contemplated on having a brand name that would capture the essence of our strategy," Cottle said, wearing a black Light & Wonder-logoed T-shirts that were handed out to employees. "We've been working on this for months to find a name that captures the essence of our company. Having it be unique and right is a challenging thing, but we're super excited about where we landed."
Light & Wonder Chief Commercial Officer Siobhan Lane said the company considered some 2,700 different names.
"We think this name is aspirational and we wanted to be different. There's nothing like it in the industry," Lane said. "We did consumer research, testing and this name, in particular, checked off the chart. So we're excited about it."
Following the strategic review, the company announced last June it would sell the sports and lottery business divisions and concentrate on three areas – land-based casinos, social games and online gaming.
Lane said the company's casino systems business has a 50 percent market share and its gaming content is converging the casino and digital sides.
"How we leverage that content both on our digital platform and in land-based casinos creates that 360-degree view of the player," Lane said. "We're in a position that we can do that. It's about building great content, but also about bringing that to the player through our systems."
Scientific Games announced the sale of its OpenBet sports betting platform for $1.2 billion to Endeavor at the end of September. A month later, its worldwide lottery business was acquired by Brookfield Business Partners for $6.05 billion.
Cottle said Light & Wonder will use the proceeds from the sales – including 90 percent of the lottery sale proceeds – to pay down the company's long-term debt, which stood at almost $8.7 billion at the end of 2021.
The name Scientific Games will be transferred along with the lottery business to Brookfield when the sale closes by the end of this month.
The company's legal name, Scientific Games Corporation, is expected to be changed to Light Wonder, Inc. in the second quarter, once it satisfies Nevada's licensing requirements.
The Light & Wonder website, lnw.com, is expected to launch Thursday and the company's stock ticker symbol on the NASDAQ will become LNW at the time of the legal name change.
"We're now just a narrowly and tightly focused organization building great games and a great platform," said Light & Wonder Executive Vice President Matt Wilson.
---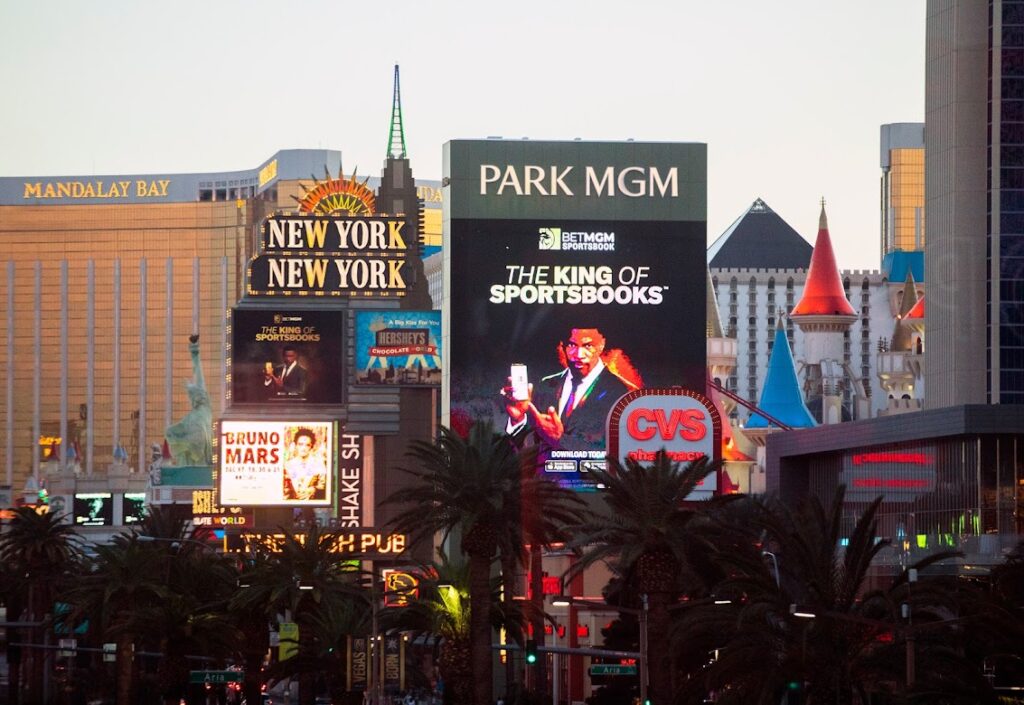 VICI still shopping for hotel-casino opportunities in Las Vegas
One might have thought real estate investment trust VICI Properties was done buying Las Vegas casinos.
The company closed on its part of the $6.25 billion purchase of Las Vegas Sands' Strip resorts last week and is expected to finalize its $17.2 billion acquisition of rival REIT MGM Growth Properties by June.
At that point, VICI will own roughly 660 acres that house 12 of the Strip's iconic resorts and entertainment venues.
Done? Not by a longshot.
VICI executives told gaming analysts during its fourth-quarter conference call that the REIT still sees opportunity on the Strip, but is also eyeballing potential sales and leaseback deals in downtown Las Vegas.
"You see how Circa (Resort & Casino) has changed that market and the way people think about (it)," VICI President John Payne said last week.
Payne also commended Golden Nugget owner Tilman Fertitta with the development of his company's downtown resort.
"Tillman and his team have done a great job there for years," Payne said. "There's an opportunity on real estate in the downtown Las Vegas market, which is a big market."
VICI is already the landlord for two Caesars Entertainment-operated Strip properties – Caesars Palace and Harrah's Las Vegas – and has the right of first refusal if the company follows through with the planned sale of another Strip resort.
Caesars CEO Tom Reeg told analysts last week the company set in motion a potential transaction on one of its Strip properties.
"The next time we talk to you about a Strip asset sale, it will be to announce that sale," Reeg said on the company's fourth-quarter conference call.
As for VICI, the company — created out of the Caesars Entertainment bankruptcy in 2019 — will soon have 45 gaming properties in 15 states following the MGM Growth deal. Eight different tenants will manage those properties.
In addition to downtown Las Vegas, Payne also didn't rule out VICI acquiring a resort in Reno, as well as several regional gaming areas, including Colorado, Rhode Island and Pittsburgh.
"There are still quite a few gaming markets where we don't own assets," Payne said.
---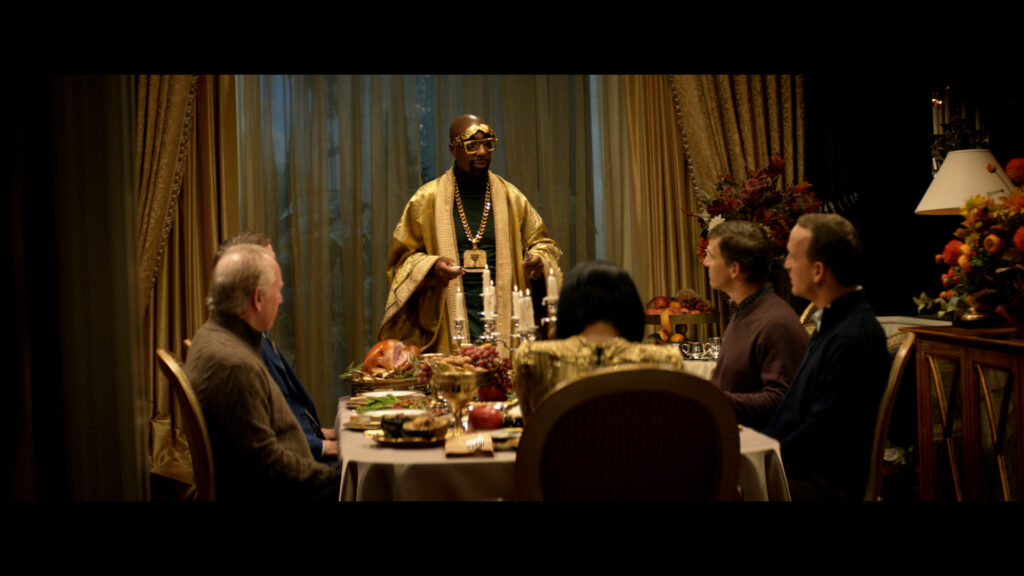 Caesars curtails its sports betting advertising; effort 'exceeded our expectations'
Caesars Entertainment set out to build a sports betting empire after spending $4 billion last year to acquire United Kingdom sports wagering giant William Hill. The casino giant believed its 65-million-member customer loyalty program, coupled with casinos spread out across 16 states, would be an asset in rolling out Caesars Sportsbook.
Also part of the equation was a multimillion-dollar advertising campaign featuring actor-comedian J.B. Smoove as Caesar, along with Academy Award-winning actress Halle Berry as Cleopatra, as well as former NFL quarterbacks Archie Manning, Peyton Manning and Eli Manning – along with brother Cooper Manning – and cameos by ESPN personalities Kenny Mayne and Trey Wingo.
Caesars CEO Tom Reeg said the marketing effort "exceeded our expectations."
So, last week, Reeg pulled the plug.
"We have accomplished what we set out to do," he said during Caesars' fourth-quarter conference on Feb. 24. "We set out to become a significant player, and it's happened significantly quicker than we thought."
The advertising effort, a centerpiece along with promotions in the costs for customer acquisition – the term used to describe players signing up and funding sports betting accounts – also drove down profits.
Reeg told analysts that Caesars Sportsbook controlled "21 percent of the sports betting market in the United States." However, the company also took a $1 billion loss in cash flow in 2021, which should not have been a surprise to the investment community.
"We told you that we'd expect to lose on a cumulative (cash flow) loss basis (of) over $1 billion," Reeg said. "What we (also) told you was we saw a significant opportunity to acquire customers and grow this business."
Reeg also said sports betting is "the most exciting growth opportunity" the gaming industry has seen in three decades.
"We were behind. We were an afterthought in this business," Reeg said last week.
With the launch of mobile sports betting in Louisiana in January and retail sports betting with tribal gaming partners in Washington State in February, Caesars now operates sports betting in 22 states, including 16 with mobile sports mobile wagering.
Eilers & Krejcik Gaming analyst Chris Krafcik said in a recent research note that Caesars is the market leader in sports betting in Nevada.
Truist Securities gaming analyst Barry Jonas said Caesars leads New York with 46 percent of the gaming revenue from sports betting, and is tied with FanDuel with 33 percent of all wagers. Caesars has seen more than 500,000 sign-ups in New York, with volume that doubled management's expectations.
"The commercials largely disappear from your screens," Reeg said, although the company could get out of a few contracts in several states heading into the March Madness NCAA Basketball Tournament.
However, as new sports betting states enter the marketplace by the end of the year – notably Ohio and Maryland – the company will float advertising into those markets. Last week, Caesars announced a sports betting partnership with NBA's Cleveland Cavaliers that includes the development of a Caesars branded retail sportsbook at the team's Rocket Mortgage Fieldhouse in downtown Cleveland. The facility is expected to open by the end of 2022.
Macquarie Securities gaming analyst Chad Beynon said the excessive customer acquisition costs have led to losses by sports betting operators across the sector.
Beynon noted BetMGM is predicting more than $1.3 billion in revenues this year, but $450 million in cash flow losses. DraftKings said its revenues will reach $1.8 billion but its cash flow will be an $850 million net loss.
"Caesars reaffirmed confidence in its path to profitability, underpinned by rationalization of marketing spend," Beynon said in a research note. Caesars told analysts the company will be cash flow positive by the fall football season in 2023.
B Riley Securities gaming analyst David Bain also noted the comparison between Caesars and DraftKings.
"While not to impugn DraftKings, there are clear differences showcasing benefits of Caesars omnichannel setup," Bain said.
---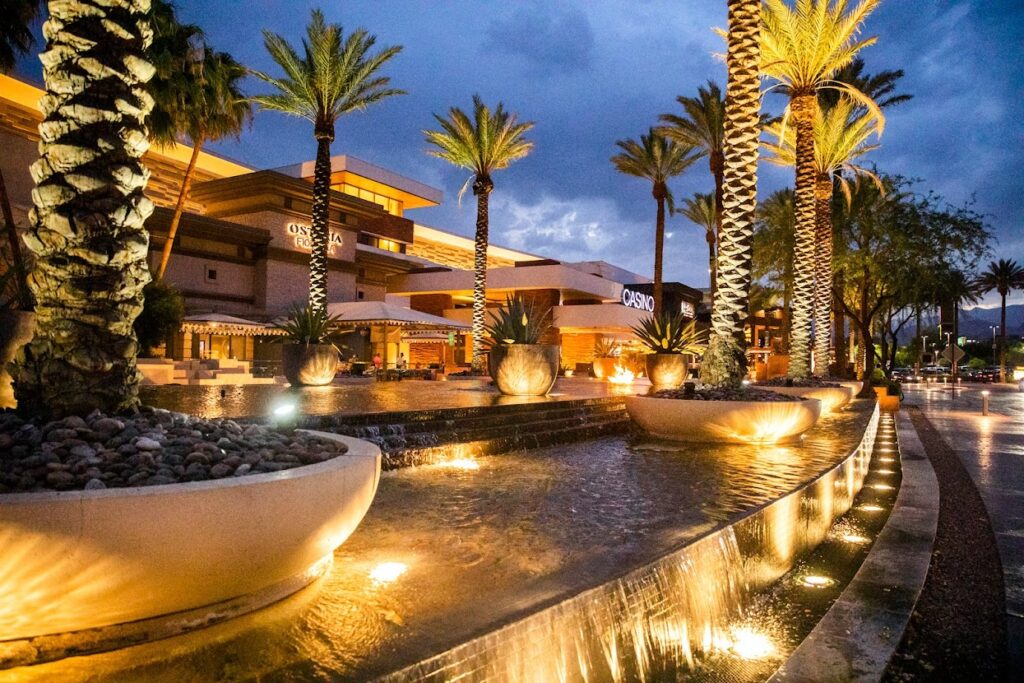 Red Rock Resort brings back Scott Kreeger as president
Scott Kreeger has been named president of Red Rock Resorts, five months after rejoining the Las Vegas-based casino operator after more than eight years away.
Kreeger, who was Red Rock's senior vice president of development, fills the position that has been vacant since July 2020 following the death of Richard Haskins in a Michigan boating accident.
"Scott is the right leader for Red Rock Resorts," Chairman and CEO Frank Fertitta III said in a statement released late Monday.
Fertitta cited Kreeger's history with the company back to its prior existence as Station Casinos.
Kreeger originally joined the company in 2000 and held several key positions in both corporate and operations over 13 years, including serving as the general manager of the flagship Red Rock Resort when it opened in April 2006.
He left the company in 2013 to become president of Revel Resort Casino (now Ocean Casino Resort) in Atlantic City and came back to Las Vegas a year later to serve as president of SLS Las Vegas (now Sahara Las Vegas) prior to its sale in 2017.
Kreeger spent more than three-and-a-half years in Macau in a corporate operations position with Hong Kong-based Galaxy Entertainment, one of six gaming concession holders in the Chinese gaming market.
---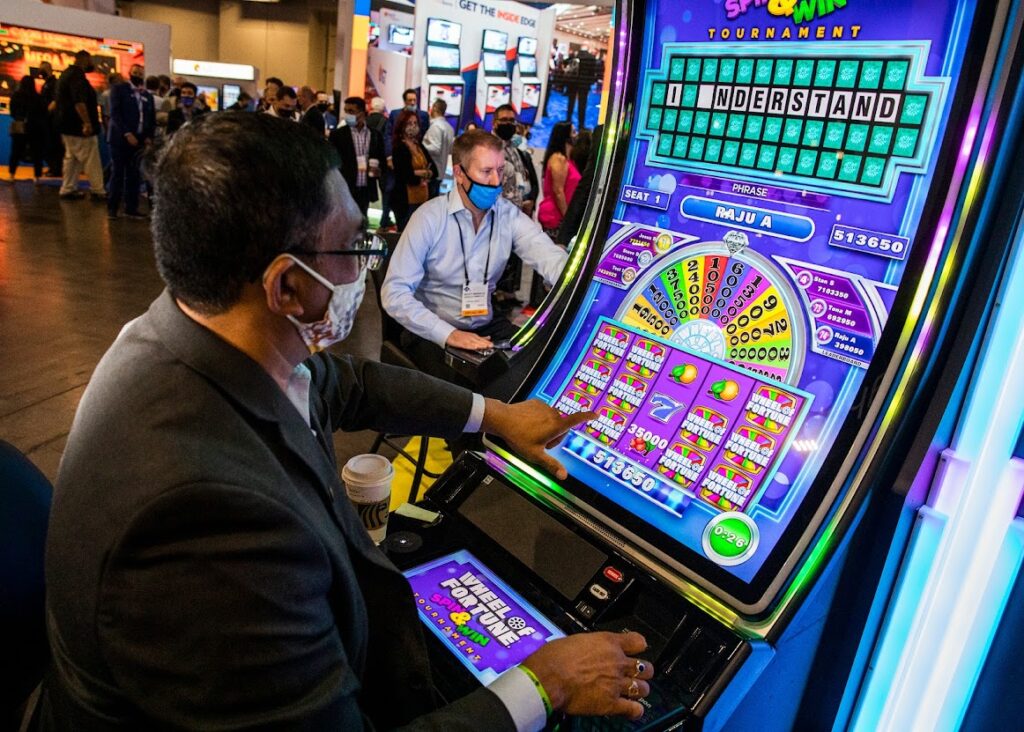 IGT extends lottery contract with Rhode Island by 20 years
International Game Technology's lottery division extended its long-standing contract with Rhode Island until 2043, committing $155 million in investments in the state where the company has maintained a headquarters going back to its time as GTech Holdings.
In an announcement last week, IGT said it will replace the central system and related lottery terminals and telecommunications equipment later this year. The system will be upgraded and replaced again in 2033. IGT also plans to upgrade Rhode Island's online lottery next year.
IGT also agreed to retain its 1,100-person workforce in the state.
Rhode Island lawmakers and Gov. Dan McKee approved the contract extension with IGT, which agreed to several economic development initiatives, including the jobs and investments in technology. IGT said it will pay $27 million to the state in payroll taxes through 2024.
"The Rhode Island Lottery has partnered with IGT since the early days of both businesses. This extension signifies an impressive milestone," Rhode Island Lottery Director Mark Furcolo said in a statement.
IGT Chief Operating Officer Jay Gendron said the state lottery is Rhode Island's third-largest revenue source.
"GTech's history is rooted in Rhode Island as the company is one of its most successful high-tech startups, with the Rhode Island Lottery being our very first customer," he said.
GTech purchased Nevada-based slot machine giant IGT for $6.4 billion in 2014 and retained the acquired company's name. IGT is now headquartered in Rome, with lottery offices in Rhode Island. IGT maintains a sales and marketing headquarters in Las Vegas and a gaming equipment manufacturing facility in Reno.
Rhode Island also serves as the home state to regional casino operator Bally's Corp., which has two casinos in the state. The state's lottery provides slot machine-like video lottery terminals (VLTs) to the casinos. The games are connected to a central management system.
Through a joint venture with Bally's, IGT will be the exclusive supplier of VLTs starting in 2023.
---
Other items of interest:
MGM Resorts International has an "escape clause" in its development agreement for its integrated resort complex in Osaka, should the economic situation deteriorate.
According to Inside Asian Gaming, the clause would take effect should Japan's central government certify Osaka's bid to develop the integrated resort. It gives MGM Resorts and its Japan-based co-partner ORIX Corp. the ability to cancel the contract 30 days after it is certified.
Osaka announced in September that it had selected MGM Resorts and ORIX to develop a proposed $10 billion complex located along the water on Osaka's Yumeshima Island including gaming and a sprawling selection of non-gaming attractions, including 2,500 hotel rooms, more than 700,000 square feet of conference and exhibition facilities and a variety of food and beverage offerings.
Japan approved up to three integrated resort projects with Nagasaki and Wakayama planning to submit proposals.
Caesars Entertainment is the only other Nevada gaming company involved in Japan. In September, the company joined a consortium of developers, including former Las Vegas Sands executives and Clairvest, a Canadian private equity firm, in a proposed project in Wakayama.
Macau gaming revenues in February were $1 billion, according to the special administrative region's Gaming Inspection and Coordination Bureau. The figure was a 6.1 percent increase over February 2021, but 69 percent below February 2019's pre-pandemic total. February's gaming figure was also 22.3 percent higher than in January.
Stifel Financial gaming analyst Steven Wieczynski said February's total was better than most analysts expected, but the result doesn't really mean much given the "continued uncertain backdrop around the market." He said COVID-19 and the omicron variant still overshadow China's overall economic recovery.
"We believe investors have to understand the (Macau) market probably won't go into recovery mode until the middle of the year, at the earliest," Wieczynski wrote in a Tuesday morning research note.
Also, Jefferies Hong Kong-based gaming analyst Andrew Lee told investors February's total may be the "near-term peak" figure since Macau is unlikely to relax its COVD-19 policies due to continued outbreaks in Hong Kong and the neighboring Guangdong province in Mainland China.
Lee also noted China's next national holiday isn't until May. "We maintain our expectations of a slow and gradual recovery that will be driven by government policies," he wrote.
Las Vegas-based Marker Trax announced an agreement with Southern California's Pechanga Resort Casino to launch its system that provides casinos with the technology to offer players cashless casino markers.
The agreement also includes the first agreement between Marker Trax and Scientific Games, which changed its name Tuesday to Light & Wonder Gaming.
"Partnering with Marker Trax on this launch demonstrates the continued momentum of cashless technology," said Light & Wonder Senior Vice President Rob Bone.
The Marker Trax is currently being used in six casinos – Ellis Island, Emerald Island and Arizona Charlie's Decatur in Southern Nevada, Grand Sierra Resort and Baldini's Sports Casino in Northern Nevada and Southern California's Morongo Casino.
The Marker Trax technology is integrated with casino management systems operated by Aristocrat Technologies, Konami Gaming, IGT and Sightline Payments.
Las Vegas Sands no longer operates a casino resort on the Strip. But hasn't stopped the company from exploring gaming expansion in other states. According to The Texas Tribune, the company launched a new political action committee in Texas in an effort to bring casinos to the Lone Star State.
The PAC was funded with $2.3 million from Miriam Adelson, Las Vegas Sands' 58 percent shareholder and the widow of company founder Sheldon Adelson, who died in January 2021.
The company has tried to legalize casinos through the state's legislature in the past decade, including a push a year ago with legislation that would have let Texas voters decide on the issue. The bill only received a hearing in the Texas House and never progressed beyond that point.
"We will continue to actively engage local and state leaders over the course of this year and be prepared to come back next session ready to pass legislation that will ultimately allow voters to decide on this issue," a spokesman for the PAC told The Texas Tribune.
The Nevada Independent is raising $200,000 by Dec. 31 to support coverage of the 2024 election.
Tax-deductible donations from readers like you fund this critical work.
If you give today,your donation will be matched dollar-for-dollar.
Give + Get Matched
Featured Videos