'Sanctuary cities' shaping up to be focal point of 2018 campaign cycle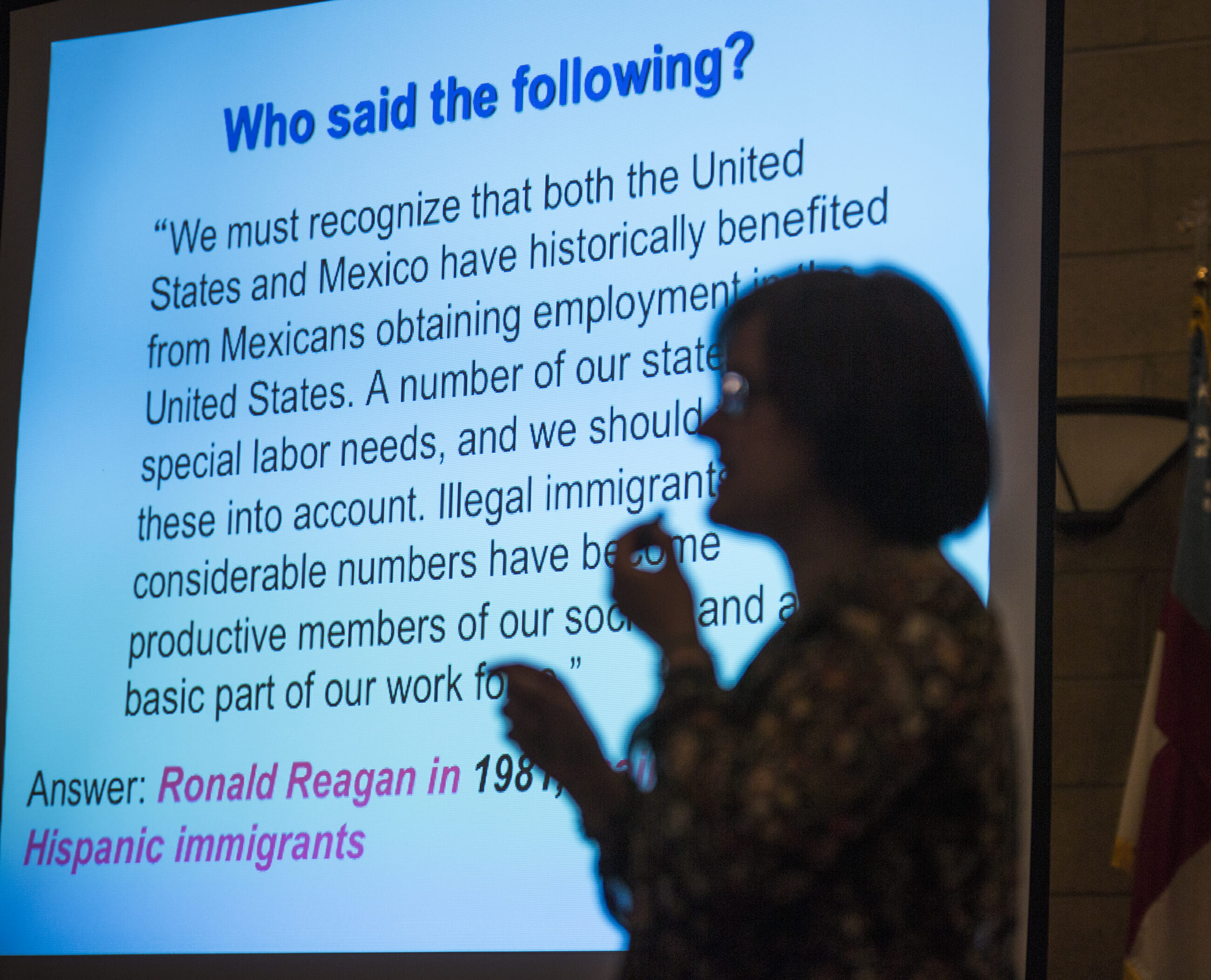 The U.S. Department of Justice granted a brief reprieve when it recently declared that Clark County is complying with federal immigration law, or, in plain terms, that is not a "sanctuary" county.
Officials with the Las Vegas Metro Police Department have long insisted that the department is following the law, despite finding itself for years on lists of uncooperative jurisdictions put out by federal immigration authorities. But it wasn't until after the county sent over documents to federal officials and U.S. Attorney General Jeff Sessions met with Metro Sheriff Joe Lombardo during a visit to Las Vegas last month that the Justice Department agreed there was "no evidence" that the county was in violation of federal immigration law.
Though the department has managed to shrug off the "sanctuary" label and its grant funding seems safe for now, the immigration debate is unlikely to quell anytime soon. Nevada has joined an amicus brief in support of the president's executive order on immigration at the direction of Attorney General Adam Laxalt, and Republican Senate Leader Michael Roberson is chairing a committee to backing a ballot measure to amend Nevada's constitution to ban sanctuary cities.
There is a legitimate policy discussion at hand in both cases — to what extent local law enforcement should be compelled or prevented from providing assistance to federal immigration authorities. But the 2018 election is a little over a year away, Laxalt and Roberson are the likely Republican candidates for governor and lieutenant governor, respectively, and recent polling in Southern Nevada shows that immigration is an important issue for nine out of 10 Republican primary voters.
When it was suggested that the Justice Department would take the steam out of the sails of the ballot initiative, Roberson tweeted, "False Narrative. Reason for ballot initiative is to prevent Dems in legislature from passing a sanctuary state law as they tried in 2015." (A spokesman for Roberson said that the senator was unavailable to talk for the article and declined to provide a statement; a spokesman for Laxalt's campaign also did not respond to a request for comment.)
But the soonest a constitutional amendment could prevent that from happening is the 2021 legislative session, since it would need to be twice approved by the voters, in 2018 and 2020, before taking effect. Putting forward a constitutional amendment does, however, ensure that Republican candidates have a close-to-home immigration measure to tout on the campaign trail in 2018.
The Republican fight against "sanctuary cities"
The first hurdle in the political battle over sanctuary cities is defining the term itself. Generally, sanctuary cities, counties or states are jurisdictions that limit cooperation with the federal government's efforts to enforce immigration law.
In San Francisco, which voluntarily refers to itself as a sanctuary city, an ordinance prohibits the use of city funds or resources to assist U.S. Immigration and Customs Enforcement with arrests, as well as the gathering or sharing of information about a person's immigration status, unless mandated by federal or state law, a warrant or a court's decision. City and county employees are barred from asking about or disclosing a person's immigration status.
Often, sanctuary city policies are enacted to reduce the fear of deportation among members of the immigrant community and encourage them to report crimes, work in the community and seek access to services. Some law enforcement agencies, such as Metro, have also put policies in place to address concerns raised by the courts about the constitutionality of local law enforcement participating in certain federal immigration activities.
A federal judge ruled in 2014 that an Oregon county violated one woman's Fourth Amendment rights by holding her for federal immigration officials without probable cause. After that ruling, then-Sheriff Doug Gillespie announced Metro would no longer honor federal immigration detainer requests unless provided a judicial determination of probable cause or a warrant from a judicial officer, the policy that caused the federal government to slap the agency with a "non-cooperative" label.
In the wake of President Donald Trump's threat to take federal dollars away from "sanctuary" jurisdictions, a new, more narrow definition has emerged. Sessions, in a May 22 memo, specified that the president's executive order only applies to jurisdictions in violation of a specific federal law, 8 U.S.C. 1373, which bars any federal, state or local government entity from restricting or otherwise prohibiting any government entity or official from sending information to or receiving information from federal immigration authorities about a person's immigration status.
It was based on that narrow definition that the Justice Department determined that Metro is in compliance with federal law. In a letter to the federal government, the county noted that it should not be viewed as uncommunicative when it voluntarily runs the so-called 287(g) program, which allows local law enforcement officers to carry out certain functions of federal immigration officials, in its jails.
While the debate raged on a national level, a microcosm of it was taking place in the halls of the legislative building in Carson City.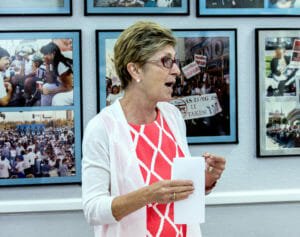 Clark County Commissioner Chris Giunchigliani, a former Democratic assemblywoman who is considering a gubernatorial bid, posted on Facebook in early February that she planned to introduce a resolution to make the county a sanctuary county, saying that "all our residents and constituents need to know their elected officials don't want people rounded up."
In response, Roberson announced he would introduce a bill to prohibit any city or county from enacting, adopting, enforcing or endorsing any policy that prohibits communication with federal immigration authorities. The bill, which never received a hearing, specifically would have barred jurisdictions from supporting policies that violate 8 U.S.C. 1373 and threatened to take away state funding if the state attorney general found them in violation of the law.
"Commissioner Giunchigliani has decided that she will try to enact a radical, leftwing agenda by deciding which laws she believes should and should not be enforced," Roberson said in a statement accompanying the announcement. "This flouting of the law is irresponsible."
Giunchigliani never ended up introducing such a resolution to the County Commission, saying in an interview this week that because Clark County was already on several lists of sanctuary jurisdictions, there was no need to move forward. She said that she has not had any requests from anybody to introduce a similar resolution since then.
"I think Roberson and Adam are just looking to gin up anger over nothing. I don't think they even understand what a sanctuary city is," Giunchigliani said. "I think they're trying to scare people, lobbing bombs, and it's just inappropriate."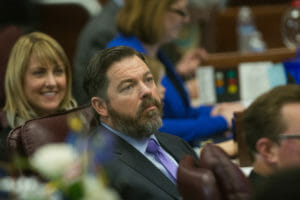 Roberson's statement ended up being just one of many the Republican Senate leader would send out over the course of the 120-day session. When freshman Democratic senator and former Culinary Union political director Yvanna Cancela introduced a bill to bar state and local police from participating in federal immigration activities without a warrant, Roberson decried it as a "sanctuary state" bill that would "endanger the health and safety of all Nevadans" and "undoubtedly result in violent criminals, who have no business being in our state, to be released back into our communities to wreak more havoc on Nevadans."
Local law enforcement agencies, as it turned out, had serious concerns with the bill as well, believing that it would inhibit their ability to make important judgement calls needed to ensure the safety of the community and that it could be used as cause from the federal government to deny funding. In response, Cancela introduced an amendment to the bill to more narrowly bar law enforcement officers in Nevada from asking about an individual's status at the point of contact, such as pulling someone over for a broken tail light.
But with law enforcement still opposed to the amendment, Senate Majority Leader Aaron Ford quietly scuttled a hearing in late March on the bill, which ended up dying after the first committee deadline without receiving a hearing. Roberson immediately claimed victory.
"Today is a victory for Nevadans and for keeping our communities safe. I made the defeat of the sanctuary state bills my top priority and neither bill even received a legislative hearing," Roberson said in a statement. "However, despite today's news, I will remain vigilant and will fight against any effort to resurrect this legislation before the end of the session."
Days later, he sent out a fundraising email claiming that Democrats were "planning an 11th hour assault to pass their sanctuary cities bill" and asking people to sign a petition to "stop sanctuary cities in Nevada," though Democrats never actually made such an attempt. Nevertheless, the goal of petitions in the political world — unless they are actually to get something on the ballot — is typically to gather email addresses of potential supporters and donors for a campaign.
With a month left in the session, Roberson also announced he would chair a political action committee, Prevent Sanctuary Cities, to support the passage of a constitutional amendment to ban sanctuary cities. Specifics about that ballot measure won't be available until the filing period for proposed constitutional amendments opens on Sept. 1.
In total, more than a third of the 17 press releases sent out on Roberson's behalf during the legislative session were about sanctuary cities.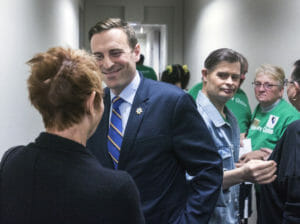 Since then, Laxalt joined nine other state attorneys general in filing a brief in support of the president's executive order on immigration, saying that he wanted to protect Nevadans from the threat posed by sanctuary cities in California. He said that the Legislature, sheriffs and municipalities have "wisely rejected such nonsensical policies," adding that opposing sanctuary cities "is pro-immigrant and pro-safety."
"Sanctuary cities in California endanger Nevadans, especially given their close proximity to us," Laxalt said. "In some cases these cities refuse federal requests to temporarily detain illegal aliens with violent criminal histories and instead release these felons into communities that — under federal law — they have no right to be in."
The battle in 2018
If what has happened the first eight months of the year is any indication, sanctuary cities are poised to be a focal issue for both Laxalt and Roberson — neither of whom has officially announced anticipated candidacies — as well as other Republican candidates in the 2018 election. Political observers see 2018 as a potential changing of the guard for Republicans in Nevada, with Nevada's first Latino governor, the relatively moderate Republican Gov. Brian Sandoval, termed out of office.
"Obviously since we're getting to the end of the Sandoval era, and obviously the Republican Party is led by Donald Trump right now, it will be interesting and important to see if the Republicans continue following that path or if it's very much more of a broad-based anti-immigrant platform that we've seen elsewhere in the country," said Michael Kagan, a UNLV law school professor and director of the school's immigration clinic.
Kagan noted that Republicans in Nevada have focused specifically on making "sanctuary cities," however one defines that, their key issue in 2018. For instance, a recent one-question survey sent out by Republican Sen. Dean Heller asking Nevadans to identify the most important issue facing the state listed "sanctuary cities" as an option instead of the more general "immigration."
"Senator Roberson's website, it says 'stop sanctuary cities,' but you can't even find out what is meant by that term," Kagan said. "The slogan is mattering a lot more than any policies underneath it … I would really like to know, when he says he wants to ban sanctuary cities, what does he really want to ban?"
One Republican consultant called sanctuary cities a "home run" issue for both Republican primary voters and general election voters, saying that's why Democrats "ran from their principles" when Ford quietly axed the hearing on Cancela's immigration bill. At the time, a caucus spokesman explained that Ford decided to cancel the hearing because he "felt there needed to be more conversations before the bill was ready for a hearing."
A national poll earlier this year showed that 80 percent of voters believe local law enforcement should be required to turn unauthorized immigrants they arrest for crimes over to immigration authorities, though some fact checks have noted that the results may have been skewed by the way the question in the poll was worded.
Ninety percent of Republican primary voters in Southern Nevada think that cracking down on "illegal immigration" is either a very important or important issue, according to a recent internal poll taken for a Republican consultant. About 79 percent of Republican primary voters support the president's plan to build a wall at the U.S.-Mexico border, with 15 percent opposed.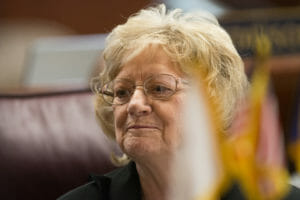 Republicans are already attempting to use sanctuary cities as a wedge issue in one of three recall attempts against members of the Senate Democratic caucus. A signature-gatherer told a Henderson resident last week that Democratic Sen. Joyce Woodhouse was being recalled because of a "sanctuary city" bill she had supported. Notably, the other two senators targeted in the recall, Democratic Sen. Nicole Cannizzaro and Independent Sen. Patricia Farley, are the only two members of the Democratic caucus not to sign onto Cancela's immigration bill
For all his sanctuary city rhetoric, Roberson's voting record isn't anti-immigrant. In fact, during the 2016 Republican primary for Congressional District 3, businessman Danny Tarkanian slammed Roberson as an "amnesty candidate," pointing to Roberson's vote in favor of a resolution in 2015 urging Congress to enact comprehensive immigration reform and the fact that he signed on to sponsor a bill to issue driver authorization cards to unauthorized immigrants.
The question is how the anti-sanctuary city messaging will play in the general election, particularly in light of Nevada's growing Latino electorate. Latinos made up 17.2 percent of voters in Nevada headed into the 2016 election, up from 10 percent in 1994.
Eighty-one percent of Latino voters in Nevada supported Hillary Clinton in the 2016 election, with only 16 percent backing Donald Trump, according to an exit poll conducted by Latino Decisions. Polling from the firm also showed that immigration was an important issue for 71 percent of Latino voters in Nevada heading into the election and that 82 percent support keeping in place the federal Deferred Action for Childhood Arrivals program, which allows immigrants who arrived without authorization as children to receive deferred action from deportation and eligibility for a work permit.
Still, sanctuary cities are likely to remain ripe for Republican candidates for some time, with Roberson's constitutional amendment and Laxalt's amicus brief here in Nevada, along with several other lawsuits filed by jurisdictions from San Francisco to Chicago challenging whether the federal government can strip funds from "sanctuary cities" playing out on the national stage. Candidates will also have to answer for Trump's positions on immigrants on the campaign trail, including his latest proposal for a "merit-based" immigration system that would screen visa applicants using a point system.
In fact, Democrats have already begun counting on the fact that Trump's low approval ratings will hamper Republican candidates' ability to win elections in 2018. One Democratic consultant said that though it's "certainly the prerogative of Republicans to try to change the conversation" away from Trump, "it's going to be very difficult."
The consultant said to expect to see Democratic candidates reiterate that local law enforcement needs the flexibility to decide how to keep immigrant communities safe and that violent criminals not from this country should be deported, while stressing the need for bipartisan, comprehensive immigration reform, from a pathway to citizenship to billions of dollars for border security. Democrats will also have trouble supporting any sort of "sanctuary" policy if they believe that it paints a target on the backs of immigrants and draws the attention of the White House to Las Vegas, the consultant said.
"There's no need to invite that target from the White House, going after undocumented immigrants who just want to contribute to society, come out of the shadows and pay taxes," the consultant said.
But that might not be enough for members of the immigrant community and their supporters who would like to see more concrete proposals from Democratic lawmakers and candidates. A second Nevada Democrat said that while Republicans have created a consistent, nationally tested narrative on immigration, Democrats have "fumbled" when talking about any of the policy or political implications.
"Democrats don't have a platform for immigrant rights beyond saying they support comprehensive immigration reform," the Democrat said. "I don't think that's good enough anymore. I'm frustrated, and I think everything is shallow. People give the same speeches they give every year but they don't actually move policy."
Kagan said that it's been "frustrating" to hear broad statements from Democrats that skirt specific policy discussions. He called immigration "a very concrete subject," noting that police arrest someone or they don't, they inform ICE actively about the individual or they don't and they either hold the person in jail or they let them go, but that politicians typically don't approach immigration that way.
"For people who like me who care about the actual law and the actual policies, it's actually pretty frustrating," Kagan said. "Both from Democrats and Republicans, it can be hard to pin down, 'What are you actually talking about right now?'"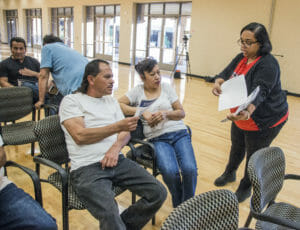 Laura Martin, associate director of the Progressive Leadership Alliance of Nevada, said that immigration will have to be a significant focus for Democratic candidates in 2018, not just something to cursorily mention on the campaign trail.
"No more is it going to be acceptable to say, 'I support the DREAMers.' It's going to be, 'What are you doing?'" Martin said. "And the answer can't be, 'I'm in the minority, President Trump won't sign my bill.'"
Martin said it was "disappointing" for PLAN's members to see Cancela's bill stagnate at the Legislature and to see "sanctuary" turned into a negative word. She expressed concern about the impact that a 2018 election cycle with a heavy focus on immigration could have on not only immigrants but all people of color.
"We have to remember, too, it's not just binary between immigrants and nonimmigrants. There's a residual effect," Martin said. "Me, you can't look at me and know where I was born or where my parents were born, but there will be people who hear Trump's rhetoric and act on those assumptions … who feel like they have permission to profile people based on what they look like and what their accent sounds like."
Comment Policy (updated 4/20/2021): Please keep your comments civil. We reserve the right to delete comments or ban users who engage in personal attacks, use an excess of profanity, make verifiably false statements or are otherwise nasty. Comments that contain links must be approved by admin.