Sisolak, Lombardo paint different portraits of the economy — both missing context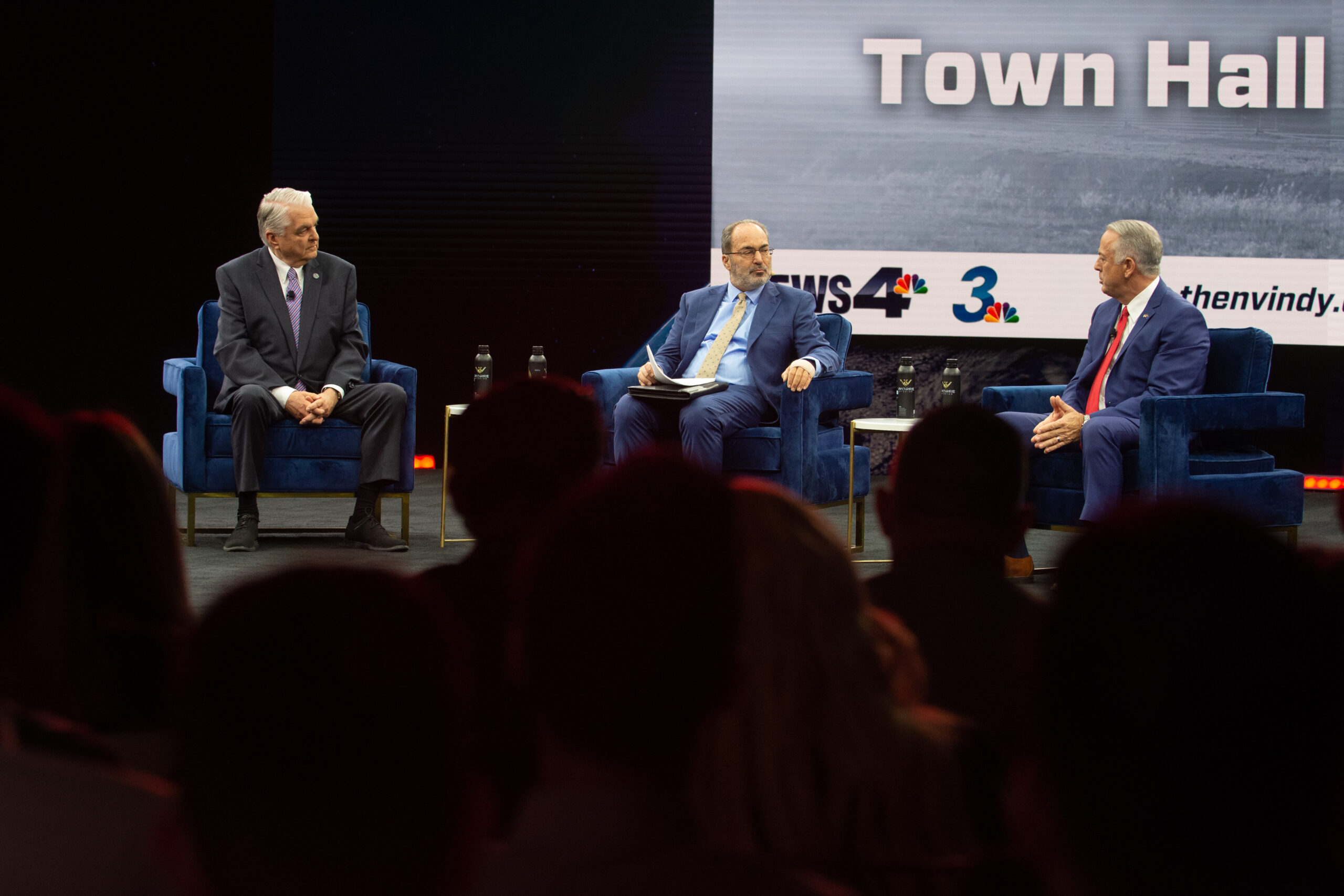 Following a recession in the early 1990s, Democrat Bill Clinton defeated Republican President George H.W. Bush in the 1992 presidential election by leaning into a simple message coined by strategist James Carville — "It's the economy, stupid."
As prices for gasoline and groceries have surged over the past year and a half, inflation and the economy have again taken top billing in campaign messaging on television airways and on social media. But in the race for the state's top executive role, Democratic Gov. Steve Sisolak and his Republican opponent, Clark County Sheriff Joe Lombardo, have offered drastically different outlooks about the state of the Nevada economy.
Sisolak has largely focused on the economic recovery since the recession at the beginning of the COVID-19 pandemic, hailing the state's rapid job growth in the past two years. Though Sisolak has acknowledged rising prices, including higher costs for housing and child care, he has generally steered clear of mentioning inflation.
Lombardo, in contrast, has focused primarily on inflation — or "Bidenflation" as he has described it — while attacking Sisolak for his handling of the economy and tying major government spending to the rise in prices.
It isn't a surprise that both candidates are focused on economic issues, as polls have consistently shown the economy is a top issue for voters this election cycle. A Nevada Independent/OH Predictive Insights poll conducted in September found 35 percent of likely voters identified the economy as the state's most pressing issue, more than any other issue.
During this year's midterm election, Republican candidates up and down the ballot, including Lombardo, have hammered Democrats over the country's elevated inflation rate, which hit a 40-year high in June. They've tied the rise in prices to government spending policies spearheaded by Democrats, including the massive, $1.9 trillion federal aid package signed into law by President Joe Biden in March 2021.
Lombardo has declared the country is in a recession, blaming it on "Sisolak and Biden's disastrous economic leadership." Though that claim is based upon an unofficial definition of a recession — a decline in the national GDP in two consecutive quarters, which occurred in the first half of 2022 — economists do not all agree that the country entered a recession earlier this year because the dips in GDP were relatively small, and unemployment has remained historically low.
While consumers are contending with rising prices, the labor market remains in a stronger position. The national economy continues to add hundreds of thousands of jobs each month, and there are significantly more job openings than unemployed workers. Nevada's unemployment rate also continues to decline, sitting at a relatively low level of 4.4 percent.
But economic growth is slowing. As the Federal Reserve combats inflation by raising interest rates, hiring will likely slow, and unemployment will rise.
Below, we further explore messaging on the economy in Nevada's gubernatorial race, including unpacking the truth behind some of Sisolak's and Lombardo's claims.
Does Nevada have the "best" rated economy in America?
In Sisolak's first general election ad of the cycle, entitled "Two Economies," the incumbent Democrat touts the return of tourists to Las Vegas and Reno, while acknowledging rising prices for housing, gas and groceries.
"Our economy is rated best in America," Sisolak says in the ad.
As those words play, the ad simultaneously cites an April KSNV News 3 story, which begins by stating that a new report ranked Nevada's economy first in the country. The story's sole source is an April 4 press release from Sisolak's office, praising the state's "standing as the best economy in the country."
But the release, story and ad distort the findings of the report they are based upon, which ranked Nevada first in the country for "economic momentum" — a metric from Federal Funds Information for States' State Policy Reports that accounts for personal income growth, employment growth and population growth.
Nevada's first place position in the momentum index — recorded both at the end of 2021 and end of the first quarter of 2022 — reflects the state's growing population and a surge in employment that came as the state recovered from the COVID-19 pandemic and a record-high unemployment rate of 28.5 percent set in April 2020. Nevada no longer placed first in the momentum index in reports released in June and September, but sits near the top as annual gains in employment, personal income and population have remained strong.
On the same day the ad was announced, Lombardo's campaign attacked Sisolak for trying to confuse Nevadans about his economic record. The campaign cited a National Bureau of Economic Research (NBER) report giving Nevada a "D" grade for its response to COVID-19, and Politico's "State Pandemic Scorecard," which ranked Nevada as having the second-worst pandemic response in the country.
But even those two reports differ significantly in their evaluations of Nevada's economic performance during the pandemic. The NBER report ranks Nevada 12th among all states in economic performance, while Politico's scorecard gives Nevada the second-worst score on the economy, only slightly better than Hawaii.
The reports cited by both campaigns reflect the challenges of trying to use a simple letter grade or ranking to broadly evaluate the performance of statewide economies, given the many influencing factors beyond control of a state's governor.
Early in the pandemic, Nevada saw unemployment skyrocket, as restrictions on public activity brought Southern Nevada's tourism-reliant economy to a halt. For months afterward, Nevada's unemployment rate remained among the highest in the nation, though the rate now sits at a level similar to those recorded in early 2019.
Nevada has also recorded significant gains in employment, which have helped drive down the unemployment rate from 10.2 percent in January 2021 to 4.4 percent in September this year. The September mark was tied for second-highest among the 50 states.
In alternative measures of unemployment, which the U.S. Bureau of Labor Statistics determines quarterly, Nevada has lagged behind the rest of the country. From October 2021 through September 2022, the state's U-6 rate — a measure that accounts for unemployed workers, marginally attached job seekers and part-time workers seeking full-time work — was 9.7 percent, the highest in the nation.
Has Nevada recovered 100 percent of jobs it lost during the pandemic?
Sisolak has often pointed to the return of thousands of jobs lost initially in the early months of the pandemic.
"We have now recovered 100 [percent] of all jobs lost during the pandemic," he said in a July tweet.
But that framing is not quite accurate. In February 2020, just before the pandemic led elected officials to shutter businesses across the state and country, Nevada reported having nearly 1.45 million nonfarm jobs. By May 2020, that jobs number dropped by nearly 350,000, with losses concentrated in the state's leisure and hospitality industry, which relies heavily on tourism in casino-packed Southern Nevada.
In June of this year, Nevada's total nonfarm employment surpassed 1.45 million, eclipsing the pre-pandemic record. The state set a record employment total again in July, and as of September, Nevada has 1.46 million nonfarm jobs. But the recovery has not been even across industries.
In the state's largest industry, leisure and hospitality, September employment was slightly above 334,000 jobs, still down more than 27,000 jobs from February 2020. So while overall state job numbers are now greater than they were pre-pandemic, industries such as leisure and hospitality have not recovered all jobs lost since the initial business shutdown.
Employment has grown above pre-pandemic levels in other industries, however, including in the manufacturing, finance and trade industries. This summer, the share of workers in the state's manufacturing industry hit an all-time high.
Nevada has been a leader in employment growth, but gains are slowing.
In October, Sisolak tweeted that "Nevada's employment growth has either been the 1st or 2nd fastest in the nation every month of 2022."
At the time, Sisolak's statement was true. Driven by the rapid growth of jobs in 2021, and a strong recovery from the worst unemployment levels in the nation, Nevada's annual employment growth ranked first or second in the nation from January through August 2022.
In September, however, four other states recorded larger annual employment growth rates than Nevada.
Sisolak added to that tweet, "We're growing our economy & we're not slowing down!" Though Nevada continues to see growth, in terms of both economic activity driven by significant spending and employment gains, those increases are slowing.
Since May, the rate of hires in Nevada has dropped, and the Silver State has seen smaller month-to-month gains in employment, as well as a slight drop in employment from July to August.
During a recent meeting of the state's Economic Forum, David Schmidt, chief economist with the Department of Employment, Training and Rehabilitation (DETR), said he expects the state to see a loosening labor market in the coming months as it shifts from a period of rapid growth and recovery to a period of longer-term growth, which includes a slowdown in employment and wage growth.
Did 95,000 Nevada small businesses close during the pandemic?
Throughout the election cycle, Lombardo's campaign has attacked Sisolak for his handling of the pandemic, including his decisions about the pace of reopening the state's economy and "non-essential" businesses.
In particular, Lombardo's campaign has reiterated a claim that 95,000 Nevada small businesses closed because of the pandemic shutdowns. His campaign has cited a Pahrump Valley Times story (originally run in the Las Vegas Review-Journal) that states, "some 270,000 small businesses were operating in Nevada in 2019," and "during the pandemic, more than 35 percent of those businesses shuttered their doors for good, according to Lt. Gov. Lisa Cano Burkhead."
That percentage comes from a guest column Cano Burkhead wrote for Vegas Inc. She wrote, "roughly 35 [percent] of Nevada small businesses shuttered their doors at the beginning of the pandemic" because of issues accessing support.
The 95,000 closures number is an estimate based on those sources, but the exact number of closures is difficult to pin down because of varying sources of data and incomplete information about whether some businesses closed down temporarily or permanently. A 2021 report from the U.S. Small Business Administration's Office of Advocacy estimated that Nevada had more than 297,000 small businesses as of March 2020. Thirty-five percent of that amount would be more than 100,000 businesses.
Still, the percentage of closures appears to be similar to the nationwide average. Vice President Kamala Harris previously claimed that a third of small businesses closed during the pandemic. A Harvard University-based economic tracker found that the number of small businesses open in the country declined by more than 30 percent from January to April 2020. In Nevada, the percentage of closures was slightly higher than the national average.
The tracker also indicates that by February 2022, Nevada had 14 percent fewer small businesses than in January 2020.
Sisolak has defended his decision-making regarding business closures early in the pandemic as a means of saving lives.
"At the time, it was predicted we could lose upwards of 40,000 Nevadans. We still lost, at the last count, 11,501. I'm sorry about every one of those lives lost," Sisolak said during an October debate against Lombardo. "Yes, our businesses suffered, but we have come back stronger than anybody anticipated."
Is inflation worse in Nevada than in other states?
Lombardo has often highlighted the difficulties posed by the increasing costs of gas and groceries. In April, he tweeted that "inflation in Nevada is now well above the national average, and hardworking Nevadans are hurting."
Though most inflation measures do not determine the inflation rate for individual states, especially ones without a large population, Nevada has seen steep price hikes.
As of Nov. 2, the average price for a gallon of regular gasoline in Nevada is third-highest in the nation, behind only California and Hawaii. Nevada typically has higher gasoline prices because of its reliance on fuel brought in from other states.
Throughout the past year, the Consumer Price Index (a measure traditionally used to determine the annual inflation rate) has increased more in the western region than in other parts of the nation.
A state inflation tracker published by the congressional Republicans on the Joint Economic Committee measures the inflation rate of prices since January 2021. In that timeframe, Nevada is tied for the highest inflation rate in the country alongside other Mountain West and southwestern states, including Arizona, Utah and Montana.
What's really causing inflation and who controls it?
Lombardo has often linked inflation to excessive spending spearheaded by Democrats. In one ad, he says, Biden and Sisolak are "spending like drunken sailors." In a March tweet, he described "astronomical gas prices," "food shortages" and "a nationwide supply chain crisis" as "Democrat-made crises."
But the current surge in prices is a global issue, with causes that stretch far beyond spending decisions made in Washington, D.C.
Economists have pointed to the COVID-19 pandemic and the ongoing war between Russian and Ukraine as major supply chain disruptors, which continue to have prolonged effects. But circumstances in various regions are driving different inflationary pressures.
In Europe, countries that have relied on Russian gas and oil are facing skyrocketing energy costs, and Russia's invasion of Ukraine, a major grain exporter, has contributed to rising food prices.
In the U.S., major government spending bills, which sent thousands of dollars directly to many taxpayers, contributed to a spike in demand, exacerbating supply chain issues and a lack of goods, from construction materials to cars.
Though Sisolak and Lombardo have provided significantly different perspectives on the state of the economy, they have both pointed to inflation as being a federal issue, while offering visions for economic development with broad similarities.
In a February interview on 8 News Now, Lombardo said inflation is a "federal issue" when it comes to determining interest rates set by the Federal Reserve to combat inflation.
Though Sisolak has comparatively said very little about inflation — this year, his Twitter posts mention the word "inflation" just twice — he has similarly framed the issue as outside the governor's purview.
"I can't do anything about inflation or the price of groceries as governor," he tweeted in July. "But I can do something about the price of childcare & services provided to our families."
Spearheaded by Sisolak's office, state lawmakers have approved major allocations of federal dollars for affordable housing and health care, and funds from the American Rescue Plan have been used to subsidize Nevada child care centers.
At the state level, Lombardo told 8 News Now that it is important to have a diversified economy to be able to withstand changes brought on by inflation.
"The governor has the ability to have effect in that space, and unfortunately in Nevada, we're pretty much confined in the entertainment and mining space," he said.
Lombardo has called for improved education and workforce development programs, and pledged to not raise taxes — a very similar platform to Sisolak. The incumbent governor's economic agenda includes a continued push to diversify the economy, investing in education and workforce training programs and not raising taxes.
Featured Videos
Comment Policy (updated 4/20/2021): Please keep your comments civil. We reserve the right to delete comments or ban users who engage in personal attacks, use an excess of profanity, make verifiably false statements or are otherwise nasty. Comments that contain links must be approved by admin.