Sisolak, other statewide Democrats lead fundraising over Republicans; key legislative races closer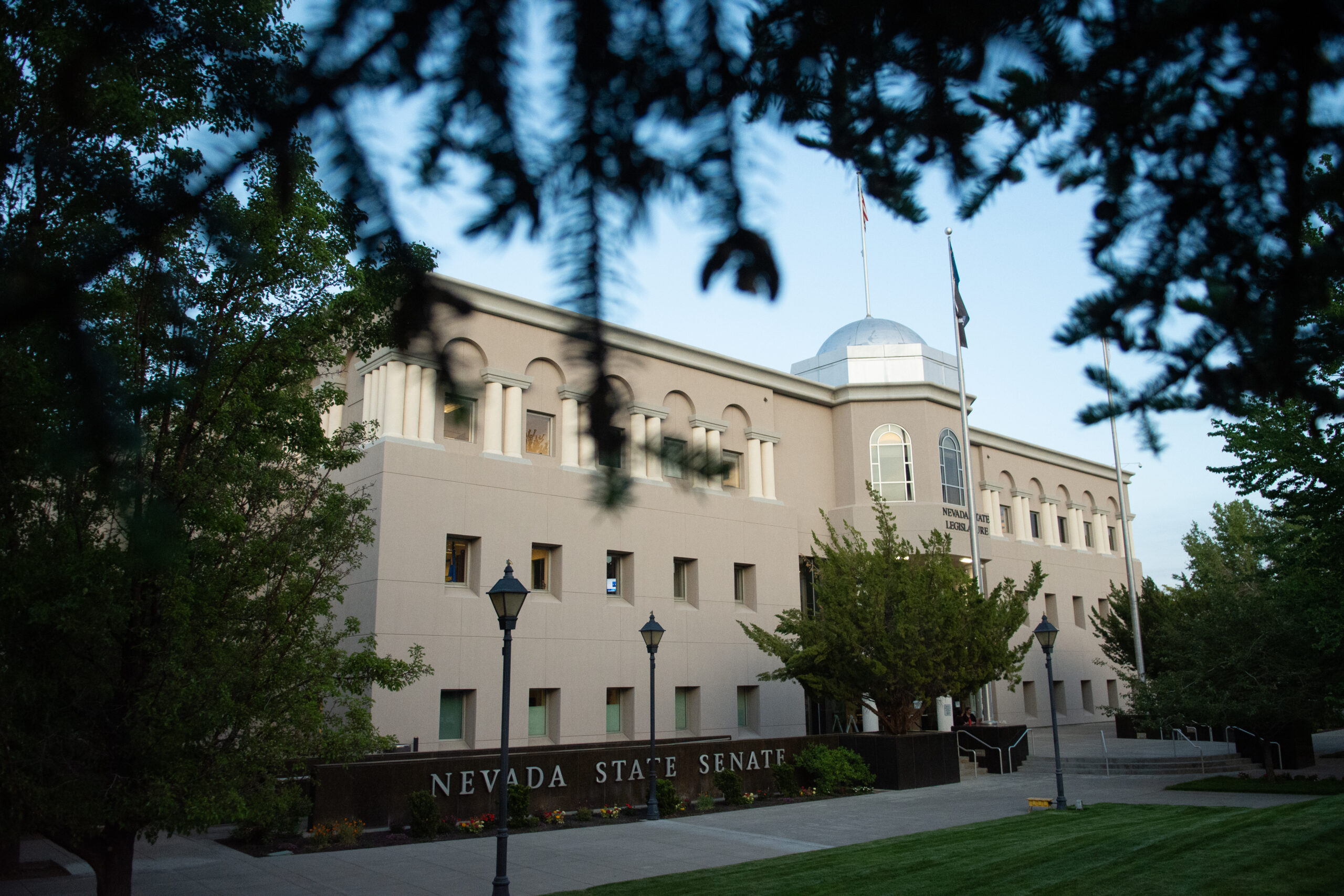 A little more than three weeks before Election Day, candidates running for statewide and legislative offices are spending big in an attempt to gain the upper hand.
Monday marked the third campaign finance deadline of the year, with candidates required to submit reports showing their fundraising and spending activity from July through September. While Democrats running for statewide offices maintained greater fundraising totals than their Republican counterparts, legislative races showed more varied outcomes.
Name recognition often plays a significant role in elections, especially in down-ballot races. In an election year when statewide and legislative races are among the most likely to be affected by a possible red wave, fundraising and spending on outreach could mean the difference between success and failure.
Here are highlights from the latest campaign finance reports.
Governor
Democratic Gov. Steve Sisolak raised more than $3.2 million from July through September, outraising (and outspending) his Republican opponent, Clark County Sheriff Joe Lombardo.
Sisolak garnered financial support from Boyd Gaming and its related companies, which donated $70,000 combined. The Democratic political action committee All for Our Country, a federal leadership PAC linked to Sen. Catherine Cortez Masto (D-NV) also donated $10,000. Additionally, Sisolak received $5,000 from each the Nevada Mining Association and the National Football League.
He spent nearly three times the amount he spent last quarter. Sisolak's expenses reached $12.8 million, of which most ($11.9 million) went to a political advertising company. Sisolak heads into the general election with a little more than $1.2 million cash on hand.
Lombardo raised $2.3 million this quarter, nearly three times more than the roughly $822,000 he brought in last quarter. Nine donors, including David Chesnoff's law firm, gave Lombardo's campaign the maximum donation of $10,000.
Of the $1.7 million Lombardo spent this quarter, nearly $1.2 million went toward advertising and related services, leaving Lombardo with more cash left over than Sisolak at $1.76 million.
Lombardo has also received $10,000 from independent political action committees Stronger Nevada PAC, which supports conservative candidates, and Better Nevada PAC, which is mostly funded by wealthy Las Vegas-based hotel magnate Robert Bigelow and is supporting Lombardo elected.
Lieutenant Governor
Between July and September, Democratic Lt. Gov. Lisa Cano Burkhead outraised her Republican opponent, Las Vegas City Councilman Stavros Anthony, by more than $112,000.
Cano Burkhead, who brought in nearly $274,000 during the latest quarter, received $10,000 donations — the state's maximum contribution limit — from the Democratic Legislative Campaign Committee, Democratic pro-choice organization Emily's List and two individual donors, Kenneth Duda and Jen Duda from California.
MGM Resorts, NV Energy and the Home Building Industry Political Action Committee were among other notable donors to Cano Burkhead.
While Cano Burkhead received large contributions from prominent Democratic groups, Anthony's fundraising was boosted by individual Republican donors, including $10,000 from Bigelow, who has spent millions of dollars to support state-level candidates in Nevada. The other maximum $10,000 donation Anthony received came from Marnell Gaming.
Anthony also received large contributions from the Associated Builders and Contractors political action committee, NV Energy and the Conservative Women Political Action Committee.
Cano Burkhead reported spending $162,700 during the most recent quarter; whereas, Anthony reported spending nearly $129,000 — a $34,000 difference.
Heading into the final stretch of the election cycle, Cano Burkhead has about $171,000 in cash on hand and Anthony has nearly $143,000.
Attorney General
Attorney General Aaron Ford, a Democrat, has consistently outraised his Republican opponent Sigal Chattah with the help of financial backing from PACs, hoteliers and local groups.
In the third quarter, Ford raised nearly $1.1 million, while Chattah raised just over $253,000.
Ford has received $10,000 from MSG Entertainment Group, and $10,000 combined from Station Casinos and Red Rock Spa and Casino. He also received $5,000 donations from Resorts World Las Vegas, South Point Hotel and Casino and Park MGM.
Financial support also flowed to him from Service Employees International Union Local 1107 labor union and Democratic political action committees such as Cortez Masto's All For Our Country PAC.
Chattah also received $10,000 each from billionaire hedge fund manager Paul Singer and Florida-based socialite Jackie Siegel, who starred in the 2012 documentary The Queen of Versailles. She also received $5,000 donations from various entities, including from Las Vegas City Council candidate Lou DeSalvio's campaign.
She spent more than $87,500 on advertising and related services, while Ford paid $1.1 million to GPS Impact, a media firm and spent nearly $68,000 on consulting services.
Chattah heads into election month with more than $130,700 in cash on hand, while Ford has nearly $2 million.
Secretary of State
As of Tuesday evening, Republican Secretary of State candidate Jim Marchant had not submitted a campaign finance report. His Democratic opponent, attorney Cisco Aguilar, reported raising more than $1.1 million during the last quarter and spent nearly $554,000 within that time frame.
Aguilar reported receiving the maximum contribution of $10,000 from 19 entities, including Marnell Gaming, Wynn Resorts, Building Nevada's Future PAC (registered to lobbyist Elliot Malin and Oro Capital Advisors Founder Bradley Mindlin) and Stand Up for Students PAC (funded by philanthropist and public education advocate Beverly Rogers). Heading into Election Day, he has a war chest of more than $1.4 million.
Treasurer
Republican treasurer candidate Michele Fiore raised nearly $126,000 this quarter, which prompted her Democratic opponent Treasurer Zach Conine to file another complaint that she has violated campaign finance law.
The complaint alleged that Fiore accepted at least $47,200 in excess contributions this election cycle, which the law requires candidates to return or refund. The state allows a $10,000 contribution limit — $5,000 for the primary and $5,000 for the general election — from any single person or entity per two-year election cycle.
This quarter, Fiore received $2,500 from the Las Vegas Police Protective Association (LVPPA) and $5,000 from 7135 Sahara LLC, which, according to the complaint would result in total contributions of $20,000 from 7135 Sahara LLC, and $12,250 from the LVPPA.
Fiore's campaign spent about $100,500, leaving her with just over $39,000 in cash on hand.
Conine raised more than $345,500 this quarter. Some top donations include $10,000 from Romeo Development and $5,000 each from Wynn Resorts and South Point Hotel and Casino.
He spent nearly $456,000, of which more than $370,000 went to advertising. He was left with just over $239,000.
Controller
Former Democratic Assemblywoman Ellen Spiegel and Republican Assemblyman Andy Matthews had similar fundraising hauls: Spiegel reported raising nearly $92,000 to Matthews' roughly $90,000.
Matthews, however, far outspent Spiegel, putting $124,700 into the race while Spiegel spent only $38,630. So far, Matthews is the only candidate in the race to have run ads on television.
Matthews' top donations came in the form of ten $5,000 donations from a variety of sources, including businesses associated with Bigelow and the Keystone Corporation. The largest donations Spiegel received were $5,000 from seven different entities, including the Nevada Service Employees International Union, Emily's List and Wynn Resorts.
Both candidates received $5,000 from Las Vegas Sands Corporation.
As of the end of the most recent quarter, Matthews had roughly $135,500 in cash on hand and Spiegel had about $172,800.
Key legislative races
Assemblyman Steve Yeager (D-Las Vegas) topped the list of fundraisers in the Legislature for the second quarter in a row, with nearly $221,000 raised between July and September. . Yeager also spent the most money of any legislative candidate, throwing more than $353,000 into the race. He is widely expected to take the role of Assembly Speaker following former Assemblyman Jason Frierson's (D-Las Vegas) confirmation as U.S. attorney for the District of Nevada. Yeager has a war chest of $385,400 heading into the final stretch of the election cycle.
Close behind Yeager in terms of fundraising totals are state Sen. Melanie Scheible (D-Las Vegas) and state Sen. Marilyn Dondero Loop (D-Las Vegas), who raised $218,000 and $212,000, respectively.
Scheible and Dondero Loop are locked in competitive races with opponents who also raised large sums of money. Scheible's opponent in Senate District 9, Republican Tina Brown, reported raising more than $143,000 in the third quarter, and Dondero Loop's challenger in Senate District 8, Republican Joey Paulos, reported nearly $104,000 in contributions.
Spending in the races has also been high. Dondero Loop reported more than $297,000 in expenses — the most of any state Senate candidate — while Paulos reported spending nearly $85,000. Scheible came in a close second to Dondero Loop with more than $284,000 in reported expenses while her opponent, Brown, reported spending more than $84,000.
Heading into Election Day, Dondero Loop has nearly $167,000 in cash on hand, Paulos has more than $62,000, Scheible has about $141,000 and Brown has about $105,000.
As Republicans target Schieble and Dondero Loop's swingy districts, they're also hoping to be competitive in Senate District 12, where Democrat Julie Pazina is squaring off against Republican Cherlyn Arrington.
Between July and the end of September, Pazina raised more than $204,000 and spent more than $205,000. Arrington raised about $89,000 and spent nearly $37,000 within the same time frame. As of the end of the latest quarter, Arrington has nearly $32,000 in the bank, while Pazina has about $53,000.
After a hard-fought battle in Northern Nevada's Assembly District 25's Democratic primary, educator Selena La Rue Hatch is facing Republican Sam Kumar in November.
Kumar led La Rue Hatch in fundraising and spending during the third quarter. Whereas La Rue Hatch reported raising more than $25,000 and spending nearly $6,000, Kumar nearly doubled her totals, raising about $52,000 and spending just over $10,000.
Cash-on-hand reporting shows Kumar with almost $43,000 in the bank and La Rue Hatch with more than $24,000.
In Southern Nevada's Assembly District 35, Republican Tiffany Jones is attempting to unseat incumbent Assemblywoman Michelle Gorelow (D-Las Vegas). In her effort to fend off Jones, Gorelow spent nearly $141,000 between July and September and raised nearly $104,000. Jones, on the other hand, raised just over $53,000 and spent about $25,000 within the same time period.
Gorelow has more than $75,500 heading into the final stretch of the election — nearly $29,000 more than Jones' cash-on-hand balance of about $46,600.
Campaign finance reports from Southern Nevada Assembly District 37 show Republican Jacob Deaville outraising his opponent, Shea Backus, this last quarter, but with Backus leading in spending and her cash-on-hand total. Deaville raised about $166,200 (including $120,000 from businesses affiliated with Bigelow). He spent more than $111,000 and has about $62,000 heading into Election Day. Backus raised more than $110,000, spent around $209,000 and has close to $100,000 in the bank.
This story was updated on Wednesday, Oct. 19, 2022, at 8:30 to indicate that Assemblyman Steve Yeager spent the most money of any legislative candidate between July and September and at 10:00 a.m. to correct fundraising totals for candidates running for Lieutenant Governor, Secretary of State and state Senate.