On the record: Republican governor candidate Joe Lombardo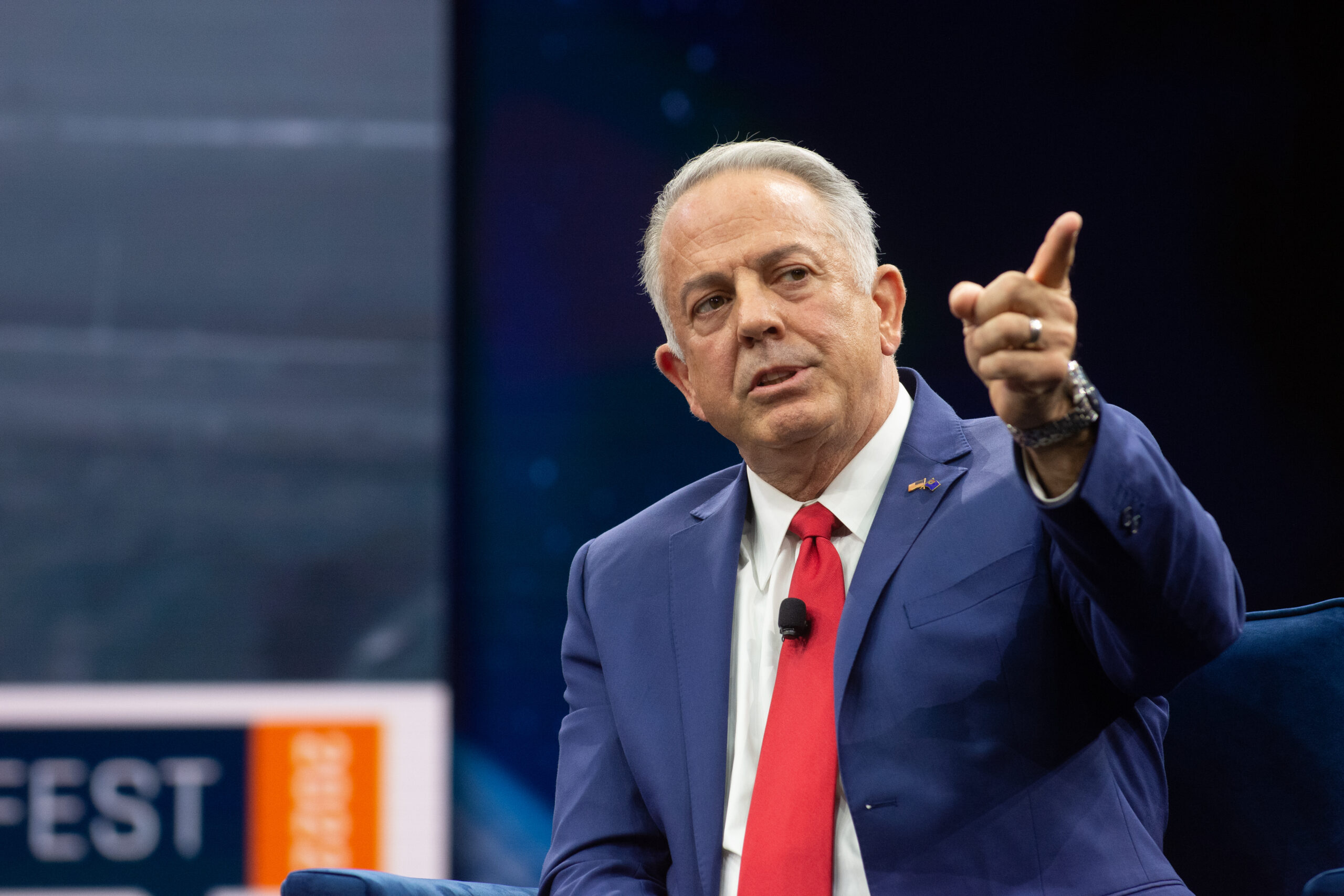 Editor's Note: This is one in a series of "On the Record" pieces highlighting the policy stances of candidates running for major offices in the 2022 Nevada election. Click here for additional election coverage. For more information on the policy positions of Lombardo's opponent, Democratic Gov. Steve Sisolak, check back tomorrow.
As Clark County Sheriff Joe Lombardo has campaigned for governor, he has cast himself as a moderate Republican who has devoted his life to protecting Nevadans.
An Army veteran, Lombardo worked for more than 26 years at the Las Vegas Metropolitan Police Department. He began serving as sheriff in 2014 and said that his bid for governor is motivated by a desire to "further his public service and represent, protect and serve the entire state of Nevada."
The Republican candidate has attacked Democratic Gov. Steve Sisolak for a failure of leadership during the COVID pandemic, as well as on other policies surrounding the economy and a lack of support for small businesses.
"I will never wait for politicians in Washington, D.C., or for the governor of California to tell me what to do," Lombardo said during a speech following his win in the Republican governor primary. "I will always put the best interests of Nevadans first. Frankly, it is long overdue."
Lombardo has hammered Sisolak for his administration's role in approving a COVID testing laboratory with faulty tests and shutting down the economy. But Democrats have criticized the sheriff for making vague statements about issues such as abortion and his support of former President Donald Trump, who endorsed Lombardo during the primary.
Recent polls in the race have found Lombardo leading by a slim margin, including a Nevada Independent/OH Predictive Insights survey from late September finding Lombardo ahead of Sisolak, 45 percent to 42 percent. Other polling on the governor's race has generally shown a toss-up race between the top two candidates.
Lombardo declined to sit down for an additional interview for this piece with The Nevada Independent. His positions, detailed below, are compiled from a March sit-down interview, an October gubernatorial debate hosted by The Nevada Independent, public statements and appearances, social media posts and campaign messaging.
Economy
On the heels of the deep recession incited at the start of the COVID-19 pandemic, Nevada has slowly regained all of its lost jobs, and employment levels in the state are at a record high. But even with a solid job market, Nevadans face surging prices for food, energy and other goods, including some of the highest gas prices in the country.
Nevada voters have consistently identified the economy as a top issue this cycle, polls show. Lombardo has capitalized on that focus, often panning Sisolak's handling of the economy and hammering him over high inflation and small business closures during the pandemic.
Lombardo has been particularly critical of Sisolak's decision-making regarding the reopening of businesses in the early months of the pandemic.
"My opinion, he took way too long to make the decision to lighten up on the economy," he said in a March interview. "And it's gonna take years. It's not like turning on and off the light."
Lombardo has pointed to economic diversification as a key priority for improving the state's economy, which relies heavily on the success of gaming and tourism industries. Lombardo hopes to bring more manufacturing businesses to the state, with a focus on making "Nevada one of the best states to do business in," according to his website.
His plans for doing so include reducing regulations and promoting workforce development programs within the state's education system.
On inflation, Lombardo has blamed the significant rise in prices on excessive government spending, saying on Twitter that Sisolak's economic decisions have contributed to "Bidenflation."
Though he has agreed with Sisolak in identifying the federal government as the key decision maker in addressing inflation, Lombardo said during a February interview with 8 News Now that the state needs a diversified economy to withstand the changing prices and interest rates set by the federal government.
Taxes
During a debate with Sisolak in early October, Lombardo said he would "never" raise taxes, and said that should a hypothetical situation arise that would necessitate a tax increase, "I would look inside first."
In a March interview with The Nevada Independent, Lombardo said he is open to tax reform, but not in a way that would increase revenue.
"What do I mean by that is: Can we do a better way of doing business?" he said. "No increase in revenue — reallocation."
In the same interview, Lombardo said he would consider reevaluating the process for how property taxes are calculated. He said he supports adjusting the valuation of a property when it is sold, versus adjusting property tax rates based on a property's original build date.
But he acknowledged that such a change would need to be made in the Legislature.
Abortion
State law protects the right to an abortion up to 24 weeks. The law has been in place for more than 30 years, and could only be overturned by a direct majority vote from the people.
Lombardo has characterized himself as a "Pro-Life" candidate, but generally shied away from specific criticism or policy plans, saying on his campaign website, "Nevadans decided long ago that the issue of abortion should only be decided by Nevada voters themselves."
His campaign did not respond to a Nevada Independent questionnaire on abortion policies sent to major candidates in late May. But throughout his campaign, Lombardo has given differing answers to media outlets and debate moderators on the subject.
Reporting from The Nevada Independent shows that the candidate has quietly supported anti-abortion groups and crisis pregnancy centers, which are oftentimes run by organizations that seek to intercept women who might be considering terminating their pregnancy and persuade them that adoption or parenting is a better option.
Most recently, Lombardo clarified some of his stances during the debate with Sisolak. He said he supports contraceptive access and parental notification for abortion procedures performed on a minor, with exceptions for rape and incest. He added that he will not prosecute women who come to Nevada seeking an abortion, is in favor of changing mandatory waiting periods, but is against mandatory ultrasounds — all abortion-related issues that could be shaped by the governor.
During the debate, he walked back a previous statement that he would support a hypothetical ballot measure creating a 13-week ban on abortion.
"As I thought about it more personally, I support the law that the people approved. I support anything that the people approved," Lombardo said.
Crime and safety
Lombardo has walked a fine line on public safety throughout his campaign, touting his years of police experience and declines in crime during his nearly eight-year tenure as sheriff of the state's most populous county, while also blaming any recent uptick in crime statistics on Democratic criminal justice policies.
In particular, Lombardo has panned AB236, a 2019 omnibus criminal justice bill that reduced penalties for some lower-level crimes and increased access to "diversion" programs in lieu of imprisonment. He has referred to the measure as being part of "soft-on-crime" bills signed by Sisolak, and he has tied the bill to increases in larcenies and vehicle thefts.
"The last two years, crime has increased," Lombardo said during the debate. "Last year, it was 5 percent, this year, year-to-date, is 3 percent. And that is a direct result of the Legislature, the management and the oversight that is provided by our sitting governor."
One key provision of the bill, criticized by Lombardo and other Republican candidates, raised the threshold for felony larceny from $900 to $1,200. From 2020 to 2021, Metro recorded a 7 percent increase in larceny theft and 20 percent increase in motor vehicle theft, though violent crimes decreased amid a drop in robberies and assaults, according to the department's annual report.
Lombardo's plans for "restoring law and order," according to his website, include repealing "Sisolak's soft-on-crime policies" and eliminating "reduced sentences for drug traffickers and burglars."
Lombardo has also called for "fully funding the police," on his website, but he has faced attacks from Democrats for below-target staffing levels at Metro.
During the debate, Lombardo pointed to difficulties hiring officers, citing "the attitude that has proliferated amongst the public space, of 'defund the police' and lack of support for the police."
As part of addressing staffing issues, Lombardo in September called for "a raise for the Nevada State Police for the first time since 2006." Members of the State Police include the state highway patrol and other state-employed law enforcement.
Sisolak said earlier this year he would propose a salary increase for those officers in the next legislative session, beginning in February 2023, but Lombardo said he would immediately use federal relief funds from the American Rescue Plan "to give state police officers signing and retention bonuses."
Lombardo has also fended off attacks based on comments he made more than two years ago that he could support defunding "in some aspects." In March, Lombardo told The Nevada Independent that his comments had been misconstrued and clarified that he does not support defunding the police "when we're talking about putting cops on the street."
To read more about what crime-related claims in the governor's race are true and false, click here.
Immigration
On the campaign trail, Lombardo has touted his role in helping deport 10,000 people and last year tweeted that he had a "zero tolerance policy for illegal immigration."
He later denied ever saying he had "zero tolerance" for undocumented immigrants, claiming his words were taken out of context.
"I said zero policy for people that commit violent crimes," Lombardo said in the March interview. "I've always supported when bad guys commit crimes upon our society, our communities, that they should be removed."
Lombardo stood by the statistic that he helped deport 10,000 people in March, but clarified that it included individuals deported during both his time as sheriff and in senior leadership roles, and deportations that happened under 287(g)'s predecessor program, the Obama-era Secure Communities program.
In his capacity as Clark County Sheriff, Lombardo's record on immigration has at times been applauded and condemned by immigration advocates.
Following a California judge ruling in 2019 against core elements of partnerships between federal immigration authorities and local jurisdictions, Lombardo withdrew Metro from a jail-based immigration enforcement partnership with the federal government known as 287(g).
At the time, Immigration advocates celebrated the decision. But those advocates later criticized Lombardo when the Las Vegas Review-Journal reported that the police agency had continued to quietly hand over undocumented immigrants to federal officials after they were released from jail for nonviolent crimes.
On his campaign website, Lombardo said that he opposes sanctuary cities, or cities whose municipal laws protect undocumented immigrants from deportation or prosecution. There are no such cities in Nevada.
Asked in March if he would want to keep the Governor's Office of New Americans, which serves immigrants regardless of their legal status and opened under Sisolak's administration, Lombardo said he would.
He added that he supports welcoming refugees as long as they are properly vetted.
"It's very important that we ensure that bad actors are not landing on our soil and intending to create harm into the future," Lombardo said.
Education
During a March interview with The Nevada Independent, Lombardo would not commit to a raise for teachers, saying he did not want to "pander" to voters. When he released his education plan in September, it included no plans for raising teacher pay, though a campaign spokesperson indicated that he would consider rewarding teachers with either salary increases or bonuses.
But in a debate against Sisolak earlier this month, Lombardo backed an increase to teacher pay, saying, "It's important that they have a livable wage." He added that it should be tied to inflation measures, and that he could support a 2 percent or 3 percent increase based on the annual inflation rate.
As part of his education plan, Lombardo pointed to other ways of addressing the state's teacher shortage, including reforming the licensure requirements for out-of-state teachers coming to Nevada and creating "an incentive system so new educators come and end up calling Nevada home."
Other key tenets of his education plan include support for school choice and opposition to restorative justice policies in schools.
Lombardo has criticized Sisolak for the state's poor national rankings for education, highlighting his own desire to make education a priority during a September campaign event alongside Virginia Gov. Glenn Youngkin, a Republican who won in a blue-leaning state while making education a centerpiece of his campaign.
As part of improving Nevada's near-last in the nation education ranking, Lombardo has pushed forward the idea of school choice.
In Nevada, school choice has had a tumultuous history since 2015, when then Republican Gov. Brian Sandoval signed into a law permitting Education Savings Accounts (ESAs), a program that would allow parents to use state money to send their children to non-public schools. But legal battles left the voucher-style program unfunded, and in 2019, Democrats repealed the ESA program. Recent attempts to revive the program via ballot referendum have failed.
"Teachers and parents should have choices, and we should not be regulated because of the ZIP code you live in," Lombardo said during the debate. "If there's a better option for you, we should make that available."
Republicans and Democrats have generally clashed over the issue. Sisolak argued during the debate it would draw needed funds away from public schools.
Lombardo has also put a major emphasis on school violence. In his education plan, he described a restorative justice bill approved by the Legislature and Sisolak in 2019 as a "disaster for our students and teachers," and tied the measure to increases in harassment and violence in Clark County School District.
That bill, AB168, aimed to reform student disciplinary practices and reduce expulsions by promoting non-punitive intervention and support to improve student behavior. If elected, Lombardo said he would work to repeal the bill "immediately."
Lombardo also criticized Sisolak for his administration's approach to the Read by Grade 3 program, falsely alleging that Sisolak defunded the program. Though categorical funding for the program was eliminated, the same dollars are distributed through the basic per-pupil funding formula implemented in 2021, and many of the requirements for the program remain in place.
But Lombardo has homed in on one key change approved by Sisolak in 2019: eliminating the mandatory retention requirement, a piece of the program that held back third-graders who had not reached grade-level reading skills from advancing to the next grade.
"You're behind the eight ball by the time you get to the 12th grade," he said during the debate "All those resources need to be on the front end, on the developmental years, the major developmental years, to ensure success into the future."
Housing and development
Though the months-long surge in housing prices across the state has cooled down in recent weeks, Nevada remains in the middle of a housing crisis — rental costs are up more than 10 percent over the past year, and thousands of low-income Nevadans are being priced out of homebuying.
Lombardo said during an interview in March that "the governor has a direct influence, a huge influence" on how the state approaches affordable housing, but was critical of Sisolak's plans to invest $500 million of federal relief funds from the American Rescue Plan into affordable housing projects through the Home Means Nevada initiative.
He described those plans as a "spray and pray philosophy," though he also argued on his website that "this money will barely make a dent in the over 84,000 affordable housing units that are currently needed across Nevada."
Instead, Lombardo states that Nevada needs a "long term plan to build out affordable housing infrastructure" that stretches beyond the funding of projects with federal relief funds. Lombardo's plan includes deferring payments on land until after development is completed, and streamlining permitting and licensing of projects, though his website does not offer specific details on how those would be streamlined.
At a September event hosted by the Southern Nevada Home Builders Association and other groups,  Lombardo took issue with the use of project-labor agreements (PLAs), which are collective bargaining agreements signed prior to construction that establish employment terms for a project, in the planning of affordable housing development. Though such agreements are in place for new housing developments built under a state partnership with the AFL-CIO, a consortium of labor unions, the PLAs are not mandated under the Home Means Nevada initiative.
Stil, he argued the PLAs would limit progress on construction projects by resulting in a lack of labor. He added that he would repeal SB231, a 2019 bill approved by Sisolak that lifted a 2015 prohibition on PLAs in public works projects.
"I don't think the governor or the government should inject itself into business matters. I think … less regulation is beneficial toward business," he said.
Lombardo also pointed to a need for more land to have space for constructing affordable housing, but said the state should stay out of the way on local government decisions about land use. He added that the governor's office should push on cities and counties to get affordable housing projects moving, and he described a need to implement a long-term housing plan for the state, covering 10-20 years of development.
"It's land, land, land and you have to have affordable land in order to have affordable housing," Lombardo said during a debate with Sisolak. "If the land is not affordable, it doesn't pencil out."
Water and the environment
On his campaign website, Lombardo said the need for reliable water is "essential for the future of our state."
He also criticized California and negotiations over water allocations on the Colorado River, adding that it is "essential" for people in rural areas of the state to maintain their existing water rights for ranching and farming.
"The governor needs to get directly engaged in that [Colorado River water] negotiation and ensure that we get our fair share, especially from the state of California," Lombardo said during a primary debate.
As for wildfires, Lombardo said on his campaign website that if he becomes the governor, he would work directly with regional partners to take aggressive preventative measures against wildfires.
Trump and election fraud
Throughout the 2022 election, Lombardo has at times distanced himself from former president Donald Trump and, in other instances, closely aligned himself with the man who endorsed him during the primary.
Asked during the debate if Trump — who twice campaigned with Lombardo this election cycle — was a "great" president, Lombardo said: "I wouldn't say great. I think he was a sound president." He added that Trump "moved the country forward, versus backward."
Several hours after the debate, Lombardo's campaign released a statement stating in part that "by all measures, Donald J. Trump was a great president and his accomplishments are some of the most impactful in American history" and that he had "presided over one of the greatest eras in modern American History."
Then pressed on whether Trump's repeated assertion that the 2020 election was stolen from him, including through alleged widespread fraud in Nevada — claims that have not been supported by any evidence, in either Nevada or other states — Lombardo said, "it bothers me" and said he did not believe the election was rigged.
Lombardo said there was a "modicum of fraud," but "nothing to change the election," and still defended his support of Trump.
"You're never going to agree with anybody, 100 percent, with everything they do," Lombardo said. "You've got to look at the totality of the person and their ideas and their leadership and support it in that aspect, because you're never going to have the perfect candidate."
Health care
As of October 6, Lombardo's website does not list specific policy positions related to non-reproductive health care. However, in a recent debate with Siolak, Lombardo said he would "absolutely not" support a state-managed public health care option passed during the 2021 legislative session and set to be implemented in 2026.
"We're already in a dire straits with Medicaid, currently within the state of Nevada," Lombardo said, noting that the state has failed to address the Medicaid reimbursement model.
In a forum of GOP governor candidates earlier this year, Lombardo also called the public option "bullshit" and said public officials need to focus on creating a health care environment that gives people access to mental health resources and other necessities.
During the debate with Sisolak, Lombardo dismissed recent findings from a study of Nevada's public health insurance option that suggests it could generate $300 million to $400 million in health care savings for consumers and the state during its first five years.
The Nevada Independent is raising $200,000 by Dec. 31 to support coverage of the 2024 election.
Tax-deductible donations from readers like you fund this critical work.
If you give today,your donation will be matched dollar-for-dollar.
Give + Get Matched
Featured Videos