Can UNLV's long-awaited $125 million medical school building solve Nevada's physician shortage?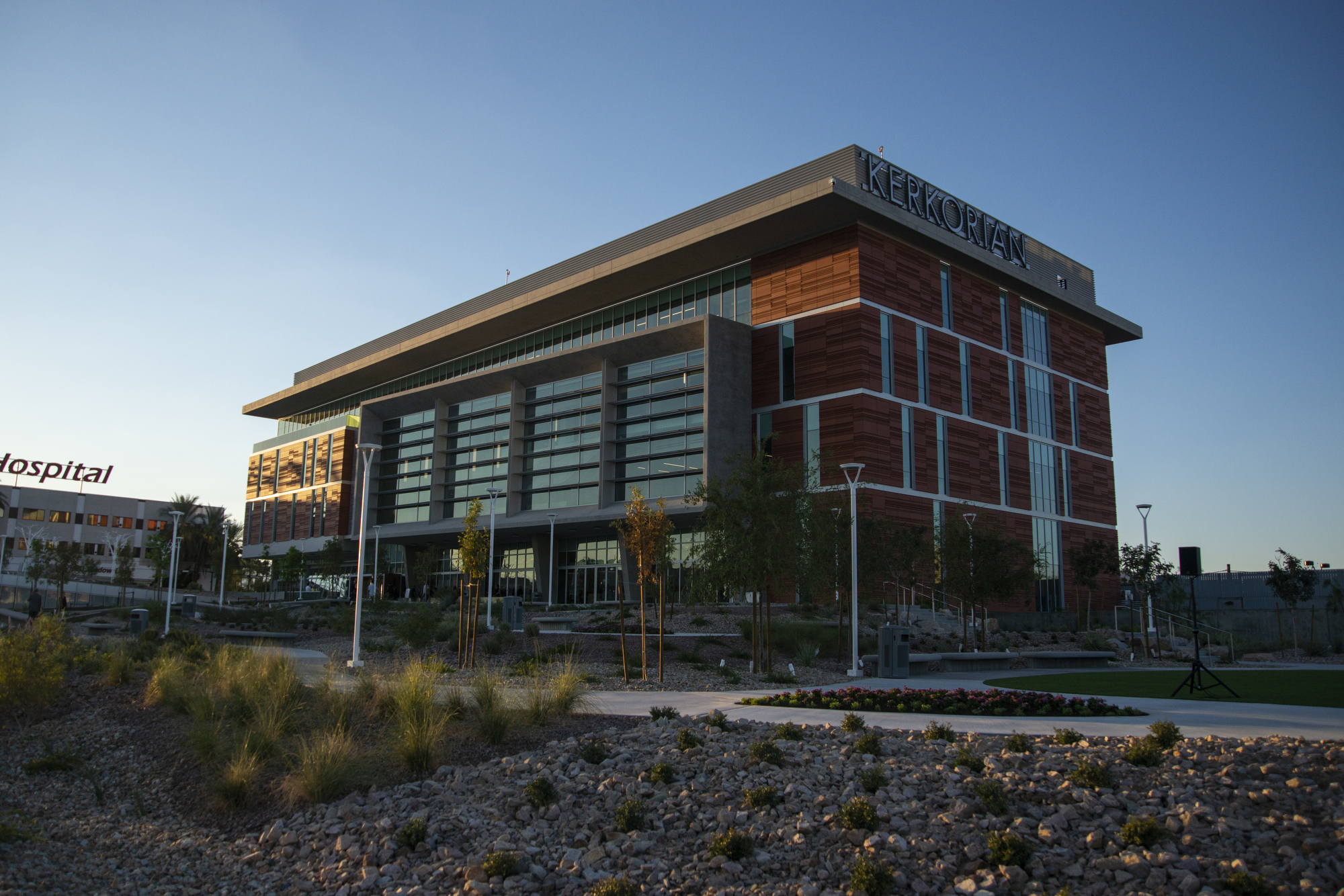 After years of fits and starts, three university presidents, two medical school deans, two governors and one pandemic, last Wednesday marked the end of a long and tortured road — the red ribbon was cut, and the Kirk Kerkorian Medical Education Building at UNLV was finally complete.
The $125 million, 135,000-square-foot building — located just blocks away from the university's existing medical campus and a pair of hospitals — has been billed as a critical medical infrastructure investment for the region, long plagued by severe physician shortages.
The UNLV medical school — now called the Kirk Kerkorian School of Medicine, after the Las Vegas Strip mogul whose estate helped fund the new building — has since graduated two classes. Last year, it earned full accreditation after a years-long process.
But in the end, it was neither UNLV nor the Nevada System of Higher Education that shepherded the project over the finish line. It was a private company, the Nevada Health and Bioscience Corporation (NHBC).
Designed as a political and financial end-around that could funnel state money and philanthropic funds around the systems that traditionally cover massive university capital projects, the NHBC formed in 2019 as a unique partnership between philanthropic entities and the state following years of feuding within the state's higher education apparatus.
With the sprawling medical education building presenting a now-tangible backdrop, the NHBC and Gov. Steve Sisolak have heralded the project as a total success, one that has come in below projected budgets and far before construction deadlines.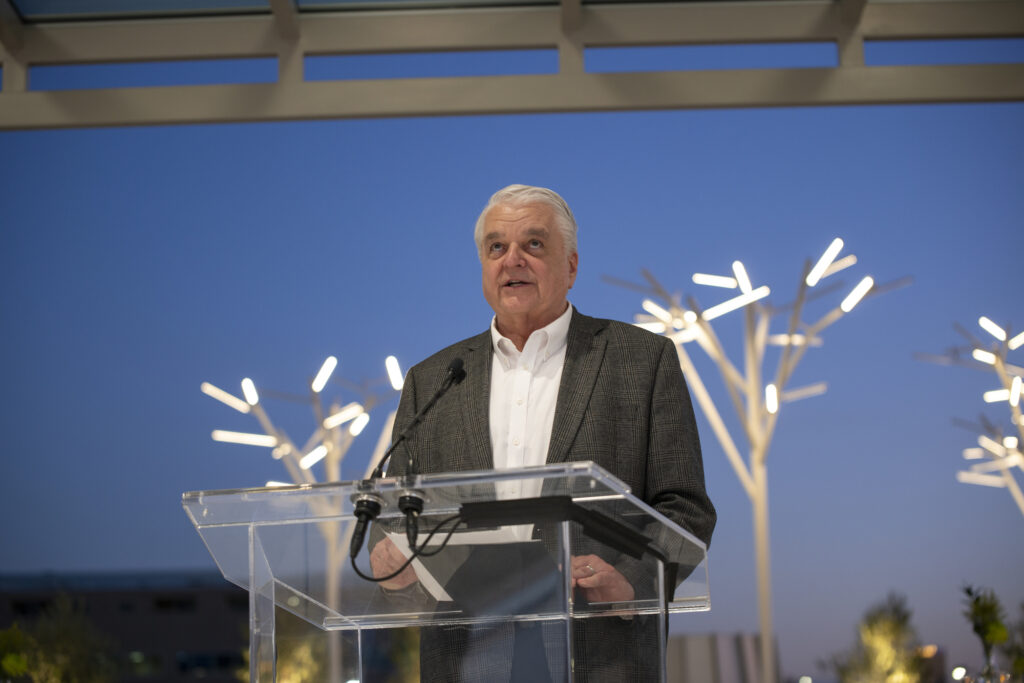 "Needless to say, we didn't worry about history or the odds when we took on this endeavor," NHBC President and CEO Maureen Schafer said in prepared remarks Wednesday. "And I can say today with this building, we care, we now compete and we are catching up."
To that end, Sisolak announced Wednesday that he would use one of his bill draft requests — should he be re-elected as governor — to establish a formal "Las Vegas Academic Medical District" in the area around the medical education building, a move he said would provide education for specialized services and space for new research centers.
That district will be initially filled by two new buildings already funded by public money: an ambulatory care clinic and a pathology lab, both partially paid for by $70 million in federal American Rescue Plan money directed to the NHBC. Both buildings are set to be owned by the company in perpetuity, according to Schafer.
Asked about the future of the relationship between the state and the NHBC following Wednesday's ribbon cutting, Sisolak said: "Because of the development corporation, I felt confident putting $70 million of state money on this campus."
How we got here
The medical education building was, as they say, not built in a day.
Founded in 2014, the nascent UNLV medical school had cleared most early accreditation and funding hurdles by 2015 and 2016, and had seriously eyed the creation of a new centerpiece building for the school through 2017. But even as the necessary land and $25 million in matching funds from the state meant to boost the project were secured, the process began spiraling.
By late 2017, regents had begun criticizing then-UNLV President Len Jessup publicly, as the cost of the project ballooned from a promised $100 million to more than $232 million. At the same time, the school had secured far less funding than initially hoped — just $64 million, a sum that included the $25 million of state dollars (meant to match a mystery donor's $25 million contribution match, later revealed to be from Kerkorian's estate).
The next year, Jessup was ousted as university president amid a public spat with regents and a potential ethics violation over a $14 million donation toward the medical school being made contingent only on the continued employment of Jessup and the school's founding dean, Barbara Atkinson. That $14 million — made by the Engelstad Foundation, a major backer of the eventual NHBC project — was later revoked in the wake of his departure.
Jessup accused the Board of Regents and then-chancellor Thom Reilly of "personal and professional attacks," though Jessup also nearly faced a personnel session before regents in early 2018 following a negative performance review.
The project entered more fits and starts after Jessup's departure, even scaling down to a more modest $47 million medical library. That project drew the ire of donors, however, and was scrapped by late 2018. Another plan, to be funded by $128 million in university bonds, never left the ground as developments outside the higher education system began to move.
In November 2019, Gov. Steve Sisolak made the surprise announcement that the state had secured $155 million in private funding for a new medical education building. The money was to be wielded not by NSHE or UNLV, but by a development corporation led by those private donors.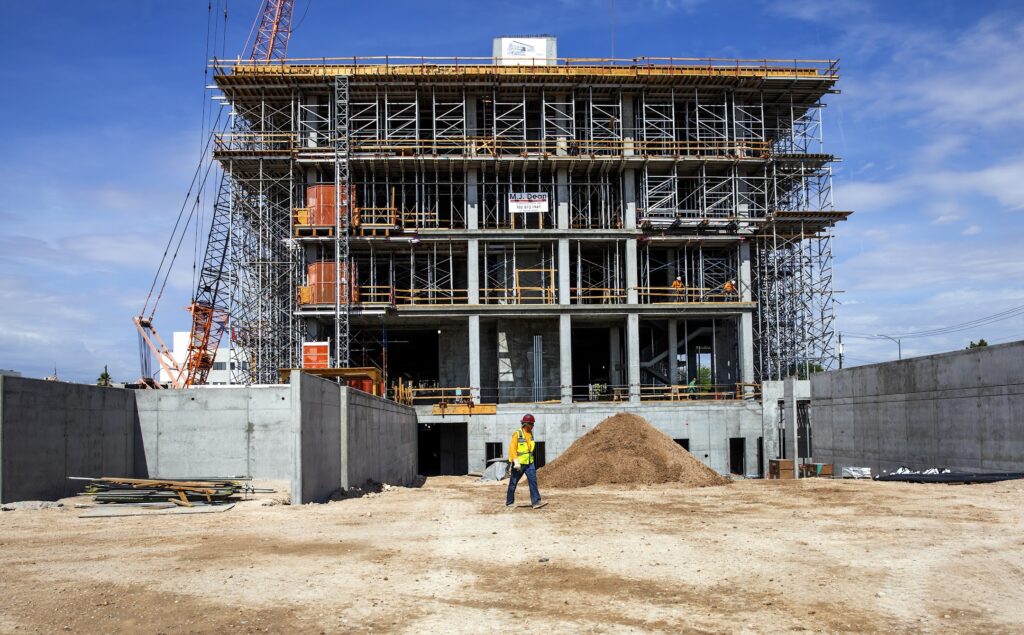 Still, the pandemic created a serious hurdle in the early construction phase, as the pomp and circumstance of the groundbreaking were driven online amid COVID concerns. At the same time, with the Las Vegas Strip shuttered for months and state tax revenues tanking, the $25 million in state funding had disappeared overnight.
It was a temporary setback. The money was restored under better-than-expected revenues in 2021, and the NHBC has since touted the building having been delivered under-budget and well under-deadlines.
But even at the finish line, the political wrangling that led to Wednesday's ribbon cutting simmered under the surface.
Across both a speech Wednesday and remarks to media last week, NHBC Board Member Lindy Schumacher gave plaudits to Jessup and Atkinson — both in the near-300 person crowd as the ribbon was cut, along with nearly half of the Board of Regents and UNLV's current president, provost and medical school dean — and excoriated the process, decrying "so many people standing in the way" and a "system that was very broken."
"We have a PR firm at the [NHBC] and they said 'Could you try and avoid words like idiot, dummies?'" Schumacher said in her speech. "And we agreed upon a few words because this was a hard project, and there were a lot of obstacles. And some of those words come to mind somewhat regularly."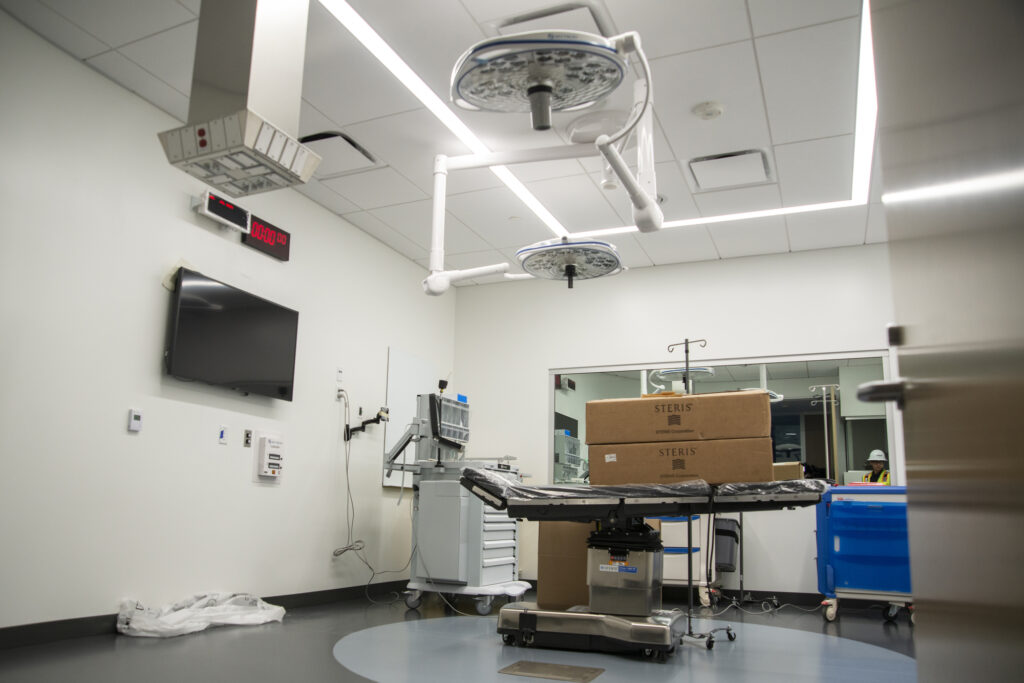 A state-of-the-art facility
In a tour of the building provided to media last week, NHBC officials touted state-of-the-art laboratory and learning spaces that would accurately simulate the clinical experience, letting students work in hospital rooms and operating spaces.
The hallways are fitted with hand-washing stations, simulation spaces with two-way mirrors, and in another room, touch-screens the size of small dinner tables, pivoting flat so that anatomy students can dissect human bodies digitally, carving away muscle tissue with the tap of a finger.
And for the prospective surgeons attending the UNLV medical school, cadavers will still be available, too, sequestered away in dedicated "cadaver labs" designed according to stringent regulations for power and ventilation meant to keep the bodies under ice — even when the power goes out.
The building features traditional classroom space and meeting areas, large open floor plans surrounded by clear windows and a flood of natural light. It all flows from a central atrium that is itself dominated by a massive, wood-paneled staircase that doubles as communal seating.
"Becoming a doctor is like a full contact sport," Schafer said during the media tour. "But as much as the education and the curriculum are very difficult, and a significant and severe and serious task. We wanted to build a building that puts its arms around students."
Officials with the NHBC have touted the building's size and scope, providing enough space to double the school of medicine's size from just 60 students per class today to 120 students.
However, that increase — at least for now — remains a theoretical ceiling, rather than a new reality, as the new space to expand now meets outside economic hurdles.
The road to expansion
Across higher education, institutions have struggled to fill applicant pools in a job market that has been squeezed tight by both inflation and cost-of-living increases — which have sharply reduced the value of existing compensation from colleges and universities, especially under post-pandemic budget cuts — and by an aggressive private sector.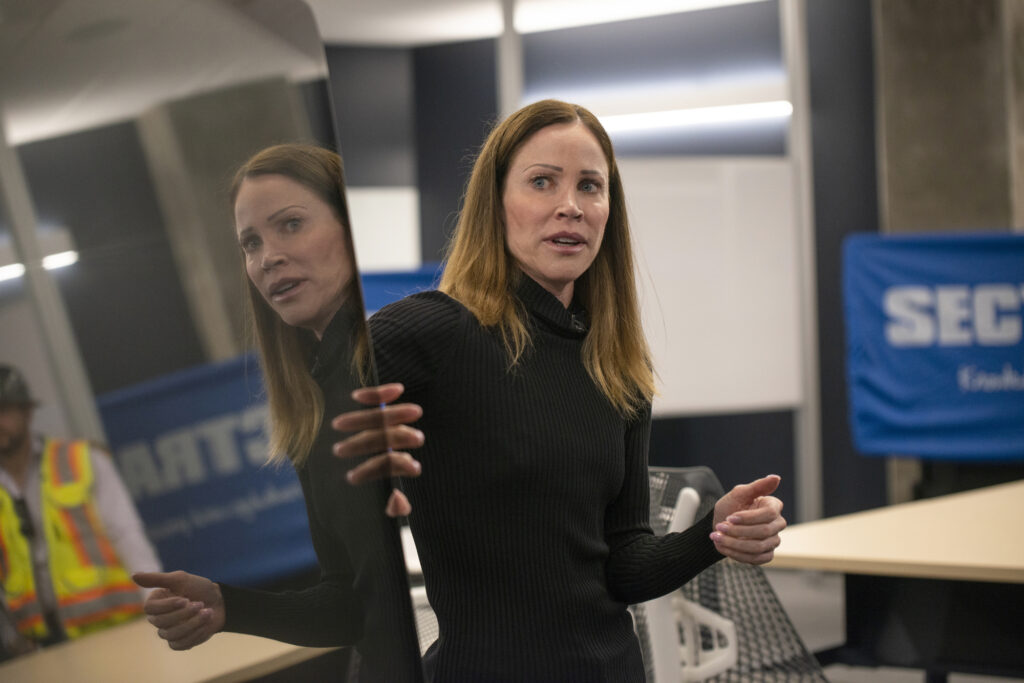 The private sector has become a major alternative for medical instructors, in particular, as hospitals offer large signing bonuses and better pay than teaching institutions, which, officials said, must instead rely on offering better hours and less stress than a traditional clinical setting.
"It's hard to hire people even if you have the money, but you have to get the money first," Schafer said in an interview following last week's media tour. "It's a two-step process."
Every higher education institution across the state of Nevada has signaled it will make budget enhancements or restorations a priority in the coming legislative session, champing at the bit to secure money that could offset both operating cuts made during the pandemic, as well as expected reductions from the funding formula triggered by shaky post-pandemic enrollments.
Still, it remains unclear whether lawmakers will move to expand budgets next year amid ongoing economic uncertainty, and if they do, whether they will pour more state dollars into higher education after spending more than a decade relying largely on funding formula adjustments, rather than direct investments.
In an interview following the ribbon cutting, Sisolak did not directly commit to increasing higher education funding.
"I think that there's a lot of demands on funding, certainly going to the next session," he said in an interview with The Nevada Independent. "We're going to prioritize the spending, but K-12 and higher ed are my priorities as well."
Asked what responsibility the state held for ensuring the medical school could hire the faculty needed to expand, Sisolak said that "as long as I'm governor, the state is going to do everything in its power to help UNLV grow this medical school into its full potential."
As the school expands, it also remains unclear how officials may solve a secondary problem: a lack of residencies for graduating students.
The UNLV medical school graduated 50 students in its first-ever graduating class last year. In 2022, it graduated 55 students. Of those 55 students, less than half — 22 in total — matched to residencies in Nevada.
But, according to Schumacher, the residencies present a chicken-and-egg-esque problem, one that can now be more readily addressed as the number of students being taught at UNLV increases with new capacity limits.
"Yes, it needs to be ramped up and needs to be more robust, but now it can be because we will have the flow of students," Schumacher said following the tour. "Yes, we have to keep them here. It's got to be fellowships and residencies and reasons to stay."
The Nevada Independent is raising $200,000 by Dec. 31 to support coverage of the 2024 election.
Tax-deductible donations from readers like you fund this critical work.
If you give today,your donation will be matched dollar-for-dollar.
Give + Get Matched
Featured Videos