A Nevada Independent forum on the Energy Choice Initiative or Question 3 on Oct. 9, 2018. Photo by Daniel Clark.
High-stakes energy choice ballot question takes center stage at Indy forum
October 10th, 2018 - 2:15am
If approved by voters, the Energy Choice Initiative would undoubtedly change the face of electric markets in Nevada.
But whether that change would be a net benefit for the average Nevadan remains a sharp point of contention among the well-funded supporters and opponents of the ballot question, and one voters are still grappling with a month before Election Day. If approved, the proposed constitutional amendment would require the state to set up a competitive retail market by 2023.
How to implement the measure, what issues may arise and whether the initiative would ultimately be good for the state were the topic of Tuesday night's Nevada Independent forum featuring a supporter of the ballot question — former Federal Energy Regulatory Commission chairman Jon Wellinghoff — and an opponent, Democratic Assemblyman Chris Brooks.
Wellinghoff said approval of the initiative, if properly done, would give Nevadans the ability to easily pick and choose electric providers, giving new technology and increased renewable energy an easier foothold in the state than it would under the state's current regulated monopoly system. Brooks said the measure would create uncertainty and complicate the oversight of energy issues given that it would amend the Constitution and circumvent most legislative attempts to regulate the new market.
A move to energy choice, however, would require a public information campaign educating customers on how to evaluate and purchase a plan that suits their needs. Wellinghoff said a friend who lives in Texas, which has a retail energy market, has an elderly mother-in-law who navigated the online retail system and chose a plan that worked for her.
"I have no doubt that if Texas can figure out how to teach an 84-year-old woman how to go onto the site and get the cheapest plan, I think we can do the same thing here," he said.
Brooks, who opposed the initiative in 2016 and has been a vocal critic, said the measure went far beyond well-intended fixes to the state's current electric market and would instead create the opportunity for catastrophe.
"Instead of repainting the bedroom walls, we burn the house down and try to rebuild it from scratch," he said. "So I think that is the fundamental issue I have with what Question 3 does."
Other topics discussed included:
Constitutional issues and regulation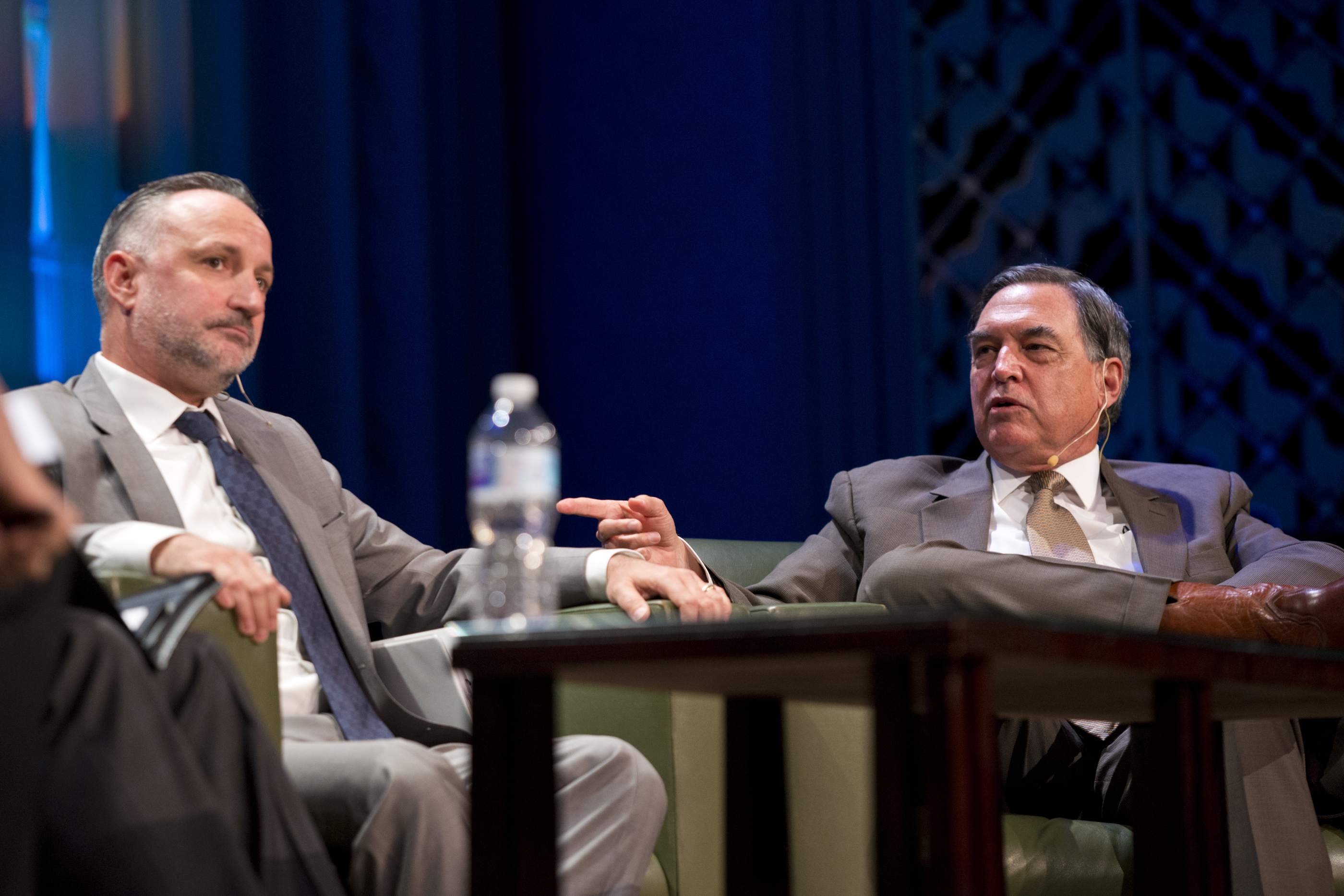 One of the chief concerns Brooks brought up with the ballot initiative is that moving to a competitive market through a constitutional amendment would create new difficulties that the 14 other states with competitive markets haven't faced.
"While I agree with many of the goals in the amendment, it's the method I'm most concerned about," he said. "It creates a lot of uncertainty, and the way it is written, I think, it sets us back in our ability to rapidly adopt renewable energy."
Wellinghoff argues that it's necessary to include it in the Constitution, where it's far more difficult to change.
"It is a fundamental property right we're talking about. We're talking about the right to self generate. This in the Constitution would enshrine that as a fundamental right," he said. "Ultimately, without that, NV Energy could stop you from generating on your roof, as they did at one time…. I don't think that's correct. I think the consumer should have that fundamental right."
Legislative role
Brooks said he envisions an energy future that looks different than the status quo — a hybrid model where Nevada is part of a regional wholesale market. But he said such changes could and should be made legislatively.
"There's ways to do that right now, and we currently do that, and we can expand those models to provide more wholesale energy choices, more retail energy choices for a whole vast variety of consumers," Brooks said. "Again, I go back to what I constantly go back to: that's not necessarily what this amendment does."
But Wellinghoff said the Legislature's role is one of the key reasons for putting it in the Constitution instead of simply adding it to law. While 72 percent of voters supported energy choice in 2016, the Legislature did not take steps to implement it in the 2017 session.
"I think the people need to direct the Legislature," he said.
Brooks shot back, saying that it doesn't make sense for consumers to distrust the Legislature enough to enact energy choice through a ballot measure, but then entrust them with the entire task of implementing the measure over the next three sessions.
Rates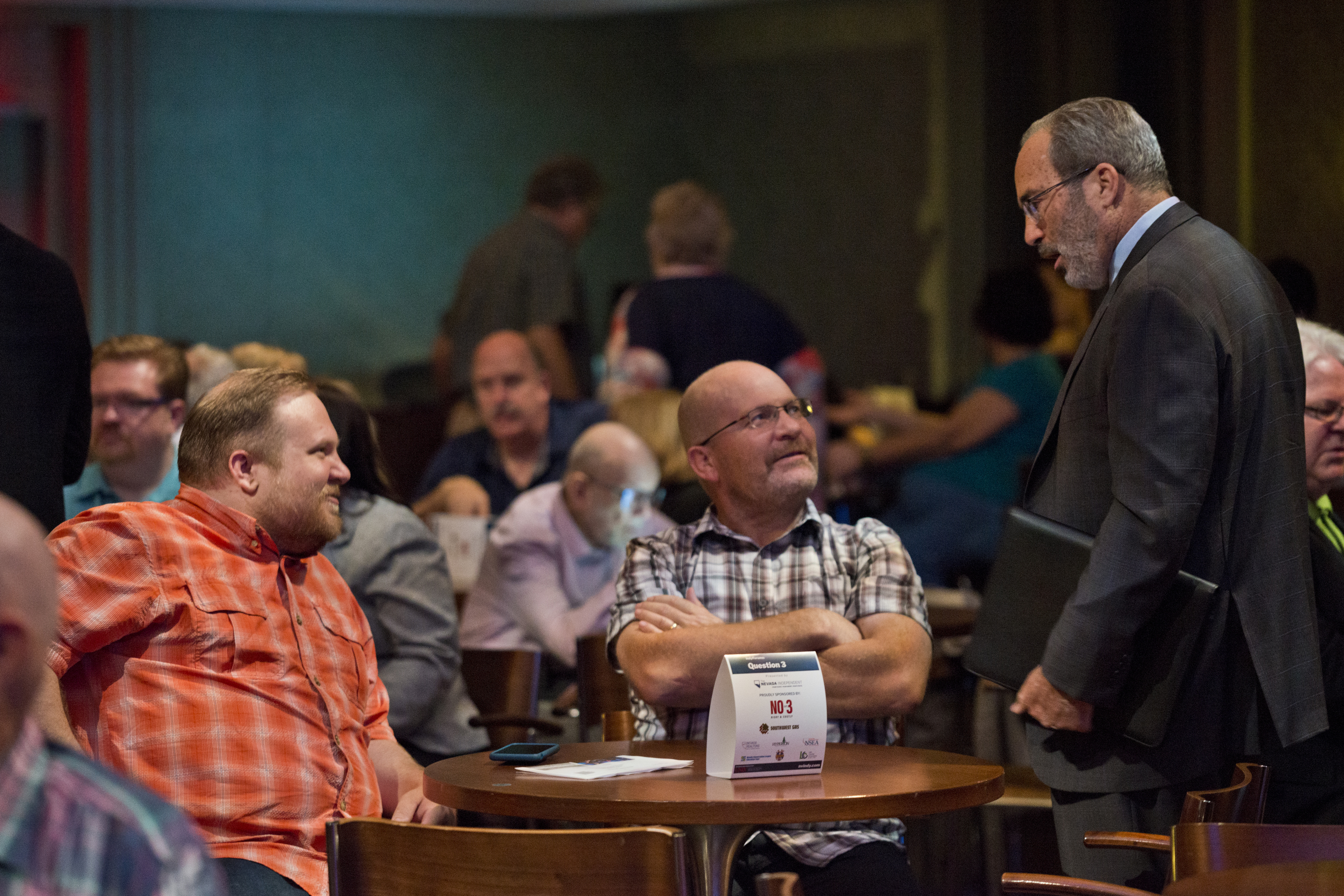 Both sides of the ballot initiative have pointed to the experience of other states with competitive markets — supporters have highlighted larger reductions in rates, while opponents have pointed out that rates in Nevada and other "monopoly" states are lower than those in "restructured" states.
Both Brooks and Wellinghoff agreed with data showing Nevada had among the lowest electric rates among all monopoly states, and one of the largest decreases in prices over the past decade. Wellinghoff said he believed that prices could go even lower, as people could choose a variety of plans that could include extremely inexpensive rates.
"Ultimately, we will have the opportunity to choose lower rates if you put competition in place," he said.
Brooks disagreed, and said the amount of work required to change the state's energy market was not worth even a hypothetical small decrease in electric prices.
"Based upon all that I've seen, I do not believe that what this amendment does to our energy structure leads to an environment where residential taxpayers are going to see any savings," Brooks said. "I'm not saying it doesn't work in Texas. I'm not saying it doesn't work in other states. I'm saying that where we currently are — where, even under the rosiest scenarios, we could end up — it is not by any means worth the decade it could take to try to dismantle and rebuild and the cost that ratepayers today will have to suffer."
Stranded Assets
If approved, the Energy Choice Initiative would likely require the state's current utility, NV Energy, to divest and sell off its large, billion-dollar portfolio of power plants and long-term power purchase agreements.
Brooks cited an April report by the state's nonpartisan Public Utilities Commission (PUC) that estimated the total payments for "stranded assets" held by the utility would total more than $4 billion — which ratepayers would need to pay off.
"Who wants to buy a 35-year-old coal pant? Anybody? Great investment, right?" he said rhetorically. "If we have to take a 35-year-old coal plant and put it on the chopping block tomorrow and then whatever the losses are associated with that 35-year-old coal plant the people of Nevada have to spread that across our rates."
Wellinghoff said that payments could be amortized over a longer period of time, and were somewhat beside the point as ratepayers are already on the hook to pay off the plants — including the coal-firing Valmy Generating Station — over time, anyhow.
"It doesn't matter whether energy choice goes into place or not," Wellinghof said. "The $4 billion is on the books. It's on the books now, and Nevadans are stuck with it."
Role for consumers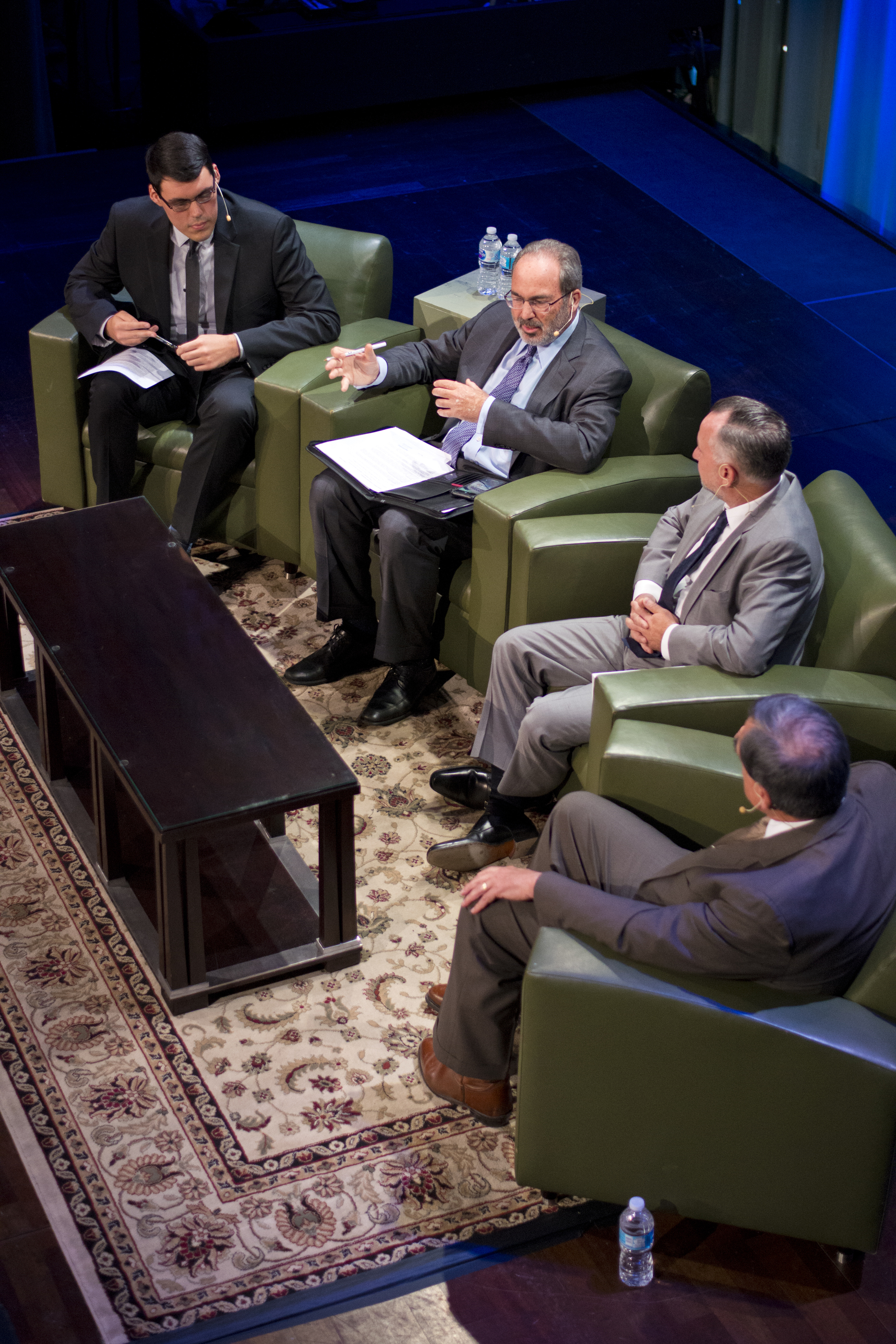 Asked whether consumers would be more subject to the whims of the market under energy choice, Wellinghoff said no.
"They don't have to ride the free market rollercoaster. They can choose, again, they can choose whatever plan they ultimately want, whatever is offered ultimately. You can choose a strict contract for three to five years with a flat rate, you can absolutely do that," he said. "There are people that choose in a number of these states to be subject to these variances in rates and subject to the wholesales prices if they want to. But again it's a choice that's up to the consumer."
Asked how Nevada would bring its energy consumers up to speed on the multifarious options they would have under energy choice, Wellinghoff said there would need to be a public education campaign just as there was in Texas.
Brooks wasn't sold on the story of elderly consumers comparison shopping for electricity online. He argued that there's a technology gap between consumers, and many would be duped by the sophisticated designs of various electricity plans.
"For all the anecdotal evidence about you know somebody in Galveston having a lower bill or somebody in Houston having a lower bill, I've seen as much anecdotal evidence and seen lawsuits as well in Texas, Massachusetts and Illinois and companies that are selling, they have these low introductory rates and then they get slammed," he said.
Renewable energy
Wellinghof argued that more consumers are demanding clean energy, and would be willing to pay for that option if given the choice.
"When they started energy choice in Pennsylvania, people wanted renewable and demanded they come to the state, so as a result, people started putting in wind farms," he said. "If you look at data from consumers, as far as consumer preferences, you take polls in Nevada or anyplace in the country, you find that 70 to 80 percent of consumers want more renewables. If we give consumers choice, they're going to demand more renewables."
Brooks disagreed that consumers prioritizing clean energy over other factors — such as the cost of energy — is the primary driver for the adoption of more renewables.
"Uhh no. The states that have strong renewable portfolio standards and legislative mandates over the last several years have seen the largest adoption of renewables and currently have the highest percentage of renewables," he said. "… The data that I have seen demonstrates that states with strong standards or incentives and are regulated states have the highest adoption of renewables besides some anecdotal stories from Texas and other places that really had a long way to go and so they've made some very robust progress over the last very few years based on pricing. Nevada has a long history of renewable adoption and a long history of having a strong portfolio standard that has really gotten us and other states to where they are today."
Politicization of FERC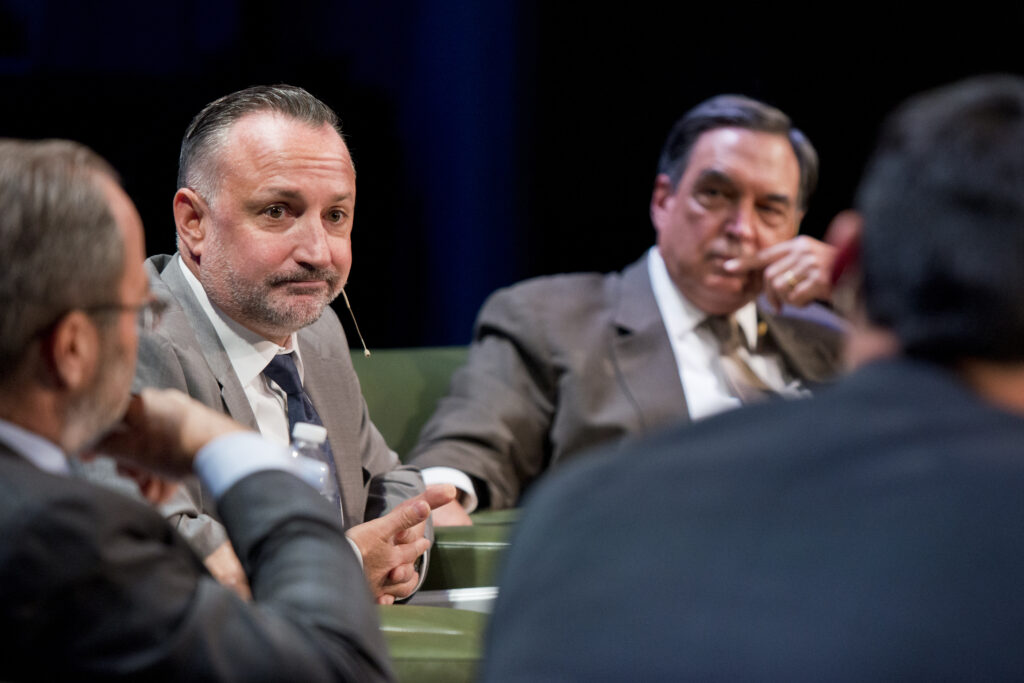 Brooks expressed concerns about the impact that the politicization of the Federal Energy Regulatory Commission (FERC) could have long term on energy regulation, pointing to an article from E&E News in which Wellinghoff espoused similar worries.
"Me and you agree wholeheartedly on this," Brooks said. "You express concern over the infiltration of FERC with political appointees under this current administration and how the federal, or executive branch, the administration we currently have or could have in the future is manipulating FERC for political gains."
He said that he doesn't want to turn over control of Nevada's wholesale energy market to FERC, particularly not under the Trump administration.
Renewable portfolio standard
Nevada voters will also have the chance to weigh in on Question 6, a ballot measure that would raise Nevada's renewable portfolio standard (RPS), requiring the state draw 50 percent of its energy from renewable sources by 2030. One attendee at the forum asked whether passing it would conflict with Question 3.
"So I think that Question 3 makes a portfolio standard unenforceable," Brooks said. "And I think that Question 6 embeds in the constitution the insurance that we need to make sure we continue or get back on track as a leader in renewables if in fact Question 3 passes. And so I think Question 3 kind of derails our current path that we're on for large adoption of renewable energy and Question 6 is really a safety net and insurance because if we put this in the constitution we have to have a constitutional methodology of enforcing a portfolio standard. And so I think 6 is there as a backstop. I don't know that was its intended purpose but it's there as a backstop in the event that 3 passes."
Wellinghoff, on the other hand, said he saw no potential conflict.
"I see absolutely no issue with Question 3 impinging on the renewable portfolio standard. In fact there's a provision in the language of Question 3 specifically says that the renewable policies of the state will be preserved ultimately," he said. "And from that, there's no issue with respect to continuing the renewable portfolio standards of the state or enforcing them. In fact they do have in Texas a renewable portfolio standard. Texas, in fact, had one of the first renewable portfolio standards … They enforce it there. It works there with respect to all the retail providers there and there's really no reason why it can't ultimately work here in Nevada."
Comment Policy (updated 3/21/19): We welcome reader comments on our stories. However, in keeping with our general policy of transparency, accuracy and accountability, we do not accept comments from anonymous accounts. Anonymous accounts are those without a valid first and last name. Any such comments will be deleted, and anonymous users will be blocked from commenting further. We also will block commenters who use offensive language, engage in personal attacks or state things that are verifiably false.
get our morning newsletter,
The Daily Indy
INDYMATTERS PODCAST
CAFECITO CON LUZ Y MICHELLE
@TheNVIndy ON TWITTER