SLS Las Vegas cleared to leave NV Energy, amid many applicants withdrawing from attempts to leave utility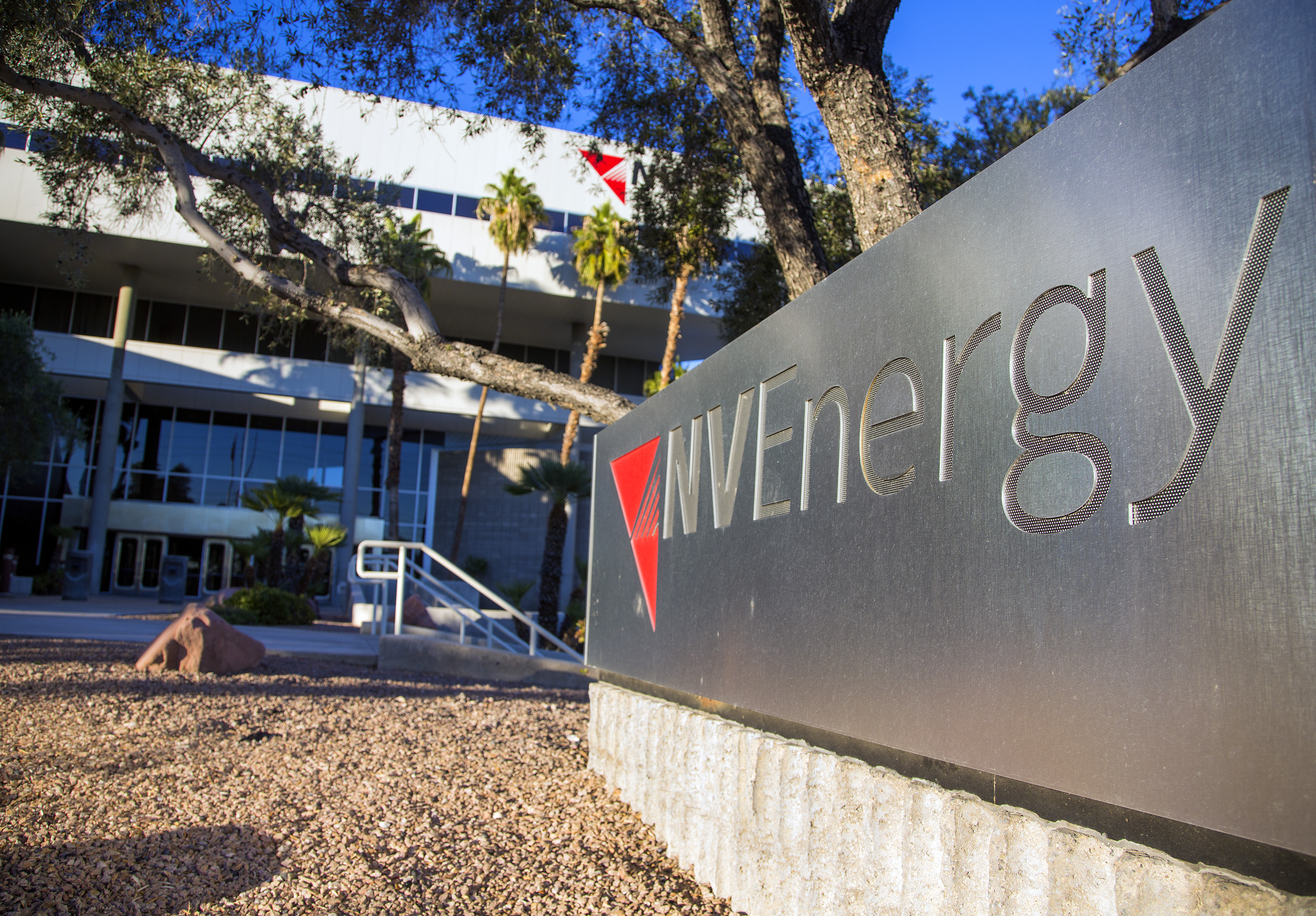 It took less than ten minutes for the three members of Nevada's Public Utilities Commission to swat down a last-chance effort by NV Energy to raise the price of SLS Las Vegas's ticket to depart the utility and purchase electric power from another provider.
The PUC's quick discussion and 2-1 vote on Wednesday to deny NV Energy's request to reconsider an earlier PUC order granting the casino's request to depart the utility is perhaps the last nail in an effort by NV Energy to coax, delay or dispute efforts by nearly a dozen large companies to leave utility service.
Since mid-2018, 14 of Nevada's largest businesses and government agencies have filed applications with the PUC under the so-called 704B process, which allows certain large businesses and government entities to leave utility electric service and purchase power on the open market, in return for a usually substantial "impact fee" calculated and charged by the commission to ensure other utility customers don't face unexpected costs.
Although Nevada lawmakers approved a wide-ranging bill in the 2019 Legislature that added more restrictions and limits on the 704B process, the legislation exempted all businesses with pending applications before the Commission from the new restrictions and requirements, meaning that they're able to leave under the old, less restrictive set of rules.
That possibility has concerned NV Energy, which has moved to dispute or seek higher exit fees for companies applying to leave their service, including filing several motions for the commission to reconsider its orders granting the applications over fears that granting all pending applications would cripple future load growth and cost its other customers millions of dollars. 
But their arguments have yet to sway a majority of the Commission, which wrote in the order denying NV Energy's reconsideration petition for the SLS that their arguments were not valid.  
"Considering the fact that [NV Energy's] petition merely repeats the same arguments that it put forth in its testimony, the Commission finds that [NV Energy] has presented no basis for altering the determinations contained in the order, which are clearly delineated therein and which are clearly supported by the evidence presented in this docket," members of the commission wrote in the order.
But the utility company has moved in other ways to reel its largest customers back into the fold, including entering into contracts with the LVCVA, City of Henderson and the Clark County School District that included direct incentive payments to the government agencies in return for a promise to not leave utility service. 
"We believe we are the best energy partner for SLS Las Vegas, and we are committed to providing them with customized solutions that address their unique business needs and provide added value," NV Energy spokeswoman Jennifer Schuricht said in an email. "This approach to meeting customer needs has been successful in helping us retain our customers, and we will continue to work hard to retain the opportunity to be the energy provider for SLS Las Vegas."
Of the 14 entities that filed to leave utility service since June of 2018, six have withdrawn their applications, seven have been granted the right to leave by the PUC, and one (the under-construction The Drew resort) is still pending. Here's how the exit application status of each business or entity that has filed to leave the utility is currently faring:
The Drew (exit application filed in April 2019)
The unfinished $3 billion, 67-story The Drew Las Vegas (formerly Fontainebleau) is still under construction and isn't expected to open until the second fiscal quarter of 2022. Still, the hotel's management company Two Blackbirds Hospitality Management LLC filed an application to preliminarily leave the utility in April 2019. 
The application is still pending, and a procedural order issued by the Commission set a hearing date for August 29.
Cosmopolitan (exit application filed in February 2019)
The Cosmopolitan withdrew its application to leave NV Energy's service in late May, just three months after filing to leave the utility. No order was filed in the case, but an "impact analysis" by staff of the PUC estimated that the casino company would need to pay a $4.739 million impact fee over six years, or a $3.96 million fee up front.
LVCVA (exit application filed in February 2019)
The Las Vegas Convention and Visitors Authority — which operates Cashman Field and the Las Vegas Convention Center — withdrew its application to leave the utility in May amid announcing a five-year energy services agreement with NV Energy. That contract includes yearly payments of $650,000 and a requirement the authority enroll in the utility's special Optional Pricing Program Rate program if and when it is approved by the Commission.
No order was drafted or approved by the commission, but according to PUC staff's final impact analysis, the agency would have needed to pay either $6.36 million over six years or $5.098 million up front to officially leave the utility (slightly less if the LVCVA did not go forward with its planned expansion).
Air Liquide (exit application filed in February 2019) 
This company, which plans to build a liquid hydrogen facility in Clark County that will transform methane into liquid hydrogen, was granted approval for its exit application earlier this month with no impact fee included. 
Air Liquide, which plans to ship the liquid hydrogen to a California fuel cell facility for use in fuel cell vehicles powered by hydrogen, will still be required to pay legislatively-mandated "rate riders" such as the Economic Development Electric Rate Rider, an electric bill rebate program granted to Tesla and other large businesses that relocate to Nevada.
Commercial operation of the plant is scheduled to begin by the third or fourth fiscal quarter of 2021.
SLS Las Vegas (exit application filed in December 2018) 
Wednesday's decision by the PUC means the runways are cleared for SLS Las Vegas to leave NV Energy's electric service, after filing to do so last year and having an initial order approved in May.
The casino, which shares an owner (Meruelo Group) with the Grand Sierra Resort, will need to pay a $1.279 million up-front impact fee in order to depart NV Energy.
Grand Sierra Resort (exit application filed in December 2018)
The Grand Sierra Resort withdrew its application to leave NV Energy in April, citing concerns raised by NV Energy in previous filings about a lack of transmission capacity in Northern Nevada. 
Although no order was issued in the case, the casino would have had to pay $2.122 million up front or $2.2234 million over six years according to a PUC staff analysis.
South Point Casino (exit application filed in December 2018) 
After filing to leave the utility last year, the South Point Hotel and Casino withdrew its exit application and announced a partnership with NV Energy in May. 
The application was withdrawn before an order approving or not allowing the exit to proceed forward could be drafted, but a PUC staff final impact analysis estimated the casino resort would need to pay an impact fee of $3.229 million over six years or $2.605 million up front.
Boyd Gaming (exit application filed in November 2018) 
Of the 14 companies that have filed to leave NV Energy over the last 12 months, Boyd Gaming remains the largest current electric customer that still plans to leave the utility.
Boyd's exit application was granted in June, and the casino company — which operates 12 Nevada properties including Aliante, Fremont Hotel and Casino and the Orleans — will be required to pay a $10.681 million up-front impact fee or $13.099 million fee paid over six years.
MSG Las Vegas (exit application filed in October 2018) 
The planned 18,000-seat MSG Sphere at the Venetian is one of several major under-construction projects that applied and received an order granting an exit application from NV Energy without having to pay an exit fee. 
The application by MSG Sphere, a joint venture between the Madison Square Garden Company and the Las Vegas Sands expected to be completed between 2020 and 2021, was approved by the Commission with no impact fee in April. A separate reconsideration petition by NV Energy was filed but rejected by the PUC in late April.
Georgia-Pacific Gypsum (exit application filed in September 2018) 
This gypsum wallboard and plastic manufacturing plant was granted permission to leave NV Energy as an electric customer in February. The company is required to pay an impact fee of either $1.567 million over six years, or 1.289 million as an upfront payment.
Raiders' Stadium (exit application filed in September 2018) 
The future football home of the NFL's Raiders was granted approval to leave NV Energy's service sans exit fee in early February, after filing to leave the previous year.
But the team filed an unusual request to the PUC in May, essentially asking to temporarily hold off on compliance with entering into electric service agreement with a third-party provider amid a pending alternative offer by NV Energy to enroll in a similar pricing program provided by the utility. That motion was granted by the PUC, giving the team and NV Energy until September to come to an agreement.
Atlantis (exit application filed in August 2018)
Although their application to withdraw NV Energy was granted in February, the Reno-based Atlantis Casino Resort Spa reversed and withdrew their exit application in late April as part of an agreement with NV Energy. The original order would have required the casino to pay a $1.756 million up front impact fee, or $1.959 million fee spread out over six years.
Fulcrum Sierra BioFuels (exit application filed in June 2018) 
Fulcrum, which plans to open a waste-to-fuel biofuels plant in northern Nevada in early 2020, received permission from the PUC in November to leave NV Energy's service without having to pay any impact fee, despite a request from the utility to tack on a $6.3 million impact fee.
Station Casinos (exit application filed in June 2018)
After being assessed a $15 million exit fee (or $18.091 million up front fee), Station Casinos withdrew its exit application and announced a long-term deal to stick with NV Energy.
The company, which owns multiple properties in the Las Vegas area including Red Rock Casino Resort and Spa and Green Valley Ranch, was granted its exit application in September 2018, but requested and received a delay in May to consider alternative options from NV Energy.
Comment Policy (updated 4/20/2021): Please keep your comments civil. We reserve the right to delete comments or ban users who engage in personal attacks, use an excess of profanity, make verifiably false statements or are otherwise nasty. Comments that contain links must be approved by admin.