On the Record: Democratic Senate Candidate Catherine Cortez Masto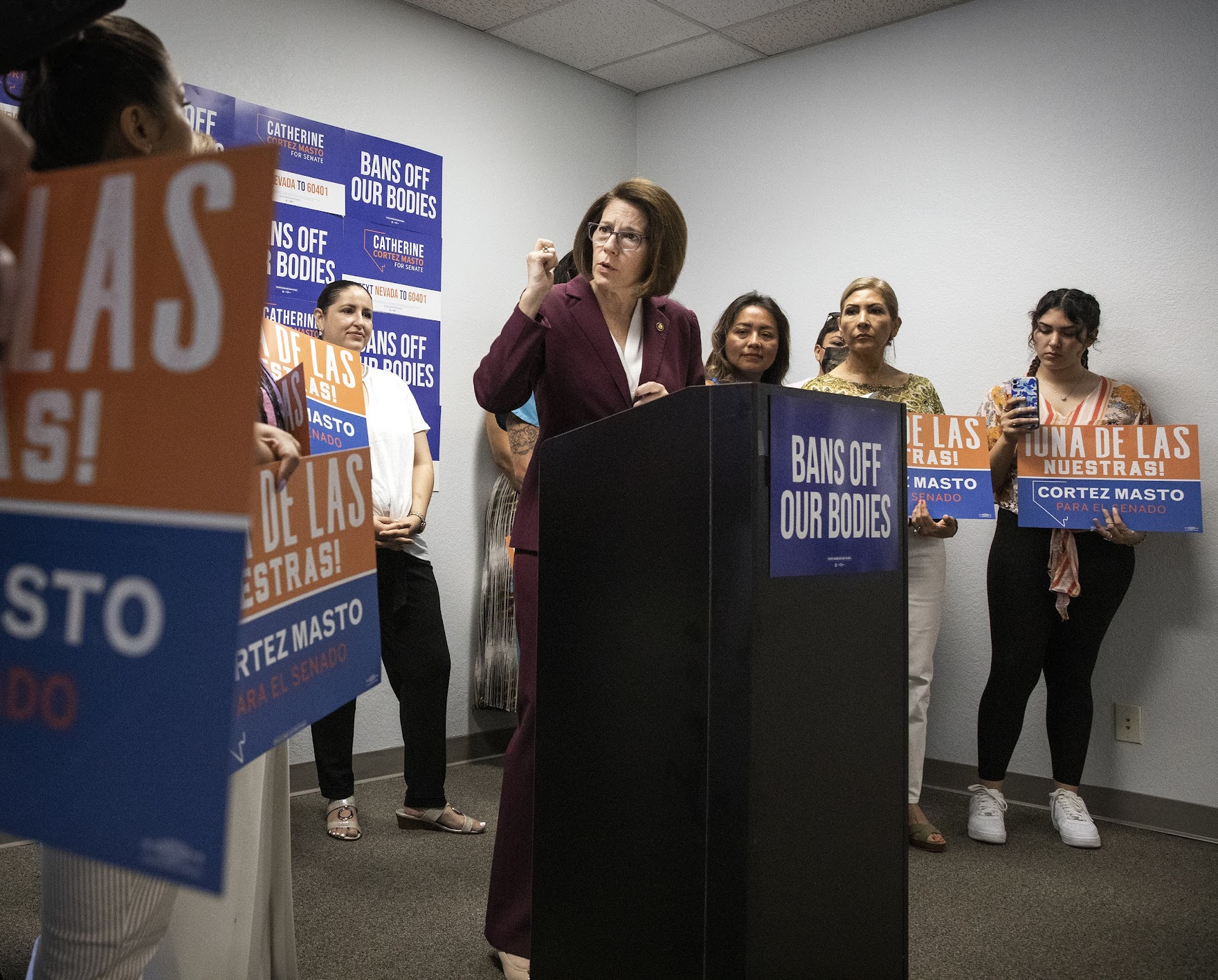 Editor's Note: This is one in a series of "On the Record" pieces highlighting the policy stances of candidates running for major offices in the 2022 Nevada election. Click here for additional election coverage. For more information on the policy positions of Cortez Masto's opponent, former Attorney General Adam Laxalt, check back tomorrow.
By nearly all metrics, Democratic Sen. Catherine Cortez Masto is one of — if not the most — vulnerable incumbents in the entire country, running in one of just a handful of races that could decide control of the U.S. Senate.
Her opponent is Republican Adam Laxalt, a conservative former attorney general who has garnered the support of former President Donald Trump and the conservative wing of the GOP, including Florida Gov. Ron DeSantis and Texas Sen. Ted Cruz.
Amid the outsized amount of national attention placed on Nevada's Senate race, Cortez Masto has set fundraising records quarter after quarter, most recently raising a record $15 million between July and September.
However, that money — despite far outpacing Laxalt's individual fundraising — has been recently offset by Republican outside groups that have poured millions of dollars into the race through the last few weeks.
All the while, Cortez Masto's campaign has had to tread a fine line, as the popularity of President Joe Biden remains underwater and economic conditions continue to drag Democrats amid historically high inflation and rising gas prices.
A string of recent polls have shown a race in a dead heat, nearly all within the margin of error. However, they have also shown a consistent advantage for Laxalt, who has maintained a slight lead in the last six public polls.
That includes a poll last week from The Nevada Independent/OH Predictive Insights, showing Laxalt leading Cortez Masto 45 percent to 43 percent, with a 3.6 percent margin of error.
Cortez Masto was first elected to the Senate in 2016, narrowly defeating Republican Rep. Joe Heck despite losing every Nevada county save for Clark, the state's most populous. Prior to her initial Senate campaign, Cortez Masto spent eight years as the state's attorney general from 2007 to 2015, before being termed out.
Cortez Masto declined a request for an interview for this story. Her positions, detailed below, are instead collected from interviews, public statements, social media posts and campaign messaging.
---
Inflation and the Economy
Cortez Masto — alongside the rest of the Democratic Senate caucus — was a key vote in passing the two largest economic passages of the first two years of the Joe Biden Administration: The American Rescue Plan Act (ARPA) and the Inflation Reduction Act (IRA).
In the early days of the Biden presidency, amid the then-nascent COVID vaccine rollout and lingering uncertainty over what shape the pandemic would take under the vaccine paradigm, Congress passed a sweeping $1.9 trillion stimulus.
In the early phase of the campaign, Cortez Masto often touted ARPA funding and other congressionally-approved COVID relief for small businesses and the tourism industry. That money, which gave Nevada alone more than $6.7 billion in federal money over five years, including $2.7 billion in "flexible aid."
The free-flow of government spending — which also included additional personal checks, the expansion of unemployment insurance and child tax credits — has since been criticized by some financial experts for playing a role in increasing inflation through 2022.
More recently, Cortez Masto has touted the passage of the sweeping Inflation Reduction Act, a Democratic spending omnibus designed as a compromise between the White House's original budget priorities and the Senate's most powerful moderate, Sen. Joe Manchin (D-WV).
The bill included historic spending on climate, health care and tax provisions, including imposing a 15 percent corporate tax rate designed, Democrats said, to close corporate tax loopholes and fund spending provisions. It also included an increase in funding for the Internal Revenue Service, something Democrats have said will be used to enforce taxes on the wealthy, but that Republicans have construed as targeting all taxpayers by hiring tens of thousands of IRS agents.
Cortez Masto's campaign has continued to tout the measure on social media, tweeting as recently as Monday that the bill "cut costs, boost our economy, and create good-paying local jobs for Nevadans."
Still, the long term economic effects of the bill remain unclear.
Separately, Cortez Masto also voted for the CHIPS and Science Act, a bill designed to lure semiconductor chip manufacturers back to the U.S. amid a global shortage with roughly $52 billion in subsidies and tax credits. The bill has since made an appearance in at least one campaign ad.
As part of that bill, Cortez Masto also praised provisions she backed that included research funding for Nevada, among other states.
Abortion
Throughout 2022, even before it was clear the Supreme Court would strike down the precedent of Roe v. Wade this spring, Cortez Masto had made her support of abortion access a key pillar of her campaign.
The move comes even as the issue has been complicated by Nevada statute, which protects abortions up to 24 weeks with legal language that would require a vote of the people — rather than the Legislature or governor — to undo.
Answering an abortion questionnaire sent to all major candidates by The Nevada Independent in late May, Cortez Masto said she "fully supports" the state's 24-week protections, as well as exceptions for late-term abortions that risk "life or health endangerment" of the mother.
She did not answer a question as to whether or not she backed parental notification laws for minors, but did support rape and incest exceptions and said that residents of other states, including states where abortion is restricted, should be allowed to get an abortion in Nevada.
Cortez Masto also recently co-sponsored a bill with her fellow Senate Democrats targeting so-called "crisis pregnancy centers," anti-abortion nonprofits, often religiously affiliated, that seek to counsel women against having abortions.
In a statement announcing her backing of that bill, the "Stop Anti-Abortion Disinformation Act", Cortez Masto called the centers "fake clinics" and said: "Anti-abortion crisis care centers routinely mislead vulnerable women about the services they provide, delaying care and jeopardizing women's health."
Cortez Masto has also been a vocal opponent of congressionally-imposed national limits on abortion, including one such ban on abortions after 15 weeks proposed last month by Sen. Lindsey Graham (R-SC).
In a viral tweet sent just after Graham's plan was announced, Cortez Masto said: "I will block any efforts in the Senate to advance a nationwide abortion ban — full stop."
In 2021, Cortez Masto also co-sponsored the Women's Health Protection Act, another Democratic effort that sought to guarantee abortion access under federal law. That measure failed in the Senate this May, just days after the Supreme Court's draft-opinion overturning Roe was leaked to the press.
Law enforcement and criminal justice
Cortez Masto has frequently campaigned as a champion of state and local law enforcement, and has earned the backing of several police unions, including the Nevada Association of Public Safety Officers, the Nevada Law Enforcement Coalition, and the Nevada Police Union. She has also been endorsed by the Reno police chief, Jason Soto.
However, amid a nationwide partisan split among police unions, several police unions have publicly switched their support to Laxalt, including the Las Vegas Police Protective Association, the Nevada Fraternal Order of Police and the Public Safety Alliance of Nevada.
That split stems from the unrest of the summer of 2020, in which protests and riots gripped much of the country in the wake of George Floyd's killing by Minneapolis police. More broadly, the split also dates back to the push by criminal justice advocates to reform police departments following the Ferguson riots in 2014.
Now at the center of the discourse? The push by some activists in 2020 to "defund the police," and instead distribute spending to other state or local programs.
Democratic politicians balked at the program at the time, including Cortez Masto, who said in June 2020 that she does not support defunding police departments, but does support reform that would address "systemic racism."
Cortez Masto also joined fellow Democrats in unanimously backing a Republican-led budget amendment in 2021 that would limit federal funding for local governments that moved to defund police departments.
On her campaign website, Cortez Masto also touts federal funding secured for state and local police departments, as well as a bill she co-sponsored last year aimed at collecting data on law enforcement suicides in a bid to reduce what she has called "an epidemic." 
Immigration
On immigration, Cortez Masto has backed the Obama-era Deferred Action for Childhood Arrivals (DACA) program and "Dreamers," or undocumented immigrants brought to the U.S. as minors. She has also called for "comprehensive immigration reform" that includes a pathway to citizenship.
As a senator, Cortez Masto has also touted having voted for "billions of dollars in border security funding" aimed at stemming the flow of drugs. That includes, most recently, voting for a 26 percent increase for Customs and Border Protection budget and 7 percent increase for Immigration and Customs Enforcement spending in the 2022 fiscal year.
Earlier this year, she also publicly broke with the Biden Administration over plans — now abandoned — to lift Title 42, a policy implemented under Trump that vastly restricted asylum claims to the U.S. as a response to the pandemic.
Immigration advocates and health experts had long criticized the measure, which the Trump Administration had explored implementing even before COVID began to spread, and have called for a return to pre-pandemic asylum processes. But vulnerable congressional Democrats, wary of the campaign impact of such a decision, split with Biden over the issue.
In April, Cortez Masto — who had opposed the implementation of the original policy under Trump — told The Nevada Independent that White House had not provided a "detailed plan" for how the policy would be rescinded.
"We need a detailed plan on how we are going to manage any potential surge at the border," she said at the time. "We need to make sure that not only can we treat people with dignity and that we also are securing the border. We can do both at the same time, but we haven't seen a detailed plan moving forward on this."
Health care
Cortez Masto has publicly supported the Obama-era Affordable Care Act, voting to preserve the law and criticizing a push by Republicans to "repeal and replace" the law in 2017.
At the time, she acknowledged that "the ACA is not perfect," but also called the Republican replacement "atrocious" and "callous," criticizing in particular a plan to cap federal spending on Medicaid.
In 2019, Cortez Masto also joined opposition to the so-called "Cadillac tax," or a 40 percent tax on certain employer-sponsored health insurance. That tax was included as part of the ACA as a means to fund many of the law's provisions, but Congress delayed implementation twice before eventually passing a repeal in late 2019.
More recently, Cortez Masto has campaigned on the inclusion of cost limits on insulin for Medicare recipients, capping the drug at $35 per month as part of the Inflation Reduction Act.
A similar provision that would have extended those caps for individuals on private insurance, also backed by Cortez Masto, was killed by Senate Republicans after procedural rules required the measure to pass a 60-vote threshold, rather than the 50-vote "budget reconciliation" bar required for the wider budget measure.
Education
Though she has called the student loan system "broken," Cortez Masto was among a handful of Democrats opposing a move by the White House in August that would cancel certain amounts of student debt for borrowers under a $125,000 income threshold, including up to $20,000 in cancellations for Pell Grant recipients and $10,000 for non-Pell borrowers.
In a statement at the time, Cortez Masto said that the plan "doesn't address the root problems that make college unaffordable."
Later, in an interview with The Nevada Independent, Cortez Masto said the student loan system was "too complex," and that in the long term, "We also need to make sure that our colleges are affordable for students."
In that interview, Cortez Masto also backed the doubling of Pell grants for low-income students, citing specifically that the amount of tuition covered by the program has dropped from 80 percent in the 1970s to just 30 percent today.
On her campaign website, Cortez Masto has also touted the inclusion of internet infrastructure funding for K-12 schools included as part of the infrastructure law passed by Congress last year.
Environment and Climate Change
Amid a crushing drought that has dropped Lake Mead to historically low levels, Cortez Masto has campaigned on her support of a provision of the Inflation Reduction Act sending $4 billion in relief funding to drought-stricken states, including Nevada.
In August, Cortez Masto also held a press conference calling on the federal government to "take a stronger role" in ensuring all Colorado River Basin states are combating drought. Her comments came as federal regulators made historic cuts to lower-basin state water allocations, including an 8 percent cut in Nevada and a 21 percent cut in Arizona — even as California, by far the largest user of Colorado River water — faced no such cuts.
"The [Department of the Interior] must urge all Colorado River states to take the actions Nevada has already taken to conserve water," she said at the time.
Cortez Masto has also cast herself as a "champion for renewable energy." To wit, she has touted her support of a solar tax credit included in the 2020 federal funding bill, and lauded the Biden Administration for suspending tariffs on solar panels for two years amid a federal investigation into potential trade violations by Chinese solar panel suppliers that threatened to upend solar supply chains.
As a senator, Cortez Masto has also taken a mining-friendly stance in Congress, opposing members of her own party and the Biden White House last year as they sought to reform a more-than-century old mining law and implement new royalties enforced against mining companies extracting minerals from public lands.
At the time, Cortez Masto joined with Sen. Joe Manchin (D-WV) to help kill the measure. Earlier this year, she again indicated she would oppose future efforts by the White House to resurrect the policy.
"I've consistently stood up for Nevada's mining industry and the over 30,000 jobs it supports and repeatedly blocked misguided proposals that would hurt our hardrock mining industry," she told The Nevada Independent in a statement at the time. "I will continue to oppose any efforts that will harm Nevada workers, whether they come from the White House or Congress."
Energy
As gas prices have soared in recent months — and as they may rise even further, following a decision Wednesday by OPEC to drastically cut international oil supplies — increased scrutiny has been paid to domestic energy output on the campaign trail, especially by Republicans critical of a decision by Biden to pause oil and gas leasing on federal lands.
In 2019, Cortez Masto introduced legislation that sought to ban oil and gas drilling in the Ruby Mountains near Elko, amid plans from the U.S. Forest Service that would have leased roughly 54,000 acres for potential oil and gas development.
At the time, Cortez Masto said the move "risks the livelihoods of Nevadans who rely on our state's outdoor economy." She later re-introduced the measure in March 2021.
Speaking to The Nevada Independent in July, Cortez Masto — who sits on the Senate Committee on Energy and Natural Resources — also criticized oil companies for not drilling on leases already available to them.
"There's 9,000 permits the oil and gas companies are sitting on right now that they can be drilling on and they're not," she said. "What I know is, unfortunately, instead of drilling and bringing more production and helping us lower costs, they've actually been taking the profits and giving it to their shareholders and to big oil."
Cortez Masto also pushed the Bureau of Land Management under the Trump Administration to reconsider leasing plans for roughly 500,000 acres of land in Southern Nevada, and in 2020, introduced legislation that looked to prohibit oil and gas speculation on land with "low or no" potential for development.
And on the issue of a potential nuclear waste repository at Yucca Mountain in Nye County — which the Trump Administration sought to spool back up in 2017 — Cortez Masto joined the rest of the Nevada congressional delegation in opposing the project, which remained in proposed White House budgets until 2020.
Record as Nevada attorney general
Though now nearly a decade removed from her tenure as attorney general, Cortez Masto — both in this campaign and in past elections — has touted her work as the state's "top cop" in shaping the state's laws governing sex trafficking.
As attorney general, she sponsored a 2013 bill — AB67 — that functionally created modern sex trafficking statutes for Nevada, replacing old statutes that governed "pandering," more commonly referred to as pimping.
The move had followed a then-relatively recent push by states to re-classify such sex crimes explicitly as trafficking, which generally did not have a precedent until Washington State created a separate crime of "sex trafficking" in 2003.
Under the new statute, Cortez Masto's office sought to prosecute the first few cases on the issue, but legal technicalities and plea agreements in 2014, her last year after being termed-out of office, meant her successor, Adam Laxalt, recorded the attorney general's first sex trafficking conviction in 2015.
In recent weeks, Cortez Masto has also come under criticism from Republicans for allegedly "ignoring" a backlog of thousands of untested rape kits in Nevada, or forensic evidence kits for sexual assaults.
In 2014, Nevada came under fire when a nonprofit revealed that Las Vegas police had tested just 16 percent of rape kits since 2004, with at least 4,300 kits still unprocessed at that time.
It's unclear how much Cortez Masto individually pushed to address the backlog while she was attorney general from 2007 to 2015, and there is no evidence that that backlog was made a priority under her tenure. However, she did back state legislation expanding access to those kits, offered grants aimed at combating violence against women, and joined a letter with other state attorneys general calling for the re-authorization of the Violence Against Women Act in 2012, a letter that does mention a lack of funding for rape kit processing.
In 2018, Laxalt touted the processing of 95 percent of those backlogged rape kits, more than 7,300 total, which led to 13 arrests. That came in part through the use of at least $3.7 million investment, paid for in part through federal grants and through settlement money, and through the use of a dedicated working group.
In 2019, as a senator, Cortez Masto also touted her backing of the reauthorization of a federal bill meant to fund the processing of rape kit backlogs nationwide.
Separately, Cortez Masto has highlighted her role in a $1.9 billion settlement sent to Nevada as part of the National Mortgage Settlement, a joint settlement agreement between 49 states and Washington, D.C. and some of the country's largest banks over their role in the 2008 financial crisis.
On her campaign website, Cortez Masto has characterized Nevada's portion of the settlement — secured in 2012 — as having "held the Big Banks accountable."
The Nevada Independent is raising $200,000 by Dec. 31 to support coverage of the 2024 election.
Tax-deductible donations from readers like you fund this critical work.
If you give today,your donation will be matched dollar-for-dollar.
Give + Get Matched
Featured Videos