Indy Primer: What races to watch for on Primary Election Day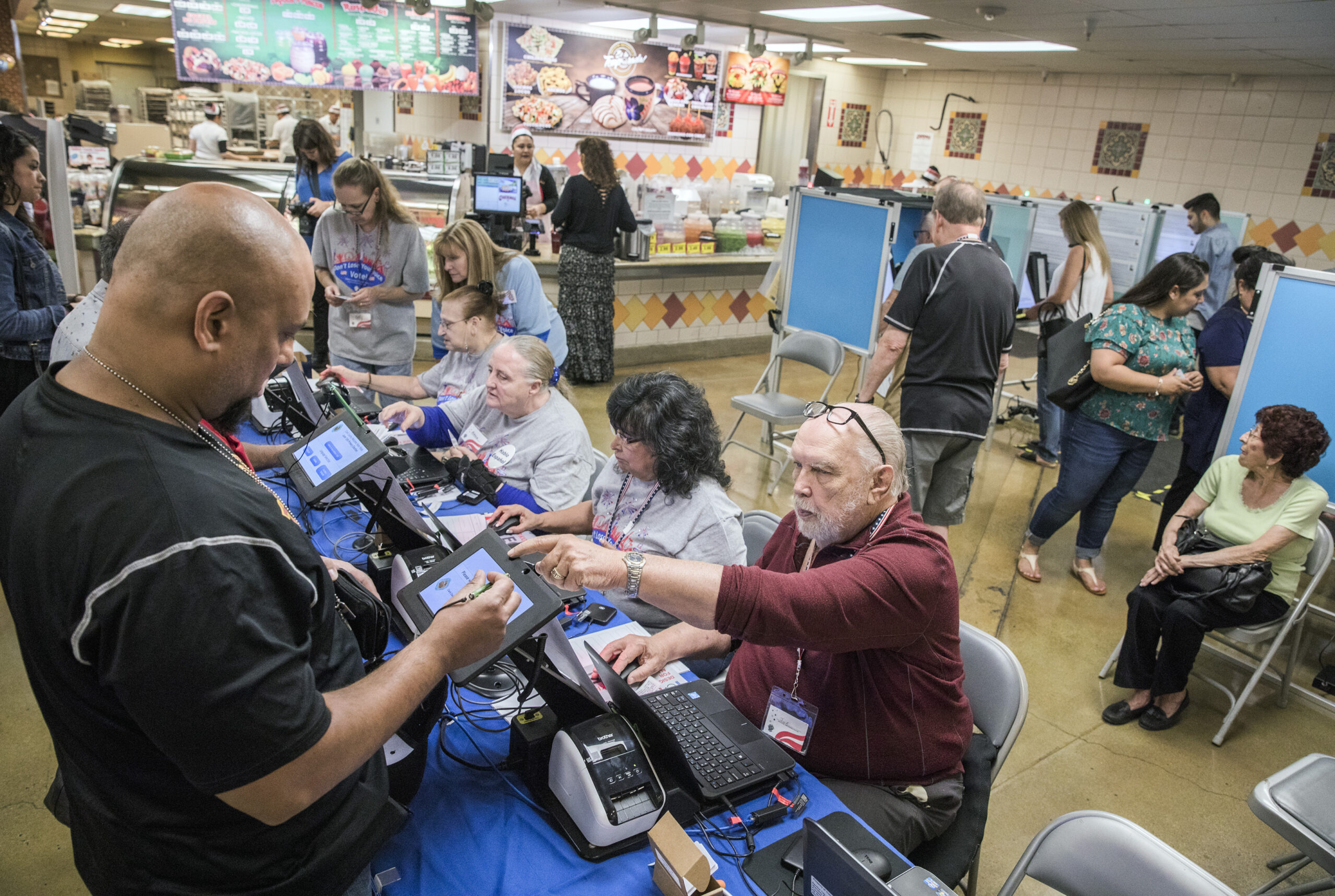 After months of campaigning and millions of dollars expended on ads and voter outreach, Nevada's primary election is finally here.
Not only will the results of today's election set in place the top contests on the November ballot, including one of the most closely watched U.S. Senate battles in the country and an open gubernatorial seat, but many important races will be effectively decided based on Tuesday's results, including a seat on the powerful Clark County Commission and the county's district attorney.
Voting will be open between 7 a.m. and 7 p.m., with results trickling in after polls close. More than 157,000 people cast ballots during the state's two-week early voting period, and more than 22,000 cast absentee or mail ballots ahead of Election Day. More than 93,000 people, or 39 percent of the final electorate, turned out on Election Day for the 2016 primary election.
Today is also the first day that Clark County is using vote centers, polling places where anyone can go on election day instead of a traditional assigned precinct. Find the one nearest to your home or place of work here. In Washoe County, you can find your precinct here if you know your precinct number or search for it here.
Here's a quick look at what you need to know today:
The basics

Statewide
The big race to watch today is the competitive Democratic gubernatorial primary between Clark County Commissioners

Steve Sisolak

and

Chris Giunchigliani

. Sisolak, buoyed by support from former Sen. Harry Reid, has raised massive sums over the last year and a half and spent much of it on advertisements, but Giunchigliani has also raised a sizable amount and has been boosted by millions of dollars in outside spending and a late endorsement from Hillary Clinton. 

On the Republican side, Attorney General

Adam Laxalt

is expected to cruise to victory against state Treasurer

Dan Schwartz

and businessman

Jared Fisher

. 

For more on the candidate's records:




Steve Sisolak

|

Chris Giunchigliani

|

Adam Laxalt

|

Dan Schwartz

Republican state Senate Leader

Michael Roberson

is facing primary challenges from former Assemblyman

Brent Jones,

businessman

Eugene Hoover

,

Scott LaFata

and

Gary Meyers

in his bid to replace Lieutenant Gov. Mark Hutchison. Former state Treasurer

Kate Marshall

is expected to easily win the state's Democratic primary election against

Laurie Hansen

. 

For more on the candidate's records:




Michael Roberson

|

Kate Marshall

As Attorney General Adam Laxalt pursues a bid for Nevada's top office, a host of candidates are vying to replace them. Former first assistant attorney general Wes Duncan will face off against former Clark County deputy district attorney Craig Mueller in the Republican primary. State Senate Majority Leader Aaron Ford is expected to cruise to victory in the Democratic primary. 

For more on the candidate's records:




Wes Duncan

|

Craig Mueller

|

Aaron Ford

Republican Secretary of State Barbara Cegavske is expected to easily fend off a primary challenge from political unknown Ernest Aldridge. Democratic Assemblyman Nelson Araujo, who announced his

plan to challenge Cegavske

in March, isn't facing any primary challenges.

Republicans

Derek Uehara

and former Las Vegas City Councilman

Bob Beers

are facing off in the Republican primary for state treasurer, which is being vacated by incumbent Dan Schwartz. Democrat

Zach Conine

, who has outpaced both Republicans in fundraising, is not facing a primary challenge. There will be no primaries for the state's candidates for state controller -- incumbent Republican

Ron Knecht

and Democrat

Catherine Byrne

.

Three seats on the Nevada Supreme Court are up on the ballot in 2018, but primary voters will only get a say in the race for retiring Justice Michael Cherry's seat. District Court Judge

Elissa Cadish

has led the field in the fundraising in the nonpartisan statewide race, with Appeals Court Judge

Jerry Tao

,

Leon Aberasturi

,

Alan Lefebvre

and

John Rutledge

. The top two vote getters will advance to the general election.

U.S. Senate and House races:
Although it will likely be one of the top midterm races in the county come November, both Republican U.S. Sen.

Dean Heller

and Democratic Rep.

Jacky Rosen

are expected to easily cruise to victory on Tuesday. Heller has faced little-to-no intraparty opposition since one-time challenger Danny Tarkanian jumped into the race for the state's 3rd Congressional District in March,

prompted by a tweet from the president

. Rosen faces little threat from her five primary opponents, including attorney Jesse Sbaih, who ran against Rosen for Congress in 2016 and loaned $2 million to his primary campaign this year but has spent little of it.

Businessman

Danny Tarkanian

is the favorite to win the Republican primary in Nevada's 3rd Congressional District (again), but it's still possible he could face an upset from state Sen.

Scott Hammond

or former television news reporter

Michelle Mortensen

.  

Whoever comes out on top from

this bitter primary

will likely face Democratic education advocate and philanthropist

Susie Lee

, who faces little threat in her primary, on the November ballot. 

For more on the candidate's records:




Scott Hammond

|

David McKeon

|

Michelle Mortensen

|

Danny Tarkanian

|

Susie Lee

In Nevada's 4th Congressional District, a crowded field of Democratic candidates are vying to replace Rep. Ruben Kihuen, who decided not to run for office after a series of allegations of sexual misconduct surfaced against him in December. The presumed frontrunner is former

Rep. Steven Horsford

, who represented the district from 2013 to 2015, though he faces serious primary challengers in the form of state Sen.

Pat Spearman

, Nevada System of Higher Education regent

Allison Stephens

and Medicare for All activist

Amy Vilela

. Here's

what you need to know

about the candidates. On the Republican side, former Rep.

Cresent Hardy

has significantly outraised his five primary opponents. 

For more on the candidate's records:




Steven Horsford

|

Pat Spearman

|

Allison Stephens

|

Amy Vilela

Six Democrats are

vying for the honor

of making a longshot run for Republican Rep.

Mark Amodei

's seat in Nevada's 2nd Congressional District. No Democrat has ever come within five points of defeating a Republican for the seat. Amodei is facing a primary challenge from former Assemblywoman

Sharron Angle

, who has lagged him in fundraising.

Democratic Rep.

Dina Titus

is facing a primary challenge in Nevada's 1st Congressional District from underdog teacher

Reuben D'Silva

in the state's most Democratic district in terms of voter registration.

Legislature
Nine Assembly and three state Senate seats will effectively be decided on primary night, although Democrats are essentially guaranteed to keep control of both houses in November. Here's

a rundown of what races

to keep an eye on tonight.

Clark County
Down South, there are two primaries for the Clark County School District Board of Trustees in District D and District F. Here's

what to look for

.

Clark County District Attorney

Steve Wolfson

is trying to fend off a late challenge from longtime criminal defense attorney

Robert Langford

, who has been boosted by millions in outside money from national progressive groups. Because both candidates are Democrats and no other candidates filed to run, the race will be decided on Tuesday. For more on the candidate's records, here's

Steve Wolfson

and

Rob Langford

's On the Record.

Control of a seat on the Clark County Commission will effectively be decided Tuesday, with likely frontrunners including state Sen.

Tick Segerblom

and union organizer

Marco Hernandez

. The district, which is currently held by Giunchigliani, has an overwhelming Democratic advantage in voter registration, so the winner will likely have an easy path to victory in November.

Clark County Sheriff

Joe Lombardo

is hoping to avoid a runoff election with any of his four challengers, including former North Las Vegas police lieutenant

Tim Bedwell

, by capturing more than 50 percent of the vote on Tuesday. Lombardo, who won an initial four-year term in 2014, has significantly outraised his opponents and can automatically capture another term if he garners a majority vote.

Washoe County
Voters in Washoe County will head to the polls to choose their party's nominees in primaries for Reno mayor and City Council, Sparks mayor and City Council, Washoe County Commission. This

overview narrows

what to watch for up north today.

Disclosure: Several Indy donors are mentioned in this story. You can see a full list of donors here.
Featured Videos
Comment Policy (updated 4/20/2021): Please keep your comments civil. We reserve the right to delete comments or ban users who engage in personal attacks, use an excess of profanity, make verifiably false statements or are otherwise nasty. Comments that contain links must be approved by admin.