Best of The Indy: Our favorite stories from 2021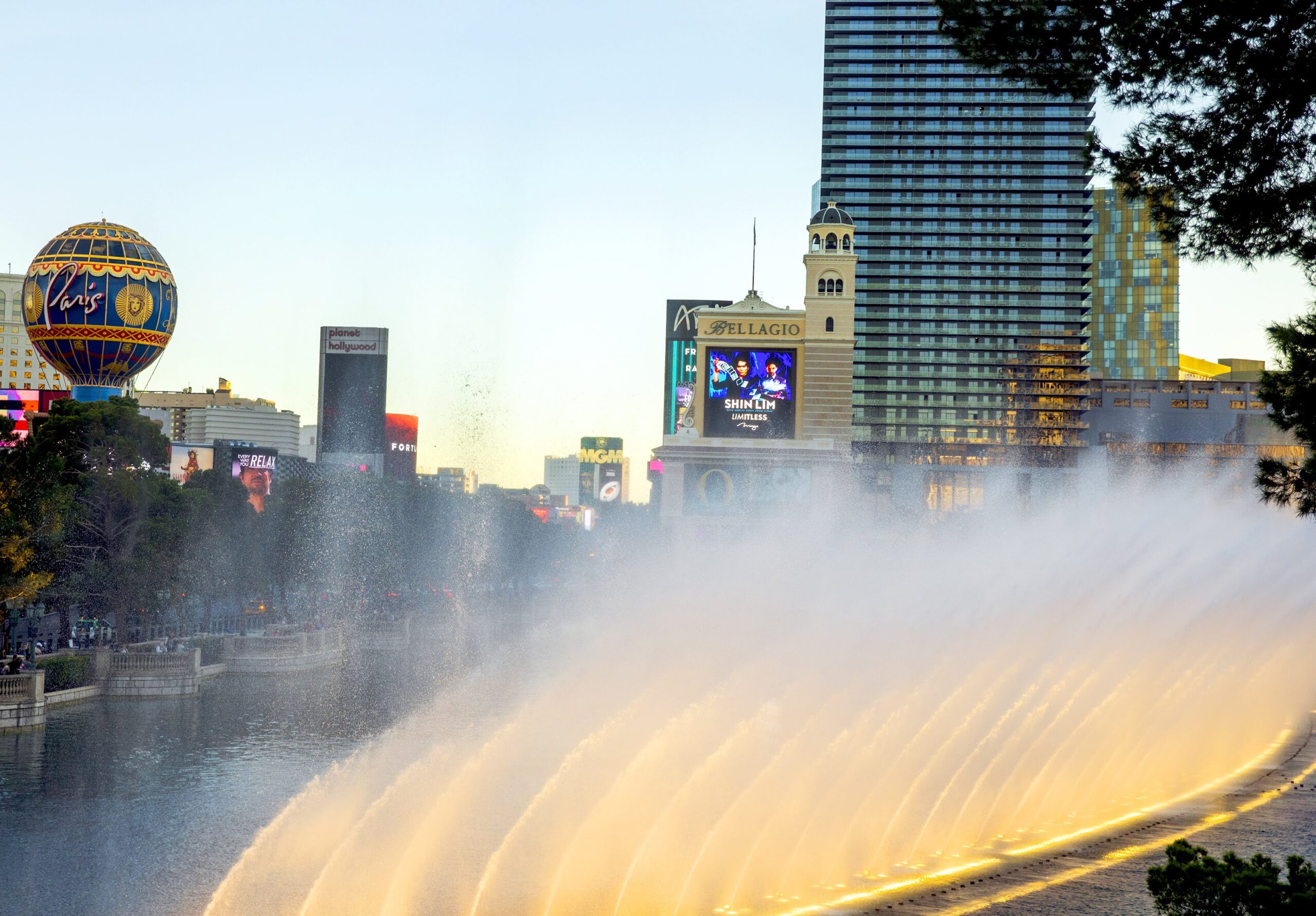 Many hoped 2021 would be the year we would finally put COVID behind us.
While that didn't happen, the last year did see a return of a semblance of normalcy for many. While we chronicled the first year of COVID-19 in Nevada and told you stories about how students were getting after-school jobs to keep their families afloat during the pandemic over the last year, we also told you stories about a controversial lithium mining project in rural Nevada and higher education scuffles.
We told you stories about the struggles of everyday Nevadans, about those facing evictions under a shifting set of guidelines, about those struggling to buy homes amid a crush of cash buyers and about those packing their bags and moving elsewhere. We told you stories about the changing economy in Downtown Reno and shifting gaming dynamics in Las Vegas.
We told you stories about our community. We told you about a chef at a Strip restaurant who opened his own casual Mexican food joint. We told you about a community radio station in Goldfield. We told you about a vegetarian coffee shop on the Walker River reservation.
We told you many stories — more than 1,800 — with an ever-growing crew of reporters, interns, podcast and video producers and dedicated editors.
Below, we've highlighted some of our favorite stories. Tweet @TheNVIndy and let us know what your favorite stories we told this year were, too.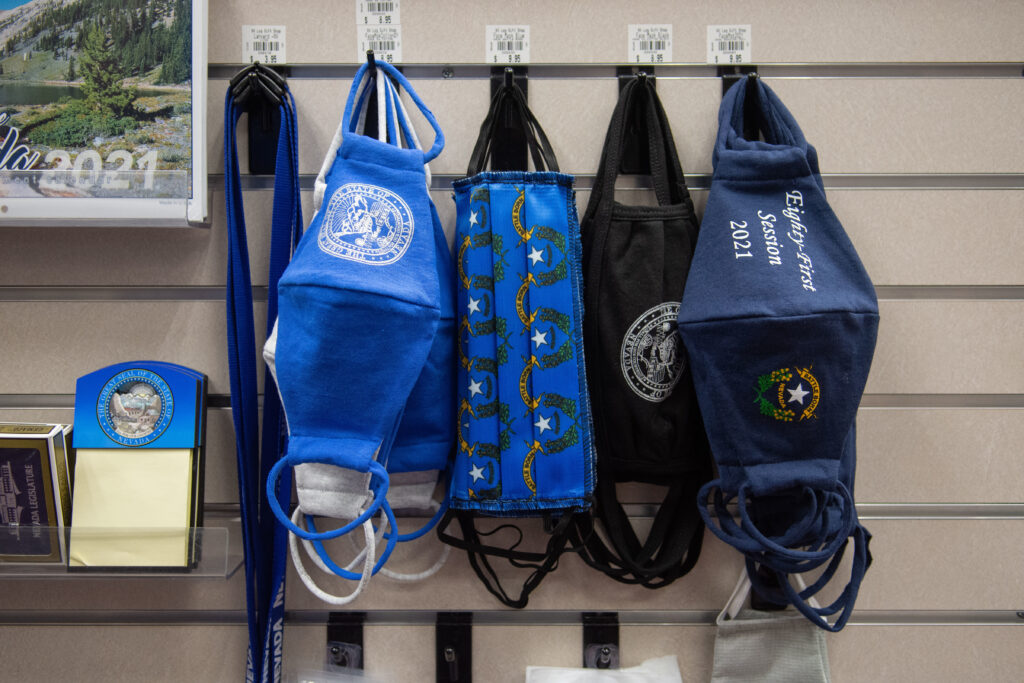 Feb. 1: "Behind the Bar"
To chronicle the legislative happenings during the 81st legislative session, Riley Snyder launched the "Behind the Bar" newsletter. The newsletter featured deep dives, including into the Legislature's mining tax compromise deal, as well as colorful restaurant reviews, authored by Michelle Rindels.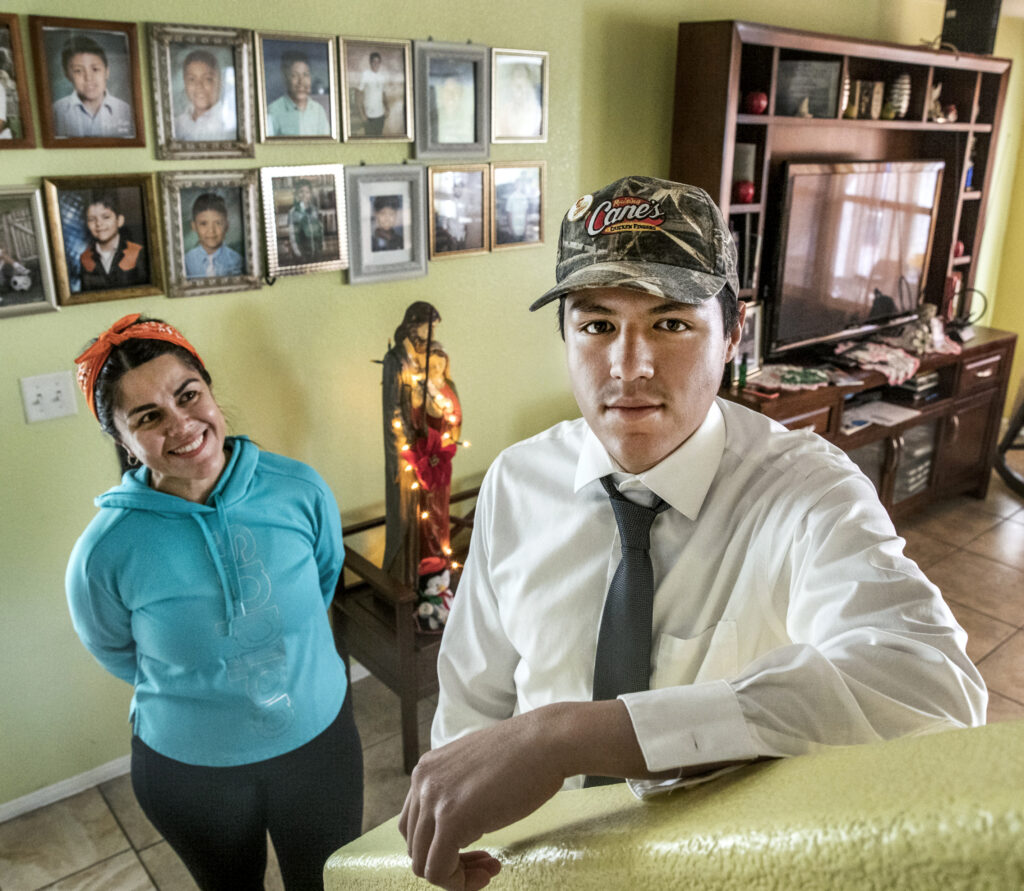 Feb. 14: "Students' after-school jobs help keep their families afloat financially during the pandemic"
After-school jobs have become necessities for some students who have watched their parents lose jobs or struggle to pay bills during the pandemic. One high school principal says today's students are "better humans" who are kinder and more compassionate despite growing up inundated with technology and social media. Jackie Valley explored in this story how these new entrants to the labor market are balancing academic commitments while helping their families make ends meet.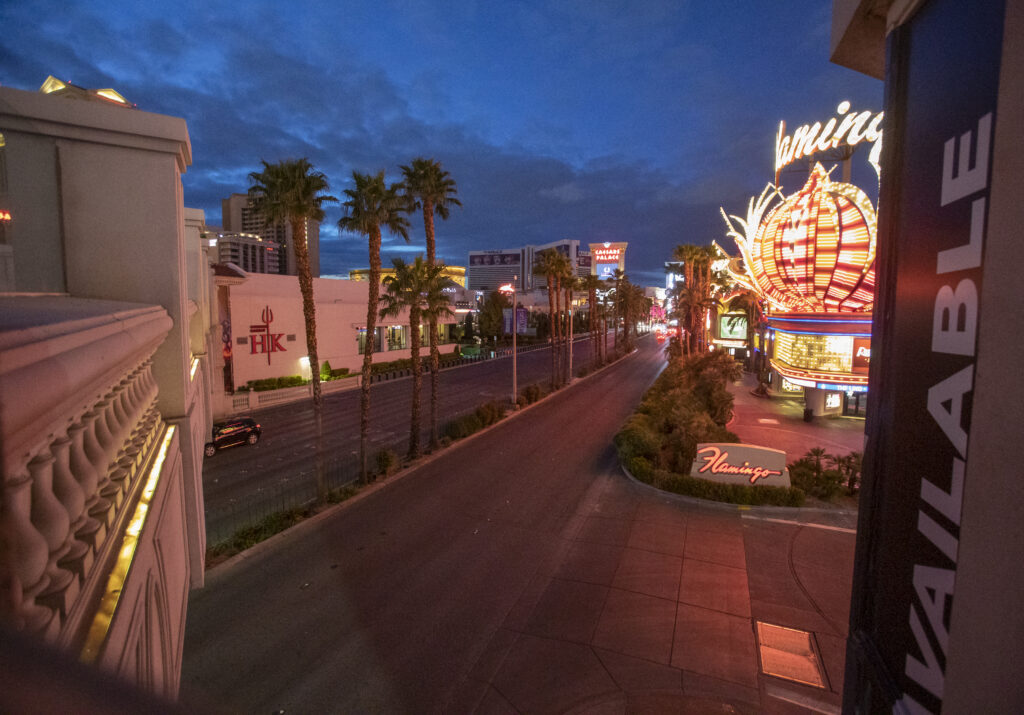 March 5 - April 11: "What Happened Here"
When Nevada announced its first case of COVID-19 on March 2, 2020, no one could have imagined how deep or long-lasting the devastation from the virus would be. In this six-part series, Megan Messerly, with help from Jackie Valley and Michelle Rindels, pieced together the events of the last year to grasp the myriad ways in which the pandemic has affected our state.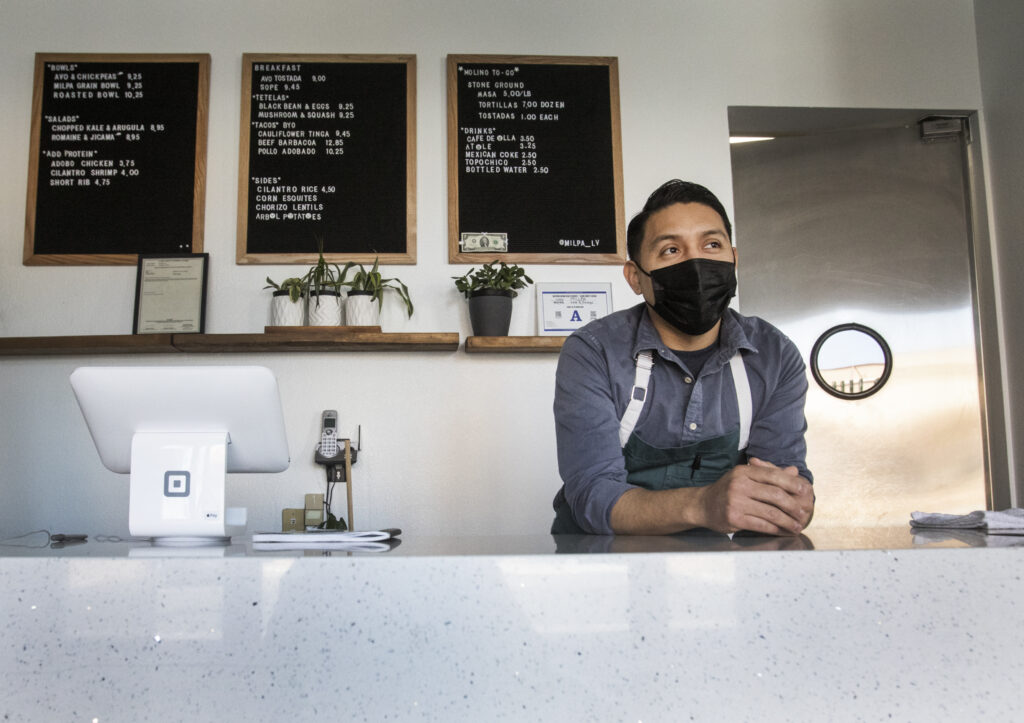 March 9: "Nevada Reinvented: Milpa restaurant owner moves from feeling torn to growing like corn"
The hardships of 2020 drove DJ Flores, who had been a chef de cuisine in a restaurant on the Strip, to try something new and open a new restaurant of his own. His casual Mexican food joint in Southwest Las Vegas, Milpa, is named after a traditional Mayan crop growing system in which corn, squash and beans are interplanted and mutually support each other to grow. Flores was able to make the restaurant possible with moral support and financial help from friends and family. In return, he wants to help elevate other Latino chefs and give back to the community, Jannelle Calderon wrote in this story, part of our "Nevada Reinvented" series.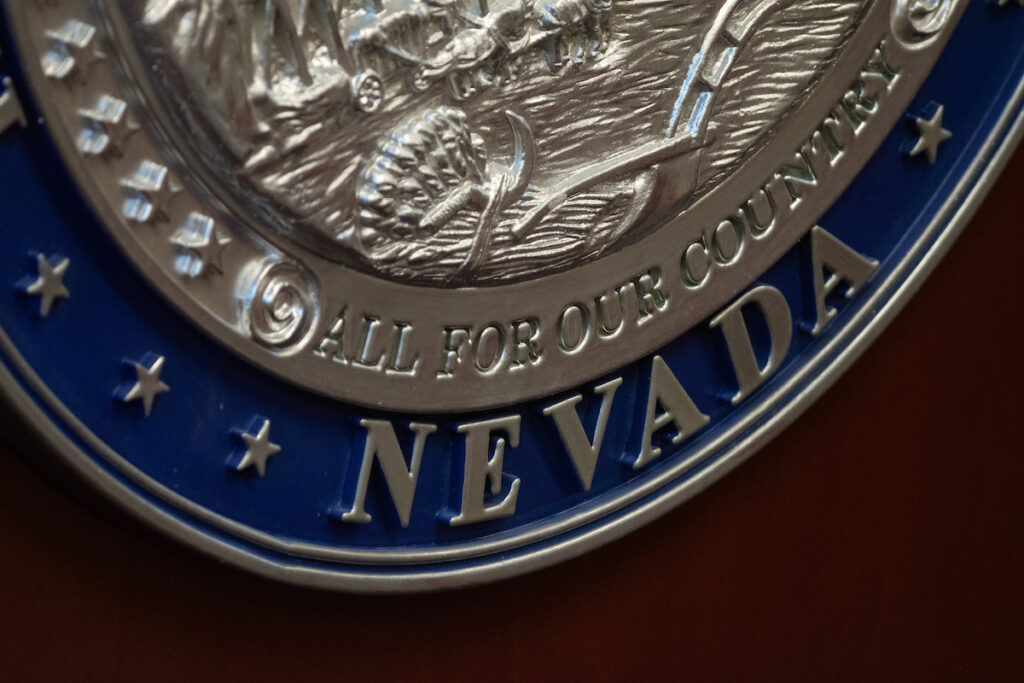 April 11: "Debate over land grant status has renewed the north-south divide in Nevada higher education"
Since UNLV was established in the 1950s as Nevada Southern, a narrative has persisted among higher education advocates in the south: UNLV is the stepchild to UNR, constantly given short shrift in budget negotiations and suffering in the long term as a consequence, even as Las Vegas has emerged as the state's economic center over that same time period. In this story, Jacob Solis explored whether perception is reality.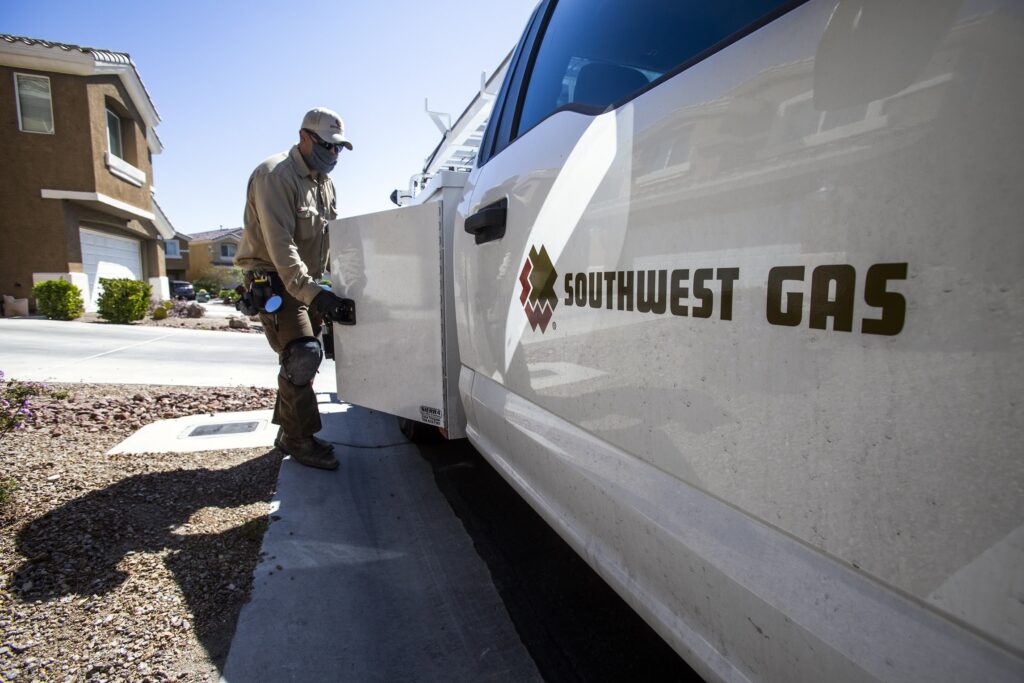 April 18: "Power Play: How Southwest Gas beat back efforts by environmentalists to start moving Nevada away from natural gas"
A February letter signed by the mayors of Mesquite and Elko, six chambers of commerce, 17 trade groups and two unions and sent to Gov. Steve Sisolak pushed for continued use of natural gas and raised concerns about the governor's recently adopted climate strategy, which emphasized the need to plan for a transition away from fossil fuel to meet the state's goal of net-zero emissions by 2050. In this story, Riley Snyder and Daniel Rothberg explored how the letter, and the groundwork that went into crafting it, reflect the full-court press by Southwest Gas to push back against legislation — and broader policy efforts by the Sisolak administration — aimed at transitioning from natural gas to electric appliances in buildings.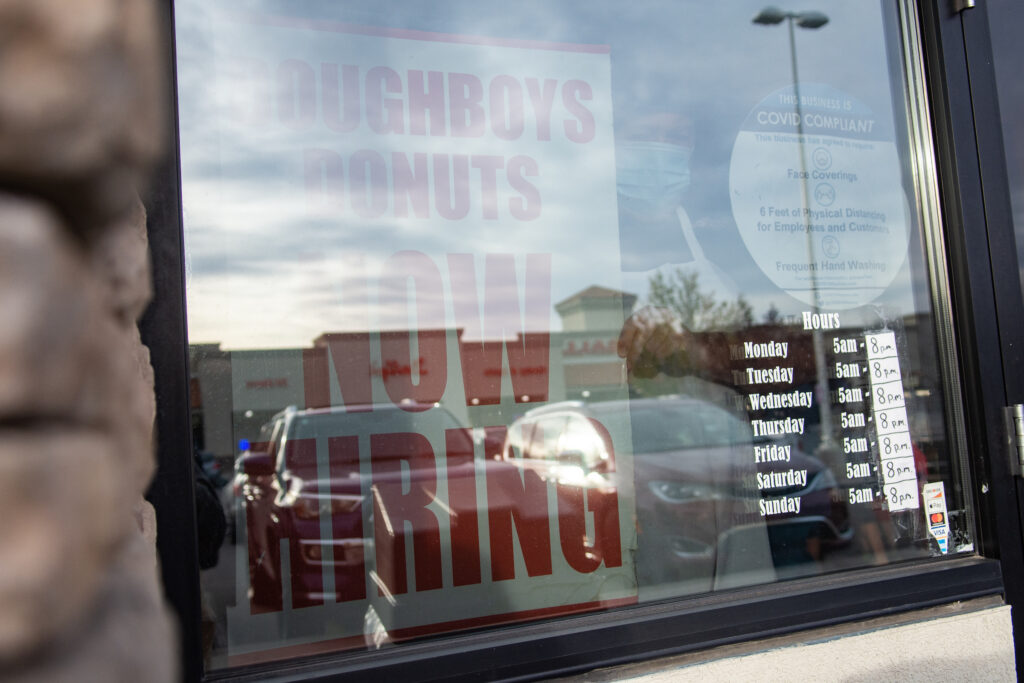 May 4: "Nevada Recovery Dashboard"
The COVID-19 pandemic devastated Nevada's economy. Pandemic-related shutdowns in March 2020 put hundreds of thousands of Nevadans out of work overnight, and the state's leading industries lost millions of dollars in revenue. Even when businesses started to reopen a few months later, high COVID-19 caseloads forced many businesses to scale back or close, as health and safety mandates remained in place. In our "Nevada Recovery Dashboard," Sean Golonka tracked the most important economic indicators across the state, including unemployment numbers, gaming revenue and housing prices.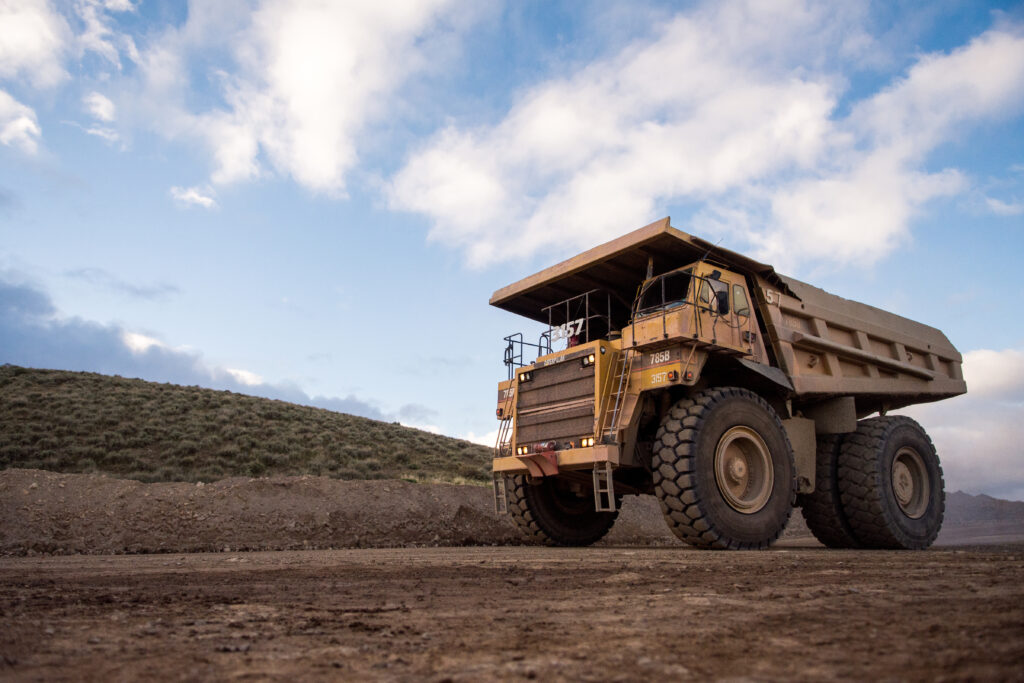 May 10: "Mining in Nevada and the debate in the Legislature"
Nevada's mineral wealth has attracted prospectors and miners for more than 150 years. To this day, mining remains an essential part of the state's economy. This episode of "Cafecito," our Spanish-language podcast and radio show, explored what the mining industry means to Latinos and explained a legislative proposal to boost taxes on mining companies.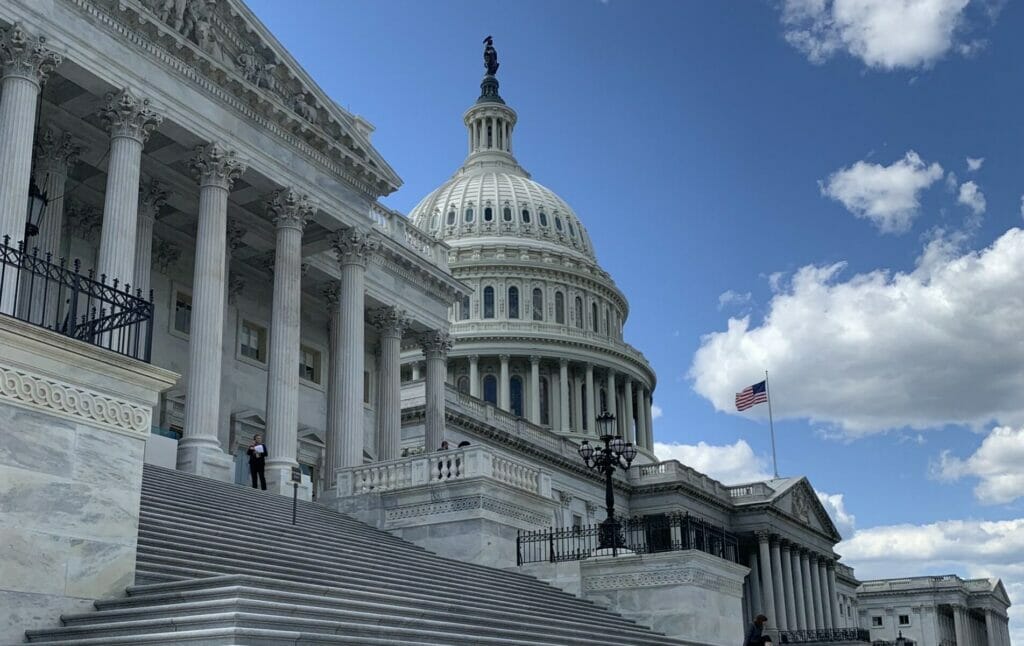 May 19: "Cortez Masto and Titus push back on state party chair Whitmer's statement on Israel"
The relationship between Democratic elected officials and the new socialist-run Nevada State Democratic Party has been rocky at best. In this story by Humberto Sanchez, Sen. Catherine Cortez Masto (D-NV) and Rep. Dina Titus (D-NV) joined two other Nevada congressional Democrats in disavowing a statement issued by state party chair Judith Whitmer criticizing Israel over its bombing of Gaza in response to rocket attacks by militant groups.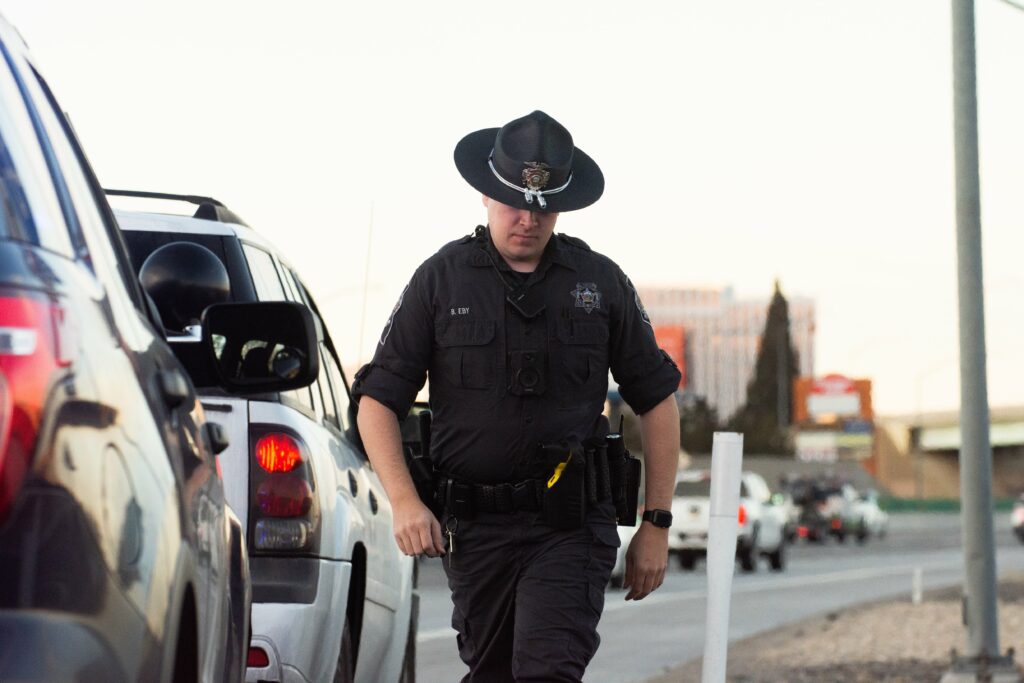 June 18: "Indy Explains: What happens now that traffic tickets are decriminalized?"
One of the most significant pieces of criminal justice legislation the Legislature passed in 2021 decriminalized traffic tickets. But the devil is in the details, as the measure doesn't take effect until 2021. This piece by Michelle Rindels explains what motorists — especially those with unresolved traffic tickets or bench warrants — need to know before the law goes into effect.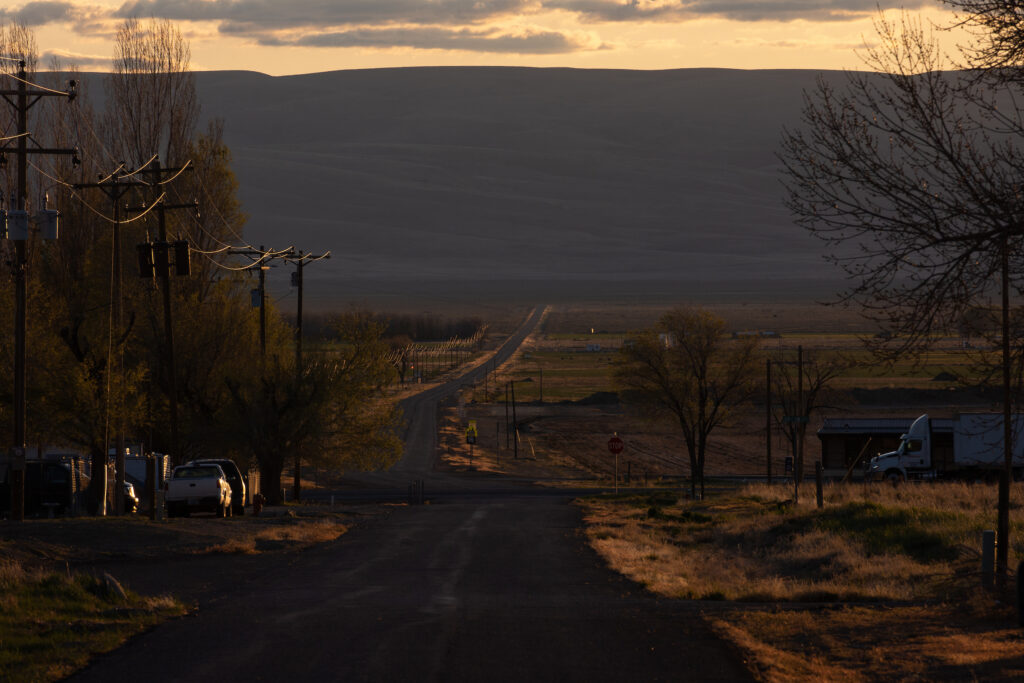 June 20: "'We're just somebody little:' Amid plans to mine lithium deposit, Indigenous, rural communities find themselves at the center of the energy transition"
The rural communities encircling Thacker Pass, the site of a major lithium mine, are at the front lines of an energy transition from climate-warming fuels, coal mining and combustible engines to solar energy, lithium mining and electric vehicles. In the communities closest to the mine, opinions about the project range from active opposition to quiet support. In this piece, Daniel Rothberg dove deep into the project's long-term impact, including both on the new global energy economy and on the local tribal and ranching communities that will have to live with the mine.
July 4: "With approval of consumption lounges, state ushers in next expansion of cannabis industry"
Lawmakers took a major step this year to expand and diversify the marijuana industry's disproportionately white and male ownership and provide tourists with a place to legally consume marijuana by creating a new license type for cannabis consumption lounges. They also approved a slew of other changes — including allowing permanent curbside pickup, revising how law enforcement determines whether someone is driving under the influence of marijuana and changing product labeling — built from lessons learned in the eight years since the state first authorized marijuana dispensaries. Sean Golonka explored all of that and more in this recap of cannabis-related legislation passed during the 2021 legislative session.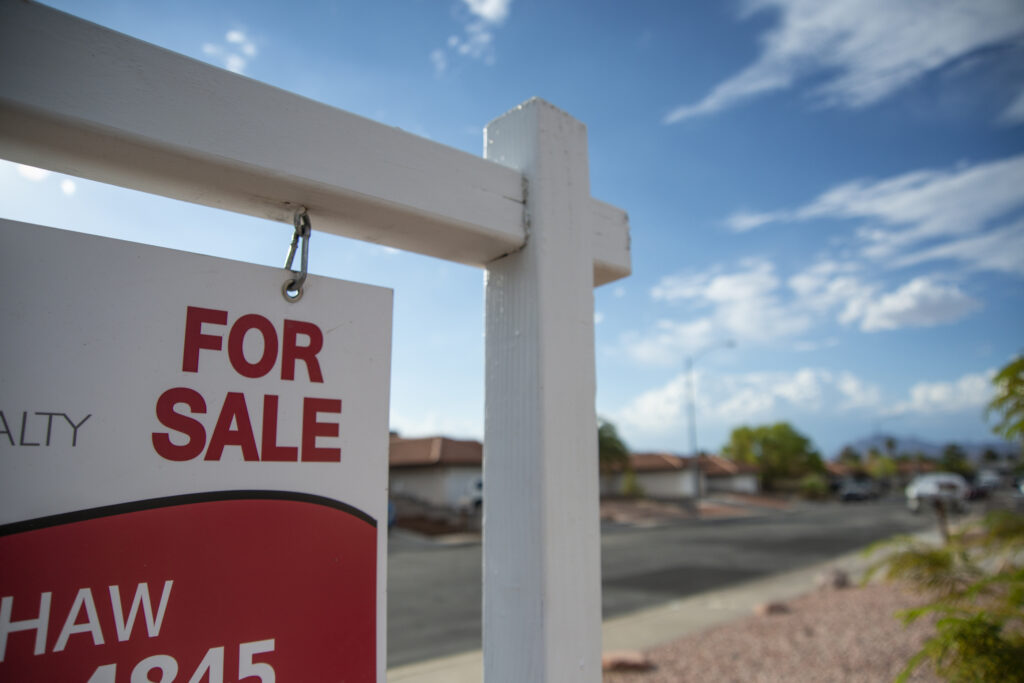 Aug. 8: "Rise of cash buyers across Nevada's housing market leaves conventional homebuyers locked out"
An increasing number of cash purchasers — including investors, investment pools, larger corporations and wealthy buyers from out of state — have been driving up the pressure and squeezing out would-be purchasers reliant on loans and mortgages. In this story, Tabitha Mueller explored how Nevada families are being edged out of the homebuying market.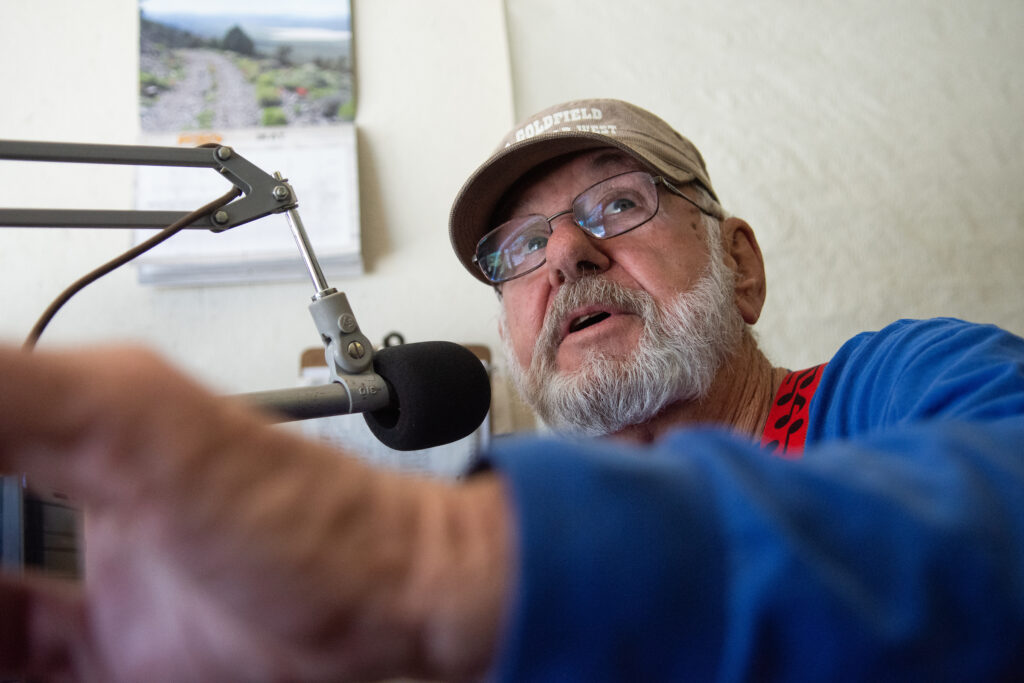 Aug. 10: "In tiny Goldfield, community radio station helps inform rural Nevadans"
Community radio has served as a lifeline for some of Nevada's most remote communities and reflects the hardscrabble individuals who call the area home. For this piece, Joey Lovato and David Calvert traveled to Goldfield to talk to Carl Brownfield, program director for Radio Goldfield, about life in one of Nevada's smallest communities. Once a mining boomtown, Goldfield now has a population of about 300, no stores, and spotty cell and internet service. But life continues in Goldfield all the same — with Radio Goldfield there to tell the story.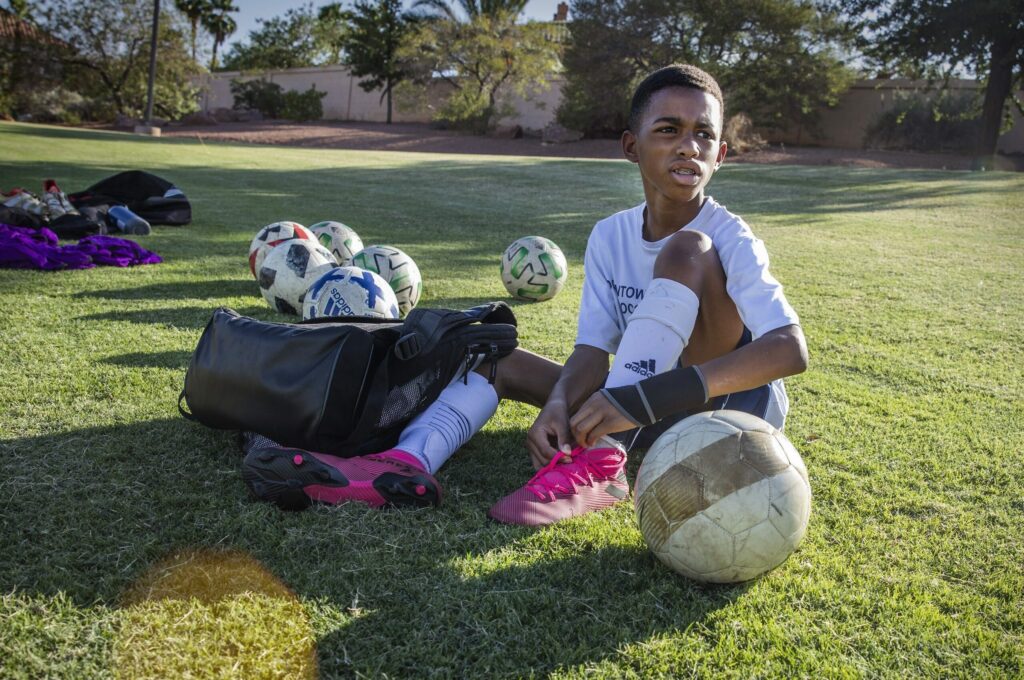 Aug. 22: "Families face agonizing dilemmas over keeping kids safe amid pandemic resurgence"
Before the vaccine was made available to kids 5 to 11, many families in Nevada and across the country were grappling with how to keep themselves safe, especially in mixed-status households with vaccinated parents, elderly family members and older kids, as well as unvaccinated younger kids. It presented many parents, particularly of unvaccinated children, with a dilemma heading into the fall: how to balance their children's mental and physical health needs while weighing the risk posed by the virus. In this story, Megan Messerly explored how Nevada families navigated the landscape.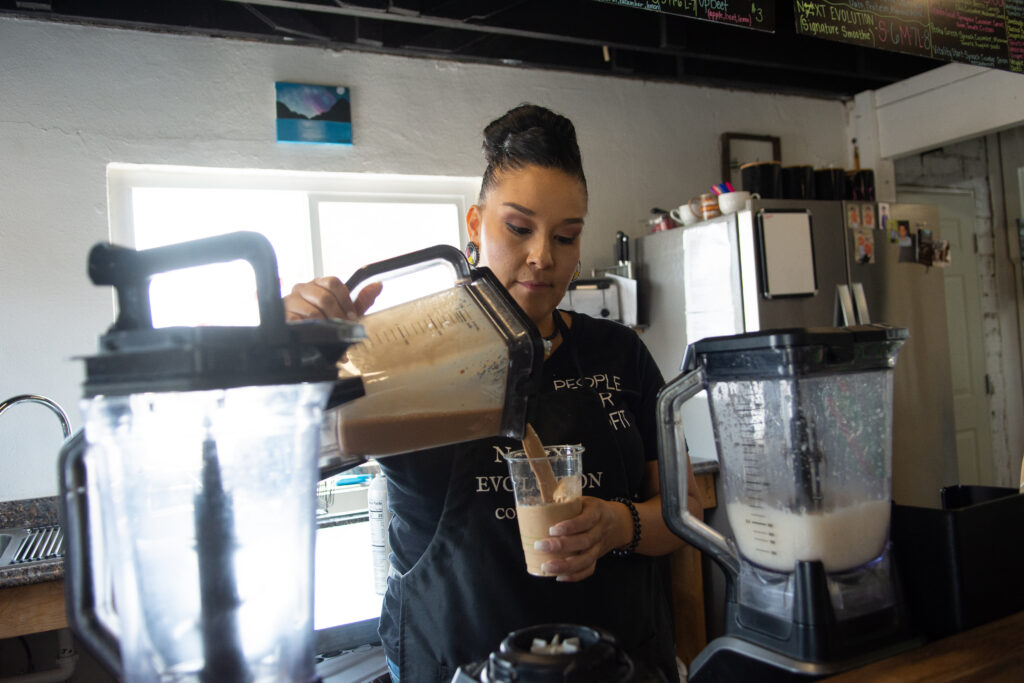 Aug. 25: "A vegetarian coffee shop on the Walker River reservation seeks to spread health in a food desert"
Next Evolution coffee shop in Schurz welcomes tired desert travelers and the more than 1,000 residents of the Walker River reservation, which sits approximately 90 miles east of Reno. The shop's wide variety of vegetarian and plant-based food and drink options are a novelty in the remote Nevada desert, according to Andrea Martinez, an enrolled member of the Walker River Paiute Tribe. In this story, Jazmin Orozco Rodriguez explains how Martinez is trying to provide healthier options for her community, which faces historical health disparities.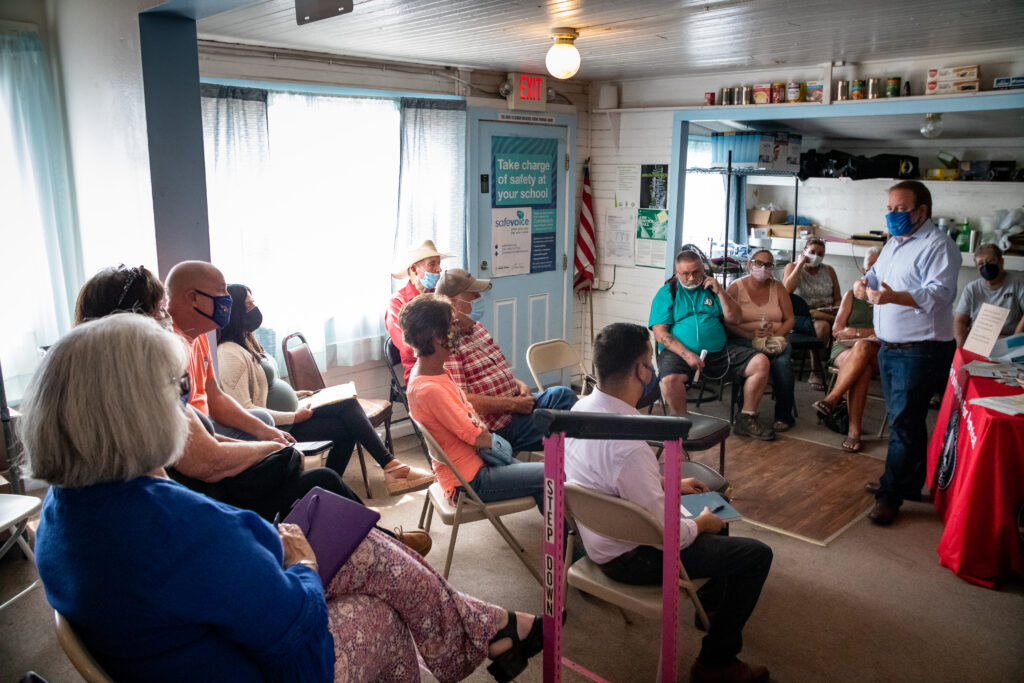 Aug. 27: "State listening tour on relief spending comes to rural Nevada"
At a small food pantry in Yerington, Nevada, community members came together to express their needs and share their thoughts on how the more than $6.7 billion in federal coronavirus relief money should be spent. In this video, Tim Lenard took a look at some of rural Nevadans' requests for how federal stimulus money should be spent, including help caring for the elderly, water purification efforts and more social workers in schools.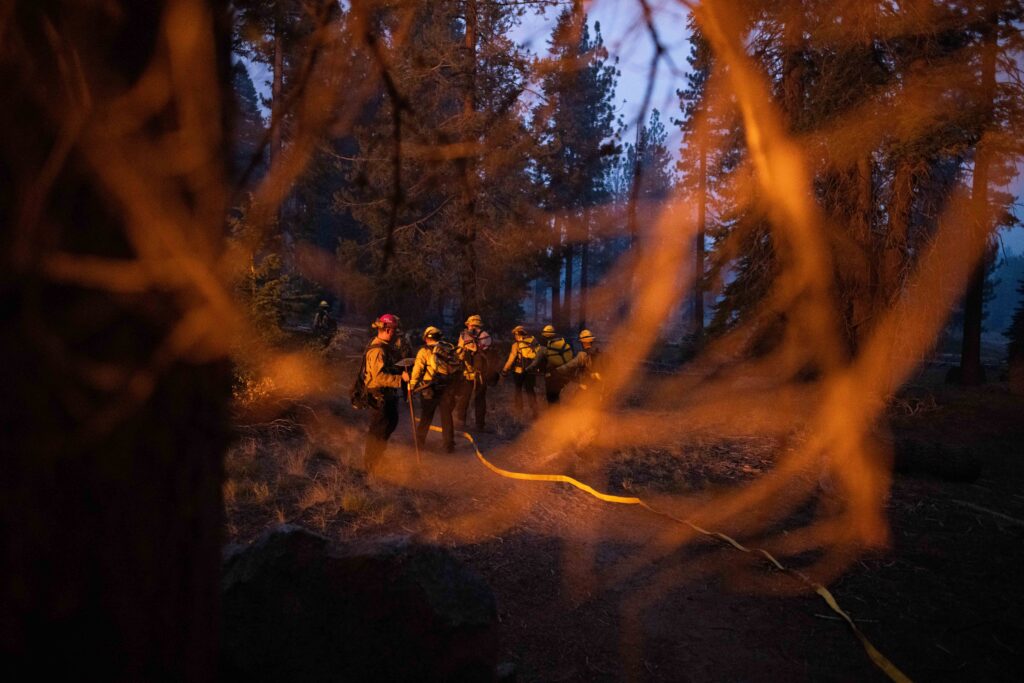 Sept. 2: "For Lake Tahoe, Caldor Fire brings uncertainty, dislocation and fears of a new normal"
This year, the Dixie and Caldor fires became the first two known fires in California history to cross the Sierra Nevada. In the past, fire managers believed that granite sections of the mountain range would stem the spread of wildfire across the range. In this story, written during the Caldor Fire, Daniel Rothberg explored a key question on the minds of evacuees and officials: What does the change in fire behavior portend for the future?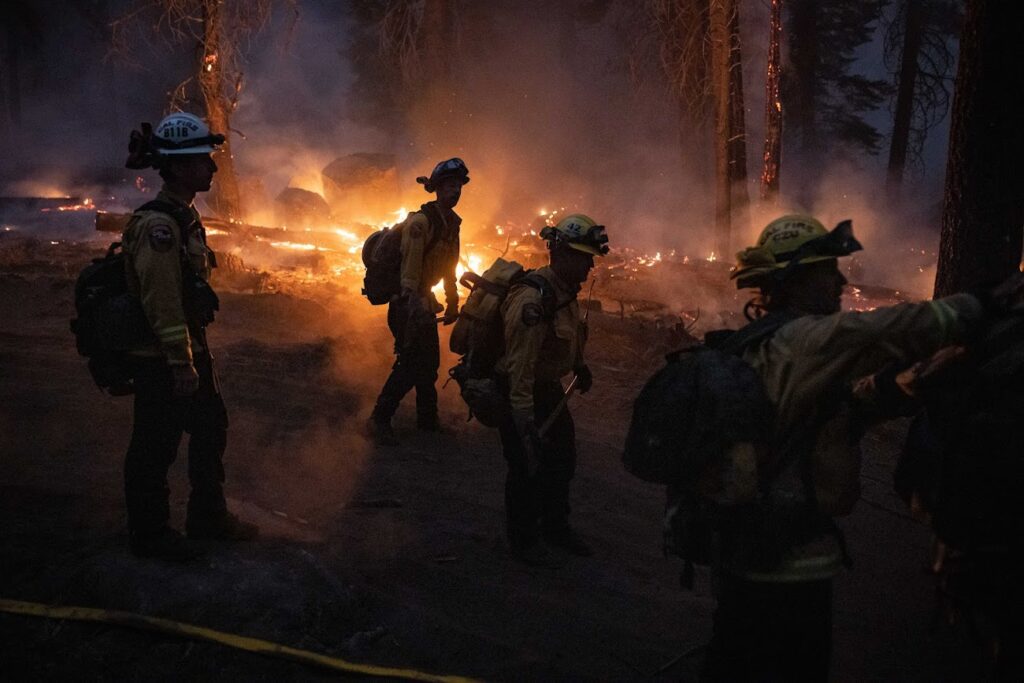 Sept. 3: "Historic climate moment keeps photographer going back behind the fire lines"
Freelance photographer Christian Monterrosa arrived at South Lake Tahoe during a mass evacuation from the tourist town — cars idling on the few roads out, weary faces peering into brown skies. But he said the surreal part of covering the Caldor Fire was heading in the opposite direction of the exodus to document the uncertain fate of everything those tens of thousands of people left behind. This story, by Michelle Rindels, not only featured some of Monterrosa's fantastic photography but explored what drives people to risk their lives behind the fire line in Nevada and elsewhere.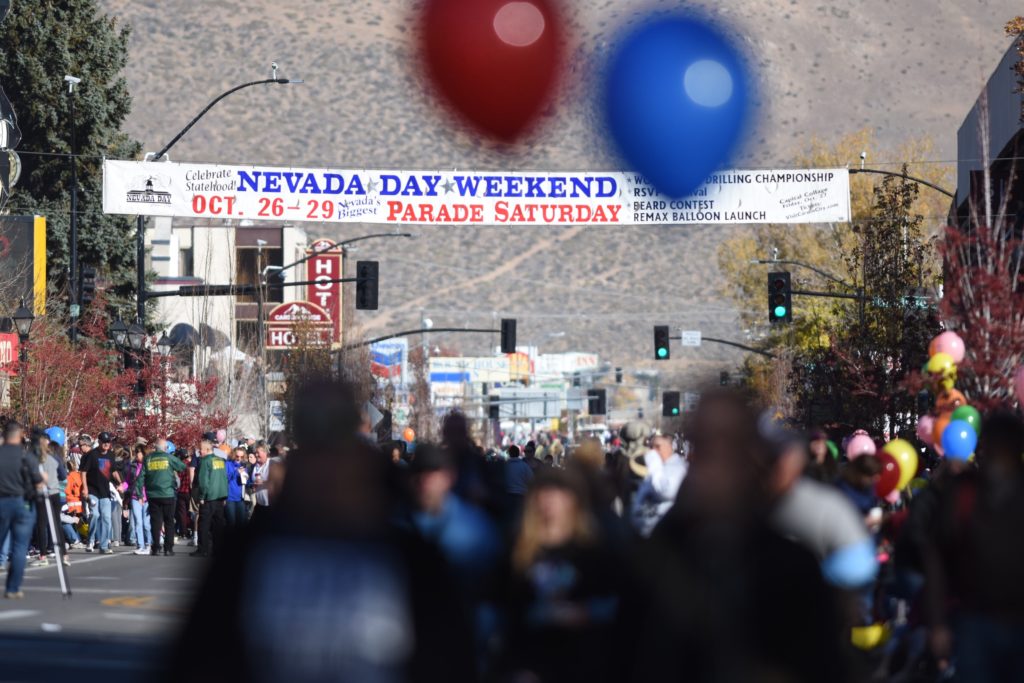 Sept. 10: "What it means to be a Nevadan"
To celebrate the 200th episode of the IndyMatters podcast, Joey Lovato and Jackie Valley spoke to people from all over the state about what it means to be a Nevadan, how they got here and what makes this state so unique. The piece includes a wide range of voices — from attorneys to casino workers — who give a taste of the great diversity in the Silver State.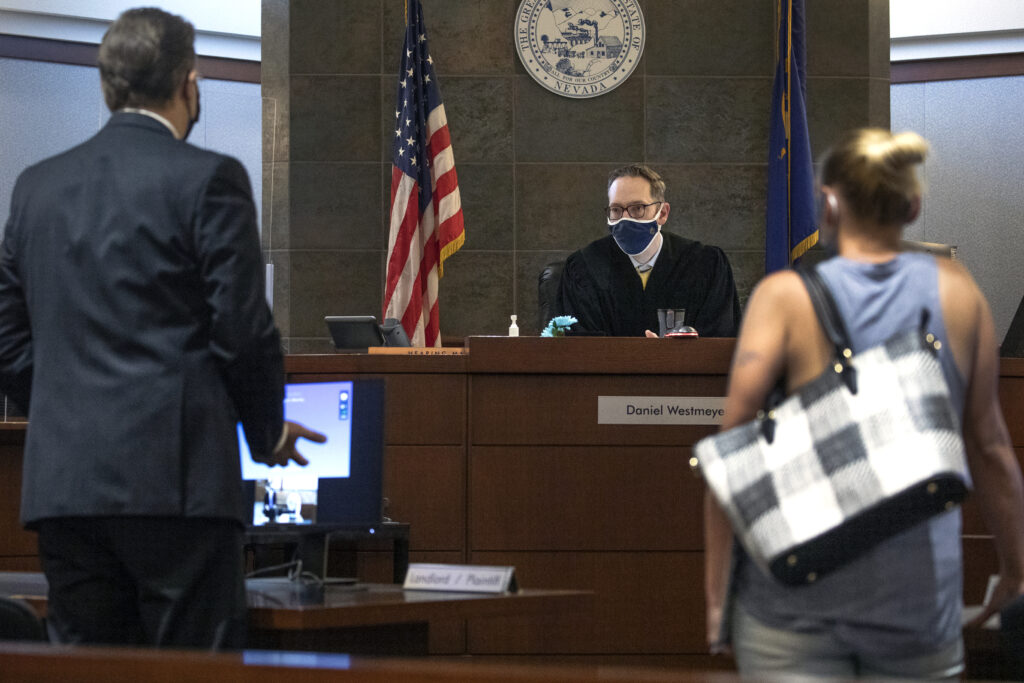 Sept. 19: "Amid shifting patchwork of laws and moratoriums, evictions play out on a courtroom stage"
Tens of thousands of Nevada households were behind on rent this year. Their futures played out every week in virtual and in-person courtrooms, which acted as stages for the resolution of evictions under a shifting set of guidelines. Tabitha Mueller monitored dozens of courtroom hearings in the northern and southern parts of the state to write this piece about how renters are grappling with evictions.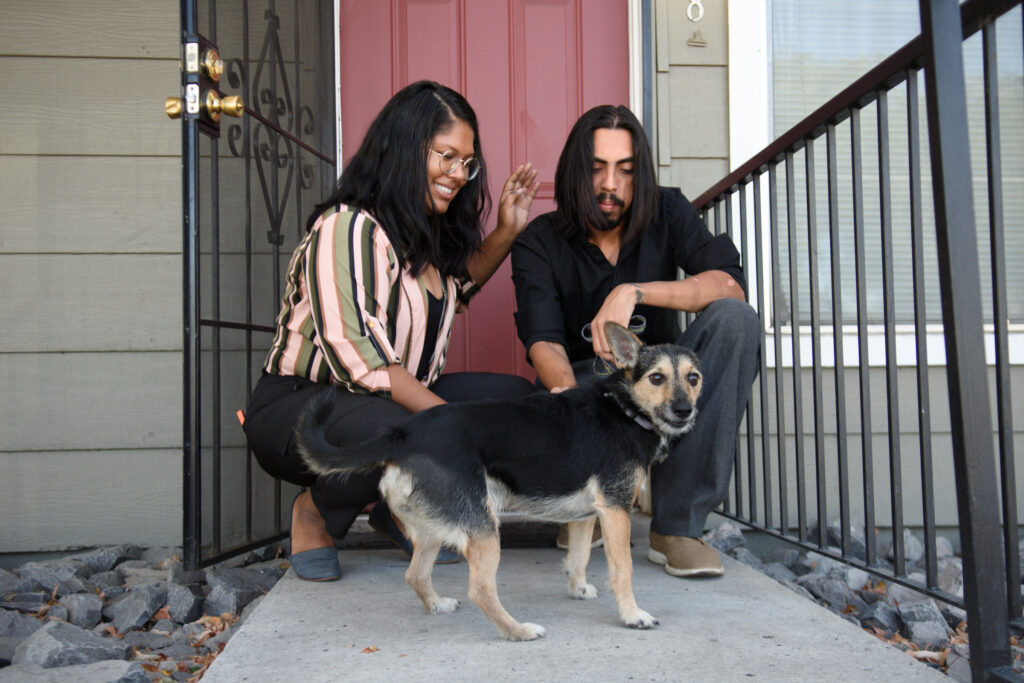 Sept. 26: "Despite steady population growth in Nevada, some residents are calling it quits and moving elsewhere"
The pandemic, related economic consequences, climate concerns and political atmosphere have collided in a way that has caused people to reevaluate their priorities, including where they call home. In this story, Jackie Valley explored the many reasons — from soaring home prices to a lack of cultural diversity — Nevadans called it quits on the Silver State this year.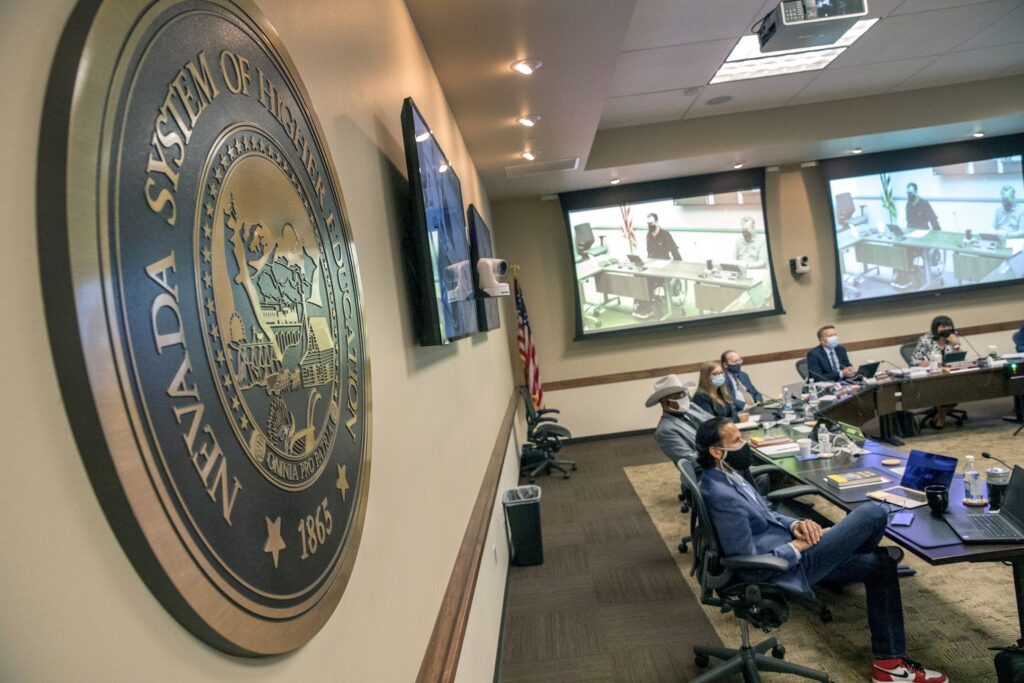 Oct. 6: "In hostile workplace memo, Chancellor Melody Rose details incidents that made her feel 'undermined' by two regents"
Jacob Solis, in this exclusive story, broke the news of an extraordinary 21-page rebuke of the top two members of the Board of Regents, in which Nevada System of Higher Education Chancellor Melody Rose outlined an alleged pattern of hostility that she said was ultimately designed to force her from her position as the system's top administrator.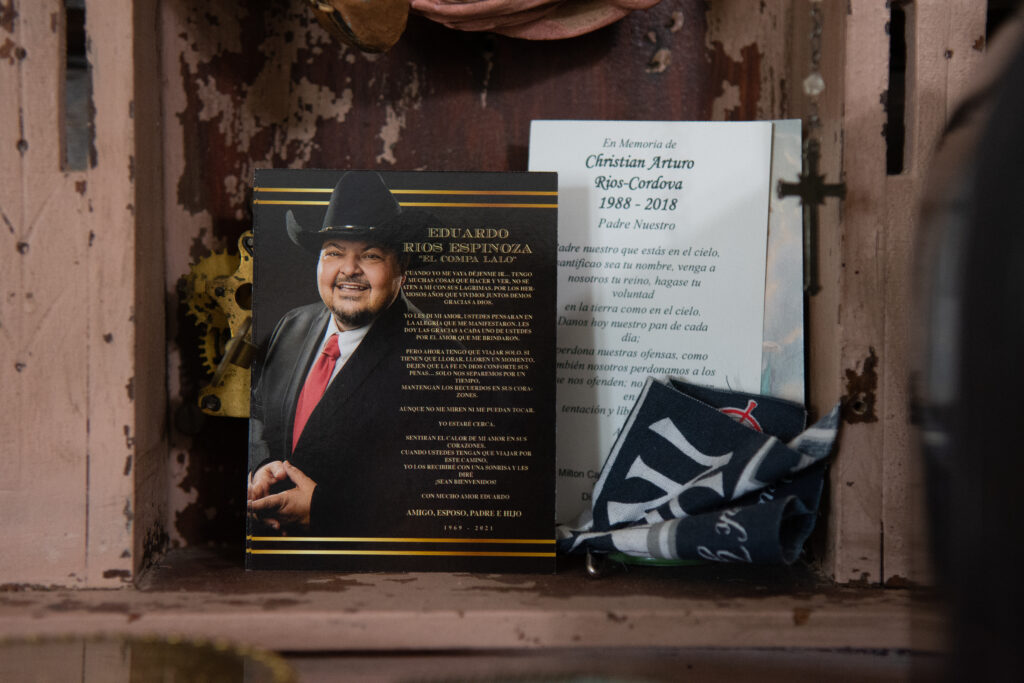 Oct. 10: "Reno Latinos mourn, celebrate long-time Spanish-speaking radio DJ 'El Compa Lalo'"
Eduardo Rios, a prominent figure in the Latino community because of his enduring 20-year presence on the airwaves, died from complications of a rare breakthrough  COVID-19 case in September. He was 52. In this story, Jazmin Orozco Rodriguez explored the lasting impact Rios, who was known affectionately as "El Compa Lalo," had on Reno's Latino community.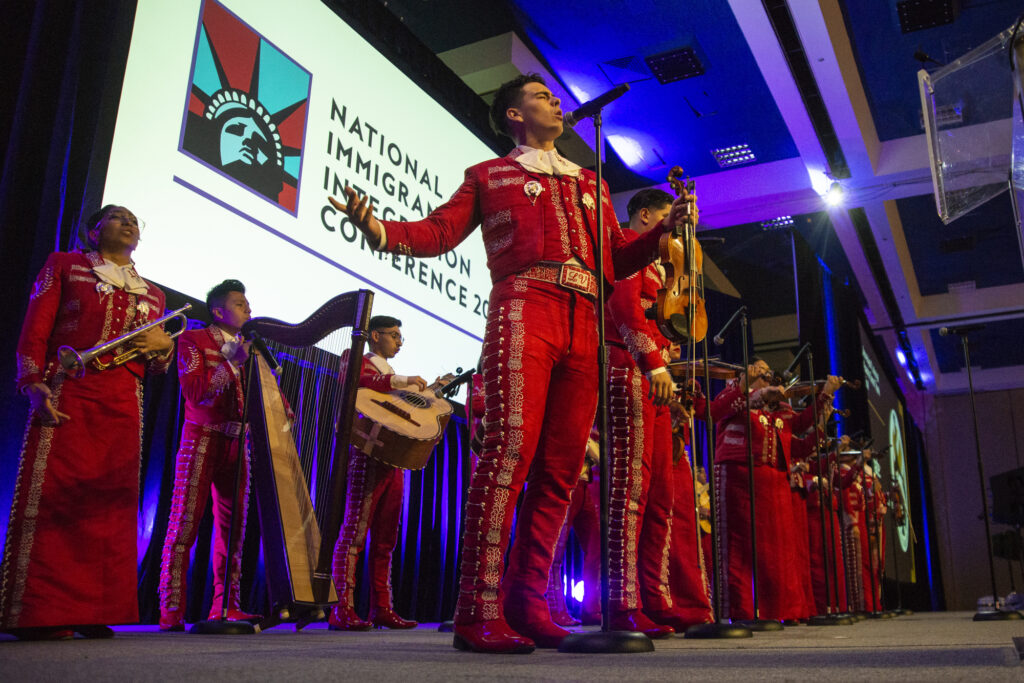 Oct. 14: "Growth of mariachi program in Clark County schools strengthens Latino community"
In this story, Jannelle Calderon took a look at what Clark County School District officials say is the largest mariachi program in the country. The program has grown steadily since it started in 2002 with 250 students from four schools. Now, roughly 6,000 middle and high school students participate in an elective mariachi class offered at 27 schools.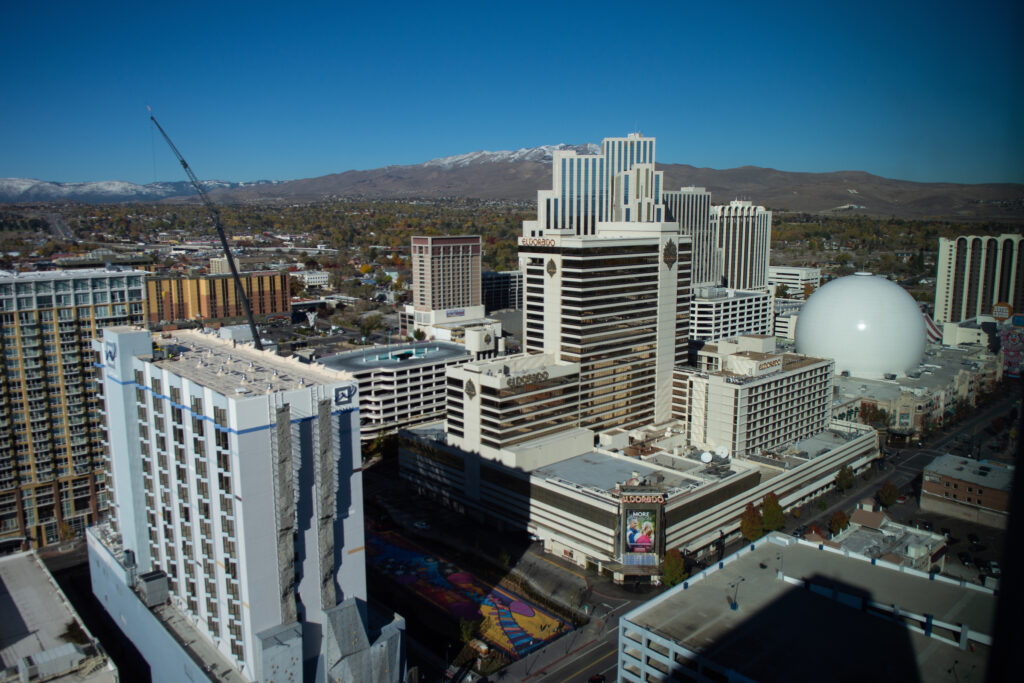 Oct. 31: "Downtown Reno rebirth focuses on non-gaming opportunities to boost a changing economy"
The closure of Harrah's after nearly 84 years in the Northern Nevada city signifies the rebirth of downtown Reno as the city seeks to broaden its economy. Leaders in Reno believe transforming downtown from a gaming destination into a place with affordable living spaces, vibrant restaurants, stylish hotel rooms and non-gaming entertainment options will stimulate the market, Howard Stutz reported in this story.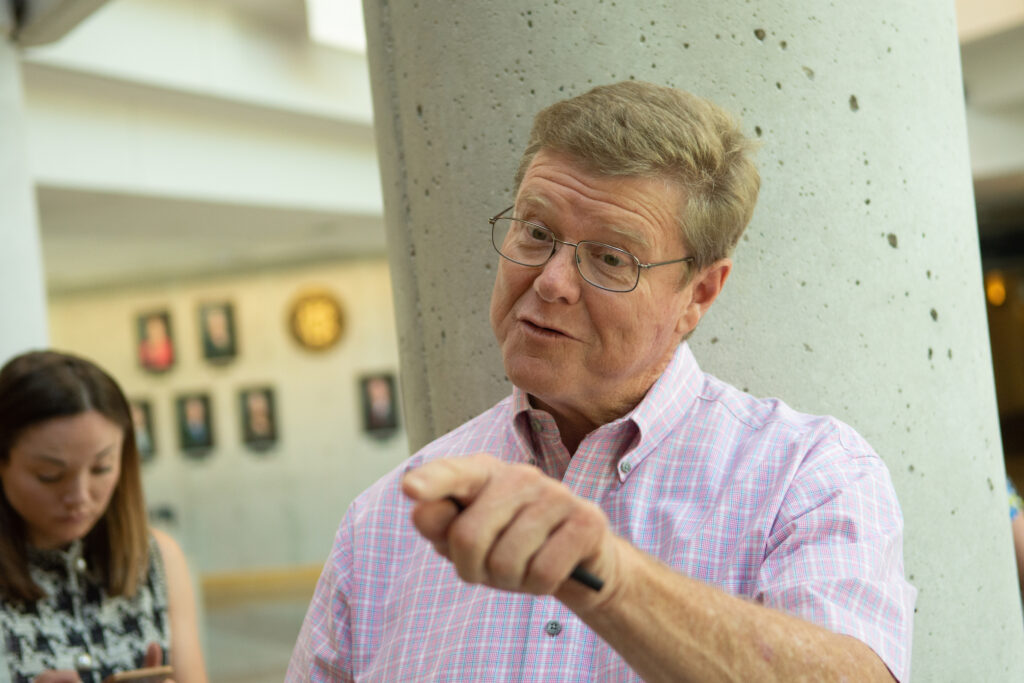 Nov. 1, 2021: "Amodei will pass on gubernatorial run, seek re-election to congressional seat"
Will he or won't he? This was the key question for months as Rep. Mark Amodei (R-NV) mulled a bid for the state's top office. In November, in this exclusive interview with Humberto Sanchez, Amodei laid those questions to rest, saying he did not want "to just go cartwheeling [into the gubernatorial race] in the current context."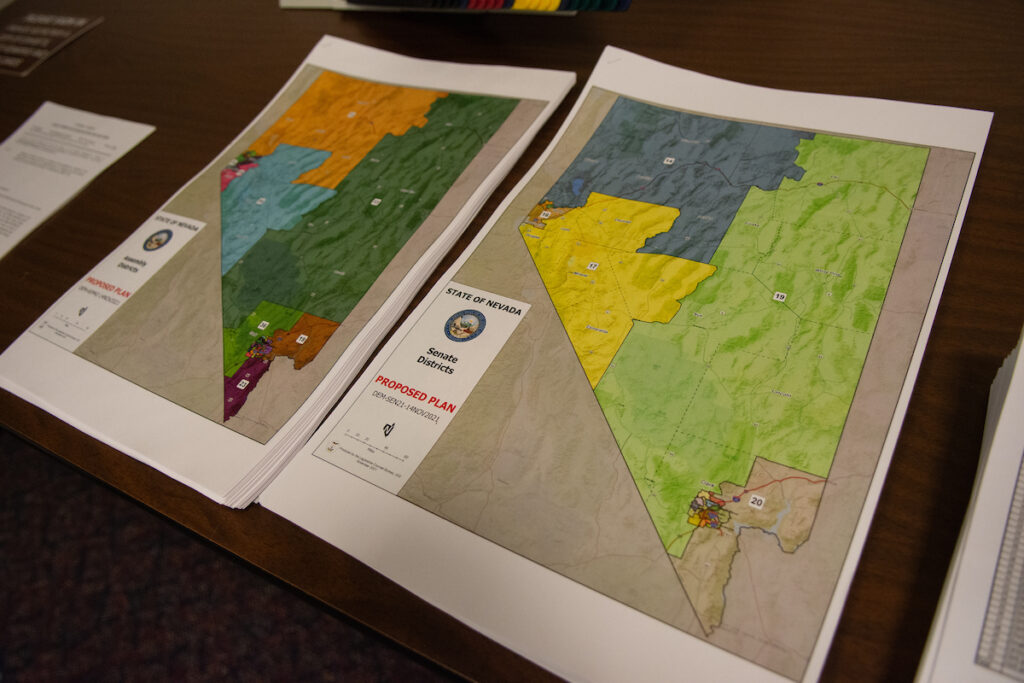 Nov. 22: "Latinos and redistricting in Nevada: How does it affect me?"
What is redistricting and how does it affect Latinos? What are communities of interest, and why is it important to keep them together? This episode of "Cafecito," our Spanish-language podcast and radio show, sought to answer these questions and more.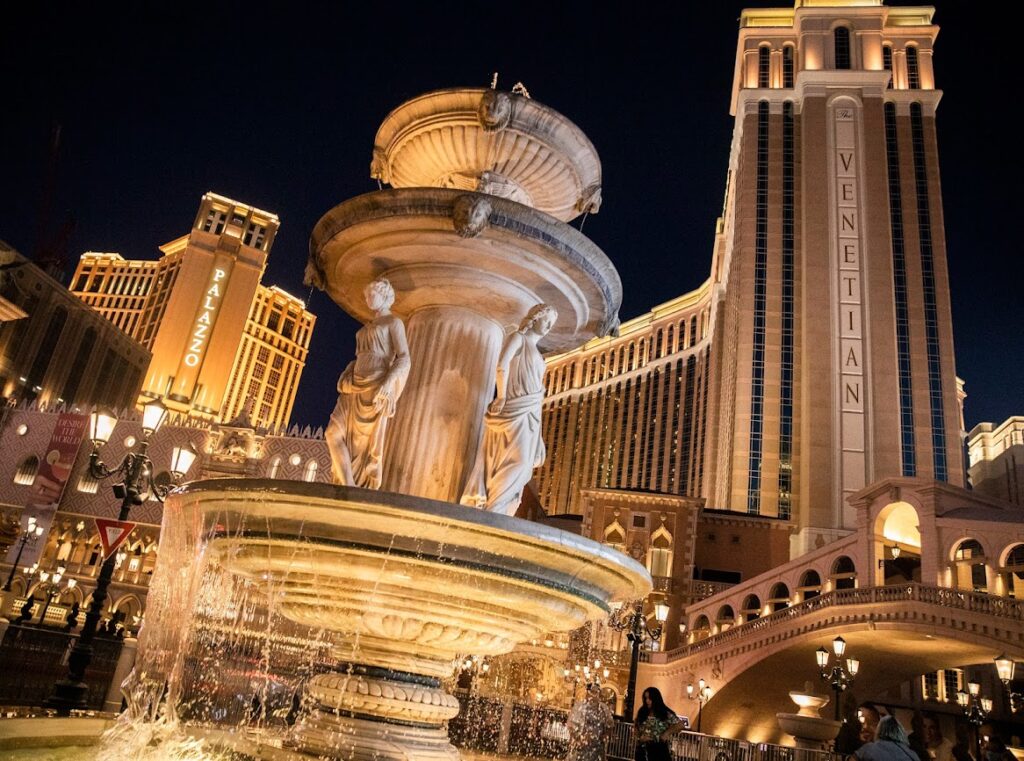 Nov. 22: "How VICI Properties is quietly becoming landlord to the biggest casinos in Vegas"
In the waning days of Caesars Entertainment's two-year bankruptcy reorganization, creditors struggled with a name for a new spin-off company that would take ownership of 19 casinos and lease the properties back to the operator. Consultants suggested VICI, from Julius Caesar's Latin catchphrase: "Veni, Vidi, Vici," which translates into "I came, I saw, I conquered." In this story, Howard Stutz explored how VICI Properties has seemingly conquered the casino market.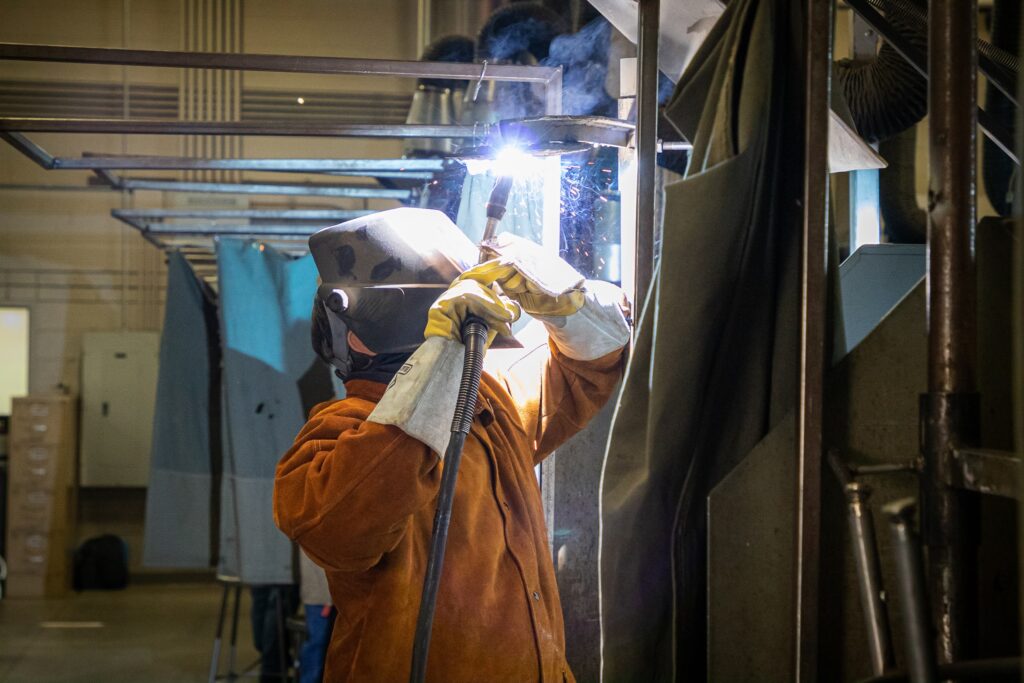 Nov. 28: "As thousands of workers remain displaced, Nevada banks on retraining"
After three years of working as a casino security guard in Lake Tahoe, Charles Erb thought he had come to excel at kicking people out when they got too rowdy. But as the company changed its security policies, he started to feel stifled. He decided to enroll in welding classes at Western Nevada College and soon after landed a job making equipment for firefighters. Nevada officials are hoping more residents will follow Erb's lead as the state continues to lead the nation in unemployment. In this video and this story, Tim Lenard and Michelle Rindels explored Nevada's workforce retraining efforts as it tries to meet the need for high demand jobs.
Comment Policy (updated 4/20/2021): Please keep your comments civil. We reserve the right to delete comments or ban users who engage in personal attacks, use an excess of profanity, make verifiably false statements or are otherwise nasty. Comments that contain links must be approved by admin.