Poll: Sisolak, Cortez Masto narrowly lead GOP opponents in days ahead of election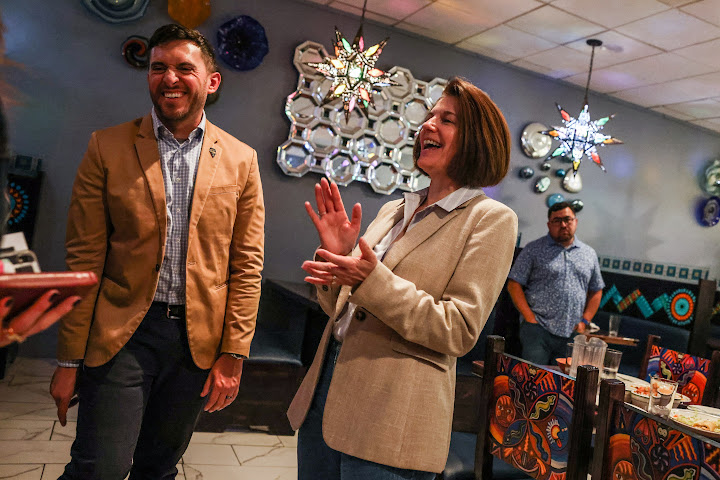 Just days before the end of Nevada's early voting period, top Democratic incumbents, including Sen. Catherine Cortez Masto and Gov. Steve Sisolak, hold narrow leads over their Republican opponents, according to a new Nevada Independent/OH Predictive Insights poll of likely voters.
In the nationally watched race for Nevada's U.S. Senate seat, Cortez Masto leads Republican former Attorney General Adam Laxalt by 2 points (43 percent to 41 percent), and in the closely fought governor's race, Sisolak leads Republican Clark County Sheriff Joe Lombardo by 4 points (45 percent to 41 percent). Both results are within the poll's 4 percent margin of error.
In an interview Monday, Mike Noble, chief research and managing partner of the Arizona-based OHPI, highlighted "super tight" results for Washoe County respondents. Among voters in that group, Laxalt led Cortez Masto by 2 points, and Lombardo led Sisolak by 1 point.
"Washoe is super tight and may line up being that bellwether yet again, or kind of that tiebreaker between rural [Nevada] and Clark County," Noble said.
Down ballot, Democratic candidates for several statewide offices — attorney general, secretary of state and treasurer — also led their respective Republican opponents by slim margins. The poll, however, found voters to be split on Question 3, the initiative that would upend the state's election system by instituting open primaries and ranked-choice voting in the general election.
"The pressure is on to the campaigns. They'll be bringing in their big guns of heavy speakers, and continue to see an incredible amount of money poured into the state because these races, I think, are all going to be close," Noble said.
The results of the poll, which anticipates a slight Democratic advantage in turnout, are a positive sign for the state's vulnerable Democratic incumbents, as a spate of recent polls have found Republican challengers holding even or slightly ahead in the competitive races. That includes last month's Nevada Independent/OH Predictive Insights poll that found Republican candidates leading up and down the ballot.
This poll surveyed 600 likely Nevada voters via live phone calls and text messaging from Oct. 24-27. The poll surveyed a slightly Democrat-leaning group, including 36 percent Democrats, 35 percent Republicans and 28 percent independents or non-major party voters. The survey also asked respondents how they voted in 2020. The results showed that the group supported Democratic President Joe Biden by a larger margin (48 percent to 43 percent) than his actual 2020 margin of victory over President Donald Trump in Nevada (50 percent to 48 percent).
Below, we explore the poll results for the state's top races and Ballot Question 3, proposing the implementation of open primary elections and ranked-choice voting.
Senate
Cortez Masto's margin-of-error lead adds to a wide series of public surveys conducted since early last month that suggest a Senate race still too close to call.
Two polls released within the last week show a slight Laxalt lead. That includes a poll from progressive polling firm Data for Progress, which showed Laxalt leading by one point, 49 points to 48 points, and the Republican-linked Trafalgar Group, which showed Laxalt leading by just over 4 points, 49.8 points to 45.6 points — and stands as one of few polls to show either candidate outside the margin of error.
The New York Times and Siena College released another poll Monday showing a virtual tie, 47 points to 47 points, in the race.
In Monday's Nevada Independent/OHPI poll, an additional 10 percent of respondents indicated they were unsure of their choice with just over a week until Election Day — though a vast majority of those individuals, about 85 percent of all undecided respondents, said they were leaning toward neither Laxalt nor Cortez Masto.
However, among the small group of undecided respondents who did lean toward a major party candidate, Laxalt won the lion's share — 13 percent to Cortez Masto's 4 percent.
Poll respondents were also asked if they were voting "for" their preferred candidate or "against" the other major party candidate. A greater share of respondents suggested they were voting "for" Cortez Masto (85 percent), rather than "against" Laxalt (15 percent), compared to the reverse. Out of all individuals preferring Laxalt, 68 percent indicated they were voting "against" Cortez Masto, with 32 percent voting "for" him instead.
More broadly, amid a months-long advertising blitz from Republicans looking to tie Cortez Masto to an unpopular White House, the poll results also showed that Joe Biden's favorability rating in Nevada jumped — if still underwater — to 45 percent, while his unfavorability dipped to just 47 percent.
It marks a 4 percent increase from two Nevada Independent/OHPI surveys — one from early October and another from August — that showed Biden hovering around 41 percent approval.
It remains unclear how successful Republican attacks have been at casting Cortez Masto as a "rubber stamp" for Biden, as the poll showed Cortez Masto with an edge over Biden and Laxalt in net approval ratings. Forty-seven percent of respondents gave the incumbent senator favorable marks, compared to 45 percent unfavorable.
Laxalt, by comparison, had 41 percent favorable to 46 percent unfavorable.
Governor
Polling indicates that Sisolak carries a slim lead over Lombardo (45 percent to 41 percent) though that edge is within the margin of error. Nine percent of respondents said they were unsure of whom they would vote for, while another 1 percent said they would vote for "none of these candidates."
The results largely align with previous polling, indicating a close race but differing in that the recent poll shows a slight Democratic advantage. An early October poll from The Nevada Independent/OHPI Insights showed Lombardo ahead with a narrow 3-point lead over the governor (45 percent to 41 percent).
Respondents also expressed a more positive opinion of Sisolak than of Lombardo. Sisolak's favorability was slightly above water (48 percent favorable to 46 percent unfavorable), while Lombardo was rated significantly less favorably (41 percent favorable to 49 percent unfavorable).
Other statewide races
Attorney General
Democratic Attorney General Aaron Ford held the largest lead of any candidate for down-ballot statewide offices over his Republican opponent, Sigal Chattah.
Ford led Chattah by 8 points (43 percent to 35 percent), well outside the poll's margin of error. Fifteen percent of respondents said they were still unsure of whom they would support in the race, and only 3 percent said they would be choosing "none of these candidates" on the ballot.
In a previous poll conducted by OHPI one month ago, Chattah held a narrow, 2-point lead over Ford (39 percent to 37 percent), while a similar 17 percent share of respondents were undecided in the race at the time.
Secretary of State
In the race to determine who will be responsible for overseeing state elections, among other responsibilities, Democrat Cisco Aguilar led Republican Jim Marchant by 3 points — within the poll's margin of error.
Forty-one percent of respondents said they would vote for Aguilar, while 38 percent said they would cast a ballot for Marchant. Only 1 percent of respondents said they would select "none of these candidates," and another 13 percent indicated they were undecided.
The result reversed a trend of polls that had shown steady leads for Marchant, who has lagged far behind his Democratic opponent, Aguilar, in campaign fundraising and in advertising spending. Marchant has crafted a national profile from his efforts to deny the legitimacy of the 2020 presidential election and cast doubts on electronic voting equipment.
A previous OHPI poll released in early October showed Marchant leading Aguilar by 8 points (39 percent to 31 percent), while 21 percent of respondents indicated they were undecided at that time.
Since the last OHPI poll, the percentage of undecided voters in each of the down-ballot statewide races has dropped — coinciding with voters receiving their ballots, Noble said.
"They're starting to pay attention. What you're seeing — that difference — is kind of how the races are breaking right now," he said. "Democrats are more united right now on those down-ticket races, and there's just a lot less leakage to the third party candidates."
He added that third party candidates "appear to be siphoning more from the Republican than the Democrats."
In the secretary of state's race, a pair of third party candidates received 6 percent support in the poll.
Treasurer
Democratic Treasurer Zach Conine led his Republican opponent, Michele Fiore, by 3 points (38 percent to 35 percent) — within the poll's margin of error.
With just a week until Election Day, 17 percent of respondents indicated they were undecided and 2 percent said they would vote for "none of these candidates."
Fiore initially launched a campaign for governor last year but withdrew and switched races to challenge Conine, who was elected to his first term in 2018. The polling reversed the results of an OHPI poll last month showing Conine trailing Fiore by 8 points.
Noble said turnout would be key for the down-ticket races that draw significantly less attention and money than the top-of-ticket races for Senate and governor.
"It really comes down to turnout for these folks, but especially those down-tickets because there's just a lot of people that still haven't made up their minds or haven't gotten information on it," he said. "So where they break, I think will be important."
Ballot Question 3
Opinions were almost evenly divided on Question 3, which proposes amending the state Constitution to implement open primary elections and ranked-choice voting. Support for the measure was within the poll's margin of error (44 percent to 41 percent), with 15 percent of respondents saying they were still undecided.
Those numbers marked a slight shift in opinion from likely voters polled last month, when 38 percent expressed support compared with 40 percent opposed.
The uptick in support also comes as Nevada Voters First, the in-state group supporting the ballot question, has spent millions of dollars on advertising, with backing from several out-of-state billionaires.
Noble said he thinks voters may not be as familiar with the proposed ideas, which has only been adopted statewide in Maine and Alaska.
"If it doesn't get by this time, with some more time, education, I think it will pass," he said. "It's just a matter of — is it going to be in a midterm cycle or in a presidential year, when you have more younger voters, more other folks that are probably more apt to vote for it?"
To learn more about the measure, check out The Nevada Independent's Question 3 explainer here.
Find the full poll results and crosstabs here.
Updated: 10/31/22 at 3:07 p.m. - This story was updated to include details from an interview with pollster Mike Noble.
Featured Videos
Comment Policy (updated 4/20/2021): Please keep your comments civil. We reserve the right to delete comments or ban users who engage in personal attacks, use an excess of profanity, make verifiably false statements or are otherwise nasty. Comments that contain links must be approved by admin.