What to know as Nevada's early voting begins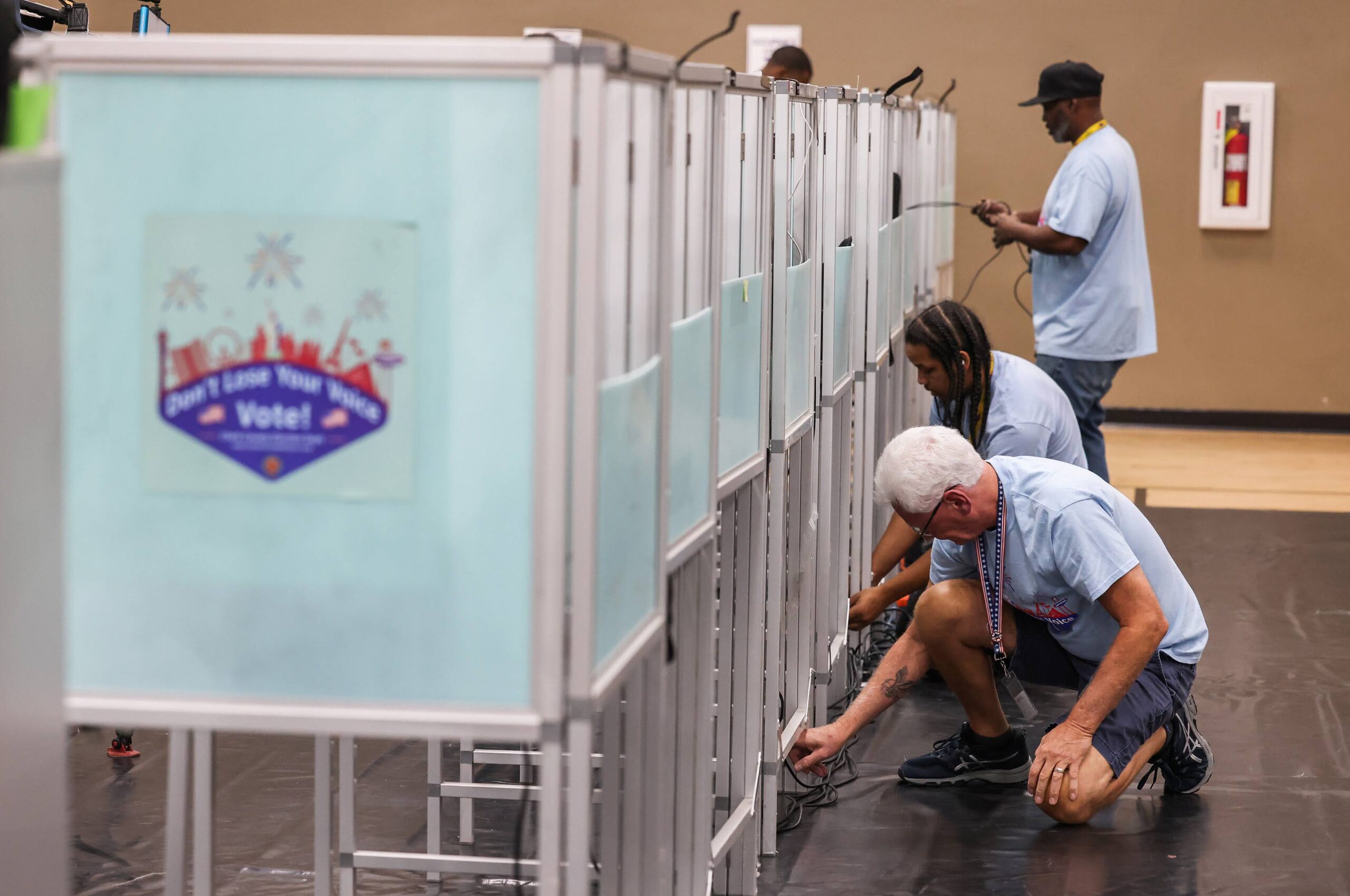 You've seen (too many) political ads on television, received mountains of campaign mailers and intercepted calls and text messages courting your vote in this year's midterm elections.
Now, it's your turn.
Mail ballots should be landing in your postal boxes very soon — if they haven't already — and today marks the beginning of the in-person early vote period, which runs through Nov. 4. Election Day follows four days later on Nov. 8.
If you're hankering to cast your ballot ahead of Election Day, the secretary of state's office has compiled this list of early voting sites and mail ballot drop-off locations.
Reminder: For those hoping to vote by mail, ballots must be postmarked on or before Nov. 8 and received by 5 p.m. on Nov. 10. Mail ballots can be dropped off at designated polling sites or drop boxes in addition to being mailed.
The final stretch of any election cycle brings intense campaigning and, every so often, last-minute revelations that could change minds, hence some voters' desire to cast their ballots on Election Day.
More than 1.4 million Nevadans cast ballots in the 2020 general election, a presidential selection year that typically draws more participation. Of those, nearly half (48 percent) came from mail ballots. Early voting brought in another 41 percent of ballots, while roughly 11 percent of voters waited to cast their ballots on Election Day.
So while you mull when to vote, below are some resources pulled from our handy elections page that could help as you ponder all the choices on this year's ballot. We have ballot question explainers, race previews and stories detailing candidates' policy positions.
FEDERAL RACES
U.S. Senate: Catherine Cortez Masto (D) / Adam Laxalt (R)
Why should I care?: Republicans see their road to a majority in the Senate running through Nevada, where Democrats hold a narrow registration advantage in a landscape made less predictable by a swelling number of registered nonpartisans.
Incumbent Sen. Catherine Cortez Masto won a close race in 2016, but now faces headwinds, including sagging approval ratings for President Joe Biden and rising inflation and economic concerns. She has seized upon the Supreme Court's rollback of abortion access, highlighting her stance in favor of abortion access.
She'll face off against former Attorney General Adam Laxalt, a prominent supporter of former President Donald Trump who led efforts to overturn results of the 2020 election based on false claims of large-scale fraud. His campaign for U.S. Senate has largely focused on economic issues. While he cheered the rollback of Roe v. Wade, he has also downplayed abortion's importance in the campaign.
Congressional District 1: Dina Titus (D) / Mark Robertson (R)
Why should I care?: Once a deeply Democratic district in the heart of Las Vegas, redistricting means CD1 will now encompass more suburban areas and be more competitive. Incumbent Dina Titus is the most liberal member of the congressional delegation, but faces a challenge from Republican Mark Robertson, a military veteran and business owner, who won a crowded Republican primary field to challenge the longtime incumbent.
Congressional District 3: Susie Lee (D) / April Becker (R)
Why should I care?: Usually the home of nailbiter elections, CD3 has become more winnable for Democrats following a redistricting process that shuffled more Democrats into its boundaries. Incumbent Susie Lee, a moderate Democrat, will face off against Republican lawyer April Becker, who lost a competitive state Senate race in 2020 against Senate Majority Leader Nicole Cannizzaro by a single percentage point.
Congressional District 4: Steven Horsford (D) / Sam Peters (R)
Why should I care?: Incumbent Democrat Steven Horsford is defending his seat in a district that has become more favorable to Democratic candidates after the redistricting process and includes both sprawling rural areas and densely populated sections of the Las Vegas Valley. His Republican opponent, Sam Peters, is an Air Force veteran and owner of a family insurance firm.
STATEWIDE RACES
Governor: Steve Sisolak (D) / Joe Lombardo (R)
Why should I care?: In 2018, Steve Sisolak was elected as the state's first Democratic governor in two decades, and, with the support of Democratic legislative majorities, has rolled out a laundry list of party goals including expanded mail-in voting, advantageous redistricting, a new mining tax and groundwork for a state public health insurance option.
But he'll face a tough challenge from Clark County Sheriff Joe Lombardo, the Republican challenger who has criticized Sisolak's approach to criminal justice policy and response to the COVID-19 pandemic.
Lieutenant Governor: Lisa Cano Burkhead (D) / Stavros Anthony (R)
Why should I care?: Incumbent Kate Marshall, elected in 2018, resigned from her position in late 2021 to work for the Biden administration — leading Gov. Steve Sisolak to appoint political newcomer and longtime educator Lisa Cano Burkhead to finish the final year of Marshall's term. Cano Burkhead quickly announced plans to run for a full term, and defeated Henderson Mayor Debra March in the June primary election. She'll face off against Republican Las Vegas City Councilman Stavros Anthony in the general election.
Attorney General: Aaron Ford (D) / Sigal Chattah (R)
Why should I care?: Four years after eking out a close win in the 2018 midterm election, incumbent Democrat Aaron Ford is seeking re-election to a second term. He'll face off against Republican nominee Sigal Chattah, an attorney who gained notoriety through filing multiple lawsuits challenging COVID-19 restrictions and mask-wearing policies. She defeated fellow Las Vegas attorney Tisha Black in the GOP primary, and has attacked Ford for being soft on crime and the state's actions in the massive, multi-state opioid settlement.
Ford is refusing to debate Chattah after the leak of text messages where she suggested that he should be "hanging by a crane." A group of around a dozen Republicans, including a former state party chair, have endorsed Ford.
Political party affiliation plays a significant role in the job, as attorneys general often join with counterparts of the same party from other states to support lawsuits on hot-button issues from abortion to COVID mask mandates.
Secretary of State: Cisco Aguilar (D) / Jim Marchant (R)
Why should I care?: The race to replace termed-out Republican Secretary of State Barbara Cegavske is drawing national attention because of Republican nominee Jim Marchant, a former Assembly member who has become one of the loudest voices challenging the integrity of Nevada elections and pledging to fundamentally change election administration. He has vowed to end early voting, eliminate voting machines and move to hand counting based off of unsupported conspiracy theories.
Democrats have nominated Cisco Aguilar, an attorney and former member of the state Athletic Commission, who has pledged to expand and maintain voting changes brought by Democrats in recent legislative sessions, such as widespread use of mail-in ballots.
Treasurer: Zach Conine (D) / Michele Fiore (R)
Why should I care?: Incumbent Democrat Zach Conine is running to keep his seat as treasurer after winning a narrow victory in 2018. His office has taken on a significant role tracking and disbursing billions in federal COVID aid during the pandemic, and drew headlines from a decision to divest from assault weapon manufacturers or sellers in the wake of mass shootings. He has campaigned on the premise that he is the more experienced and qualified candidate in the race.
He'll face Las Vegas City City Councilwoman Michele Fiore, a Republican, who dropped out of the governor's race shortly before the filing deadline to run for treasurer. A former state lawmaker, Fiore serves as one of Nevada's Republican National Committee members, and gained widespread notoriety in 2014 over her support for rancher Cliven Bundy during his standoff with the federal government. She has campaigned on promises to "fight for" the economy, jobs and education system.
Controller: Ellen Spiegel (D) / Andy Matthews (R)
Why should I care?: Incumbent Democrat Catherine Byrne is opting not to seek re-election to the post of controller. She has endorsed former Assemblywoman Ellen Spiegel, a Democrat, in the race. Spiegel's platform includes increasing collections of debts owed to the state.
Republican Assemblyman Andy Matthews, who previously ran a think tank that scrutinizes government spending, is also seeking the post. He is campaigning on the promise to post all state spending in a transparent manner online, and argues that state spending needs a "haircut."
(Editor's Note: An 'On the Record' story focused on Matthews will be published next week)
LOCAL RACES/OTHER
Clark County races
Clark County School District Board of Trustees
Northern Nevada races
Sparks City Council candidate forum
Ballot Questions
Featured Videos
Comment Policy (updated 4/20/2021): Please keep your comments civil. We reserve the right to delete comments or ban users who engage in personal attacks, use an excess of profanity, make verifiably false statements or are otherwise nasty. Comments that contain links must be approved by admin.